Things to Do on the Las Vegas Strip – More Than Just Casinos!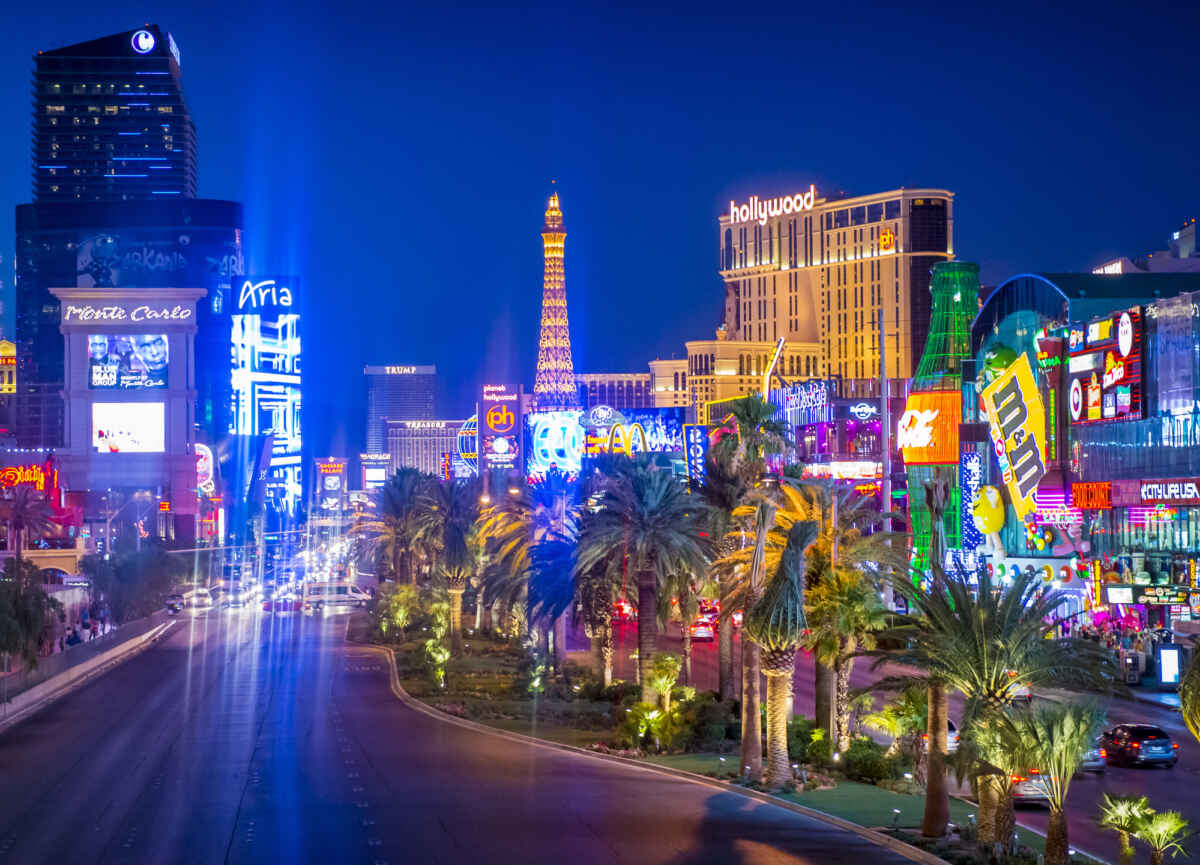 (This article may contain affiliate links, which means we might earn a small commission if you click and make a purchase. Thank you!)
Welcome to the wild, glitzy, and unforgettable world of the Las Vegas Strip – a playground of neon lights and non-stop excitement.
Nestled right in the heart of the Mojave Desert, the Vegas Strip is like no other place on Earth. It's a 24/7 extravaganza where the party never stops.
This beginner's guide is your ticket to navigating this iconic stretch of road, where a dazzling array of attractions collide to create an electrifying, larger-than-life experience you won't find anywhere else.
Exploring the Las Vegas Strip
Join us on a thrilling adventure down the famous Strip in Las Vegas, where lights are brighter, nights are longer, and the streets are bristling with cool things and sights.
Sightseeing on the Strip
The Strip is well-known for its vibrant nightlife, iconic hotels, and dazzling neon lights.
Some of its key attractions include the Bellagio Hotel, MGM Grand, the Eiffel Tower at Paris Las Vegas, and the Venetian's Grand Canal. The Strip offers luxury shopping, world-class entertainment, and a diverse culinary scene.
Architectural Wonders of the Strip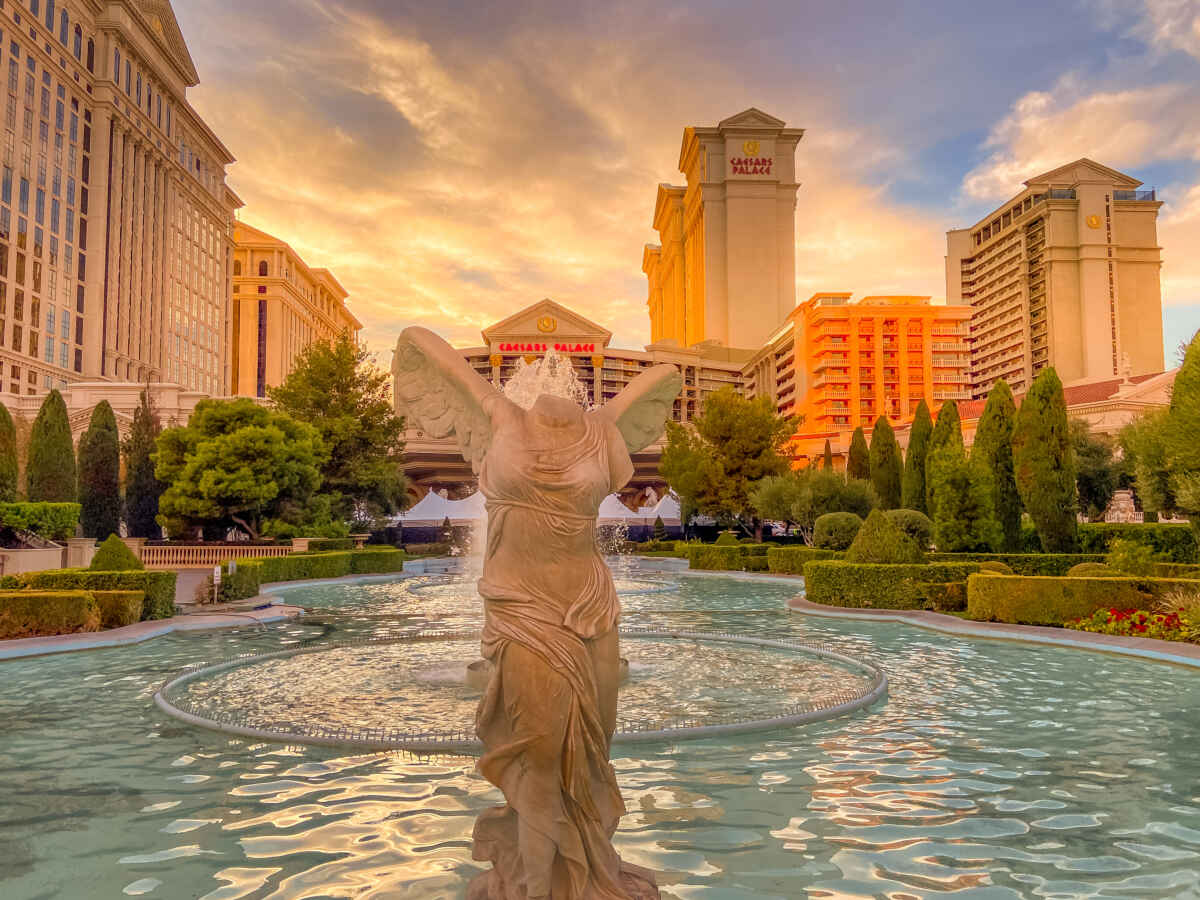 The Strip is a world-renowned entertainment hub with unique architectural marvels, including towering skyscrapers and themed resorts, transporting visitors to different parts of the world.
The iconic hotel and casino, known for its Mediterranean-inspired architecture and Bellagio Fountains, boasts a choreographed water fountain show in an artificial lake.
Caesars Palace, a Las Vegas institution, blends ancient Roman architecture with modern luxury, featuring a grand entrance with Roman columns and statues.
The resort features a replica of Michelangelo's David, 7 column-lined pools, a splash zone, swim-up blackjack tables, and Venus Pool for families and parties.
This resort embodies Venice's charm with canals, gondola rides, and Renaissance-inspired architecture, including St. Mark's Square, showcasing intricate details and vibrant colors.
Wynn Las Vegas boasts sleek architecture, curved bronze-tinted windows, and interior spaces adorned with contemporary art and luxurious finishes.
The modern hotel and casino boasts a distinctive exterior, oversized digital screens displaying art and advertisements, and unique interior elements like The Chandelier Lounge.
Luxor Resort and Casino, an iconic Strip landmark with an Egyptian theme and architectural design, features a massive black pyramid with a towering Luxor Sky Beam.
The resort features roller NY-inspired architecture, resembling the skyline of New York City and replicas of landmarks like the Statue of Liberty and the Brooklyn Bridge.
Explore the casino floor, enjoy the rooftop Big Apple Coaster for stunning views, or enjoy a variety of bars and nightclubs nearby.
The High Roller
When you need a break from the casino, you can escape into the air on the High Roller observation wheel. This massive Ferris wheel offers spectacular scenery of the Strip and the surrounding desert landscape.
The Palazzo, adjacent to The Venetian Hotel, features elegant Italian-inspired architecture with intricate balconies and a luxurious ambiance.
This open-air entertainment district boasts modern design elements and unique architectural features, including the High Roller observation wheel.
Aria, part of the CityCenter complex, features contemporary architecture with a curvaceous glass exterior. This resort boasts a modern, sustainable design and houses the Aria Fine Art Collection.
The Mirage's Polynesian-themed architecture includes a tropical atrium, waterfalls, and a volcano that erupts nightly. Its design transports visitors to an exotic island paradise.
GOOD TO KNOW: MGM Resorts and Caesar's own 17 of the 29 strip casinos. Aria, Bellagio, Cosmopolitan, Excalibur, Luxor Hotel, Mandalay Bay, MGM Grand, Park MGM, and New York New York are all properties owned by MGM Resorts. Horseshoe, Caesars Palace, The Cromwell, Flamingo Resort, Harrah's, Linq, Paris, and Rio are all owned by Caesars.
Amidst the architectural wonders of the Strip, don't forget to explore the Strip's diverse museums, each offering a unique glimpse into the city's rich history and culture.
The Vibrant Nightlife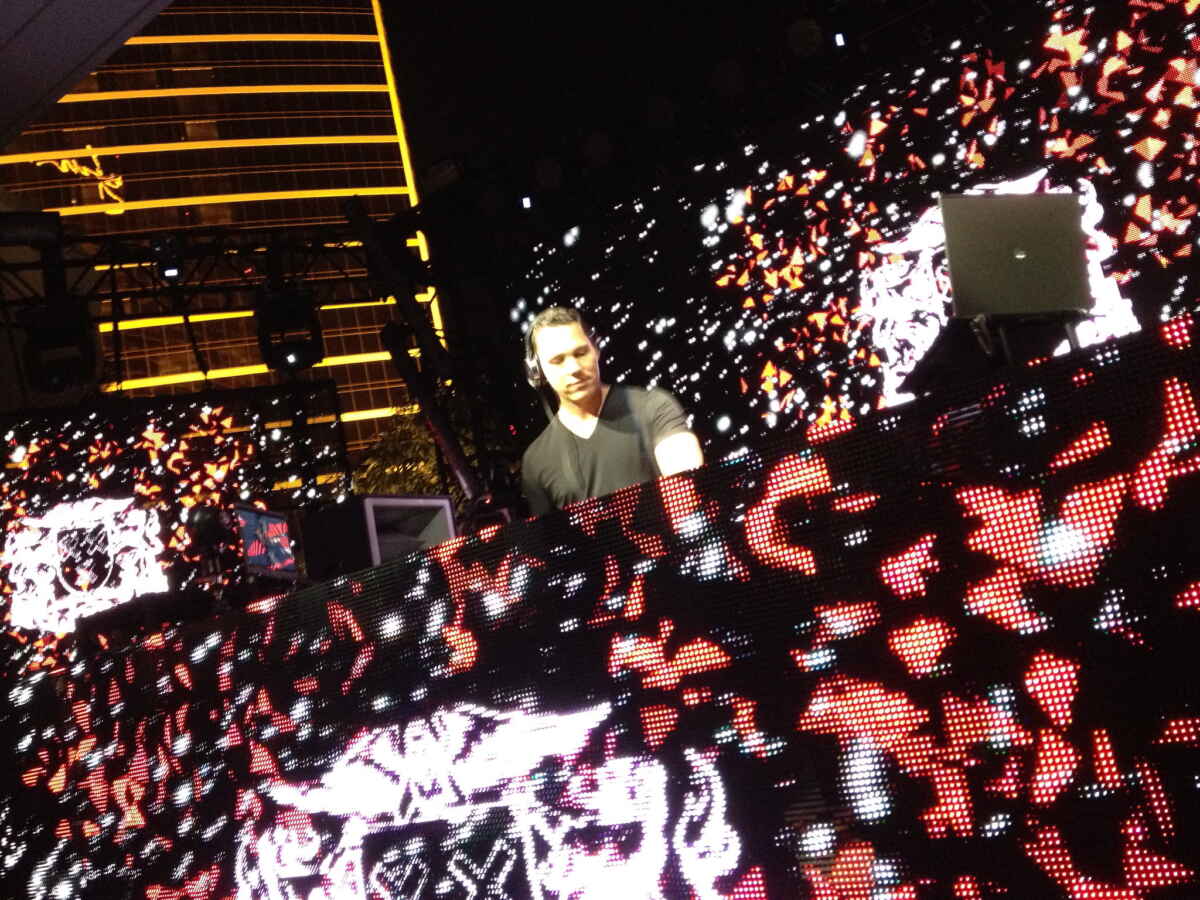 The Strip is renowned for its vibrant nightlife, boasting some of the city's best nightclubs where you can dance the night away and experience the ultimate entertainment.
Tourists and locals flock to the dazzling nightclub scene to dance the night away.
The Strip features iconic venues like Omnia at Caesars, X.S. at Encore, and Marquee at The Cosmopolitan, featuring top DJs and live music.
Things to Do on the Las Vegas Strip
The Strip offers many entertainment options, including casinos, top-notch shows, dining spots, and an electrifying nightlife.
While exploring fun things to do on the Las Vegas Strip, don't miss the opportunity to enjoy sports at Vegas bars, where you can catch your favorite games while savoring the city's vibrant atmosphere.
Visiting Iconic Casinos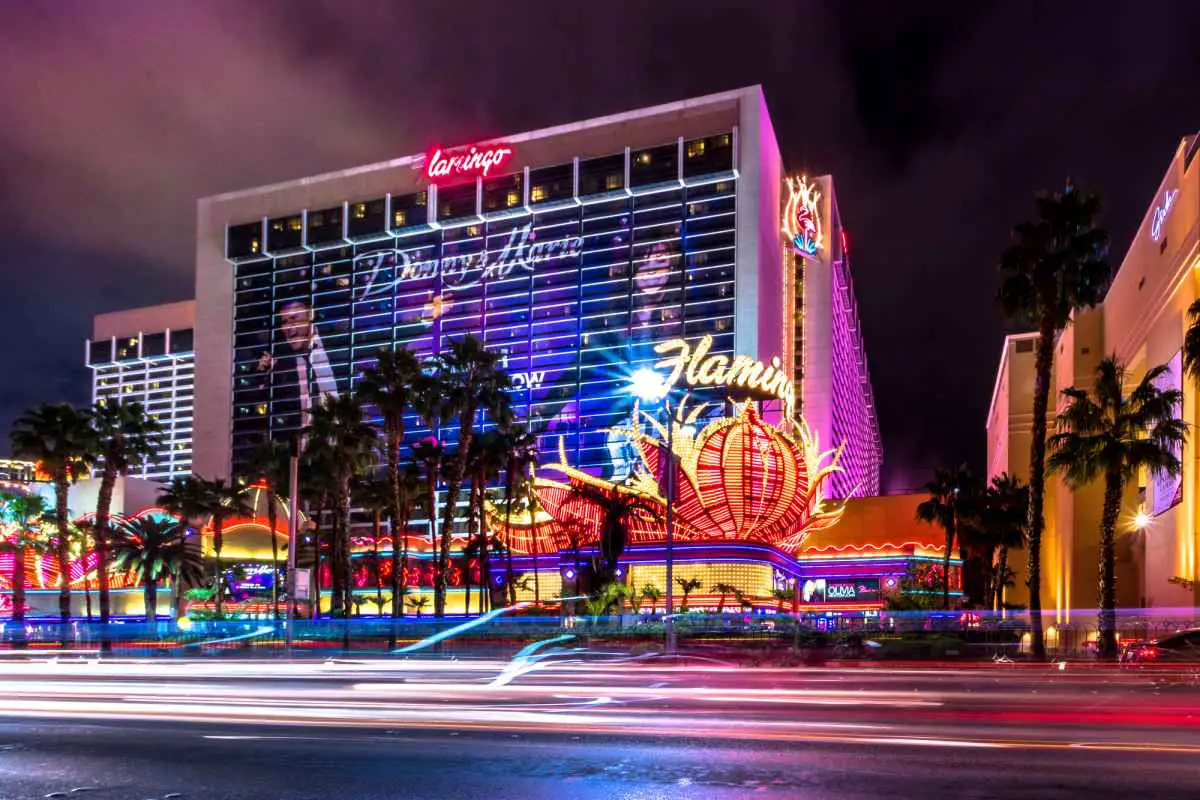 The Strip is a global entertainment mecca with iconic casinos and attractions, like:
Treasure Island Hotel and Casino – Enjoy world-class luxuries, thrilling entertainment, and exceptional location.
Flamingo Las Vegas Hotel & Casino – Visit the Flamingo for an exciting and action-packed Vegas vacation
Venetian – Get lost in romantic canals
Wynn Las Vegas – Features an upscale atmosphere
MGM Grand – With an expansive gaming floor
Dining at Renowned Restaurants
Due to its world-class restaurants and diverse cuisines, the Strip is a popular destination for foodies as well as gamblers. Some of the top restaurants include:
Joël Robuchon at the Mansion offers a luxurious fine dining experience with a multi-course tasting menu of French haute cuisine.
Restaurant Guy Savoy showcases seasonal ingredients and Chef Guy Savoy's culinary artistry.
Le Cirque combines French cuisine with a whimsical presentation.
Twist by Pierre Gagnaire offers contemporary French cuisine with a twist.
Shopping on the Strip
The Strip is a popular shopping destination that caters to all budgets and tastes. Here are some of the best shopping malls in the area:
The Forum Shops at Caesars Palace, located at CityCenter, features high-end brands like Gucci, Louis Vuitton, and Versace, trendy boutiques, and fine jewelry stores.
Crystals, located at CityCenter, features luxury retailers like Prada, Dolce & Gabbana, and Tiffany & Co.
Miracle Mile Shops, one of the largest on the Strip, offers diverse shops and dining options.
The Fashion Show Mall, located across from Wynn Las Vegas, features popular retailers like Nordstrom, Macy's, and Neiman Marcus.
Enjoying World-Class Entertainment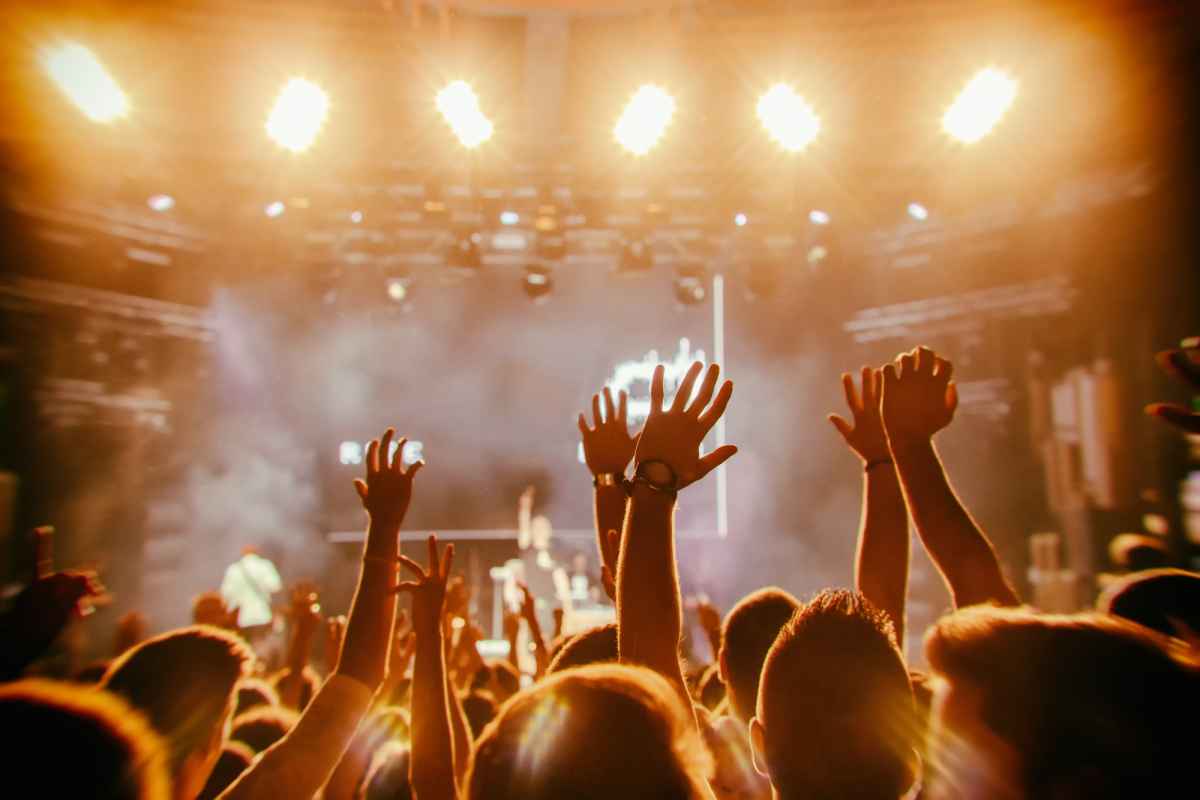 The Strip is a hub of entertainment, offering a variety of shows, amazing live performances, and experiences to suit every taste and interest.
The Strip features Cirque du Soleil productions, concerts, and varied entertainment like burlesque, adult shows, and Michael Jackson ONE.
Magicians like David Copperfield, Penn & Teller, and Criss Angel create mind-bending illusions, while comedy clubs feature established comedians.
Dinner shows like "Tournament of Kings" at Excalibur or The Mayfair Supper Club at Bellagio offers a unique blend of food and performance.
Walking Around the Las Vegas Strip
Experience the ultimate Vegas adventure by walking around the Strip, savoring this iconic boulevard's sights, sounds, and vibes as you explore Sin City's most famous area.
It can be exhausting, but the convenient Deuce bus service offers a cost-effective and hassle-free way to travel the Strip, making it popular among tourists.
Best Parts of the Strip to Walk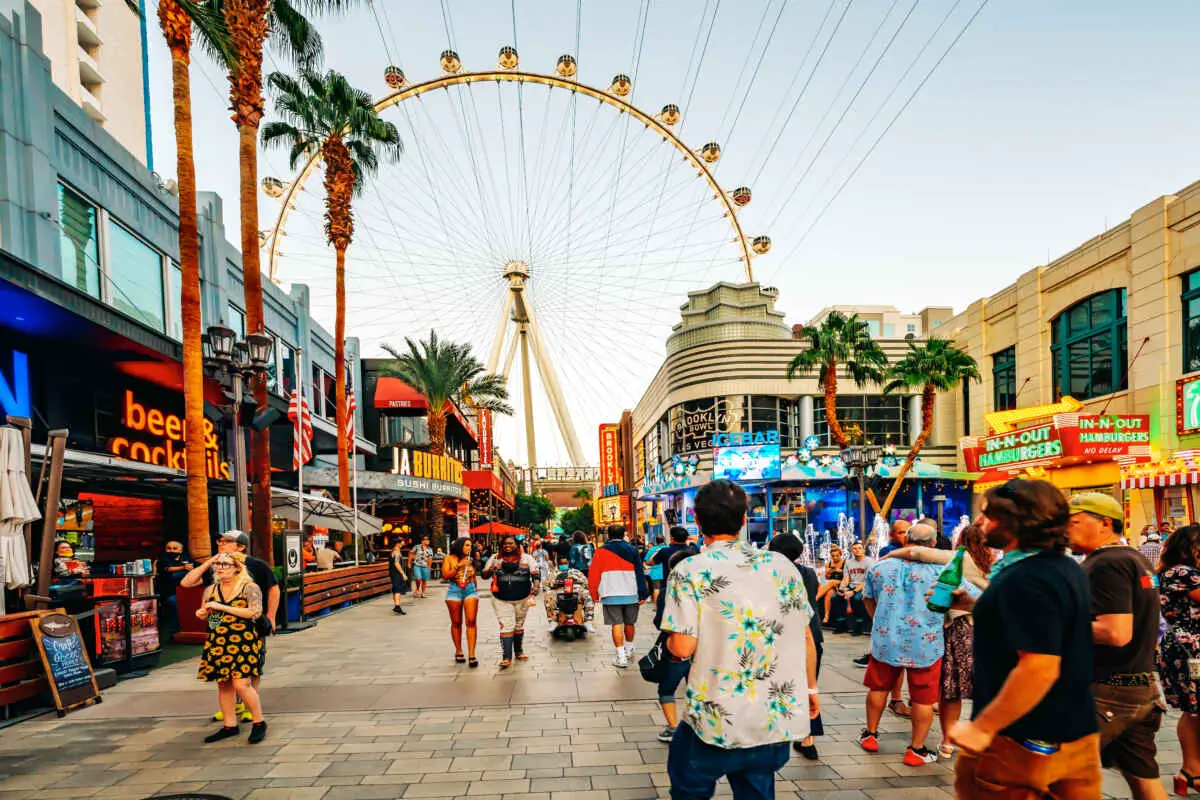 The Strip is a vibrant corridor with entertainment, dining, and attractions, with various sections offering unique offerings and atmospheres for walking.
Center Strip (Las Vegas Boulevard South):

Bellagio Conservatory & Botanical Garden: Stroll through Bellagio's Conservatory for a taste of inner-city nature if you need a break from all the casinos and entertainment.
The Cosmopolitan: Explore the trendy shops, a hidden bar, and restaurants at The Cosmopolitan, known for its modern and chic ambiance.
Paris Las Vegas: Wander along the cobblestone streets of the Paris-themed resort, which features a replica of the Eiffel Tower (complete with an observation deck) and a charming French atmosphere.
Planet Hollywood: Check out the bustling Planet Hollywood Resort and Casino and its various dining and entertainment options. The casino floor is open 24/7 but becomes a club-like atmosphere during nighttime hours with complimentary drinks for players and old-fashioned fun for people.

The LINQ Promenade:

The High Roller: Experience the world's tallest observation wheel, The High Roller, and enjoy stunning views of the Strip from its pods.
Shopping and Dining: Stroll through The LINQ Promenade, an open-air district with shops, restaurants, and bars. Don't miss the Yard House and In-N-Out Burger for a quick bite.

The Venetian and Palazzo Complex:

The Grand Canal Shoppes: Explore the Venetian and Palazzo's interconnected shopping area, designed to resemble the canals of Venice. You can even take a gondola ride!
Madame Tussauds: Get up close and personal with realistic wax figures of celebrities at Madame Tussauds Las Vegas.

Wynn and Encore Resorts:

Encore Beach Club: This sprawling swimming pool party has all the necessary amenities.
Botanical Gardens: Visit the Wynn's Botanical Gardens, which feature seasonal floral displays and stunning natural artistry.
Wynn Golf Club: Score a birdie on this Tom Fazio-designed 18-hole course on the hotel's back doorstep.

South Strip (Near Harry Reid International Airport):

Welcome to Fabulous Las Vegas Sign: Take a short walk on the south end to snap a photo at the iconic Welcome to Las Vegas sign.
Luxor and Mandalay Bay Resort: Explore the unique architecture of the Luxor Pyramid and the Mandalay Bay complex, which includes a beach and a wave pool. Inside the Luxor, you'll discover casino games, diners managed by celebrity chefs, shows like Blue Man Group, and more. Mandalay Bay has two pool clubs: Daylight Beach Club and Moorea Beach Club. The awesome Mandalay Bay Beach has a wave swimming pool, lazy river, and more. Shark Reef Aquarium at Mandalay features over 100 species, including endangered green sea turtles and giant sea rays.

The North End (Beyond Wynn and Encore):

Resorts World Las Vegas: As the newest resort on the Strip, Resorts World Las Vegas boasts multiple hotels, a casino, restaurants, and other entertainment options.

Mid-Strip (Between Flamingo and Harrah's):

LINQ Hotel and Casino: Explore the LINQ Hotel and Casino's modern vibe.
Flamingo Wildlife Habitat: Take a leisurely walk through the Flamingo Wildlife Habitat to see flamingos and other exotic birds and animals.
Casino Royale: Visit the royale for a combination hotel-casino on the strip without a resort fee.

Downtown Las Vegas (Fremont Street Experience):

Fremont Street Experience: While not on the Strip, Fremont Street downtown offers a lively and historic alternative with its famous LED canopy light show, street performers, and classic casinos.
Tips for Walking the Strip
Walking the Las Vegas Strip is a thrilling and memorable experience, but remember to prepare for the desert climate and numerous attractions. Follow these tips to make traveling on the Strip efficiently a reality.
Bring a reusable water bottle and stay hydrated.
Wear comfortable, supportive footwear.
Wear sunglasses and a wide-brimmed hat to protect yourself from the heat.
Plan your walking route, especially if you have specific destinations or attractions you want to visit. Find the best shortcuts to travel the Strip efficiently.
Stick to the sidewalks for safety.
Planning Your Visit to the Las Vegas Strip
This section will cover how to make the most of your Sin City adventure.
When planning your visit to Vegas, find the best accommodation options on the Strip to ensure a comfortable and convenient stay.
Best Time to Visit the Strip
The timing of your Las Vegas Strip visit depends on your preferences and atmosphere. Spring offers mild temperatures, summer is peak tourist season, fall offers pleasant weather, and winter is the off season.
Weekdays are quieter, weekends are for parties, and daytime offers outdoor attractions. Special events and holidays can affect hotel availability and rates.
How to Get Around the Strip
The Boulevard offers various transportation options for visitors. Walking is an excellent way to explore the Strip, but you can take the following options instead:
Tips for First-Time Visitors
To navigate this bustling entertainment hub effectively, here are some essential tips:
Choose the Right Accommodation: When choosing a hotel, consider location, amenities, and whether you want to be in the heart of the Strip or prefer a quieter spot.
Plan Your Budget: Set a budget for your trip and stick to it. It's easy to get carried away in the excitement of the city, so having a spending plan is crucial.
Reserve Shows and Restaurants in Advance: Popular shows and restaurants can fill up quickly. Book shows early and make dinner reservations to avoid disappointment.
Gamble Responsibly: If you plan to visit the casinos, set a gambling budget and stick to it. Don't chase losses; remember that gambling isn't a guaranteed way to make money.
Use Public Transportation: Consider using the Deuce bus or the Las Vegas Monorail to get around the Strip, especially if you plan to cover longer distances and don't have a car.
Visit Attractions Beyond the Casinos: While the casinos are a significant draw, don't miss out on the other attractions, such as the Bellagio Fountain Show and world-class dining and shopping.
Take a Tour: Taking one of Vegas's popular tours will get you off the strip for part of a day and take you to some really cool destinations outside the city.
Enjoy the Nightlife: The Las Vegas Strip comes alive at night, so experience the vibrant nightlife. Check out the various bars, clubs, and entertainment options for a memorable evening.
Explore Beyond the Strip: While the Strip is the heart of Vegas, consider exploring other parts of the city, such as Downtown Las Vegas (Fremont Street) and nearby natural attractions like Red Rock Canyon.
Stay Informed About Events: Check the Las Vegas events calendar for concerts, festivals, or special events during your visit.
Frequently Asked Questions
Check out this section so you can hit the Strip like a pro!
What Are the Must-See Attractions on the Las Vegas Strip?
Bellagio Conservatory
High Roller
Lake of Dreams
Cirque du Soleil Shows
Shark Reef Aquarium
Cosmopolitan's Chandelier Bar
These attractions in Las Vegas offer breathtaking views, unique shopping experiences, and captivating performances. If you're driving to Las Vegas, here are some spots where free parking is available.
Can You Walk the Entire Length of the Las Vegas Strip?
Walking the entire Las Vegas Strip is a challenging and long walk, spanning 4.2 miles from the Welcome to Las Vegas sign to the Stratosphere Tower.
What Are Some Unique Experiences on the Las Vegas Strip?
The Strip has a variety of attractions, including indoor skydiving, exotic car racing, the Neon Boneyard, FlyOver Las Vegas, thrill rides at The STRAT, and the Adventuredome Indoor Theme Park.
Trying one of these unique experiences will add extra excitement to your visit to the Strip.
What Are the Best Restaurants on the Las Vegas Strip?
The Las Vegas Strip has various dining options, including Michelin-starred French gourmet experiences, British cuisine, Italian-American dishes, and award-winning steakhouses.
You can also find modern French brasseries, Spanish restaurants, Japanese cuisine, upscale buffets, and classic French bistro fare.
The Strip offers some of the best dining experiences in Nevada, catering to various tastes and preferences.
What Shows Are Recommended on the Las Vegas Strip?
At Las Vegas, you can catch a Cirque du Soleil show, magic shows, comedy clubs, dinner shows, burlesque and adult shows, hypnosis and mentalism, and late-night entertainment.
The many shows on Las Vegas Boulevard cater to various preferences, from acrobatics and storytelling to magic, comedy, and late-night entertainment.
Conclusion
Enjoying top-notch cuisine, trying your luck at the casinos, and soaking in the glitz and glamor are all available on the Strip.
Don't forget to leave the neon lights for a bit to explore what the surrounding desert offers outside of Las Vegas.
Whatever your preferred form of entertainment, remember that Las Vegas is a city that never sleeps and is waiting to greet you.
Pack your bags and get ready for a memorable trip to Vegas; your piece of paradise in Sin City is waiting!