Top 11 Las Vegas Magic Shows (Best Magic Shows Las Vegas)
(This article may contain affiliate links. If you click through and make a purchase, we will receive a small commission at no additional cost to you. )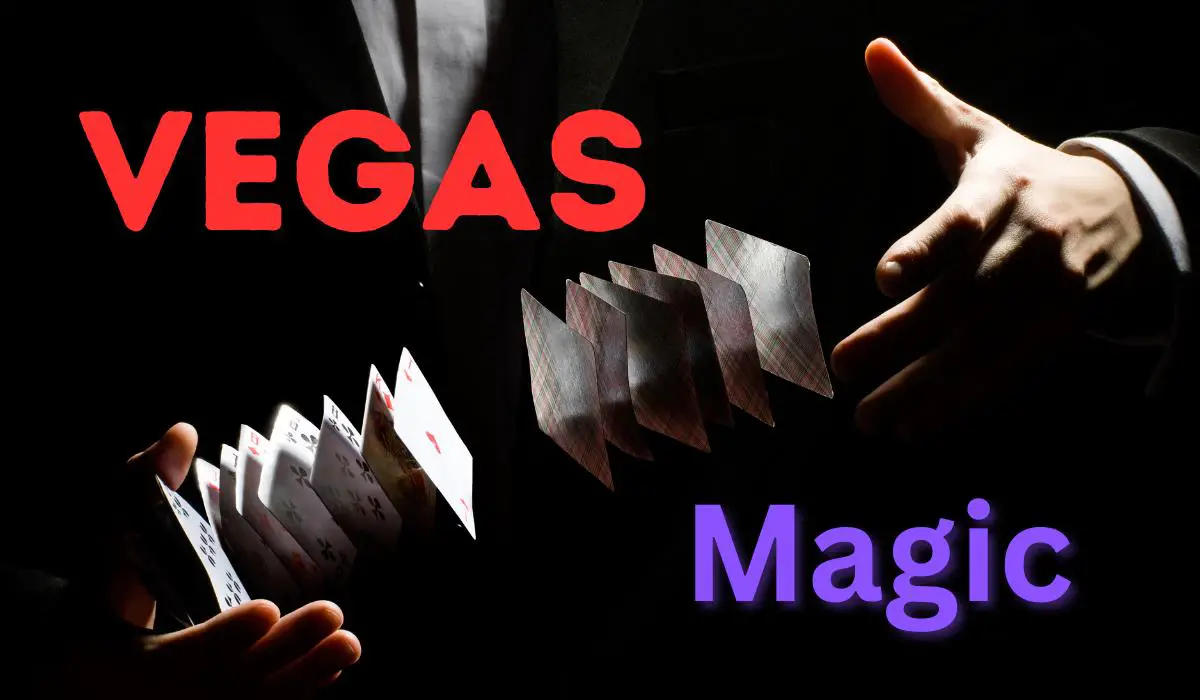 The first thing that pops into our heads when we mention Las Vegas is probably "casinos" or "luxury hotels." But Las Vegas offers countless other incredible experiences suitable for everyone's taste.
Magic shows are among those experiences. Las Vegas abounds in magic shows that blend magical illusions with comedy.
Mac King Comedy Magic Show is one example of this. Penn & Teller is another popular comedy magic act performing in Las Vegas.
For straight-up magic acts, check out David Copperfield or Shin Lim.
You simply must visit at least one magic show during your stay in Las Vegas.
Although this city is a magical realm on its own, the magic shows here feature some of the most famous magicians in the world. Let me tell you about the ones you need to see.
1. Mac King Comedy Magic Show
It's only natural to start the list with this show since Mac King is one of the most popular magicians in Las Vegas.
The word "King" is in his name for a reason.
With over 10,000 shows under his belt, Mac King's magic show is the longest-running magic show in Las Vegas!
Mac King's popularity stems from his brilliant blend of humor and magic tricks which aren't necessarily "high-stakes."
Still, his memorable magic tricks, like swallowing a goldfish, have become a staple of his style and comedy.
And his colleagues have only love and admiration for Mac King. David Copperfield, another magician, once said: "Everyone in magic respects Mac King."
Apart from an unforgettable time, you can expect the following in this show:
Magic through comedy
Live animals
Volunteers from the audience
You can find Mac King's show at Excalibur from Tuesday to Saturday. The show starts at 3 pm and lasts around 70 minutes.
The tickets cost $48, and can be purchased at a discount on Vegas.com.
2. Penn & Teller

You've probably heard about the Penn & Teller magic show.
The magician duo is how many people came to know and love magic.
They're massively famous worldwide and here in the US. What magicians can say they have their star on the Hollywood Walk of Fame?
And in 2016, Penn and Teller became "the longest-running headlining act in Las Vegas history."
Their magic style is similar to Mac King's. Their acts combine comedy and magic to create a show you won't forget soon.
The emphasis is very much on having fun with the audience and volunteers.
They often reveal their tricks behind a volunteer's back. So the audience knows it's a trick, but the volunteer is left stunned.
Also, their tricks are classic staples of magic shows involving rope and card tricks. However, they can have seemingly dangerous stunts that leave the audience breathless.
You can witness Penn & Teller magic show at the Rio Hotel, Thursday through Sunday.
More specifically, they perform at the suitably named Penn & Teller Theater.
The tickets can get pricey, but discounts are here to save the day!
3. Murray The Magician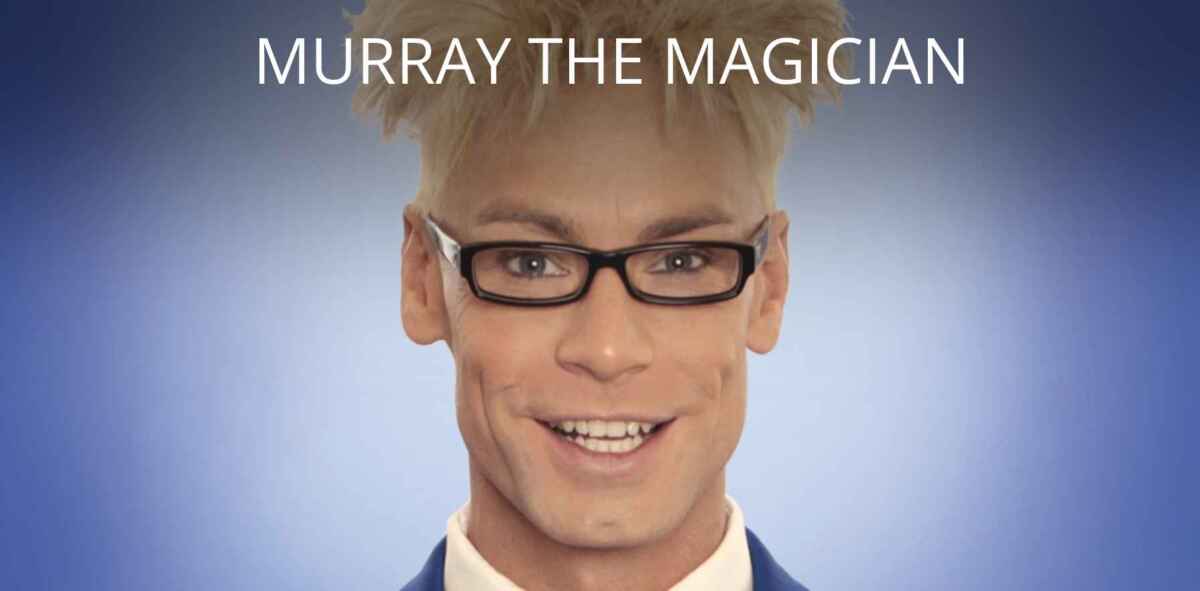 Interestingly enough, Murray The Magician appeared on Penn and Teller's TV show, called Penn & Teller: Fool Us.
Here's the clip from the show if you're interested:
If you watch the clip, you'll notice Murray's magic style.
He's not afraid to "play with fire" — literally.
Also, because his mentor was Mr. Electric, Murray incorporates tricks with electricity and light bulbs. He performs other tricks with the help of his assistants and uses various props.
His fame started on America's Got Talent TV show, and he's skyrocketed ever since.
It's hard not to recognize Murray with his fuzzy yellow hair and striking blue eyes behind his glasses which became a part of his style.
He performs at Tropicana Laugh Factory Comedy Club at 4 pm, on:
Mondays
Tuesdays
Wednesdays
Sundays
The tickets are about $40 to $60, but you can get them for around $30 at Vegas.com.
4. David Copperfield

David Copperfield has become a household name with stunning magic tricks and theatrically performed illusions.
Most of us know him from televised tricks like making Lady Liberty disappear or walking through the Wall of China.
He's etched into our minds as the greatest living magician.
Even if we're unfamiliar with the world of magic, Copperfield is a familiar name. And luckily for us, he has a live magic show right here in Las Vegas.
Like Penn and Teller, Copperfield also has a theater named after him where he performs his tricks.
You'll find David Copperfield Theater at the MGM Grand Hotel.
Fortunately, the shows run most days. So, you can attend it whenever you find yourself in this beautiful city.
The hours are as follows:
Sunday to Friday: 7 pm and 9:30 pm
Saturday: 4 pm, 7 pm, and 9:30 pm
As you might expect, seeing the most famous magician worldwide won't come cheaply.
Ticket prices vary based on where you want to sit. So, the cheapest (and farthest) seats cost $71.37.
Other seating arrangements include:
Category D: $101.64
Category C: $112.65
Golden Circle: $127.29
Meet and Greet: $220
Purchase your tickets here before arriving in Vegas to guarantee your seat!
Note: The price doesn't include taxes and is for one person.
While you're at the MGM Grand, why not have a bit of fun at the casino?
Grab an MGM Resorts MLife rewards card to rack up points to exchange for complimentary services or items.
To learn more, check out my post on maximizing your chances of getting comped at casinos.
5. Laughternoon Starring Adam London

If you're looking to catch a show in Vegas during the afternoon, Laughternoon might be the perfect magic show for you.
Adam London is a comedian and magician who will crack you up and possibly invite you to do some tricks with him.
Laughternoon is a family-friendly show with a smaller group of people. That creates a personal experience for everybody.
Adam interacts with the audience. His only goal is to make you laugh through jokes and magic tricks.
He doesn't do those over-the-top illusions with many assistants.
His show is a relaxing time where the audience sits just a few feet away from him.
You can find Adam London's Laughternoon at the Orleans Hotel and Casino from Thursday to Sunday.
The show starts at 4 pm and lasts about an hour.
The best thing is that the tickets are inexpensive. The cheapest ticket is $15 (Vegas.com), but you can sometimes even get a discount on that price.
6. Dimmare's Martinis and Magic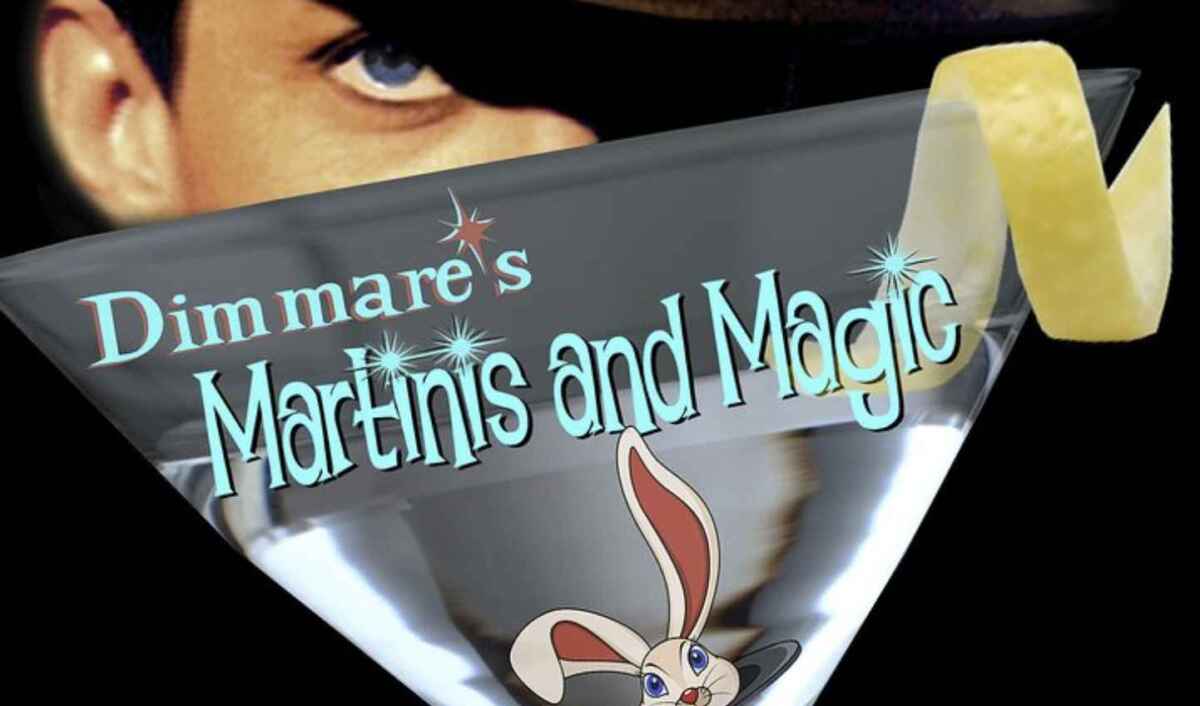 The name says it all. Dimmare's magic show is a throwback to Las Vegas of the 1960s without the fanfare associated with the city today.
As you can imagine, Dimmare's Martinis and Magic isn't a family show.
As you're watching the magic unfold, you can enjoy tasty drinks and forget about everything else.
The show occurs at the Mint Tavern, famous for its drinks and retro style. Dimmare's magic tricks rely on props and comedy.
Volunteers are also a big part of his performance, so be prepared if you end up on the stage.
Dimmare's Martinis and Magic runs every Saturday from 7 pm to 8:30 pm.
And it's super affordable. For just $37 (TripAdvisor), you get a memorable night in Las Vegas.
7. The Magic of Jen Kramer

Jen Kramer proves that magic doesn't belong to male magicians only.
Although this industry doesn't have many women magicians, Jen Kramer stands proudly as one of the best-known magicians in Las Vegas and worldwide.
Jen is also a young magician who brings a fresh perspective to magic shows.
For instance, one of her tricks uses Facebook profiles, which you won't see in the other magic shows in town.
Still, she relies on well-established tricks and illusions involving cards and props. Her shows are family and kids-oriented, so it's a blast for the whole family.
She focuses on children because we're all like kids when we see magic. There's a sense of child-like wonder.
She explained her reasoning in her Ted talk you can see here:
You can see Jen Kramer from Friday to Sunday at 5 pm.
Her permanent gig is at Westgate Resort and Casino (Westgate Cabaret). The ticket prices (Vegas.com) are:
Section B: $19.99
Section Ter: $29.99
Section VIP: $39.99
Section VVIP: $49.99
8. Piff The Magic Dragon

Piff The Magic Dragon entered the magic show business in 2015 on America's Got Talent, and his popularity has grown by the day ever since.
His comedy style, mixed with magic tricks, makes him one of the most popular new magicians in town.
He relies heavily on physical comedy. That's hard to miss when you see him dressed in a green dragon costume.
And who can forget his companion, a chihuahua (also dressed as a dragon)?
In 2019, Las Vegas Review-Journal proclaimed him the Best of Las Vegas Gold winner.
Also, he was TripAdvisor's Travelers' Choice for 2022.
When not on tour, Piff The Magic Dragon performs at Flamingo (Flamingo Showroom) from Thursday to Monday.
The show starts at 7 pm. The prices are:
Section BTH53A-57B: $66.22
Section BTH20A-TBL51B: $78.12
Section FTB: $95.51
This show is in high demand and can sell out quickly, so get your tickets (TripAdvisor) as soon as possible.
While you're at it, why not book a room at the Flamingo Hotel?
For more information, check out my article: The Flamingo Hotel: A Bargain in the Heart of Las Vegas
9. Criss Angel: Mindfreak

Love him or hate him, Criss Angel has become a permanent magic idol in Las Vegas.
He's a familiar face from numerous TV appearances, but his live magic show, Mindfreak, has taken Las Vegas by storm.
His unique style may alienate some people, but his main point is to present magic as dark and mysterious.
His show reflects that. So, you'll see a whole new experience in his show.
Apart from magic tricks, Criss Angel's show incorporates the following:
Rock music
Light show
Pyrotechnics 
Many people describe it as a rock concert. Of course, you get the classic Criss Angel magic, like levitation.
Here's a trailer for his live show:
Mindfreak occurs from Wednesday to Sunday at 7 pm at Planet Hollywood's Criss Angel Theater.
The ticket prices exceed $100 for the better seats ($87 for ones in the back), but Viator has fantastic discounts. You can get a ticket for $86.71.
10. Mat Franco: Magic Reinvented Nightly
Winner of America's Got Talent, Mat Franco consolidated his status as an upcoming magic star of Las Vegas.
He's a total contrast to Criss Angels in many ways. His show is more family-friendly and doesn't involve pyrotechnics or loud music.
Instead, Magic Reinvented Nightly is a more "elegant" version.
Firstly, Mat Franco comes out dressed in black.
He's back lit only by white lights. And his tricks aren't dangerous stunts but more family appropriate card and bottle tricks.
He combines these with his comedy to make a 90-minute unforgettable experience, for which Desert Companion Magazine dubbed the show "the Best Strip Show."
Franco's got his own theater, rightfully called Mat Franco Theater, at the Linq hotel.
You can see him perform from Friday to Wednesday at 7 pm.
The prices vary based on the seat:
Section T33-38: $49.99
Section Resv: $59.99
Section T23-Pref: $76.95
Section Prem: $108.98, $123, or $128 (depending on the row)
Get your tickets for Mat Franco here (Vegas.com)
11. Shin Lim: Limitless

Shin Lim is another magician who won America's Got Talent, but the unique thing is: he won it twice!
Now, he has a live magic show in Las Vegas called Limitless.
The show runs at the Mirage hotel (Mirage Theater).
The show is family-friendly, and the kids will love every part of it.
Shin Lim's sleight-of-hand tricks define his magic style, and that's the staple of his show in Vegas.
Colin Cloud, the famous mentalist, also features prominently in the show, giving a nice balance to the overall experience.
They love having volunteers — adults, and children. So you might be one of them.
Check out Limitless from Thursday to Monday from 7:30 pm. The cheapest ticket is $49.99. But the front seats sell for $229.99.
This is another Vegas magic show that is in high demand. So get your tickets for Shin Lim (Vegas.com) as soon as you can!
IMPORTANT: See my article here to find out why it's a good idea to book your Las Vegas shows in advance.
Vegas Magician FAQ
Who are some of the top magicians in Las Vegas?
There are many great magicians in Las Vegas, but some of the most popular and well-known ones include Shin Lim, David Copperfield, Piff The Magic Dragon, The Magic of Jen Kramer, and Criss Angel.
What types of magic do these magicians perform?
These magicians perform a wide range of magic, including illusions, mentalism, comedy magic, and more. Each Vegas magician has their own unique style and approach to magic.
Where can I see these magicians perform in Las Vegas?
The magicians listed above perform at various venues throughout Las Vegas, including theaters, casinos, and other entertainment venues. Check their websites or ticketing websites for more information about upcoming shows.
Are Las Vegas magicians appropriate for all ages?
It depends on the magician and the specific show. Most Las Vegas magicians have shows more geared toward adults and have age requirements, while a few have family friendly shows suitable for all ages, such as Adam London's Laughternoon.
How do these Sin City magicians compare to each other?
Each Las Vegas magician has their own unique style and approach to magic, so it's difficult to compare them directly. However, they are all highly skilled and entertaining performers who have received great reviews from audiences and critics alike.
Magician show length…How long are the shows?
Magician shows in Vegas typically last 1 to 1.5 hours. The exact show length depends on the performer, but you will find that time flies with all the entertaining magic you'll be experiencing, and most Las Vegas magic shows are over before you're ready.