Is It Better To Book Vegas Shows in Advance? (Must Read!)
(This article may contain affiliate links. If you click through and make a purchase, we will receive a small commission at no additional cost to you. )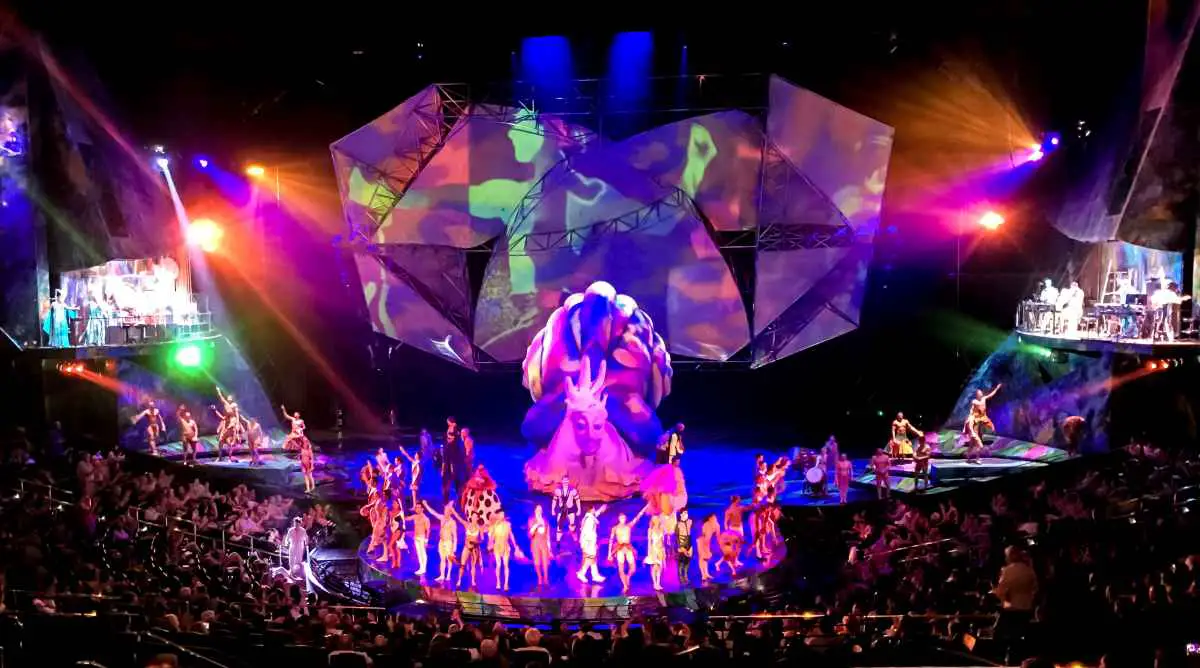 When you visit Vegas, you must see at least one show, or the trip is incomplete. With so many shows available, is there a need to book your Vegas shows in advance?
You should always book Vegas shows in advance to guarantee your ideal seat, price, and date. Failing to do this can result in the shows selling out, prices rising, and subpar seating. If you forget to book in advance, you will need to use alternative means to try to find Las Vegas show tickets.
In this article, I'll explain why you should always book Vegas shows in advance. I will also discuss what to do if you forget to book in advance, including one thing you should never do. Read on for all the information you need about booking a Las Vegas show in advance.
Looking for the ultimate Vegas show experience? Check out the calendar of concerts and festivals coming to Las Vegas!
Why You Should Always Book Vegas Shows in Advance
Not booking your Vegas shows in advance can significantly sabotage your trip. This is particularly true if there are one or two shows you are really counting on seeing.
In addition, booking in advance comes with several perks that will improve your overall Vegas experience. Let's take a look at what they are.
You Can Avoid Waiting in Line for Hours at a Las Vegas Box Office
If you wait until the day of the show, you could find yourself waiting in an endless line at the box office, hoping you get tickets. The best way to get same-day Las Vegas show tickets is to arrive at the box office several hours before showtime to ensure you have time to make it through the line and into the venue.
While this may sound extreme, you could be waiting in line the entire time, even if you arrive two hours before showtime. 
Booking your seats in advance will save you the trouble of a long wait, plus who wants to spend their precious Las Vegas vacation time standing in a line? It's much better to book your show tickets online before you arrive in Vegas.
Tip: When booking Vegas shows online, ensure that you thoroughly read your confirmation email. Either print your tickets or have the barcode ready to be scanned on your smartphone. 
If you are picking up the tickets at the box office, which may not be the best option, plan to arrive extra early. You will have to wait your turn to make it to the window despite having already paid.
You Can Get Excellent Discounts on Many Las Vegas Shows
While you can sometimes get same-day discounts, your party may be separated, or the seats may not be that good.
Another perk of booking in advance is the potential for some serious discounts. Many shows or ticket websites offer lower sales prices the farther out that you book the seats. 
Tip: However, if you cannot find a discount for the show you want and the tickets are expensive, you can consider buying them at the box office. This way, you will avoid the potentially high service fees associated with online purchases even if you do not get a discount at the theater.
The Vegas Show You Want To See Might Sell Out
The most popular Las Vegas shows sell out quickly. For instance, Usher's Las Vegas Residency sold out through all of 2022 shortly after being announced. You can avoid missing out on the shows you want to see by getting your tickets in advance.
The best seats in the house are the first ones to sell, so if you do not want to be stuck in a seat with poor visibility, you will need to book early. As mentioned before, you may even get a significant discount to go with an even better seat.
You will also have more control over the day and time of the show you attend. It is often easier to get into early performances, but booking in advance will make you free to select a late show if that fits your schedule better.
What happens if you forget to plan ahead for your entertainment? Let's look at what you can do to fix this mistake.
Where to Buy Discount Advance Vegas Show Tickets (2 Places)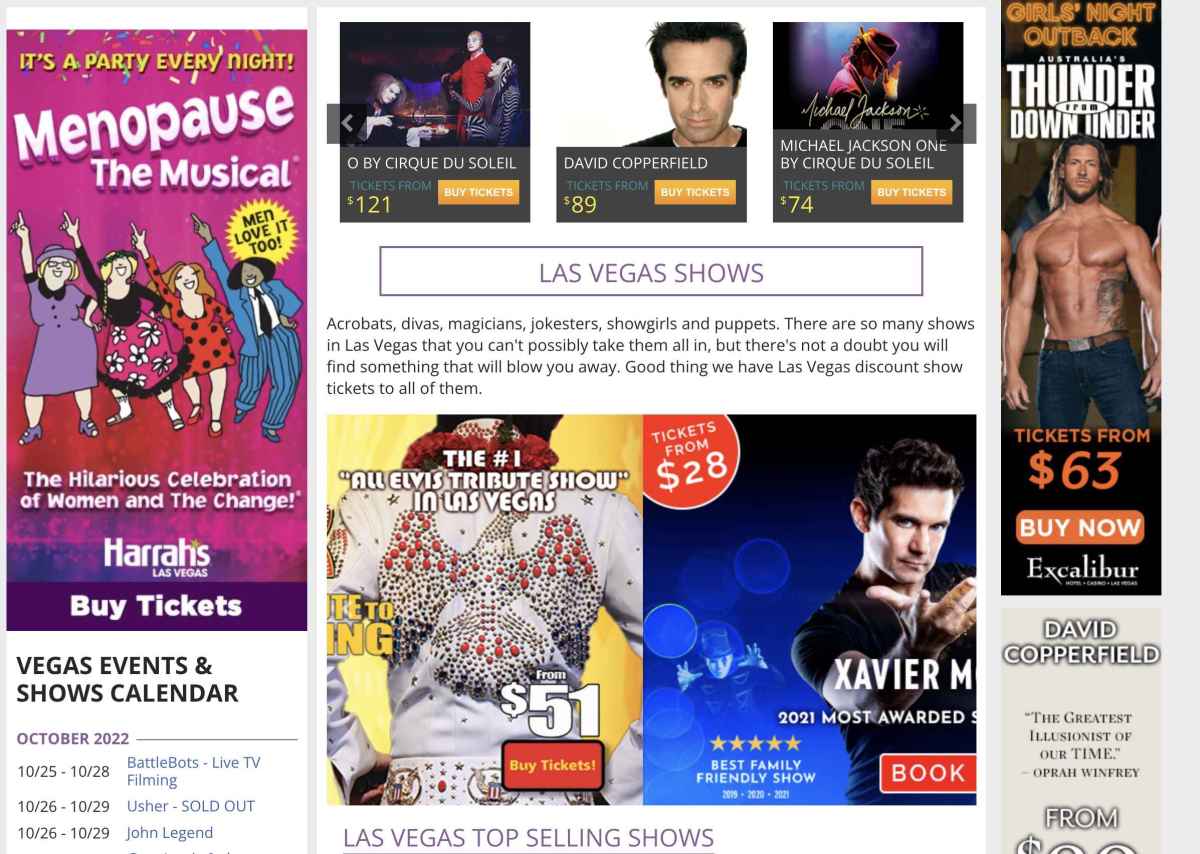 #1. Vegas.com is the best place to purchase discounted show tickets in advance. They are a reputable company that has advance discount tickets for sale for dozens upon dozens of the most popular Las Vegas shows like:
They also have tickets for all the biggest artist residencies and concerts happening in Las Vegas.
#2. If you're looking for great discounts on Las Vegas show tickets, try Groupon.com. While Groupon doesn't offer as many shows overall as Vegas.com does, the shows they have available at any given time are likely to be highly discounted.
Tip: Groupon deals don't always last long, so if you see a Vegas show you want, grab the tickets before it's too late!
What To Do if You Forgot To Book Your Vegas Show in Advance
You may have been so excited about your trip that you planned everything but the shows. Maybe you were not sure which shows to pick, so you left that for when you arrived in Vegas. Regardless of the cause, you are here without any show tickets.
Don't panic—there are still several options you can try. 
Head to the Vegas Box Office For The Shows of Your Choice
While waiting in line for hours is not ideal, it may be your only option. Plus, there are some benefits. 
While you cannot be choosy about where you get to sit or even who you sit with, you can sometimes score some serious last-minute deals by purchasing your show tickets that day. 
As I mentioned, you and your party may get separated, and the seats may not be ideal, but at least you will see the show.
Inquire About Vegas Show Tickets at The Concierge of Your Hotel
Your hotel may also offer tickets to various shows, especially if they are held at their sister hotels' locations. If they have seats available, they may even be provided at a discounted rate because the venues are all owned by the same parent company.
Additionally, the hotel may offer options for events at other locations independent of it. Be sure to ask at the front desk or the hotel concierge when you check in.
Look for Vegas Tickets on Demand Booths
When all else fails, there are several Tickets on Demand booths on the Vegas Strip. You can see if any of them are selling seats at the show you want to see. Again, you may get a discounted rate by purchasing this way, but you're unlikely to find the ideal seat.
Avoid Questionable People Selling Tickets on The Strip
Above all else, do not buy from questionable people hanging out on the Strip who claim to be selling tickets to hot shows that are sold out. Many times these are fraudulent tickets. Dealing with these people can put you in danger, so avoid them at all costs.
Do you know how long Vegas shows last? Read my complete guide to learn more about the time you're going to spend in a Vegas show. [How Long Do Shows Typically Last in Last Vegas?]
Is It Better To Book Vegas Shows in Advance – Conclusion
Booking your Vegas shows in advance is one of the best ways to prepare for your trip to Sin City. It guarantees your seat and often scores you a great discount on the tickets. Luckily, when you forget to book in advance, several options are available for still getting seats at the show of your choice. But why take the chance?