After a long year and a half of avoiding almost all public spaces, there is a light at the end of the tunnel that has been the COVID-19 pandemic. With many of our favorite restaurants and businesses opening back up, people are ready to re-enter society.
What better way to ring in the end of a terrible 18 months than traveling to Las Vegas and eating at one of our many delicious, all-you-can-eat buffets. But many have been permanently or temporarily closed so you'll need to know which ones are currently open.
(This article may contain affiliate links and we may earn a commission if you make a purchase.)
The Las Vegas Buffets currently open as of September 2021 include:
Let's take a deeper look at each of these delicious buffets located throughout Las Vegas and learn more about the many options they provide.
Related: Find the best spots for a cheap breakfast on the Strip (non-buffet)
The Bacchanal Buffet Inside Caesars Palace
Located inside the famous Caesars Palace on the Las Vegas Strip, Bacchanal Buffet is one of the best known, and perhaps best tasting, buffets in Las Vegas.
Following recent renovations, this Vegas buffet now has nine unique stations spanning 25,000 square feet. With daily chef specials changing each day, every meal at the Bacchanal Buffet offers a unique dining experience.
Even more exciting than the food choices, however, is the way in which the food is prepared. Each kitchen is an open concept, meaning that diners can enjoy their food while watching it be made in front of their own eyes.
Not only does this provide dinners with the peace of mind in seeing their food made in front of them, but watching these chefs at work will captivate even the most easily distracted.
The Bacchanal Buffet is a must-have experience when dining buffet style on the Strip in Las Vegas.
The buffet is open daily from 4 – 10 pm.
Circus Circus Buffet
Unlike many of the other buffets listed, the Circus Buffet located within Circus Circus on the Las Vegas Strip is your typical, old-fashioned buffet, which is what's so great about it. The buffet serves everyone's buffet classics with dishes like pasta, macaroni and cheese, chicken, and various deli meats.
While it may not be the fanciest of dining locations, it serves as an "old reliable", something that often comes in handy during the long Las Vegas days.
One benefit to the Circus Buffet that no other restaurant can rival, however, is that it is truly "kid-friendly". Children of all ages under 10 eat for reduced prices and, within Circus Circus itself, there is an actual theme park with rides and carnival games that kids love.
Additionally, the benefit of traditional buffet fare is that it is loved by both the child's and adult's palate.
While most children don't love Sushi, Crab Legs, and many other fine dining options, everyone loves macaroni and cheese. The Circus Buffet is definitely the safest bet for dining with children.
The Circus Buffet is open every day from 7 am – 2 pm and from 4:30 -10 pm Saturday & Sunday
Read our full post here: Circus Circus Buffet (Cost & Hours)
Fresh Buffet at Westgate Las Vegas
Located just a block from the famous Vegas Strip, Fresh Buffet at Westgate Las Vegas Resort & Casino is a great place for the budget-conscious looking to fill their stomachs. They offer a range of cuisines from around the world and local favorite dishes in a cozy and all-inclusive buffet experience. 
You'll find a variety of delicious food from baked goods, fruit, and desserts, to an extensive selection of seafood and meat dishes, alongside classic cuisines such as Asian, Mexican, and European. They also feature a great selection of local favorites, such as nachos, steaks, and ribs. 
The Fresh Buffet is open 7 days a week from 7 am until 2 pm, they offer a full range of brunch buffet options and have special brunch on the weekends and holidays.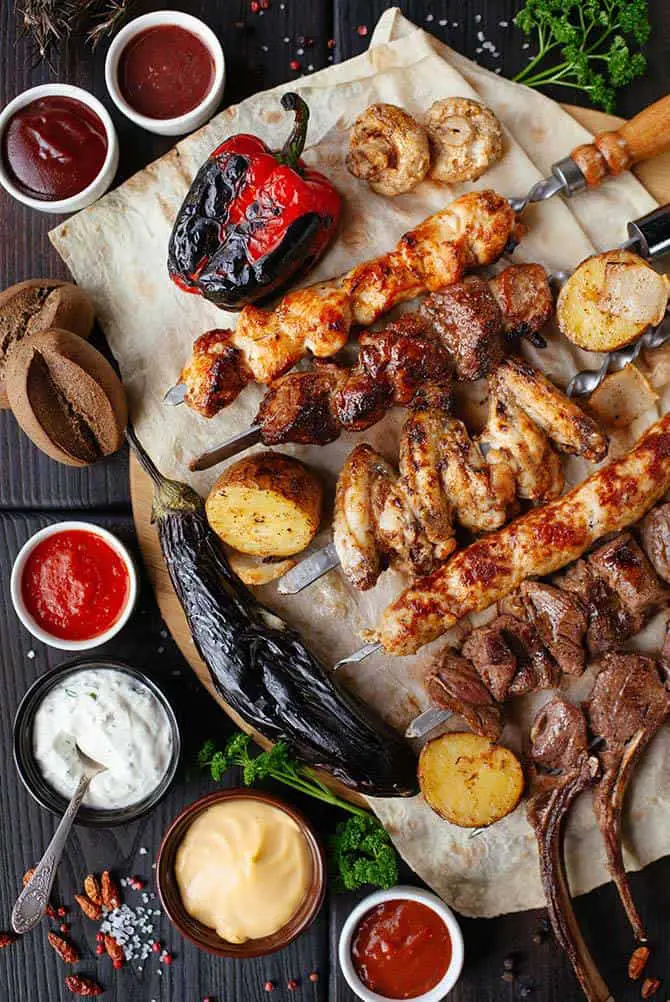 The Garden Buffet at South Point Casino
Located off of the Las Vegas Strip on the southern end of Las Vegas Boulevard, the Garden Buffet offers a delicious meal at almost any time. Having reopened June 1st, they serve breakfast, lunch, and dinner every day, with the option for weekend brunch including bottomless Mimosas.
This means that they are consistently open and serving food every day from 7:00 am to 9:00 pm, which is a welcome update for those who eat at abnormal times.
The buffet also serves a wide variety of foods with six live cooking stations across the restaurant. To add to the appeal, the buffet also offers some healthy options, including a "healthy breakfast bar" and a full salad bar.
Perhaps most exciting, however, is that the longer hours and "off the strip" location allow the buffet to be a little bit quieter than most others in Las Vegas. After the hustle and bustle of the day, this is often a welcome reprieve.
Related: Want to eat at a celebrity chef restaurant? Find out everything you need to know about dining at Hell's Kitchen in Las Vegas
Garden Court Buffet at Main Street Station
Located in Downtown Las Vegas, Garden Court Buffet is an award-winning buffet garnering acclaim as one of the top 5 buffets in Las Vegas! The large open and airy room is appointed with stylish Victorian decor and offers a delicious range of cuisines from all corners of the globe.
Whether you're after a specialty Asian dish, Mexican food, Hawaiian fare, or cuisine that's a little closer to home, they have a great range of dishes available from 8 am until 2 pm each day.
For chicken lovers, they also have a fully stocked rotisserie chicken station with various flavors and seasoning available alongside delicious salads and side offerings. 
No matter the time of day, you'll find excellent food options at this Las Vegas buffet, as they cater to breakfast, champagne brunch, lunch, and dinner (Dinner is Friday and Saturdays nights only from 4 pm – 9 pm).
Market Place Buffet at Rampart Casino
With stylish marble and granite decor, the popular Market Place Buffet is located within the JW Marriott Las Vegas Resort located in Summerlin and provides an upmarket approach yet relaxed atmosphere for all-inclusive dining. 
They offer classic American dishes and seafood specialties alongside international cuisines such as Vietnamese, Chinese, Mexican, Mediterranean, and European flavors. All the food is freshly prepared within the various specialty kitchen spaces, where you can order directly from chefs and have your favorite dishes prepared while you wait. 
The buffet is open 7-days a week (every day from 4-8 pm & breakfast buffet on Saturday and Sunday from 9 am – 2 pm)and caters to breakfast, brunch, lunch, and dinner times. You'll find fantastically valued options including champagne brunch, prime rib dinner as well as all-you-can-drink beer and wine offers. Just make sure you save some room for dessert, as their extensive desserts buffet is a sight to behold! 
With Space for over 700 diners, you can choose from seating in the freshly decorated seating lounge or the outdoor patio space to take advantage of the warm Vegas weather for much of the year.
MGM Grand Buffet
Located in the well-known MGM Grand Resort on the Las Vegas Strip, the MGM Grand Buffet is easily accessible and quite delicious.
Serving breakfast, lunch, and weekend brunch, many of the common staples of Las Vegas's buffets are presented, but the food tastes much better than some other buffets. With both hot and cold dishes, made-to-order omelets, and a wide variety of soups and salads, the MGM Grand Buffet truly is a delight.
Perhaps most important about the MGM Grand Buffet are their beverage and dessert options. With endless beverages like beer, wine, and champagne, the buffet is sure to find a beverage you enjoy.
This, topped with scrumptious desserts like cookies, pies, brownies, and cheesecake, even when you are full you will be begging for more. Don't miss the MGM Grand Buffet! Open 8 am – 3 pm every day of the week.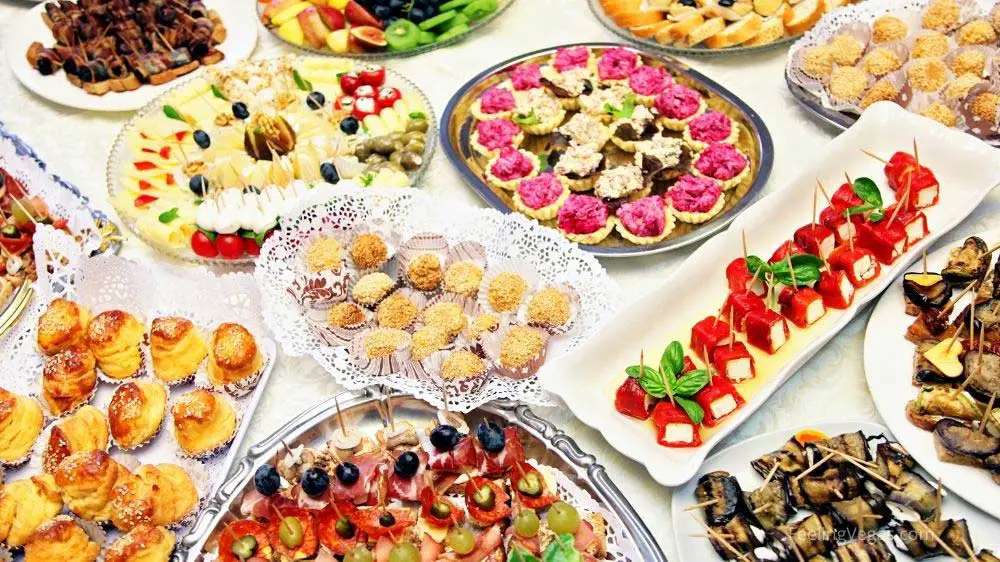 The Buffet at Bellagio
With its recent reopening on July 16th, The Buffet at Bellagio, located on the Las Vegas Strip, offers a number of deliciously unique food choices within the confines of a beautiful space. From the classy design complete with art on the walls to the international foods served here, the buffet is well known for its style.
Serving breakfast, lunch, and brunch, the restaurant offers unique choices of all-you-can-eat Italian, Chinese, Japanese, and American foods. In addition to the many choices, the live-action cook stations ensure everyone finds exactly what they want, and maybe even discover something new.
Of course, the best part of a meal is who you share it with. The Bellagio buffet ensures that you can share your meal with those that you love.
With complimentary dining for children under five, the ability to accommodate large groups, and the welcoming atmosphere, the Buffet at Bellagio is a great choice. Hours: 8 am – 3 pm every day.
The Buffet – Excalibur
Located within The Excalibur on the Las Vegas Strip, The Excalibur Buffet offers a delicious brunch no matter your preferences.
With a made-to-order omelet and crepe station, a wide variety of meats and kinds of seafood available, and of course, a wide selection of desserts, the buffet certainly ensures a positive dining experience.
The best part of The Excalibur Buffet, aside from the food, must be the atmosphere the restaurant produces.
With a casual dress code, no reservation required, and a large seating area, the buffet produces a happy, welcoming atmosphere that really helps to make for a joyful dining experience.
After recently reopening, the buffet plans to expand its hours beyond what is currently offered. While there is no need to call ahead, if you are interested in learning more about these hours, reaching out is easy, just visit their website. Hours: Wednesday – Monday 8 am – 3 pm & 7 am – 4 pm on Saturday and Sunday (Closed Monday & Tuesday).
The Buffet – Luxor
The Luxor hotel is home to The Buffet, it's located right on the Las Vegas Strip, and attracts crowds of hungry patrons with exceptionally valued and varied food options. It features a salad bar that's 30 feet long, an in-house pizza station, omelet station, and carvery as well as delectable specialties from all over the world. 
You'll find something for the entire family at this buffet with loads of vegetarian dishes, as well as mouth-watering meat dishes. Save some space for the dessert station, as they have an extensive range of dessert options, fresh-baked pastries, and sugar-free desserts for guilt-free indulgence! 
The Buffet at the Luxor hotel also offers an all-day buffet pass, where you can visit as many times as you like, from open to close. With kids under 4-years old eating for free, and a host of excellent local and international cuisine options, The Buffet at the Luxor is a perfect place for everyone to enjoy a relaxed and casual all-inclusive dining experience. 
The Buffet at Luxor is open Wednesday – Monday 7 am – 3 pm & 7 am – 4 pm on Saturday and Sunday (Closed Monday & Tuesday).
The Buffet at Wynn Las Vegas
Reopened on July 1st, The Buffet at Wynn Las Vegas provides a delicious option for those interested in a high-quality buffet.
Sitting along the Las Vegas Strip, this beautiful buffet offers breakfast, brunch, and dinner buffets under the supervision of Executive Chef Jason Duarte. With 16 different live cooking stations, it is the buffet lover's dream.
Among the more than 90 different dishes to choose from, both new and classic items are there to impress your tastebuds. With dishes like egg benedict, delicious prime rib, street tacos, and made-to-order sushi, you will not be disappointed.
Even the pickiest of eaters can find something they will love.
This family-friendly buffet is also great in that you can request priority seating and pay in advance options online prior to your visit. Open from 8 am to 9 pm every day except Tuesday & Wednesday (closed), this is a must-do.
Related: Discover the top restaurants where you can watch the Bellagio Fountains while you dine.
Wicked Spoon Buffet at The Cosmopolitan
Located inside The Cosmopolitan on the Las Vegas Strip, The Wicked Spoon provides a number of dining options within the beautiful space that is the restaurant.
Offering breakfast and lunch options on weekdays and a brunch option during the weekend, The Wicked Spoon is perfectly acclimatable for any group. Atop of the many food choices, the buffet also offers its own "bottomless beverages" option, making any meal a great time.
The buffet is divided into a number of different sections based on the cuisine, allowing diners to pick and choose as they please.
Additionally, the Wicked Spoon sets itself apart with a beautiful, and perhaps slightly overwhelming, dessert section full of your favorite desserts from around the world. Dinners truly can't go wrong choosing here.
The Wicked Spoon also has serious measures to ensure a safe dining experience.
Social distancing and sanitization are incredibly important to how they operate, and they ask all guests to comply with these standards.
The Wicked Spoon is open Monday – Friday from 8 am until 3 pm, and Saturday & Sunday from 9 am – 4 pm.