Circus Circus Buffet 2023 (Cost & Hours)
(This article may contain affiliate links. If you click through and make a purchase, we will receive a small commission at no additional cost to you. )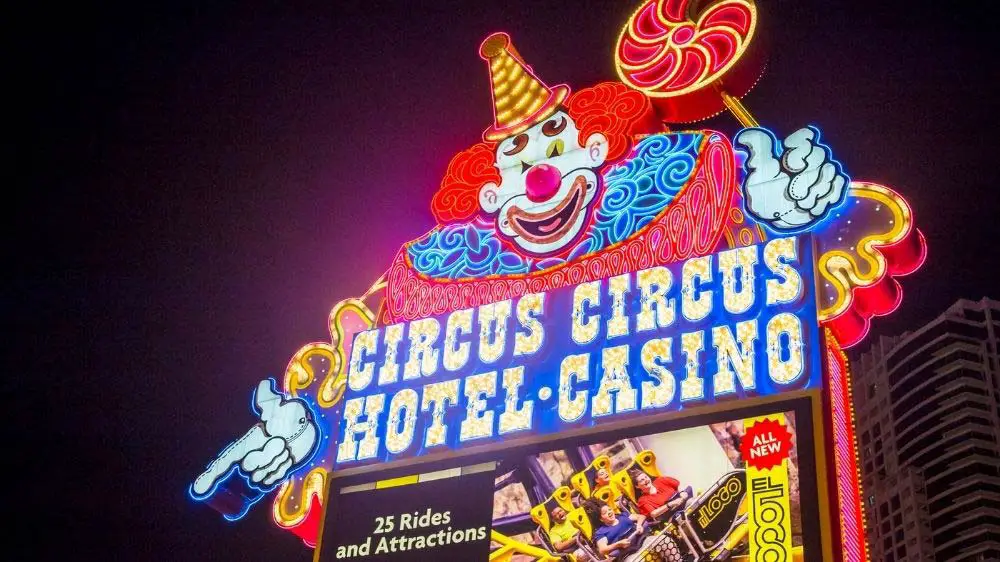 Is Vegas really Vegas without a stop at at least one buffet? I think not. If you're ready to strap on the ol' feedbag and enjoy a classic all-you-can-eat Las Vegas buffet, then you'll want to head on over to Circus Circus Hotel and Casino and experience the Circus Buffet. Not only is it good, but it's also one of the least expensive buffets on the Strip.
The Circus Circus buffet costs $22.99 (Mon-Fri Brunch), $25.99 (Sat & Sun Brunch), $24.99 (Mon-Thur Dinner), and $27.99 (Sat-Sun Dinner). The buffet is open seven days a week at 7 am for breakfast and brunch and closes briefly at 2 pm to prepare for dinner starting at 4:30 pm.
Keep reading to take a closer look at the Circus Circus Buffet prices, find out what type of food is available for breakfast, brunch, and dinner, how much you can expect to pay, and the Circus Circus buffet hours. Plus I'll give you some tips about the best times to visit.
Also, see our post about ALL of the Buffets currently open in Las Vegas!
What Is Included in the Circus Circus Buffet?
First, let me say that the Circus Buffet is not the fanciest buffet on the Strip. It also doesn't charge the sky-high prices of some of Las Vegas's other well-known buffets. Instead, the Circus Buffet is a classic-style buffet that serves good food at reasonable prices.
It's also the most kid and family-friendly buffet in town, with plenty of menu items to satisfy the adults and keep the kids happy as well.
The Circus Buffet serves two distinct buffets: brunch and dinner. The first wave of the brunch buffet starts at 7 am and consists of breakfast foods. Around 11 am, lunch items also begin to appear on the buffet tables.
Let's take a look at what kind of dishes you can expect to see at the Circus Buffet.
Circus Circus Breakfast Buffet Continues Into Lunch
The first part of the brunch buffet consists of a delicious selection of breakfast foods that you've come to expect from any breakfast buffet. This includes:
Fresh fruit
Yogurt
Hot and cold cereal
Eggs (fried and scrambled)
Breakfast sausage
Donuts
Cinnamon rolls
Waffles
Pastries
Pancakes
French toast
Bagels with cream cheese and a selection of jellies
Biscuits and gravy
Bacon and sausage
Fried potatoes
At 11 am, lunch items start to appear as well, which typically include the following dishes:
A full salad bar
Deli meats and cheeses
Fresh bread and rolls
Hot dogs
Hamburgers
Pizza
Chicken tenders
Macaroni and cheese
French fries
Roast chicken
An omelet station is also open throughout the brunch buffet, where guests can have a personalized omelet created just the way they like it.
Circus Circus Dinner Buffet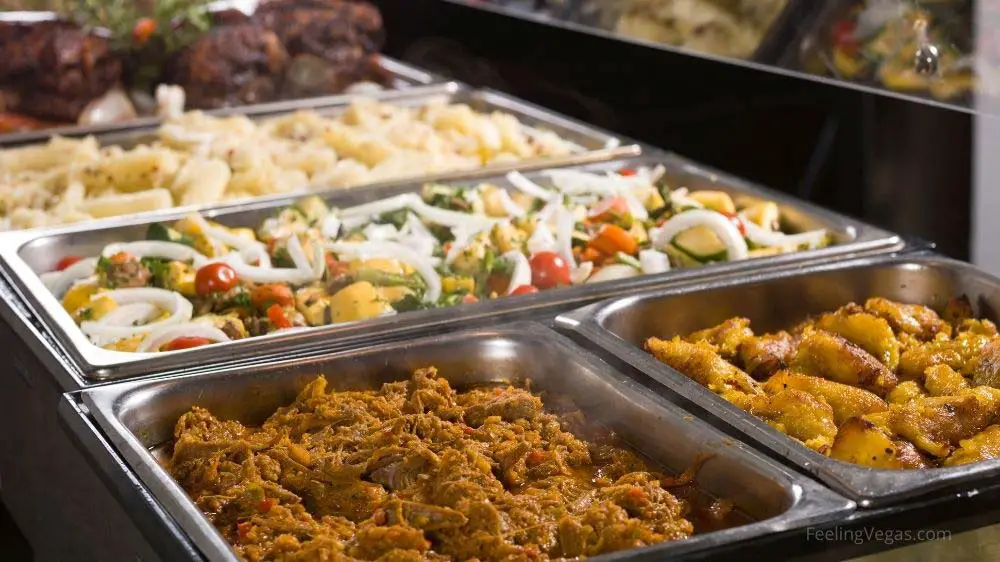 The Circus Circus dinner buffet will have many of the dishes served at brunch, plus several added dinner selections. Typical dinner buffet items include:
Full salad bar (Dinner adds a Caesars salad option)
Range of pasta dishes
A limited selection of seafood
Potatoes (baked and mashed with gravy)
Fried chicken
Meat carving station
Baked fish
Asian section, including sweet and sour chicken, egg noodles, egg rolls, and wok-fried dishes.
Mexican dishes (chips and salsa, burritos, tacos, guacamole, etc.)
In addition, both the breakfast and dinner buffets include plenty of kid-friendly foods, such as:
Chicken nuggets
Kids' cereals
Tater tots
Circus Circus Buffet Desserts
The real star of the show, however, is the dessert offerings. Dessert is a highlight of both the brunch and dinner offerings and changes daily, although you can always expect to find:
Chocolate and vanilla ice cream (soft serve)
Cakes
Jello
Puddings
Brownies
Pies
and other sweet treats
Are Drinks Included in the Circus Buffet?
Unlike regular buffets in towns across America, where you pay separately for drinks, the Circus Buffet includes a small, self-service drink station. Drinks include:
A coffee and cappuccino machine
Hot tea
A limited range of fruit juices
Assorted soft drinks (pepsi, root beer, dr. pepper, club soda, etc.)
Milk
Chocolate milk
Chilled water
Unsweetened iced tea
Alcoholic drinks are not free but can be ordered via the servers. Note: Unlike many other Las Vegas weekend buffets, the Circus Buffet does not offer a champagne brunch.
RELATED: The 15+ Best Breakfast & Brunch Buffets in Las Vegas
Circus Circus Buffet Prices
So, how much is the Circus Circus buffet? The price you pay for the buffet at Circus Circus depends on:
Whether you are there for the brunch or dinner buffet.
What day of the week it is.
Whether or not it is a holiday or peak Las Vegas weekend.
There are also different prices for kids younger than 11 years.
Bear in mind that the prices quoted for the Circus Circus resort buffet exclude tax, which is calculated at 8.375% for the Las Vegas Strip.
| Circus Buffet Options | Hours | Cost |
| --- | --- | --- |
| Brunch (Monday – Friday) | 7AM – 2PM | $22.99 adults / $17.99 kids |
| Brunch (Saturday and Sunday) | 7AM – 2PM | $25.99 adults / $18.99 kids |
| Dinner (Monday – Thursday) | 4:30PM – 10PM | $24.99 adults / $19.99 kids |
| Dinner (Friday, Saturday & Sunday) | 4:30PM – 10PM | $27.99 adults / $20.99 kids |
Note: Children's prices are for kids 4 to 10 years of age. Also, be aware that holidays and peak season Las Vegas times: $28.99 (breakfast buffet) and $30.99 (dinner buffet).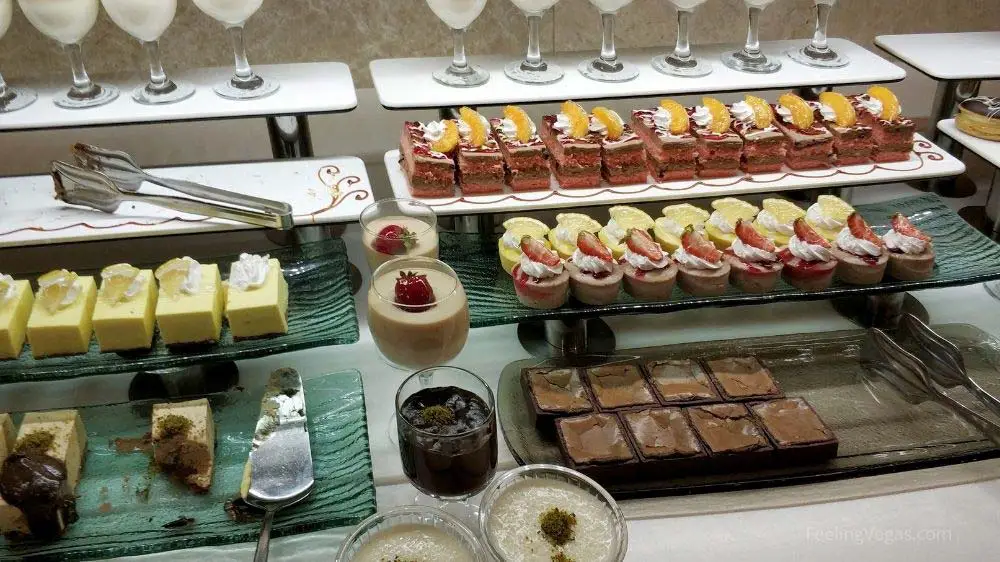 Circus Circus Buffet Hours
Located near the Circus Circus casino floor, the Circus Buffet is open seven days a week. On major holidays, such as Thanksgiving and Christmas Day, it typically publishes special hours of operation.
The buffet starts at 7 am with its brunch buffet, which runs until 2 pm. It then closes for a few hours and reopens at 4:30 pm for the dinner buffet. The dinner buffet is available until 10 pm.
The Best Times To Visit The Circus Buffet
There is no doubt that the Circus Circus buffet is incredibly popular due to its reasonable prices and convenient location. As with almost every restaurant and attraction in Las Vegas, timing plays an important role in how big the lines can get.
For the Circus Circus breakfast and brunch buffet, earlier is better as far as how busy it gets. Eating at slightly off hours can also help to get you through the payment line quicker.
While the brunch buffet is not too crowded right after it opens at 7 am, in my opinion, the best time to eat is between the breakfast and lunch crowds. Around 10:30 am will get you in the door before the lunch crowd shows up and puts you in prime position for when they start putting out the additional lunchtime dishes.
For the dinner buffet, eating a bit later than normal may serve you well. After 8 pm, the dinner crowd begins to slow down a bit and is a good time to avoid the long lines.
Overall, weekdays are less busy than Saturdays and Sundays, but Vegas can be crowded anytime, especially during hectic times (i.e., Super Bowl weekend, large conventions, etc.)
Having said that, don't let the timing or crowds overly complicate things. The Circus Buffet is designed to handle the crowds, and you will be able to get in and eat anytime they are open.
However, avoiding the busiest times will mean you spend less of your precious vacation time waiting in line to get inside.
Compare and save! Check current Caesars Palace room rates at TripAdvisor!
Circus Circus Buffet (2023 Cost & Hours) – Final Thoughts
There you have it! Now you know everything you need to know about the Circus Circus Buffet prices and hours.
The Circus Circus breakfast buffet is a great alternative to some of the pricier food found on the Strip and the Circus buffet hours cover the times that the majority of guests will want to eat.
More Eating in Las Vegas Articles
Sources: