How To Choose a Hotel in Las Vegas (The Ultimate Guide)
(This article may contain affiliate links. If you click through and make a purchase, we will receive a small commission at no additional cost to you. )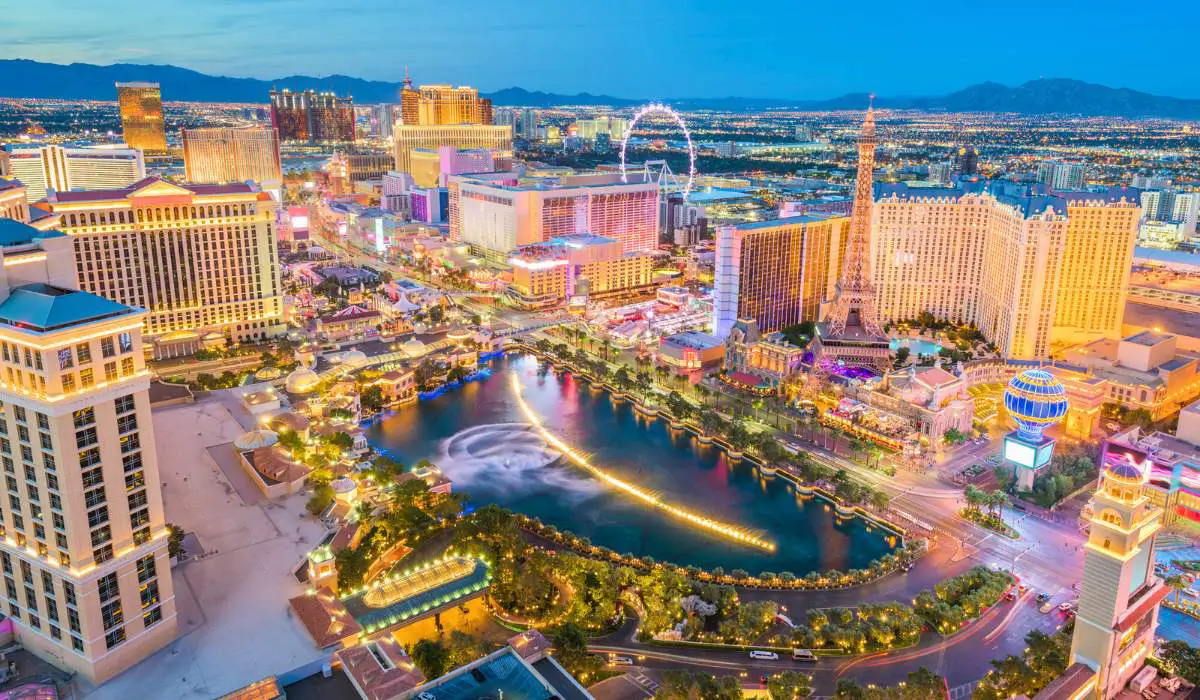 With over 50 major resorts and more than 150,000 hotel rooms available throughout the city, how on earth are you supposed to choose the right hotel in Las Vegas for your visit? It's an important decision, as your choice of hotel can make or break your visit to one of the most amazing cities on the planet!
Selecting the perfect hotel in Las Vegas involves considering the location that will best serve your travel needs, budget, desired amenities, and nearby activities. Looking at these factors together will reveal which hotel is the right choice for your Vegas trip.
If you're planning a visit to fabulous Las Vegas and aren't sure where to begin when it comes to picking a hotel, this guide is for you! Read on to discover the most important aspects of selecting the ideal hotel in Nevada's most famous city.
The 3 Top Locations For Your Las Vegas Hotel Room
We've all heard it before when it comes to traveling and choosing the best hotel: Location, location, location! And that certainly applies to Las Vegas, as well. First, let's talk about the three main areas people choose to stay in Las Vegas and identify the best one for you.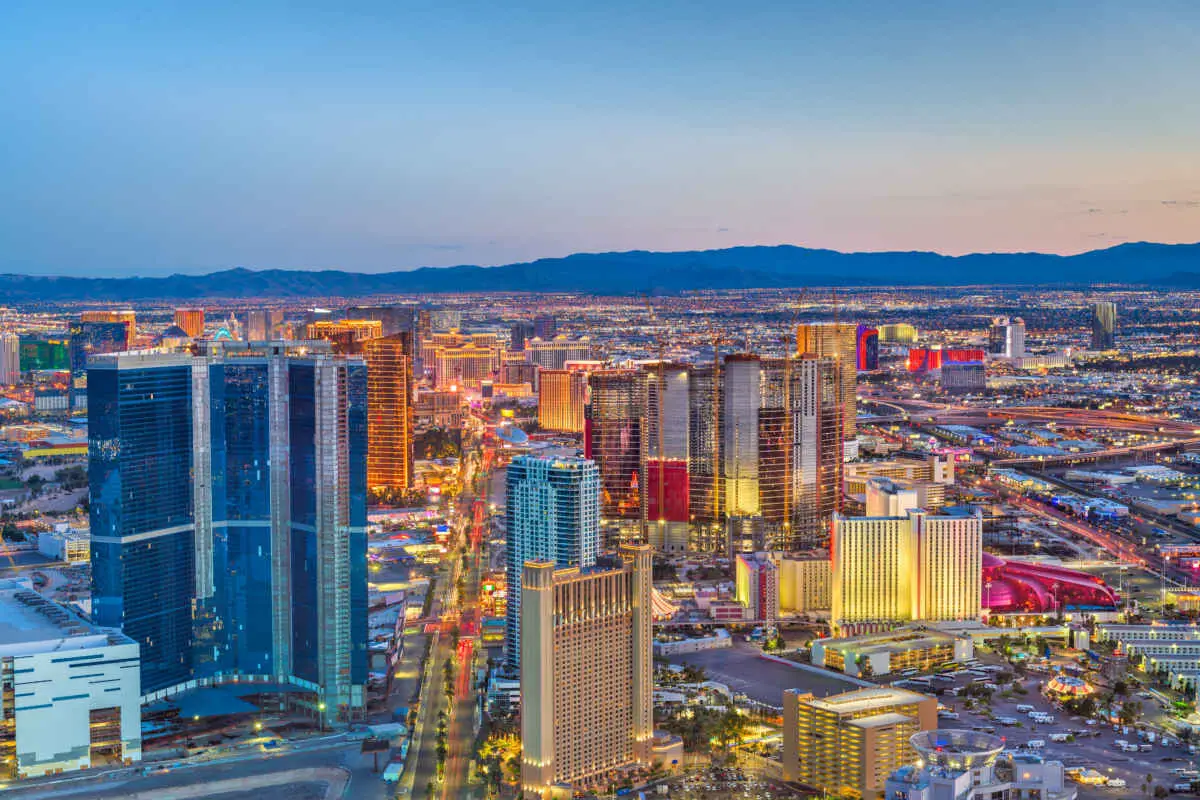 Las Vegas Strip Hotels
A major part of a Las Vegas hotel's value is its proximity to other major attractions. Most notably, the four miles of resorts, attractions, casinos, and thrills known as the Vegas Strip. Many of Las Vegas's best and biggest hotels are located along this section of Las Vegas Boulevard.
The endpoints of the Strip are defined by the Mandalay Bay Resort and Casino at the south end of the Strip, and The Strat Hotel (aka The Stratosphere) on the north end. In between these two hotels is 4.2 miles of some of the most famous mega-resorts, shopping, and attractions found anywhere in the world!
If you're staying on the Strip, you can be assured of being close to most of the biggest shows and attractions in Las Vegas. Even if where you want to go is at the other end of Las Vegas Boulevard from your hotel, it is easy and relatively inexpensive to get there either by walking, taxi, Uber, or even hopping on the monorail.
All of that said, there's really only one main thing to consider when you are looking for a Las Vegas hotel: do you want to stay on the Strip or off it? Being on the Strip means you're right in the heart of all the action!
Even on the Strip, some hotels are in a better location when it comes to other nearby resorts and attractions.
Here are some of my top recommendations for hotels on the Strip. These properties are located in the mid-Strip area, providing excellent walking opportunities and plenty of other nearby resorts and attractions.
Follow the links below to check the current room rates at TripAdvisor.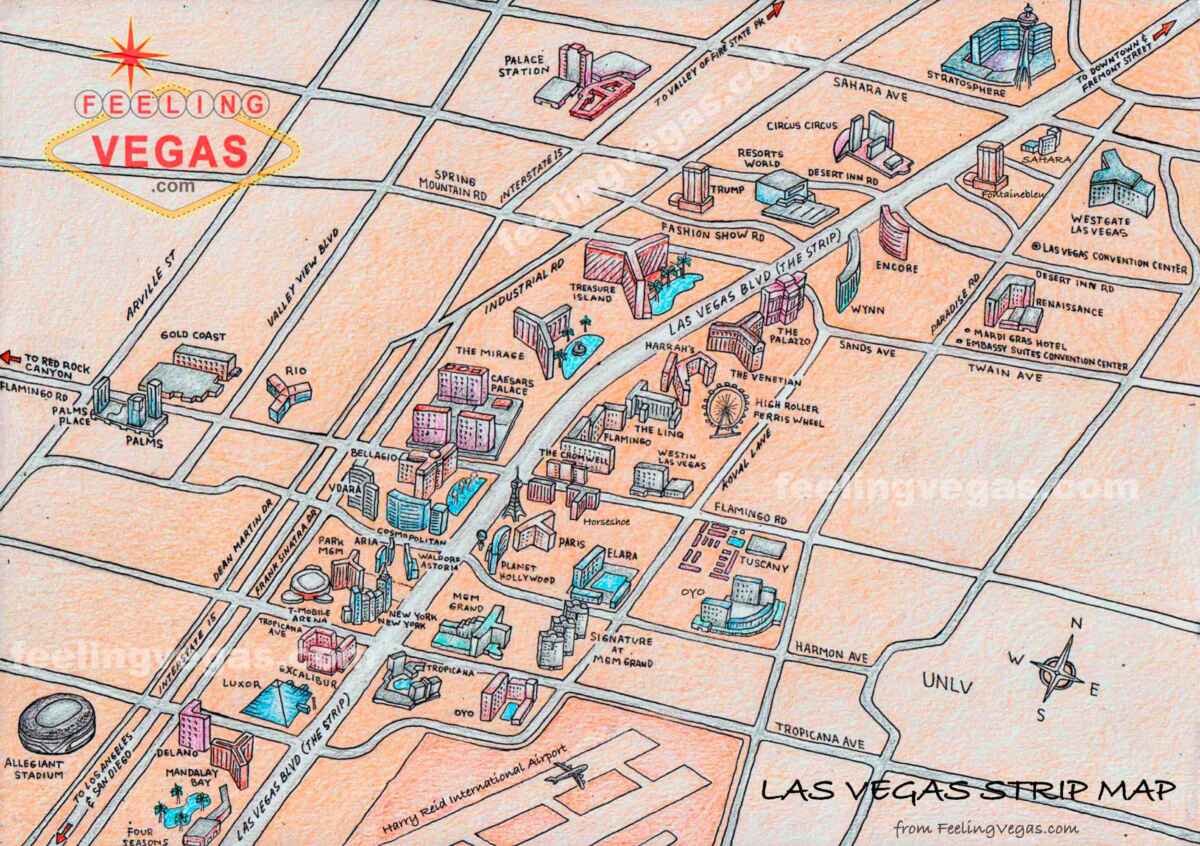 Be sure to download our FREE map of hotels on the Las Vegas Strip. It shows all the hotel locations and what is near each property.
Off-Strip Hotels
Staying on the Strip, however, isn't your only option. You can stay off-Strip if you'd like a quieter and possibly less expensive stay. Sometimes staying off-Strip means just a block or two away. In other cases, it could mean staying at a hotel several miles away from Las Vegas Boulevard altogether.
Choosing a hotel near but not on the Strip provides several advantages and one major disadvantage. A hotel just off the main strip will give you the same basic access to the resorts, shows, and attractions found on the Strip, but often at a significantly reduced rate.
Not only are the hotel guest rooms generally less expensive, but everything from restaurants, drinks, spa treatments, on-site attractions, and resort fees are often less expensive.
Off-Strip hotels are also somewhat removed from the hustle and bustle. While it's fun to get out and enjoy the crowds and chaotic energy on the Strip, many people like the ability to come back to a hotel with a much calmer and quieter atmosphere. Staying at a hotel, even just a block or two off the Strip, can provide some downtime to decompress.
The one disadvantage to staying just off the Strip is that distances are often exaggerated in Las Vegas. A block or two off the Strip can still be quite a distance to walk, especially after a long night or during the heat of summer.
Of course, you can always grab an Uber to eliminate this disadvantage, but naturally, that will add an additional expense.
The following are some hotels I'd recommend if staying off, but close to the Strip, sounds appealing to you:
Your other option is to pick a hotel a couple of miles or more from the Strip. There are several beautiful and amazing resorts that offer everything you need to have a fun-filled and relaxing vacation without ever leaving the property.
The following properties are ideal if you only plan on visiting the Las Vegas Strip once or twice during your stay and would like a much more chill trip to Vegas:
Downtown Las Vegas Resorts
Finally, you could instead select a hotel located in Downtown Las Vegas. Downtown, on or close to Fremont Street, is where Las Vegas began. Many people come to Las Vegas and never leave the fun and walkable downtown area.
Downtown is home to many attractions and activities, including the Mob Museum, Container Park, The Neon Museum, and the biggest, wildest street party you've ever been to, The Fremont Street Experience!
Recommended Downtown Hotels include:
If you're worried that selecting a downtown hotel will keep you from the Strip, know that the downtown area is just a 15-minute car or Uber ride to the center of the Strip.
How To Choose a Hotel Location For You
Now that you know the three main areas to choose from, you should be in a much better position to decide the Las Vegas location best suited for you and your traveling companions.
Keep in mind that:
Hotels on the main Strip are closer to many attractions but tend to be crowded and more expensive.
Hotels off of the Strip can be a short way (or a long way) from many attractions but generally cost less.
Hotels in downtown Las Vegas have a different but very cool, old-school Vegas vibe and are generally less expensive than Strip properties.
PRO TIP: If it's your first trip to Vegas, I'd highly recommend staying on the Strip or at least at a hotel nearby. The resorts in the middle of the Strip or on the south end are the best Las Vegas hotels to get the most out of your first trip to the city.
The Best Hotels in Las Vegas For Your Budget (On the Strip)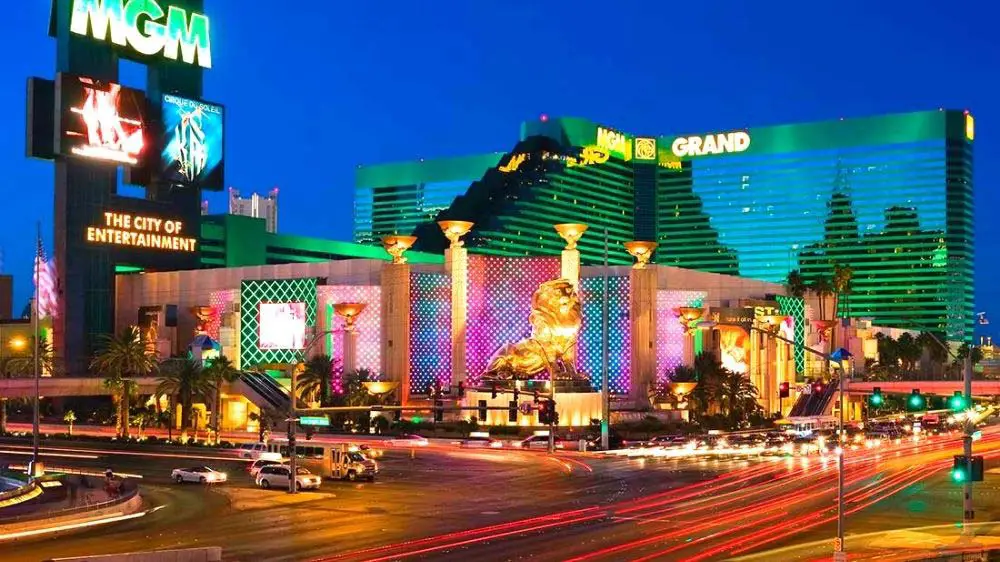 Once you've decided what part of town you want to stay in, it's time to include your budget requirements into the equation. Naturally, one of the biggest deciding factors when choosing a hotel is whether you can afford it.
The good news in Las Vegas is that there are budget-friendly, mid-range, and luxury-priced hotels in every part of the city.
So, for instance, if you've chosen the Strip as your ideal location, you will easily find a hotel to fit your budget, no matter how big or small. The real icing on the cake is that even on a budget, you can find an affordable mega-resort on the Strip with plenty of amenities, shows, and attractions.
Here's a breakdown of some of the most popular Strip hotels in each budget range:
Luxury Hotels:
Mid-Range Hotels:
Budget-Friendly Hotels:
Now, you might expect the big flashy hotels in Las Vegas to be very expensive, but the standard rooms actually aren't nearly as costly as you might think.
This is because many hotels have casinos on the property that they hope you'll spend money in while staying at their hotel, so it makes sense for them to offer affordable rates for the rooms themselves. 
Saving money on a room in Vegas, however, mostly depends on your travel dates…
2 Tips To Save Money on Your Vegas Hotel Room
Now, I can't give you exact prices for different hotels because they fluctuate constantly. However, I can tell you what you can do to get the lowest possible room rates.
Visit during the low season. While Vegas doesn't really have an off-season, there are two times of the year when things slow down a bit. These times are July/August and November/December (except for Thanksgiving week).
Las Vegas rooms are generally cheaper during these slower periods as the hotels try to attract guests by offering lower prices.
Visit during the week. It is always a fact that weekends in Las Vegas are busier and more expensive than weekdays. If you're willing to visit during the middle of the week, you can often save a significant amount of money on your room.
If you're concerned that Vegas during the week won't be as much fun, check out our article: Is Las Vegas Still Fun During the Week?
Also:
It's important to understand that the more popular hotel names will cost more, even if they don't offer much more in the way of amenities. Oftentimes, the popular identity of a hotel makes it more pricey than others.
For instance, Caesars Palace will cost more, and Hilton Grand Vacations will cost less: but they offer roughly similar amenities.
In summary;
Booking a room in the off-season or on weekdays is cheaper than usual.
Hotels on the Strip are likely to have higher rates than those off the Strip.
Popularity costs money: famous hotels will charge more than less well-known ones.
Las Vegas Resorts: Amenities, Luxury, Pools & Resort Fees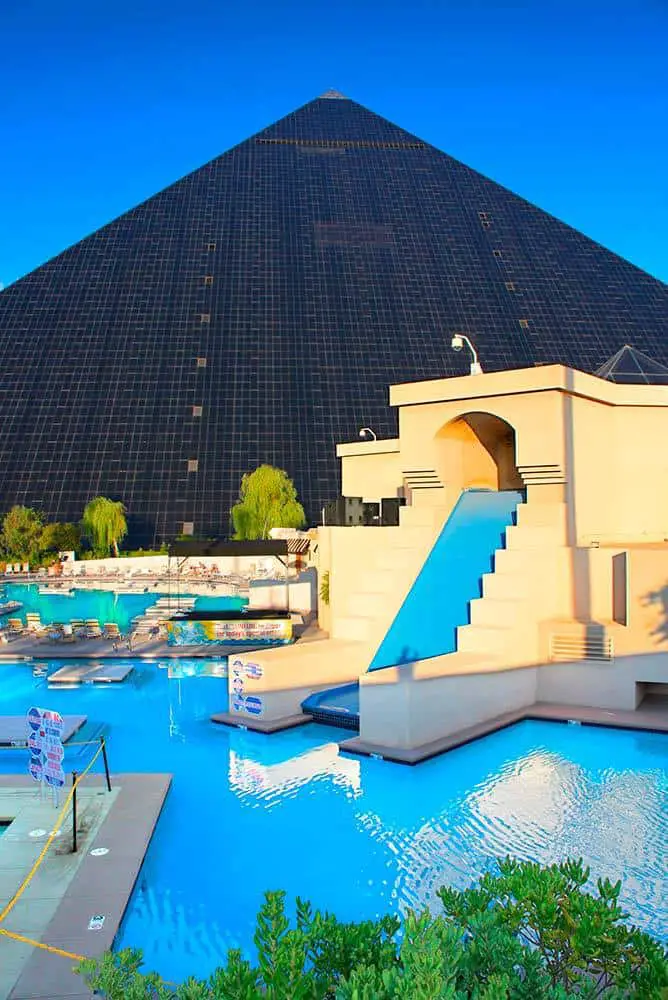 While choosing the hotel in the right location with the right budget are, without a doubt, the two most important criteria, there are some other things you will want to consider as you get close to making your final decision.
Luxury & Amenities
Luxury accommodations and hotel amenities are important considerations as well. It is safe to say that the mega-resort hotels in Las Vegas are all quite luxurious, even some of the more budget-friendly options. However, that doesn't mean they are all equal.
You will be just as overwhelmed with many of the sights at a budget-friendly hotel like Luxor as you will be with the sights at a luxury hotel like Bellagio, but if you want high-thread count linens and a more luxuriously furnished room, Bellagio will offer a lot more than the Luxor.
The fact of the matter is most hotels in Vegas tend to offer the same basic amenities and luxuries, with only minor differences in services. It is the quality of the amenities that raises a hotel to luxury status.
So if over-the-top luxury is important to you, you'll want to select one of the more luxurious hotels. Simple as that!
Resort Pools
The one amenity difference that I think is most important (for me and my family, at least) is the resort pool. Las Vegas is well-known for having some incredible pools. If you're traveling during the warmer months, the hotel pool is certainly worth considering.
Do you want to relax by a beautiful outdoor pool in a serene environment, have full-on water park fun, or does your Vegas experience include one of the city's famous pool parties?
Vegas has them all, but not every resort has them all. If a pool is important to you, here's a list of some of the best places to stay in Las Vegas with pools.
While staying at a hotel with the kind of pool you want is ideal, the good news is that you can enjoy many (but not all) of Las Vegas's resort pools without being a guest of that particular hotel. Check out our article: Best Pools in Las Vegas for Non-Guests for more information.
A Word About Resort Fees
Almost every major hotel in Vegas charges a resort fee. This daily fee is on top of your nightly room rate, and it covers many of the hotel's amenities, including access to the pool, fitness center, and business areas. Resort fees also generally cover room and resort-wide Wi-Fi service.
Unfortunately, resort fees are non-negotiable and are billed whether you use any of these amenities or not. A few hotels in Las Vegas don't charge resort fees, however. You can find a list of these in our article: 21 Sin City Hotels Without Resort Fees.
Vegas Activities: Casinos, Shows & Attractions
There's plenty to do in Vegas, without a doubt. But there are some things you can only do at certain places. For instance, while nearly all Vegas hotels and casinos offer games like slots, video poker, blackjack, and craps, they don't all offer sportsbook operations.
This means that you need to pay attention to what activities and games are offered on the gaming floor at any particular hotel if those things are important to you. The Venetian, Bellagio, MGM Grand, and Wynn offer top poker rooms, while Caesars Palace has one of the best sportsbook offerings.
You'll want to ensure the hotels you're looking at have what you want before booking.
Other important forms of entertainment in Vegas include shows, such as live performances, large production shows, comedy clubs, magic shows, etc.
So, if you're interested in one of the several Cirque du Soleil shows playing in town, you'll need to check and see which hotel properties the show or shows you're hoping to see are playing at. This is not to say that you can't go to a show at a hotel other than your own, but it is convenient if the shows you want to see are playing in your hotel or nearby.
The same is true of attractions. Being close to the attractions you're most interested in will save you from spending too much vacation time trying to get where you want to go.
Restaurants in Vegas Hotels
Something else to factor into your hotel search is food. One feature of Las Vegas resort properties is that they are filled with restaurants! Everything from burger and fries type restaurants to celebrity-chef-owned fine dining.
Many of the biggest hotels have literally dozens of food options. Everyone likes to eat, but if you're a true foodie, you'll think you've died and gone to heaven in Las Vegas.
You'll typically find that each property covers all the bases from cheap, quick eats to high-end restaurants, but as a general rule, if you plan on doing a lot of fine dining, you'll find more options at a luxury hotel.
Hotels particularly noted for their fine dining include Wynn, The Venetian, Bellagio, Caesars Palace, and MGM Grand.
If, on the other hand, you're into simple or fast fare, you'll find more of these options at a budget or mid-range hotel. So while you'll never go hungry in Las Vegas, it's a good idea to note if the hotel you're considering has the type of food you'll be most happy with.
RECOMMENDED: Here's What it Costs to Eat at Hell's Kitchen Las Vegas
Use Your Las Vegas Vacation Priorities To Select a Hotel
Naturally, what you want to do on your vacation should be a major consideration when choosing a hotel in Las Vegas. It used to be that people only came to Vegas for the casinos, but nowadays, there is so much to do and see that visitors come to town to experience all sorts of fun activities outside the casinos.
What Do You Want to Do During Your Stay in Vegas?
Do you want the luxury hotel experience with in-house restaurants and casinos?
Do you mainly want to tour the city for its sights?
There's no need to choose a luxury, five-star hotel that offers things you aren't interested in.
Perhaps you'd prefer a non-smoking hotel.
Taking the time to figure out your Vegas priorities will help you determine how to pick the right hotel for your trip.
In other words, maybe you're headed to Las Vegas but have no interest in going to casinos or anything like that. In that case, securing a hotel with an onsite casino won't be a high priority.
There are plenty of other things to do in Vegas, like visiting Red Rock Canyon. In that case, staying in a hotel near that area of town may be much more desirable.
Vacation priorities can also extend to other things, such as the number of people you are traveling with. The more people in your group, the more you'll want to be in an area with multiple things to do to satisfy everyone.
If it's a trip for the whole family, certain hotels will be more desirable than others that might interest you if you visit Las Vegas without kids. If you are planning a family trip with the kids, check out my article: 9 Best Las Vegas Properties for Kids and Families.
Choosing the best Vegas hotel in this regard is all about laying out a plan: what do you want to do during your visit, and will booking a particular hotel make it easier to do it? If so, it should be placed higher on the list.
Making a Decision
Ultimately, choosing a hotel in Vegas isn't so much about avoiding bad or sketchy hotels and finding the rare good one. Most of the hotels in Vegas are very nice: it's one of the most popular vacation destinations in the country, after all.
No, the real challenge is finding out which hotel offers exactly what you want at a price you will be happy with. You're not trying to pick one good apple out of a batch of bad ones, you're comparing many good apples to find the best and hopefully paying the least while doing it.
That in and of itself can be challenging, but if you remember everything we've discussed in this guide, you can make the process much easier.
If you have trouble deciding between two or more hotels, check out our Hotel Comparison Guide, where we directly compare dozens of hotels head-to-head to help you make the right choice.
Or, if you'd like, check out our top 3 hotel recommendations in each budget range. These are the best of the best hotels for budget-friendly, mid-range, and luxury properties in Las Vegas.
Thanks for reading, and enjoy your trip to Las Vegas!