MGM Grand vs. Mirage: Which Is Better? (Las Vegas)
(This article may contain affiliate links. If you click through and make a purchase, we will receive a small commission at no additional cost to you. )
Choosing the right resort for your Las Vegas getaway can be tricky, with such an enormous selection to choose from. But, these decisions don't make themselves, so you've considered the options, and narrowed them down to the MGM Grand and the Mirage. So, which is better?
The MGM Grand is the right choice for those that want everything on one site. Its sheer size means you'll never have to leave the resort if you don't want to. However, the Mirage will appeal if you want a fun hotel in a great location on the Strip with plenty of entertainment options.
Here's a quick round-up of what each hotel offers.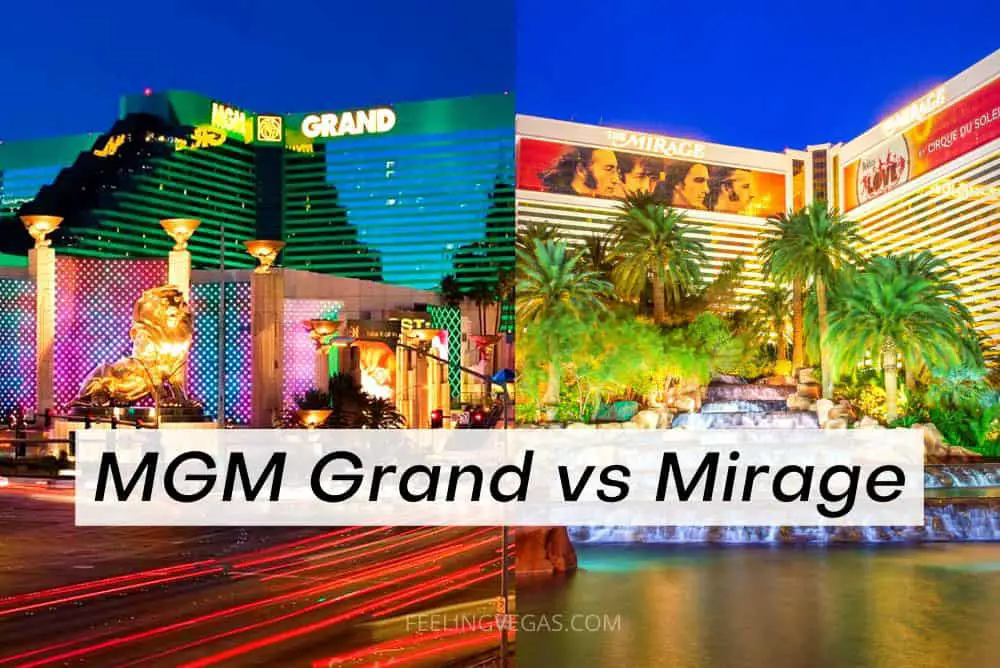 Name: MGM Grand
Address: 3799 S Las Vegas Blvd
Casino Floor: 171,500 sq ft.
Year Built: 1973
Number of Rooms: 6,852
Name: Mirage Las Vegas
Address: 3400 S Las Vegas Blvd
Casino Floor: 100,000 sq ft.
Year Built: 1989
Number of Rooms: 3,044
Based on the table, there's not too much to separate the two resorts, other than, perhaps, price and location. You're probably thinking, you need to look further into it to see what more you can glean before making a decision.
Well, keep reading, because below, you'll find more detail about what each resort offers.  
Also, be sure to download our FREE map of the Las Vegas Strip so you can see where both of these hotels are located and which other properties are nearby!
MGM Grand vs. Mirage – How Do They Compare?
No doubt about it, the MGM Grand is a vast resort; a mini Las Vegas rolled into one massive site. You probably wouldn't be surprised to know that its 6,852 guest rooms are said to accommodate around 12,000 guests on an average night.
The Mirage's 3,044 rooms, however, are nothing to be scoffed at. Additionally, the Mirage has an excellent location at the heart of the action on The Strip.
But, is bigger better? Let's see.
Standard Rooms at MGM Grand vs The Mirage
If you look at the starting standard room rates in the table above, here's what you'll get:
MGM Grand
Mirage
West Wing King:
– 350ft² (32.5 m²)
– King bed 
– 40'' (101cm) Flatscreen HDTV
– In-room wifi
– Seating area with one chair
– Desk
– Max guests, 2
Resort King:
– 394ft² (37m²)
– King bed
– 42''(107cm) LCD TV 
– In-room wifi
– Blackout shades
– Desk with executive chair
– Minibar
– JBL Horizon Bluetooth Speaker
– Max guests, 3
So, you can see, the Mirage offers a bit more in terms of space and a lot more in terms of in-room amenities for not a lot more money.
Also, be aware that the MGM Grand's West Wing King has an odd layout; the bathroom area has no door.
Although the shower and the toilet do have frosted glass screens, this arrangement may not appeal to everyone. You can see what I'm talking about in the video below.
If the bathroom design doesn't appeal to you, you'd need to move up one room level to the Grand King to avoid that issue. This will give you more space, 446ft² (41.4m²), and a higher level of amenities, like plush linens, a marble-adorned bathroom, and a media hub. But it's nearly double the price.
On this basis, you'd probably conclude that the Mirage's standard room looks as if it's the better value for the price.
Dining Options at MGM Grand & Mirage
Both resorts have a good selection of dining options, although the number of eateries at the MGM Grand is larger. 
The MGM Grand lists twenty-two restaurants, providing American, Italian, Chinese, Japanese, Mediterranean, French, and Creole. Primarily targeted at the smart-casual end of the market, the range includes some famous names, like Joël Robuchon, Tom Colicchio, and Wolfgang Puck.
The Mirage lists only a dozen restaurants and bars. Still, they span a range of tastes, including American, Italian, and Japanese, plus pizza and a Tom Colicchio steak house. So, there's still something for everyone.
Undoubtedly, however, the more extensive choice at the MGM Grand may be an attraction for many visitors, especially for a longer stay.
Mirage or MGM Grand for Shopping
You won't find high-end international designer shopping on-site at either resort.
The MGM Grand's shops focus more on jewelry, health and beauty, and souvenirs than serious fashion. 
You'll find a similar range of goods at the Mirage's shops but on a slightly smaller scale.
However, if you choose the Mirage, you can get your high-end shopping fix just 0.5 miles (0.8km) to the south, at The Forum Shops at Caesars Palace. Or, head about the same distance north, to the Fashion Show Mall.
You can see a complete list of the best shopping malls on the Las Vegas Strip in our article here.
Best Casino Experience: MGM Grand vs Mirage
The MGM Grand's casino covers 171,500ft² (15,933m²), in keeping with the grand scale of the resort itself. There, you'll find 2,650 slots and table games, and a separate poker room.
There's also a large sportsbook kitted out with 60 LCD and plasma screens so you can immerse yourself in the action.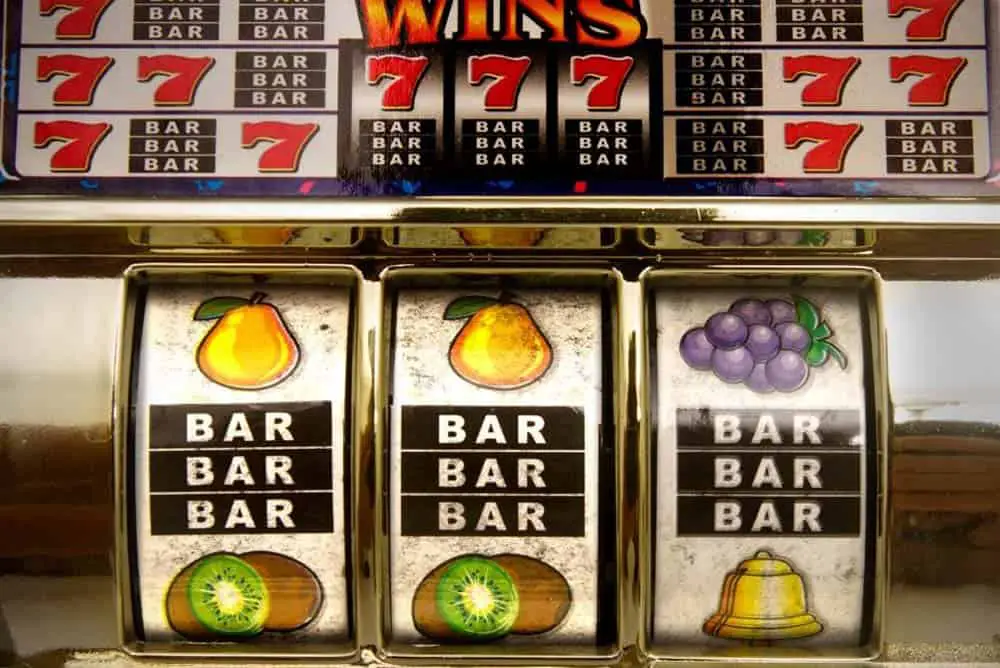 The Mirage's 100,000ft² (9,300m²) casino may be smaller, but you'll still find over 2,000 slot machines, plus table games galore.
Together with a separate poker room, and the wall-to-wall giant screens of the sportsbook, you'll find just as complete a gambling experience here as the larger MGM Grand.
All-in-all, you wouldn't be far off calling the gambling offerings at each of these resorts about even. 
Entertainment at the Mirage & MGM Grand
The MGM Grand's stunning Cirque du Soleil show, KÀ, is a triumphant spectacle, typical of what you'd expect in Vegas. You'll be captivated by the dynamic set and amazing acrobatic performances set against the background of a dramatic and sometimes haunting soundtrack.
The MGM Grand also is home to the David Copperfield Theater with mesmerizing nightly performances conjured up by, you guessed it, David Copperfield.
Then there's the virtual reality gaming arena if you fancy battling zombies or rogue robots in an intense and immersive free-roaming multiplayer VR experience. 
Live music and sports lovers are taken care of, with the MGM Grand Garden Arena hosting several events throughout the year.
Not to be outdone, the Mirage has its own resident Cirque du Soleil production, The Beatles Love. Even if you're not a fan of the music, you'll find it hard not to be enraptured by the dazzling dance and acrobatic routines. 
The Mirage also has its own resident magician, in the form of Shin Lim, whose sleight of hand is fascinating and bewildering. Probably best not to try to work it out, but instead, sit back and enjoy.
Live music at the Mirage comes courtesy the intimate setting of the 1,250-seat Terry Fator Theater. So, it's limited compared to the variety available at the MGM Grand.
Conclusion
So, if you feel you need to go large to get the value for your money, you'll certainly get that with everything the MGM Grand packs into the resort.
For a weekend visit you probably wouldn't even have to leave the resort unless you wanted to. But remember, the standard room may not appeal to you, and moving up a level will increase the price of staying here.
However, if bigger isn't necessarily better to you, the more compact (but still sizable) Mirage will probably be an ideal choice. Especially since its location puts it at the heart of the action on The Strip.
Other Las Vegas Hotel Comparisons
Check out how these hotels stack up to one another:
MGM Grand vs. MGM Signature – Which one's best?
MGM Grand vs Luxor – Read here
MGM Grand vs Park MGM: Which is Better? – Find out here
MGM Grand vs Venetian: Who's tops? – How to decide
Paris Las Vegas vs MGM Grand: Who comes out on top? – Article here
Mirage vs Bellagio: Who come's out on top? – Read here
MGM Grand vs. Mandalay Bay: Which Is Better? – Read Article
MGM Grand vs ARIA – How to decide