Does ARIA Have Balconies? (Las Vegas)
(This article may contain affiliate links. If you click through and make a purchase, we will receive a small commission at no additional cost to you. )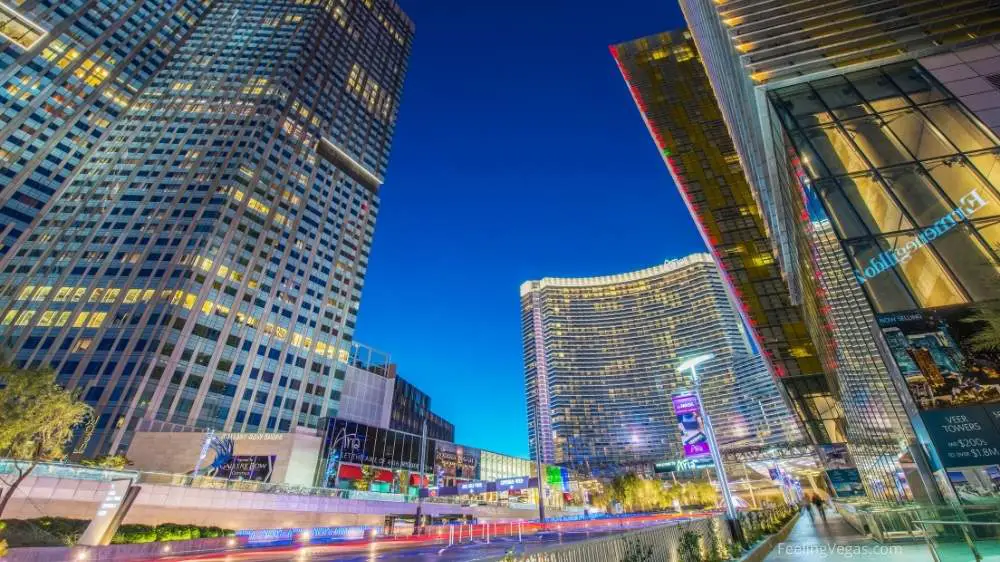 The Aria Resort and Casino is considered the most technologically advanced hotel in Las Vegas, with over 4,000 rooms and suites available. While many rooms offer sweeping views over the Las Vegas Strip and valley, none offer balconies or terraces. 
While Aria may not have balcony rooms, the resort is in a great location on the Strip and has plenty of technology and other awesome features for its guests. 
Compare and save! Check current ARIA room rates at TripAdvisor!
Aria Resort Hotel Rooms
Tech-savvy guests are in for a treat when booking any of the rooms at the Aria resort.
First, Aria has a slick mobile check-in and checkout option, which allows you to get checked into your room quickly and without waiting in line.
Then, there are the 'smart rooms' utilizing 7-inch touchscreens for bedside navigation of the room settings.
This navigation system does everything from dimming the lights and drawing the curtains to allowing guests to make reservations at any of the hotel's entertainment facilities. 
Sadly, with all the glitzy tech available, there are no rooms or suites available with a balcony or terrace.
However, The rooms are very well located right on Las Vegas Boulevard, and some offer outstanding views over the Vegas Strip and skyline. Let's take a look. 
If having a Las Vegas hotel with a private balcony is a must for you, then be sure to visit our article here, which covers all the top hotels in Vegas with a balcony option.
Deluxe King/Queen/Strip Rooms
Rooms in the Deluxe range start at 520 square feet and are situated on the lower levels of the hotel, with all rooms in this spectrum utilizing smart room technology.
The rooms are modern and offer generous bedroom space with either a king or queen-size bed.
The bathrooms are well-proportioned and have dual vanities, a large walk-in shower, and a linen closet. 
Each of the rooms has large floor-to-ceiling windows at one end, with Strip-view rooms offering an excellent vantage point of the famous Vegas strip, but sadly, no balconies. 
Aria Corner Suites/Sky Suites
Standard suites range in size from 1,050 to 2,060 square feet and have a separate living space with a large chaise lounge, comfortable chairs, and a central coffee table.
There's also a wall-mounted flat-screen TV with cable and lightning-fast Wi-Fi as you'd expect from the techiest pad on the block. 
Aria Sky Villas
Aria Sky Villas range in size from 2,000 to 7,000 square feet and provide a taste of luxury for discerning guests who require an exclusive and unprecedented experience.
There are several villas available in 1 bedroom, 2 bedroom, and penthouse options. 
They have large open plan sitting and dining rooms with an oversized dinner table seating up to 10 guests.
There is also a full wet bar and a 24-hour butler service to care for your every need. 
All villas have exceptional views however none advertised have their own private balcony or terrace options. 
Check room rates at Aria Resort & Casino
The History of the Aria
The Aria Resort and Casino opened in 2009.
The hotel spans two distinctive curvilinear glass towers measuring 61 stories tall and contains 3,546 hotel rooms and 568 suites which all feature touch-screen automation systems which automatically adjust curtains, turn off unused lights, and regulate the room temperature.
Guests of the hotel have access to a wealth of facilities, including an entertainment complex with 26 restaurants, 10 bars, and nightclubs, a casino with 150,000 square feet of gaming space, a 215,000 square foot pool area with 34 cabanas, a salon and spa, a convention center, and a 1,800-seat theater.
You'll also find the Shops at Crystals (a luxury brand shopping center) next to the hotel in CityCenter.
Aria also provides access to a free tram to get you around this area of the Strip.
See all of our Aria Resort articles here.
Find the best deals on ARIA rooms and save big with TripAdvisor!
Summary
The Aria hotel will appeal to a tech-savvy crowd who want the convenience of everything controlled at their fingertips.
For those looking for a balcony, you are out of luck as no rooms, suites, or villas at Aria offer the convenience of stepping outside onto a private terrace or balcony. 
Up Next: How To Choose a Hotel in Las Vegas (The Ultimate Guide)
References:
https://www.mgmresorts.com/en/hotels/las-vegas/aria-resort.html