22 Las Vegas Hotels Without Resort Fees (2023 List of Resorts)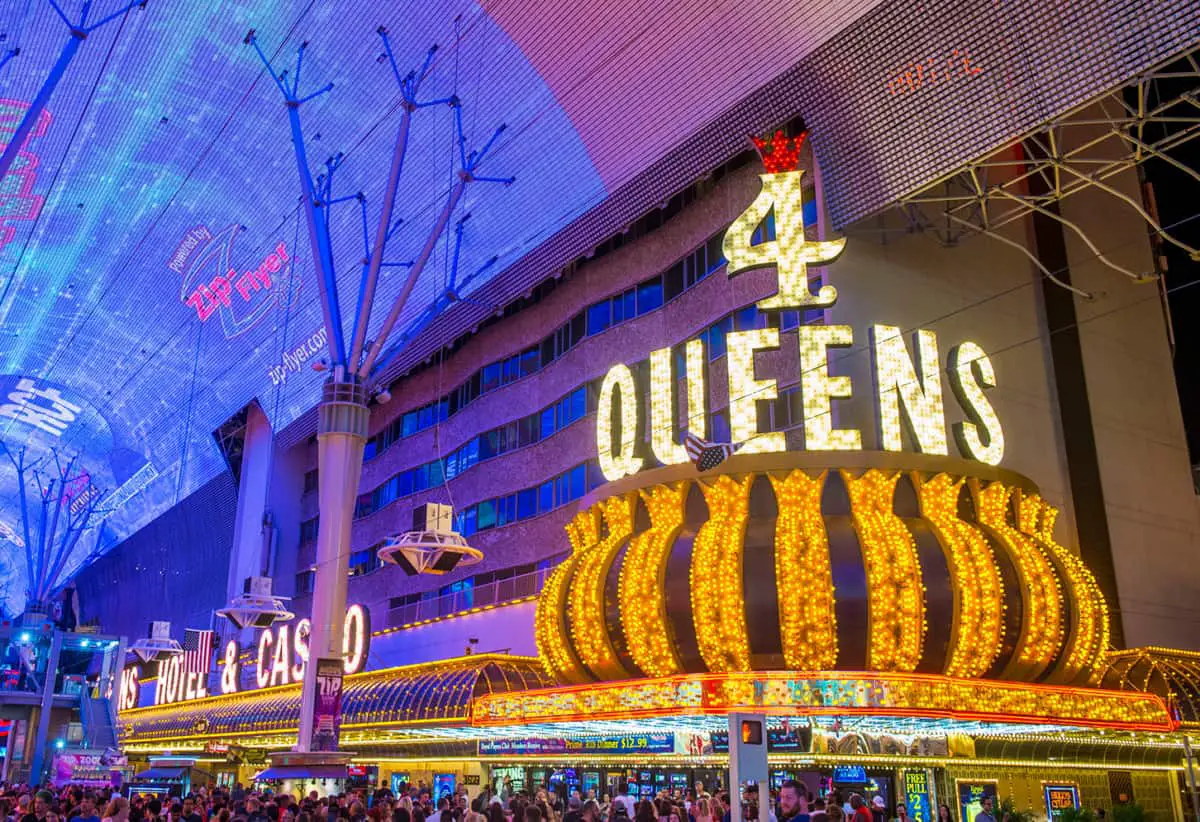 When I'm looking for a Vegas hotel, I don't want to pay resort fees. Or parking fees, for that matter. I want to use my money to have fun! So I've done some research and made a list of the 22 hotels in Las Vegas without resort fees.
The best Las Vegas hotels without resort fees include Four Queens, Desert Rose, Las Vegas Marriott, and Wyndham Grand Desert. An added benefit of no resort fee hotels in Vegas is that many of them don't charge additional fees for parking either, saving you even more money.
In this article, I will provide you with a complete list of 22 Las Vegas hotels that don't charge a resort fee, provide a map showing where these hotels are located, tell you about the four best no resort fee hotels in Vegas, highlight three resort fee free properties on the Strip, and discuss the potential downsides to choosing a Las Vegas hotel without a resort fee.
What is a Las Vegas Resort Fee?
A Las Vegas resort fee is an additional daily charge added to a hotel's room rate and covers access to amenities such as the fitness center, swimming pool, wireless internet, and local calls.
The resort fee (aka "amenity fee") is charged regardless of whether a guest uses any of these amenities or not. Resort fees in Sin City are a tricky way to reduce a hotel's advertised nightly room rate to make it look better than it really is.
For example, a Vegas traveler may find a deal for a $100 dollar-a-night room at Caesars Palace. If they plan to stay for four nights, they would expect their total bill upon check out to be $400 plus tax, which they find perfectly acceptable.
Unfortunately, the advertised room rate does not include the daily resort fee at Caesars Palace of $45.95, which adds $183.80 to the total and now brings the bill to $583.80 plus tax (Note: resort fees are also subject to tax.)
Vegas didn't invent resort fees, but the majority of resorts and hotels on the Strip charge them. As a Vegas visitor, you will either need to take resort fees into account when budgeting for your trip or choose to stay at one of the Las Vegas hotels that doesn't charge a resort fee.
Las Vegas Hotels Without Resort Fees (Complete List)
If the idea of paying an extra daily amenity fee rubs you the wrong way, then you will find this list of Vegas hotels without resort fees I created below very useful.
None of the hotels in the table below charge resort fees, so when you book a room, the price you see is the price you can expect when settling your bill upon checkout.
I've applied a star rating to the hotels in the chart above, so you'll have an idea of the overall quality and expense of each of the properties. In addition, you can click on the name of each hotel above to check the current room rates at TripAdvisor.
Unfortunately, if you're looking for a four-star or better hotel in Vegas, you will have to be willing to pay a resort fee.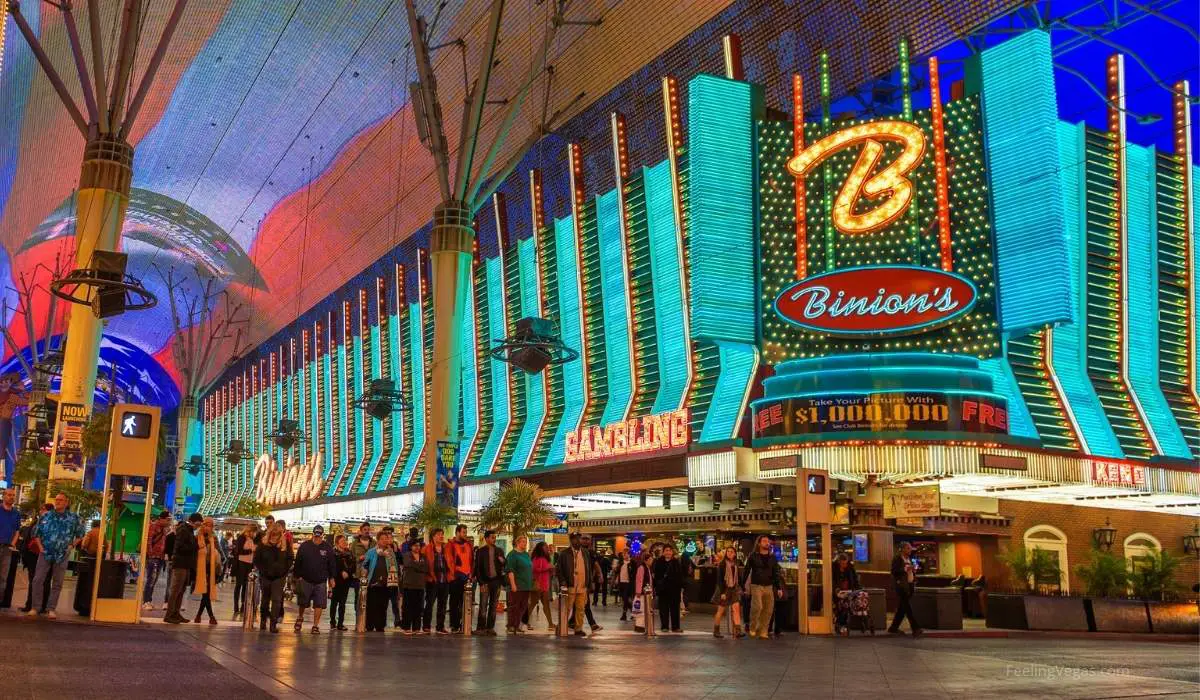 Las Vegas Resorts Without Daily Fees Equals Free Parking
Something you may have noticed on the table is that many of the hotels in Las Vegas that don't charge a resort fee also offer free parking. That's another $18 a day on average you can save!
By choosing a hotel with free parking and no resort fees, you could be looking at saving upwards of $75 dollars a day on extra fees for your hotel!
No Resort Fee Hotels (Vegas Map)
This interactive map will allow you to see where each of the listed no resort fee hotels is located in the Vegas valley and its relation to the Strip (Las Vegas Boulevard) and downtown.
Red = Recommended Vegas hotels without resort fee.
While you won't find many "no resort fee" properties located on the Strip itself (I do mention three down below), you can see from the map that numerous non-fee hotels have good to great locations that provide nearby access to many of the top attractions and resort properties on Las Vegas Blvd.
Best Las Vegas Properties Without Resort Fees (Top 4)
Choosing a Las Vegas property without an amenity fee doesn't mean that you can't stay at a nice hotel in a great location. These are, in my opinion, the nicest hotels in Las Vegas that don't charge a resort fee.
Desert Rose Resort
Four Queens Hotel & Casino
Las Vegas Marriott
Wyndham Grand Desert Resort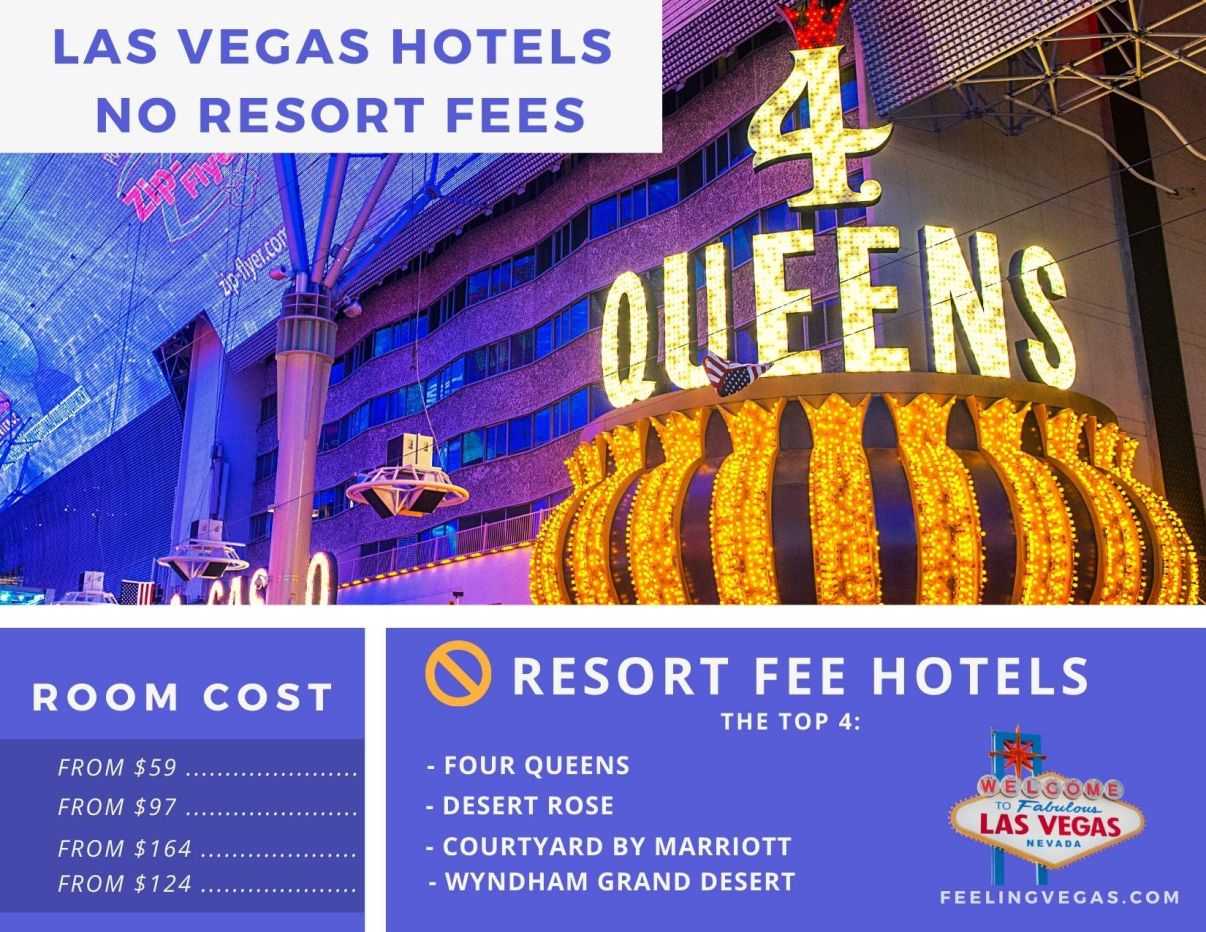 1. Desert Rose Resort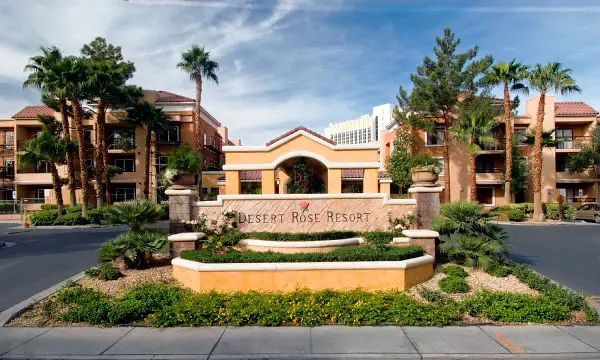 The Desert Rose Resort is located less than 2 blocks from all the action on The Strip. It's highly rated and offers a complete resort experience. Note: this is a non-gaming resort.
Check Desert Rose room rates (TripAdvisor)
2. Four Queens Hotel & Casino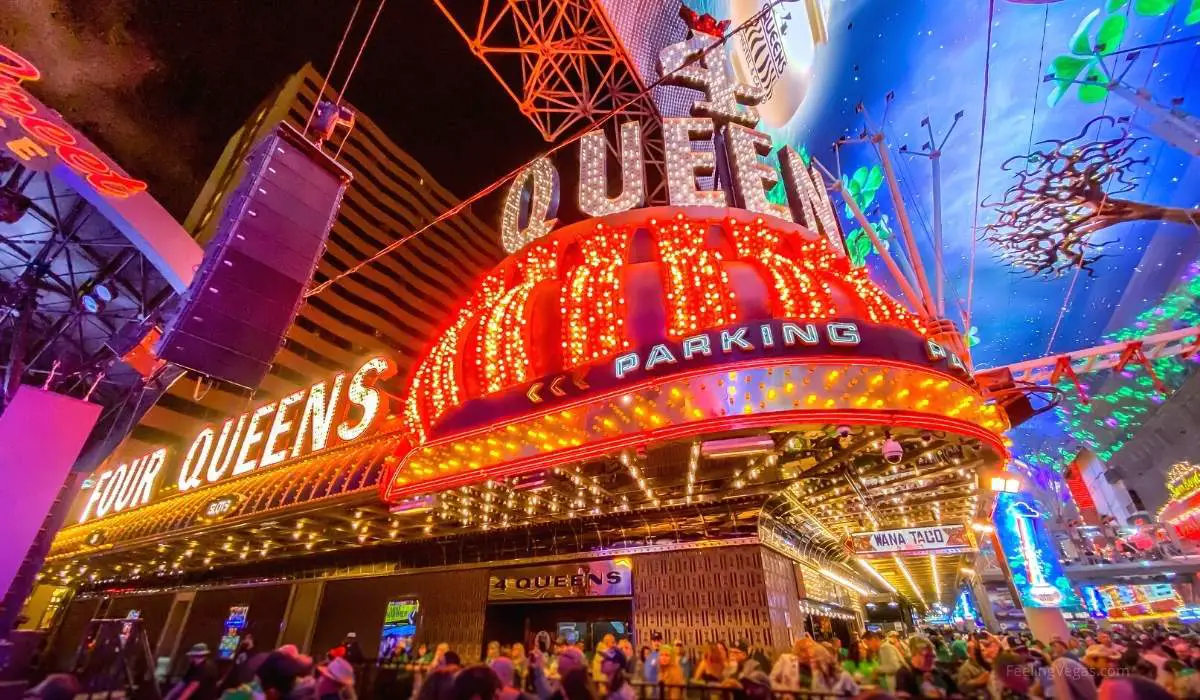 While this hotel and casino may be a little further from The Strip, it is located in a prime position overlooking the Fremont Street Experience in downtown Las Vegas. Fremont St. is the coolest party street in Vegas!
Check Four Queens room rates (TripAdvisor)
3. Courtyard by Marriott Convention Center
This hotel is a modern, upscale property that is located just a few minutes walk from the Las Vegas Convention Center. It's also near the Monorail Station. There is no casino on the property, but you're so close to other major casinos that it doesn't really matter.
Check Las Vegas Marriott room rates (TripAdvisor)
4. Wyndham Grand Desert
This beautiful property is located just a mile from The Strip and Harry Reid International Airport (formerly McCarran Airport). It offers wonderful views of the mountains and the Las Vegas Skyline. They also offer a free shuttle to The Strip. Non-gaming resort.
Check Wyndham Grand Desert room rates (TripAdvisor)
3 Hotels on The Las Vegas Strip Without Resort Fees (Center Strip)
While almost every hotel on the famous Strip charges a resort fee, there are three hotels on Las Vegas Blvd. that don't. In addition, each of these properties would be considered a budget-friendly option. These are:
Each of these relatively inexpensive hotels is found in desirable center strip locations within easy walking distance of many nearby casinos and attractions. Casino Royale is located next to Harrah's and The Venetian, while the Travelodge can be found across Las Vegas Blvd. from ARIA.
The Jockey Club may be the best choice of the three as it's located inside The Cosmopolitan hotel next to Bellagio. The Jockey Club is made up of privately owned suites within the Cosmo, giving you an excellent location without having to pay a resort fee.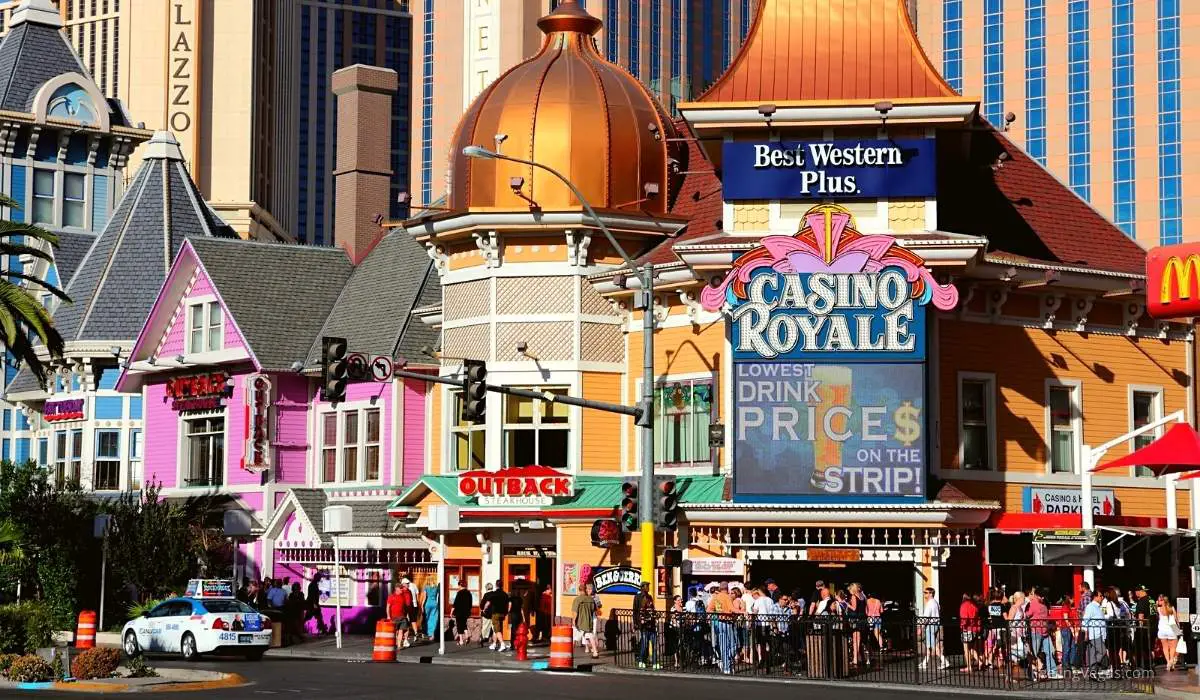 None of these properties are considered to be high-end resort properties, but if you're looking for cheap hotels without a resort fee on the Las Vegas Strip, these are the three best options.
The Downside of Hotels in Vegas Without Resort Fees
While there are certainly some upsides to not having to pay a resort fee, there are a few downsides to staying at a property that doesn't have one. Here are a few notable cons to properties without resort fees.
Most hotels without these fees are not on the Las Vegas Strip. The main downside to hotels or resorts that don't charge an amenity fee is that they are generally not located right on Las Vegas Boulevard (The Strip).
The good news is that many of them are very close. Some are just a block or two from The Strip and are an easy walk or uber ride away. You can save a lot of money for a minor inconvenience and still stay at a nice hotel.
Most non-resort fee properties don't have a casino on site. With the exception of a few (Four Queens, Casino Royale, and Lucky Club), most properties without these extra fees generally don't have their own casino. (Note: The Jockey Club inside The Cosmopolitan has easy access to Cosmo's casino.) If you're not into gaming, then this isn't a big deal.
If, however, you enjoy the energy and excitement of staying at a Vegas gaming resort, then this could be a deal-breaker.
No resort fee properties are less luxurious than those which charge an amenity fee. Finally, if you're looking for high-end luxury, you're probably better off at a hotel property that charges a resort fee. It's not that paying a resort fee guarantees you luxury, it's just that luxurious properties can get away with charging a resort fee, so they typically do.
More to Know About Resort Fees (Hotels Las Vegas)
Resort fees have become a way of life in Las Vegas. A few years back, most hotel properties in Vegas started charging amenity fees on top of their regular room rates. These fees can really add up to a lot of money.
They are charged on a daily basis per room, regardless of the number of people staying in the room. The fees are generally mandatory, and you cannot opt-out of paying even if you don't plan to use any of these amenities.
Word of caution: When you make and pay for a reservation online or on the phone, the daily resort fee is often not part of the total hotel bill quoted, so make sure you're aware of it and include it mentally when booking a room in Las Vegas.
Finally, the resort fees remain the same whether you book your room directly with the hotel or through an online travel site.
Why Do Vegas Hotels Have Resort Fees?
There are a couple of reasons that hotels charge resort fees.
First, by adding these fees, the hotel can make the advertised room rate look less expensive.
Second, this way, the hotels aren't paying as much in commission to travel agents and booking sites as their fees are determined by the room rate alone.
Both of these are pretty lousy reasons to add an amenity fee to the room rate. Resort fees are charged to muddy the waters as to the actual per-night hotel room cost.
How Much Are Las Vegas Resort Fees?
Daily resort fees in Las Vegas can range anywhere between $7.50 to $45 plus tax. You can see a complete list of current Las Vegas resort fees on our website. Here are a few examples of the nightly resort fees charged by major hotels in Las Vegas (including tax):
Caesars Palace … $52.10
Virgin Hotels Las Vegas … $51.00
Treasure Island … $44.22
New York-New York … $41.95
Planet Hollywood … $52.10
Bellagio … $51.02
As to be expected, the better the location, the nicer the hotel, the better the pool and other amenities, the higher the resort fee.
Are Resort Fees Legal in Las Vegas?
Unfortunately, the answer to that question is yes. Resort fees are legal in Las Vegas.
Are Vegas resort fees ethical? In my opinion, no.
Say you book a room for $49 a night for three nights. In that case, you would expect a bill of $147 plus 13.38% hotel tax bringing the total to $167. With a $25-a-day resort fee plus tax on that as well, your total bill just became $252!
I'd prefer to have a straightforward bill rather than deal with all the smoke and mirrors. On top of that, many Las Vegas hotels only show the resort fee charge in fine print at the last minute during booking, making this a hidden fee for many.
So, while resort fees are legal in Sin City, they are a sore spot for many visitors and tourists.
Are Las Vegas Hotel Resort Fees Worth It?
If you're going to be staying at a hotel with nice amenities that you plan to use on a daily basis, then the extra resort fees may be worth it to you. For instance, if you plan to stay at The Mirage and spend a good part of your days lounging by the magnificent pool, then the resort fees may seem very reasonable.
If you're like me and you plan to spend the majority of your days and nights out exploring and experiencing everything Las Vegas has to offer, then it's probably better to stay at a hotel without an extra fee.
Why spend money on things you're not really using? In this case, take the money you saved on resort fees and spend it having fun on all the cool activities and shows instead.
Also, be sure to see our article about where to find free parking on The Strip here.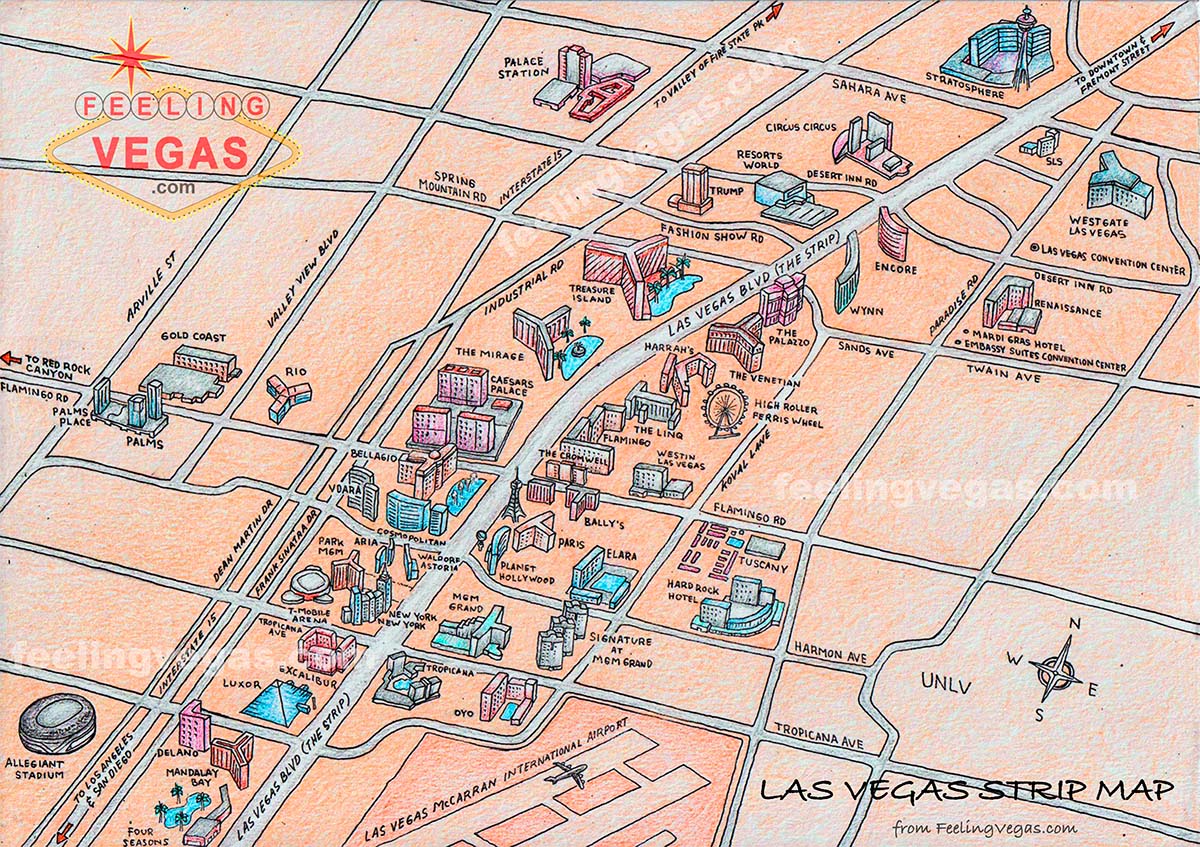 Download a free .pdf of our Las Vegas Strip map here.
Related Las Vegas Hotel Resort Fee Questions
How much is the resort fee tax in Las Vegas?
In Las Vegas, resort fees are taxed using the hotel occupancy tax rate (currently 13.35%), as the resort fee is considered to be a secondary room rate. So you'll need to expect that not only will you have to pay the daily resort fee, you can expect to pay taxes on that fee as well.
Is the resort fee optional in Las Vegas?
Resort fees in Las Vegas are mandatory. While it would be nice to say, "No, thank you, I won't be using any of those amenities," this is not an option. If a Vegas hotel has a resort fee, you will need to pay it.
Some visitors think that they may be able to skip out by prepaying for the room, but all major Vegas hotels will require a credit card to be placed on file when checking in. So, the only way to avoid a resort fee bill in Las Vegas is to choose a hotel without one.
Do all hotels in Las Vegas charge a resort fee?
Not all Vegas hotels charge a resort fee. In general, however, most of them do. If you are looking for a resort in the popular areas of the Strip, you can count on these properties charging a resort fee.
Jump to the top of this article for a list of Vegas hotels without resort fees.
Is the daily resort fee in Las Vegas per person?
Resort fees in Las Vegas are billed daily per room, not per person. It doesn't matter how many people are sharing a room, you will only be charged one amenity fee per day.
What is the cheapest resort fee in Las Vegas?
The cheapest resort fee currently charged in Las Vegas is $5 per night at Mardi Gras Hotel & Casino. This amount does not include the 13% tax added to rooms and resort fees.
What is the most expensive resort fee in Las Vegas?
The most expensive resort fee in Las Vegas is $52.10 per night (including tax) and can be found at several Caesars properties, including Caesars Palace, Nobu, Planet Hollywood, and Paris Las Vegas.
Summary
While the majority of hotels in Sin City now have daily resort charges on top of their advertised room rate, there are some nice Las Vegas hotels with no resort fee.
As an added bonus, free parking is also included in many of the Las Vegas hotels without fees. The potential downside, however, of choosing one of these no-fee hotels is that you most likely won't be right on the Strip, and only a few of these hotels have their own casino.
The good news is that many of these properties are located very close to the action.