When I'm looking for a Las Vegas hotel, I don't want to pay resort fees. Or parking fees, for that matter. I want to use my money to have fun! So I've done some research and made a list of the 21 Las Vegas Hotels that do not charge resort fees.
The top Las Vegas hotels that do not charge resort fees include; Four Queens, Virgin Hotels, Desert Rose, Las Vegas Marriott, and Wyndham Grand Desert. An added benefit of Las Vegas hotels without resort fees is that many will also not charge additional fees for parking, saving you even more.
In this article, I will explain Vegas hotel resort fees, why they are charged, and provide you with a complete list of 21 Las Vegas hotels that don't charge resort fees.
List of Las Vegas Hotels Not Charging Resort Fees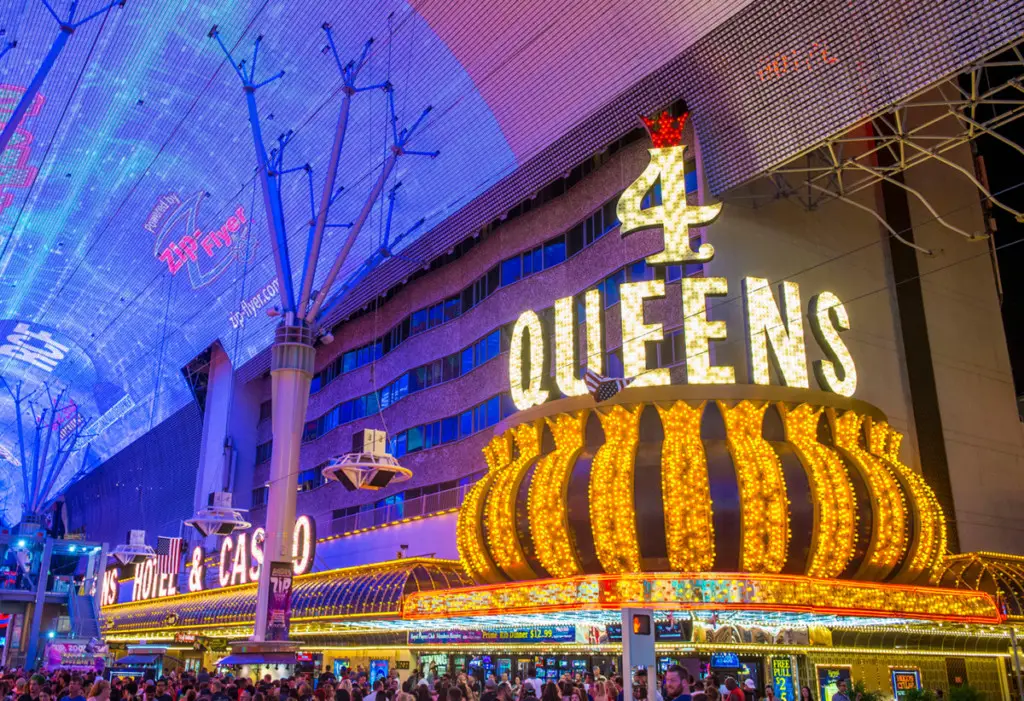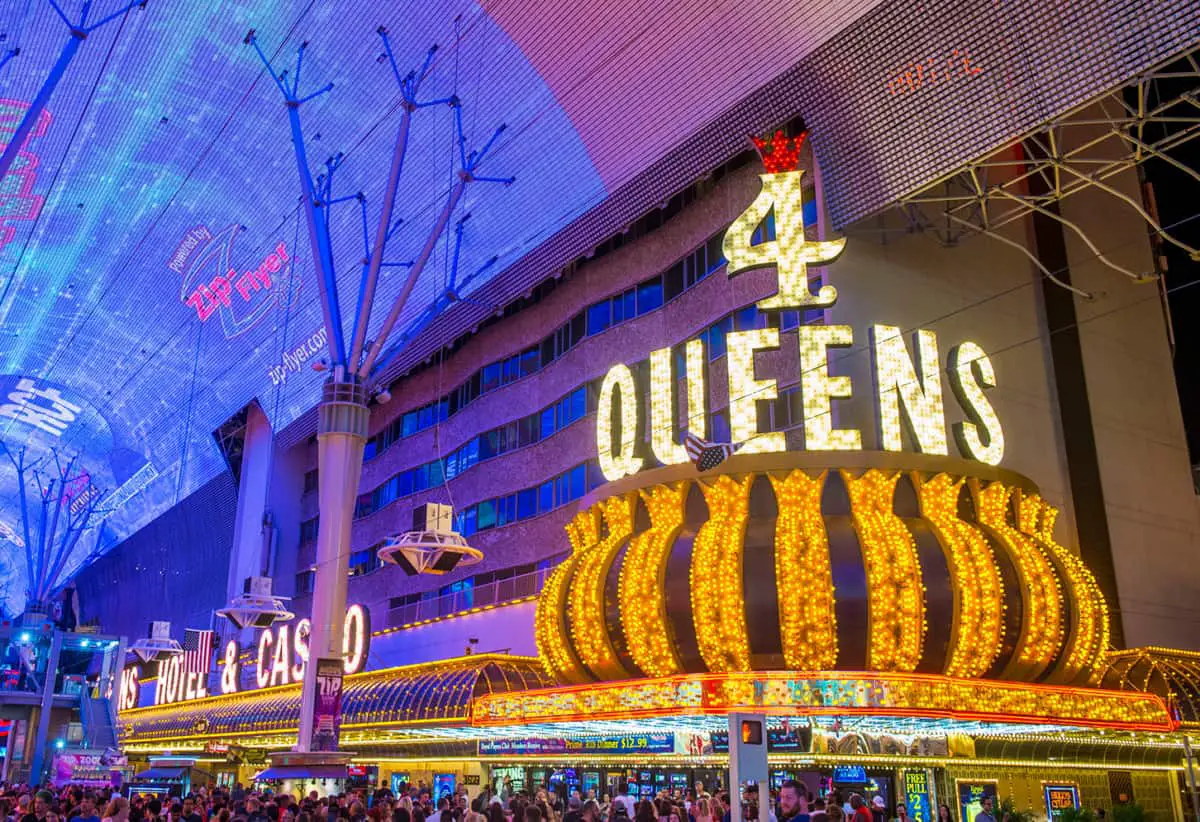 (This article may contain affiliate links and we may earn a commission if you make a purchase.)
As you can see from the table above, Virgin Hotels Las Vegas is the only 4-star hotel that doesn't charge resort fees. It's also fairly close to the Strip and is the newest hotel on our list.
You also may have noticed that many of the hotels in Las Vegas that don't charge a resort fee offer free parking as well. That's another $15 a day on average you can save!
You can check current room rates at these non-resort fee hotels on our website here.
Map of Non-Resort Fee Las Vegas Hotels
This interactive map will allow you to see where each of these non-resort free hotels is located in the valley and its relation to the Las Vegas Strip (Las Vegas Boulevard).
Red = Top recommended hotels that don't have a resort fee
Best Las Vegas Hotels Without Resort Fees
Avoiding a resort fee doesn't mean that you can't stay at a nice hotel in a great location. These are, in my opinion, the nicest hotels in Las Vegas that don't have a resort fee.
Virgin Hotel Las Vegas
Desert Rose Resort
Four Queens Hotel & Casino
Las Vegas Marriott
Wyndham Grand Desert Resort
Virgin Hotels Las Vegas, Curio Collection by Hilton – Virgin Hotels Las Vegas is the new kid in town. Located in a great location just a mile from the center of The Strip, this fancy hotel sports a casino and charges no resort or parking fees. Check room rates here (vegas.com).
Desert Rose Resort – The resort is located less than 2 blocks from all the action on The Strip. It's highly rated and offers a complete resort experience. Note: this is a non-gaming resort. Check room rates here.
Four Queens Hotel & Casino – While this hotel and casino may be a little further from The Strip it is located overlooking the Fremont Street Experience in downtown Las Vegas. Fremont St. is the coolest party street in Vegas! Check room rates here.
Las Vegas Marriott – This hotel is a modern, upscale property that is located just a few minute's walk to the Las Vegas Convention Center. It's also near the Las Vegas Monorail Station. No casino on property but you're so close it doesn't really matter. Check room rates here.
Wyndham Grand Desert Resort – This beautiful property is located just a mile from The Strip and Harry Reid International Airport (formerly McCarran Airport). It offers wonderful views of the mountains and Las Vegas Skyline. They also offer a free shuttle to The Strip. Non-gaming resort. Check room rates here.
The Downside to Vegas Hotels Without Resort Fees
The only real downside to Las Vegas hotels that don't charge a resort fee is that they are not generally located right on The Strip.
The good news is that many of them are very close. Some are just a block or two from The Strip and are an easy walk or uber ride away. You can save a lot of money for a minor inconvenience and still stay at a very nice hotel.
What is a Las Vegas Resort Fee?
Resort fees have become a way of life in Las Vegas. A few years back most hotel properties in Las Vegas started charging a resort fee on top of their regular room rates. These fees can really add up to a lot of money.
What is a hotel resort fee? A resort fee is a daily charge that is added to your hotel bill and is collected directly by the hotel when you check out. When you make and pay for a reservation online or on the phone, the daily resort fee is not part of the total hotel bill quoted.
Resort fees (source) cover and include hotel amenities such as internet access, newspapers, bottled drinking water, fitness center, local phone calls, airline boarding pass printing, and access to the swimming pool.
They are charged on a daily basis per room, regardless of the number of people staying in the room. The fees are generally mandatory and you cannot opt-out of paying even if you don't plan to use these features.
Finally, the resort fees remain the same whether you book your room directly with the hotel or through an online discount travel site.
Why Do Las Vegas Hotels Have Resort Fees?
There are a couple of reasons that hotels charge resort fees. First, by adding these fees the hotel can make the advertised room rate look less expensive.
Second, this way the hotels aren't paying as much in commission to travel agents and booking sites as their fees are determined by the room rate alone.
How Much Are Las Vegas Resort Fees?
Daily resort fees in Las Vegas can range anywhere between $7.50 to $45 plus tax. You can see a complete list of current Las Vegas resort fees on our website.
As to be expected, the nicer the hotel, the better the pool and other amenities the higher the fee.
Are Resort Fees Legal?
Unfortunately, the answer to that question is yes. Resort fees are legal.
Are Las Vegas resort fees ethical? In my opinion, no.
Say you book a room for $49 a night for three nights. In that case, you would expect a bill of $147 plus 13.38% hotel tax bringing the total to $167. With a $25 a day resort fee plus tax on that as well your total bill just became $252!
I'd prefer to have a straightforward bill rather than deal with all the smoke and mirrors.
Are Las Vegas Resort Fees Worth It?
If you're going to be staying at a hotel with nice amenities that you plan to use then the fees may be worth it to you. For instance, if you plan to stay at The Mirage and spend a good part of your days lounging by the magnificent pool, then the resort fees may seem very reasonable.
If you're like me and you plan to spend the majority of your days and nights out exploring and seeing the sites it's probably better to stay at a hotel without an extra fee.
Why spend money on things you're not really using. In this case, take the money you saved on resort fees and spend it having fun on all the cool activities and shows instead.
Be sure to see our article about where to find free parking on The Strip here.
Also, be sure to download a free .pdf of our Las Vegas Strip map here.
Related Questions
How much is the resort fee tax in Las Vegas? In Las Vegas resort fees are taxed using the hotel occupancy tax rate (currently 13.38%) as the resort fee is considered to be a secondary room rate.
Is the resort fee at Treasure Island optional? Treasure Island is currently offering a no resort fee option but you must become a Treasure Island My TI Guestbook member. You then have the option to book a room only on their website with an optional resort fee as part of the TV Ad Special they are running.
If you found this article helpful, please SAVE THIS PIN to one or more of your boards on Pinterest. Thank you!