The Most Fun Hotel in Vegas Is… (10 Funnest Hotels)
(This article may contain affiliate links. If you click through and make a purchase, we will receive a small commission at no additional cost to you. )
If you're heading to Las Vegas, it's because you're looking to have a good time! So, whether your dream vacation is chilling by the pool or playing the slots in the casino all night, you want to find the perfect Las Vegas hotel to make sure you maximize your fun and excitement!
Here are the 10 most fun hotels in Las Vegas:
Caesars Palace Las Vegas
Circus Circus Hotel & Casino
The Bellagio Hotel
MGM Grand Las Vegas
The Mandalay Bay Resort and Casino
The Red Rock Resort
Excalibur Hotel & Casino
Circa Las Vegas
The Venetian Resort
Luxor Las Vegas
Let's take a deeper look at each of these fun and exciting hotels and what amenities they have to offer to you and your vacation crew. I'll lay them out in random order first, and then I'll tell you which one is the most fun hotel in Las Vegas.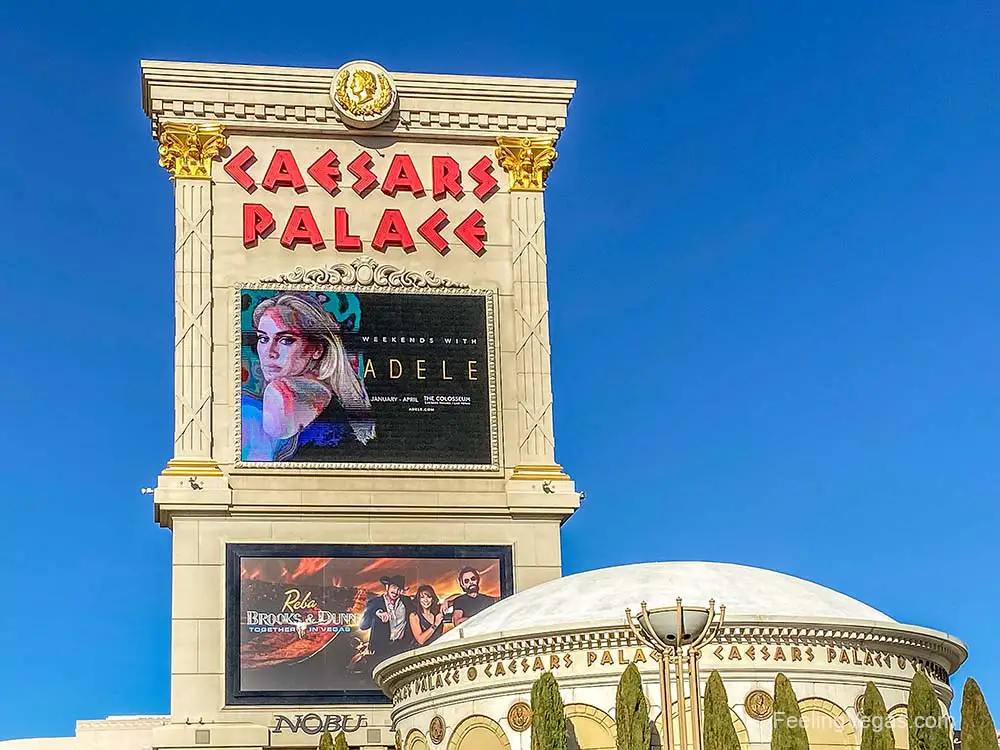 1. Caesars Palace Las Vegas
There's no better place than Caesars Palace in Sin City for a wild, adults-only weekend.
This hotel features one of the most famous casinos in Las Vegas, but the real selling point is its shows. Caesars Palace regularly hosts world-famous musical artists to give performances to guests throughout the year. Some of these artists have included and will include Adele, Usher, Keith Urban, and Sting.
If entertainment is what you're looking for, it doesn't get much better than the shows offered at Caesars Palace.
Once you're done attending one of the many concerts or shows put on daily, you can head out to enjoy the nightlife. Caesars Palace has many bars and lounges that you can enjoy if you'd like a relaxing drink with your friends, but if you want more than that, you're in luck, as this hotel has its own nightclub.
OMNIA Nightclub is a multi-level nightclub that spans over 70,000 sq ft (6,503.21 sq m), which means that it's absolutely massive. This nightclub features three lounges, six aerialists, an 11-ton (22,000 lbs) kinetic chandelier, 96 VIP tables, and an incredible rooftop garden where you can get away from the loudest part of the club.
Check room rates at Caesars Palace
However, never fear, you'll still find some great jams on the terrace, which has a DJ to keep everyone dancing all night long.
After partying all night in the club, you can head over to the spa to rest and rejuvenate for your next wild night. Qua Baths & Spa has 50,000 sq ft (4,645.15 sq m) of total spa space and features several rooms that you can relax in all day long.
Caesars Palace Rooms start at $82 per night but expect a more average price of around $150 during most times of the year. During peak times and around the holidays, you can expect to pay quite a bit more.
2. Circus Circus Hotel & Casino
If you're traveling with kids then Circus Circus Hotel & Casino has to be near the top of any "fun hotel" list.
However, it can also be crazy amounts of fun for the adults on the trip as well. Especially if you grew up going to the circus. It'll also be a slightly calmer atmosphere than many of the other hotels on this list as it doesn't have any crazy nightlife, so if you're not the biggest party person, this will be a great one for you.
Check room rates at Circus Circus
They do, however, have planned activities and entertainment every day and night of the week, most of it modeled after the circus theme.
One of their most popular attractions is the Adventuredome, which is their mini theme park with rides that kids can do alone as well as some that are bound to anyone's knees wobble.
They also have unlimited play classic arcade access that's included in the price of your reservation. If you love the circus theme, Circus Circus will prove to be a lot of fun. They bring in circus performers to entertain you every day of the week, performing everything from high-flying trapeze acts to twin jugglers.
Related: 9 Best Las Vegas Hotels for Kids and Families (On The Strip)
3. The Bellagio Hotel & Casino
If you're planning on spending most of your time on the Las Vegas Strip (Las Vegas Boulevard) and don't want to spend time or money on ubers taking you back and forth, then the Bellagio Hotel will be a great option. The hotel can be found right in the middle of one of the most popular areas of the Strip.
The Bellagio has a large pool and spa, which you must be 14 years of age or older to use, and a stunning conservatory and botanical gardens that you can relax in.
After you're done relaxing in the pool or spa, visit one of the fantastic restaurants, which serve everything from fancy steak dinners to Asian-style noodles.
Check room rates at Bellagio
For some larger-than-life entertainment, you'll want to check out Bellagio's own Cirque du Soleil show. The show runs throughout the week and is one of the best in Vegas.
And I can't forget to mention the amazing Bellagio Fountains. The fountain is an entertaining spectacle you'll enjoy both day and night. You can even get a room with a fountain view!
The Bellagio Hotel is one of the more expensive options on this list, with prices starting at $165 per night, and can go much higher than that, especially if you're visiting during a peak time.
4. MGM Grand Las Vegas
Another great hotel to book if you're a big fan of shows and events is the MGM Grand.
MGM Grand is known for the massive variety of shows and musical acts constantly passing through its doors and at the nearby MGM Grand Garden Arena. Some of the shows currently running are Jabbawockeez, KA by Cirque du Soleil, and David Copperfield. They also frequently have comedy shows where they bring in a few different stand-up comics that'll keep you laughing all night long.
Before you head out to the Strip for the night, relaxing by the pool always seems like a good idea.
That's why the MGM Grand features 6.5 acres (2.63 ha) of water attractions, including four swimming pools, three whirlpools, waterfalls, and a lazy river. You can even pay to have a massage done poolside if you want to.
The pool area also has drinks and food available just in case you want to start pregaming for the evening to come.
Check room rates at MGM Grand
Of course, like almost every hotel on this list, they also have a casino. After all, what would a hotel in Vegas be if it didn't have its own casino? You can play slots, poker, and a variety of other table games, all without having to leave the premises of your hotel.
If a nightclub is more up your alley, don't worry, as they have one of those too. The Hakkasan Las Vegas is open Thursday to Sunday from 10:30 pm to 4:00 am. This nightclub experience is one of a kind, with Playboy Magazine and DJ Magazine Top 100 Clubs naming it the best hotel nightclub in the world.
To book a room at the MGM Grand, you're looking at spending at least $49 per night, not including the daily resort fee.
5. Mandalay Bay Resort and Casino
If you're planning on bringing the kids with you on your Vegas trip, then finding a kid-friendly hotel with lots of activities is crucial.
With all of its bars and casinos, Las Vegas isn't known for being the most family-friendly destination. That's where Mandalay Bay Resort and Casino comes in.
Mandalay Bay features an 11-acre (4.45 ha) water park area with a lazy river and a wave pool. So, if partying is on your agenda, you can take advantage of the water park to wear out the kids so they can have an early bedtime while you hit the onsite casino in the evening.
Check room rates at Mandalay Bay
An additional fun feature that Mandalay Bay Resort has on the property is a 1.5 million gallon (6.82 L) shark aquarium. So, if you're exhausted after a long night in the casino and need some time to destress, you can spend a couple of hours in the aquarium, which is sure to rejuvenate you for another night on the strip.
Room prices vary greatly depending on what time of year you go and your room choice but room rates start as low as $59 per night.
6. Red Rock Resort and Spa
If you don't mind staying a bit farther away from the Strip and you're more interested in hiking as opposed to bar hopping, the Red Rock Resort could be a super fun choice.
The resort is located near Red Rock Canyon where you'll find plenty of gorgeous scenery and trails to explore.
If vacationing in luxury is one of your top priorities, it doesn't get much better than Red Rock.
They have gorgeous suites with a variety of designs and a number of beds depending on how many people are visiting. If you really want to get as luxurious as possible, they also have a few penthouse suites available, including a deck and a private bar.
Check room rates at Red Rock
They host a summer concert series, which is great if you're feeling down to party during the summer. They also have several different onsite bars to choose from with a variety of atmospheres depending on what mood you're in.
If drinking isn't your favorite thing, you can rest assured because there are plenty of other activities available at this resort, including a bowling alley, the sandbar pool, Cyber Quest, and Kid's Quest.
Their cheapest room starts at $129 per night on average, but they're always running promotions, and if you keep your eye out, you may be able to save quite a bit of money on your room.
Related: Compare Hotels in Las Vegas here
7. Excalibur Hotel & Casino
Las Vegas is known for its themed resort properties, and the Excalibur Hotel & Casino is certainly near the top of the list. The resort is built to look like a giant medieval castle with spires, turrets, and waving flags. I mean, who wouldn't want to stay in a castle?
The interior of the property carries on the castle theme and is home to a casino, pools, plenty of dining options, and a variety of entertainment.
Check room rates at Excalibur
Speaking of entertainment, the hotel is probably best known for its Tournament of Kings diner show, where guests feast while knights in shining armor compete on horseback to be named champion. In addition, the hotel is also home to The Australian Bee Gees and the gentlemen of Thunder from Down Under.
If gaming is more of your thing, the casino has thousands of square feet of table games, slots, and poker. Excalibur also has a sportsbook on the premises so you can watch your favorite game on a giant screen television.
As an added bonus, you'll find the Big Apple Roller Coaster is right next door at New York – New York Hotel & Casino.
Excalibur rooms start for as little as $25 per night and generally offer one of the best values on the Strip.
Related: Get our Free Las Vegas Strip Map (PDF download)
8. Circa Las Vegas
If you love the downtown Las Vegas vibe, then you'll have a blast at Circa Las Vegas. There are so many cool things about this hotel. First, it's adults only. You must be over 21 to even get in the front door (I know because we always have to show our IDs before they let us in). This makes for an ideal adult's only Las Vegas vacation spot.
Second, the hotel and casino is designed as an ultra-modern property but has a very old-school Vegas feeling about it that guests will love.
Circa offers a ton of unique spots to drink and dine inside, has an amazing casino with one of the nicest sportsbooks I've ever seen, and also has one of the coolest swimming pools in Vegas!
Check room rates at Circa Las Vegas
The Stadium Swim is a rooftop pool area featuring one of the biggest LCD screens in all of Las Vegas. You can soak in one of the six pools while watching premier sporting events broadcast on the big screen.
Finally, Circa is located on the Fremont Street Experience. So if you ever get bored at Circa (which isn't likely), just head downstairs and out the front door, and you'll find yourself in the middle of the world's biggest street party.
Guest rooms start at $119 per night for one of the newest hotels and casinos in Las Vegas.
Related: Grab our Free downtown Las Vegas Map (Free Printable PDF)
9. The Venetian Resort Las Vegas
If you're looking for a fun Las Vegas hotel, one that will totally wow your visual senses, then look no further than The Venetian Resort. If you've ever traveled to Italy (or wanted to), the entire interior of the resort is a picture-perfect replica of the streets and waterways of Venice, Italy.
As someone who's been to Venice, I can attest to the fact that The Venetian has done a fantastic job!
While at the resort, you'll be surrounded by gorgeous architecture and beautifully painted ceilings, but the highlight has to be the singing gondoliers floating up and down The Venetians Grand Canal. You can actually take an Italian gondola ride inside the resort!
Check room rates at The Venetian
On top of that, The Venetian is a huge resort hotel filled with gaming, attractions, shows, restaurants, and nightclubs. It also has a wonderful outdoor pool deck and in-house spa.
One more thing. The Venetian is an all-suite hotel meaning that every room in the hotel is larger and more luxurious than your average room on the Strip. Rooms start at $105 per night for a 650 square foot suite.
10. Luxor Hotel & Casino
When you're driving down the Las Vegas Strip, there is no way you can miss the giant pyramid-shaped hotel that is the Luxor Las Vegas. Imagine staying in an Egyptian-themed pyramid. If that sounds like fun, you'd be right!
The Luxor features larger-than-life Egyptian decor throughout the resort, and there is plenty of entertainment to be had here as well. From large production shows such as the Blue Man Group to the stand-up comedy of Carrot Top, you're sure to be entertained.
Oh, and I shouldn't forget to mention the 120,000 square foot casino!
Check room rates at Luxor Las Vegas
The hotel also is home to two of the best exhibits on the Las Vegas Strip; Titanic: The Artifacts Exhibit and Bodies…The Exhibition. Luxor also houses the Esports Arena for computer gaming fans. Add in the fun pool area and a solid selection of bars and restaurants, and I think it's safe to say you're going to have a good time.
Rooms at Luxor start at $32 per night, making this hotel an excellent choice for budget-conscious travelers.
And The Most Fun Hotel in Las Vegas is…
While each of these hotels is amazing, fun, and worth an extended stay, there can be only one winner of the funnest hotel in Vegas. And the winner is…
The MGM Grand is the most fun hotel in Las Vegas. Due to its sheer size, the MGM Grand has the overall biggest selection of attractions, shows, and restaurants found in one place on the Las Vegas Strip. There is something for everyone at MGM Grand.
Of course, you won't be disappointed by any of the other exciting hotels on this list either.
If you need more help deciding what hotel to choose in Las Vegas, be sure to click on the link below. I'll walk you step-by-step through the process of choosing the best Vegas resort for you.
UP NEXT: How To Choose a Hotel in Las Vegas (The Ultimate Guide)