19 Best Things to Do in Downtown Las Vegas (Top Downtown Activities!)
(This article may contain affiliate links. If you click through and make a purchase, we will receive a small commission at no additional cost to you. )
No Vegas vacation is complete without spending some time in Downtown Las Vegas. Whether you're a foodie, music lover, gambler, culture-crazed, or just want to laze by an extravagant pool, Downtown Las Vegas has something to offer every single visitor.
In no particular order, here are the 19 Best Things to Do in Downtown Las Vegas.  
The Neon Museum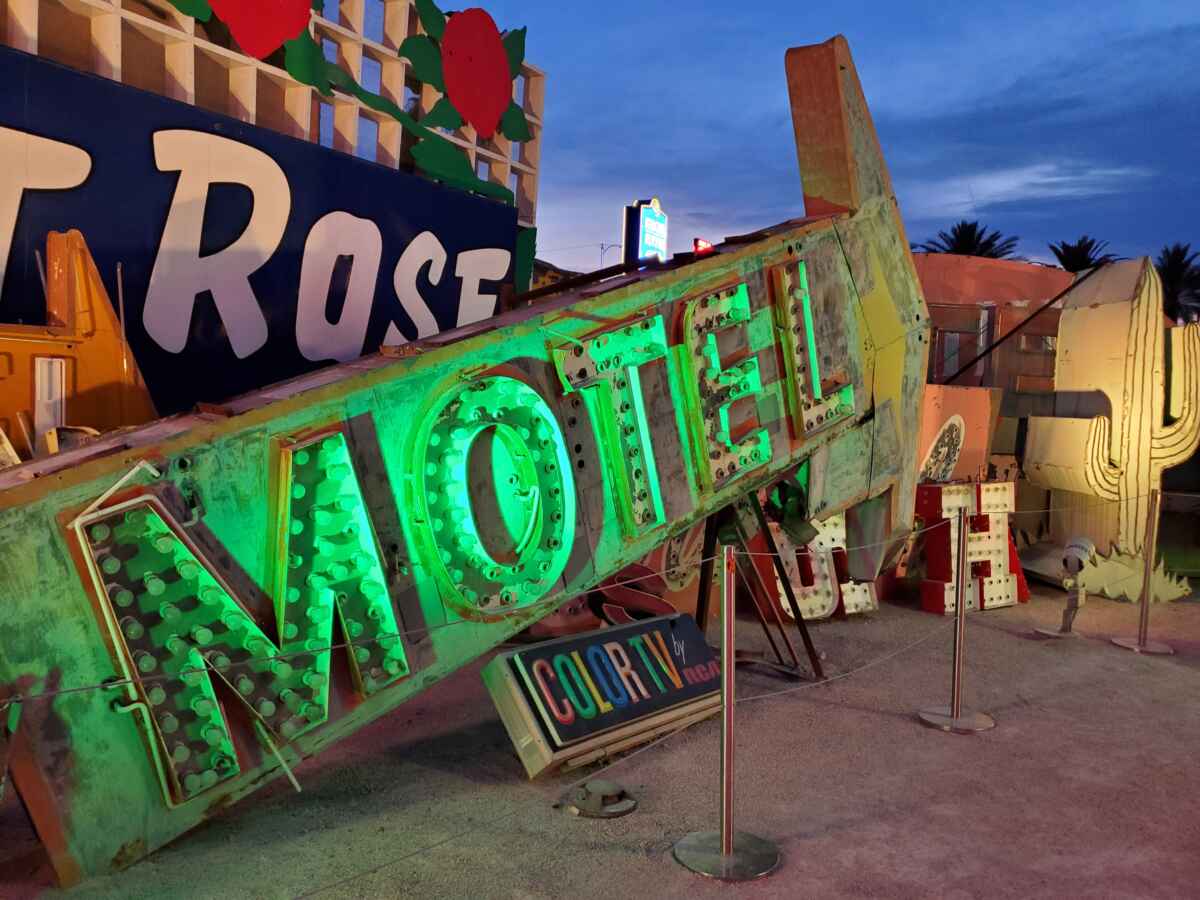 The Neon Museum is a must-see for everyone who visits Las Vegas. It's home to hundreds of iconic vintage neon signs displayed in an outdoor exhibition space called the Neon Boneyard.
Some of the old signs still work, some have been refurbished, and others have been left as is.
Each sign tells a story about the exciting history and culture behind Sin City. Visit day or night to see the neon lights!
Atomic Liquors
The oldest freestanding bar in Vegas, Atomic Liquors was named because people in the 1950s would come and sit on the roof and watch the atomic blasts in the desert at the nearby nuclear testing site (I mean, it sounded like a good idea at the time!).
In 2012, the bar was revamped and faithfully restored to its former 1950s glory, complete with a massive wrap-around bar and iconic neon sign.
Inside the bar, you'll feel like you've been transported to the bar's heyday. The Rat Pack (Frank Sinatra, Sammy Davis, Jr., Dean Martin, Peter Lawford, and Joey Bishop) would drink at the bar after their nightly shows at the Sands.
The Smothers Brothers also favored a drink at this glittery watering hole, as did Barbra Streisand, who had her very own seat!
For those who love craft beer, this place is well worth a visit, as they constantly showcase different craft beers from all over the USA and have had over 500 different craft beers on tap throughout the years.
You can also grab a bite from their diner-inspired 50's kitchen, and they still offer their list of atomic-inspired cocktails. So check it out; it's sure to be a blast!
Circa Resort & Casino – Stadium Swim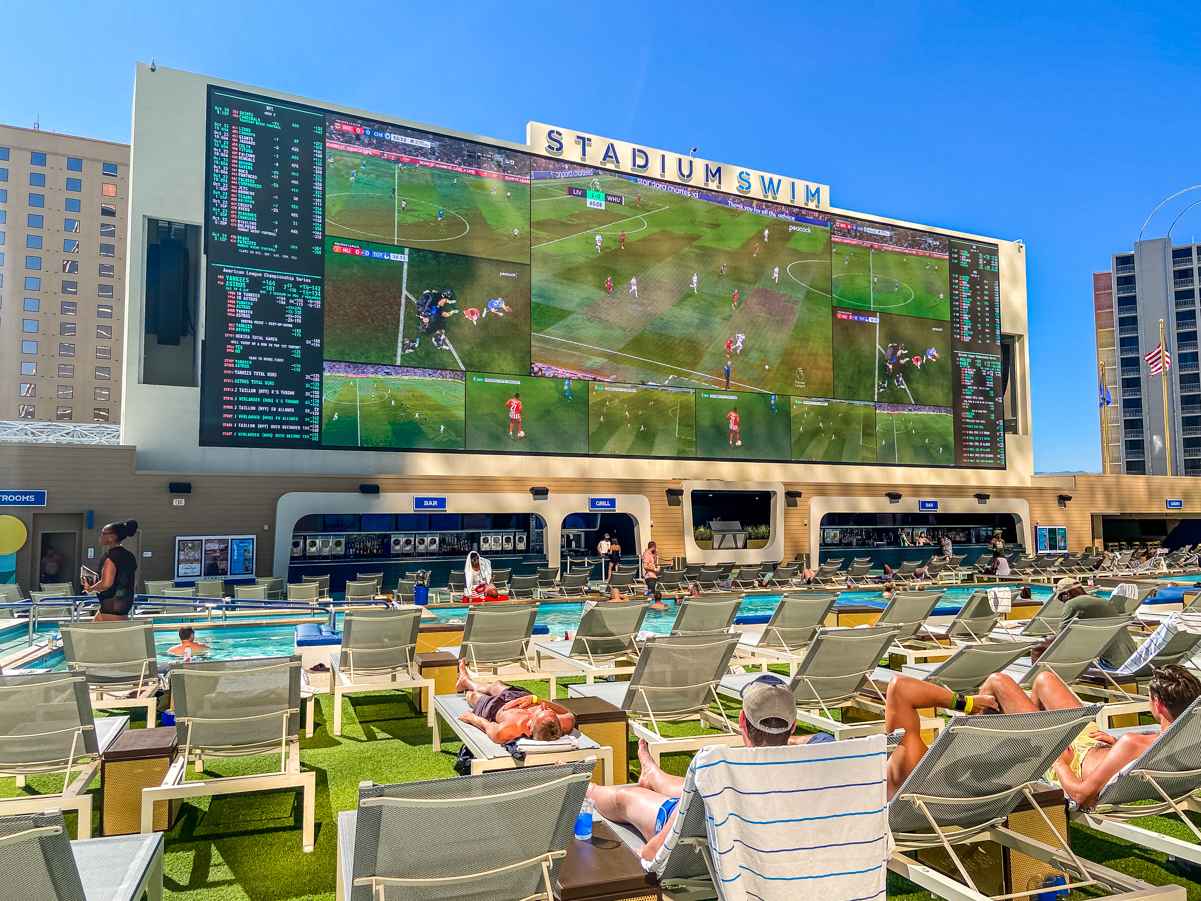 If you're looking for a pool that's heated and open 365 days of the year, the rooftop pool at Circa is an excellent choice. The pool at Circa is called Stadium Swim, and it is the hottest new pool in Vegas!
The pool complex features a giant 40-foot tall TV screen (showing sporting events), which you can enjoy from the pool or while lazing on one of the many daybeds.
With a capacity of 4,000 people, this is no ordinary pool setting, and a fun day out is guaranteed. 
Don't miss out…Download our Free Downtown Las Vegas Map today!
Vegas Test Kitchen
A win-win for chefs and the food-loving community of Las Vegas, Vegas Test Kitchen was opened by secretburger.com president Jolene Mannina. He created a brick-and-mortar restaurant and kitchen where the best and most celebrated chefs can test out and explore new food concepts. 
Chefs offer a weekly rotating menu boasting a variety of cuisines alongside a list of events, from chef popups and Meatless Mondays to live music and secret menu tastings.
The local chef profiles include Chef Sonia El-Nawal, Nina Manchev, Andrea McLean, Sung Park, and Alex White, delivering everything from stunning pastry and pizza to sushi dishes.
Fremont Street Experience – Live Music
This Fremont Street Experience is at the center of activity in Downtown Las Vegas. It's a huge pedestrian-friendly outdoor entertainment space and an attraction you won't want to miss.
It has a massive LED canopy, restaurants, casinos, and plenty of free entertainment. You'll find special concerts here featuring big-name acts and free live music playing nightly. 
The venue has three stages and a rotating schedule of talent. Apart from New Year's Eve, all the live music is free, and no ticket is required. That means you can cruise on down, grab a drink and pick a spot to enjoy your live show. 
Viva Vision at The Fremont Street Experience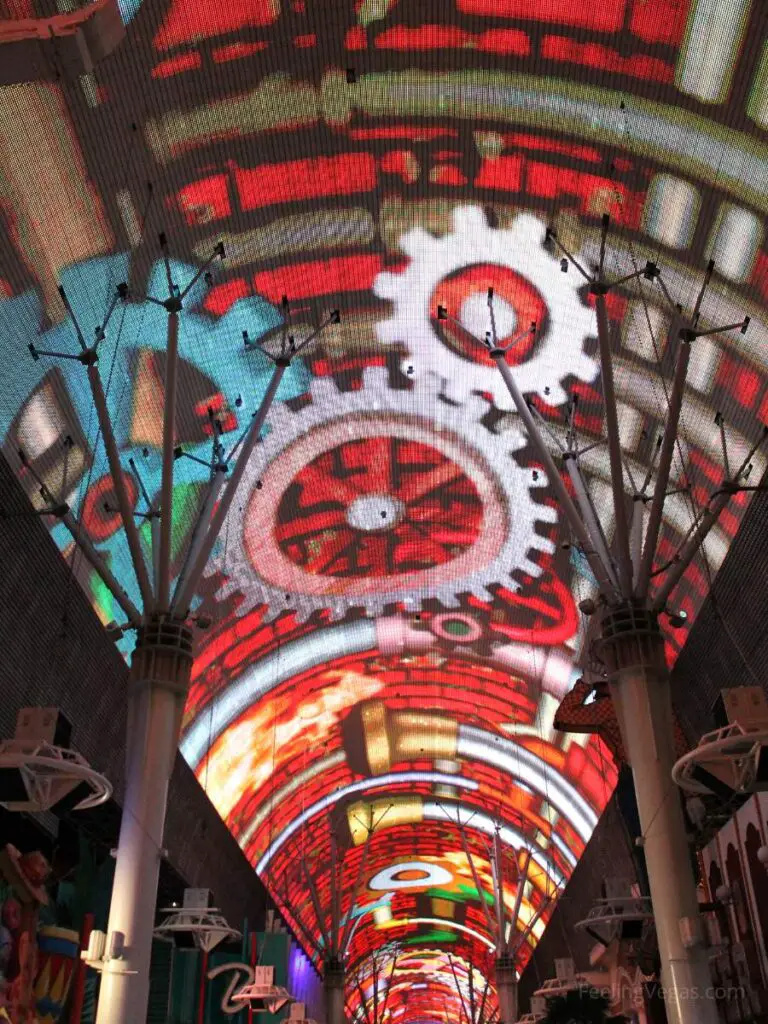 Check out the world's largest digital display with light shows starting at 6 pm and running every hour until 2 am. The outdoor canopy is the world's largest video screen boasting 16.4 million pixels. It's 1,375 feet long and over 90 feet wide!
These Viva Vision shows run for 6-7 minutes at the top of the hour and are completely free.
The Viva Vision screen is on 24/7, so there is always a great reason to look up while you're there.
You'll find it at the Fremont Street Experience complex, which includes street performers, shopping, restaurants, casinos, bars, and music. 
Slotzilla Zipline
Also located at the Fremont Street Experience, the Slotzilla Zipline is a towering slot machine-inspired building that hosts multiple ziplines and zoom lines where you can reach speeds of up to 35 miles per hour as you fly over the thousands of pedestrians partying below. 
There are two different zipline experiences available. First is the 'Zip-Zilla' (Zipline), which is 77 feet high and travels 850 feet down Fremont Street in a seated position.
Then, one level up (114 feet high), you'll find the 'Super-Hero Zoom' (Zoomline), where guests ride "superhero-style" (meaning you're in a flying position) the entire 1,700 feet of the Fremont Street Experience canopy.
Nacho Daddy – Downtown 
Nacho Daddy is famous for its unique take on Mexican-style food and drink, and it's the home of the original "scorpion shot" (a shot of tequila with a real scorpion in it). Another drink that earns them a stellar reputation is the Best of Las Vegas "Daddy's Margarita." 
As well as fun and interesting drinks, they serve delicious food, including insane gourmet nachos smothered in cheese and salsa. These nachos come with a guarantee that you will never find a dry chip! So if you are looking for a lively atmosphere and fantastic Mexican flavors, this is your place!
Downtown Las Vegas Events Center
The Downtown Las Vegas Events Center is a 2,500 capacity events space featuring three bars, in-house catering, and food services. The venue hosts concerts and festivals featuring big-name artists in every genre, from rap and hip-hop to pop and EDM. 
The venue is also well known for hosting some of the hottest sporting events, from huge viewing parties for football, soccer, and hockey, to rodeo events. They also televise some of the most significant events in Las Vegas, such as world title boxing matches, extreme sports contests, ESPN events, and MMA fights. Click here to check out all the upcoming events at the Downtown Las Vegas Events Center.
Segway Las Vegas
Segway Las Vegas is one of the most famous ways to get around old Vegas. You can take in the sights while learning about the lesser-known facts of Las Vegas with one of their guided tours.
After a brief training session, you'll get to cruise through Downtown Las Vegas on your Segway PT, passing famous landmarks and sights with plenty of time to stop and take photos along the way. 
The tours come highly recommended by visitors to Las Vegas, and many agree that the Segway Tour is the highlight of their trip. Guided Segway tours are available in one or two-hour experiences, with each promising to show you the sights and experience the history that makes Las Vegas famous.
Check for Segway Las Vegas tour discounts here (Groupon).
Neonopolis
Neonopolis is a huge one-of-a-kind dining, entertainment, and shopping experience located in the center of Downtown Las Vegas. The 250,000 square foot building boasts three floors of fun and entertainment. Inside you'll find food and beverage places, some unique nightlife destinations, and tons of entertainment. 
If you're looking for a bite to eat, you can choose from 5 different venues, including the Heart Attack Grill, Banger Brewing, Cous Cous, Denny's, or the International Eatery. The on-site entertainment features everything from ax-throwing (see Axehole below), video games, and indoor go-cart racing to an art gallery and theatre for live performances. 
Then there are the nightspots with some of Vegas' most unique nightlife venues, including the Nerd Bar, the Cats Meow, and Don't Tell Mama. There's also The Little Neon Chapel, the Las Vegas premiere wedding chapel awaiting those looking to make the ultimate Vegas commitment!
Axehole Vegas
Unleash your inner Viking at Axehole Vegas, where over 200,000 guests have safely enjoyed the thrill of ax-throwing in a comfortable and entertaining environment. The venue features basic ax-throwing training and an hour-long axe throwing session. At Axehole you'll also find a fully stocked bar plus Vegas' notorious 'Smash Room', where you can let your inner rage out and smash things to pieces. 
The friendly team also offers the venue for private parties and events. If you can't make it to them, they also have mobile events service available as well. In addition to ax-throwing, they also offer other various sharp objects that you can use to practice hitting the bulls-eye, including ninja throwing stars, knives, metal throwing cards, spears, and even shovel heads!
Las Vegas Natural History Museum
The Natural History Museum in Downtown Vegas will help you discover the wonders of the natural world, providing a fascinating visit every time. You'll find that there are plenty of unique and special activities and attractions held there, such as shark feeding, a wheat grinding activity, and a moonlight safari and dinosaur ball!
It is hands down one of the top things to do in Downtown Las Vegas for families. Children and adults will find something that amazes them and learn more about the natural world in a fun and engaging environment. 
Downtown Vegas Sightseeing & Foodie Tour
For the foodies out there, a visit to Downtown Las Vegas wouldn't be complete without experiencing a food tour. Vegas has a nearly infinite amount of choice when it comes to food venues, and it can be daunting. So let experts guide you on this walking tour through historic Downtown while you get to taste exquisite food along the way!
This extremely popular Vegas downtown food tour is sure to show you a great time, and some great grub! You can choose whether you want to enjoy a lunch or dinnertime tour. Each tour comes with plenty of great food, some Vegas history, as well as a spot of trivia. 
Le Thai Downtown
If you're craving Thai food, Le Thai is a great spot in downtown that has a lovely outdoor patio where they host live DJ performances so you can dine along with a mix of cool tunes. Seriously, how many Thai restaurants have you been to with a live DJ?
Famous for Chef Dan Coughlin's special 3-color curry (a mix of green, red, and yellow), homemade Thai noodle soup, and signature Waterfall Sauce, this is a must-eat for any Thai food fan.
The location makes it a perfect place to refuel before or after bar hopping on the infamous Fremont Street. 
Golden Nugget – The Tank & HideOut Pool Complex
For one of the most exciting pool experiences in the world, you have to visit the Golden Nugget Casino. The Tank and HideOut Pool Complex features a $30 million pool with a 200,000-gallon shark tank located smack dab in the middle! To top it off, you'll even have the opportunity to ride a clear water slide through the middle of the shark tank!
The Hideout pool area has a rooftop pool for guests 21 years of age and over. Visitors can enjoy a cocktail or beverage of their choice by the pool as there is a private bar just for The HideOut guests. This makes it one of the top activities in Downtown Las Vegas in the summer. 
Downtown Container Park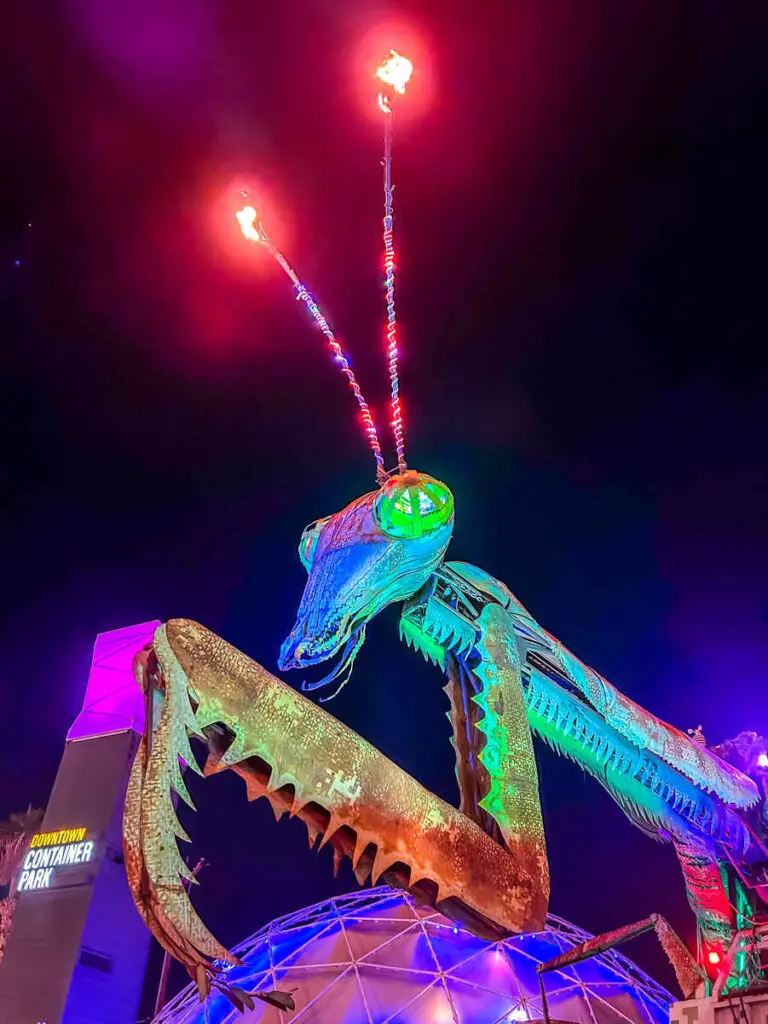 Located in the center of Downtown Las Vegas in historic Fremont East, Downtown Container Park is a huge open-air retail shopping center filled with boutique retail shops and unique restaurants.
The complex also offers entertainment for the entire family, with space to relax on the lawn while enjoying free concerts, movies, and live entertainment on the main stage. 
Especially for kids, there's also an interactive playground featuring 'The Treehouse', a huge tree with slides for the kids. Adults can also enjoy the many bars and restaurants in Container Park, including Bin 702, the Downtown Terrace, Kava, and Oak and Ivy, to name a few.
This makes it a great place to visit in Downtown Las Vegas for young families. 
The Mob Museum 
The Mob Museum shares information about the history of organized crime in the US with the goal of providing visitors with an understanding of the impact it has had on American society. You'll find that the museum has immersive exhibits for you to explore and is filled with interesting artifacts and memorabilia.
The displays are spread across four floors, with each level having a different theme, making The Mob Museum the perfect place to spend part of a day in downtown Vegas.
Zak Bagans Haunted Museum
As you might imagine from the name, Zak Bagans Hunted Museum is not your average everyday museum. This creepy museum is filled with interesting and terrifying artifacts, including the Devil's Rocking Chair, Bela Lugosi's Haunted Mirror, Dr. Jack Kevorkian's death van, John Wayne Gacy's (The Killer Clown) artwork, plus so much more.
The museum itself is housed in a 1938 haunted mansion and contains 30 rooms of spooky memorabilia and narrow winding hallways. The Haunted Museum even hosts a late-night tour by flashlight and was voted to be the #1 haunted destination in the U.S.
What to Choose First in Downtown Las Vegas?
The first thing you'll want to do is head to the most concentrated downtown Las Vegas attraction area, the Fremont East Entertainment District (google maps). From here you'll find fun in every direction.
Downtown Las Vegas has so much to do and see that you may even find yourself wanting to stay at a downtown area Las Vegas hotel instead of on the Strip. However, whether you stay Downtown or not, it is certainly a worthwhile place to visit!
With Downtown Las Vegas having so much to do packed into a relatively small area, it will be easy to combine several of the best things to do on this list into one outing.