Circa vs. Golden Nugget: Which Is Better? (Las Vegas)
When it comes to luxury hotels, Las Vegas has them in abundance. Because of this, it can be hard to determine which is best. Some offer better amenities, but the best hotel for you depends on your particular needs. If you're looking for a hotel downtown, there are none better than Circa and the Golden Nugget.
Circa is the newest hotel in downtown Las Vegas, and as such, it offers a modern upscale vibe while paying homage to vintage Vegas through its decor and amenities. The Golden Nugget, on the other hand, is a true Las Vegas classic with a fully remodeled property and on-site live entertainment.
When deciding which is better between the Circa and Golden Nugget, you'll need to decide which hotel best suits your needs, style, and budget. This article will compare both hotels in detail and provide you with the information you need to make the best decision.
Category
Circa Las Vegas
Golden Nugget
Room Price
From $119 per night (Adults Only)
From $49 per night
Resort Fees
$39.49 per day
$40.68 per day
Parking Fees
Free parking for hotel guests
Free self-parking for registered guests
Location
Downtown Las Vegas (Fremont Street)
Downtown Las Vegas (Fremont Street)
Shows
– None on site
– Misc guest performers
Pools
– 6 rooftop swimming pools
– 1 pool with waterslide and shark tank
Attractions
– Garage Mahal
– Stadium Swim
– Fremont Street Experience
– Hand of Faith gold nugget
– Fremont Street Experience
Comparing Circa Las Vegas and Golden Nugget hotels at a glance.
(This article may contain affiliate links, which means we might earn a small commission if you click and make a purchase. Thank you!)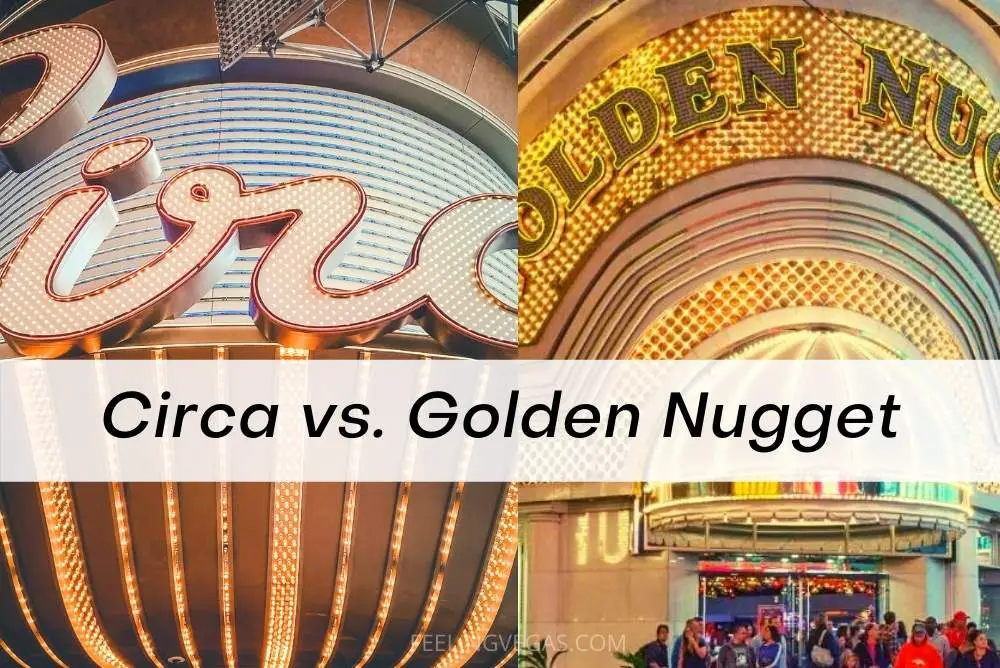 Name: Circa Las Vegas
Address: 8 Fremont Street
Casino Floor: ? sq ft.
Year Built: 2020
Number of Rooms: 777
Name: Golden Nugget
Address: 129 E Fremont St.
Casino Floor: 38,000 sq ft.
Year Built: 1946
Number of Rooms: 2,419
Please note: Circa is an adults-only resort. IDs are checked at the door, and no persons under the age of 21 are allowed inside.
Circa vs. Golden Nugget: Standard Room Comparison
Circa and Golden Nugget are luxury hotels in downtown Las Vegas that are similar yet different. Circa opened its doors in 2020, while the Golden Nugget has been in existence since 1946. The Golden Nugget has more than 2,400 rooms and suites distributed across four towers, while the Circa has 777 rooms distributed across 35 floors.
Rooms at Circa Resort & Casino
Circa Resort & Casino has Single King, Double King, Flex King, and ADA Standard King rooms. All of these rooms have:
Internet connectivity
Mini fridge
Flat screen television
A dual vanity sink area
A walk-in shower
Small room safe
Tablet technology (controls lights, blinds, temperature, etc.)
A clothing steamer & hair dryer
Each room category has variations available to cater to clients with different needs. For example, the Flex King has a king-sized bed and a couch that converts to a second king-sized bed.
The room rates differ depending on whether you prefer the pool view or the Strip view. The space for all the standard rooms is 439 square feet (40.8 square meters).
Rooms at the Golden Nugget
A standard King-sized room at Carson Tower, one of the towers of Golden Nugget, has:
A King-sized bed
Make-up vanity sitting area
A seating area for two
In-room wifi
An in-room safe
A large flat-screen TV
Iron
The Deluxe Double is similar to the Deluxe King, but it has two double beds. The space in the rooms is 364 square feet (33.8 square meters).
The Gold Tower, the most centrally located tower, has the most luxurious rooms and suites in all of the Golden Nugget. They're stylish, have sleek decor, and have fiery colors. Like Carson Tower, the Golden Tower has the Premier King and Premier Double.
The rooms in the Golden Tower are 378 square feet (35 square meters).
The video below offers a glimpse of each of the rooms available at the Golden Nugget:
The rooms are similar, except the Premier King room has one bed and a sitting area for three, while the Premier Double has two double beds and a sitting area for two people. These rooms are closest to the casino floor, have wireless internet, and have an entertainment center with a desk.
The Rush and Spa Towers at the Golden Nugget also have suites with large living and entertainment areas.
Comparing Rooms at the Golden Nugget vs. Circa
If you are looking for more modern and spacious rooms, Circa is the better option. However, if you're looking for a historical place to stay in Las Vegas and you want a good view of Fremont Street, the Golden Nugget is better.
Both hotels have tiers that allow you to meet your needs and work within your budget, although Golden Nugget has more budget-friendly rooms on average.
Circa Las Vegas
Golden Nugget
Single King:
– 439ft² (40.8 m²)
– King bed (Serta mattress)
– Flat-screen HDTV
– In-room wifi
– Seating area with couch
– Desk
– City views
– Max guests: 2
Carson Tower Deluxe King:
– 364ft² (33.8 m²)
– King bed
– Internet (wireless)
– HDTV
– Seated Make up vanity
– 2 Person seating area
– In-room safe
– Max guests: 2
Comparing the entry-level, standard rooms at Circa and Golden Nugget.
Best Casino: Golden Nugget or Circa
The casinos at Circa and the Golden Nugget are both extravagant destinations that offer guests a varied and luxurious experience in Vegas. Both are worth visiting, each for different reasons.
The Casino at Circa
The casino at Circa is upbeat and animated. It has two levels, 1,350 slot machines, 55 table games, and a very large sportsbook. The high energy, dice rolls, cocktails, and incentives keep visitors occupied for hours. Some of the benefits offered to regulars through the Club One player's card include:
Points for play
Special discounts
Comps
Free slot play 
Merchandise
For more on the Circa Resort & Casino, see this video:
The Casino at the Golden Nugget
The greatest beneficiaries at the Golden Nugget Casino are members who use the 24k Select player's card. The benefits include:
Tier credits
Slot points (slots and video poker)
Select rewards (redeemable for retail purchases and food)
The more credits members get, the higher they rise in the tier credit program and the greater their benefits.
The Casino at the Golden Nugget has won several awards over the years. It has been recognized widely for having the best table games, best slot tournaments, best overall sportsbook, and, more recently, best gaming.
For more information, you can take a look at all of our Golden Nugget articles here or check out this video to see what the Golden Nugget has in store for its guests:
Comparing the Casinos at Circa and the Golden Nugget
Both casinos have plenty to offer, whether you're a loyal member or a new customer.
However, Circa is still fairly new and is trying to get loyal customers, so the rates and offers in the casino may be more favorable than those at Golden Nugget, which has built a client base over the past seven decades.
Important Note: Official press releases indicate that Circa's casino is a mere 8,002 sq. feet. This is absolutely wrong! The huge sportsbook inside Circa alone is probably bigger than that!
So I can only say that having visited the casinos at both Golden Nugget and Circa on multiple occasions is that Circa's gaming floor feels much bigger than Golden Nugget's 38,000 sq ft. casino.
Dining Options Circa vs. Golden Nugget
Both the Circa and the Golden Nugget have luxurious dining options on-site. At both hotel properties, the dining options range from budget-friendly fast food to a grand sit-down dinner.
Restaurants in the Circa Resort & Casino
By the time Circa opened, it already had a lineup of excellent dining options for guests. Some of the restaurants newly established in Circa include:
Saginaw's Delicatessen (Deli from Detroit)
Barry's Downtown Prime (Steakhouse)
8 East (Asian cuisine)
Victory Burger & Wings Co.
Project BBQ (the first permanent BBQ food truck on Fremont Street)
Circa also has bars, like the following:
Legacy Club (rooftop)
Vegas Vickie's
Mega Bar
Overhang Bar
Circa Bar
Restaurants at the Golden Nugget
Like Circa, the Golden Nugget has several dining options for guests. They include the following:
Vic & Anthony's (One of America's top Steakhouses)
Saltgrass Steakhouse
Chart House (Seafood cuisine)
Grotto Italian Restaurant
CJ
Chick-fil-A  
It's also important to note that on top of the food and restaurants available inside each of the resort properties, there is a world of food options available just a few steps away from the front door of each hotel.
To see some of the more budget-friendly options, check out our article 9 Best Cheap Eats on Fremont Street.
On-Site Entertainment at Circa and the Golden Nugget
Besides the casino, the Golden Nugget has live entertainment featuring popular bands and various visiting performing artists.
Unfortunately, Circa doesn't offer live entertainment on-site. At the Circa, you can expect to spend your time in the casino and enjoying the recreation facilities at the hotel, like the stadium-sized pool.
The Golden Nugget, by contrast, always has a new line-up of on-site performers, in addition to the on-site recreational opportunities and casino.
This, however, isn't a major difference between the two properties as there is a whole host of entertainment options located right outside each of these hotels on Fremont St.
Take a look at 19 of the best things to do on Fremont Street and downtown.
Best Swimming Pool: Circa vs. Golden Nugget
Both Circa and Golden Nugget hotels downtown have amazing pools! In fact, they are two of the top pool experiences you can have in Las Vegas.
Pools at Circa Resort & Casino
The Stadium Swim pool is located on the rooftop at Circa and is heated year-round so that guests can use it in all seasons.
Their poolside amenities include:
Huge outdoor TV featuring major sporting events
Hot tubs
Swim-up bars with incredible views and gaming options
Air-conditioned cabanas
Take a first-hand look at the amazing Stadium Swim in this video:
Pools at the Golden Nugget
The pool complex at the Golden Nugget caters to clients with different needs. A 200,000 gallon (919,218-liter) shark tank placed in the middle of the pool makes swimming even more exciting.
On top of that, there is also a clear waterslide that shoots through the middle of the shark aquarium!
On the third level of The Tank pool complex is the HideOut pool area (for guests 21 years and older). The HideOut has daybeds, cabanas, and chaise loungers only accessible to guests with a reservation.
Unfortunately, the pool at the Golden Nugget is usually closed during winter (November to February), so if you wish to visit a hotel whose pool is open all year long, Circa is the better choice, especially if your reservation is during the winter season.
RECOMMENDED: Are Las Vegas Pools Heated in Winter? A Complete List
Parking at Circa vs. Golden Nugget
Parking at Las Vegas downtown hotels like Circa and Golden Nugget is more flexible than hotels on the strip. Hotel guests and those gambling at the casinos in downtown hotels often get free parking or at best, pay a minimal fee, especially if they'll be gambling or staying at the hotel for several hours.
Parking at the Circa Resort & Casino
Self-parking at Circa is free for hotel guests.
At Circa, parking rates for non-guests are $5/hr, with a maximum daily charge of $40. Valet parking is at a flat rate of $15, while the hourly charge for hotel guests is $4 and capped at $25 daily.
Club One members who have attained Maverick (6,000 to 29,999 tier points) or Legend status (over 30,000 tier points) get to park at no cost.
Parking at the Golden Nugget
Self-parking at Golden Nugget is free for hotel guests.
Parking charges at the Golden Nugget vary slightly from those of the Circa Resort. Gold Valet parking is available 24/7 for all hotel guests at $15 per vehicle per day.
Guests can drive in and out of the hotel as often as they wish without paying extra for valet parking. Valet parking is usually added to the hotel bill.
Non-hotel guests with access to Gold Valet pay $15 per car. Casino guests with Elite Cards get complimentary valet parking. The daily charge for non-hotel casino guests is $10 for up to 2 hrs, while an additional $20 is charged for longer stays.
Loyalty members who have earned the Elite status (50,000 Tier Credits) get free parking.
ALSO SEE: Downtown Las Vegas Parking (Places, Costs & Cheapest Spots)
How to Choose: Circa vs. Golden Nugget
Circa and the Golden Nugget are both great hotels. Each has its advantages and disadvantages. Circa was built recently and is more modern, with a rooftop heated pool and slightly more spacious rooms.
However, the Golden Nugget has history. It's a classic Las Vegas luxury resort with on-site entertainment.
Choose the Golden Nugget if budget or having a family-friendly resort are among your primary concerns as a stay at this property will be less expensive and can accommodate children.
If, on the other hand, you want to experience one of Las Vegas's newest hotels and one of the best year-round swimming pools in the city, Circa is the obvious choice. Its 21 and up policy make it a place for a true adult Vegas experience.
That being said, both hotels are located within a short walk of each other and have easy access to everything downtown Las Vegas has to offer.
Enjoy your visit!
Looking to compare other popular Las Vegas hotels? Then visit our Las Vegas Hotel Comparison Guide.