Circa Pool: 21 Things to Know About Stadium Swim (Las Vegas)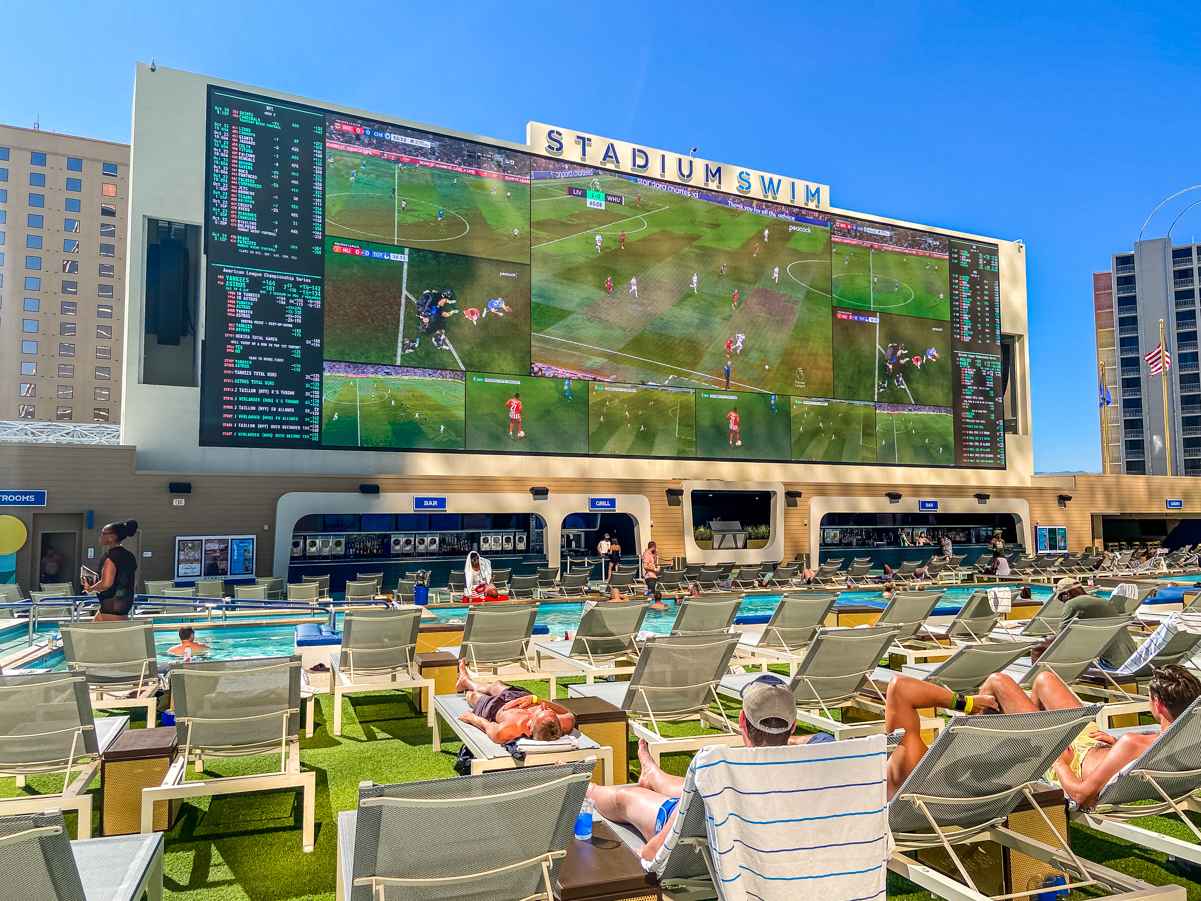 (This article may contain affiliate links, which means we might earn a small commission if you click and make a purchase. Thank you!)
Circa is a brand new hotel that opened in Las Vegas in 2020 that brought some much-needed excitement to the downtown area of Las Vegas.
It boasts one of the most unique and exciting pool areas, Stadium Swim, to attract both sports fans and sun lovers. 
The Circa pool (aka Stadium Swim) is a sports bar meets pool club. It boasts a 143-foot jumbo screen that is always broadcasting the latest sports games. The 40-foot-tall big screen TV can be seen from each of the six heated pools. The Circa pool deck has a maximum capacity of 4,000 people.
If you're looking for a place to soak up the sun where you won't miss the big game, Stadium Swim is the place for you.
With countless cabanas, daybeds, lounge chairs, and even swim-up bars, it's a great way to have the best of the sun and sports during your Vegas vacation.
Compare and save! Check current Circa room rates at TripAdvisor!
How many pools does Circa have?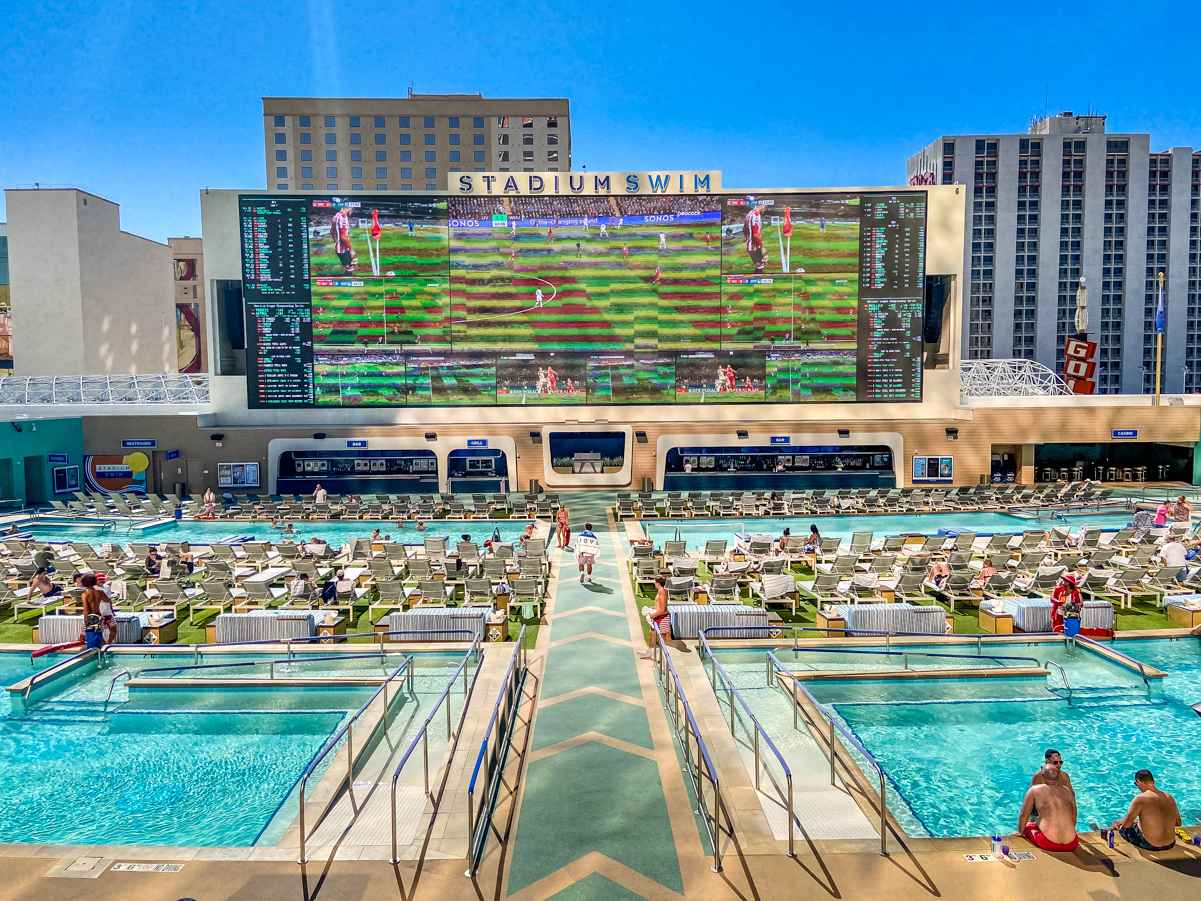 Stadium Swim at Circa has 6 different pools that span 2 different levels for an immersive and fun pool deck experience. 
The pools are long and rectangular and surrounded by hundreds of lounge chairs for when you need a break from the water. The pools are situated spanning the width of the pool deck in a "stadium seating" style. 
The two pools nearest to the hotel towers also have swim-up bars for guests who want to get their cocktails without even having to get out of the pool. 
Is Circa Stadium Swim free for hotel guests?
Stadium Swim is free for all Circa hotel guests. The cost of the pool for two guests is included in the nightly hotel rate. Guests are welcomed and encouraged to use the pools at Stadium Swim to their heart's content each day of their stay, including the day they check out. 
In addition, Circa has partnered with D Las Vegas Hotel and Golden Gate Hotel & Casino to allow any guests at both hotels to use the Stadium Swim pools for free as well. Guests just need to show a room key or other proof of an active reservation at one of those hotels for access. 
Can you go to Circa pool without staying there? What does it cost?
Anyone who is 21 years old or older can go to Stadium Swim regardless of whether you are staying at the Circa hotel or not. If you are not a guest of the Circa Hotel, D Las Vegas, or Golden Gate Hotel & Casino, there is a daily admission fee. 
Admission to Stadium Swim is $20 – $70 per person, depending on the day and time of year. Rates may change based on special events, big games, or other factors. 
I've written an in-depth article about visiting Stadium Swim if you're not staying at Circa. Check it out.
What floor is Stadium Swim on?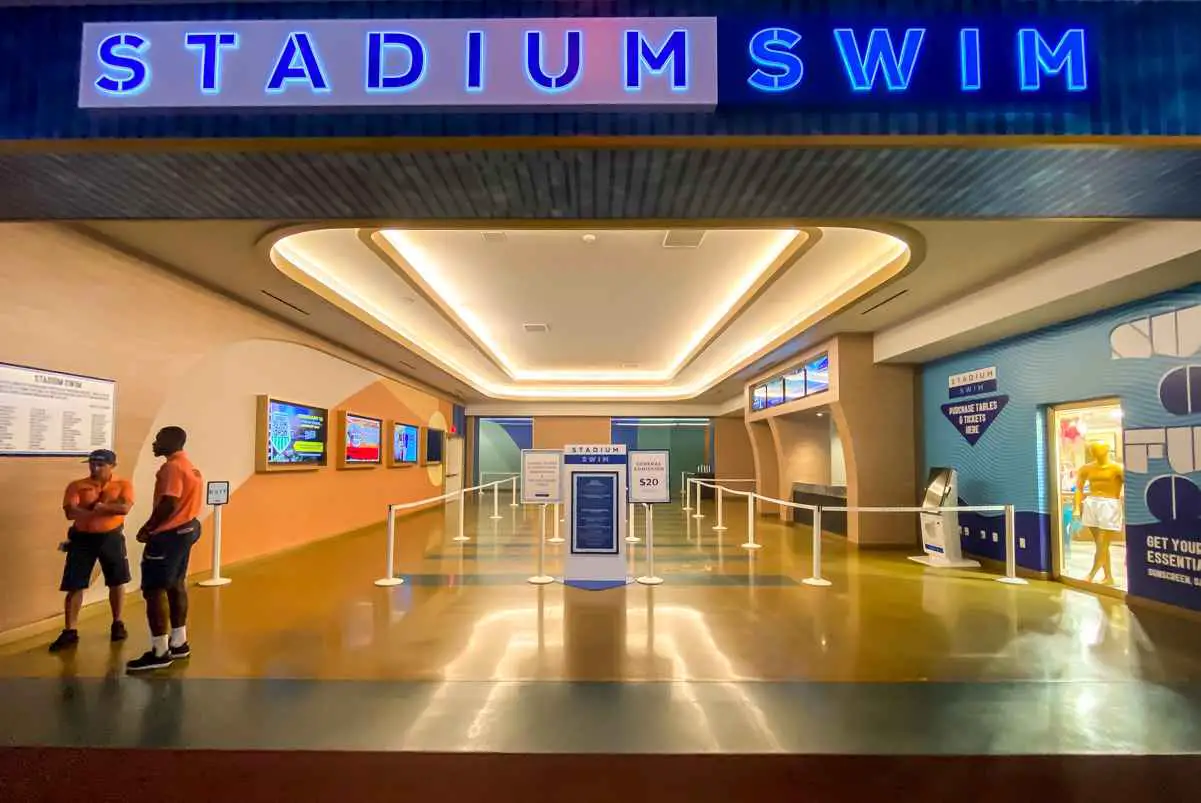 The entrance to Stadium Swim at Circa is located on the second floor of the hotel. From inside the hotel, you will take an escalator from the second level up to the pool deck. There are plenty of signs pointing the way to Stadium Swim.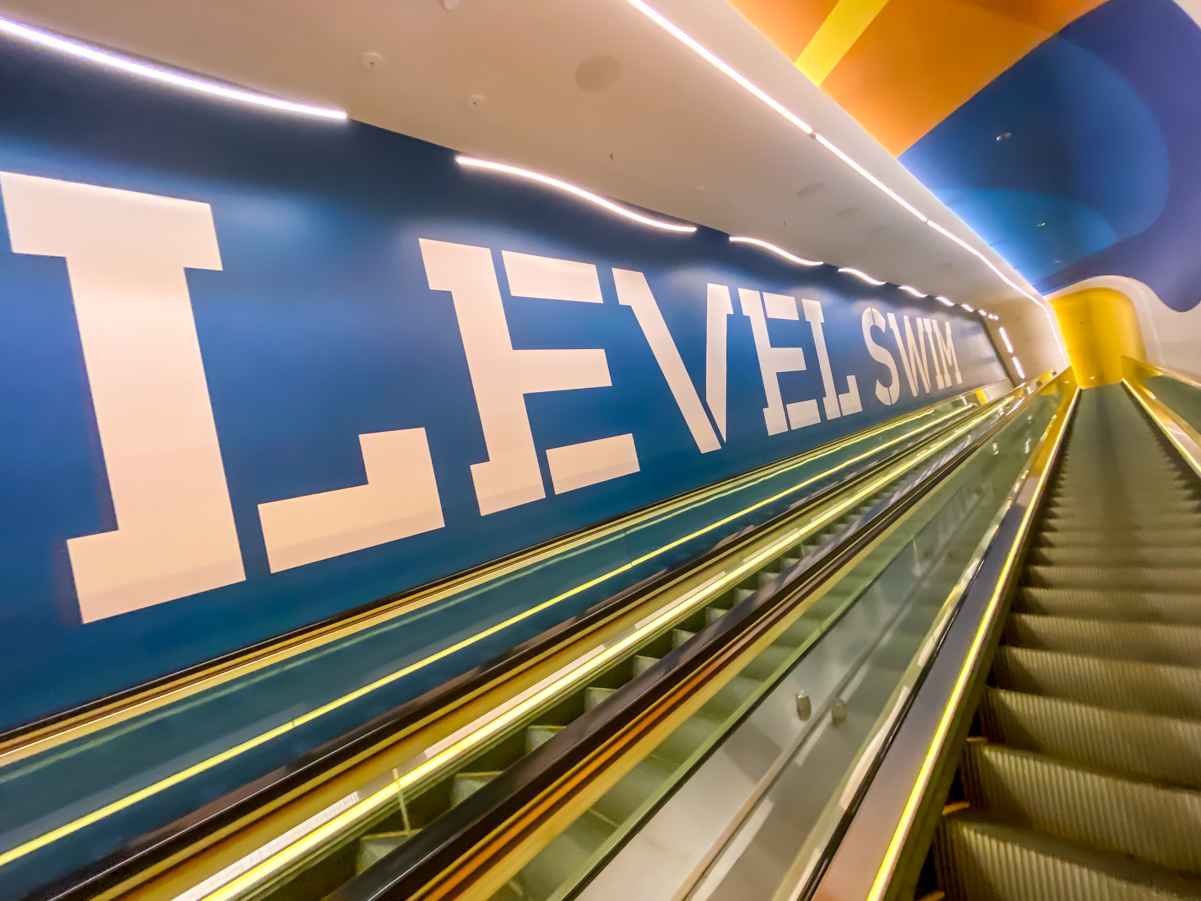 Does Circa have heated pools?
All 6 of the large, luxurious pools at Stadium Swim at the Circa hotel are heated 365 days a year. 
The temperature varies depending on the season to make sure the pools are refreshing yet comfortable for all guests. This means that Stadium Swim is open for you to enjoy sporting events on the big screen from the comfort of a relaxing heated pool year-round. 
How much are drinks at the Circa pool?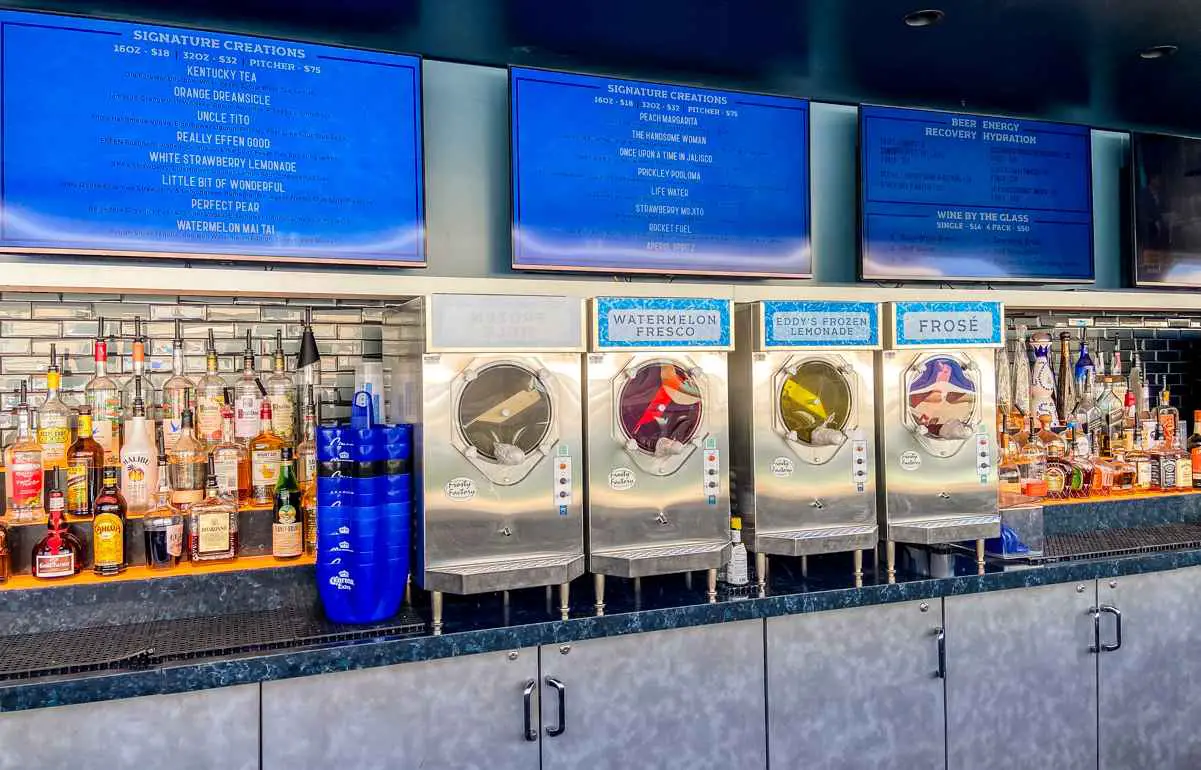 There is a large drink menu at the Stadium Swim pool. There are plenty of options whether you want to order a few mixed drinks or a full day of bottle service. 
Mixed and frozen cocktails are $32 each for a 32-ounce drink or $75 for a pitcher. There are fun specialty cocktails, frozen drinks, and wine-based sangria cocktail options to please every flavor palate. 
All other drinks at Stadium Swim are sold by the bottle or 6-pack. 
Bottles of wines, including reds, whites, and bubbly, range from $295 to $24,000 (yes, you read that right!). Bottles of hard alcohol like vodka, tequila, or whiskey range from $395-$2,000. 
Beer is sold in 6-packs for $50 or a 24-pack case for $195. 
Nonalcoholic beverages like iced coffee, iced tea, water, and other energy drinks are $8. 
How much are beers at Stadium Swim?
Beers at Stadium Swim are sold by either the six-pack or the case (24 beers). The cost of beer at Stadium Swim is $50 for a 6-pack or $195 by the case.
Domestic and Imported beers at Stadium Swim include:
Michelob Ultra
Bud Light
Coors Light
Budweiser
Shock Top
Miller Lite
Bud Light Mango Seltzer
Heineken
Corona Extra
Modelo Especial
Does Stadium Swim have swim-up bars?
Stadium Swim at Circa has a swim-up bar located on the lowest level of the pool deck, so you don't even have to get out of the water to order a drink.
What's on the Stadium Swim menu?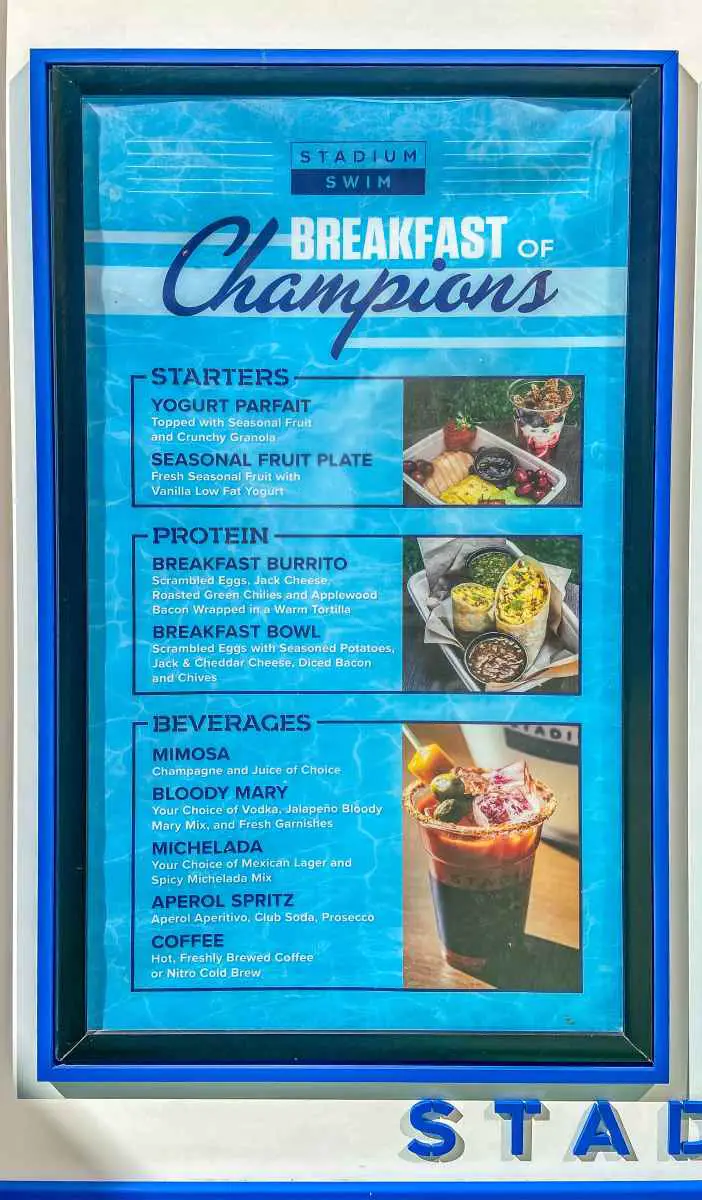 The full food menu (PDF) at Stadium Swim has something for everyone. You certainly won't go hungry with the wide variety of delicious food to snack on while you swim and watch a game or two. 
They have a robust section of appetizers called Stadium Platters. These platters are full of your favorite snack foods like nachos, burger sliders, chicken tenders, french fries, and more. Stadium Platters are ideal for sharing with a crowd because they serve 6 people.  
In the Main Events section of the Stadium Swim menu, you will find all the main entrees to enjoy if you're not up for sharing. 
With over two dozen entree options, you will find at least one (or even two!) things that you'd like to nosh on while poolside, whether you're in the mood for breakfast, lunch, or dinner. The Main Events include everything from breakfast burritos to salads and wraps. 
How big is the Circa pool TV?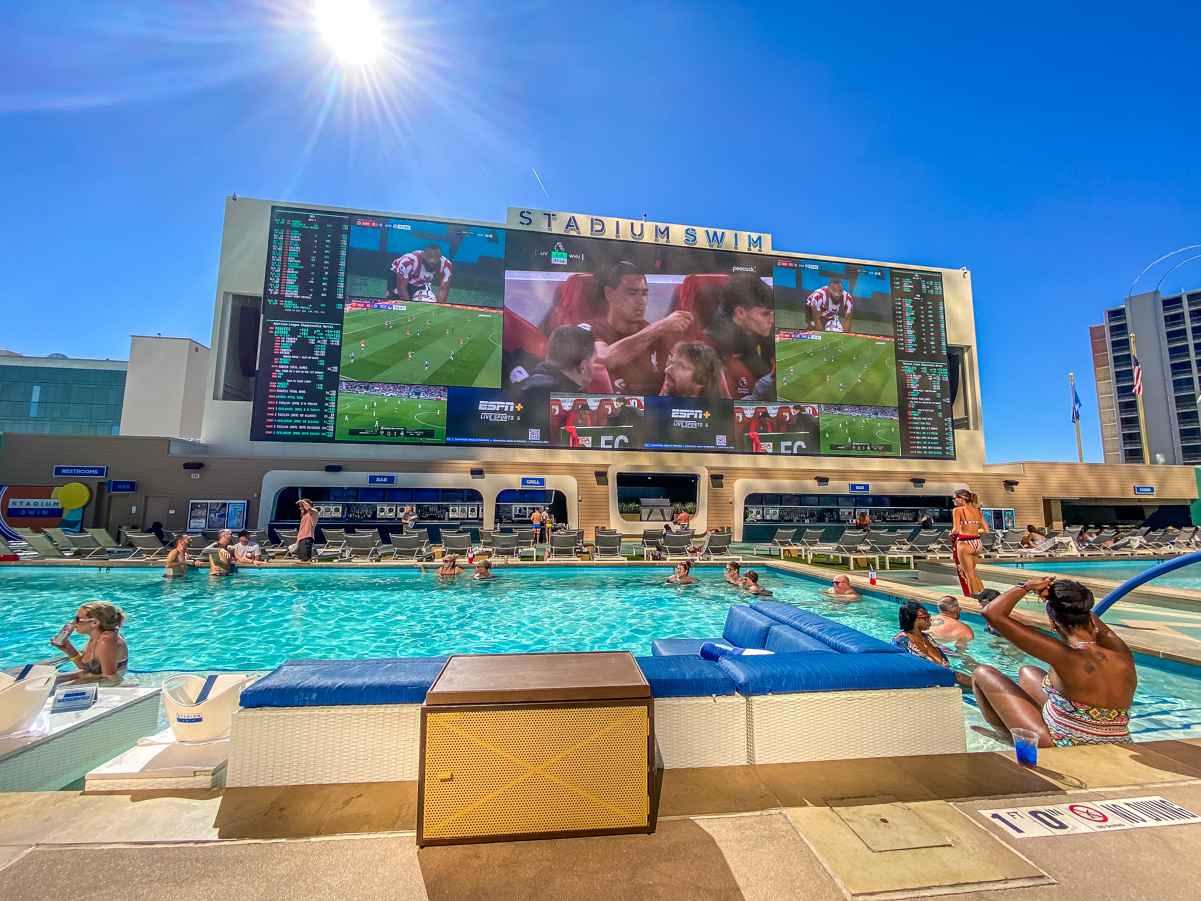 The jumbo TV screen at Stadium Swim is a whopping 143 feet (when measured diagonally). It is 40 feet tall, so it is clearly the focal point of the entire pool deck. It has 14 million megapixels to bring you all the details of your favorite sporting event so you can view it all in larger-than-life detail. 
What do you wear to a Circa pool? (Dress Code)
The dress code at Stadium Swim is somewhat loose and is only enforced during the season (April-October). During these months, the dress code is strictly swimsuits for both men and women. During the cooler months in the rest of the year, pants and shirts are allowed. 
Does Circa pool provide towels?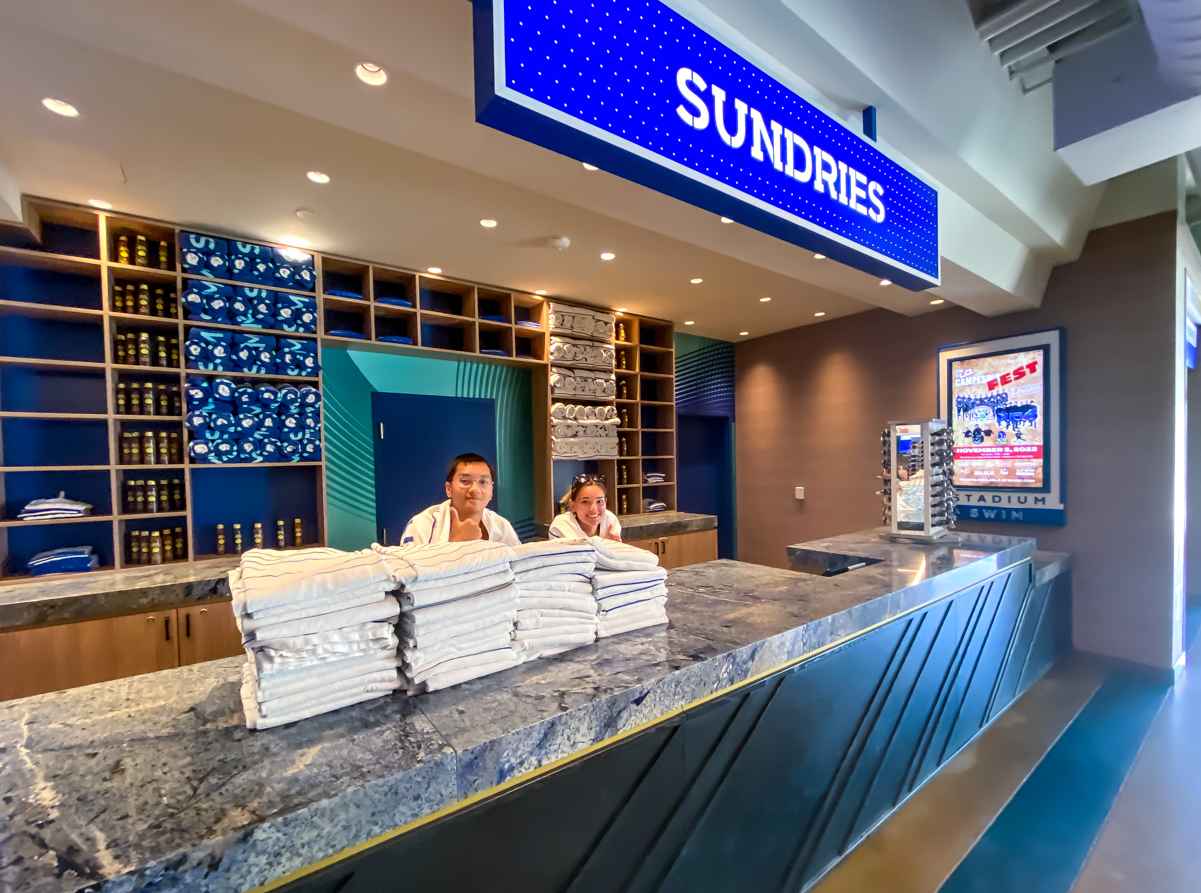 Stadium Swim provides towels to all guests, whether you are a hotel guest or a paying pool guest for the day. Towels are included in the hotel room fee or the daily admission fee, so you are welcome to use their towels during your visit to Stadium Swim.
How much are lounge chairs, daybeds, and cabanas at Circa Las Vegas?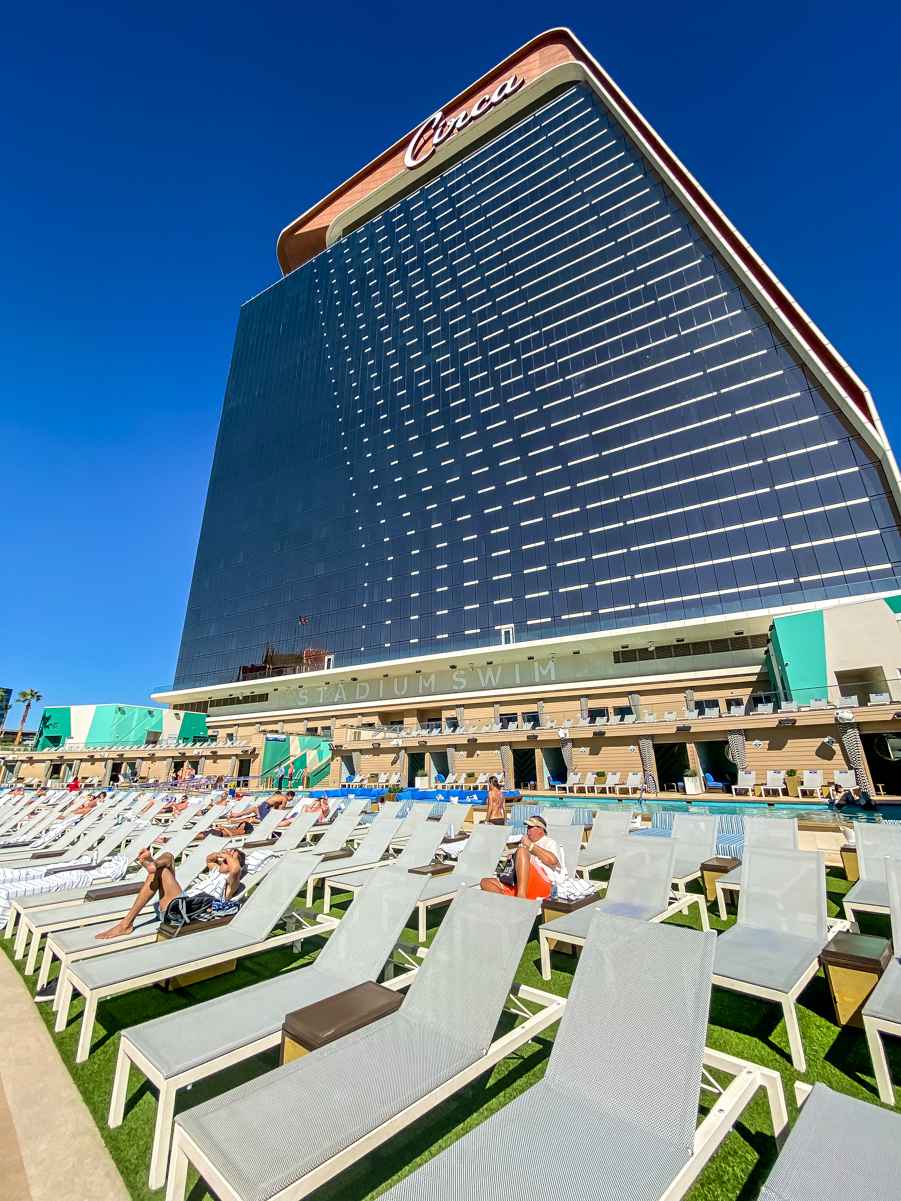 There are plenty of seating options at Stadium Swim, depending on the size of your group and your budget. You can enjoy a day at Stadium Swim on a shoestring budget just to be a part of the experience, or you can go all-in on a fun group experience in one of the cabanas or owner's suites. 
There are over 300 lounge chairs spread throughout the Stadium Swim pool deck. Lounge chairs are included in your daily rate, so there is no additional cost. Lounge chairs are available on a first-come, first-served basis, so it's important to get there early to reserve the best chairs. 
Rates for daybeds and cabanas vary based on the day of the week, time of year, and whether there are special events or big games being broadcast. Select the date that you want to visit Stadium Swim when you are booking to make sure you are viewing the most up-to-date rates. 
Daybeds are a popular choice for Stadium Swim visitors because they provide some extra space and privacy,  but you can get them for a reasonable rate if you're flexible on the date. A daybed can seat up to 6 people, and prices range from $200-$2,500 to rent one for the day at Stadium Swim.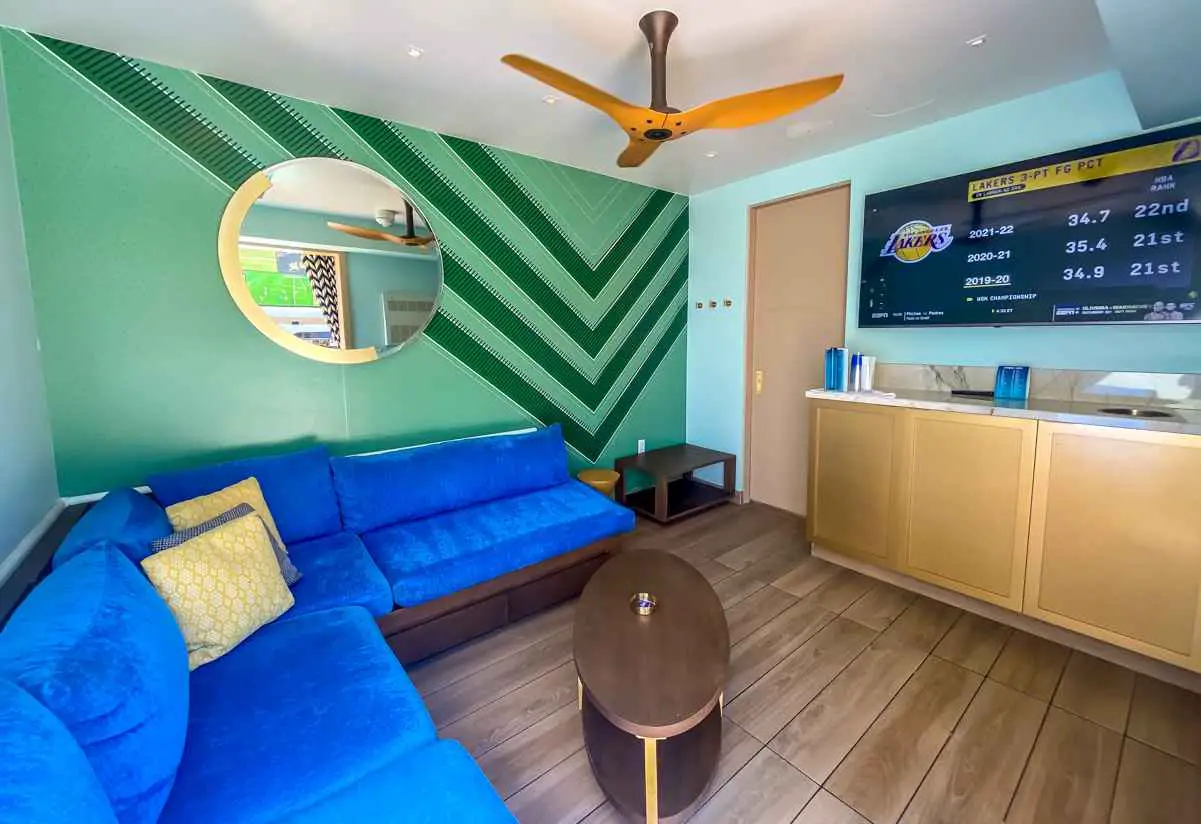 Cabanas at Stadium Swim can seat up to 10 people and are divided into two different sections. The Upper Cabana section ranges in price from $500-$4,500. The Lower Cabana section ranges in price from $2,000-$6,000. 
For the ultimate VIP Stadium Swim experience, you can rent one of two Owner's Suites on either side of the pool deck. Rates for the Owner's Suites are $1,500-$10,000 and include food and drinks for up to 20 people. 
Does Circa have a pool party?
Although Stadium Swim doesn't have a dedicated daily or weekly pool party, there is always a fun, party vibe on the pool deck. Guests are able to enjoy the latest EDM beats while watching all the big names in sports and soaking up the sun, which many people love even more than the quintessential Las Vegas pool parties.
Special events do pop up occasionally around big games or famous DJ visits. Make sure to check the schedule to see if there is a party going on when you will be visiting Stadium Swim. 
Does Stadium Swim have a DJ or play music?
At Stadium Swim you don't have to choose between listening to the hottest beats or watching a big game. Stadium Swim has a resident DJ performing daily, so you can enjoy amazing music while you watch games on the 143-foot big screen, all while soaking in one of the six pools. 
Does Circa have hot tubs?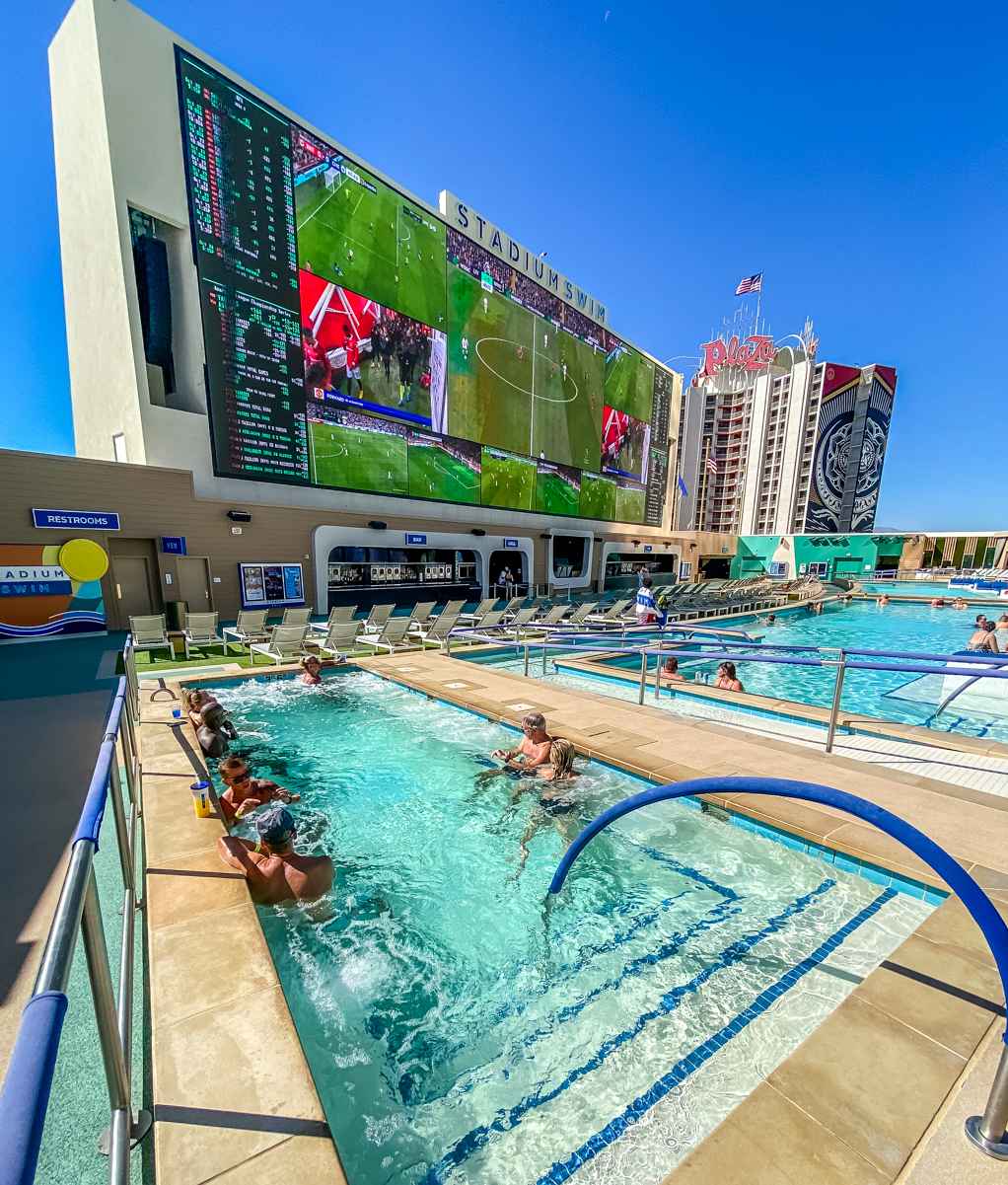 Stadium Swim has two large hot tubs located on either end of the pool deck. The hot tubs are a great place to hang out and/or make new friends.
Because Stadium Swim stays open 365 days a year, they heat their pool to the mid to upper 80s during the cooler winter months so that guests can enjoy a warm dip in the pool even when the outside temperature is low. 
Does Circa Stadium Swim have a sportsbook?
Stadium Swim is a favorite of sports fans and sports gamblers alike because they have a sportsbook right on the pool deck. The poolside sportsbook at Stadium Swim is one of 3 different sportsbook locations at the Circa hotel. 
You can place your bets on the biggest sporting events of the year poolside without even having to towel off, which makes for a fun, iconic only-in-Las Vegas experience. 
When does Circa pool open and close? (Hours)
Stadium Swim has some of the best pool deck hours in Las Vegas. 
If you are looking for a place for a late-night pool experience or just want to make sure you won't miss the end of the game, you can enjoy Stadium Swim daily (Monday through Sunday) 8:00 am – 11:00 pm PST. 
ALSO SEE: Why Most Vegas Pools Close So Early In The Day (Even In Summer)
How deep are the pools at Circa?
The pools at Circa are 3 feet 9 inches deep. While this may sound somewhat shallow, they are the perfect depth for standing or sitting in while holding an ice-cold drink.
Does Circa pool have lockers?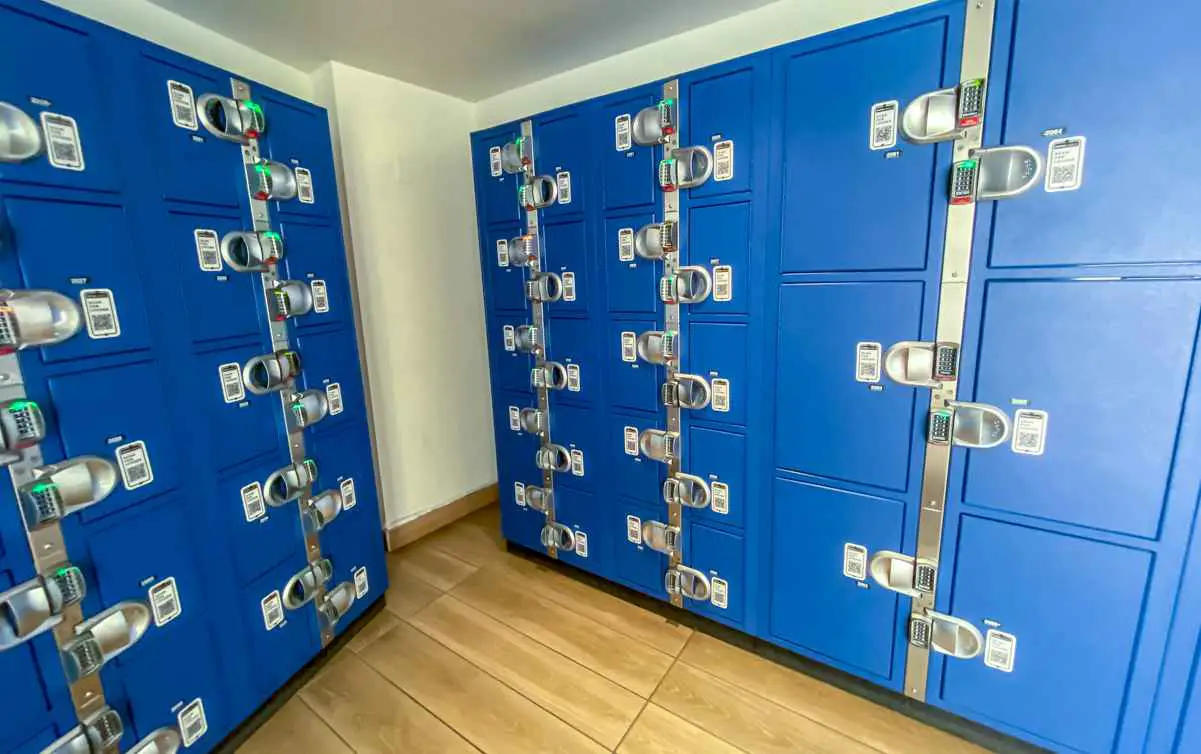 Circa pool has an area with lockers that are available to rent. If you are carrying any valuables, you're worried about, this is the best place to store them. I couldn't find a price to rent the lockers, but I've heard reports of Circa locker rentals costing upwards of $50 for the day.
Circa also has another option for storing your stuff that isn't quite as secure but is better than leaving your things out on a chair.
In between each set of lounge chairs, there is a small table to set your drinks, book, etc. Underneath the table is a door that encloses a small storage area. It's not lockable, but it's better than leaving your valuables lying about in the open.
Find the best deals on Circa rooms and save big with TripAdvisor!
Is the Circa pool open year-round?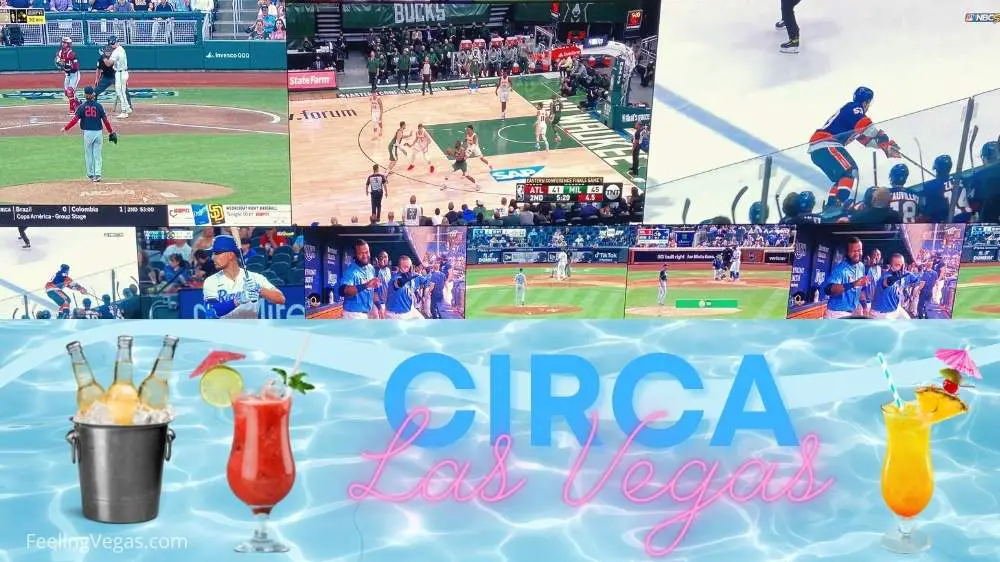 Stadium Swim doesn't believe that you should have to miss out on any poolside days, so they are open 365 days a year. With 6 heated pools and plenty of seating options, you can enjoy poolside game days whenever you visit Las Vegas. 
In stark contrast to many other hotel pools on the Las Vegas Strip and downtown that close entirely or cut back operations during the fall and winter months, the Circa hotel proudly boasts one of the few pool decks in Las Vegas that is open at full capacity all year round. 
RELATED: Are Las Vegas Pools Heated in Winter? A Complete List
More Las Vegas Pool Answers