Bringing Your Own Alcohol To Vegas Pools (Can You?)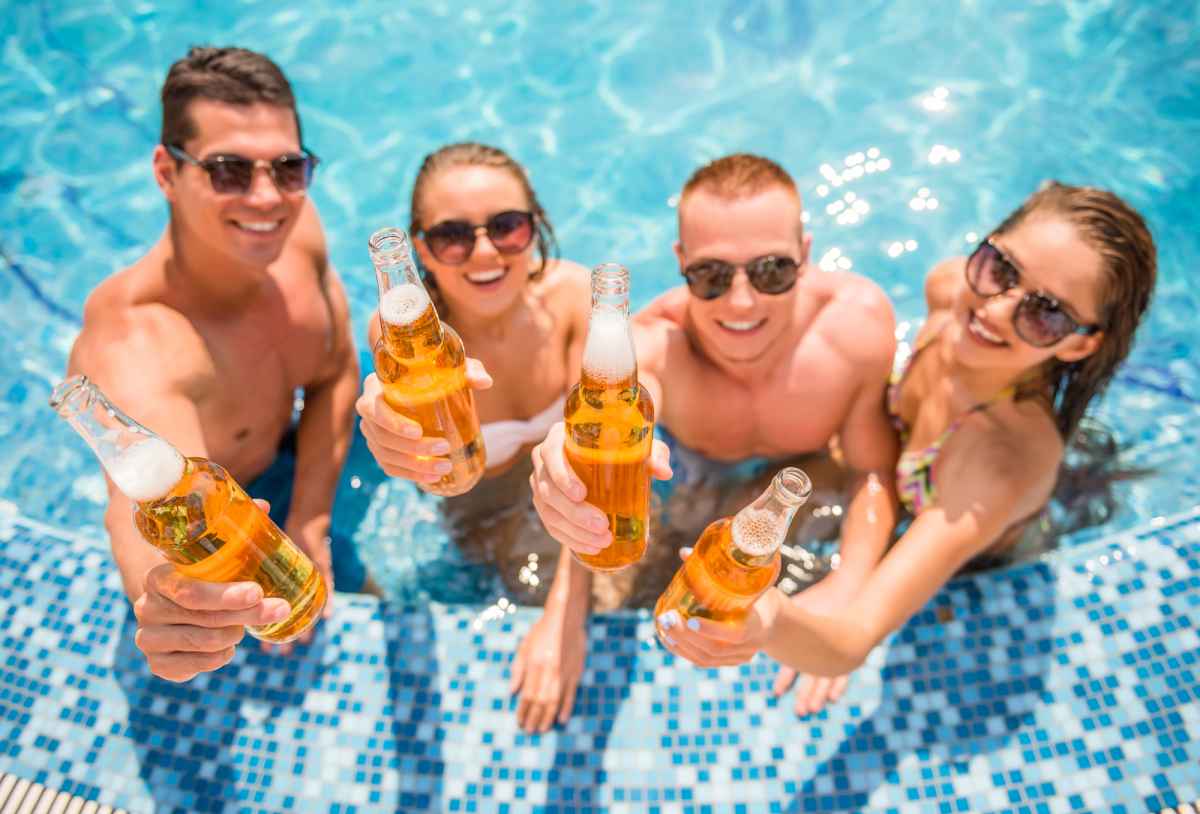 (This article may contain affiliate links, which means we might earn a small commission if you click and make a purchase. Thank you!)
With Las Vegas located in the center of the Mojave Desert and our scorching temperatures from May to September, it's no wonder Vegas is known for its luxury resort pools. These pools are over-the-top hot spots, perfect for escaping from the heat and recovering from that wild night before. It wouldn't be a relaxing day by the pool in Las Vegas, though, without a drink in hand, begging the question, can you bring your own alcohol to Vegas pools?
Generally, you're not permitted to bring your own alcohol into Vegas pools. The pools in Las Vegas often don't allow any outside food or drink, for that matter. This is a basic rule of thumb for almost all Las Vegas resort pools, with a bottle of water being the only exception at some hotel pools. 
In this article, I'll discuss a few popular hotel resort pools in Las Vegas and explain if they allow you to bring in outside alcoholic beverages. I'll also list the various drinks and pricing at each resort pool so that you can get an idea of what the cost for a day poolside may look like.
Compare and save! Check current Las Vegas hotel room rates at TripAdvisor!
Can You Bring Your Own Alcohol to the MGM Grand Pool?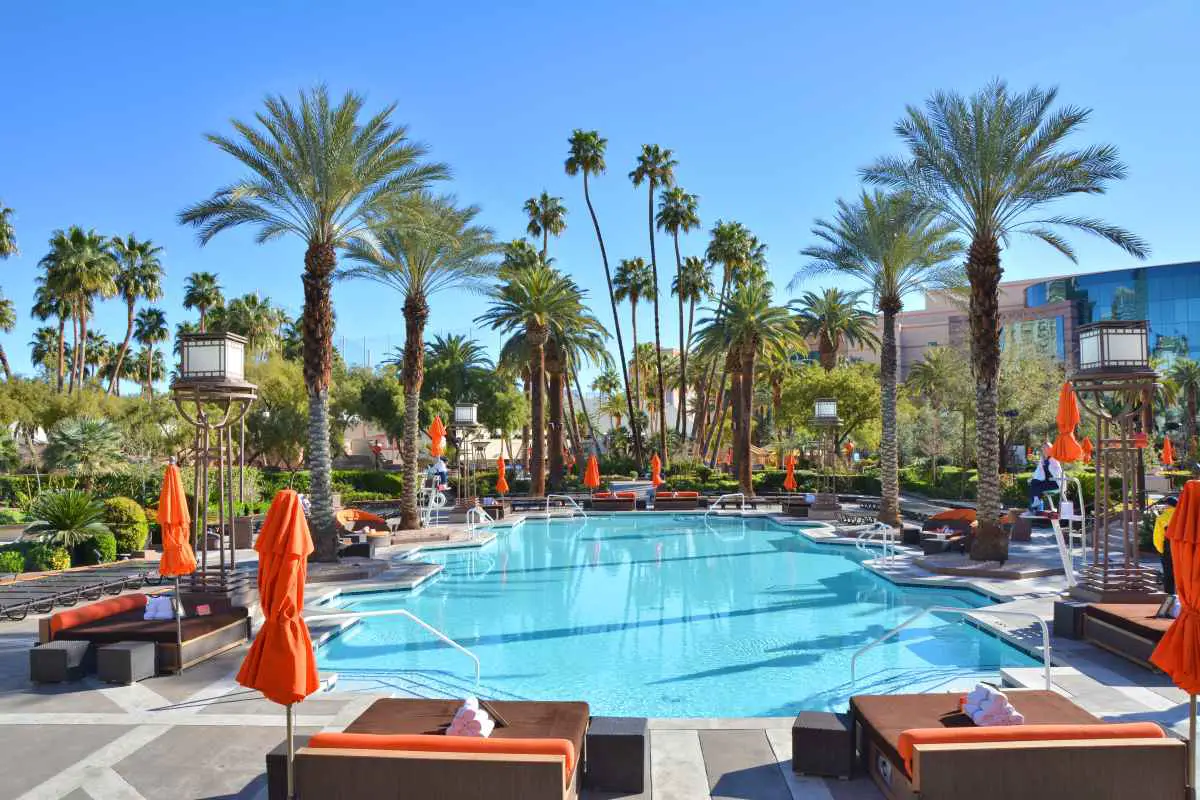 Let's face it: a trip to Vegas, when done right, can get pricey fast. There is so much to do and see, and the day's attractions roll straight into the night. It's understandable to want to save money where you can, and bringing in your own beverages to enjoy by the pool could save you what may seem like a small fortune.
MGM Grand gets this question quite a bit. According to MGM Grand's FAQ, outside food and drinks are not permitted in the pool area. So, unfortunately, saving money this way isn't feasible. 
If you're now thinking you'll get creative and pour some clear alcohol into a Fiji water bottle, you'll need to get more creative. MGM has security checkpoints entering the pool area where staff will check the seal on all water bottles. 
That said, it's worth pointing out that the MGM Grand is one of the more affordable yet classy hotels in Las Vegas. Check out my article on how the MGM Grand is so cheap for more information. [Why Is the MGM Grand Hotel So Cheap?]
How Much Do Drinks Cost at the MGM Grand Pool Complex?
The MGM Grand drink menu has something for everyone and the perfect combination of drinks to keep you cool in the hot sun. With five bars placed strategically throughout the 6.5 acres (2.63 hectares) of the pool area, you won't have to go far to find what you are looking for.
Drinks offered at this resort pool include:
| | |
| --- | --- |
| Specialty Cocktails | $13 to $17 |
| Frozen Cocktails | $13 to $17 |
| Ice Cold Beers | $7.50 for a Can; 5 for $35 Mix and Match Bucket |
| Rosé | $10 to $13 |
| Wine | $8 |
| Sparkling | $11 to $18 |
| Specialty Cups; Souvenir Cup Included | $23; Refills $17 |
| Eye Openers | $15 to $19 |
| Jello Shot Infusions | 1 for $3; 6 for $15 |
| Specialty Bucket; Souvenir Bucket Included | $22 |
The drinks can be a bit expensive, so it's worth mentioning that renting a Cabana or Daybed will get you half the price you pay back in a Food and Beverage Credit. Just something to ponder if renting reserved seating is something you were thinking about doing. MGM Grand is one of the only Vegas hotels that offer this perk.
RELATED: MGM Grand Pool Complex: 23 Things You Should Know
Can You Bring Your Own Alcohol to The Venetian Pool?
The Venetian Resort does not allow outside beverages into the pool area. In fact, the Venetian doesn't even allow its own beverages within 5 feet (1.52 m) of the pool. They are pretty strict on this rule and often have staff checking bags near the pool entrance as you enter. 
This beautiful resort has five acres filled with three pools, two restaurants & bars, one wellness cafe, one hot tub, and an abundance of Cabanas and Daybeds for optimal relaxation. 
What Drinks Are Served at the Venetian Pool?
Spritz Restaurant & Bar and Capri Pool Restaurant & Bar serve an assortment of drinks to enjoy on your day by the pool. 
The Venetian Pool Bar Menu does not list prices, but it does list the drinks they serve. These drinks include:
| | | | | |
| --- | --- | --- | --- | --- |
| Specialty Cocktails | Frozen Cocktails | Beer | Wine | Non-Alcoholic Refreshments |
| Venetian Spritz | Margarita | Domestic Beer | Prosecco | Fiji Water |
| Watermelon Cooler | Strawberry Daiquiri | Imported Beer | Champagne | Vita Coco Coconut Water |
| Moscow Mule | Pina Colada | Specialty Beer | White Sangria | Red Bull |
| Mojito | | Hard Seltzer | Rosé Sangria | |
| Spa Day | | | Riesling Radler | |
| Bloody Mary | | | Pinot Grigio | |
| Mai Tai | | | Sauvignon Blanc  | |
| Cool Summer | | | Chardonnay | |
| Tropical Storm | | | Rosé | |
| | | | Pinot Noir | |
| | | | Cabernet | |
Although the drink prices aren't listed online, you can expect them to be in the same ballpark as the drinks at the MGM Grand.
RELATED: Does The Venetian Have an Indoor Pool?
Can You Bring Your Own Alcohol to the Bellagio Pool?
The Bellagio does not allow outside food or alcohol into the pool areas. However, they do have food and alcohol inside the pool area available at an additional charge. 
The Bellagio does, however, permit guests of the hotel to bring a bottle of water into the pool area. As a warning, it's not recommended to try to sneak in alcohol to pass it off as water, as this will most likely result in being asked to leave. The Bellagio has staff that thoroughly checks all outside beverage seals upon entry.
How Much Do Drinks Cost at the Bellagio Pool?
The Bellagio Pool Cafe has a lengthy drink menu with a range of prices. Here is their pool menu with all the drinks they offer:
| | |
| --- | --- |
| Classic Pool Cocktails  | $14 |
| Modern Pool Cocktails | $14 |
| Served Frozen | $14 |
| Wine | $12 to $17 |
| Beer Bottle  | $7 |
| Draft Beer | $7 to $10 |
| Non-Alcoholic Beverages | $4 to $8 |
RELATED: Bellagio Pool: 21 Answers You Should Know
Can You Bring Your Own Alcohol to the Mandalay Bay Pool?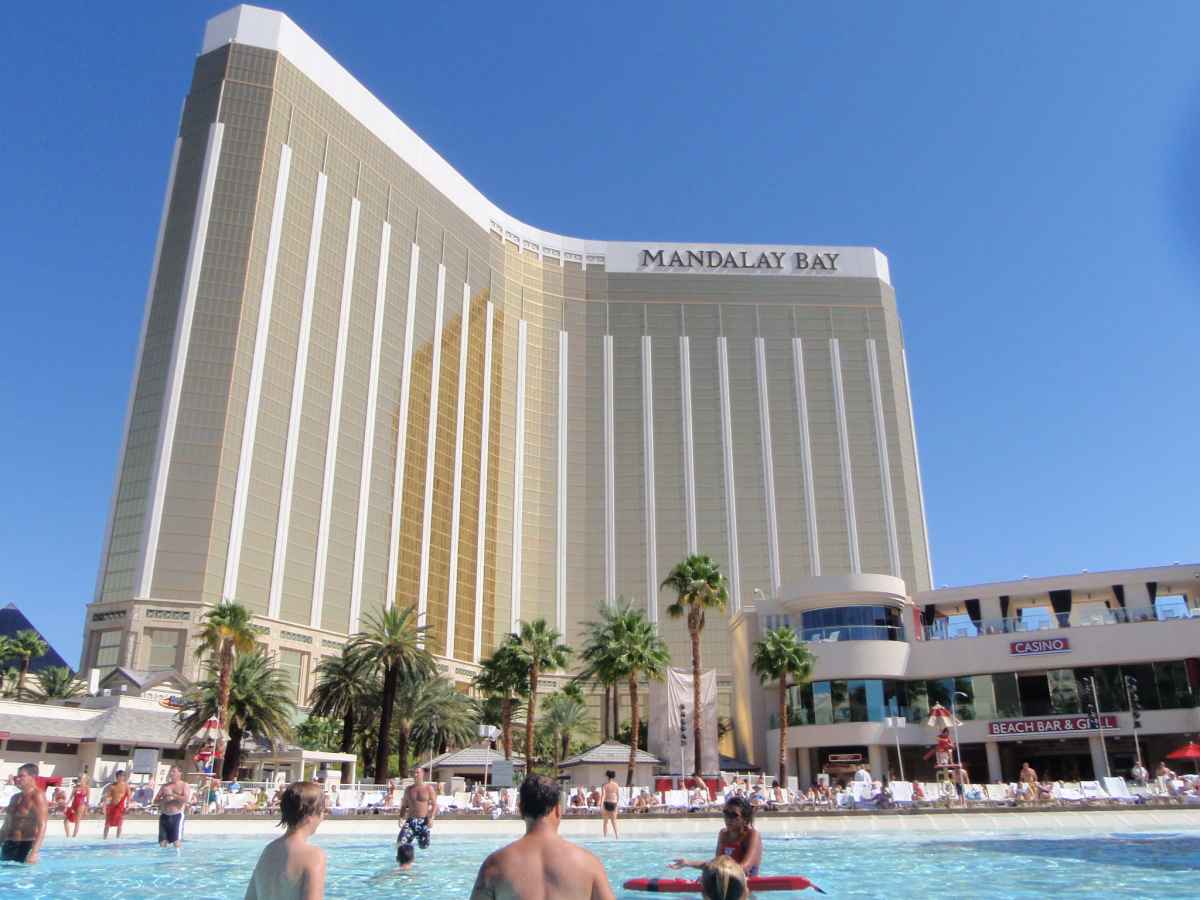 The trend continues with the Mandalay Bay resort and Mandalay Bay Beach. No outside food and drinks are permitted into the pool or beach area. However, they do, of course, offer their own. 
The Mandalay Bay Beach is 11 acres of aquatic adventure. This resort has a lazy river, wave pool, lagoon, a Beach Bar and Grill, and three bars. Several Cabanas, Gazebos, Daybeds, and Lounge Chairs can be reserved to enhance your time spent poolside. 
How Much Do Drinks Cost at the Mandalay Bay Pool?
The Beach Bar and Grill at Mandalay Bay Resort has a full menu of food and drinks, Perfect for refueling your body to get back out there and enjoy the water. The drink prices here include:
| | |
| --- | --- |
| Cocktails | $14 to $29  |
| Frozen | $15 to $29 |
| Beer | $10 or 6 for $50 |
| Seltzer | $10 or 6 for $50 |
| Finnish Long Shot | $10 or 6 for $50 |
| Jello Shots | $5 or 5 for $20 |
| Cutwater Canned Cocktails | $11 or 6 for $55 |
| Wine by the Can | $14 or 5 for $55 |
| Non-Alcoholic  | $6 to $40 |
RELATED: Mandalay Bay Beach & Pool: 31 Things You Should Know
Bringing Alcohol to Vegas Pools – Final Thoughts
Las Vegas Resort pools may not be known to let outside drinks into their pool areas, but there are still drinks to be had inside. With the pool bars and plenty of drink options, your mouth will never be dry. However, depending on how quickly you put these drinks away, your wallet might be.
Find the best deals on Las Vegas hotel rooms and save big with TripAdvisor!
Vegas Resort pools are so incredible it may be hard to choose where to stay. For the best guide on where to stay during your trip to the Strip, check out this article covering our top picks for the best Las Vegas hotels.