How Long Is the Walk From Excalibur to MGM Grand? (Distance & Map)
(This article may contain affiliate links. If you click through and make a purchase, we will receive a small commission at no additional cost to you. )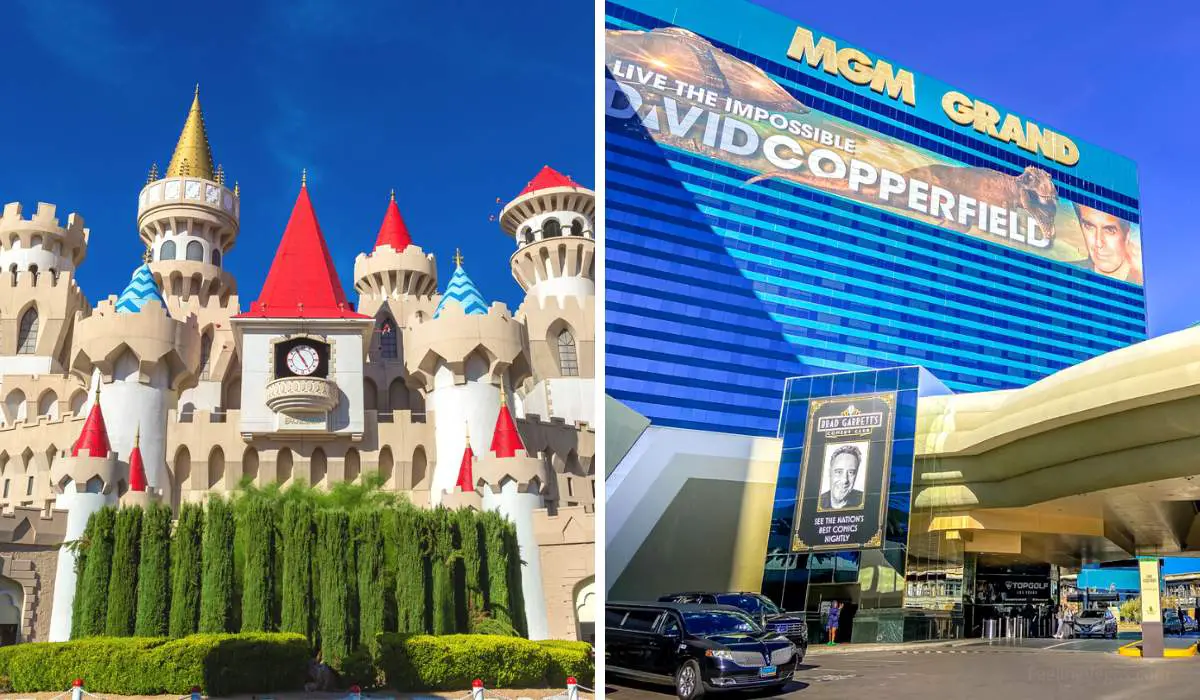 The Excalibur and the MGM Grand are among the most well-known hotels in Vegas. In fact, many tourists plan to visit these two iconic resorts on the same outing because they are located a relatively short walking distance apart. 
The walk from Excalibur to MGM Grand takes roughly seven minutes and covers just 0.2 miles (0.32 km) of distance. They are, however, located on opposite sides of Las Vegas Boulevard (the Strip) and you will need to use a pedestrian bridge to get across the street.
This article will give step-by-step instructions on the fastest route from Excalibur to MGM Grand. It will also give you a heads-up on the sights you can expect to see during your walk. Read on and prepare yourself for the short walk from the Excalibur to the MGM Grand.
Compare and save! Check current Excalibur room rates at TripAdvisor.
How Long Does It Take To Get to MGM From Excalibur?
RECOMMENDED: Las Vegas Strip FREE Walking Tour & Map (19 Must-See Stops!)
It'll take about seven minutes to walk to MGM Grand from Excalibur (see interactive map above). No need to rub sunscreen because you'll only be exposed to the scorching Vegas sun for a short time. 
Here are the directions to help you get on your way:
From the entrance of the Excalibur, walk until you come to a fork in the walkway. You will want to take the path to the left, as the path to the right gets you to the Excalibur North Tram Station. 
Continue straight, and to your left, you'll see a parking lot. Past the parking lot is Tropicana Avenue. 
A sky bridge goes over Tropicana Avenue. Cross this bridge. 
Once you've crossed the bridge, you will see the replica of the Statue of Liberty on your right. Don't go down the escalators to your right, but instead, continue straight inside the building. 
You've now entered New York-New York Hotel and Casino. Walk toward the front entrance/exit near the New York Pizzeria. 
After you exit back outside, there is a bridge that traverses Las Vegas Blvd. Cross this bridge. 
Continue straight on the bridge. You should see the MGM Grand's lion statue (fondly named Leo the Lion) on the corner down to your right.
The entrance to MGM Grand is at the end of the bridge. The total distance covered is roughly 0.2 miles (0.32 km). Alternatively, if you'd like a closer look at the lion statue, you can head down the escalator and, from there, head into one of MGM Grand's nearby ground-floor entrances.
To help you get a clear view of all the famous places nearby and how far they are, you can also check out my article on the walking distance between MGM Grand and Bellagio, Vdara, Aria, and Mandalay Bay.
Things To See and Do at the MGM Grand Hotel
You've finally made it to the MGM Grand Hotel. What now? 
Well, there are a ton of things to see and do inside this huge resort. In fact, it would take you several days to burn through all of them. With what the MGM Grand offers, the short walk from Excalibur is more than worth it. 
Get a Ticket to David Copperfield's Show
It's no surprise that David Copperfield is one of the most recognizable names in the magic business. With unbelievable magic tricks, incredible charisma, and plenty of humor up his sleeve, he really lives up to his branding as one of the greatest illusionists of modern times.
Luckily, the seating is actually well-designed for his show. No matter where you sit, you'd get a great view of the master illusionist. 
Catch him from Sunday to Friday on his 7:00 PM and 9:30 PM shows. He adds a 4:00 PM show on Saturdays with some matinee shows available on special dates. The tickets for his show will set you back around $73, excluding taxes and fees.
 Although a bit steep for what the magician has to offer, it's more than worth it.
RECOMMENDED: Why is MGM Grand So Cheap? (Explained)
Dine at Joël Robuchon's Restaurant
If you want a world-class fine dining experience, look no further than MGM Grand's fine array of luxurious restaurants. Prime among them is Joël Robuchon's Restaurant, which specializes in French cuisine. 
The celebrity chef Joël Robuchon has been awarded three Michelin stars and has been named by Gault Millau as the French chef of the century. So if you want to treat yourself or a loved one, check out this restaurant.
See KÀ by Cirque Du Soleil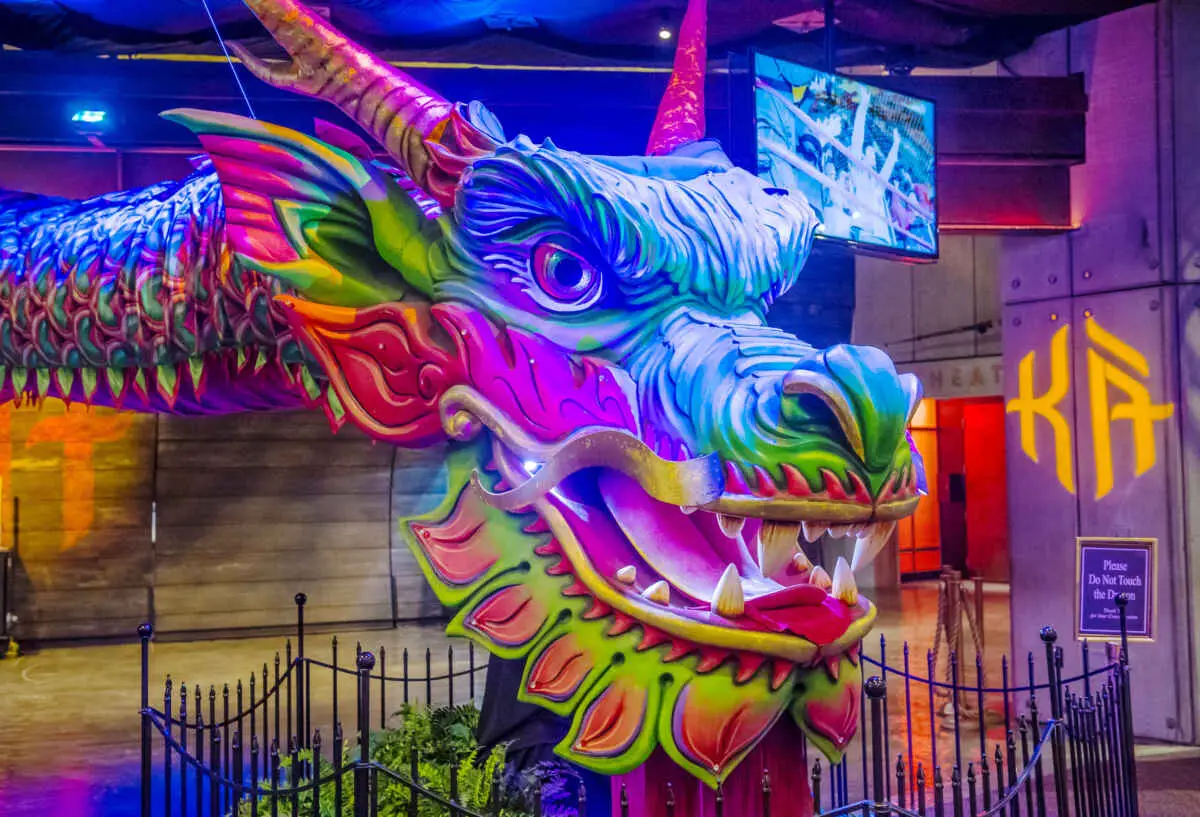 Much like David Copperfield's show, any seat at the venue of KÀ will give you a good view of acrobatics and pyrotechnics seen nowhere else in the world. In fact, the Los Angeles Times calls KÀ the "most lavish production in the history of Western theater." 
KÀ highlights the story of twins who encounter and deal with a magical fire that has the capacity to "illuminate or destroy." This fire is where the production takes its name from. Expect to see a combination of dance, acrobatics, and martial arts throughout the entire show. 
Cirque du Soleil integrates the following into the show: 
Chinese opera
Brazilian Capoeira
Wushu
Bungee choreography
A wheel of death
You can catch KÀ by Cirque du Soleil every day except Thursdays and Fridays. They have one show at 7:30 PM and another at 9:30. Get your tickets as soon as possible because any Cirque du Soleil show tends to sell out quickly.
RELATED: Best Cirque du Soleil Shows in Las Vegas (6 To Choose From)
Conclusion
Walking is the most efficient way to get from Excalibur to the MGM Grand. Although the scorching heat and the many waves of tourists can make walking a challenge at times, there really is no need to get your car out of the parking garage. After all, the MGM Grand is barely a stone's throw away.
Plus, a walk will help you burn off the extra calories you picked up from one of our famous Las Vegas buffets!
Find the best deals on Excalibur rooms and save big with TripAdvisor!