The 9 Best Las Vegas Nightclubs For Couples (Date Night)
(This article may contain affiliate links. If you click through and make a purchase, we will receive a small commission at no additional cost to you. )
If you want to spend a night out in Las Vegas with that special someone in your life, you'll want to avoid the singles clubs and choose one of the best nightclubs for couples. The right nightclub will have the ambiance you desire to best enjoy your evening with your significant other.
With so much to do and see in Sin City, it can be tough to decide how to spend your time, especially when you want to make the most of a getaway with your boo.
What are the best Las Vegas nightclubs for couples? Based on their popularity, affordability, location, and uniqueness, these are the top 10 nightclubs in Las Vegas for couples looking for a fun night out:
Tao Nightclub
Omnia Nightclub
Drai's After Hours Nightclub
Marquee Nightclub
Voodoo Lounge Nightclub
Hakkasan Nightclub
The Foundation Room Nightclub
The Dorsey Nightclub
The Laundry Room Nightclub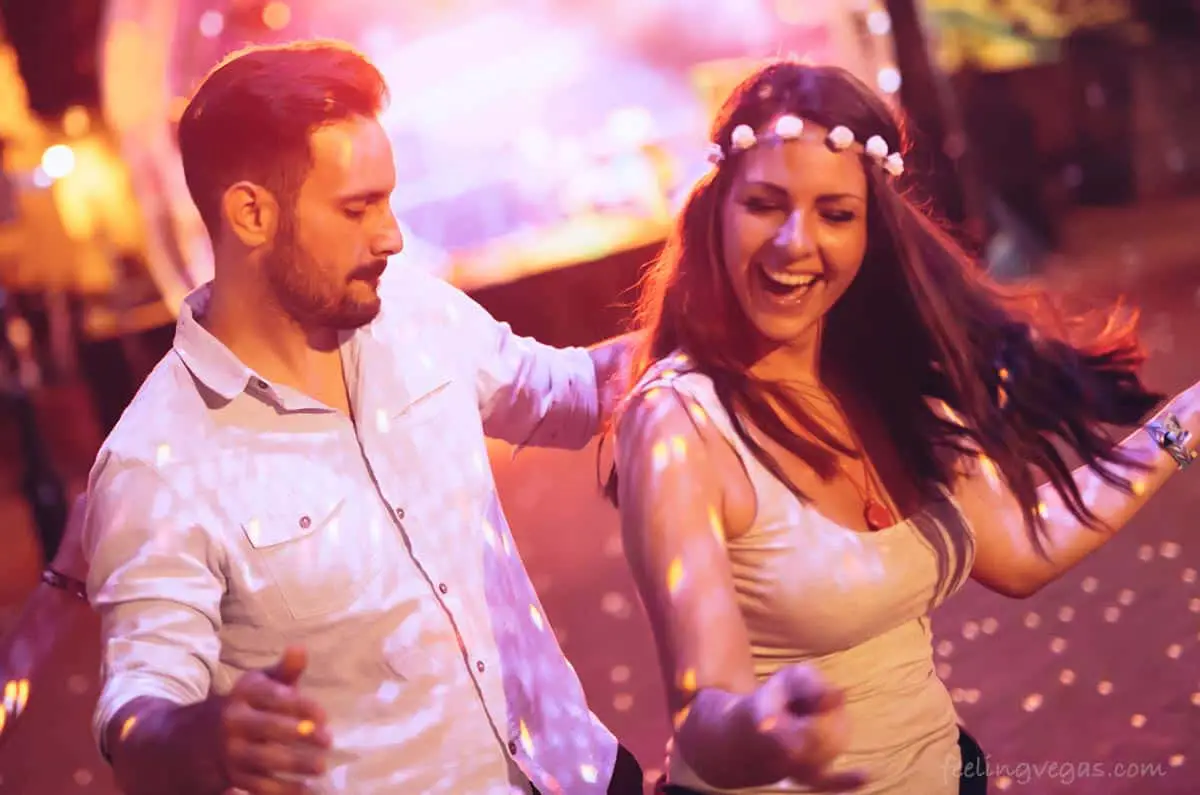 Unique Las Vegas Nightclubs For Couples
Nightlife for singles and nightlife for couples can require drastically different elements in order to call the outing a success.
Singles are looking to mix it up and meet other people, perhaps scoring a future date out of the outing. Usually, singles roll up to the club in groups and then branch out as the evening wears on.
Couples are typically looking to create a memory with one another, regardless of how that involves other people.
They may still go out in a group or look for events that allow them to network and rub shoulders with a large crowd, but their end goal is still a hot date night that they will remember fondly.
Nightclubs are an interesting outing option for couples. Not only are there scores of different types of music venues and locales peppered throughout the Las Vegas Strip, but there is also an incredible variety in terms of demographic and club-related amenities.
There is truly a club for any personality and preference, as well as for any budget and dress code.
(Find out what to wear in a Las Vegas nightclub in our article here. A misstep in this department will ruin your couple's night out).
For the quieter crowd, there are clubs that function like intimate lounges with ambiance and award-winning cocktails. For those looking for a rowdy night out, there are EDM dance floors that draw hundreds of partygoers each night.
No matter what you and your loved one are looking for in a nightclub, you can find it in Las Vegas.
You can choose from below-ground speakeasies, all-night raves found on the top floors of some of the Strip's most notable resorts, and even celebrity hotspots where you can order bottle service and relax at a VIP table.
When heading out on the town with your significant other, you need to take into consideration that all costs will likely be double what they would be if you were hitting the town on your own. That means two cover charges, two bar tabs, two tickets to shows – the list goes on.
For some, money is no issue, and hitting the nightlife options in Vegas is as simple as rolling the proverbial dice and selecting a venue. If this is the case, you may want to look into clubs that have VIP memberships or VIP cards available to expedite your entrance times and bar wait times.
For others that are perhaps more budget-conscious, you may want to do a little pre-planning before you put on your dancing shoes and head out the door to make sure you're headed to locations that give you the most bang for your date night buck.
You may also want to look into how to get on a guest list or score free entrance to a Las Vegas Night Club.
Curious why the 11 nightclubs I mentioned earlier beat out dozens of others for this "best of Las Vegas" distinction?
Let's take an in-depth look at each one's amenities, theme, and unique offerings to see why they are considered by many to be a can't-miss Las Vegas hotspot for couples:
Tao Nightclub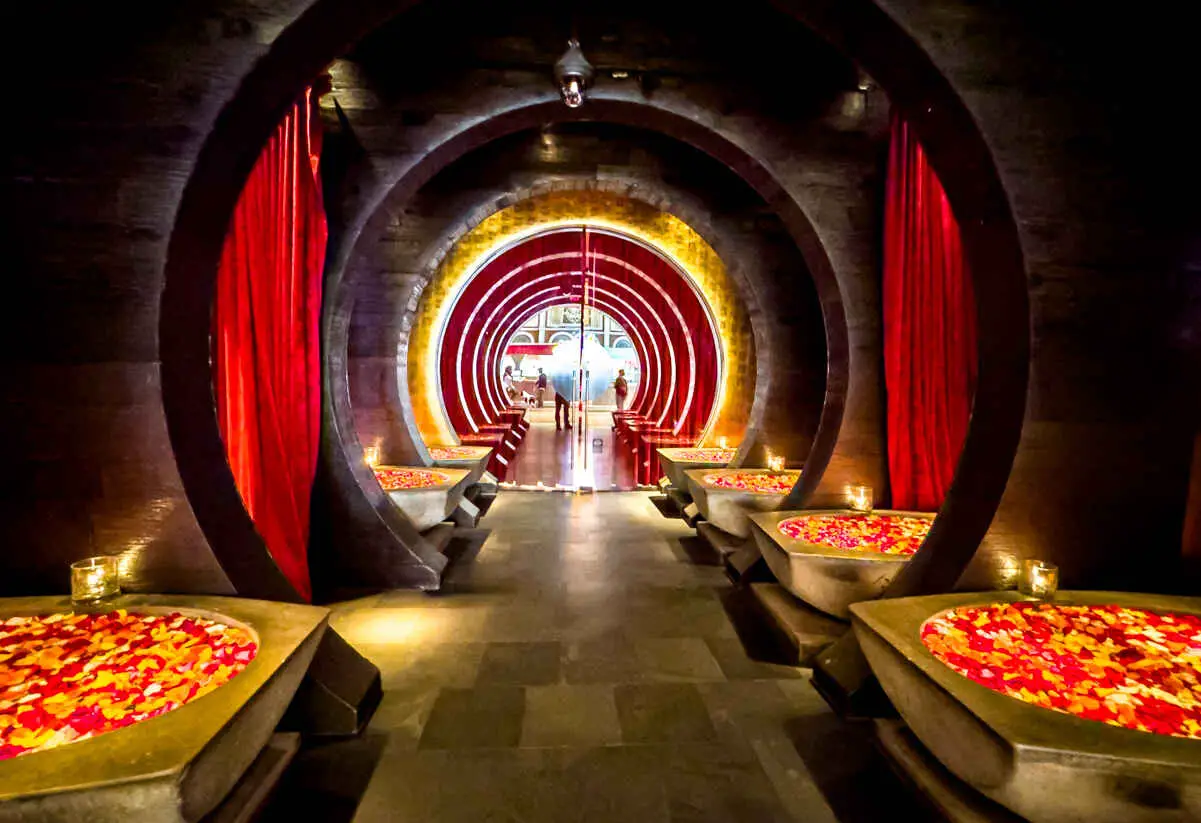 A Las Vegas nightclub staple for almost fifteen years, the Tao Nightclub  – located in the Venetian – is a massive 60,000 square foot destination that is perfect for couples of all ages and interests. More than just a lounge, this Asian-themed nightclub has a restaurant and sushi bar on-site as well.
The nightclub itself is a celebrity hotspot, and often even-numbered groups will get in free of charge, which is a great way to save a little date night cash to use toward drinks or even gambling if that's your style.
Veterans, you get in free and are treated to a free cocktail when you show your service I.D.
If you're looking to splurge, the Tao Nightclub has eight private skyboxes where you can enjoy bottle service while you look out over the dance floor.
There is also a massive outdoor balcony where you and your date can pause and take in the sights, sounds, and thrills of the Las Vegas strip.
Amenities: Bottle service, private events
Theme: Asian
Unique Offerings: Full-service restaurant and sushi bar
RELATED: Tao Nightclub Dress Code (What to Wear at Tao Las Vegas)
(website)
Omnia Nightclub
With the recent addition of Omnia nightclub, Caesar's Palace has never looked so good! Couples looking to be thrilled and enchanted at every turn will want to add this incredibly popular Vegas club to their travel bucket list.
High-tech vibes and extreme attention to detail set this high-end club apart from any other on the Strip.
Two separate dance floors make it easy to find a spot to bust a move with your partner, and – when you're ready to take a break – you can opt for either main floor seating, upper-level privacy, or terrace views.
For additional cash, you can splurge on a VIP experience in the balcony or in an exclusive Terrace cabana.
As if all of this wasn't enough, the Omnia nightclub also has a club within the club. The Heart of Omnia is the ultimate couple's getaway featuring a private and intimate location within the main club to sneak away and enjoy a drink and music with your special someone.
Amenities: Multiple dance floors and four levels of seating
Theme: High-tech; colorful
Unique Offerings: VIP bar card ($100 value); Heart of Omnia club area
You'll need to dress appropriately or you won't get in. Find out what to wear at Omnia nightclub.
(website)
Drai's After Hours Nightclub
With more than two decades of fun under its belt, Drai's After Hours nightclub is a Las Vegas landmark. It has remained a popular couples' destination for so many years largely in part to its unique, opulent, old-timey vibe.
Be sure to pay attention to the club's strict dress code and don't bring anything on their list of banned items into the club.
Visitors to this nightclub can take advantage of its well-known bottle services while they take in DJ music, concerts, and other special events only available in the tucked-away basement level lounge of the Cromwell casino resort. The underground element adds an air of exclusivity and mystery to this unique club.
Drai's offers two distinct music options most nights, which is perfect for people looking for variety. In true Vegas style, this over-the-top nightclub is a late-night destination that offers a unique and timeless vibe while providing guests with an unforgettable Vegas experience no matter the time of night.
Amenities: multiple rooms and music options
Theme: Old-timey, opulent, boutique Las Vegas style
Unique Offerings: Underground location, major music artists, and events
ALSO SEE: Drai's Nightclub Dress Code
(website)
Marquee Nightclub
Located in the Cosmopolitan casino and resort, the 60,000 square foot Marquee nightclub is one of the largest clubs on the Strip. With room to move and three different levels to explore, it is a great choice for couples that want variety and adventure while out on the town.
Frequented by A-list celebrities on a regular basis, the Marquee is a ritzy and upscale club with a dress code to match, so be sure to leave your baseball cap at home. Tickets aren't cheap and can run upwards of $50 at the door, but once you're inside, it is all worth it.
This unique nightclub is technically three clubs rolled into one. The main club area features a well-known DJ and a traditional "club" experience.
There's also an area called the "Boombox," offering an alternative to that night's main music style, and "the Library," which is a hyper-exclusive area for VIP couples looking for a high-end good time.
Amenities: Multiple levels, spacious layout
Theme: Contemporary
Unique Offerings: Three separate club experiences in one location
RECOMMENDED: Marquee Nightclub Dress Code (What to Wear)
(website)
Voodoo Lounge Nightclub
No list of Las Vegas nightclubs would be complete without heading just a little off the main Strip and including the Voodoo nightclub in the Rio casino and resort. This casual yet iconic club is a gorgeous spot to take in the views while you dance the night away with your partner.
Unlike the high-end pricy clubs at the heart of Vegas, the Voodoo Lounge features free admission on weeknights and a modest cover charge on weekends.
But just because it is both affordable and casual doesn't mean it lacks glitz and glamour; the outdoor dance floor and VIP bottle service add class and flair to your date night experience.
Located more than 51 stories up, on top of the Rio, this unique club is known for its flamboyant drink specials and for having one of the best views available anywhere on the Strip. It is the perfect spot to slow dance with your loved one while you enjoy a night out.
Amenities: VIP service, free admission on weekdays
Theme: Casual, Caribbean
Unique Offerings: Outdoor dance floor 51 stories high; award-winning cocktails
(website)
Hakkasan Nightclub
Looking for a nightclub that has its own restaurant, exclusive valet parking, and an impressive light show? The Hakkasan is your ticket to paradise. Located in the MGM Grand casino and resort, this bold, vibrant nightclub is the epitome of the high-energy nightlife that Vegas is known for.
Tickets are some of the priciest on the Strip and can run upwards of $50-$75 just to get in. This adds a level of upscale exclusivity to your nightclub experience.
Its decadent interior design is unforgettable, and it is set up so that you can enjoy either the hype of the main lounge area or the more intimate Pavilion.
Heralded as being the "#1 Nightclub in the World" by Playboy Magazine, and one of "America's Best New Clubs" by Rolling Stone Magazine, this is a club that you will not want to miss out on visiting.
The club specializes in EDM, and gives guests the option to enjoy dinner at the on-site Cantonese restaurant when they're finally ready for a dance break.
Amenities: On-site restaurant; indoor and outdoor seating; VIP rooms
Theme: Contemporary, high-tech
Unique Offerings: VIP bar card ($100 value), private valet
Note: Hakkasan enforces a dress code, so be sure to be dressed to impress.
(website)
The Foundation Room Nightclub
Located high on the 63rd floor of the Mandalay Bay casino and resort, the Foundation Room nightclub brings classic Las Vegas flair to the forefront of the guest experience. Arrive early to enjoy a special happy hour on the rooftop before you head into the club to enjoy a night filled with dancing and laughter.
VIP club memberships are available and are a great option for couples that frequent Las Vegas and want to take their special nights out on the town to the next level.
Bottle service is also available, so if you and your date need a break from dancing, you can kick back and enjoy a private drink in peace.
This unique, blues-inspired nightclub features dancers, top-level DJs, and even dining options. With a cover charge of just $20, it makes for both an affordable and unforgettable night out with your partner.
Amenities: $20 cover charge, bottle service
Theme: Vintage, Upscale Vegas
Unique Offerings: Unparalleled views, VIP membership
(website)
The Dorsey Nightclub
The Venetian is home to multiple nightclubs, and the Dorsey is one you and your partner do not want to miss.
Best known for its classic cocktails and commitment to stellar beverage ingredients, this club was voted the "Best Bar in Las Vegas" by Conde Nast Traveler.  
According to their website, Dorsey's signature Penicillin cocktail is:
"one of the most popular drinks in all of Vegas – so much so that the New York Times put it on the list of the Eleven Essential Drinks of the Modern Cocktail Revival."

The Venetian Las Vegas
Whether you are looking to dance to hip-hop music reimagined by the evening's DJ, or hoping to sit and enjoy a one-of-a-kind beverage, the Dorsey nightclub is a great low-key alternative to other clubs found elsewhere on the Strip.
Keep an eye out for exclusive pop-up events hosted at the club as well; they are known for these unique offerings and exclusive one-off experiences.
Amenities: Full-service bar, DJs
Theme: Elegant, vintage Las Vegs
Unique Offerings: Pop-up events and one-of-a-kind cocktails
(website)
The Laundry Room Nightclub
Located off the Strip in the Fremont district of Las Vegas, the Laundry Room nightclub is a hidden gem. More of a speakeasy than a bar or a conventional club, this venue is perfect for couples looking for a unique night out.
It is so under the radar that the club doesn't even have a website – just a covert Facebook page.
This intensely exclusive club is available by reservation only and specializes in unique cocktail experiences. You can order off the menu or have the bartender whip you and your partner up something completely outside the box based on your mood and alcohol preferences.
Cell phones are strictly forbidden, and the tone is extremely relaxed and casual. For anyone looking for a change of pace from the high-energy nightlife found elsewhere in Vegas, this is a perfect place to post up for the evening.
Amenities: Custom cocktail menu, off-Strip
Theme: Vintage Las Vegas
Unique Offerings: Available by reservation only
Romantic Alternatives to Nightclubs for Couples in Las Vegas
Looking to take your romantic night out in a different direction? You're not alone – according to statista, every year over 40 million people flock to Las Vegas to have fun and enjoy everything the city has to offer. Consider trying out one of these options:
Take a gondola ride at the Venetian. Sure, this is pretty stereotypical, but it is one of the most popular things for couples to do in Vegas for a reason. Feel whisked back in time as you lounge with your loved one in a darling gondola, taking in all the sights that the famed Venetian has to offer.
Get your engines revving at a showing of Zombie Burlesque. If you're a couple that likes to find ways to keep your love life and your date nights sizzling, check out Zombie Burlesque at Planet Hollywood. This adult-rated show is full of laughs and half-dressed zombies! What's not to like?
No matter what you and your partner decide to do, there is no doubt you will find adventure, excitement, and memories waiting to be made.
Whether you're side-by-side on a gondola or even just in a resort casino laughing and gambling the night away, romance can take on countless forms when you're on the Strip.
Other Las Vegas Nightlife Options for Couples
If you find yourself in town for several evenings in a row or just want some nightlife options other than hitting clubs with your partner, you're in luck. Las Vegas is truly the city that never sleeps, and there are countless options to keep you busy, no matter how late the night gets.
Sure, you could go gambling in any one of the dozens upon dozens of casinos both on and off the main Las Vegas Strip. But if you want a more intimate experience you can share with your partner, you will want to consider heading out of resort casinos and trying something different.
From concerts to shows to exclusive VIP events, couples can piece together a Vegas experience that is unique to their interests and proclivities. Some popular options include:
Catch a Cirque de Soleil Performance. There is perhaps no other show in Las Vegas that evokes such feeling and amazement on a grand scale as a Cirque de Soleil show. Performers routinely stun the audience with death-defying feats set alongside beautifully choreographed storylines.
Dine like a King or Queen. Las Vegas is known as much for its amazing food as it is for its shows and nightlife. No matter what you're craving, you will find it, guaranteed. Sushi? You know it. All-you-can-eat-buffet? Practically a staple food option anywhere on the Strip. Celebrity chef restaurants? Vegas has those too. There's no better time to try new foods than when you're in Vegas.
Unique Daytime Las Vegas Experiences for Couples
If you're looking for something memorable to do before your Las Vegas nightclub experience begins, there are some incredibly unique experiences to consider.
These couple-friendly attractions and events are the perfect daytime options when you want to kick your special getaway up a serious notch:
Check out the shark reef attraction at Mandalay Bay. You and your honey can check out more than 2,000 marine animals, including endangered turtles, exotic sharks, and jellyfish. The attraction is open every day of the week, so it is a great option to fit into any schedule.
Check out the Costa Del Sur Spa. Relax side-by-side as you take in a private spa day together. Massages, facials, even steam rooms await you and your lover for a day of true pampering. Specialty alcohol is also available, for those that like to indulge as they relax.
Let your wild side come out to play at Dig This Las Vegas. Nothing says romance like climbing aboard some heavy machinery and competing with your significant other to see who can more expertly maneuver excavators and bulldozers. This is perfect for couples that love adventuring together and aren't afraid to get a little dirty.
Survive an escape room experience together. Escape rooms are taking the nation by storm, and Las Vegas is no exception. Hole up with your partner and put in some serious shared brainpower to get out of the room before time runs out! This is a great, adventure-based option for fun-loving couples.
Las Vegas is packed with couple-friendly options to take you from day to night. From Spas and gondola rides to nightclubs that are perfect for couples of all ages and interests, you and your sweetie will have no problem finding fun and adventure on your next trip to Las Vegas.
Looking for ideas for a special out in Las Vegas with your guy or gal? Check out our article "21 Romantic Date Night Ideas for Valentine's Day in Las Vegas". Make every day in Las Vegas Valentine's Day with these 21 awesome dates.