OMNIA Nightclub Dress Code (What to Wear – OMNIA Las Vegas)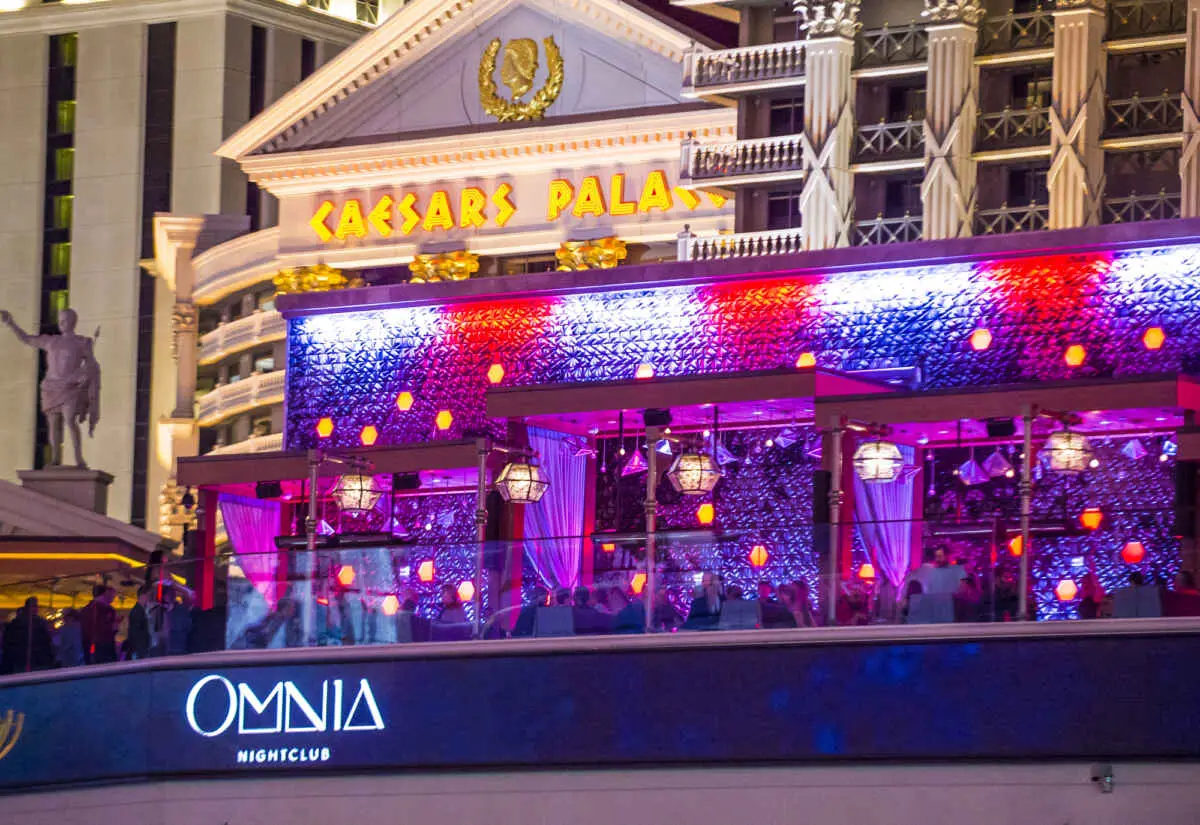 (This article may contain affiliate links, which means we might earn a small commission if you click and make a purchase. Thank you!)
Understanding the OMNIA dress code is key to enjoying your night at this premier Las Vegas hotspot. This guide quickly breaks down what to wear and what to avoid, ensuring you effortlessly pass through the doors of OMNIA Nightclub at Caesars Palace.
Key Points
Essentials: Fashionable attire is a must. Avoid hats, flip-flops, athletic wear, and anything too casual or revealing.
For Men: A collared shirt, dress shoes, and dark jeans or slacks are recommended. A sport coat adds a touch of class.
For Women: Elegant dresses or sophisticated jumpsuits are ideal. Chic tops with skirts or tailored pants work well. Heels are not mandatory, but footwear should be stylish and not too casual.
Overall: OMNIA's dress code is strict but aims to maintain a safe and upscale environment. Dressing well is key to a smooth entry and an enjoyable experience.
"Dress to impress and embrace the elegance – that's the OMNIA way!"
Does OMNIA Have a Dress Code?
OMNIA Nightclub in Las Vegas maintains a strict dress code. According to Hakkasan Group, the owner of OMNIA Nightclub, guests should arrive in fashionable attire to "reinforce the upscale environment of the nightclub."
OMNIA's Dress Code According to OMNIA
Instead of telling you exactly what to wear, though, OMNIA nightclub Las Vegas goes the route of telling you what WON'T be allowed, including:
Hats
Flip flops
Women's backless sandals
All men's sandals
Sneakers, including sports brands like Adidas and Nike
Shorts
Any kind of athletic wear
Ripped or oversized apparel
Steel toe and work boots
OMNIA's Dress Code According to Nightclub Promoters
Other sources, including nightclub promoters, take the dress code at OMNIA on the Las Vegas Strip a step further. These two groups warn patrons that they also should avoid:
Las Vegas nightclub promoters suggest these guidelines in order to dress appropriately for OMNIA:
Men should wear a collared shirt (polo shirts may or may not fly) and/or a sports coat and nice shoes
Women can dress sexy, but not too sexy in a way that doesn't contribute to the upscale environment
How Strict is OMNIA Dress Code?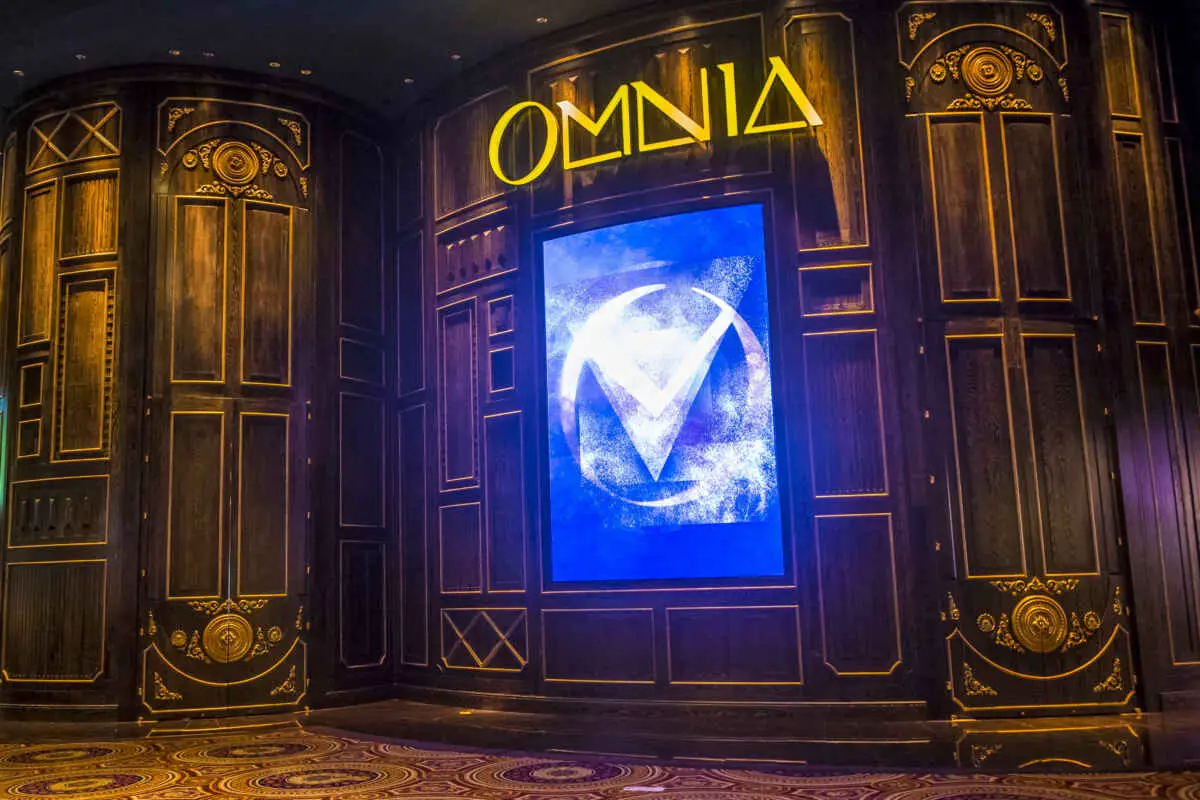 Guests have described OMNIA's dress code as strict, going so far to say that bouncers have inspected guests' shoes with flashlights to make sure they're up to par with the dress code rules.
OMNIA stresses that while their strictness may seem unfair, it is all done for guest safety.
Proper attire prevents slips and falls, injuries, heat exhaustion, and even brawls due to opposing team sportswear.
OMNIA Dress Code For Men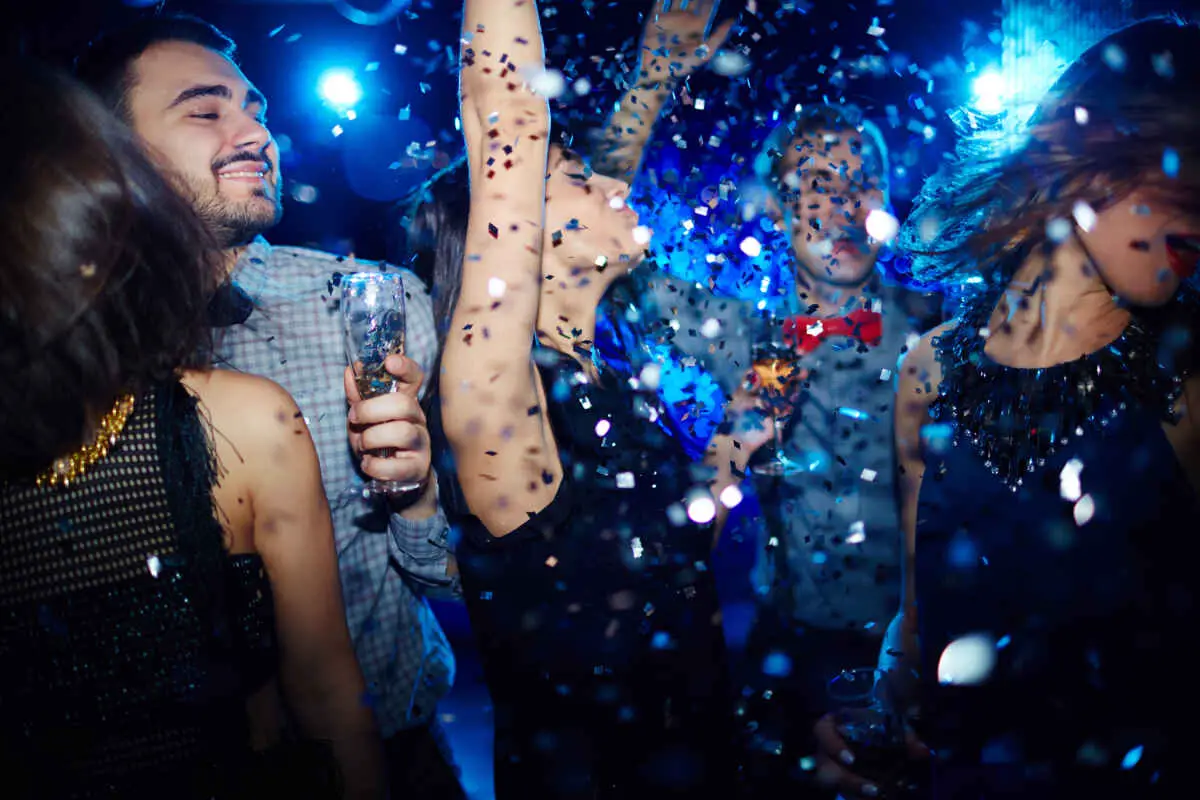 Dressing appropriately for OMNIA Nightclub is crucial for ensuring an easy entry and a great experience. Here's a detailed guide to help men navigate the dress code at this premier Las Vegas hotspot:
Shirts: Opt for a collared shirt or a stylish button-up. These classic and sophisticated choices align well with OMNIA's upscale environment. T-shirts, especially those with bold logos or graphics, are generally not recommended.
Pants: Dress pants or smart jeans are your best bet. If you wear jeans, ensure they are well-fitted, free from rips or excessive distressing, and preferably in a darker wash for a more polished look.
Shoes: Footwear can make a significant difference. Dress shoes or fashionable loafers are ideal. Avoid athletic sneakers, overly casual sandals, or work boots, as these can lead to being turned away at the door.
Jackets and Blazers: While not mandatory, a sport coat or blazer can elevate your outfit and often makes a positive impression. This can be particularly useful during cooler nights or for adding an extra touch of class to your ensemble.
Accessories: Think of accessories as the cherry on top – a sleek watch or a cool, understated necklace can really tie your whole look together. But remember, it's not a bling contest – keep the flashy jewelry and hats at home to stay in tune with OMNIA's classy vibe.
Grooming: A little grooming goes a long way. A quick shave or a trim can make you look sharp and ready for the night. No need for a complete makeover, just a bit of tidying up – whether it's a clean shave or just taming the beard – can elevate your style.
What to Avoid: Leave the gym gear and casual shorts for daytime – OMNIA is all about stepping up your style game. Remember, it's all about looking polished and stylish.
In general, the OMNIA dress code for guys is to wear slacks, dress shoes, a button-up collared shirt, and a sport coat or blazer. Avoid the "do not wear" list mentioned above, and dress like you put in some effort, and you should be good to go.
If you're wondering about wearing jeans, you should know it's a bit of a risky move. You may or may not have a problem. If you are going to wear jeans to OMNIA make sure they're clean, tailored (not baggy), and without any rips or tears. A dark pair of jeans is the safest choice.
That's it in a nutshell, but if you'd like much more detailed information about what men should wear to Las Vegas clubs, you'll want to check out our article: Las Vegas Club Dress Code For Guys (If You Want To Get In).
OMNIA Dress Code For Women
Navigating the dress code for women at OMNIA Nightclub can be a bit of a balancing act. While the club encourages fashionable and stylish attire, it's important to balance chic and overly revealing. Here are some specific tips to help you dress perfectly for a night out at OMNIA:
The Right Dress: Why not dazzle in an elegant cocktail dress or rock a sophisticated jumpsuit? It's your time to shine! These choices are both stylish and in line with OMNIA's upscale atmosphere. Remember, the key is to look polished and put together.
Choosing Tops and Bottoms: More of a mix-and-match fan? A chic top paired with a high-waisted skirt or sleek pants could be your winning combo. Avoid overly casual items like denim shorts or tank tops. Think smart-casual or semi-formal.
Footwear: Love your heels? Great, they can totally elevate your look. Not a fan? No worries, stylish flats work just as well. Avoid flip-flops or overly sporty footwear.
Accessorizing: Accessories are your secret weapon – choose wisely to make your outfit pop! However, it's best to avoid overly bulky or flashy items that might be inconvenient on the dance floor.
Makeup and Hair: Let's not forget the power of a glam makeup look and a hairstyle that says 'I'm ready for a fabulous night out!
What to Avoid: Steer clear of attire that's too revealing, such as see-through fabrics, excessively short hemlines, or tops more suited for the beach than a nightclub. It's all about striking that perfect balance – sexy yet elegant, turning heads for all the right reasons.
Remember, OMNIA's dress code is about maintaining a certain standard of elegance and style. By dressing tastefully and fashionably, you'll feel confident and ensure a smooth entry into the club.
Do I Have to Wear Heels to OMNIA?
Women are not required to wear heels at OMNIA Nightclub in Las Vegas.
Women can wear flat shoes as long as they do not have open backs. Open-backed shoes include slides, clogs, mules, or any shoe that is not snuggly secured to the back of the heel.
However, as is required by men attending OMNIA, women are not to wear athletic shoes, sneakers, flip-flops, or other casual foot attire. Flat-soled shoes should still be dressy and in line with OMNIA's dress code.
Check Out These Other Vegas Nightclub Dress Code Guides
Final Words
OMNIA Nightclub has a strict dress code that patrons must adhere to to gain entry to this Sin City hotspot.
Dressy attire maintains the ambiance at the club, and other dress code restrictions ensure the club is a safe environment when the music, lights, and crowds begin to go wild in the late-night hours.
Dress to impress, and you'll fit right in!
Have you visited OMNIA Nightclub in Las Vegas? We'd love to hear about your experience and what you chose to wear! Share your stories and tips in the comment section below to help future visitors make the best fashion choices.
RELATED: Are Clubs Free In Vegas? Best Nightclubs in Las Vegas
Sources: