Jewel Nightclub Dress Code (What to Wear – Jewel Las Vegas)
(This article may contain affiliate links. If you click through and make a purchase, we will receive a small commission at no additional cost to you. )
Jewel Nightclub at ARIA hotel is a popular nightclub on the Las Vegas Strip with multiple levels. Due to its notoriety, you might be wondering what you should be wearing for a night of clubbing at one of the hottest nightspots in Vegas.
Jewel Nightclub DOES have a dress code for all guests, regardless of your status for the evening. Most clubs in Vegas actually do have fairly strict dress codes, and if you aren't dressed for the occasion, you will be denied admission at the door. 
Let's go over the dress code requirements for men and women hoping to get into Jewel Nightclub for an unforgettable Sin City night! 
Jewel Las Vegas Requires Upscale Fashionable Attire
Upscale fashionable means you need to have elevated, stylish attire on. This applies a little differently to men and women, but the overall concept is the same. In a basic sense, this means no ripped jeans, ill-fitting clothes, athletic wear, tennis shoes, or sweatshirts. 
If you fail to meet the Jewel nightclub dress code requirements, the bouncers at the door have every right to refuse your admission. Men should be especially concerned with the dress code as it is significantly more strict for men than women. 
If you want to make sure you aren't turned away at the door, I will go over some specific requirements for men and women next. 
Men's Dress Code For Jewel Nightclub Las Vegas
The first big aspect of the Jewel Nightclub dress code for men is that they are required to wear collared shirts. This is a non-negotiable for men to get into the club. This can be a polo, a full button-down, or a buttoned shirt with a blazer. 
Men can wear jeans, however, they need to be good quality, well-fitted jeans. There shouldn't be holes, tears, or frayed edges on them, either. Be aware, though, that wearing jeans is more questionable, and you're more likely to be turned away than if you're wearing slacks or dress pants.
If you're going to wear jeans, I'd suggest wearing a darker color as these are less likely to cause problems.
As for shoes, men should wear leather shoes or dress shoes. Flip flops, sandals, steel-toed boots, and sneakers are not permitted. 
As for jewelry, keep it classy. Forget the gold chains and maybe just wear a stylish watch.
Hats of all kinds are not allowed. 
RELATED: Las Vegas Club Dress Code For Guys: Find out what not to wear if you want to get into the club.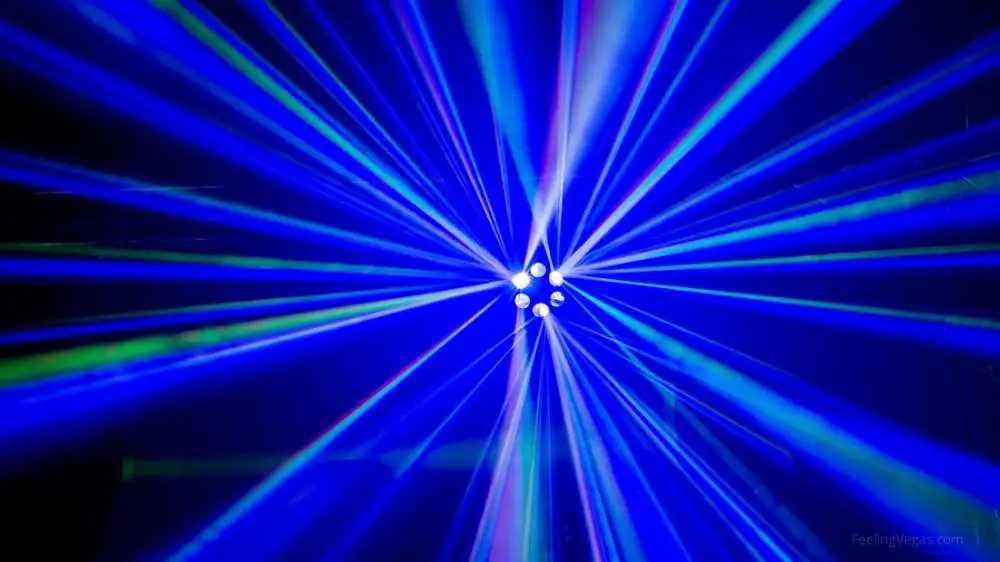 Women's Dress Code For Jewel Nightclub Las Vegas
Although the dress code for women is less strict than it is for the men, there are still some requirements. 
Women looking to dress on the casual side could wear nice jeans and a blouse, or a shorter, slightly more casual dress. 
For those looking to dress more fashionably, you could consider a mini-dress, cocktail dress (Amazon), or dress pants and a blouse. 
Women should only be wearing heels or nicer flats. Flip-flops, open-back sandals and sneakers are not allowed. 
Hats are also not allowed for women seeking admittance to Jewel. 
Accessories are always encouraged, and there aren't limitations set on any jewelry for women. 
RECOMMENDED: What to Wear in Las Vegas Clubs: The Ultimate Guide
Final Thoughts On The Jewel Nightclub Dress Code
If you're in doubt about whether a specific item will adhere to Jewel's dress code, your best bet is to play it safe and wear something you have no hesitation about. 
No one wants to get turned away at the door right before admission, which is why it is important to take Vegas nightclub dress codes seriously and not break them. 
If you follow the tips in this article, you should be ready for your night on the dance floor at Jewel Nightclub!
If you're looking to get on a Las Vegas nightclub guest list, you'll want to know how to get in touch with a Vegas nightclub promoter.
Sources:
https://aria.mgmresorts.com/en/nightlife/jewel-nightclub.html