What is Cowboy Christmas in Las Vegas? (Don't Miss It!)
(This article may contain affiliate links. If you click through and make a purchase, we will receive a small commission at no additional cost to you. )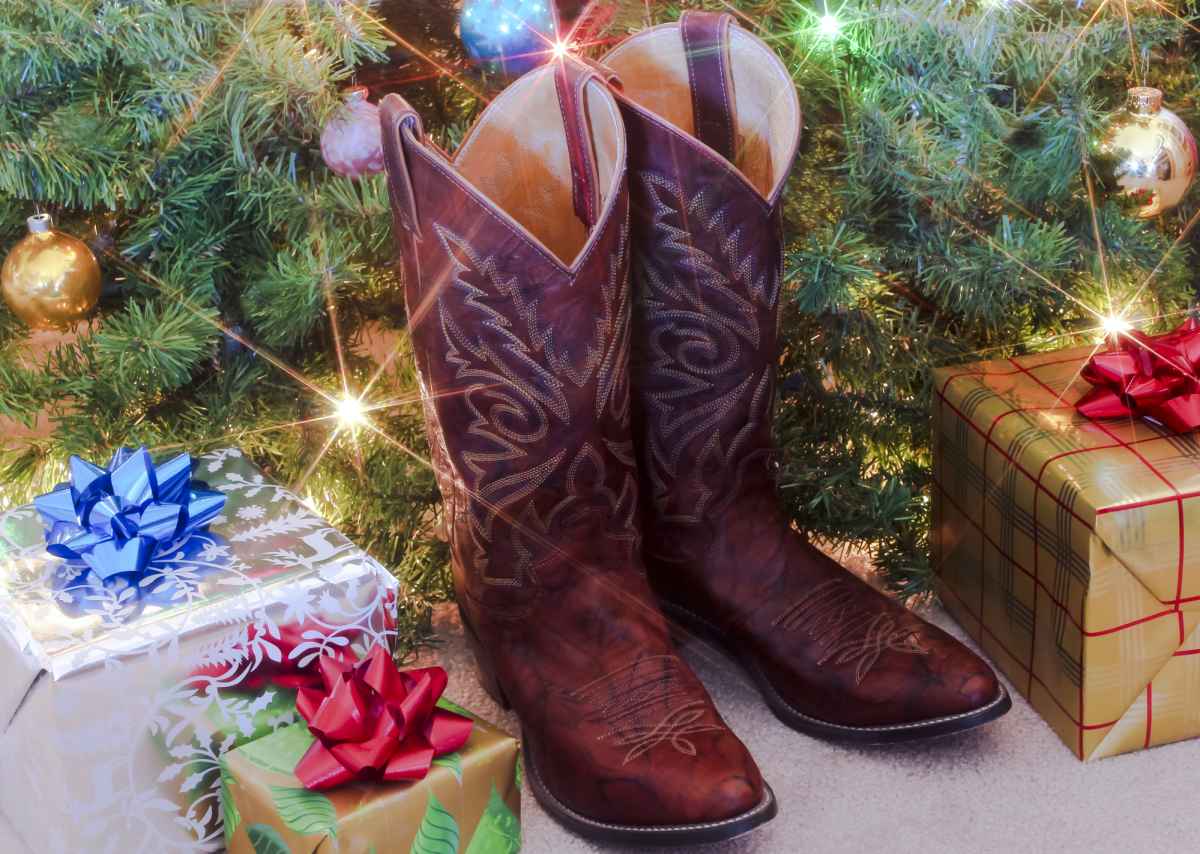 You've booked your tickets, made your hotel reservations, and are all set for your trip to Vegas for some of the best rodeo action of the year. In addition, you've heard about an event being held at the same time called "Cowboy Christmas." What exactly is Cowboy Christmas in Las Vegas? 
Cowboy Christmas Las Vegas is a beloved Christmas-time tradition filled with hundreds of gift shops, merchants, exhibits, live entertainment, and more. The event centers around the NFR (National Finals Rodeo) and the YETI Junior World Rodeo Finals. 
Want to know what's in store for you at this wild and fun western festivity? You're in luck. This article will dive into everything happening at this year's Cowboy Christmas. So strap on your cowboy boots, and let's "git along, little doggies" to Cowboy Christmas in Las Vegas! 
What is Cowboy Christmas?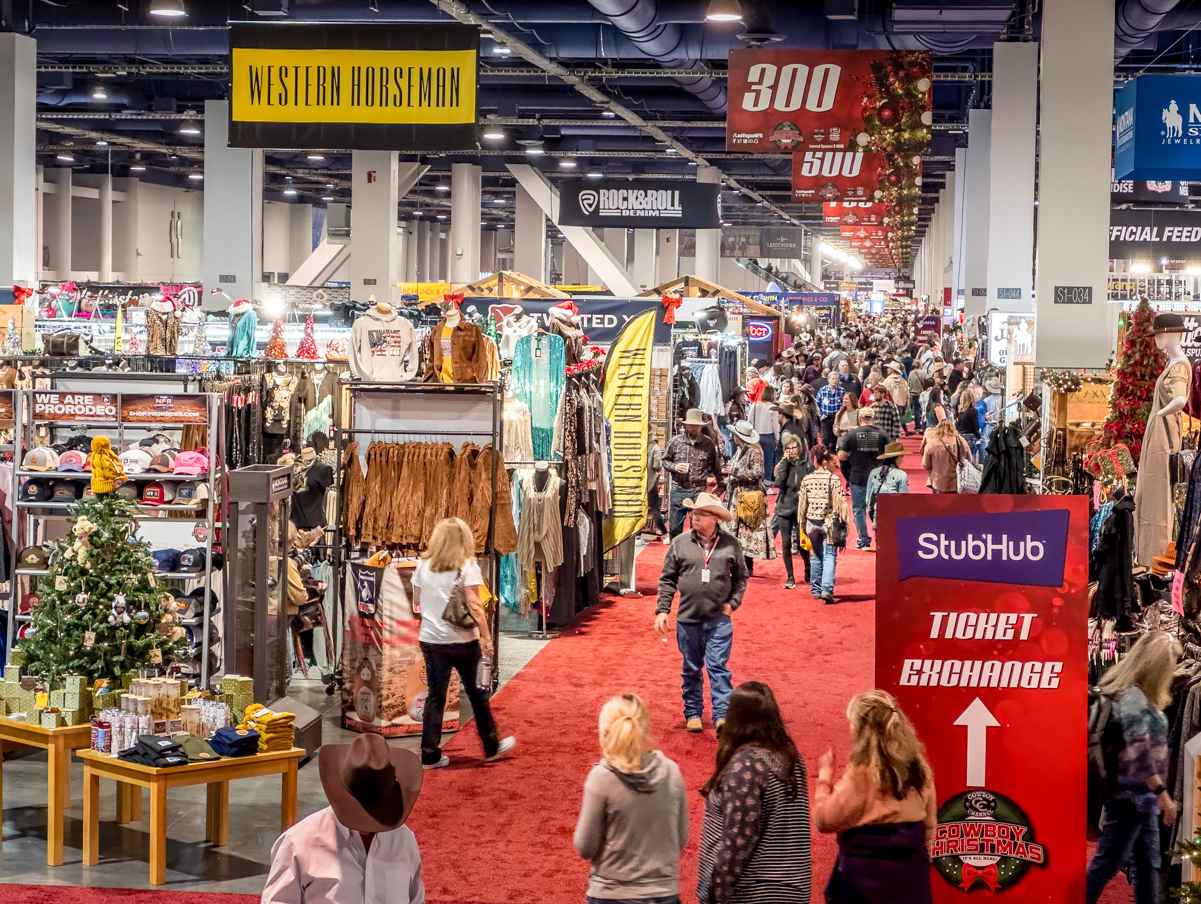 Cowboy Christmas, hosted by the Cowboy Channel, has been a beloved Las Vegas tradition since 1986. At the event, you'll find over 500,000 square feet of show floor filled with over 350 exhibitors from all over the country. 
Cowboy Christmas is an official gift show full of trade craftsmanship alongside interactive displays and NFR events. You might even find Santa as you're walking around the event center! 
While visiting, you can:
Shop for all the best western styles

Watch the future of rodeo compete at the Wrangler Rodeo Arena

Attend autograph sessions

Enjoy live entertainment at the Ariat Rodeo Live Stage

Get a bite to eat at Bites & Brews

Live it up with some western nightlife at NFR After Dark

Stop for a drink at the Ranch Water Rodeo Saloon. 
Cowboy Christmas Gift Show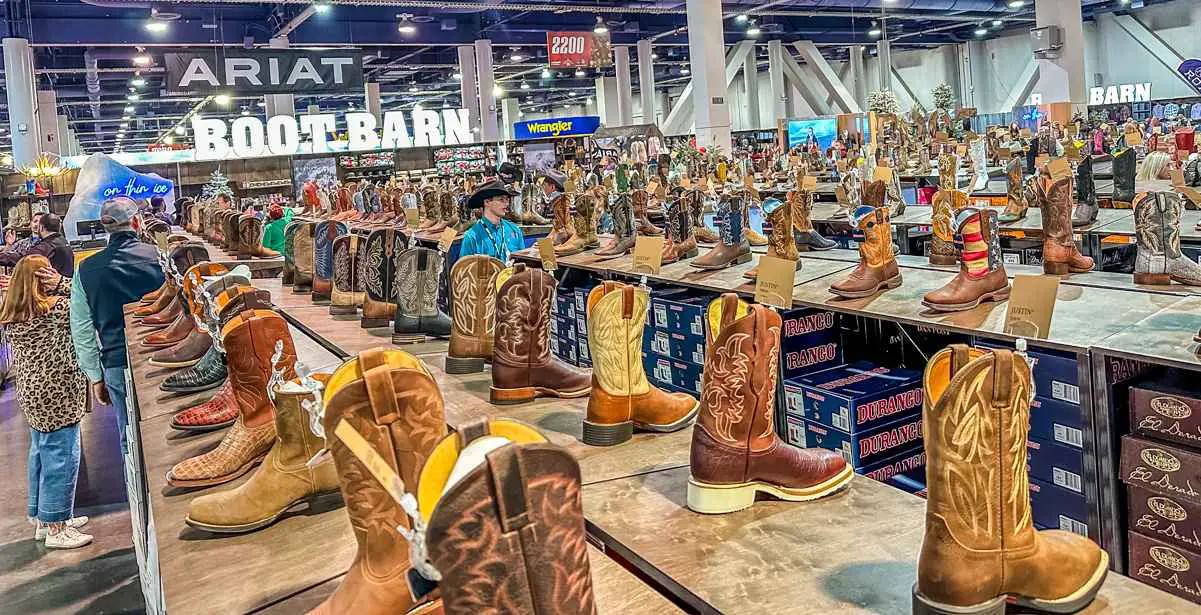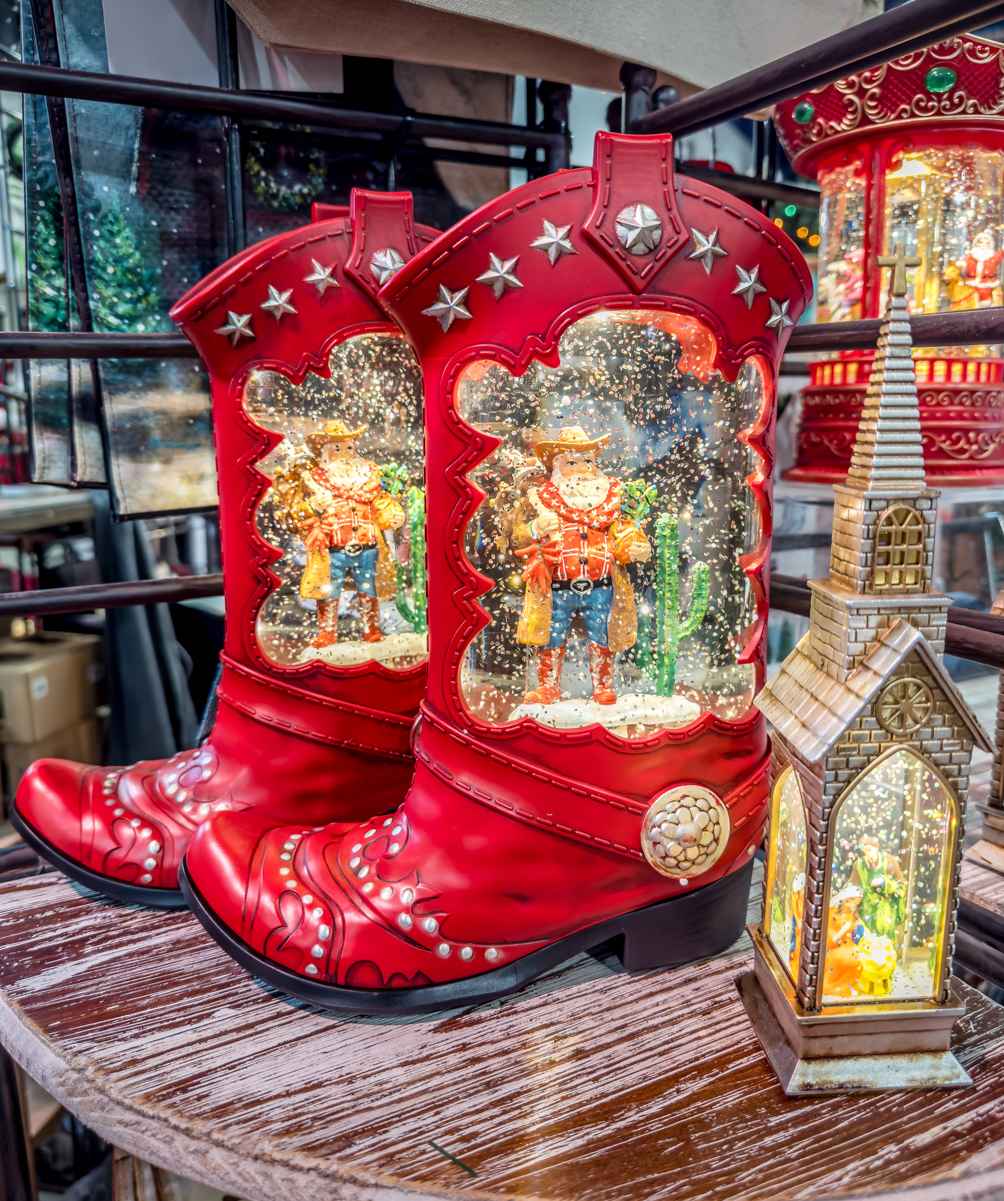 From handcrafted leather, gorgeous turquoise jewelry, and wooden art, there's no shortage of cowboy treasures for you to take home! 
Enjoy walking through the over 350 stalls of exhibitors inside the convention center. Find the best bargains on that dream belt buckle you've had your eye on, or gear yourself up for the ten-day rodeo festivities in all the best western wear.
The Cowboy Christmas gift show is the perfect place to shop for that special cowboy or cowgirl on your holiday gift-giving list.
Cowboy Christmas: Wrangler National Finals Rodeo and YETI Junior World Finals
The stars of the Cowboy Christmas show are the two rodeos happening at the same time. There wouldn't be a Cowboy Christmas without it. 
The main event is the Wrangler National Finals Rodeo (NFR), which takes place every day at the Thomas & Mack Center in Las Vegas. Each day will kick off with a guest performance of the National Anthem, followed by the top professional rodeo action in the country.
The ten-day competition includes everything from saddle bronc riding, barrel racing, bareback riding, roping, bull riding, and more. This year there is over $14 million dollars in prize money.
Pick up your tickets for NFR here at StubHub.
At the same time, over at the Wrangler Rodeo Arena (Las Vegas Convention Center), up-and-coming rodeo stars compete against each other and themselves for the Montana Silversmiths Championship Buckle during the YETI Junior World Finals. There's also $1 million worth of cash and other prizes. 
Events include bull riding, barrel racing, bareback riding, team roping, and more! Finals for events occur on December 5th and December 10th, followed by the Junior World Finals Buckle Ceremony. 
The YETI Junior World Finals requires a daily admission fee of $10. You can save money by purchasing a 5-day pass for $40. 
Cowboy Christmas Autograph Sessions
Stop by for countless autograph opportunities from December 2nd through December 11th. 
Along with some of the top names of rodeo, here are just a few of the other most notable mentions for this year's autograph sessions: 
Luke Grimes 

Cole Hauser 

Forrie J Smith

Miss Rodeo America – Jordan Tierney
Check here for a complete list of names, dates, and locations.
Ariat Rodeo Live Stage
This year's Ariat Rodeo Stage is all new! The daily programming begins with RMEF Calcutta showcasing its Hunter and Outdoor Christmas Expo. Next, you'll enjoy  "Outside the Barrel," with a special host, the famous Flint Rasmussen, followed by Cowboy Revival, with musical artist Shane Minor as host. 
If that's not enough to get your hype built for an evening of rodeo mayhem, the Cowboy Channel NFR Tailgate Party keeps the festivities rolling for every Wrangler NFR event during their exciting 2+ hour show.  
Bites & Brews at Cowboy Christmas
If you're looking for a tasty bite to eat during this western palooza, Bites & Brews is the place for you. You'll find the delicious haven of brand-new vendors this year on the convention center's second floor, right next to Santa Claus. 
There's ample seating available to you, surrounding large projection screens, so you don't have to miss a single second of the rodeo action. Find yourself something delicious, take a seat, and enjoy the always-streaming live feed!
Cowboy Christmas and NFR After Dark
The Las Vegas lights come to life in exciting ways after dark, and it's the same for Cowboy Christmas and the National Finals Rodeo. Catch live performances around town from some of your favorites, such as Luke Bryan, George Strait, and Aerosmith. 
Aside from these specialty concerts all over the city on various nights, you can also stop in and enjoy recurring nighttime events the whole week. You have many choices to keep the rodeo party going all night long!
For example, head to Westgate Las Vegas at 4 pm to enjoy a rodeo viewing party, free live entertainment, and concerts. Stop by the Ram Rodeo Tailgate Party at Southpoint Convention Center from 5 pm to 10 pm if you want a more classic approach to sports fan fun. Admission is free. 
Check out this list of NFR After Dark events.
Ranch Water Rodeo Saloon at Cowboy Christmas
The Cowboy Christmas festivities just wouldn't feel right without a western saloon. The Ranch Water Rodeo Saloon features specialty beverages and collectible souvenir cups for you to enjoy while watching recaps of the previous night's Wrangler NFR performances on the big screens inside. 
The Ranch Water Rodeo Saloon is located near the eastern end of Cowboy Christmas. It's also nearby the Ariat Rodeo Live Stage, making it a great place to catch a drink before diving back into the action. 
When is Cowboy Christmas in Las Vegas?
Cowboy Christmas Las Vegas 2022 starts on December 1st. The event runs until December 10th. The NFR and Junior Finals rodeo events also run from December 1st to December 10th. 
The Cowboy Christmas show floor is open daily from 9 am to 4 pm, and the entrance is FREE!
Where is Cowboy Christmas Las Vegas?
Many of the Cowboy Christmas events (including the gift show) will be held at the Las Vegas Convention Center. Admission to Cowboy Christmas is free. 
However, the cowboy festivities don't stop just at the Las Vegas Convention Center! You can also enjoy more western fun tied to Cowboy Christmas all over the Las Vegas Strip and around the city, including catching great shows at night after the venue has closed with NFR After Dark.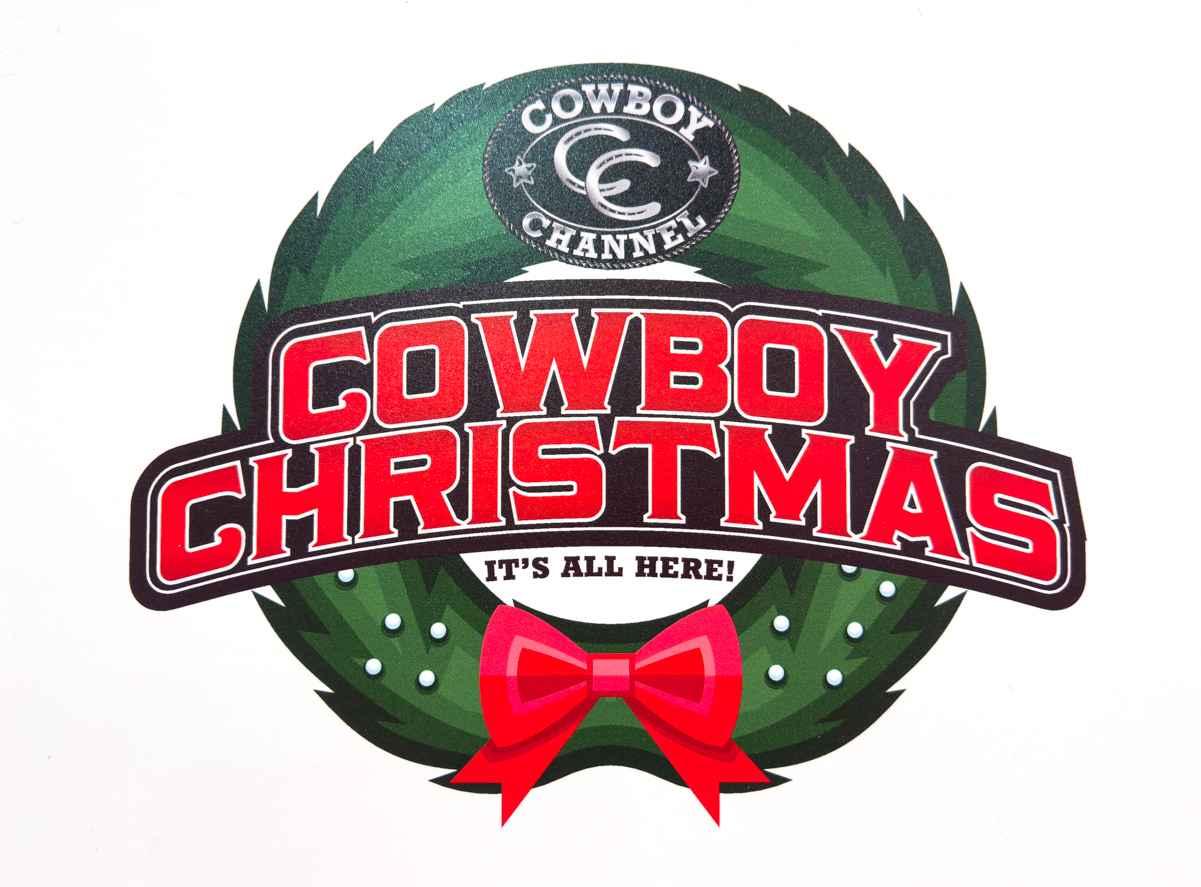 Cowboy Christmas Las Vegas – Final Thoughts
Cowboy Christmas is a 36-year-old Vegas tradition full of western magic and mayhem. You can watch all the action of the NFR performances, enjoy live entertainment, or shop til you drop at the Las Vegas Convention Center.