National Finals Rodeo (NFR) Las Vegas 2022
(This article may contain affiliate links. If you click through and make a purchase, we will receive a small commission at no additional cost to you. )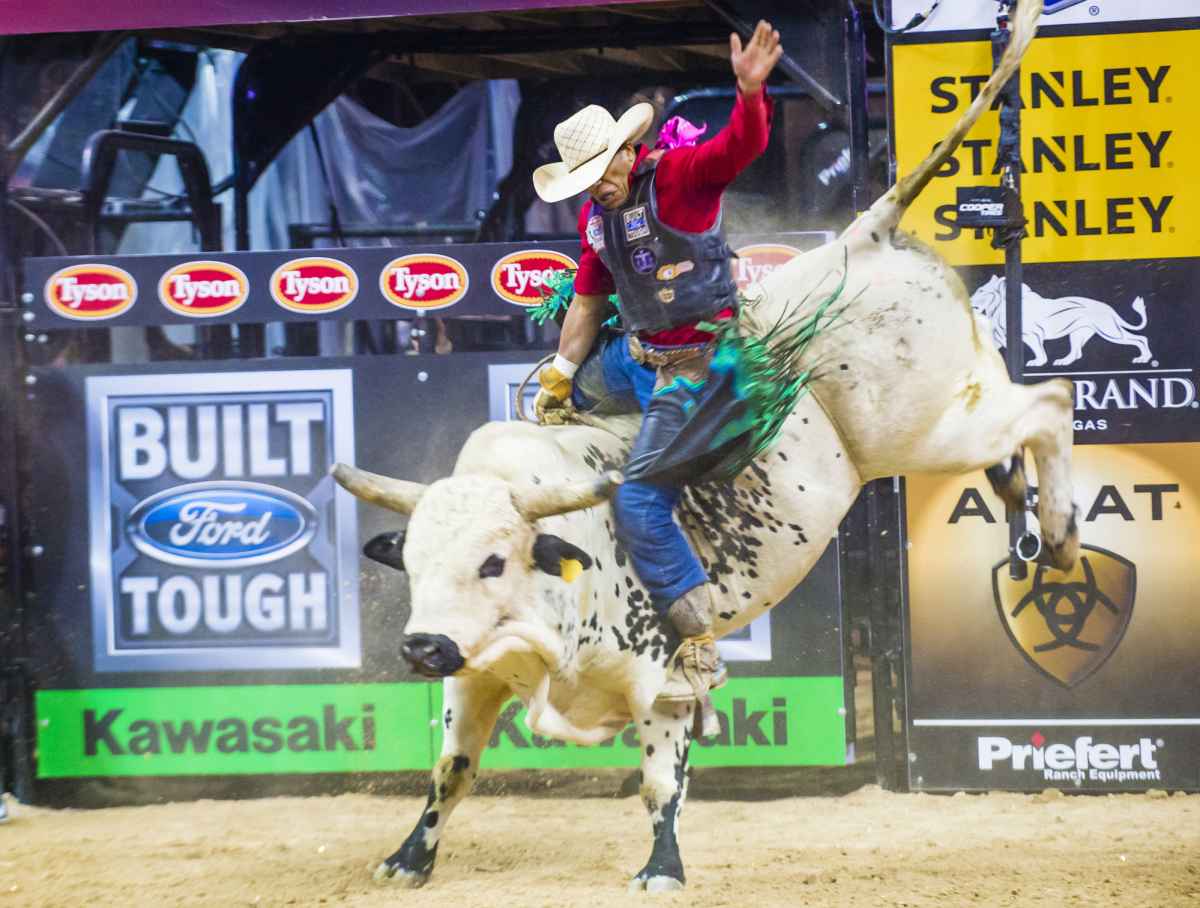 Each year, cowboys and cowgirls compete in PRCA-sanctioned rodeos around the United States with the goal of being one of the top 15 competitors in their event so that they can punch their ticket to the National Finals Rodeo (NFR) in December, the biggest rodeo event of the year. When and where will the NFR take place in 2022, and what is there to see and do?
In 2022, the National Finals Rodeo (NFR) will take place in Las Vegas, Nevada, from December 1st through the 10th. The NFR features 10 rounds of competition before crowning world champions in each of seven rodeo events, but it also offers world-class shopping, after-parties, and a whole lot more.
​I've got all the details you need to know before you head to the NFR in Las Vegas this December, so let's dive right in.
2022 Las Vegas NFR Rodeo Competitions
O​f course, the daily rodeo competitions are the most famous part of the National Finals Rodeo. Contestants compete across the United States all season long, trying to earn a spot in the NFR. Only the top 15 competitors from each event make it to Las Vegas, so these rodeo competitors are the best of the best.
But which events are included in the main portion of the NFR? Not every rodeo event is included in the competition. Here are the rodeo events included in the main NFR competition:
Bareback riding

Barrel racing

Team roping

Tie-down roping

Steer wrestling

S​addle bronc riding

Bull riding
The competitions start daily between 9 and 10 am. While there's no exact way to know when the rodeo will end each day, it usually wraps up around 4 p.m. But don't head back to the hotel after the show's over—later in this post, we'll talk about the many evening entertainment opportunities the NFR provides long after the rodeo has ended for the day.
2022 NFR Las Vegas Opening Acts
Because the NFR isn't your normal weekend rodeo, it's packed with far more than just competitive rodeo events. In fact, there will be a concert performed by a well-known artist each evening starting at 5:45 pm. Here's a list of who's performing each night:
December 1st

: Vegas Night

December 2nd

: Luke Bryan

December 3rd

: Lainey Wilson

December 4th

: Adrian Brannan

December 5th

: Chancey Williams

December 6th

: Ben Gallaher

December 7th

: Steve Amerson

December 8th

: Joe Nichols

December 9th

: Heath Sanders

December 10th

: Gold Night
The tickets you purchased for each day's rodeo performance are all you need to be able to enjoy the artist's opening performance each evening.
Also, these are just the opening acts! There are a ton of National Finals Rodeo country music concerts happening in 2022 in Las Vegas. See more concerts happening during NFR here.
NFR Vegas: Special National Anthem 2022 Performances
A​s if daily rodeo performances and star-studded concerts weren't enough, the NFR also features a different performer for the national anthem each night. Here's the list of performers singing the National Anthem in 2022:
December 1st

: Easton Corbin

December 2nd

: Glen Templeton

December 3rd

: Dan Smalley

December 4th

: Presley Seal

December 5th

: Will Jones

December 6th

: Wyatt McCubbin

December 7th

: Jim McCloughan

December 8th

: Candace Muir (USA anthem) and Corb Lund (Canadian anthem)

December 9th

: Drake Milligan

December 10th

: Maggie Minor
Just like with each night's opening concert, you don't need any additional tickets to hear the performance of the national anthem.
2022 Miss Rodeo America Pageant at National Finals Rodeo
Starting on November 27th, a few days before the NFR officially kicks off, the Miss Rodeo America Pageant will start at the South Point Hotel and Casino.
Each morning, the pageant contestants will participate in an event to showcase their talents and knowledge. On December 4th, the newest Miss Rodeo America will be crowned at a coronation ceremony.
Each of these daily events is open to the public. Tickets, however, must be purchased for the coronation ceremony.
2022 Cowboy Christmas at NFR
While the rodeo performances are the most famous part of the National Finals Rodeo, many people attend simply to go to Cowboy Christmas, the biggest western shopping experience in the world.
Each year, almost 250,000 people visit Cowboy Christmas during the NFR. With over 500,000 square feet of space in the Las Vegas Convention Center, it's the perfect spot to hang out before the nightly entertainment.
M​ore than 350 vendors set up shop for all ten days of NFR action. The facility is open to the public from 9 a.m. to 4 p.m. each day. Whether you're looking for western furniture, a new pair of cowboy boots, or a gift to take home to your family, Cowboy Christmas is sure to have what you're looking for.
Cowboy Christmas offers more than just shopping opportunities—it's also the home of several daily youth competitions during the NFR, so you've always got something exciting to watch while you're in Las Vegas.
Y​ETI Junior World Finals
The YETI Junior World Finals is the NFR for youth rodeo competitors. Juniors compete for a championship buckle and their share of a $1 million purse. You'll need to buy tickets to watch these young superstars compete on rodeo's biggest stage.
R​MEF Calcutta
From 9 am to 4 pm each day, RMEF Calcutta will host the coolest NFR viewing party at the Las Vegas Convention Center. Admission is free, and the floor will be filled with live entertainment, NFR viewing areas, as well as plenty of hunter & outdoor exhibitors.
"​Outside the Barrel" with Flint Rasmussen
T​his daily talk show is hosted by America's favorite rodeo clown, Flint Rasmussen. He'll discuss each day's events with special guests like Kaycee Feild, Dale Brisby, Ned LeDoux, and J.B. Mauney.
"​Cowboy Revival" with Shane Minor
Each day between 11 am and noon, country music artist Shane Minor will be joined by authentic cowboy musicians who will chat it up and perform their favorite country songs.
N​FR After Dark
Several Las Vegas hotels partner with the NFR to offer entertainment after each night's rodeo performance. At the NFR After Dark area in the Las Vegas Convention Center, you'll be able to interact with screens that will show you that evening's available entertainment, viewing parties, and top-tier restaurant options.
National Finals Rodeo (NFR) Las Vegas 2022 – Final Thoughts
The National Finals Rodeo is the event thousands of rodeo fans and contestants look forward to each year in Las Vegas. The top performers in seven of rodeo's most famous events compete for ten days in a row, hoping to claim the title of NFR champion.
Even if you're not into rodeo, the 2022 NFR has something to offer everyone. From world-renowned shopping at Cowboy Christmas to nightly concerts and great dining around town, the NFR in Las Vegas is an experience like no other.