2022 Bellagio Conservatory Christmas (Photo Gallery)
The Bellagio Hotel & Casino is a sight to behold year-round. Having said that, Christmas time at the Bellagio Conservatory & Botanical Gardens takes things to a whole new level!
Visiting the Bellagio Christmas display in the gardens is a magical experience and has become a holiday tradition for many Las Vegas locals and visitors alike.
The holiday decorations and displays at the Conservatory change every winter season, making Christmas at the Bellagio a new experience every year.
Compare and save! Check current Bellagio room rates at TripAdvisor!
Bellagio Conservatory Christmas (2022 Photo Gallery)
Since not everyone will have the opportunity to visit the Bellagio Conservatory & Gardens during Christmas 2022, I've put together this gallery of photos to show you what the holiday display looks like this year. Enjoy!
(All photos taken in November 2022)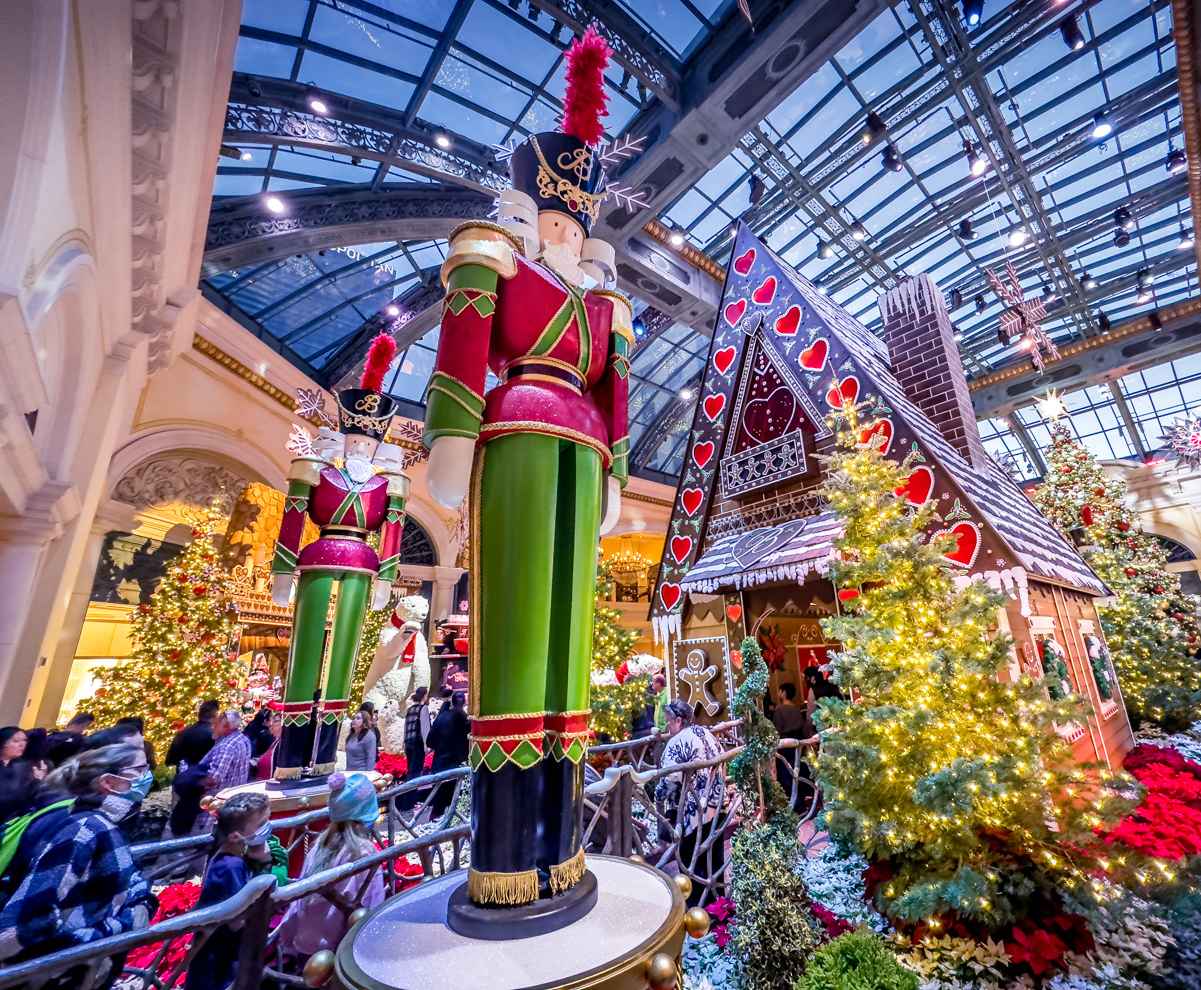 (This article may contain affiliate links, which means we might earn a small commission if you click and make a purchase. Thank you!)
This year's winter and holiday Christmas display at the Bellagio Gardens is as amazing and over the top as usual. Throughout the exhibit, there are video screens playing vintage holiday clips along with a cheerful Xmas soundtrack.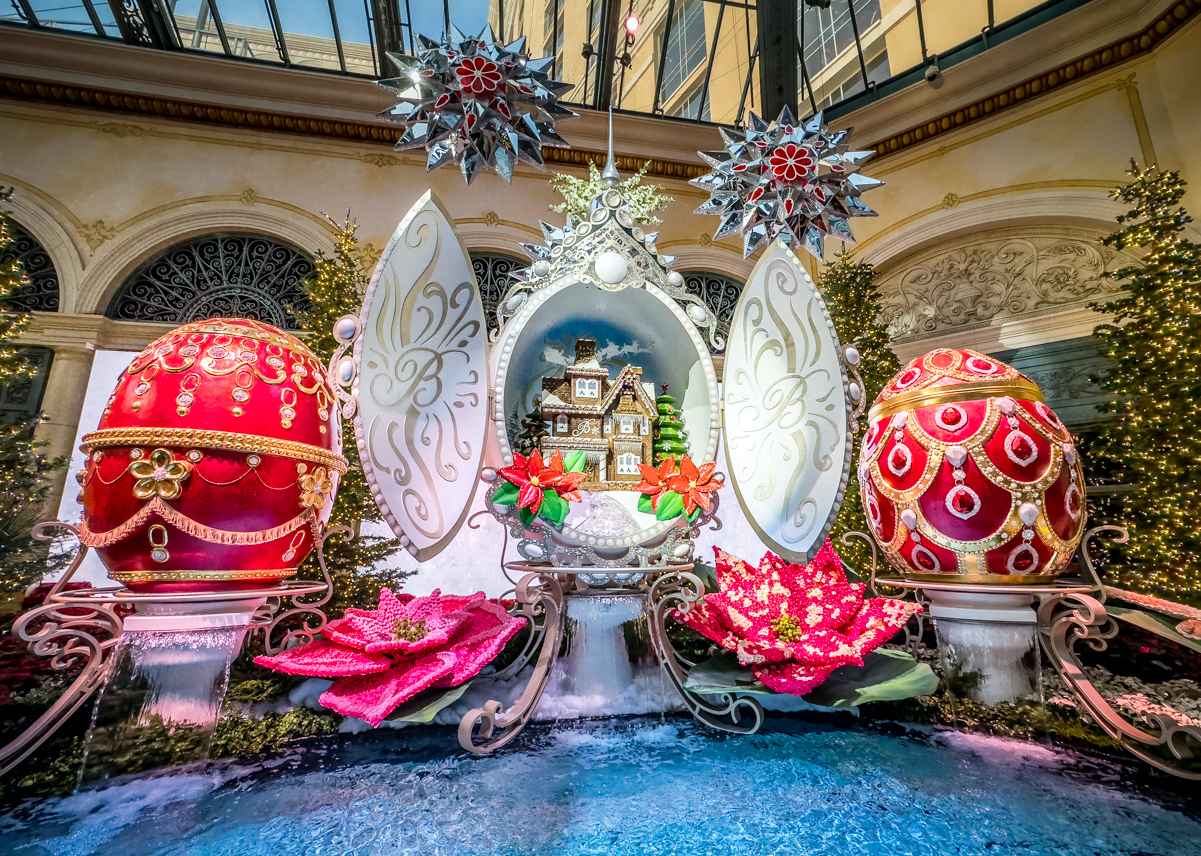 There's something else we found remarkable about this year's conservatory display. The smell!
The Bellagio created a new scent called Gingerbread Dreams that you'll notice as you walk throughout the garden. You'll detect hints of cinnamon, vanilla, clove, and apple. It is a wonderful smell!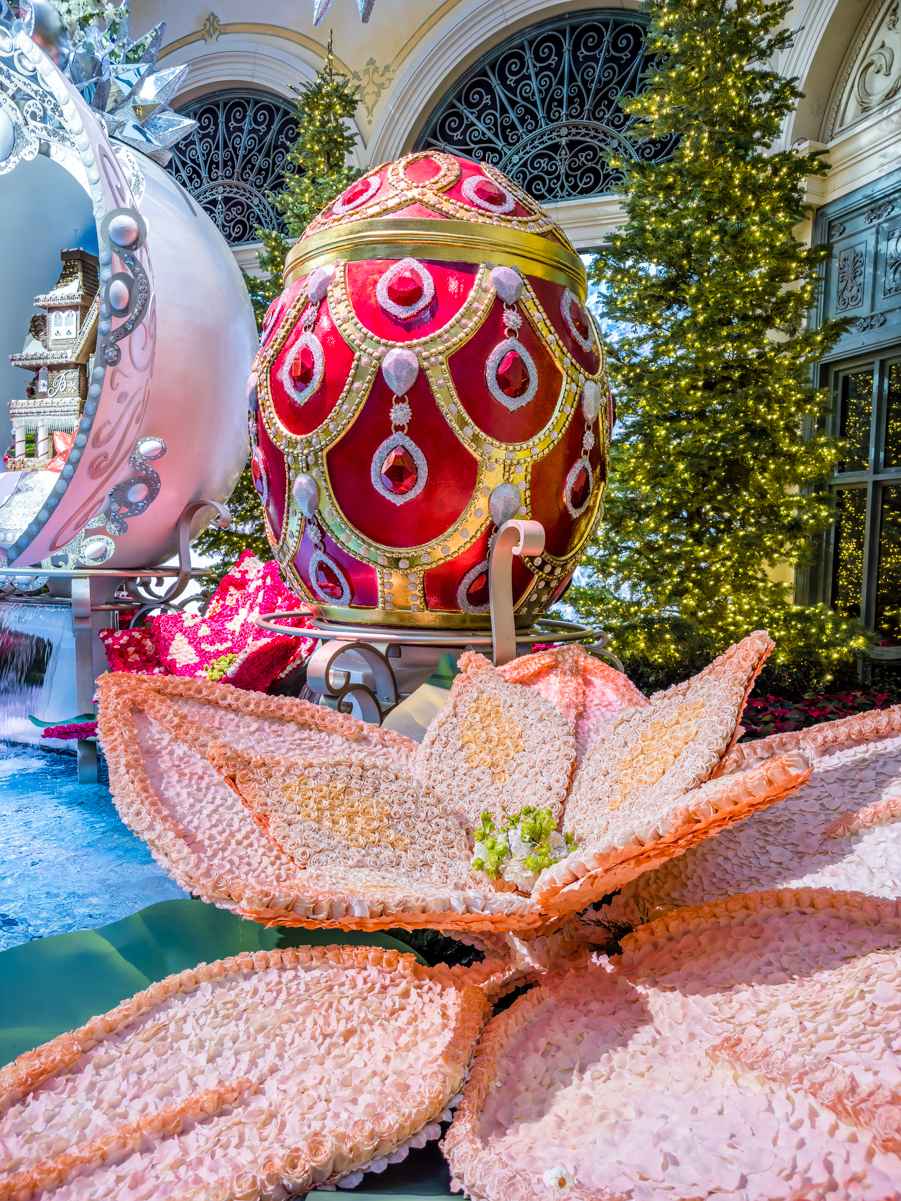 The four giant poinsettias you'll see situated around the gingerbread house were created by hand-placing over 4,800 roses. You may also notice the three bejeweled holiday eggs, which pay homage to the famous Faberge eggs created over a century ago.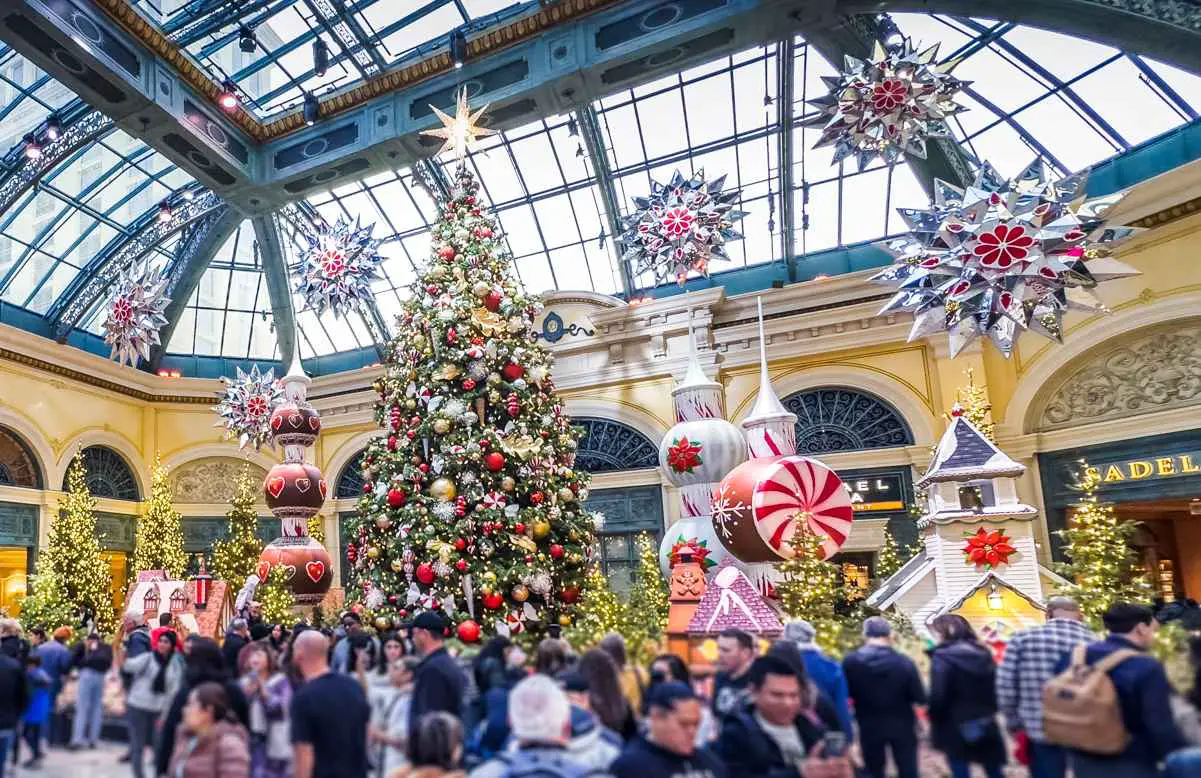 The centerpiece of any Bellagio Conservatory Christmas display is, of course, the tree. This year's tree is a White Fir tree from Mt. Shasta, California. The Christmas tree stands 42 feet tall and has been decorated with over 10,000 light bulbs and almost 9,000 ornaments.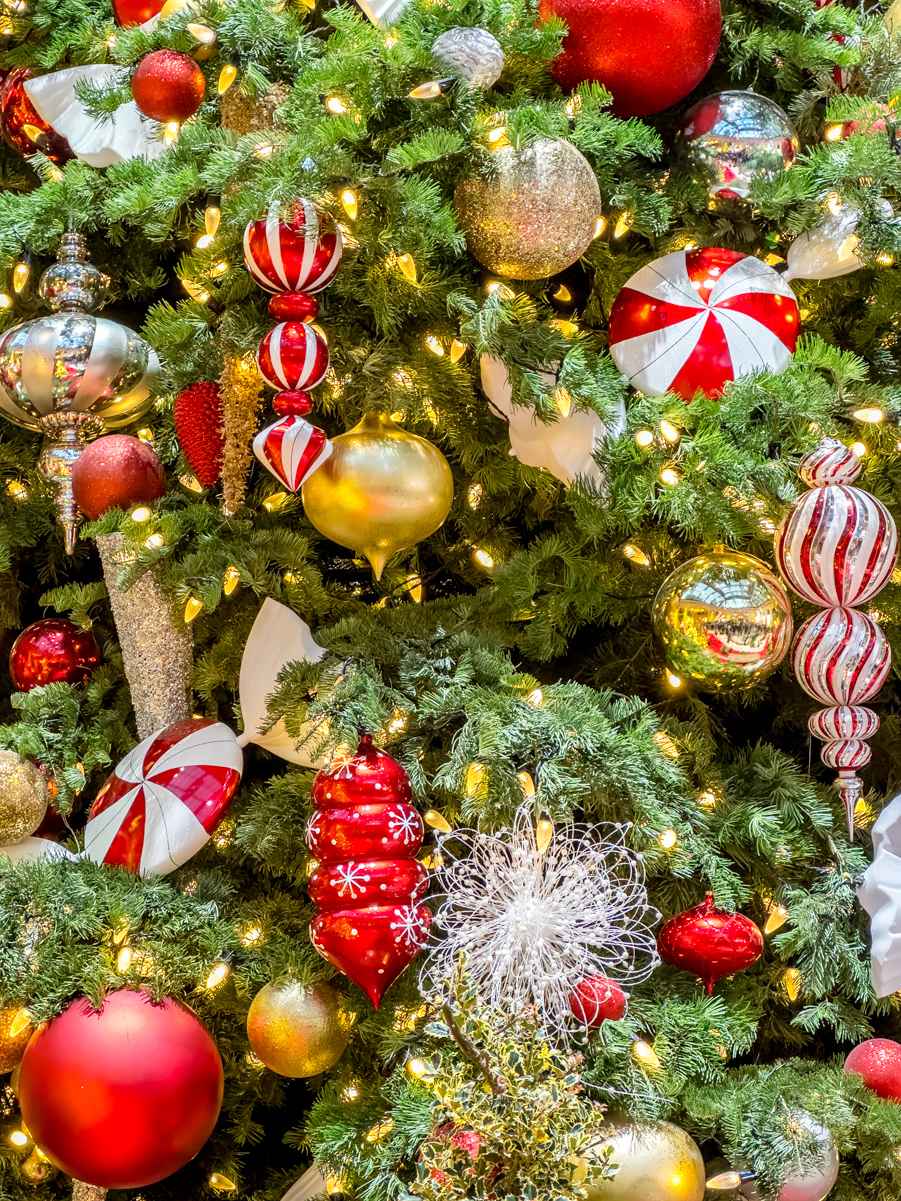 Find out everything there is to know about visiting the Bellagio Conservatory throughout the year, including the hours and seasonal schedule, in my article here.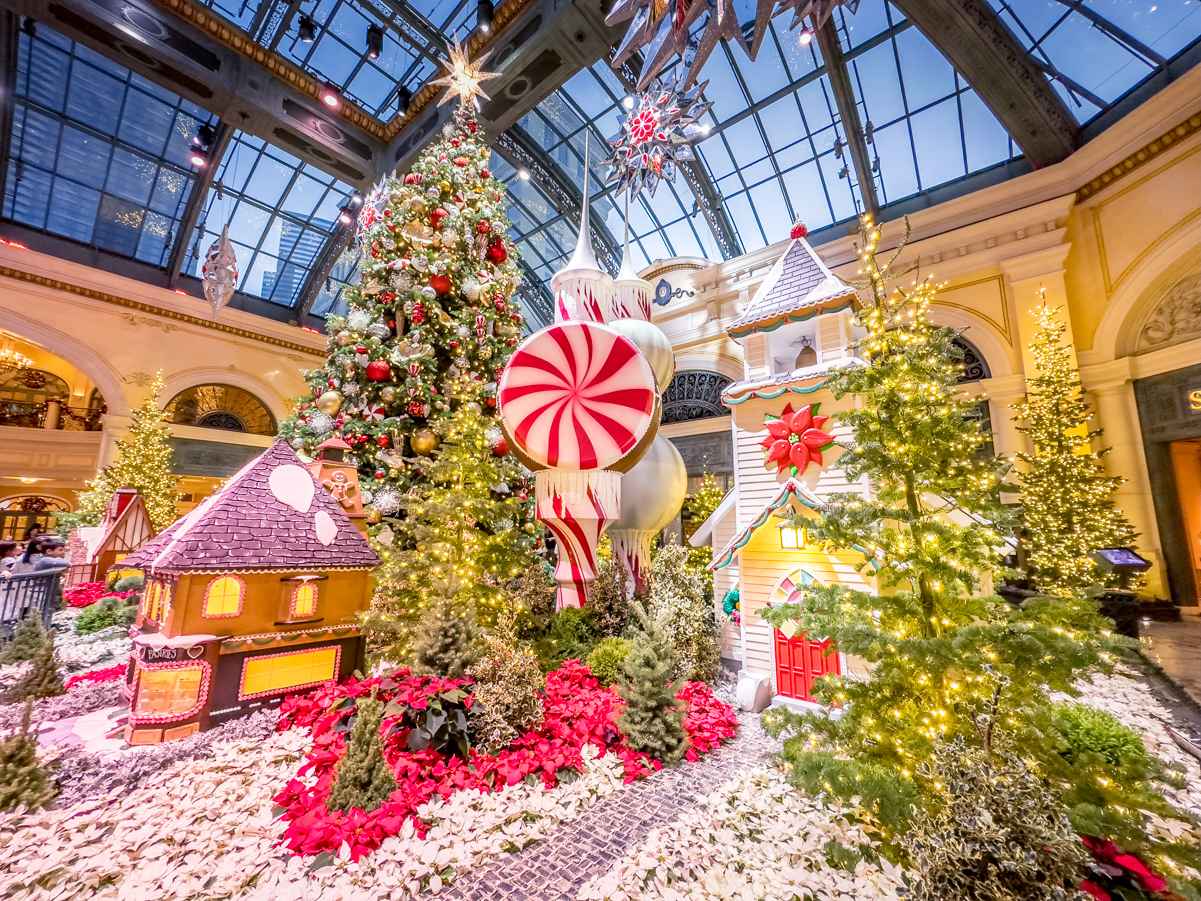 Surrounding the main tree, you'll find a snowy winter village made up of six small-scale buildings. The detail found in each of the village's structures is remarkable. The longer you look, the more you will see.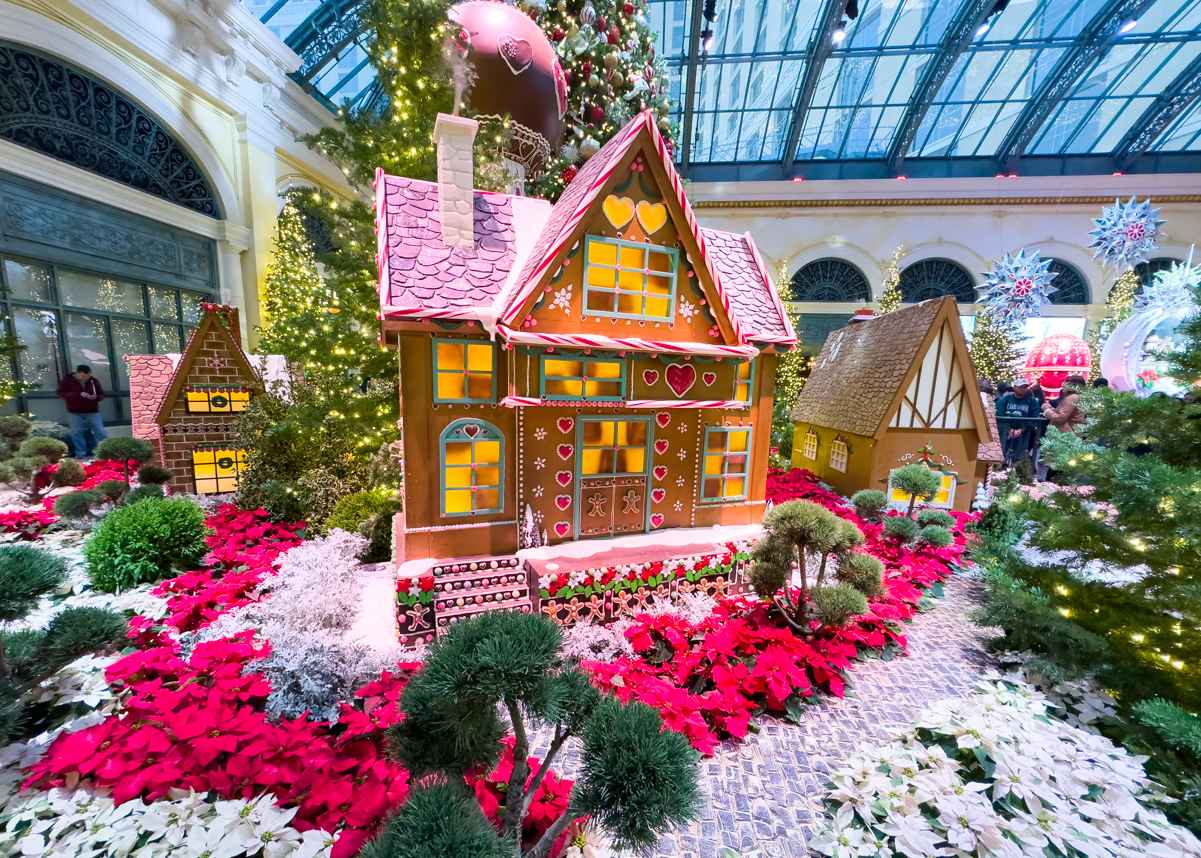 It may be difficult to see in this photograph, but each of the village's buildings has smoke (steam) rising from their chimneys. So cool!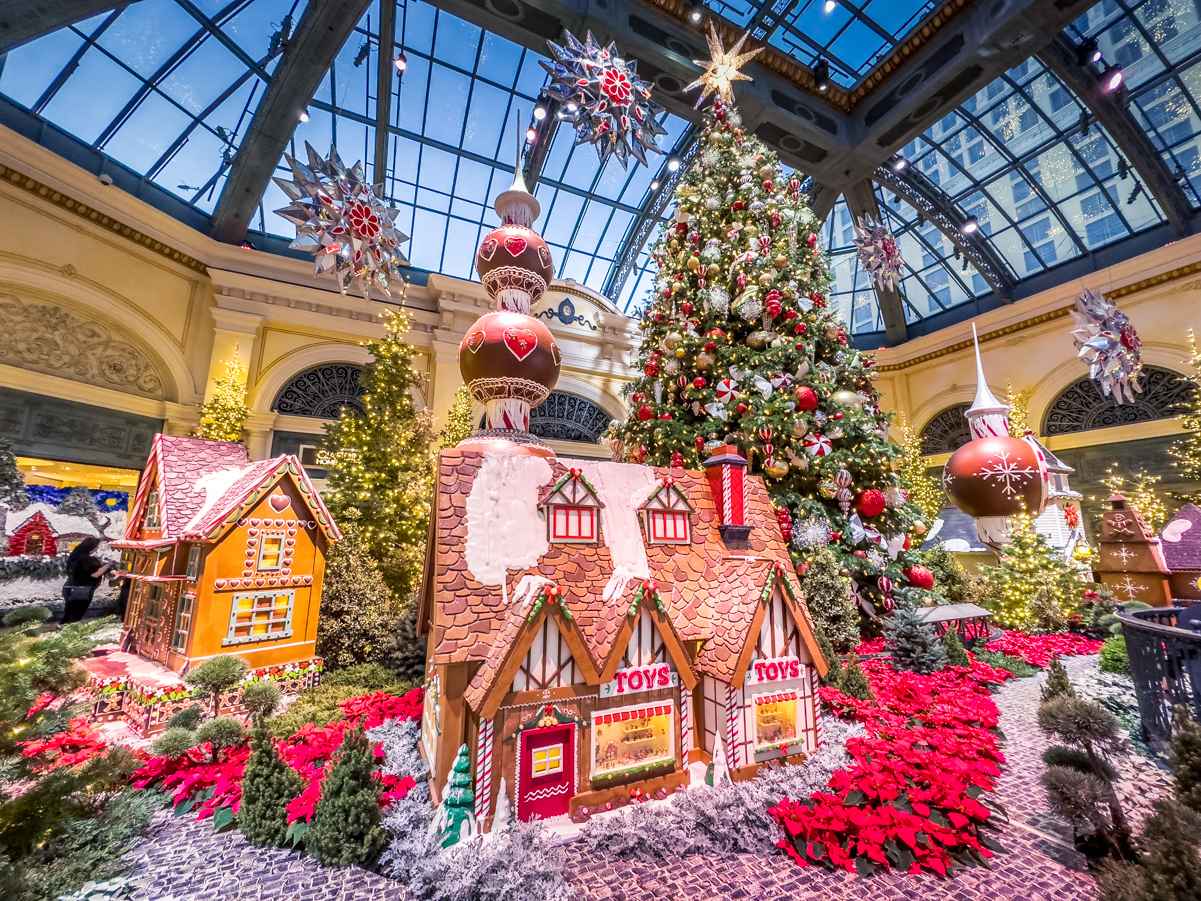 The snowy village even has its own toy store.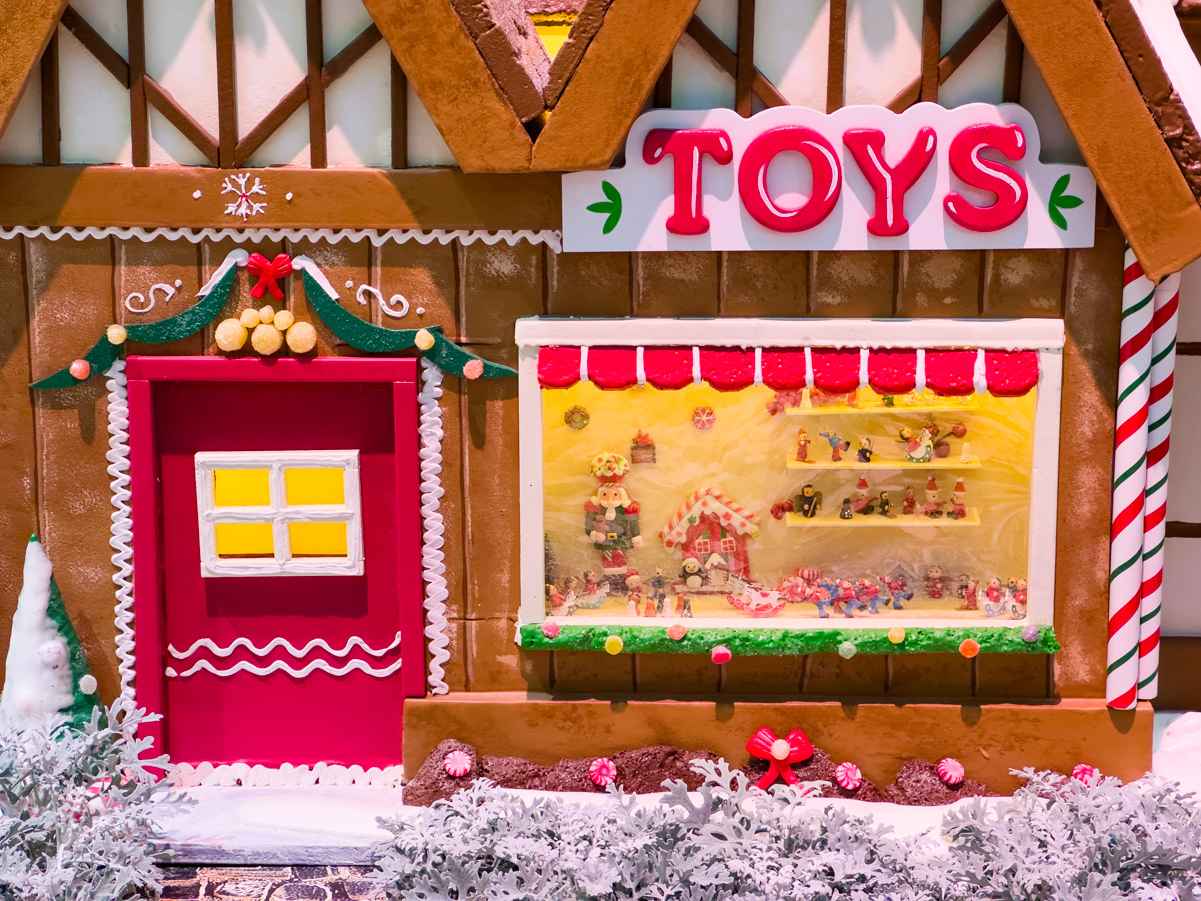 A closeup of the toy store's window reveals an incredible amount of miniature detail.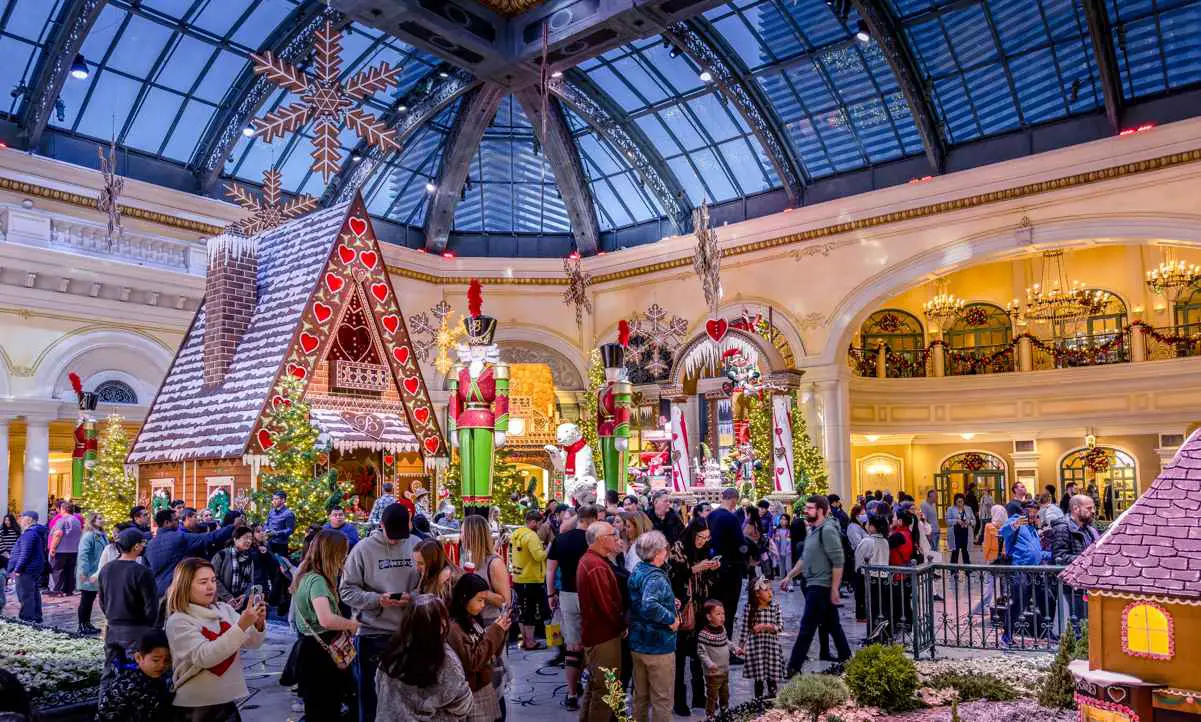 While all of the seasonal displays are popular, without a doubt, the winter holiday display at the Bellagio Conservatory & Botanical Gardens is the most anticipated one of the year.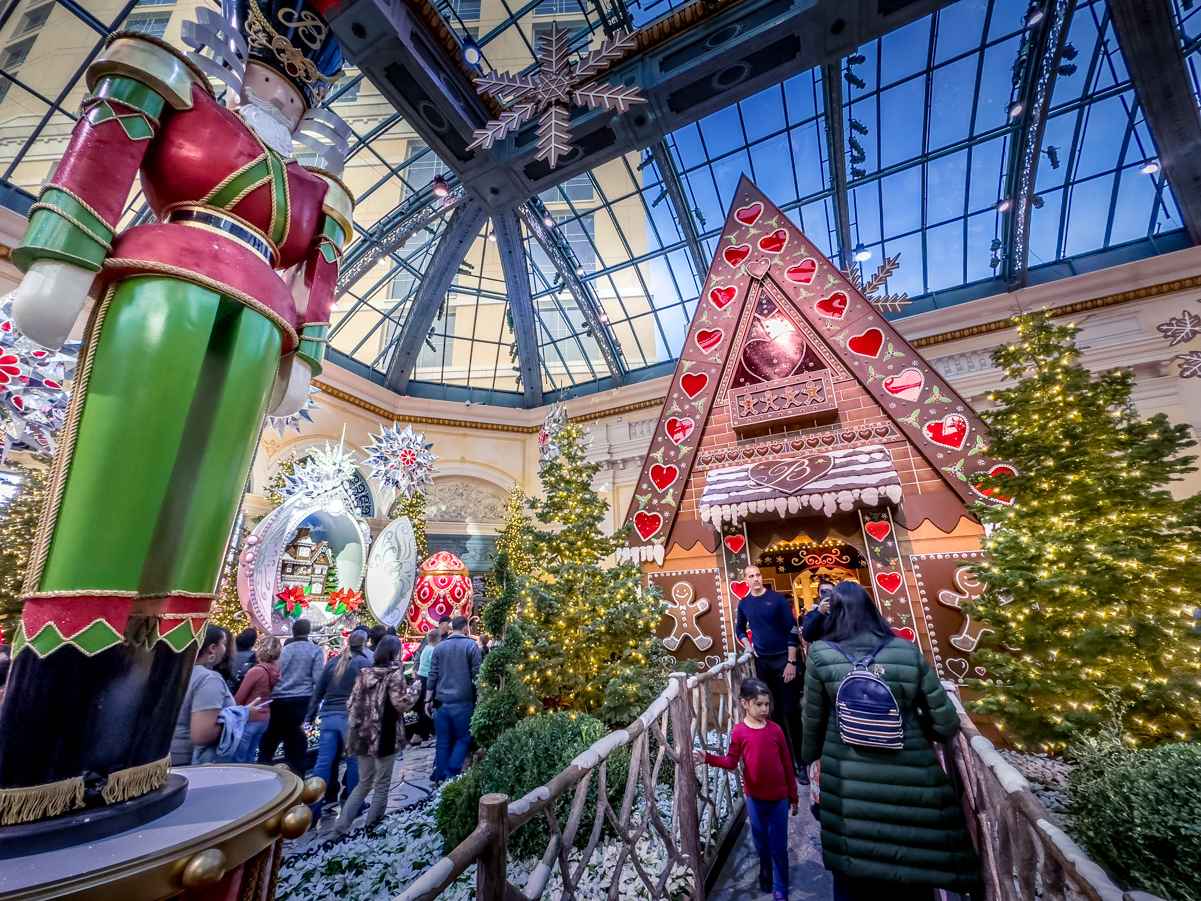 Now let's take a look at the large gingerbread cottage in this year's display. The structure is 25 ft. tall by 18 ft. wide and is covered in icing, cookies, and candies. Let's take a look inside….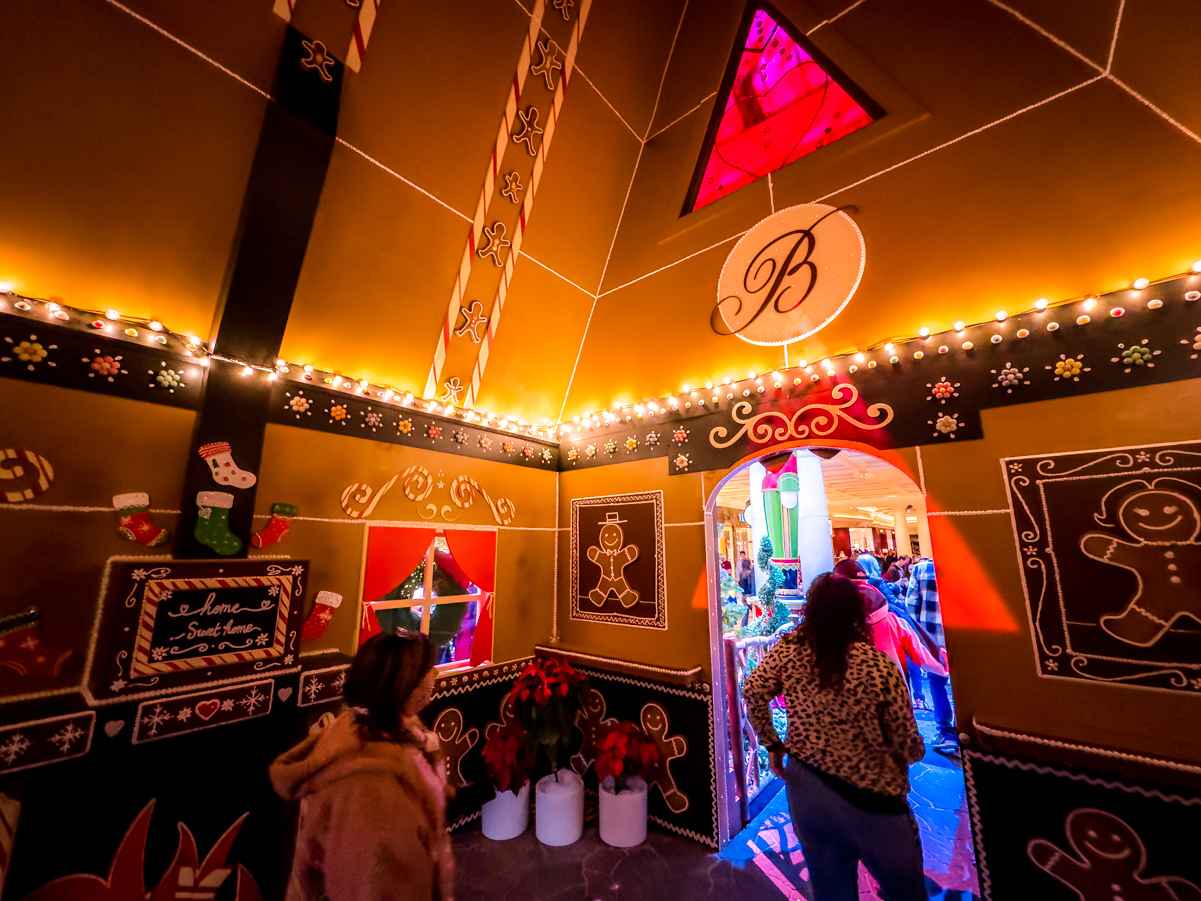 Inside the cottage is the home of a gingerbread family, complete with a stove and family portraits on the wall.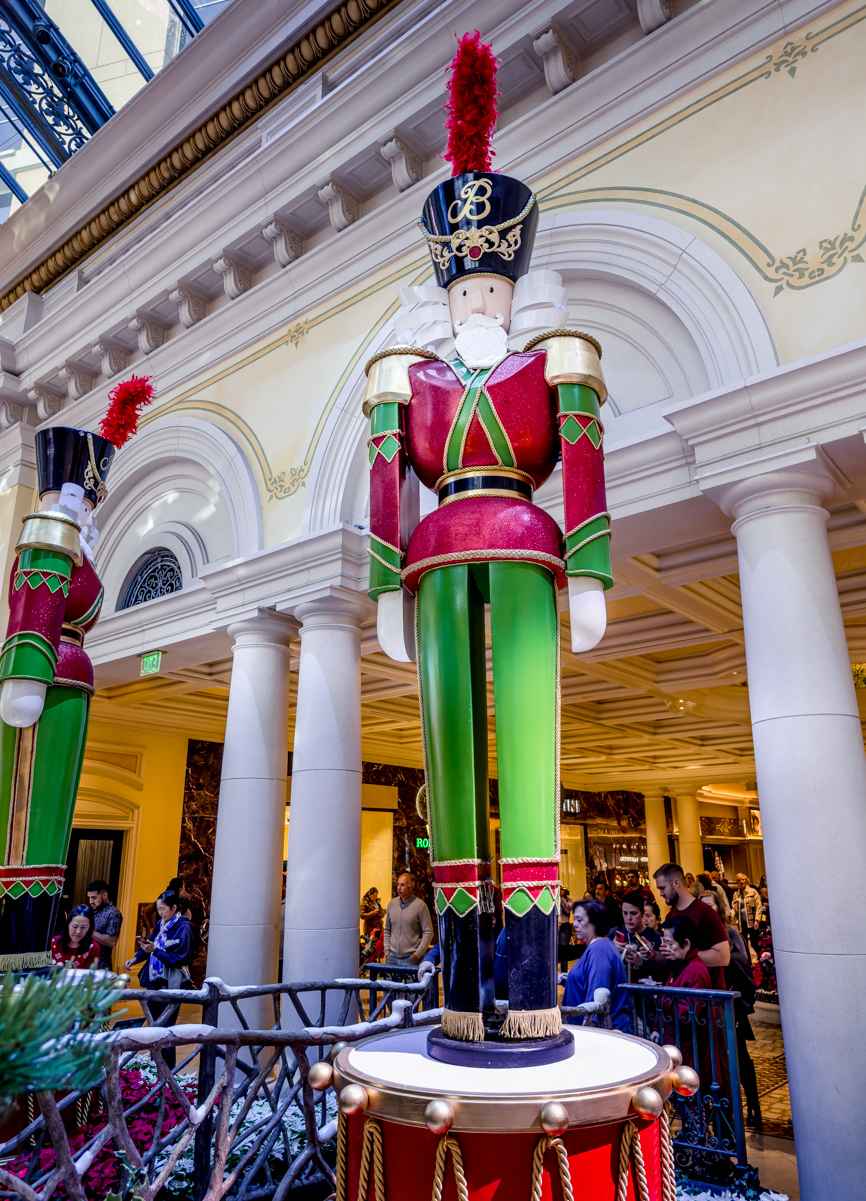 Outside the cottage, you'll find four nutcrackers standing guard. Each nutcracker is 14 feet tall and spins slowly around on its pedestal. These holiday figures have historically symbolized good luck and are sharing their holiday magic with all who visit.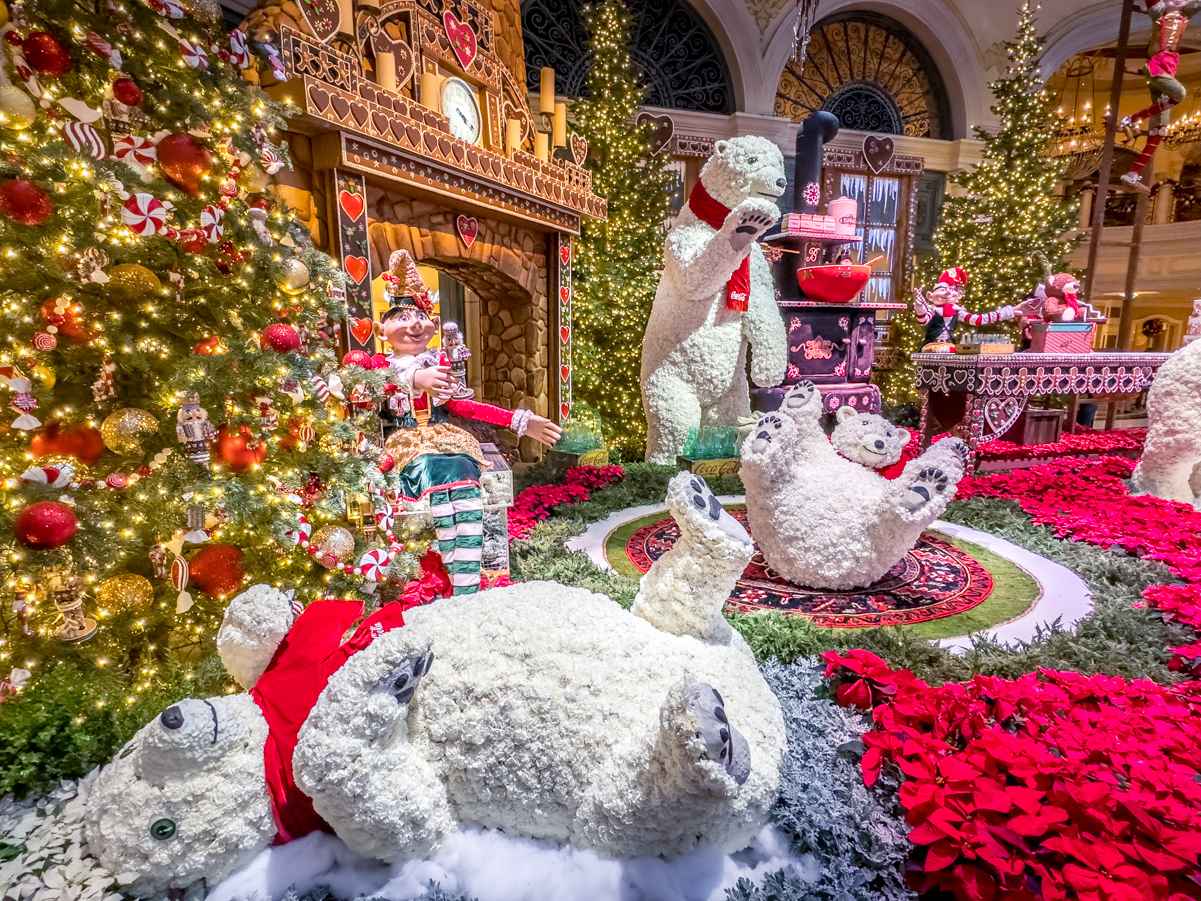 One of the most popular displays at the Bellagio each year is the frolicking Coca-Cola bears.
The Coca-Cola bears show up in every Bellagio Conservatory Christmas display, but they are different each year.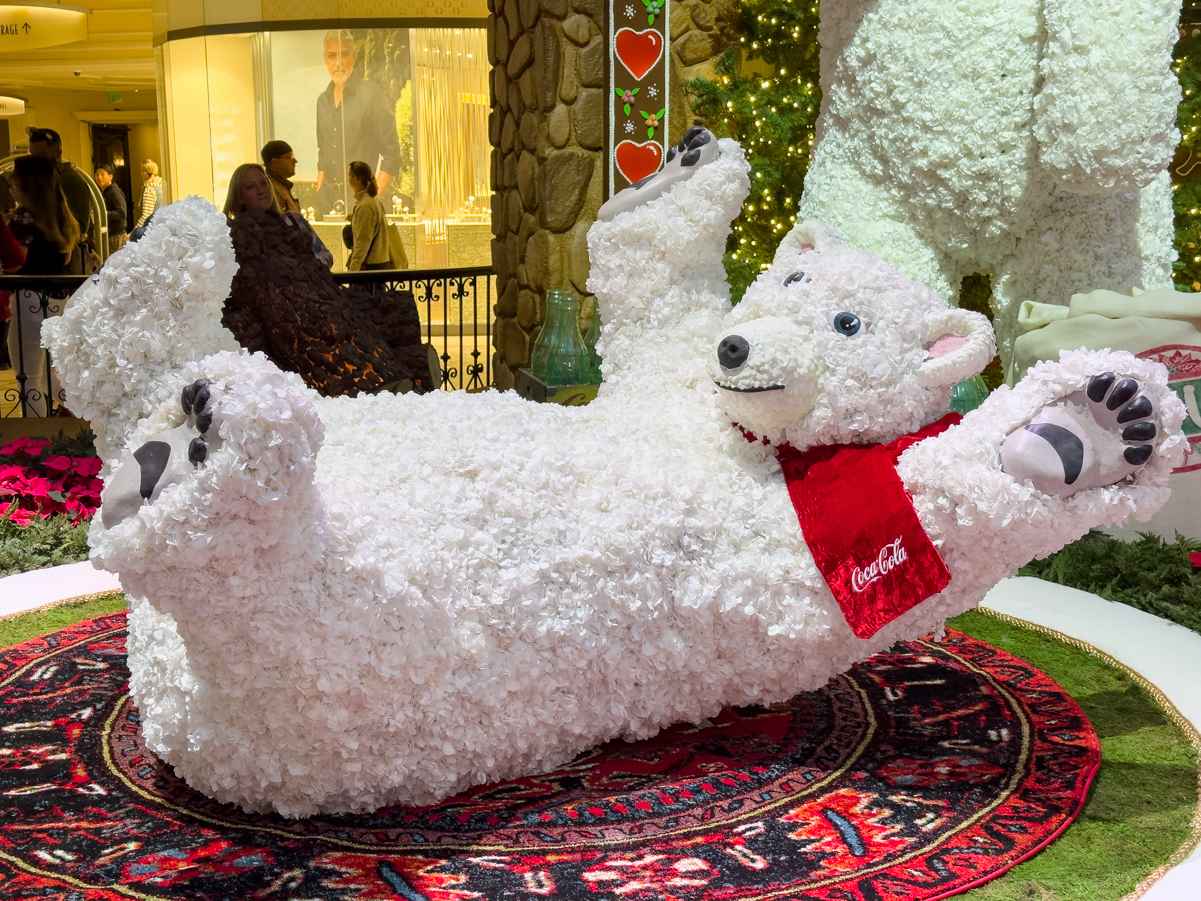 The bears are created by hand-placing hundreds of white carnations. These playful polar bears are always a hit with kids and adults alike.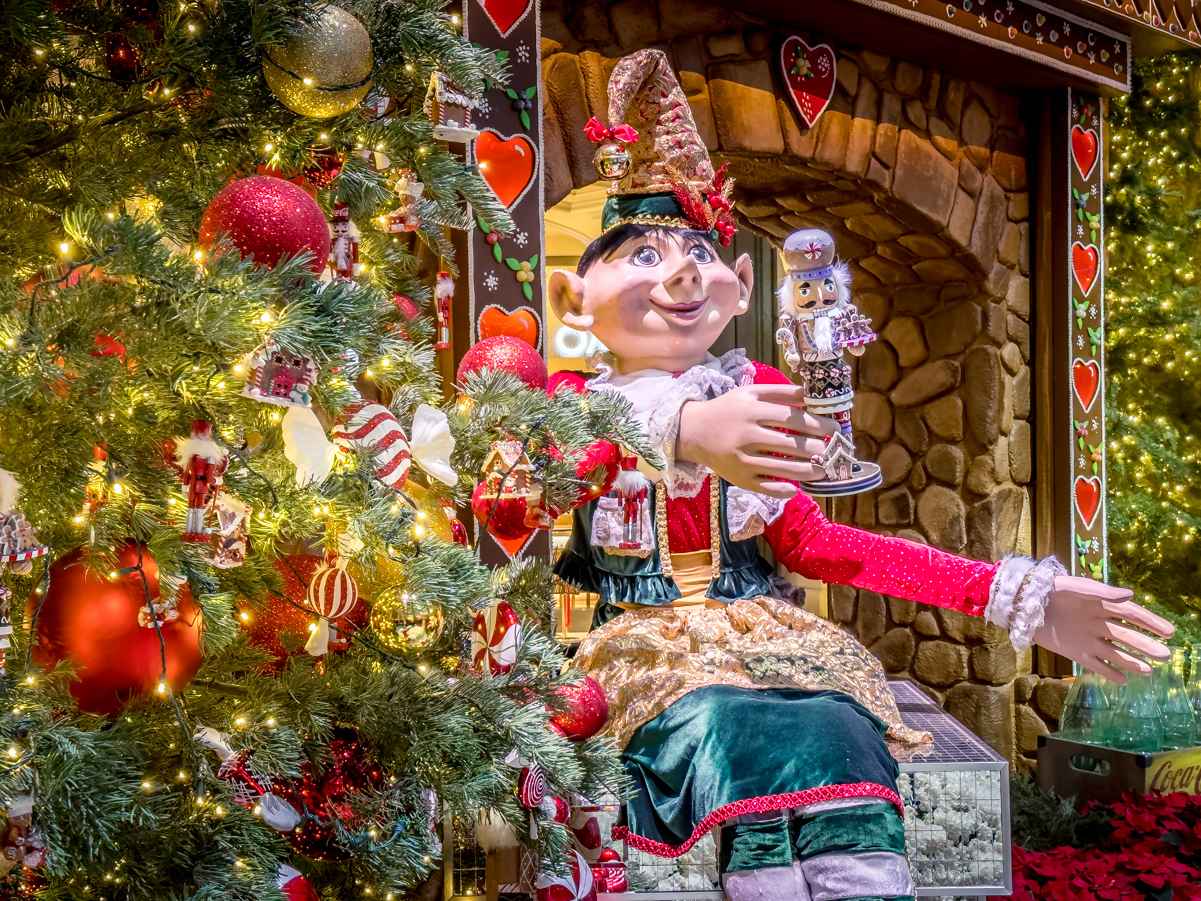 Along with the polar bears, you'll find six happy Bellagio elves baking gingerbread goodies in their wood-burning stove.
The bear and elves display is called Gingerbread Dreams. The gingerbread kitchen is decorated with over 1,000 gingerbread cookies, 4,000 peppermints and gum drops, 500 chocolate hearts, and 800 pounds of fake frosting.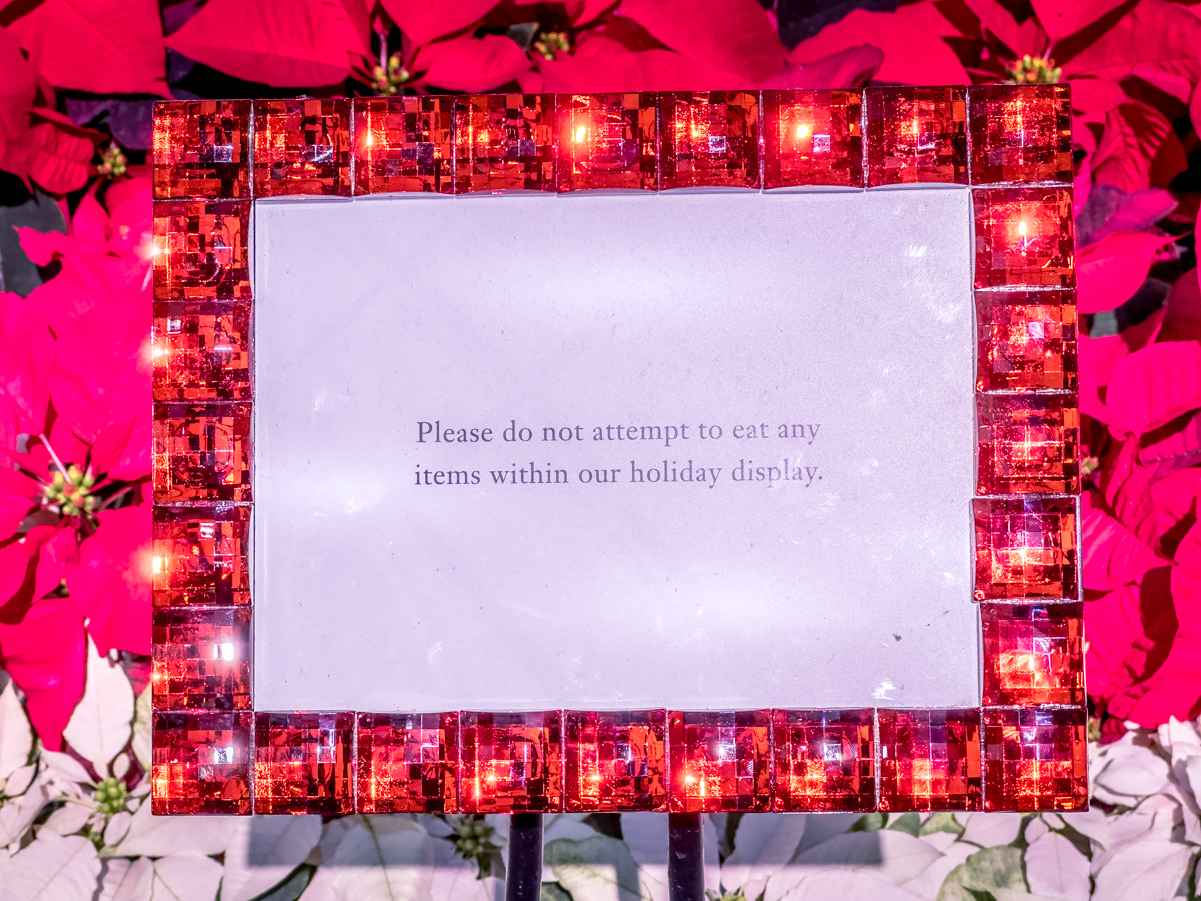 I found this sign next to the display, which reads, "Please do not attempt to eat any items within our holiday display." What do you want to bet people try to eat this stuff? LOL!
Christmas Holidays at The Bellagio Conservatory Hours & Dates
I hope you enjoyed seeing the Bellagio Conservatory's winter holiday and Christmas display for 2022. The winter display at Bellagio is open 24 hours a day and is scheduled to run until January 7, 2023. If you have the opportunity to see it in person, please don't miss it!
Find the best deals on Bellagio rooms and save big with TripAdvisor!
Bellagio Conservatory Christmas FAQs
Is Bellagio decorated for Christmas?
The Bellagio Conservatory has a new Christmas display each year. This year it opens on November 19, 2022, and runs through January 7, 2023. In addition to the conservatory, you will find Christmas decorations located throughout the Bellagio resort.
Is Bellagio Conservatory Christmas free?
There is no cost to visit the annual Christmas display at the Bellagio Conservatory & Botanical Gardens.
How long are the Christmas decorations up at the Bellagio?
Christmas decorations are up in Bellagio Hotel & Casino and the Bellagio Conservatory through January 7th, 2023.