16 Christmassy Things to do in Las Vegas (2022 Holiday Guide)
(This article may contain affiliate links. If you click through and make a purchase, we will receive a small commission at no additional cost to you. )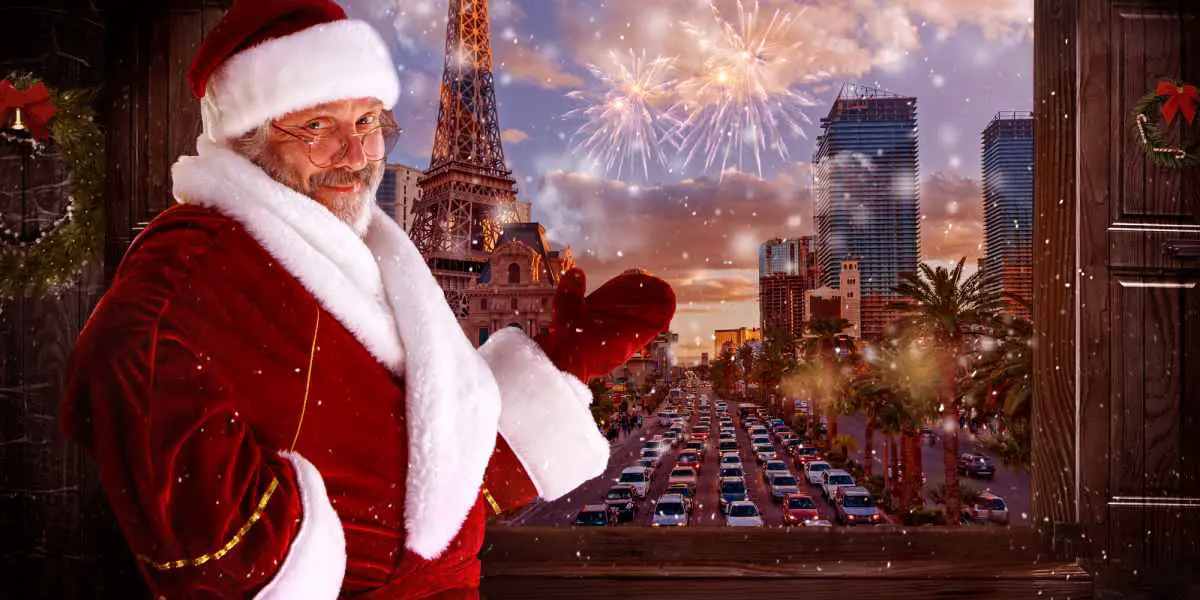 There's no shortage of fun in Las Vegas any time of the year, and even more holly, jolly fun abounds during the holidays!
While visiting Las Vegas during the holiday season, you can enjoy a variety of entertainment options, from great venues and events to live Christmas shows. One of the most famous events in Las Vegas at Christmas time is the Glittering Lights drive-thru a the Las Vegas Motor Speedway. 
Grab your loved ones, head to Las Vegas, and prepare to fill your cup with Christmas cheer this holiday season. If you're planning a winter vacation in Vegas, we've got you covered with our 2022 Las Vegas holiday activity guide!
16 Christmassy Things to Do in Las Vegas in 2022
If you'll be in Las Vegas this holiday season, here are our 16 top Christmas-themed things to do while you're here:
1. Glittering Lights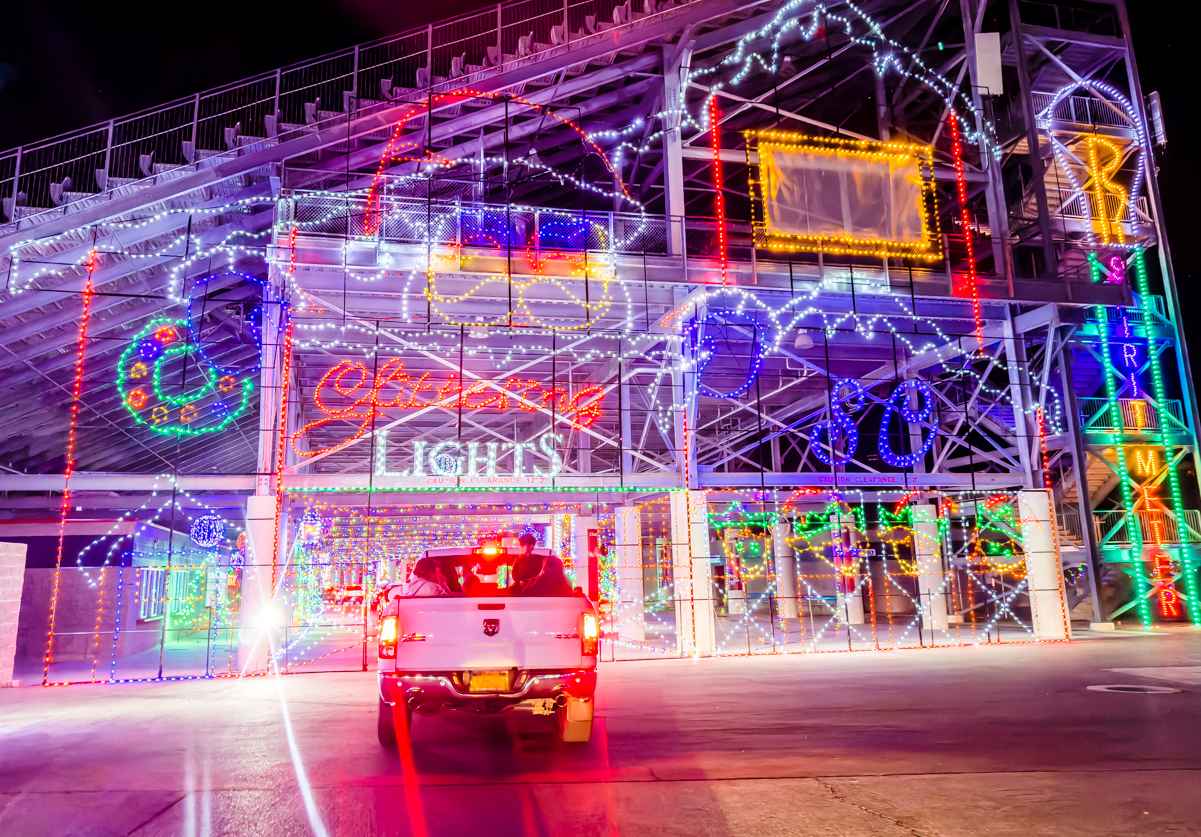 If you're looking to be dazzled, you cannot miss the largest Christmas lights drive-thru in the state. Glittering Lights is located at the Las Vegas Motor Speedway, you'll find more than five million lights and 170 lit-up trees. There's even a living nativity scene you can find along the 2.5 mile route. 
A portion of each ticket sale goes to support local children's charities in southern Nevada- so you can share in the Christmas cheer by helping a good cause. 
Glittering Lights officially opens on November 10th, 2022, and runs from 4:45 pm to 9 pm from Sunday to Thursday nights. On Fridays and Saturdays, the show continues until 10 pm.
 → Get your tickets for Glittering Lights here
2. Aria's Winter Wonderland Display (The North Star)
For some, nothing says Christmas quite like a display of sweet treats. Let your eyes go wide and your mouth water as you look at Aria's Winter Wonderland. Every winter holiday season, it's a new show made entirely of edible goodies! 
This year the holiday display is called The North Star at Aria. The star itself was created in collaboration with local artist Andrea Eppolito, but you'll find the real holiday magic in the goodies displayed below the star.
At first glance, it looks like a standard Christmas display. Upon closer inspection, however, you'll discover that each display element has been crafted by ARIA's pastry chefs. You'll find madeleines and cream puffs, plus each of the tree's flowers has been fashioned from rice paper. The gift boxes are hand painted, and there are over 100 feet of sugar ribbons.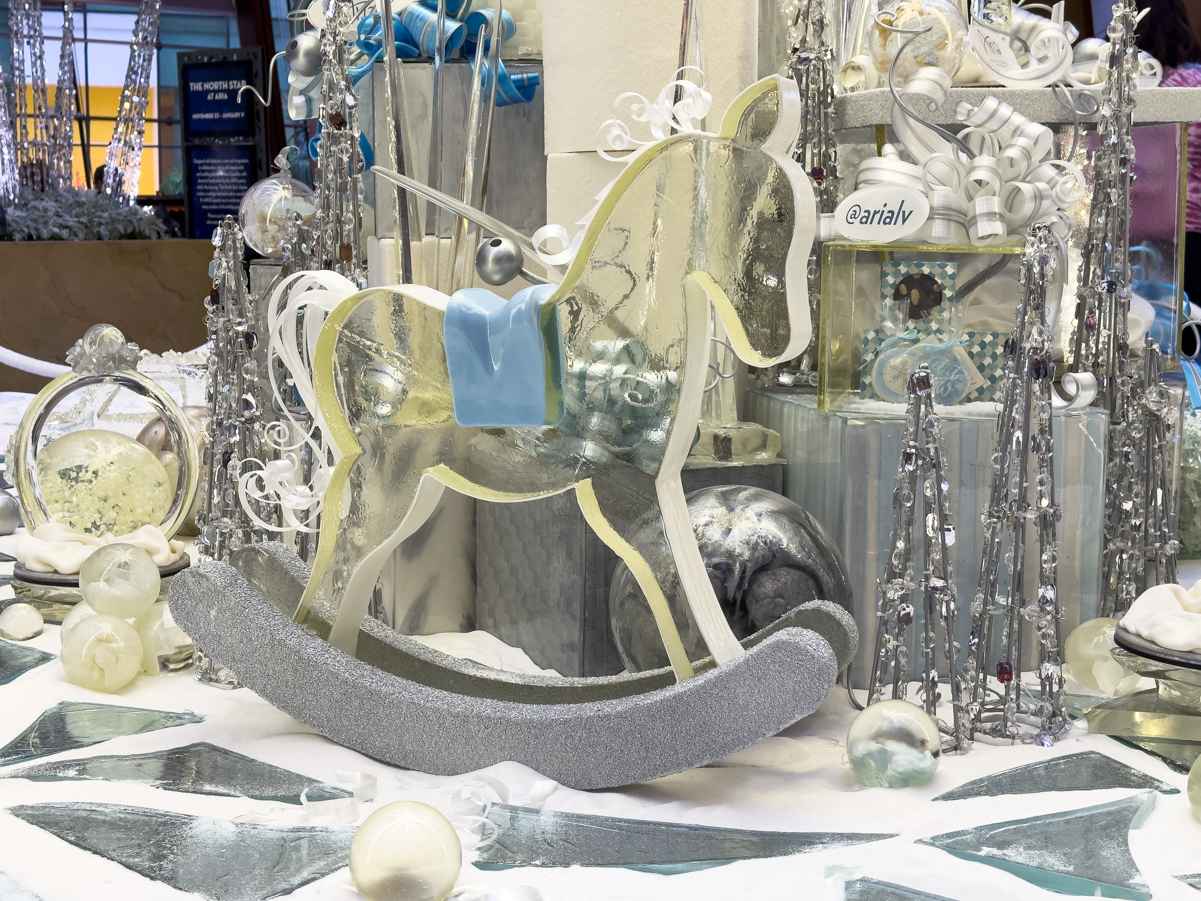 It took six pastry chefs over two months to create all of the goodies in the ARIA Christmas display.
The best part of it all? There is no entry fee! So even if you are not staying at the Aria Resort & Casino, it's worth a trip to see this masterpiece that takes around 200 hours to complete. The display is open 24 hours a day in the hotel's main lobby from the end of November until January 9th. 
3. Bellagio Conservatory's Winter & Holiday Display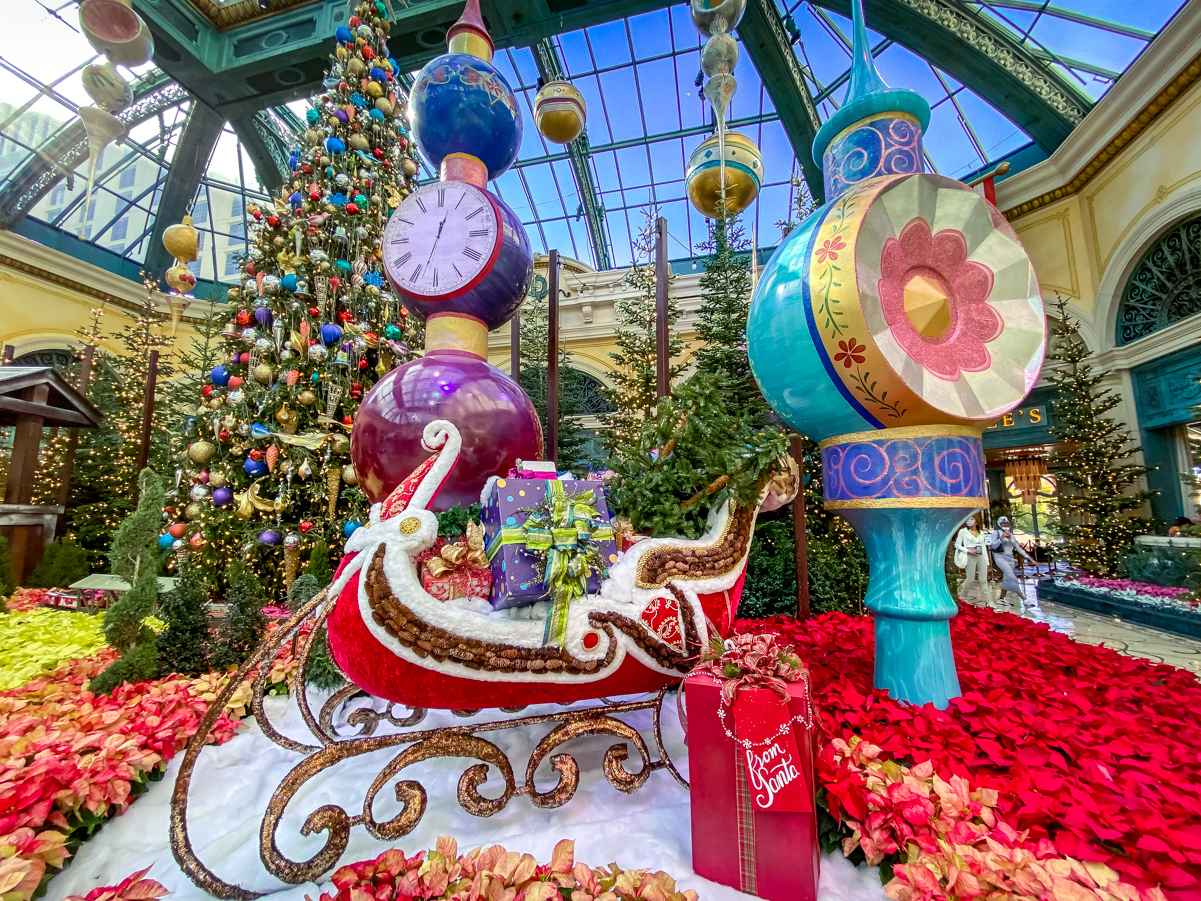 Starting on December 1st and continuing throughout the entire Christmas season, the Bellagio goes all out to create the most stunning Christmas display possible- even the Grinch's heart will fill to overflowing!
This must-see Christmas and winter delight in the Bellagio Conservatory has all the classic staples, including a 42-foot live Christmas tree and a huge snow globe. You'll also find penguins, a ten-foot train made from thousands of red and white roses, and playful polar bears made from white carnations.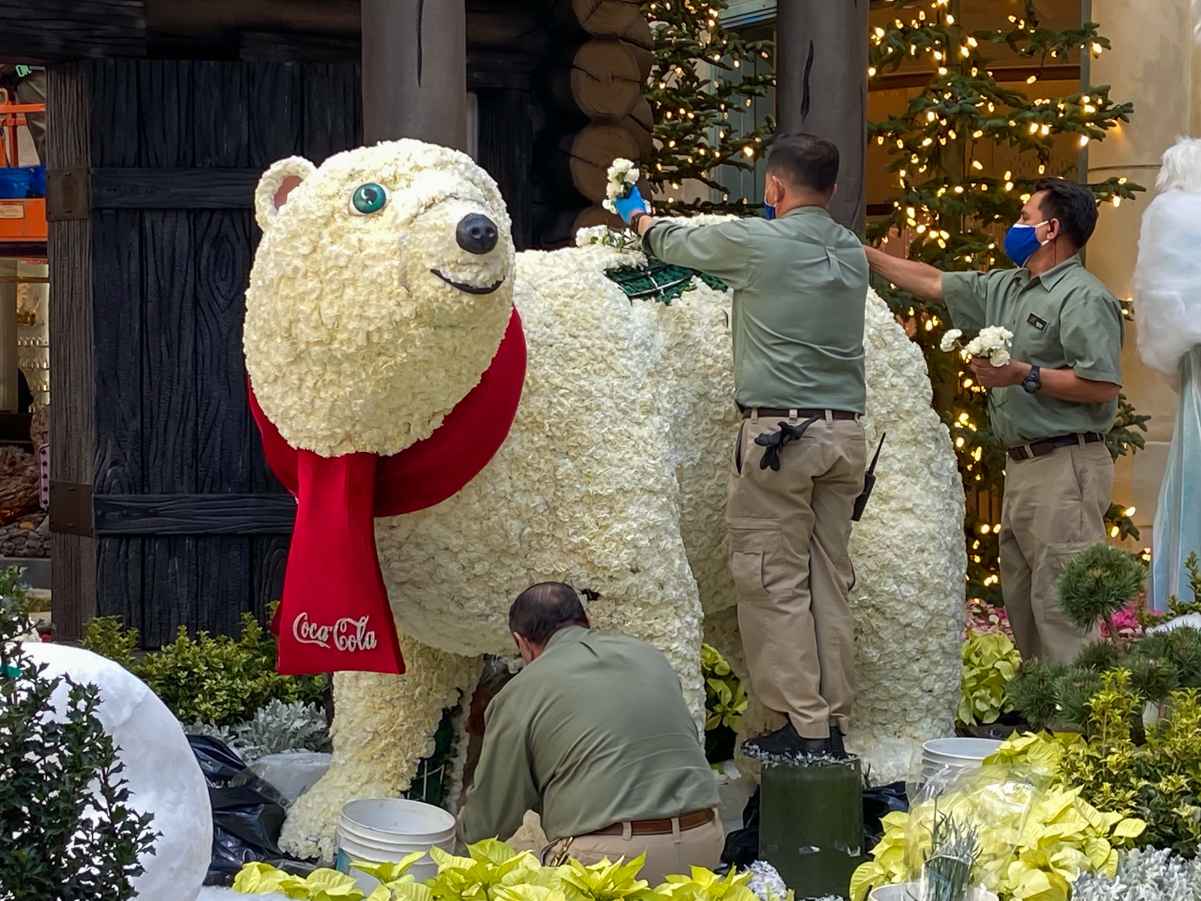 If this wintry wonderland still leaves you wanting more, head over to the Bellagio Fountains to see the choreographed water dance along to classic holiday songs. 
You can find the seasonal Bellagio Conservatory schedule right here.
4. The Cosmopolitan: The Ice Rink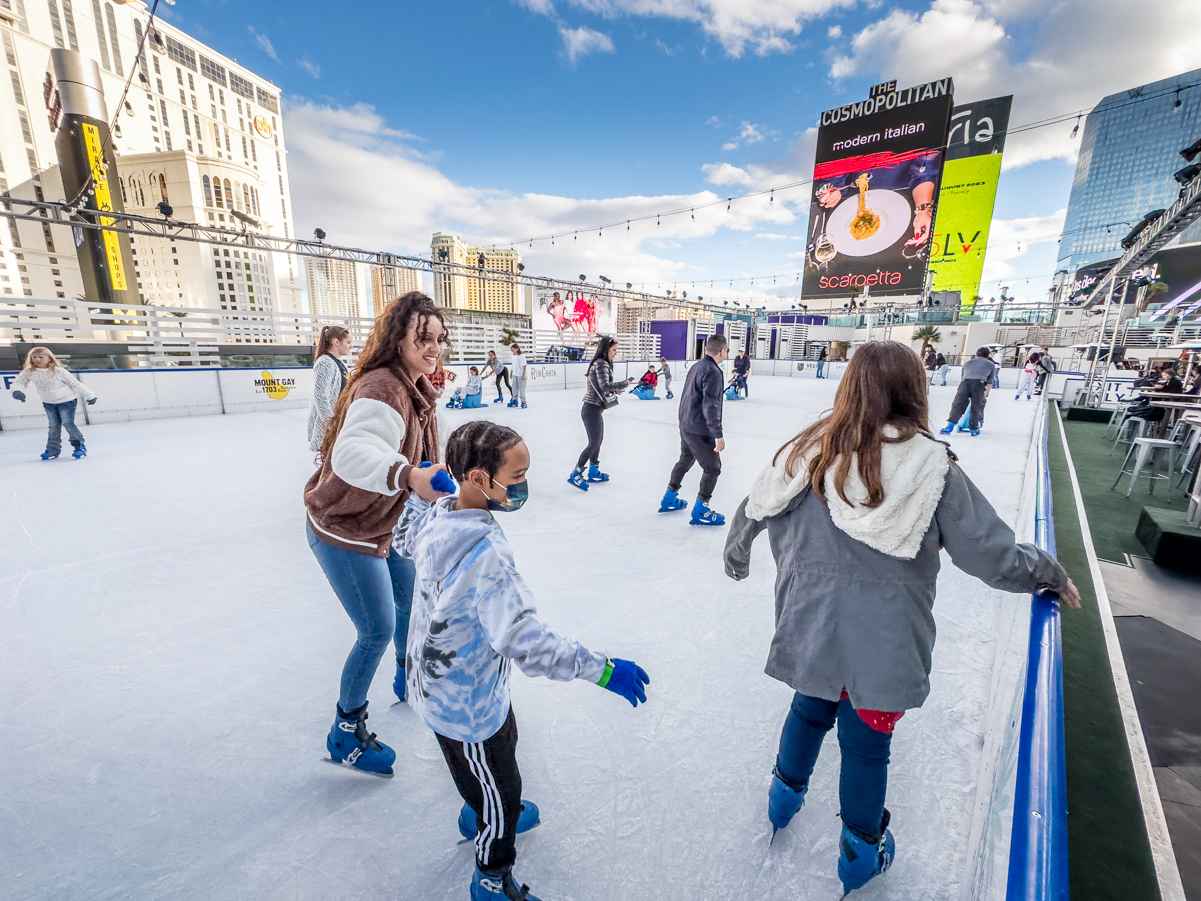 The Ice Rink at The Cosmopolitan of Las Vegas has it all for the perfect evening of classic winter fun. Enjoy the rooftop ice rink, hot adult beverages, fire pits, and traditional holiday magic. 
There are over 4000 square feet of real ice for skating on while gentle snowflakes cascade around you throughout the night. If you don't want to skate all evening, you can head to the fire pits to roast smores and watch your favorite holiday movies. The fun doesn't have to stop there, either!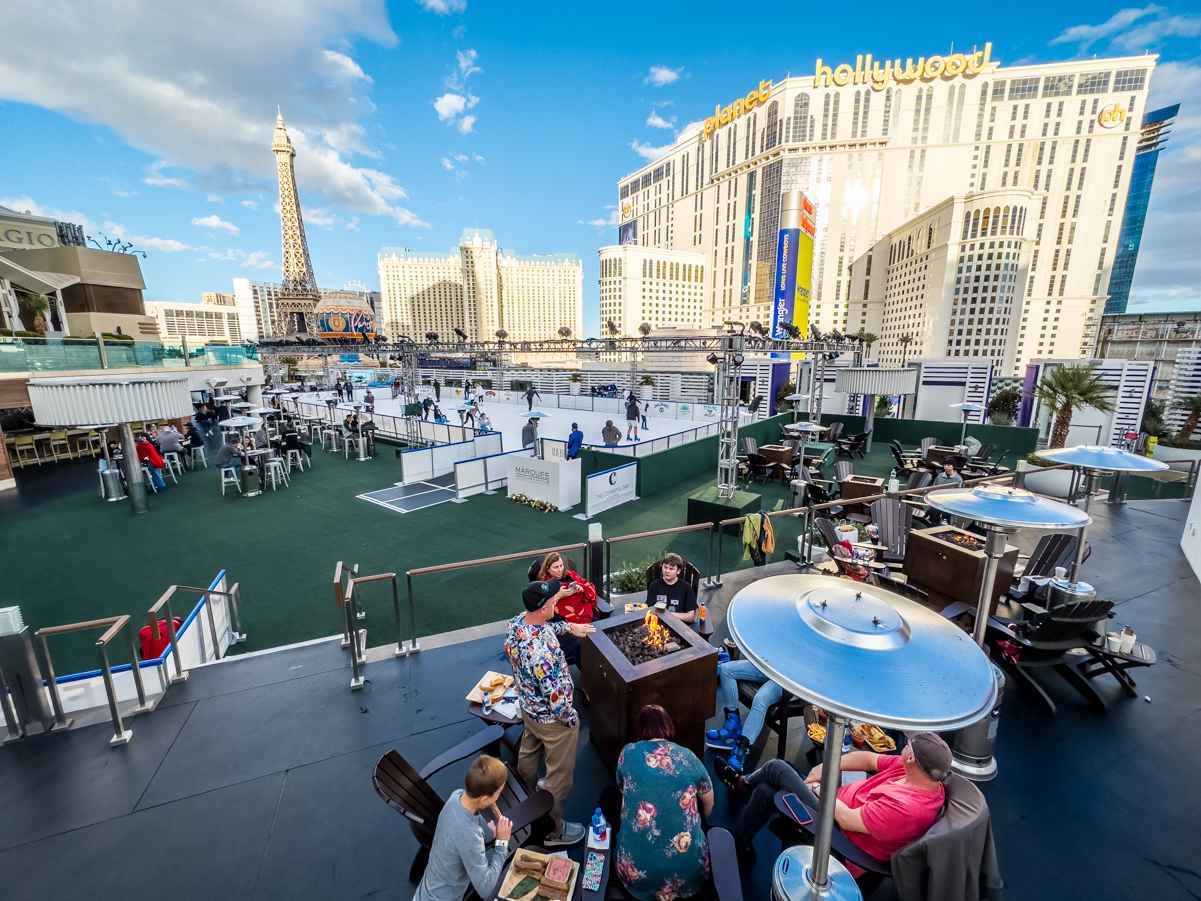 Ice Rink Hours at The Cosmopolitan
The hours at Cosmopolitan's ice rink are as follows:
November 15 – December 18: 4 – 11 PM (Weekdays) 12 – 11 PM (Saturday & Sunday)
December 19 – January 2: 12 PM – 11 PM (Every day of the week)
Entrance to the area around the rink is free, and ice skate rentals run between $20 and $30. 
5. Ethel M Chocolate Factory Cactus Garden Christmas Lights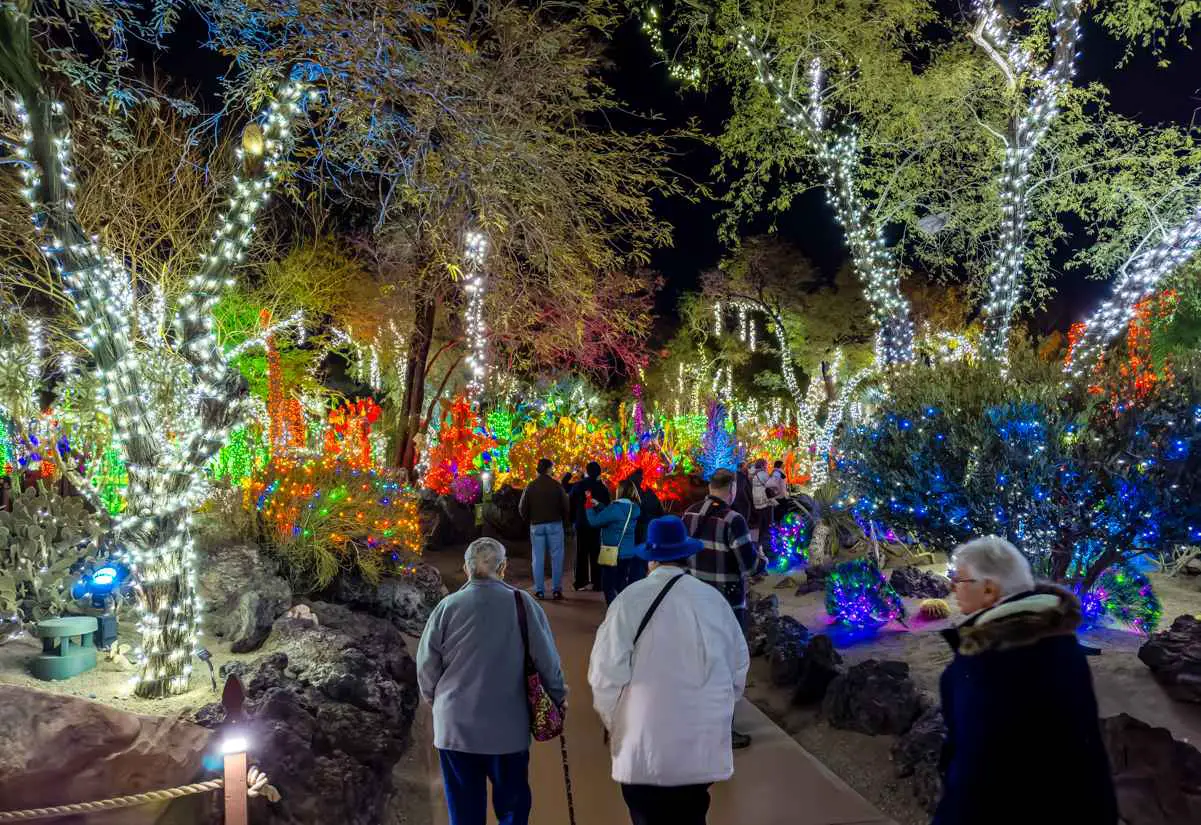 What's more Christmassy in the desert than a garden full of cacti dressed up in their holiday finest? You'll find a three-acre cactus garden covered in glittery Christmas delight at the Ethel M Chocolate Factory. 
With half a million lights, animatronic reindeer, and more covering this outdoor desert garden, there's no shortage of things to see. You can even explore and learn about more than 300 types of cactus, including spotted aloe and Texas prickly pears. 
The best part of it all is that admission into this cacti wonderland is completely free! The lights are on from November 5th until January 1st from dusk till 10 pm, so stop in to see this unique Christmas light show. 
Oh, and by the way, Santa is on hand nightly for pictures!
RELATED: Ethel M Christmas Lights: A Must-See Attraction (Photo Gallery)
6. Christmas at Mystic Falls Park
Mystic Falls Park is an indoor nature park at Sam's Town Hotel & Gambling Hall. Year-round you can stroll along the pathways listening to the sound of birds and enjoying the huge waterfall and laser light and animatronic show.
At Christmas time, however, Mystic Falls transforms into a winter wonderland complete with Santa and snow! The holiday decorations are beautiful to behold, and a visit to Mystic Falls at Christmas has become a tradition for many families, mine included!
Mystic Falls is decked out for Christmas starting November 25 and runs through December 23rd. Laser light show times are 6, 8, and 10 p.m. Monday – Thursday and 4, 5, 8, and 10 p.m. Friday – Sunday.
Even better than the show itself, snow starts to fall at the end of every performance! Mystic Falls is completely free to enjoy, and so are the visits with Santa Clause.
7. Enchant Christmas
Are you looking for something more unique than a standard light show? Check out Enchant Christmas at the Vegas Ballpark to enter a shimmering light adventure. 
Santa's missing a reindeer, and it's up to you to enter the stunning light maze to help find him! This world of adventure features over 4 million lights, creating an immersive, breathtaking walkthrough story maze. 
Aside from the maze, you can enjoy the charming village with ice skating, dining, live entertainment, and local artisans selling wares for your holiday shopping list! There's even a play place for children. While visiting, you might see Santa and Mrs. Claus themselves!  
There are two locations of Enchant Christmas in Las Vegas. One is at the Las Vegas Ballpark, which tends to be more popular. The second location is at Resort Worlds Las Vegas. 
8. Holidays at The LINQ Promenade and The Flamingo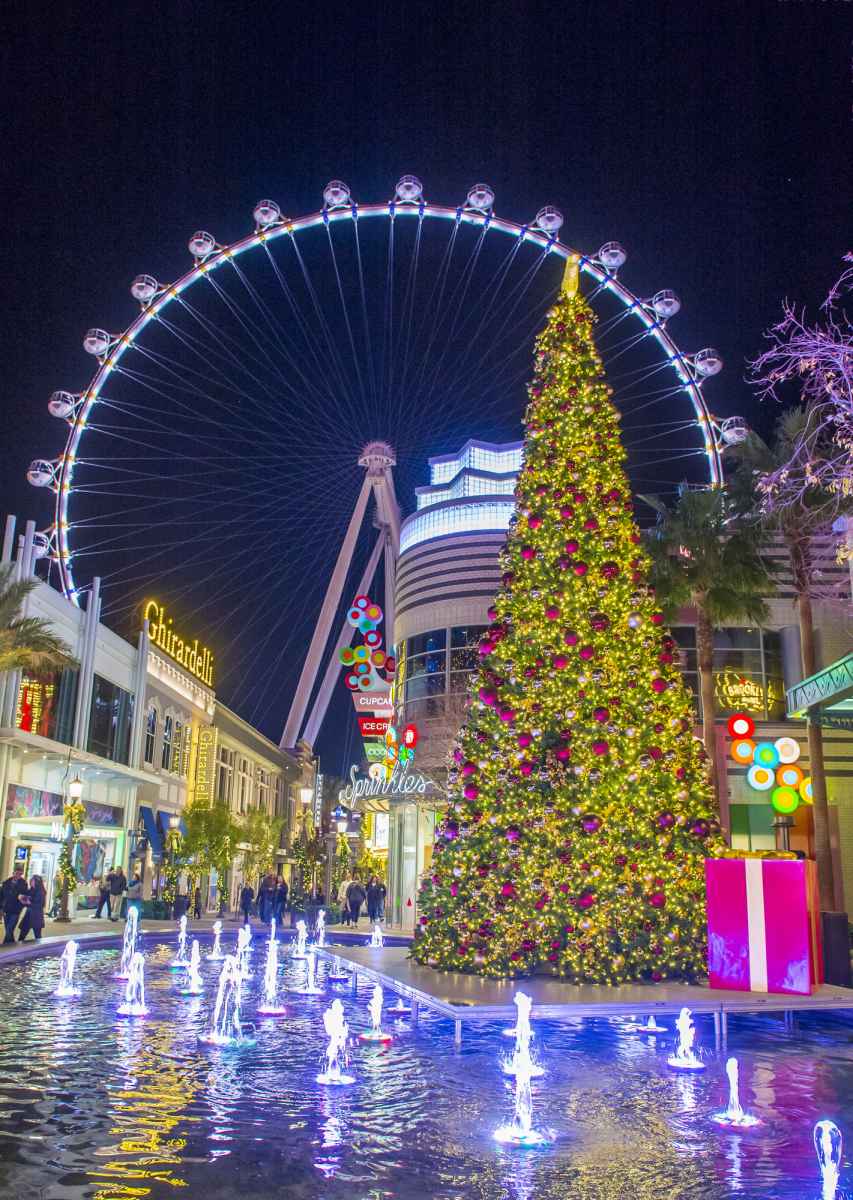 If you're looking for an easy-to-access winter wonderland at the center of the Las Vegas Strip, look no further than the Flamingo and LINQ Promenade. 
These spots do it up holiday style together with sparkling trees and classic holly jolly fun. At Flamingo's Wildlife Habitat, you'll see tons of pink decorations and a giant snow globe. You can also chill out at the firepits with seasonal drinks at the Flamingo Bar. 
At the LINQ Promenade, you'll find dozens of storefronts offering special holiday discounts and tasty treats like Candy Cane Cheesecake!
The best thing about these two side-by-side holiday adventures is that both are free to visit!
9. Blitzen's Antler Attic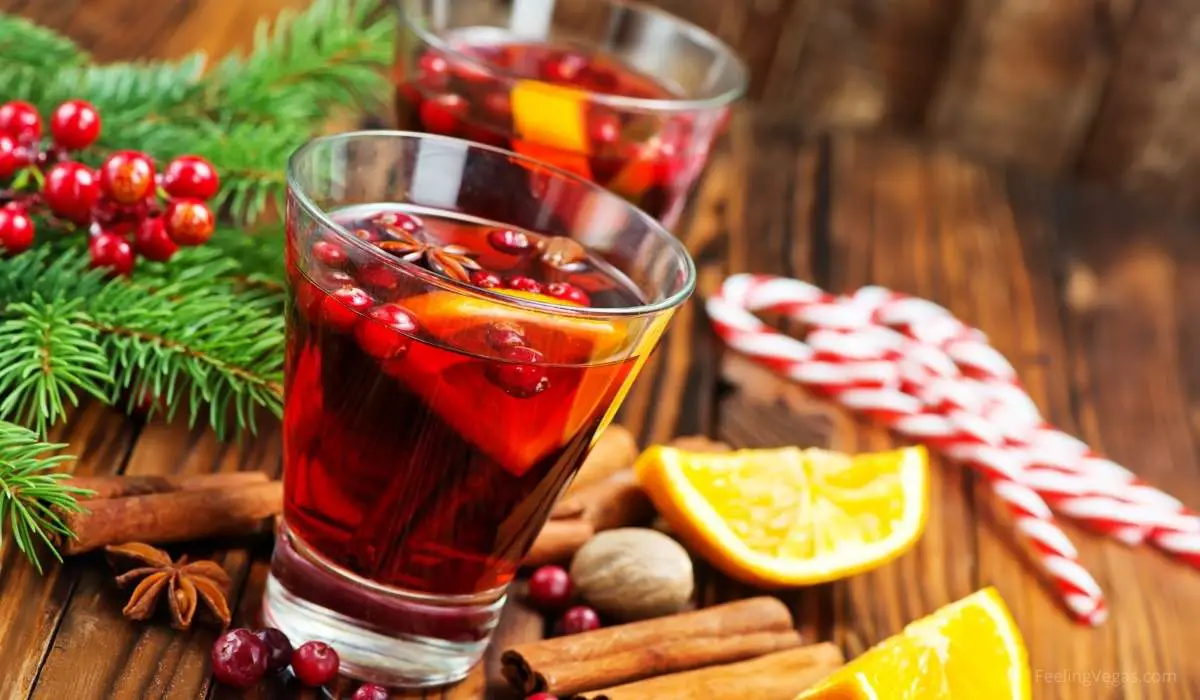 From December 2nd through the 23rd, help Mrs. Claus and the reindeer decorate ornaments to save Christmas at Blitzen's Antler Attic. 
At this pop-up bar, you'll choose an ornament to paint. Someone will lead you to your table, where you'll find an assortment of paints and brushes. While at the table, you can order any of their delicious cocktails and snacks to enjoy while painting!
After painting, you'll let your ornament dry while you enjoy the rest of Blitzen's Antler Attic. There's a complimentary arcade for you to play in, or you can enjoy another yummy cocktail at the Antler Attic lounge. There's even a winter wonderland to walk through. 
If you don't want to miss this fun pop-up experience, book a ticket ahead of time!
10. Magical Forest at Opportunity Village
There's a little something magical for everyone at Magical Forest. You can visit Santa, catch a ride on the enchanted carousel, board their iconic train to view the lights and sites, or get in some holiday shopping! 
If you're brave enough, you can even try racing down the 50-foot Avalanche Slide with your family or friends. If thrills aren't your thing, just walking around the beautifully lit village is enough to take your breath away!
The best part of Magical Forest is that every single dollar spent there goes towards supporting services and programs for 3,000 people with disabilities at Opportunity Village. While you're warming yourself with a delicious cup of hot cocoa, you're also warming your heart by helping others.
Fun Fact: The Magical Forest was originally started by a local family in their backyard many years ago and was so popular that it grew into the annual event at Opportunity Village.
11. Santa's Experience
What vacation is complete without photo ops? At Santa's Experience, you can take advantage of over two dozen Christmas-themed photo spots, helping you to capture the fun and memories to take home. 
The experience is 100% kid-friendly and intended for kids of all ages- so unlock the kid inside you and have some fun! At the end of the trail, you'll meet Mr. Clause himself and have an opportunity to take a picture with him. 
The venue is open daily from November 26th until January 2nd, so stop in. Kids 10 and younger are $10, and adults are $20. The ticket price includes entry to all the photo ops, an exclusive meeting with Santa, and free treats. 
12. Catch a Terry Fator Christmas Show
If you're looking for a night of laughs in Vegas, you must see a Terry Fator show. Terry Fator is a triple threat- stand-up comedian, ventriloquist, and singer. During the 2022 holiday season, he'll bring back his Christmas-themed live show, "A Very Terry Christmas." 
The show celebrates the joy of the holidays by showcasing Terry's unique talents. These talents are brought to life by his puppet friends with their celebrity impersonations of classic songs like "Winter Wonderland" and "White Christmas." You'll even learn about Terry's new holiday idea, "Juana," which is sure to make you laugh. 
13. Here Kitty Kitty Vice Den Speakeasy
The Here Kitty Kitty Vice Den Speakeasy is a hidden gem that's open all year round, but the decor changes seasonally. During the Christmas season, they deck the halls and pull out all the stops at this secret speakeasy. 
Entrance to the speakeasy is hidden at Resorts World behind a shelf at Ms. Meows Mamak stall. You won't need a password to get in. You just have to find the right place. The speakeasy opens at 4:30 pm and closes at 4 am, but plan to go earlier during the evening if you don't want to wait long to get a seat. 
If you're looking for a chill place to enjoy Christmas decorations with unique, delicious cocktails, this is the place for you. It also makes for a great first stop on your Christmas in Vegas nighttime journey!
14. Catch an All Motown Show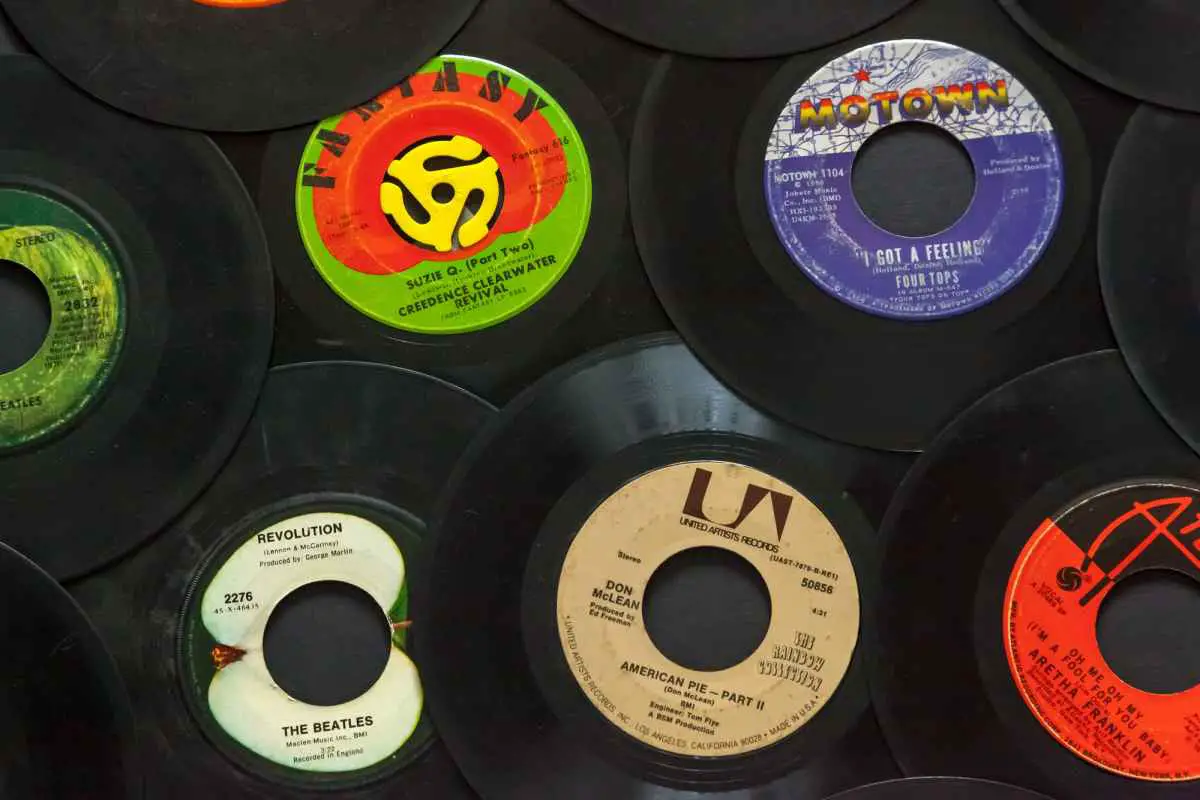 This all-female show features the Duchesses of Motown singing all of Motown's greatest hits, including The Jackson 5, the Marvelettes, The Temptations, and more. This amazing 75-minute show is also kid friendly!
During the All Motown holiday season, you can expect to find favorite Christmas songs sung by the Duchesses in holiday-themed costumes. 
Don't miss out on the amazing performances of these talented women!
15. Dine at Tournament of Kings: "Twas the Knight" Dinner Theatre
"Tournament of Kings" is the longest-running dinner show on the Strip in Vegas. This Christmas season will see the return of their famous holiday show: "Tournament of Kings: Twas the Knight."
You'll get to enjoy all the entertainment that medieval times can offer, plus a delicious three-course meal. The holiday menu will include Cornish Game Hen, fresh corn on the cob, roasted sweet potatoes, a soft baked dinner roll, and a hand-decorated Christmas cookie. Talk about eating like a king!
Twas the Knight runs from November 23rd to December 25th.
16. The Immersive Nutcracker Experience
The same producers of the critically acclaimed Van Gogh Exhibit are taking center stage again for Christmas. While visiting the Immersive Nutcracker Experience, you'll see the classic story of the Nutcracker reimagined and brought to life before your eyes on a majestic scale. 
Breathtaking projections with stunning special effects fill this 500,000 cubic feet holiday experience!
The display runs from November 19th until December 30th, so be sure to book your tickets because you will not want to miss out on this event!
Christmas in Las Vegas – Wrap Up
Whether you're looking for something to do with the family, going out with friends, or on a romantic getaway with your significant other, you'll find something for you in Las Vegas during the holidays. 
Check out great Christmas light displays that will knock your stockings off, enjoy famous holiday-themed live shows, or get in the holly jolly spirit by eating tasty treats, icing skating, or painting ornaments. 
We hope that our list of 16 Christmassy things to do in Las Vegas has helped you chart a course for your best holiday vacation!