Las Vegas Strip Map 2023: (Casino Hotel Map | Printable PDF)
(This article may contain affiliate links. If you click through and make a purchase, we will receive a small commission at no additional cost to you. )
The world-famous Las Vegas Strip is constantly evolving, with new hotels, casinos, and attractions popping up all the time. To help you navigate while you're here, we've created an up-to-date map of the Strip.
Our exclusive 2023 Las Vegas Strip map encompasses every major hotel, casino, and iconic landmark on or near Las Vegas Boulevard, so you won't miss a thing.
Whether you're a first-time visitor or a seasoned Vegas veteran, this user-friendly map is designed to help you plan your trip, locate your favorite properties, and explore the Strip like never before. Get ready to dive into the heart of Las Vegas!
Hotel and Casino Map of Las Vegas Strip | 2023 Printable Hotel Map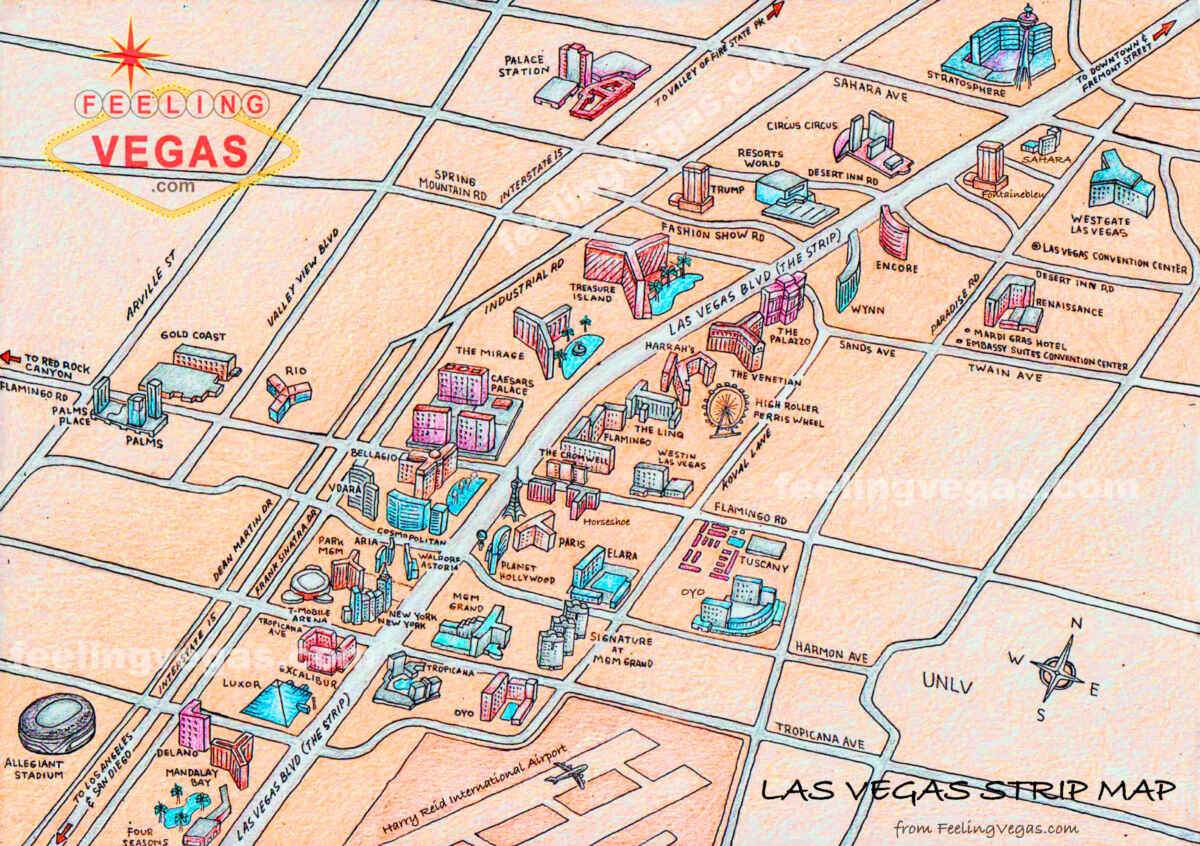 Download the 2023 Las Vegas Strip Hotels Map PDF (904 kb)
Download this Las Vegas hotel map to give you the lay of the land when visiting or planning your Vegas vacation.
Interactive Street Map of The Las Vegas Strip
Click and drag on the interactive Las Vegas strip street map below to find additional points of interest, or select "view larger" to input destinations and get turn-by-turn driving or walking directions from your current location.
Las Vegas Strip Hotels | Casinos on The Map
The Vegas Strip is an energetic, dynamic, and sprawling 4.2-mile stretch of Las Vegas Boulevard, boasting some of the planet's most recognizable hotels and casinos. As you explore our Strip map, you'll find countless landmarks and places of interest, you'll want to see during your visit.
Major Strip Hotels & Casinos
When strolling down the Strip, you can't help but notice the enormous, luxurious hotels that line the street. Below are some of the most famous establishments you'll encounter while visiting:
Bellagio: Known for its dancing fountains and opulent casino, this hotel is a staple of the Vegas experience.
Caesars Palace: A classic, Caesars Palace offers grand architecture, upscale shopping, and a wide variety of entertainment.
MGM Grand: The massive emerald-green building boasts a large gaming floor, an enormous pool complex, and endless dining and entertainment options.
The Venetian: Complete with gondola rides and a replication of Venice's St. Mark's Square, The Venetian provides an unforgettable, romantic atmosphere.
For more information regarding each of these properties and the many others on and near the Strip, here is a table of the hotels featured on our map. Clicking a hotel name will take you to additional information you'll want to know about each place.
Note: The following Vegas Strip (or Strip adjacent) hotel properties found on the map are listed in alphabetical order:
Hotels on the Vegas Strip (or very close by)
Choosing the right hotel in Vegas can be difficult with so many options, but we can help! Check out our article How To Choose a Hotel in Las Vegas. It is the ultimate guide for choosing the perfect spot for your Las Vegas trip.
Compare and save! Check current Las Vegas hotel room rates at TripAdvisor!
Strip Landmarks, Attractions, and Points of Interest
Plenty of sights and attractions will keep you busy on the Strip. Some must-see landmarks include:
High Roller Observation Wheel: Located at The LINQ Promenade, this 550-foot-tall Ferris wheel offers a birds-eye view of the Strip. Learn more…
Fountains of Bellagio: A mesmerizing water show set to music and lights, the Fountains should not be missed. See show schedule...
Volcano at The Mirage: Complete with fire, water, and music, the Volcano at The Mirage erupts nightly for a thrilling spectacle.
The Eiffel Tower Experience: Get a taste of Paris in Vegas with a visit to the half-scale replica of the instantly recognizable tower at Paris Las Vegas.
As you navigate the Strip, consult our map to ensure you make the most of your visit and experience all the best landmarks. The Strip promises an unforgettable adventure no matter what brings you to Las Vegas.
Grab a Discount on Fun Things to Do in Las Vegas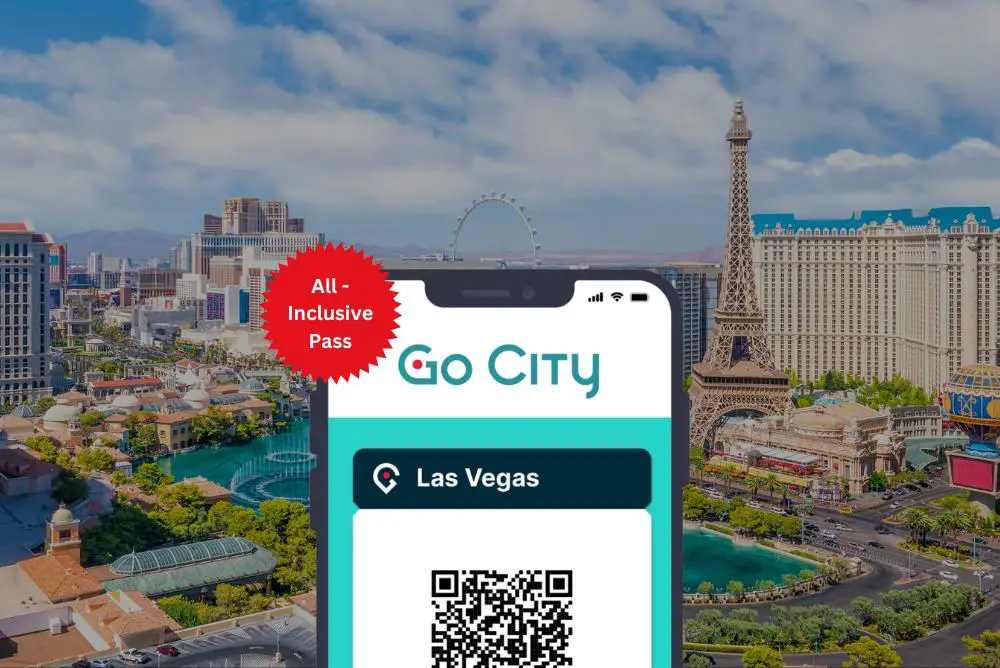 If you're in Las Vegas on vacation, I recommend checking out the Go City Las Vegas pass to experience as many Vegas activities as possible. The pass will save you a ton of money on Las Vegas attractions and shows compared to paying for each individually.
Here are just a few of the highlights you can choose from with the all-inclusive pass:
Strip Helicopter Tour
KA by Cirque du Soleil
Full-Day Grand Canyon National Park Tour
High Roller
Hop-on Hop-off Bus Tour
Blue Man Group Show Tickets
If you plan on seeing the sights while you're here, this pass is for you!
Getting Around on The Strip (Transportation)
Getting around in Las Vegas isn't too difficult. Unlike many cities, where the points of interest are spread all over, Vegas has the majority of its entertainment and resorts centrally located along the few miles of the Strip.
Walking, using the monorail, rideshares, trams, and even the city bus can get you up and down the Strip with ease.
Trams and Monorail (Map)
The Las Vegas Monorail operates along a 3.9-mile elevated system on the east side of Las Vegas Blvd. This convenient service allows you to avoid the busy Strip traffic and arrives at each of the seven stations every four to eight minutes.
The monorail stations include:
MGM Grand
Horseshoe/Paris
Flamingo/Caesars Palace
Harrah's/The LINQ
Boingo Station at LV Convention Center
Westgate
SAHARA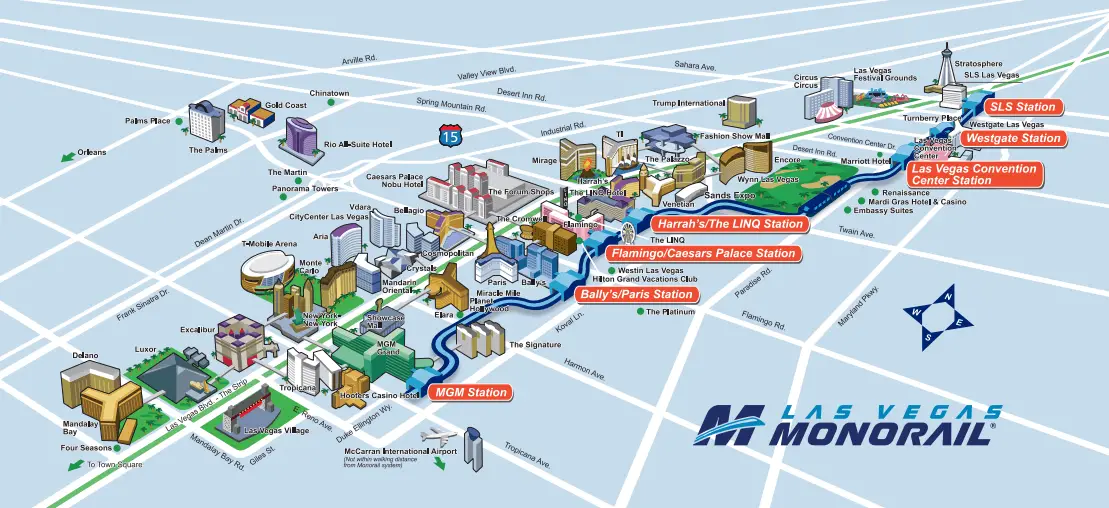 You can download the official map here as a PDF.
Additionally, there are a few free trams connecting hotels on the west side of the Strip. These trams can save you time and energy when traveling between nearby resorts.
Buses and Rideshares
The RTC (The Regional Transportation Commission of Southern Nevada) operates buses up and down the Strip and Downtown Las Vegas. A top option for getting around Las Vegas without spending too much money is the Las Vegas Deuce bus service, which runs 24 hours a day and stops at nearly every major property on the Strip.
Rideshare services like Uber and Lyft are also available, although they can sometimes be expensive and require waiting in long lines at hotels. However, they provide a convenient alternative to taxis. You can request a ride through their respective apps and meet your driver at designated pickup locations.
When planning your trip to Las Vegas, consider using a combination of trams, monorails, buses, and rideshares to navigate the bustling city efficiently.
Walking
Walking, of course, is always an option. The Las Vegas Strip is very pedestrian-friendly. Many of the landmarks are located close enough to each other to make it easy to walk from one place to another. Additionally, sidewalks and pedestrian bridges allow people to safely cross the busy streets.
The Strip is also well-lit at night, making it a popular destination for evening strolls. However, it's important to note that the Strip can get very crowded, especially on weekends and holidays, so visitors should be prepared for large crowds and some congestion.
Every Las Vegas visitor should spend some time walking along the main Strip. We've created a free walking tour and map with 19 must-see destinations. Click the link to check it out!
ALSO RECOMMENDED: How to Get Around Las Vegas Without a Car [The Ultimate Guide]
Dining and Shopping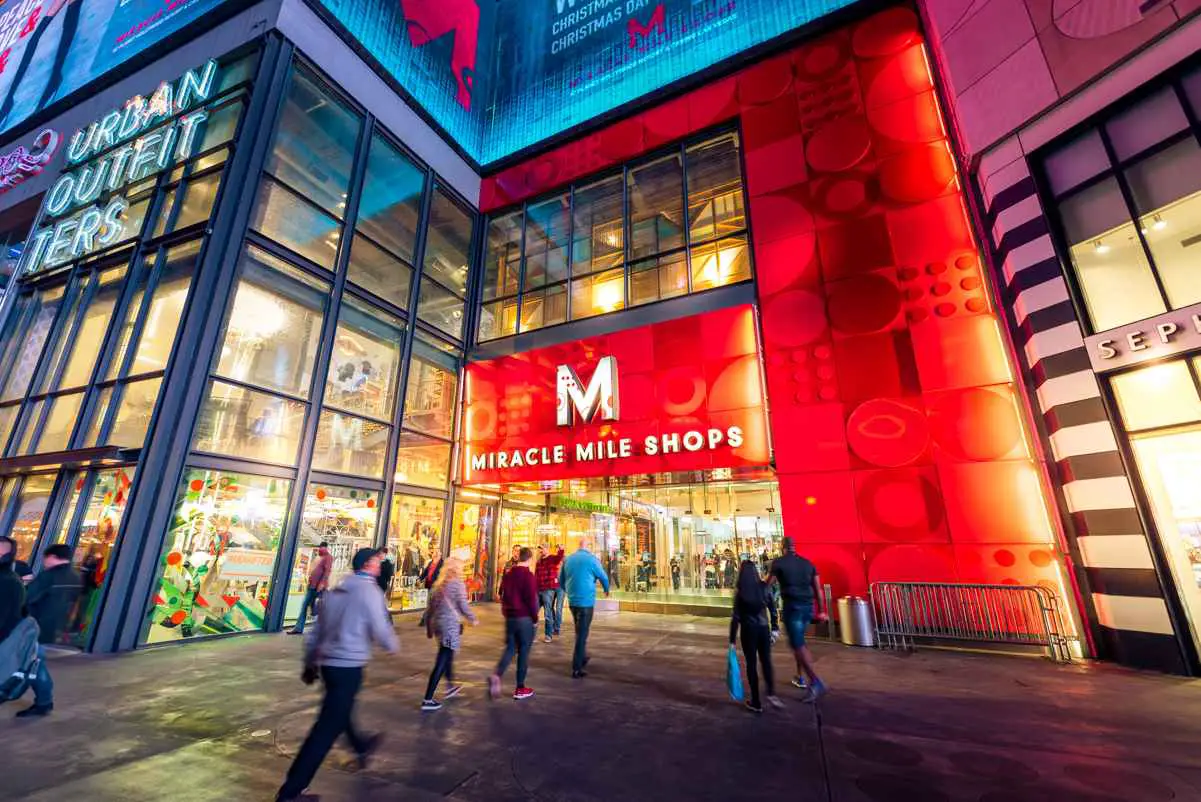 No matter where you stay on the Strip, you're never far from upscale dining and shopping options. Many hotels feature renowned restaurants by celebrity chefs, such as the MGM Grand's array of dining options and The Cosmopolitan's trendy food hall.
Buffets (see a current list of all Las Vegas buffets) are a Las Vegas staple, with options like Wynn's gourmet buffet or Caesars Palace's famous Bacchanal Buffet.
For shopping enthusiasts, destinations like The Shops at Crystals offer high-end retail experiences, while more budget-friendly options can be found at Miracle Mile Shops at Planet Hollywood.
Also, don't miss The LINQ Promenade. It is a lively outdoor spot with unique shops, restaurants, and the iconic High Roller observation wheel.
Vegas Entertainment and Nightlife
The shows and nightlife in Las Vegas are renowned, and you won't want to miss out on either of these experiences.
Shows and Performances
While in Las Vegas, the world of entertainment awaits you. There are numerous shows and performances for you to enjoy during your Vegas vacation. Catch a variety of acts, from Cirque du Soleil performances to comedy shows and concerts.
It is a good idea to plan in advance by purchasing tickets ahead of time, as popular shows tend to sell out.
Be sure to see the list of Las Vegas's most popular shows at Vegas.com.
Bars and Nightclubs
There is no better way to experience Las Vegas nightlife than visiting one or more of our popular bars and nightclubs. The city comes to life after dark, with countless venues offering innovative cocktails, energetic dance floors, and star-studded DJ lineups.
Every hotel on the Strip has its own assortment of clubs, bars, and lounges.
For a truly upscale club experience, try visiting Omnia at Caesars. It's one of the Strip's premier nightclubs. You may also want to check out the bars and lounges at ARIA Resort for a truly unforgettable experience.
Check Out The Las Vegas Live Strip Cam! (Streaming Now)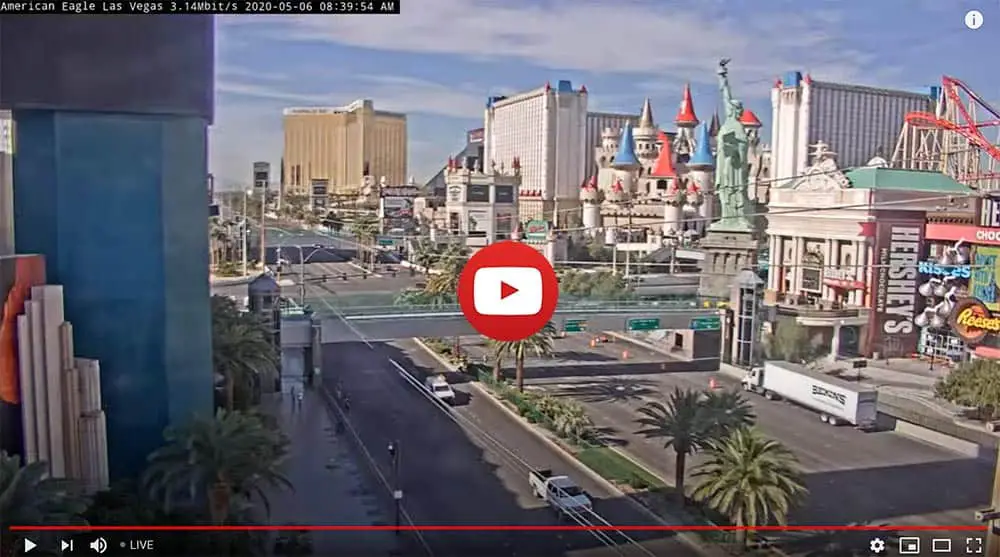 If you want to see what's happening on the Strip right now, check out our live camera street views of the Las Vegas Strip! These live cameras are streaming 24/7.
It's a nice way to visit Sin City even when you're not in town.
Downtown Las Vegas Map
Downtown Las Vegas, located a few miles from the Strip, serves up plenty of fun, history, and vintage Vegas vibes.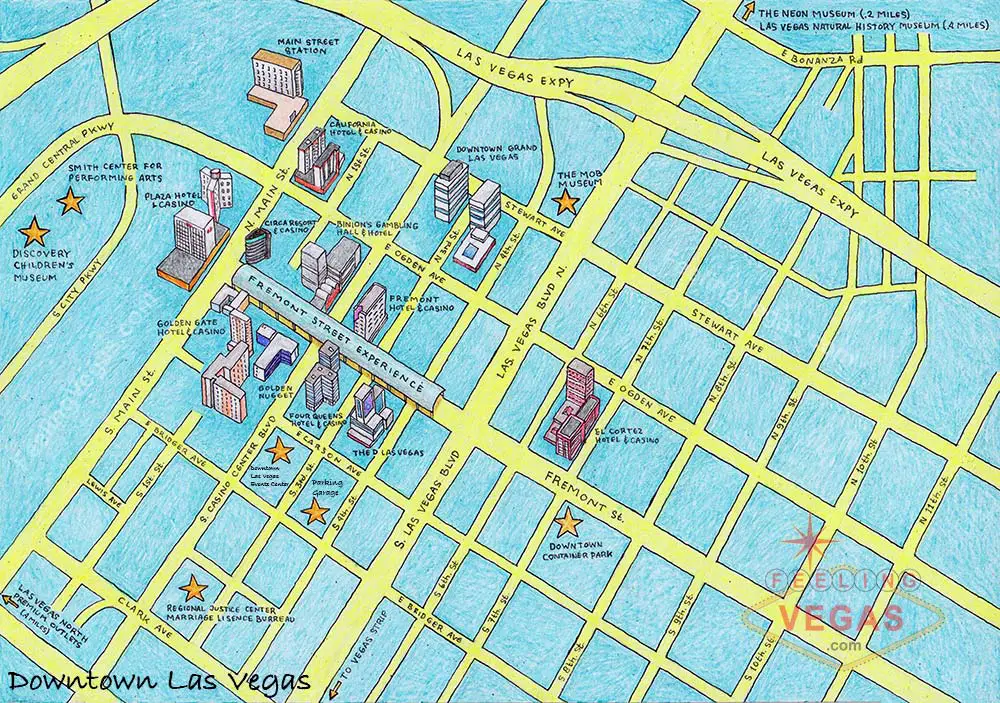 Downtown offers a more laid-back, nostalgic experience compared to the bustling Strip. You can download the above map of downtown Vegas right here on our website.
Fremont Street Experience
The highlight in this part of Vegas is the Fremont Street Experience, a pedestrian zone lined with iconic places to play, shop, and eat. Here, you'll also find the massive LED canopy, Viva Vision, which hosts impressive light shows every night of the week.
While navigating Fremont St. keep an eye out for the following popular spots:
Golden Nugget: Home to the largest gold nugget on display anywhere in the world.
SlotZilla: A thrilling zipline ride flying over the entire covered pedestrian street. You can learn more about all the ziplines in Vegas in our post here.
Circa: The newest major development downtown.
Downtown Hotel Options
Downtown provides various lodging options catering to both budget and luxury travelers.
Some noteworthy hotel options include:
Golden Gate: The oldest gambling hall in Las Vegas, this historic spot retains much of its original charm.
The D Las Vegas: A contemporary, upscale property located in the heart of downtown, perfect for relaxation and entertainment.
El Cortez: A classic property offering an authentic Las Vegas experience.
Remember, no matter where you stay, having a map of the Las Vegas downtown area can help you explore and enjoy your trip to the maximum.
Discover the best rates on Downtown Las Vegas hotels (TripAdvisor)
7 Fun Facts About Sin City:
Over 42 million people visit Las Vegas each year.
The "Strip" is not located in the City of Las Vegas. Seriously! Read more…
There are approximately 150,000 hotel rooms in the Las Vegas Valley.
The Strip is considered to be the brightest spot on the planet due to all the lights. Read more…
Las Vegas is located in the Mojave Desert.
Nevada almost lost its statehood in 1931 due to the legalization of gambling.
The Strip (from Mandalay Bay on the south end to The STRAT on the north end) is 4.2 miles long.
Frequently Asked Questions
What is the Vegas Strip?
The Las Vegas Strip is a 4.2-mile stretch of Las Vegas Boulevard South in Las Vegas, Nevada. It is known for its numerous casinos, hotels, resorts, and entertainment venues.
What are some of the most popular things to do on the Las Vegas Strip?
A few of the most popular features on the Vegas Strip include the High Roller Wheel, the Bellagio Fountains, the Forum Shops, the gondola rides at The Venetian, and Shark Reef Aquarium.
Which hotel should I stay at on the Strip?
Some of the best hotels on the Strip include Bellagio, The Venetian, Wynn Las Vegas, The Cosmopolitan, and Aria.
What are some of the most well-known restaurants in Las Vegas?
Some of the most popular restaurants on the Strip include Joel Robuchon at MGM, Guy Savoy at Caesars Palace, CUT by Wolfgang Puck at The Venetian, and Mizumi at Wynn.
What is the best mode of transportation to get up and down LV Boulevard?
A couple of the best options for getting around the Strip are walking or taking the Las Vegas Monorail. Taxis and rideshare services like Uber and Lyft are also readily available.
What are some of the top shows in Vegas?
Some of the top shows on the Strip include Cirque du Soleil's "O" at the Bellagio, "Awakening" at the Wynn, and "Absinthe" at Caesars.
Should you walk the Vegas Strip?
Walking the Las Vegas Strip is a great way to experience the city and its allures. There are many things to see and do along the Strip, including visiting famed casinos, watching free street performances, exploring unique shops and restaurants, and taking in the stunning architecture of the hotels and resorts.
How long does it take to walk the whole Las Vegas Strip?
Walking non-stop it will take most people around an hour and a half to walk the entire 4.2 miles of the Strip. You can find out more in our article here.