How Long Does It Take to Walk the Whole Vegas Strip? (Answered)
The Las Vegas Strip is one of the most iconic tourist attractions in the world. Every year, millions of tourists flock to Vegas to gamble, shop, and see the sights. One of the best ways to see the Strip is on foot, but how long does it take to walk the whole length of the Strip?
On average, it takes approximately 60-90 minutes to walk the whole 4.2-mile-long Vegas Strip. This assumes that you are walking at a comfortable pace, not making any stops, and the pedestrian traffic is low to moderate. To walk the entire Vegas Strip while stopping to see everything could take days.
In this article, I'll give you an estimated walking time for the whole Strip and tips on making the most of your trip.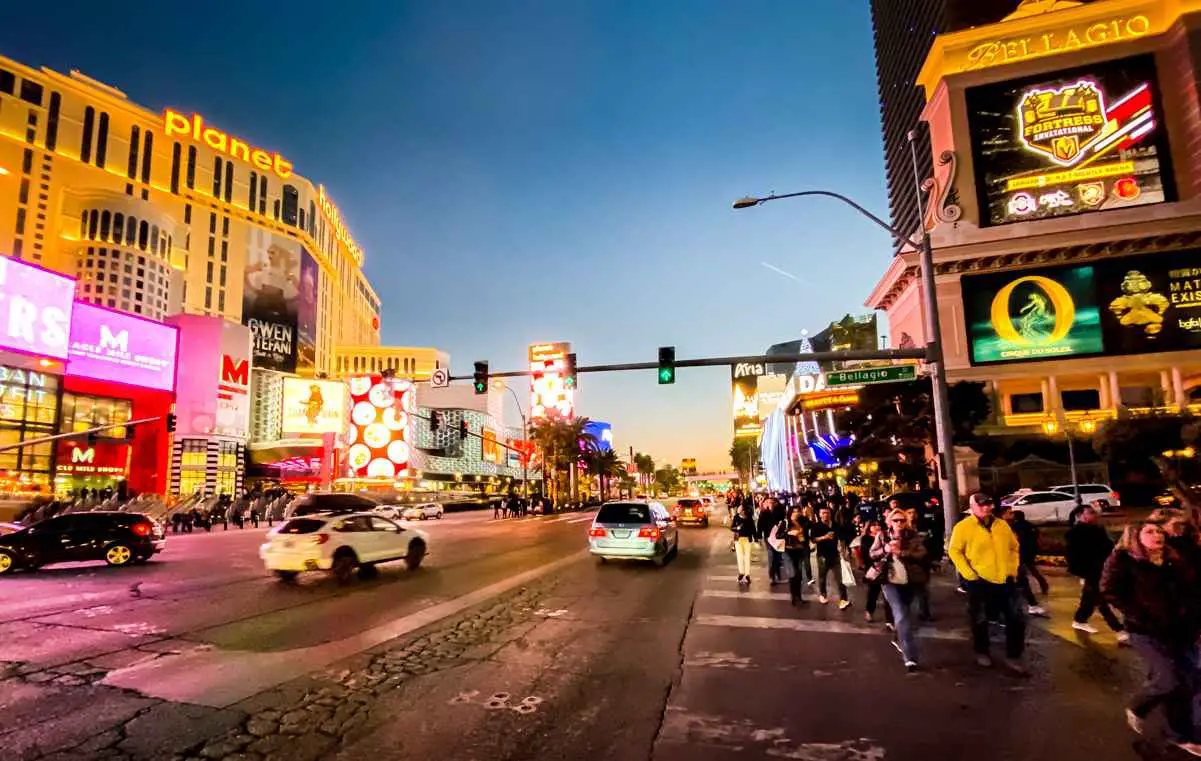 (This article may contain affiliate links, which means we might earn a small commission if you click and make a purchase. Thank you!)
Factors That Affect How Long It Takes to Walk the Vegas Strip?
Walking the length of the Las Vegas Strip is a popular activity for both tourists and locals alike. But before you walk the entire Vegas Strip, you'll want to wear a comfortable pair of walking shoes.
After all, the Las Vegas Strip is just over 4 miles (6.4km) long! But how does this distance equate to time? 
Well, the time it takes you to walk the whole Las Vegas Strip depends on your natural walking speed and whether you take part in any activities while exploring the Strip. Naturally, the faster you walk and the fewer activities you enjoy while exploring the Vegas Strip, the quicker you can complete your journey. 
In fact, if you speed walk (moving at 3.5mph/5.6kph or faster) and ignore all the attractions and restaurants along the way, you could walk the whole Strip in about an hour and a half. However, where's the fun in that? 
Likely, you'll want to take your time exploring the Vegas Strip, stopping to enjoy the occasional meal or exploring attractions like casinos, hotels, exhibitions, and amusement rides.
It's also crucial to note that crowds and street performers can significantly impact your walking speed, as both can cause foot traffic slowdowns.
So, to find out how long it takes to walk the Las Vegas Strip from end to end, you'll need to consider:
Walking speed
The attractions you'd like to enjoy along the way
Crowd size
If you're looking to get the most out of your time in Las Vegas and see the entire Strip, you'll need to consider these factors. To make things a little easier, let's discuss them in more detail and explore how each one affects the time it takes to explore the Vegas Strip.
Calculating a Comfortable Walking Speed For The Vegas Strip
If you've ever taken a walk with a group of friends or family members, you're likely aware that each person has a preferred and natural walk speed.
Understanding this default walk speed is crucial to estimating the time it takes to walk the whole Las Vegas Strip. 
Fortunately, there are several ways to discover your natural walk speed. For example, you could plan a route in your neighborhood that's a mile long, then start a stopwatch (using your phone or a sports stopwatch) and start strolling, maintaining a comfortable pace.
When you've finished walking the mile, stop the watch and check your time.
You can then use a pace calculator to determine your walk speed in miles per hour (mph) or kilometers per hour. If your walk speed is 2mph, which is considered a relaxed pace, you could walk the entire Las Vegas Strip in less than three hours!
Of course, unless you're a Las Vegas resident who's seen everything there is to see along the Vegas Strip, there's a good chance you're not going to walk the full length of the Strip just to get your daily steps in.
Vegas Strip Activities Impact Walk Time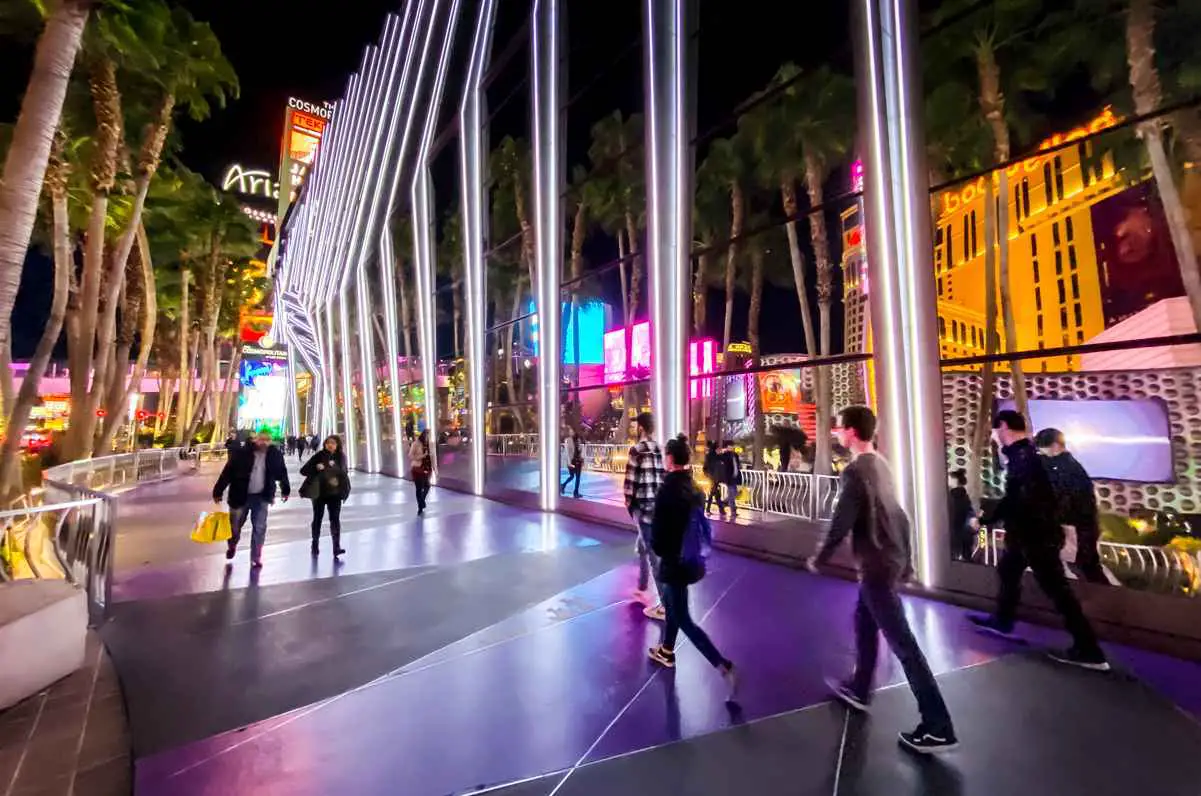 Exploring the Vegas Strip's attractions takes time, and depending on the types and number of things you'd like to see and do, it can turn a two-hour walk into a multi-day journey.
To calculate the time it will take to walk the whole Vegas Strip, you'll need to sit down and create an itinerary. This itinerary should include a list of restaurants and locations you'd like to enjoy while strolling along the Strip.
I've created a free walking guide to the Las Vegas Strip, including maps and a list of 19 sights and attractions you won't want to miss. Check it out!
When you've made your list, you'll want to add an estimated duration for each item. 
For example, if you'd like to eat at a specific restaurant, you'll want to estimate a minimum of one hour for the dining experience, with two hours being a little more generous (and potentially more accurate).
It's also wise to remember that some of the most popular attractions along the Vegas Strip (vegas.com) attract long lines of visitors. Therefore, buying tickets for your chosen activities ahead of time is a fantastic way to save a little time.
Finally, take a moment to plan your chosen experiences based on your walking route. Not only will this extra step help keep you on track during your walk, but it will also offer a more accurate estimate of the time you can expect to spend on the Strip.
How Crowd Size Impacts Your Journey Along the Vegas Strip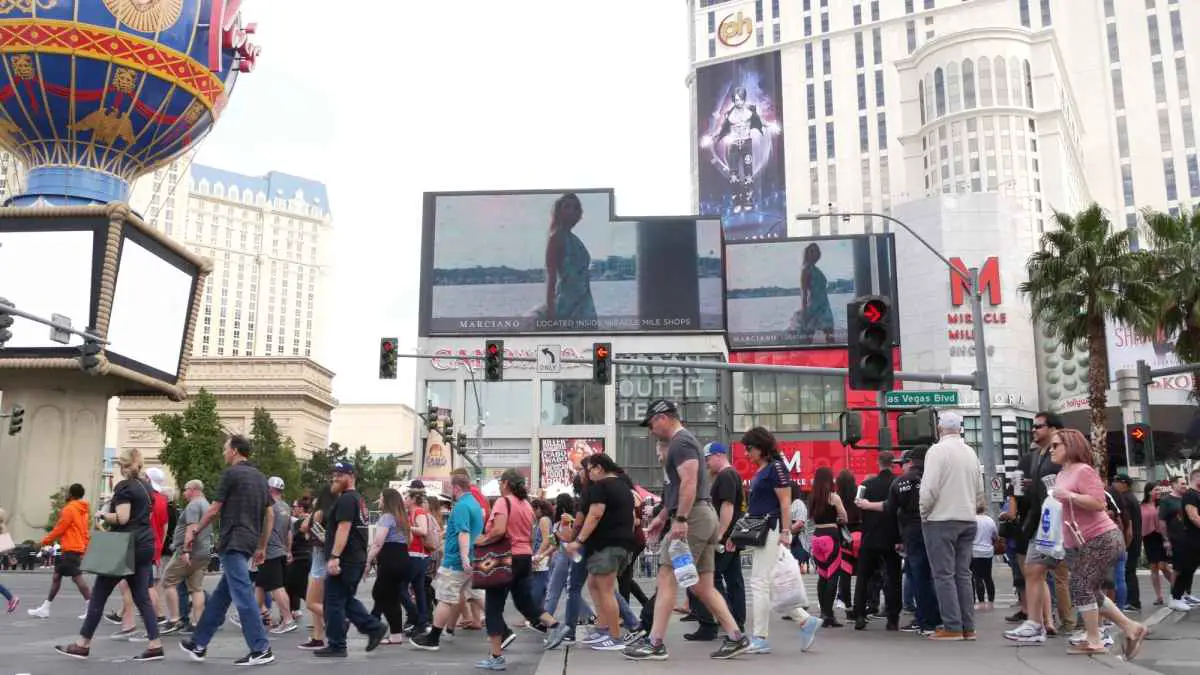 Some areas of the Strip can be difficult to navigate on foot, particularly when crowded. After all, large crowds can hinder your walking speed, as you'll need to slow down to accommodate large groups of people.
Therefore, your chosen route will likely impact the types and sizes of crowds you encounter. 
For example, if you decide to walk through the casinos, you might land yourself in a difficult predicament, as the casinos that line the strip tend to be tourist hotspots, and they're often brimming with visitors. 
That's why it's best to avoid any casino detours and stick to the outside. The only exception to this rule is, of course, itineraries that include planned casino excursions! 
Your timing is also important when predicting crowd size. Pedestrian traffic is very low during the morning and daytime, but it's also quite hot to walk through the Vegas strip under the scorching Nevada sunshine. 
So, if you don't mind crowds and want to keep cool, you'll enjoy the Vegas Strip during the nighttime. A nighttime walk along the Strip is also a fantastic way to enjoy the bright lights and glamour Las Vegas is known for. 
How Long Does It Take to Walk the Whole Vegas Strip – Conclusion
On average, it takes around 60-90 minutes to walk the entire Vegas Strip. However, this can vary depending on the person's walking speed and the number of stops they make. Additionally, the time of day can also affect how long it takes to walk the Strip, as the heat can make it unbearable during the day.
I've listed the best Japanese restaurants on the Vegas strip in another guide. Click on the link to read my guide. Don't miss at least one of these restaurants when you visit the strip. [XX Best Japanese Restaurants on the Las Vegas Strip]