The Bellagio Fountains is one of Las Vegas' most famous landmarks. If you're visiting Vegas, catching a fountain show set to iconic tunes is a must. Not only is the water show spectacular, but it's also one of the hallmarks of a trip to Vegas.
The Bellagio Fountains have weekday showtimes between 3:00 PM- 12:00 AM every day on the half-hour and every fifteen minutes in the evenings after 7 PM. On the weekends shows start as early as 11:00 AM. The song list includes old classics (like Frank Sinatra) and modern hits (such as Uptown Funk and Bad Romance).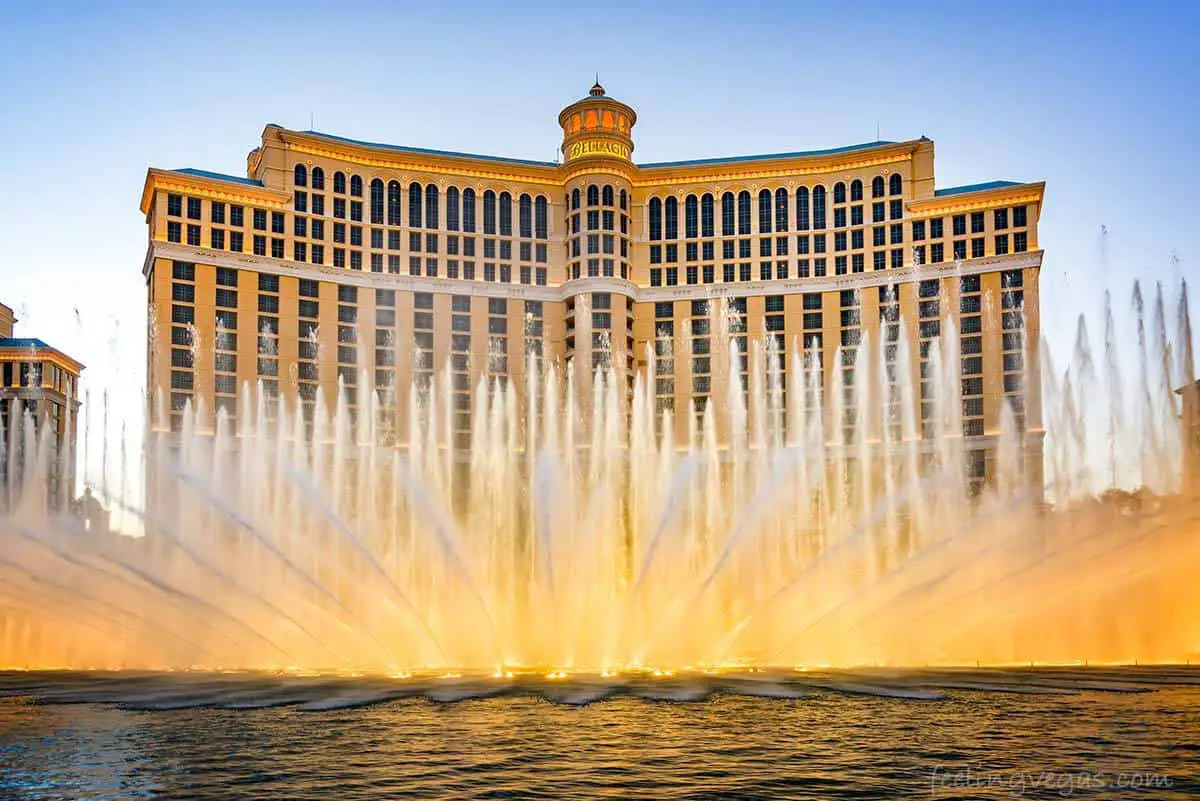 (This article may contain affiliate links and we may earn a commission if you make a purchase.)
VEGAS Attractions For Less! Las Vegas doesn't have to be expensive → Today's Deals
The free Bellagio Fountain shows run very consistently, so you'll always know when to show up if you want to catch the whole thing. For the many visitors who prefer to play it by ear, you're in luck. With its eye-catching lights and design, the fountain show is hard to miss if you spend any amount of time on the Strip around the Bellagio Hotel.
Bellagio Fountain Show Times (Hours)
If you spend a bit of time exploring the Strip, you might get lucky and catch the show right as it starts. Regardless, if you walk around the Bellagio for a bit, you'll likely see and hear it once the show starts. Most days, the Fountains of Bellagio schedule for showtimes is as follows: (see further below for a few exceptions and caveats). 
Day of the Week
Frequency of Fountain Show
Between These Times
Monday – Friday  
Every 30 minutes
Every 15 minutes
3:00 PM to 7:00 PM
7:00 PM to 12:00 AM
Saturdays  
Every 30 minutes
Every 15 minutes
12:00 PM to 7:00 PM  
7:00 PM to 12:00 AM
Sundays  
Every 15 minutes
Every 30 minutes
Every 15 minutes
11:00 AM to 2:30 PM
2:30 PM to 7:00 PM
7:00 PM to 12:00 AM
Fountains of Bellagio Schedule
This schedule is very reliable. The only exceptions are holidays (discussed later) or an exemption for extreme weather. The Bellagio will cancel a showtime if they feel the current weather interferes with the safety of the show.
It's rare that a show is canceled, however. After all, this is Vegas; the weather is almost always perfect. In fact, the weather generally makes watching the fountain show even better.
Nothing beats watching the show and feeling the cool spray of the fountains on a hot day. (Except maybe swimming in one of the city's amazing pools, or getting a cold drink at one of the many stellar bars, or getting lucky in a casino, or some of the other amazing adventures that Las Vegas offers. It's hard to pick just one unbeatable experience).
Interested in staying at the Bellagio? Find out if it's worth the money in our article here.
How Long Are the Bellagio Fountain Shows
If you're wondering how long a Fountains of Bellagio show lasts it's important to note that there are no set lengths. Every show is choreographed to the song it plays along with. Some songs are longer and some songs are shorter. In general, you can expect each show to last around 3 – 5 minutes.
Bellagio Fountain Song List
The Bellagio Fountain show has a diverse range of songs. It includes a number of Sinatra's hits, modern hits, and timeless numbers. Here is the full Bellagio Fountain song schedule, including title and artist in alphabetical order.
"Bad Romance" by Lady Gaga
"Believe" by Cher
"Con Te Partiro (Time to Say Goodbye)" by Andrea Bocelli and Sarah Brightman
"Fly Me to the Moon" by Frank Sinatra
"God Bless The USA" by Lee Greenwood
"Hey, Big Spender" from Sweet Charity
"In the Mood" by Ralph Carmichael
"Luck Be a Lady" by Frank Sinatra
"Lucy in the Sky with Diamonds" by The Beatles
"My Heart Will Go On" by Celine Dion
"One, Singular Sensation" from A Chorus Line
"Overture/All That Jazz" from Chicago
"Rhapsody on the Theme of Paganini" by Mikail Rudy
"Rondine al Nido" performed by Luciano Pavarotti
"Simple Gifts" as performed by the London Symphony
"Singin' in the Rain" from Singin' in the Rain
"Star-Spangled Banner" performed by Whitney Houston
"The Ecstasy of Gold" by Ennio Morricone
"The Pink Panther from The Pink Panther
"UpTown Funk" by Bruno Mars
"Viva Las Vegas" by Elvis Presley
The exact order and mix of songs will change from show to show. This variety ensures that it's unlikely that you'll see the same show twice. Go see the show as often as you can! You will likely notice that the music is all conducive to the general atmosphere. Visiting the fountain and listening to Luck Be a Lady will certainly put you in the mood to enjoy some of Vegas's most famous sites and activities.
The music selection at the fountain sets the mood for more than just gambling. The Bellagio advertises the fountain and fountain show as a romantic setting. This is always true but is particularly noticeable when you are being serenaded by Pavarotti.
If you're interested in romance, here are 10 Incredibly Romantic Things to Do in Las Vegas for Couples.
Bellagio Fountain Holiday Schedule
For holidays, throughout the year, the Bellagio Fountains follow a Saturday schedule.
This means the shows are as follows:
One fountain show every 30 minutes from 12:00 PM to 7:00 PM
One fountain show every 15 minutes from 7:00 PM to 12:00 AM
National Holidays
There is not a clear list of holidays that outlines which days the fountain will follow this schedule. You can expect, however, that any federal holiday will count. This means if you visit Las Vegas for a long weekend over MLK, President's Day, Memorial Day, or the Fourth of July, you will likely encounter the fountain's amended holiday schedule.
Bellagio Fountain Christmas Schedule
During the winter and Christmas holidays, the Bellagio Fountains follow a slightly different song list as well. The holiday songs are also all classics with a few contemporary hits in the mix.
"Carol of the Bells" performed by the Los Angeles Master of Chorale
"Hallelujah Chorus" performed by The Tabernacle Choir
"It's Beginning to Look a Lot Like Christmas" by Johnny Mathis
"O Holy Night" by Placido Domingo
"Santa Baby" by Madonna
"Sleigh Ride" by Johnny Mathis
"The Most Wonderful Time of the Year" by Johnny Mathis
Here as well, the Bellagio does not provide a set time for which days count as part of the holidays and thus get this altered song list and fountain show schedule but you can be fairly certain this will be the song list a few weeks before Christmas through New Years Day.
Where to Watch the Bellagio Fountain Show
Most Vegas visitors will watch the fountain show from the walkway along Las Vegas Blvd. If this is what you plan to do, it can be wise to try and show up in front of the fountains at least a few minutes before a show starts. Once the music begins to play and the fountains startup, a sizable crowd will gather.
In this crowd, it can sometimes be hard to see the whole fountain area. Getting there early will help ensure you have an ideal spot. This is especially true on weekends and holidays.
Admire the Fountain From a Nearby Restaurant
If you're not interested in crowding outside by the fountain, consider booking a table at one of the many restaurants with views of the fountain. There, you will be able to enjoy the show in a quiet, lush setting, with excellent food, and while sipping on a good drink (should you desire one).
The Bellagio Hotel and Casino has quite a few restaurants with views of the fountains. The food options are diverse too. Here are the restaurants that have views of the fountain. For anyone looking to get the best view of the fountain, ask to sit outside. These restaurants all have patios that are nearly always open (again, thanks to Las Vegas' stellar weather).
Jasmine
Lago by Julian Serrano
Le Cirque
Picasso
PRIME Steakhouse
Spago
The Mayfair Supper Club
Yellowtail Japanese Restaurant and Lounge
To get more information on the fountain show or make a reservation at any of these excellent establishments, check out the Bellagio's Fountain website.
Scroll to the section entitled "Restaurants" to read more about each of the dining options. By clicking the hyperlinks there, you will be able to access reservation software and read menus.
To get a full list of the 15 Restaurants With the Best Views of the Bellagio Fountains, see our article here. This article contains information about restaurants located both on and off the Bellagio Hotel property with excellent views of the fountain shows.
Final Fountain Thoughts
Regardless of where, how often, or when you choose to visit the Bellagio's fountain, we know you will enjoy the show. The fountain is truly enchanting. I hope the Bellagio Fountain schedule, times, and list of songs in this article will help you to plan a perfect outing. The fountain is fun for visitors of all ages and is not to be missed whether this is your first trip to Las Vegas or your hundredth.