Is Bellagio Las Vegas Pet Friendly? (What You Need to Know)
The Bellagio hotel in Las Vegas is considered pet friendly and allows dogs into hotel rooms, suites, and within the hotel's designated dog relief areas. Guests are allowed to bring up to 2 dogs with a combined weight of under 100 pounds. Dogs, however, don't have free reign of the property.
For those who are planning a trip to Vegas and can't bear leaving fido at home, there's some good news for our favorite furry friends.
The Bellagio hotel is amongst a growing list of Vegas hotels to become pet friendly and permit dogs into rooms and suites.
Let's take a look and discover in what ways the Bellagio Las Vegas is pet-friendly.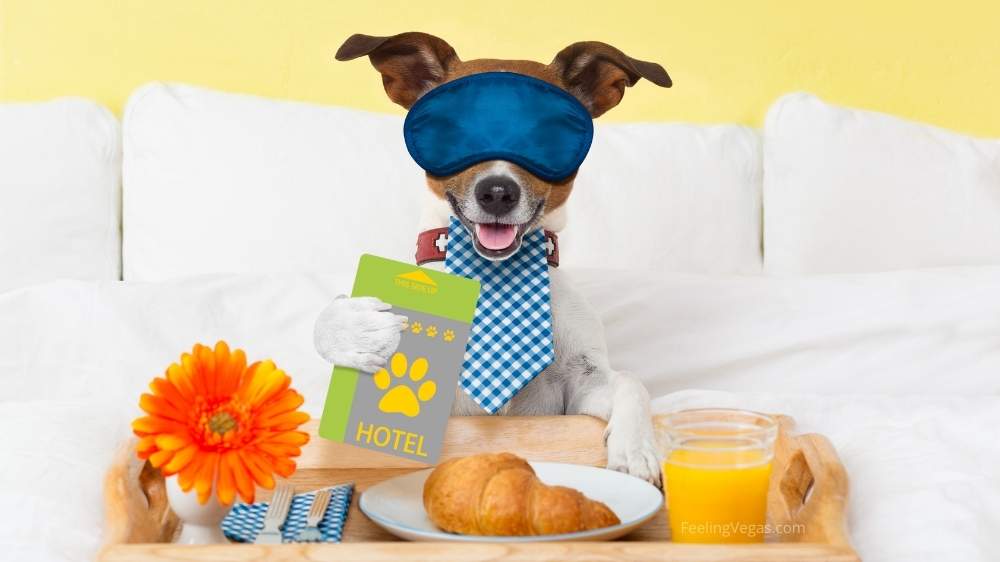 (This article may contain affiliate links, which means we might earn a small commission if you click and make a purchase. Thank you!)
Compare and save! Check current Bellagio room rates at TripAdvisor!
Bellagio Las Vegas Pet Policy
There's good news for dog lovers and for guests who want to bring their dogs with them while they're on vacation in Las Vegas.
Bellagio Las Vegas has recently added 'dog-friendly rooms' to its catalog of features available for hotel guests.
(Sadly, cat lovers must leave their cats at home as they are not permitted to stay at the Bellagio). 
The Bellagio has even gone as far as to create dog relief areas within the hotel grounds and a special menu to pamper your pooch come dinner time.
But, before you start packing fido's bowls, there are a few things you should know before you bring your pooch along on a Vegas vacation. 
RECOMMENDED: Are Dogs Allowed in Las Vegas Casinos? Must-Know Facts
Bellagio Dog-Friendly Room Terms
The room rates for the Bellagio are not the cheapest in Vegas, and while they have always focused on providing luxury and 5-star amenities, bringing your dog along for the ride comes at a considerable cost.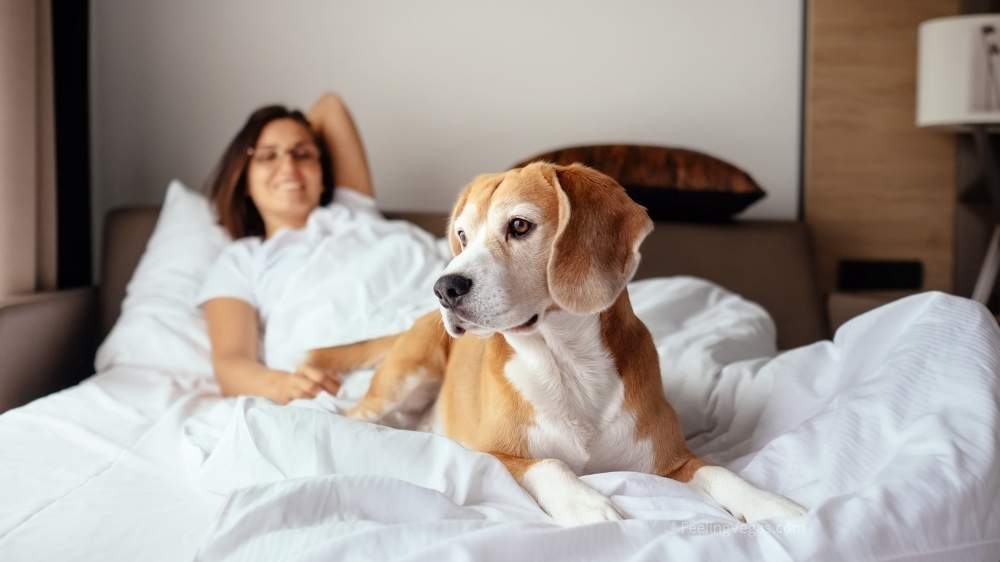 Each Bellagio pet-friendly room reservation permits up to two dogs with a combined maximum weight of 100 pounds.
There is a $125 per night per dog charge for rooms and a $175 per night per dog charge for suites. 
Dogs (with the exception of service animals) are not permitted in any part of the public areas of the casino or resort, which means you won't be chillin with your dog by the pool.
This includes any food and beverage outlets and the Spa and pool areas, except when passing through on the way to your room.
During transit through the hotel, your dog must be on a leash at all times. 
Your dog must not be left unattended at any time in your room or suite unless they are in a dog crate or kennel.
If you want to explore Vegas without your pet, guests can arrange pet-sitting services through the Bellagio concierge.
(Alternatively, you can place your pooch into a nearby doggy daycare while you go exploring).
Dogs are required to be fully house-trained, and when accidents do occur, guests must contact the housekeeping department immediately to prevent any permanent damage to the property. 
RELATED: 20 Best Dog Friendly Restaurants in Las Vegas (Yum!)
Is Vegas Pet Friendly? 
While the Bellagio is yet another premium hotel complex along the Strip to allow pets, what about the rest of the Las Vegas experience, and in particular, the Strip? 
As you'd expect from the city that never sleeps, the Vegas Strip is a bustling and noisy place, full of energy and people at every turn.
One thing you'll notice is that amongst the thousands of people you'll pass by on Las Vegas Boulevard, there are virtually no dogs or other pets. 
This is due to the Strip being quite loud and distressing for most dogs, and many would agree that the entire Las Vegas Strip experience is not particularly pet-friendly. 
RELATED: Can You Walk Dogs on the Las Vegas Strip? Yes…and No!
Find the best deals on Bellagio rooms and save big with TripAdvisor!
Summary 
In all honesty, Las Vegas is a playground that is a lot of fun for adult humans but maybe less so for your four-legged companion.
Having said that, Bellagio guests now have the option of bringing along man's best friend, but before you do, make sure your dog or pet is prepared and can handle large crowds and lots of noise.
The Bellagio hotel and the Strip are chaotic places even for humans, so bringing a dog to the area may cause your pooch distress, especially if they are spooked by loud noises and wild-acting party people.
At over $100 per night per dog, the fee to keep your pet with you at the Bellagio may be better spent on a nice doggie hotel or a dog sitter while you enjoy Las Vegas! 
See Also: Are Pets Allowed at The Venetian Las Vegas (Pet-Friendly?)