Can You Walk Dogs on the Las Vegas Strip? Yes…and No!
(This article may contain affiliate links. If you click through and make a purchase, we will receive a small commission at no additional cost to you. )
The Las Vegas Strip is a tons of fun travel destination for everyone in the family but what about your four-legged family members? Is Las Vegas considered a dog-friendly place? Are dogs allowed on the Strip? Just what can you do in Las Vegas with your dog?
Can You Walk Dogs on the Las Vegas Strip? Dogs are allowed to walk on the Las Vegas Strip from the hours of 5 am to Noon. If you plan on walking your dog during this time make sure they are on a leash or a restraint of 3 feet or less. 
The window to walk your dog on the Las Vegas Strip might be short, but there are hotels, activities, and facilities close by that are dog-friendly.  These places can make a trip to Las Vegas with your dog a great getaway. 
Is the Las Vegas Strip Dog-Friendly?
According to Nevada state laws and local ordinances, dogs are NOT allowed on the Las Vegas Strip between the hours of Noon and 5am (source).
The area the ordinance is referring to is Las Vegas Boulevard (the Strip) between Sahara Avenue and Sunset Road which is about 7 miles. So basically the entire tourist area of the Strip.
You are, however, allowed to walk your dog on the Strip between the hours of 5am and Noon. So the good news is you and your pup can take a morning walk on Las Vegas Boulevard as long as he or she is on a leash that is 3 feet or shorter.
So you might be wondering why are dogs allowed on the Strip for just these few hours? The answer is safety. Safety for your pet and safety for other pedestrians. The Vegas Strip, in the afternoon and evenings, is one of the busiest pedestrian walkways in the country. Imagine your dog trying to weave in and out through all the people without getting spooked, tangled up or stepped on.
The Strip in the early morning until about noon is pretty quiet and isn't overly crowded with people and so it's a good time to take a walk with your dog in this area.
Basically, if you plan on bringing your dog on your trip to Las Vegas, make sure you get that daily walk in before noon. After that time, you might have to leave your dog in your hotel room or at a doggie daycare while you enjoy the sights of Las Vegas.
Best Dog-Friendly Hotels on the Las Vegas Strip
There are a few pet-friendly hotels on the Las Vegas Strip. If you plan on bringing your pet with you, make sure you speak with the hotel and understand their pet policy.  Most hotels will have an additional pet fee that can range anywhere from $50-$150 extra dollars a night.  Your hotel might also restrict the weight and number of dogs allowed. 
Here are a few popular hotels on the Las Vegas Strip that allow dogs.
The Bellagio– According to their website the Bellagio will allow up to two dogs that do not exceed 40 lbs combined. It is 125 dollars extra per night, and you must register your dog at check-in. With the exception of service dogs, dogs are not allowed in public areas. Dogs are allowed at the designated outside dog park. Dogs may only be left unattended in your room if they are placed in a carrier or kennel and they even have dog sitters available if you contact the Concierge!
The Cosmopolitan of Las Vegas– This Cosmopolitan allows up to two dogs of any size, but they are not permitted in any other areas of the hotel beside the room unless they are service animals. They must be crated if left in the room and the hotel adds an additional charge of $50 per night.
The Mirage Hotel and Casino- The Mirage has select "dog-friendly" rooms. Guests are welcome to bring two dogs with a combined weight up to 40 lbs for an additional fee of $100 per night in Standard Rooms and $150 per night in Suites. If you leave your dog in your room alone, they must be crated.  The hotel also has designated relief areas for your pet. 
Caesars Entertainment Corporation- Caesars Entertainment has eight Las Vegas hotels in their group that are considered pet-friendly.
Caesars Palace
Planet Hollywood and Resort
Paris Las Vegas
Harrahs Las Vegas
Rio All-Suite and Casino
The Cromwell
Flamingo Las Vegas
The Linq Hotel and Experience
Bally's Las Vegas
The rates for dogs vary depending on the location. Guests are allowed up to two dogs that must weigh less than 50 lbs each. Dogs are allowed to walk through the common areas if they are on a leash. You must check in your dog at the front desk when you first arrive.
Kennels can be requested from the front desk, and it is required you kennel your dog if you want housekeeping to come into your room. There is also a 100 dollar incident deposit per night that is refundable if no accidents occur.
(See our recommended list of pet-friendly hotels in our complete Las Vegas Dog Resource Guide).
While the Strip is understandably somewhat restrictive as far as dogs go, Las Vegas itself is a very dog-friendly city. So let's find out some fun things to do in Las Vegas with your dog.
Dog-Friendly Things to Do in Las Vegas
If you plan on bringing your dog on your next Vegas trip, but don't want him or her to have to stay in the hotel room all day, there are plenty of dog-friendly things to do in Las Vegas. These destinations in Las Vegas can be fun for the whole family.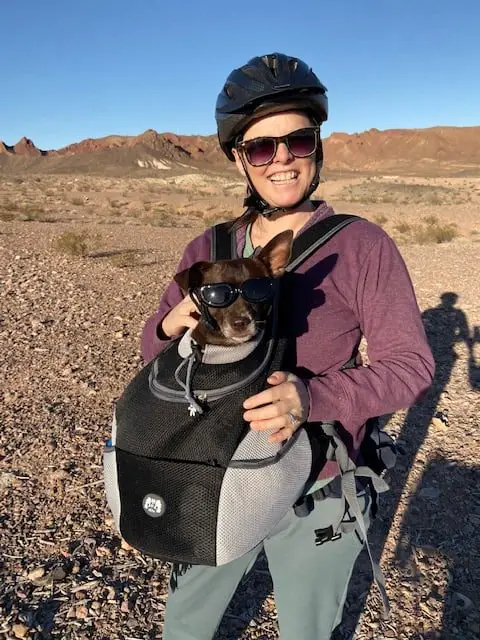 Seven Magic Mountains– This destination spot is a fun art exhibit out in the middle of the desert. It is dog-friendly and you can hike around and take pictures with the colorful rock sculptures (website).
Heritage Dog Park- The Bark Park at Heritage Park in Henderson is less than 30 minutes from the Strip, and some users have referred to this dog park as "Dog Disneyland" It has play structures for kids and dogs alike and even a dog splash pad for those hot days. If you need to get a little exercise in, there is a three-mile trail that you and your pup can enjoy (website). 
Red Rock Canyon- Just 30 minutes outside of Vegas, this National Conservation Area has over a dozen trails you and your dog can explore together. Both you and your dog will enjoy the day taking in the beautiful scenery, and enjoying time with nature. You can find out more about Red Rock Canyon in our article here.
Downtown Summerlin– This is a dog-friendly area 25 minutes from the Strip that has shops, dog parks, and restaurants.  Most of the restaurants have outdoor seating, so it shouldn't be hard to find a place to eat where your dog can stay by your side. (Check out our article 20 Best Dog Friendly Restaurants in Las Vegas for the top pet-friendly restaurants and cafés in the Vegas valley).
Sunset Park-  This park is 20 minutes from the Las Vegas Strip and is dog-friendly. This park has: Playgrounds, frisbee golf, volleyball, tennis courts, basketball courts, picnic areas, events, and live music, walking paths and dog areas. This park is the perfect place to bring your dog and your whole family if you are visiting Vegas. 
Lake Las Vegas- How about taking your dog for a swim. Lake Las Vegas in Henderson is a perfect outing to take with your pooch. The lake is beautiful and dogs are allowed to swim there. Learn about other swim spots for your dog in our article here.
Town Square Mall- When we head over to Town Square Mall we always take our pup. It's an upscale outdoor mall with plenty of nice walking areas. We see a lot of people with their dogs every time we go there.
Doggie Day Care
Doggie Day Care could be an excellent option for your dog while you are visiting Las Vegas. Leaving your dog in your hotel room while you are out all day and night enjoying the sights of the Las Vegas Strip might not be nearly as much fun for your dog as it is for you. 
There are several doggie daycares around the Las Vegas Strip area that might be a good place to leave your puppy while you are off exploring Vegas. Here are some important things to consider or to ask about when choosing a doggie daycare include:
Staff to dog ratio- It is recommended to have at least a 15 to 1 ratio, but 10 to 1 is preferred
Take a tour of the facilities- make sure you are checking to see if there is proper fencing and gating.
Make sure dogs are grouped together appropriately. Your small dog might be used to being around larger dogs, but in this setting, it might not be the best option. 
Guided Activities-Structured activities help the dogs in a new environment. Make sure to ask what kind of activities are planned.
Treat Policy- Some places give out treats for rewards. Make sure they know what treats your dog is allowed and how they react to treats.
Toy Policy- Some dogs can become aggressive when there are toys around. Make sure you let them know about all your dog's particular behaviors.
When choosing a doggie daycare facility, you want your dog and yourself to feel comfortable with their stay. Make sure to learn all you can about the facility. It is always a good idea to read reviews and talk to existing customers. Make sure you know they are being left in a safe, fun environment.
Top 5 Doggie Daycare Centers Near the Strip
Here is a list of doggie daycare facilities near the Strip in Las Vegas that are highly rated.
Camp Bow Wow (702) 255-2267
Luxe Pet Hotels (702) 222-9220
Animal Inn (702)736-0036
Pawsh Palace (702)931-1778
A VIP Pet Resort (702) 361-8900
Dogs, Las Vegas and the HEAT
Please keep in mind that Las Vegas can get very hot! You should never leave your dog unattended in the car. Also, please be aware that the pavement and gravel here can get blistering hot and can quickly burn your dogs paws.
Visit out our Las Vegas Dog Resource page for a few things you may need in Las Vegas to keep your furry friends feeling good.
Dogs in Vegas
You don't have to leave your dog at home if you are planning a trip to Las Vegas.  You and dog can choose from many different dog-friendly hotels and activities. There are many activities around that you and your dog can do together or places where your dog can stay while you are out on the Strip!
Related Questions:
Are emotional support dogs allowed in casinos? While "service animals" are allowed in Las Vegas casinos, dogs designated as "emotional support" animals are not. Service dogs have specific training that allows them to assist a person with a disability while emotional support dogs do not.
Check out our article: Are Dogs Allowed in Las Vegas Casinos?
Is MGM Grand dog-friendly? The MGM Grand Hotel and Casino in Las Vegas, unfortunately, does not allow dogs. You cannot book a room with your dog nor are you allowed to have a dog on the property unless it is a certified service animal.