9 Best Off-Leash Dog Parks in Las Vegas (Pictures & Map)
(This article may contain affiliate links. If you click through and make a purchase, we will receive a small commission at no additional cost to you. )
Las Vegas is home to many remarkable things, including nightlife, landmarks, and some of the best entertainment in the world. But, it is also home to an array of fantastic dog parks! If you're looking for the best off-leash dog parks in Las Vegas, we've compiled a list of the top nine doggy play areas to visit.
So, whether you live in town or are just visiting with your pooch, check out one or more of the best dog parks in Las Vegas. After that, keep reading for a complete listing of all the off-leash dog parks in the Las Vegas area. There are over 35!
Heritage Bark Park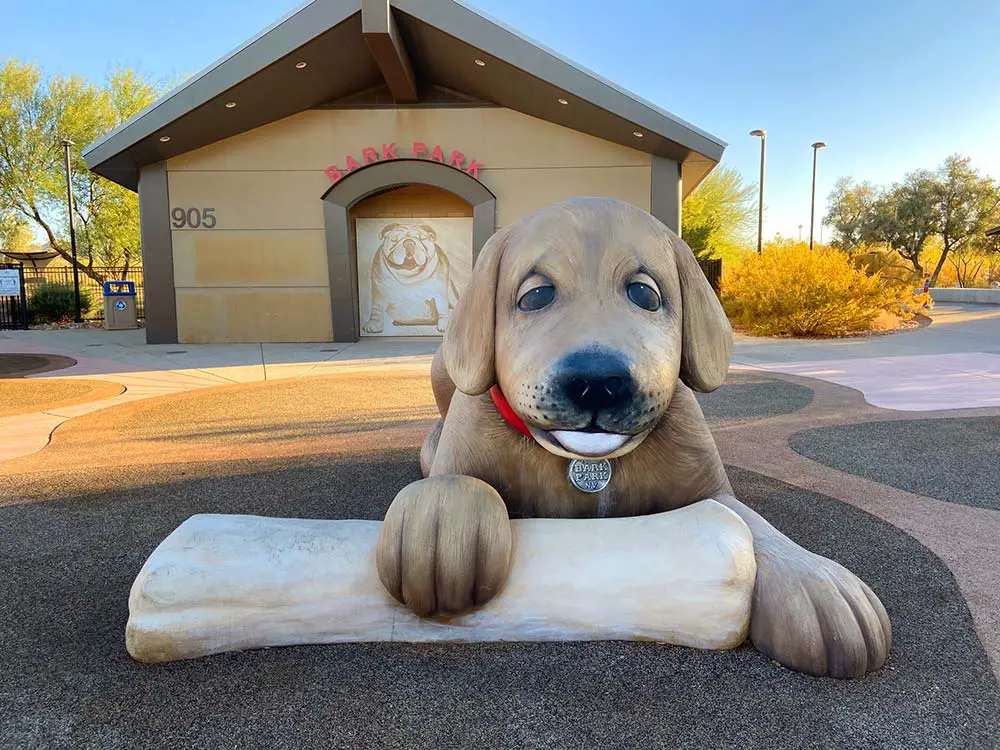 Bark Park is an area within the larger Heritage Park that offers ample space for your dogs to play. Dog owners will find a 5-acre park that includes dog runs (separate large dog and small dog areas), an agility course, various walking trails, restrooms, and drinking fountains for both you and your pet.
And if you're feeling a little tired from the warm Las Vegas sunshine, why not take a seat on the dog-boned-themed benches?
Furthermore, the park has playgrounds, sports fields, and a large aquatic center, and water play areas for the kids. Plus, the park offers a splash pad just for the dogs! If you're looking for a great all-round park – this is an excellent option for you. 
* As a dog owner you'll love this place. It's hands down the best dog park in the Las Vegas valley! After all, any dog park that has its own giant dog statue has to be the best.
Desert Breeze Dog Park
This is an excellent dog park on the west side of the Las Vegas valley. Visitors love the fully-fenced areas for dogs of different sizes, including different sections for small and large dogs.
The park has a selection of fantastic places to sit and relax, such as large tables, benches, and various chairs to chill in while your furry-friend plays with the other animals.
The park also has a hose for washing your pup down and doggie bags for your convenience. The park has plenty of parking and is easily accessible from the parking lot. You'll find heaps of green spaces to relax and sit down with the family. 
In addition to the dog area, Desert Breeze Park features a playground, community center, pool, and skateboard park.
Barkin' Basin Dog Park
The Barkin' Basin Dog Park (located at Wayne Bunker Park) has three separate areas for your dog, including one for big dogs, one for small dogs, and a section for all sized dogs to play together.
Also, the park is home to a mixture of large trees for shade and drinking fountains which are essential during Las Vegas's summer months. 
The park also offers visitors a vast array of green spaces, ideal for sitting down and enjoying the sun and conversation with the other pet owners. The park even has some covered areas to get out of the scorching Vegas summer sun. 
Map showing the nine best dog parks in LV.
Kellogg-Zaher Sports Complex Dog Park
If you're looking for a dog park with a vast area for your dogs to play, you'll love the Kellogg-Zaher Sports Complex Dog Park because it offers three dog runs. Also, the site has various covered picnic areas for family outings, so why not sit down, relax, and enjoy some food while your dog plays with his furry friends?
The park is a major sports complex in the valley and has 11 soccer fields, two playgrounds, and a multiple usage 2.44-mile track. The park is also home to the Amanda and Stacy Darling Tennis Center, so adults, kids and pets all have things to do at this park.
Children's Memorial Dog Park
The Children's Memorial Dog Park is a small but superb fenced dog park with large trees (trees are not always so easy to find in Vegas). You'll also find an area of seating and shade where you can avoid the strong Las Vegas sunshine. There's also a cushioned footpath around the park that is perfect for runners and their dogs.
Also, the park is excellent for children because it includes a children's jungle gym area. You park also has several softball fields. 
Centennial Hills Dog Park
The Centennial Hills Dog Park is a superb off leash dog park, including two spots for canines to play, one for the big dogs, plus another separate small dog area. You'll find the dog park is often crowded, and there are plenty of dogs for your pup to have fun with.
Vast green space surrounds the dog park, and you'll find plenty of room to relax and enjoy the area. 
Also, the park has recently added a new shade area to cover yourself and your furry friend from the hot Vegas sunshine. The park also has an outdoor amphitheater, playground and splash pad play area for the kiddos.
Craig Ranch Regional Dog Park 
The Craig Ranch Regional Dog Park is an excellent spot for your furry friends, and you'll find it the edge of Craig Ranch Regional Park. The dog park includes separate areas for both small and large dogs.
If you'd like to get comfortable while your dog play with their friends – there are plenty of spacious and grassy areas to sit and relax while you keep an eye on your pooch. 
Furthermore, parking is available right next to the dog park, so it is very easy to access. The whole park is very dog-friendly too, but make sure you keep your dog on a leash if you are outside the dog park area. 
Cactus Wren Dog Park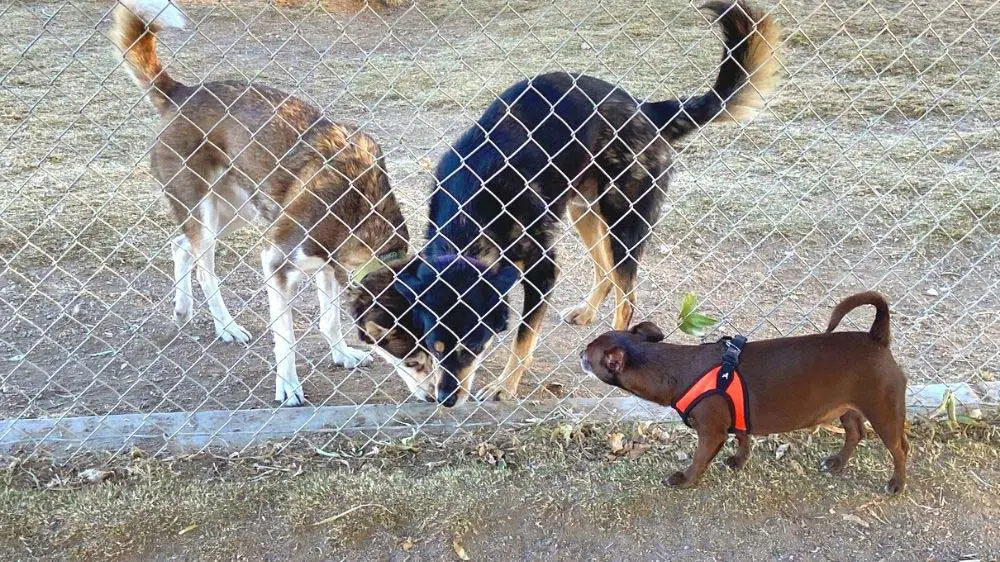 The Cactus Wren Dog Park offers the ultimate off-leash dog experience. There are areas to run and play for both small and large dogs.
The site includes drinking water, benches, and seating options. You'll see the dog waste section near the garbage bins, so you won't have to worry about finding a place to put the dog doody.
Moreover, when you visit the dog park, you will be close to the Cactus Wren Parks playground, skate park, and walking trails.
Esselmont Dog Park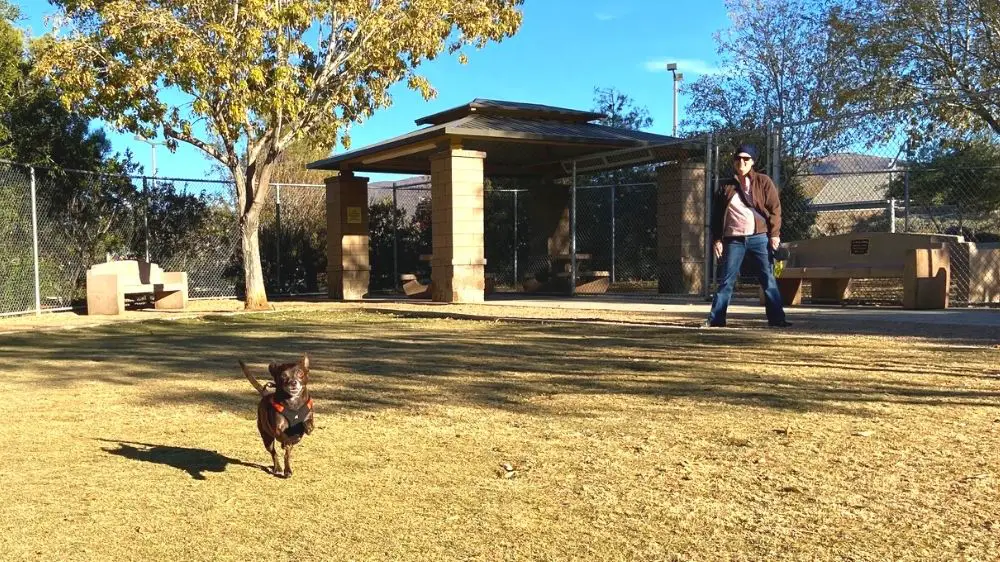 You will find that the Esselmont Dog Park in Henderson offers ample facilities for dogs. The small dog park has poop bags, water fountains, and trash bins to ensure clean and well-maintained facilities.
Also, the entire park is six-acres in size (the dog area itself is quite small), so you'll find a lot space to relax and enjoy the sunshine. 
The park has some rules, such as not bringing your dog if it is under four months old. Also, large and small dogs have to separate into different play areas. 
On top of the park itself, Esselmont Park is located next to an abudance of desert hiking trails, which is perfect if you enjoy hiking with your dog.
(Want to find out if you can walk your dog on Las Vegas Blvd? Head over to our article: Can You Walk Dogs on the Las Vegas Strip? Yes…and No!)
Even More Off-Leash Dog Parks in Las Vegas
In all, there over 35 off-leash dog parks in the greater Las Vegas valley! So if you're looking for a good dog park that's close by, don't worry, there is sure to be one. Just check out the map and listings below:
Map of the most popular dog parks in Las Vegas.
Still need more dog parks to choose from? Here's a complete listing of dog parks in Las Vegas, North Las Vegas, and Henderson in alphabetical order (Ratings are on a scale of 1 to 5):
Las Vegas Dog Parks
North Las Vegas Dog Parks
Henderson, NV Dog Parks
Dog Parks Near Las Vegas Strip
If you're visiting Las Vegas and staying on or near the Strip, you may be looking for a dog park that's close to Las Vegas Blvd and your hotel. There is one off-leash dog park that's relatively close-by.
Molasky Family Park (images|map) is about 10 minutes (2.5 miles) from the Las Vegas Strip. It's a small park with a covered picnic area, a playground, and a fenced area for dogs to run. There is also a walking trail that goes around the park.
Being located near the Las Vegas Strip, Molasky Family Park isn't the nicest dog park in town by a long shot, but it is close-by if your dog just needs to get off-leash and run for awhile.
If you don't mind driving a bit further, definitely choose from one of the top nine off-leash parks from the top of the article.
More Dogs In Las Vegas Articles