Are Pets Allowed at The Venetian Las Vegas (Pet-Friendly?)
(This article may contain affiliate links, which means we might earn a small commission if you click and make a purchase. Thank you!)
Traveling to Las Vegas is a great experience but can also be somewhat stressful if you're visiting with pets. If you are reading this, you may be wondering, for instance, if pets are allowed at The Venetian Las Vegas hotel?
The Venetian resort in Las Vegas does not allow pets in the hotel. However, in accordance with the Americans with Disability Act, they do allow dogs that are categorized as service animals. As such, dogs that are trained and certified to help a person with a disability are welcome at The Venetian.
Keep reading to learn the details of when and how The Venetian allows visitors to bring their pets/service animals with them.
Compare and save! Check current room rates at The Venetian (TripAdvisor)
Are Pets Allowed at The Venetian Las Vegas?
The Venetian Resort Las Vegas does not want guests to bring animals into the luxury hotel, which is why it has a strict policy of not allowing pets. This means that they are not one of the pet-friendly hotels on the Las Vegas Strip.
They do have to make certain exceptions to this rule in order to be in accordance with federal law. Specifically, they have to allow service animals so as not to discriminate against people with disabilities.
For this reason, if you have visited The Venetian, you may have seen people with dogs in the hotel. This could have been as obvious as a blind guest with a seeing-eye dog, or it could have been more subtle. These less visible disabilities have led some people to believe that The Venetian is a pet-friendly hotel, but this is not the case.
The legal definitions around service animals are quite clear and explicit, and the hotel is aware of these. If you are going to be visiting The Venetian, you will need to let them know that you will be bringing a service animal when you are booking your hotel room and again when you check in.
The Americans with Disabilities Act
The Americans with Disabilities Act, commonly known as the ADA, is the law that covers the exceptions that hotels like The Venetian have to make for service dogs. It was signed into law by President George H.W. Bush in 1990 and has been effective since that time.
If you are planning on bringing your dog to The Venetian or any other Vegas hotel that is not pet friendly but are uncertain as to whether your dog would be covered by this law as a service dog, it is useful to read it to make sure for yourself. Title III of the act is the one that is relevant to service dogs in public accommodations.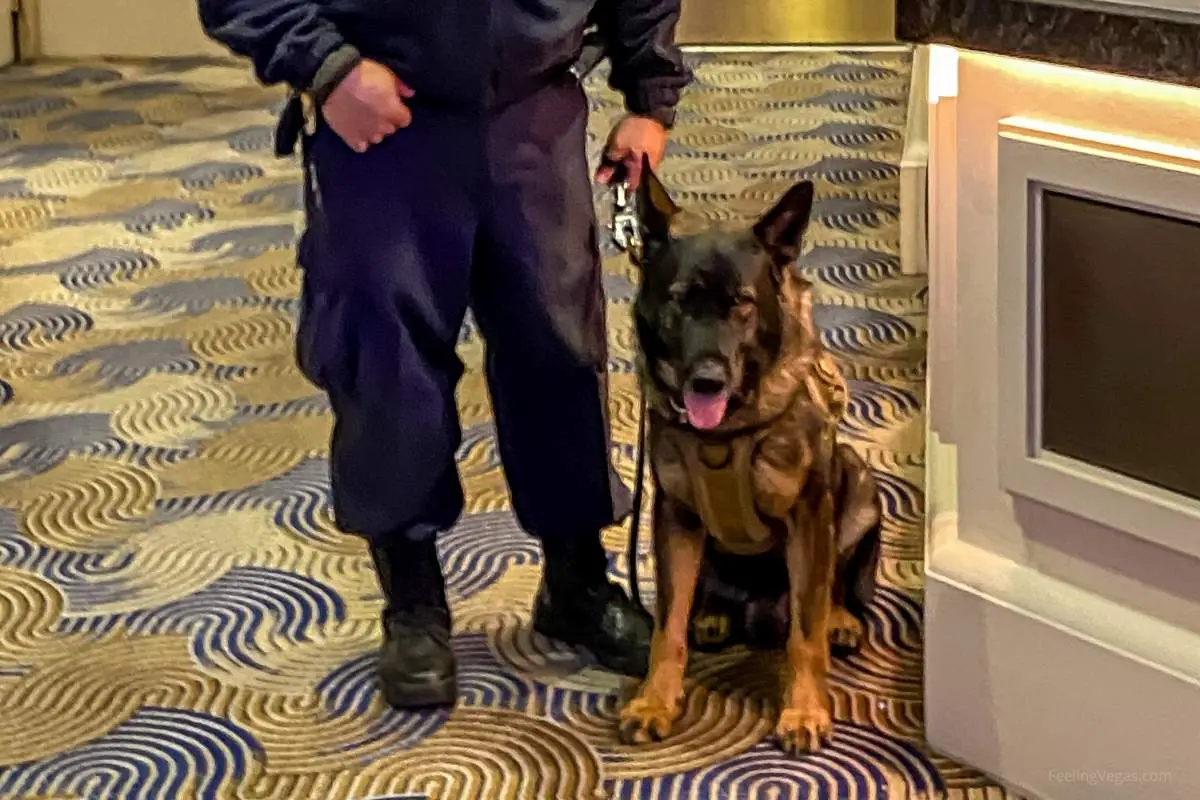 What Service Dogs Are Allowed By The Venetian
In simplest terms and in their own words, the dogs that The Venetian allows to be brought in by guests are those that have been trained to assist a person with a physical or mental disability.
Emotional support dogs do not fall into this category.
Find the best deals on rooms at The Venetian and save big with TripAdvisor!
Final Thoughts
So are pets allowed at The Venetian Las Vegas? The answer is mostly no, but if your pet is also categorized as a service dog to assist with a disability, then they do make an exception in line with the Americans with Disability Act.
Read More About Dogs in Las Vegas