20 Best Dog Friendly Restaurants in Las Vegas (Yum!)
(This article may contain affiliate links. If you click through and make a purchase, we will receive a small commission at no additional cost to you. )
Las Vegas is one of the most sought-after vacation destinations in the United States. Home to fabulous hotels, luxury casinos, the best restaurants in the world, and entertainment you cannot find anywhere else! Sin City is on most adult's vacation bucket list. 
However, many people are hesitant to take long vacations to faraway places when they have pets at home. You do not have to worry about boarding or arranging a pet sitter when you travel to Las Vegas however!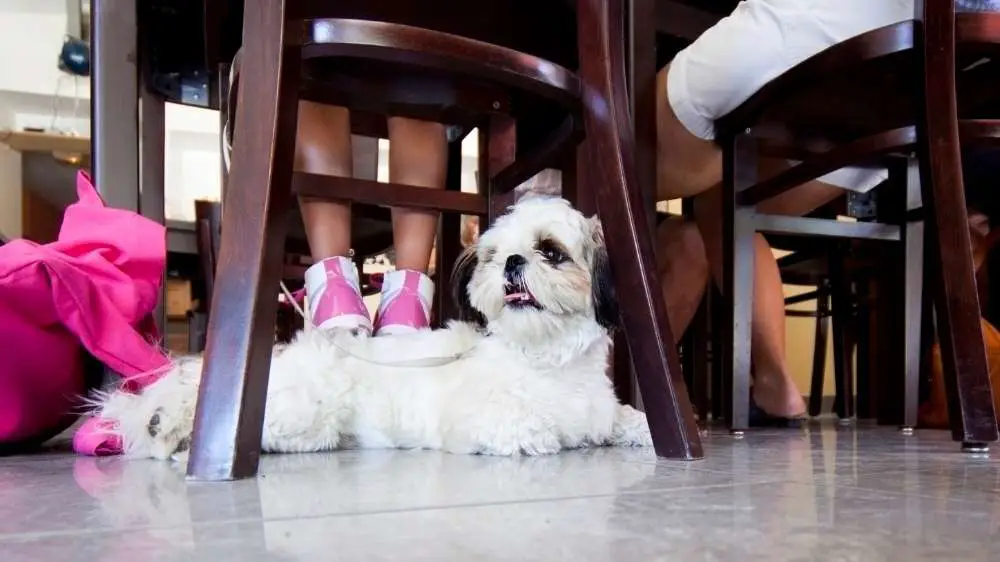 There are plenty of places in Las Vegas that are dog-friendly including hotels, attractions, and even restaurants.
In fact, whether you are local or visiting Las Vegas on vacation, the best dog-friendly restaurants in Vegas are just waiting for you to make a reservation or stop by the patio for a few beers. Here are our favorites!
1. Lazy Dog Restaurant & Bar
6509 Las Vegas Blvd. South, Las Vegas (google maps)
Take-home TV dinners, family style meals, sandwiches, burgers, soups, noodles, and more, Lazy Dog Restaurant and Bar has it all, including weekend brunch and an extensive bar menu. 
Not only do they allow dogs on their patio, but this restaurant has a special menu just for man's best friend that includes brown rice, burger meat, chicken, and more.
You will find Lazy Dog in the Town Square shopping area on the south end of the Las Vegas strip! 
2. Big Dog's Brewing Company
4543 N Rancho Drive, Las Vegas (google maps)
With "Dog" in Its name, it would be a shame if Big Dog's Brewing Company was not pet friendly. 
This company is one of Las Vegas's original breweries and allows dogs on the outdoor patio. Big Dog's specializes in the craft beer brewing scene but also offers premier pub-style food including nachos, wings, poutine, soft pretzels, salad, pizza, fish and chips, meatloaf, country friend steak and more.
Big Dog's is open 24/7/365 and even has breakfast options. 
3. Park on Fremont
506 Fremont Street, Las Vegas (google maps)
Park on Fremont is a corner bar and grill located on Fremont Street in the heart of Downtown Las Vegas, is one of the trendiest restaurants in town. 
The beautiful front patio is dog-friendly, and the interior aesthetic transports you into a natural oasis of wood enclaves, eclectic art, and seasonally themed menus.
During the Christmas season, the entire bar turns into a Christmas themed winter-wonderland! 
4. Coffee Pub
2800 W Sahara Ave STE 2A, Las Vegas (google maps)
This California-style coffee shop and café is open for breakfast and lunch. Coffee Pub offers tea and coffee as the name implies, but also many different sandwiches, burgers, breakfast, and brunch offerings. Eggs Benedict, Omelets, and breakfast scrambles are popular.
The patio offers full-service pet-friendly dining. 
5. Grape Vine Café
7501 W Lake Mead Blvd #20, Las Vegas (google maps)
You will feel like you are right in the middle of wine country California when you step into the Grape Vine Café. The ambiance is rustic with candlelight illumination and a full-service outdoor patio where dogs are welcome to dine with you!
The lunch and dinner menus offer upscale Italian selections. Grape Vine also offers catering, a private party room, and a retail wine shop. 
(There is no shortage of things to do on the Las Vegas Strip. If you want to save money to splurge at the best dog friendly restaurants in Las Vegas, you should check out some of the many free things to do in Las Vegas).
6. The Egg & I
4533 W Sahara Ave, Las Vegas (google maps)
The Egg & I is one of the best diners for breakfast in Las Vegas but is also open for lunch. Egg & I is famous for their burritos, omelets, scrambles, and benedicts.
If you are in the mood for lunch fare, the burgers, wraps, and subs are delicious. Dine with your dog on the outdoor patio. A sister restaurant, Egg Works is also located in Las Vegas and offers a similar menu and dog-friendly dining. 
7. MadHouse Coffee
8470 W Desert Inn, Las Vegas (google maps)
MadHouse Coffee is one of the best dog friendly restaurants in Las Vegas and features lots of Vegan options in addition to their coffee and pastries.
Plant based burgers, avocado toast, hot sandwiches, and a few pasta dishes are available. You can enjoy all this wonderful food on the outdoor patio with your dog!
8. VegeNation
616 E Carson Ave #120, Las Vegas (google maps)
VegeNation is a downtown Las Vegas, community-based restaurant focused on vegan street food. They are open for brunch, lunch, and dinner and serve a variety of smoothies, pizzas, salad, sandwiches, tacos, noodles, and more.
Dogs are welcome on both patios and servers will even bring out a bowl of water for your pooch! 
9. Grape Street Wine Bar
2120 Festival Plaza Dr #160, Las Vegas (google maps)
The Grape Street Wine Bar offers fine Italian dining in a classy environment off-strip. The contemporary restaurant is known for their seafood entrees, sophisticated starters, and signature cocktails that are classy and refreshing.
Dogs can dine outdoors with their owners and the restaurant was named one of the Top 10 Las Vegas Wine and Bar Restaurants.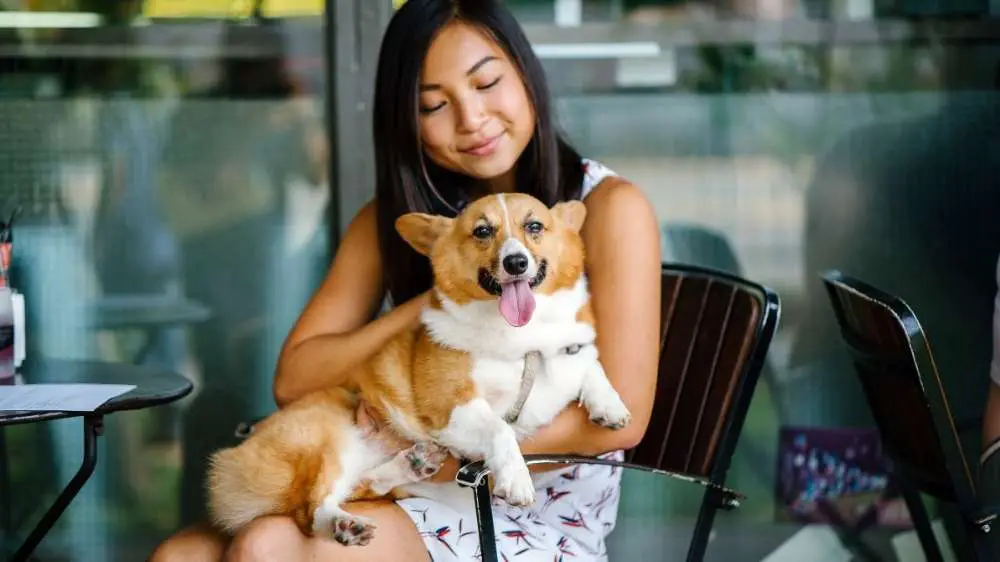 10. Norm's Diner
3945 S Durango Drive, Las Vegas (google maps)
Norm's Diner is where you can get everything under one roof from breakfast, lunch, dinner, to catering, beer and wine! This affordable, dog-friendly diner is priced right, and has the best eggs benedict in town!
Many of their dishes are southwest inspired with some Asian persuasion in the menu as well as classic American favorites. 
(There are a lot of great things to do in Las Vegas off the strip. Do not be afraid to journey into parts of Las Vegas you have never been and explore the best off-strip attractions in Clark County). 
11. Eureka!
520 E Fremont St, Las Vegas (google maps)
Eureka! is a downtown Fremont Street restaurant is in the heart of the historic district within the Emergency Arts Building. Eureka specializes in craft beer, exceptional hospitality, and high-quality, made-from-scratch, food.
The truffle cheese fries, crispy glazed Brussel sprouts, and burgers are local favorites. The Beet Burger is vegetarian, and the 28-day dry-aged bone marrow burger is something diners cannot get anywhere else. The patio is dog friendly and the restaurant is open for lunch and dinner. 
12. Flower Child
1007 S Rampart Blvd. Las Vegas (google maps)
Located in the Rampart Commons, the Flower Child restaurant is a healthy eating option specializing in green eating, grains, and kombucha. All the ingredients are farm fresh and locally sourced.
If you are vegan or vegetarian, Flower Child is the diner for you. Bring the dog for outdoor dining and if you cannot get enough of Flower Child, catering is also available. 
13. Crown & Anchor British Pub
1350 E Tropicana Ave, Las Vegas (google maps)
You will feel like you are sitting in an authentic London pub when you visit the Crown & Anchor. The pub is open 24/7 and offers fun activities such as trivia nights.
They also broadcast American Football games and offer all you can eat fish and chips every Monday. Crown and Anchor also has gaming machines, so you are never far from the action, and dogs are welcome for outdoor dining. 
14. Solo Qui
7460 W Lake Mead Blvd. Las Vegas (google maps)
Solo Qui is an Italian café that offers an array of gelato with dog-friendly flavors also available. Diners can enjoy burgers, pasta, paninis, salads, and more for lunch or dinner. The gelato shop also features a fabulous coffee bar with Italian espresso and other authentic coffees that will transport you to the streets of Italy. 
This area of Las Vegas is perfect for dog lovers who want to spend time outside enjoying the amazing hiking opportunities at Red Rock Canyon.
15. Leone Café
400 S Rampart Blvd. Westside (google maps)
Leone Café is best known for its breakfast but is open for lunch and dinner in Tivoli Village. The outdoor patio seating is dog-friendly and covered for protection for the scorching Nevada sun or surprise pop up rain during the winter.
There are regular misting fans to help keep guests cool on the hottest summer days and the mimosas are bottomless!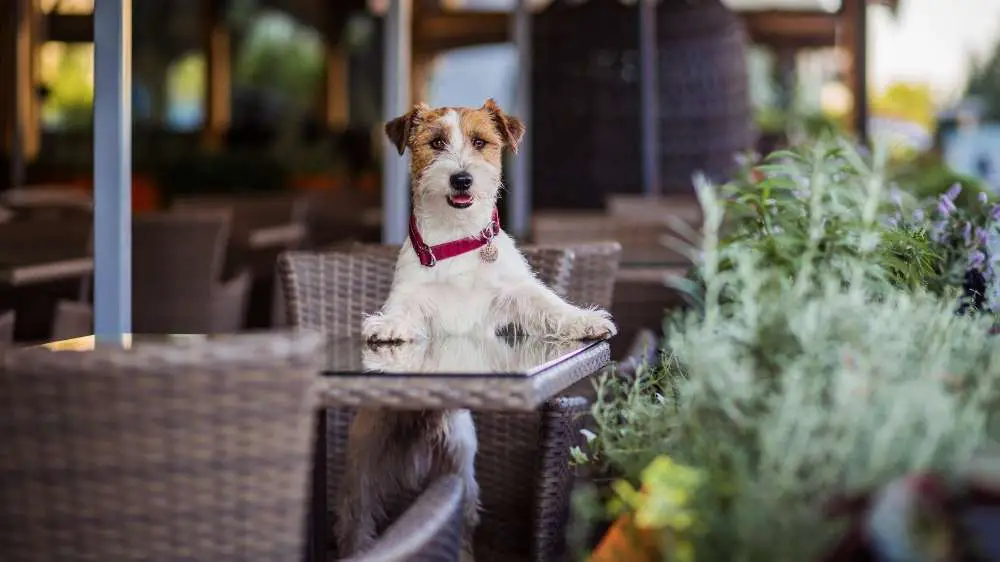 16. Toasted Gastrobrunch
9516 W Flamingo Road, Las Vegas (google maps)
Everyone in Las Vegas loves brunch but the fantastic prices and bottomless mimosas at Toasted Gastrobrunch are only topped by the fact the restaurant is dog friendly. 
Well-behaved dogs are welcome to dine-in at this gastrobrunch hot spot. This affordable café is famous for their avocado toasts, stuffed French toast, and eggs benedict, but they try to put twists on all these classics. 
17. CRAFT Kitchen
10940 S Eastern Ave Ste 107 (google maps)
CRAFT Kitchen is an American bakery that serves breakfast and brunch with outdoor, pet-friendly seating, and a comfortable interior dining room. The menu has an authentic southwest flavor profile, and many vegan and gluten free options are also available. 
Wine and beer selections are also available for curbside pickup as well as dine-in customers, and family meals that feed up to four people are extremely popular. 
18. Makers & Finders Coffee
2120 Festival Plaza Drive, South Summerlin (google maps)
Just outside of the Las Vegas strip, in South Summerlin, Makers & Finders Coffee is one of the best dog-friendly coffee shops and cafés in Southern Nevada. 
The Latin inspired café serves breakfast, lunch, dinner, and brunch. The Full Sundy Brunch is one of the most popular events and a good stream of visitors is usually expected during the daily happy hours. 
Makers & Finders offers food and espresso catering and an outdoor patio where dogs are more than welcome. There is another location in the Arts District of Las Vegas on South Main Street. 
19. Pioneer Saloon
310 NV-161, Goodsprings (google maps)
If you are looking for an authentic western saloon experience that is also pet-friendly, the Pioneer Saloon in Goodsprings, just outside of Las Vegas is a great one!
This saloon has been featured in countless movies and TV shows and embraces the ambiance of the desert mining and gold rush era. Pioneer Saloon features great BBQ and is open every day from 9am to midnight. 
There are games to play, a general store to visit, and other onsite attractions in addition to the saloon as well. If you are interested in visiting more of the Old West when in Las Vegas, check out our article Ghost Towns Near Las Vegas (with videos). 
20. The Crack Shack
3770 S Las Vegas Blvd, Las Vegas (google maps)
Located conveniently on the strip, The Crack Shack is a pet-friendly chicken shop that specializes in sandwiches at the Park MGM hotel. There are meals big enough to feed the entire family, fried chicken dinners, bowls, and more that is perfect for even the pickiest of eaters in Las Vegas.
The Crack Shack is also known for their poutine and chicken oyster appetizer. Customers also love The Crack Shack because their chickens are all free-range and menus are meticulously prepared. 
Final Thoughts
No matter where you go in Vegas, it's sure to be welcoming, full of fun activities, ambiance, and food! The absolute best restaurants in Las Vegas know that pet-owners always have their dogs on their minds, especially if they are traveling away from home. 
Being able to take your dog to dinner, breakfast, lunch, or brunch can be especially important to dog lovers in Las Vegas.
If you are a local or traveling on vacation with your dog, the restaurants listed above welcome well-behaved dogs and can help get your pup out of the kennel while enjoying time with the family like everyone else. 
Learn More About Dog-Friendly Las Vegas