27 Exciting Things to Do in Las Vegas (Off The Strip)
Mention Las Vegas and the first thing people think of is the famous Las Vegas Strip, that 4.2-mile corridor of dazzling lights, casinos, restaurants, entertainment venues, and the glitziest tourist attractions imaginable. But there's more to Las Vegas than just the Strip. Much more.
So, what are some of the best things to do off the Strip in Las Vegas?
Las Vegas is an amazing destination located in the American Southwest and the Strip is literally surrounded by hundreds of things to do in addition to the many nearby scenic locations. If you're looking for fun things to do in Las Vegas off the Strip, here are 27 ideas to get you and your traveling companions started.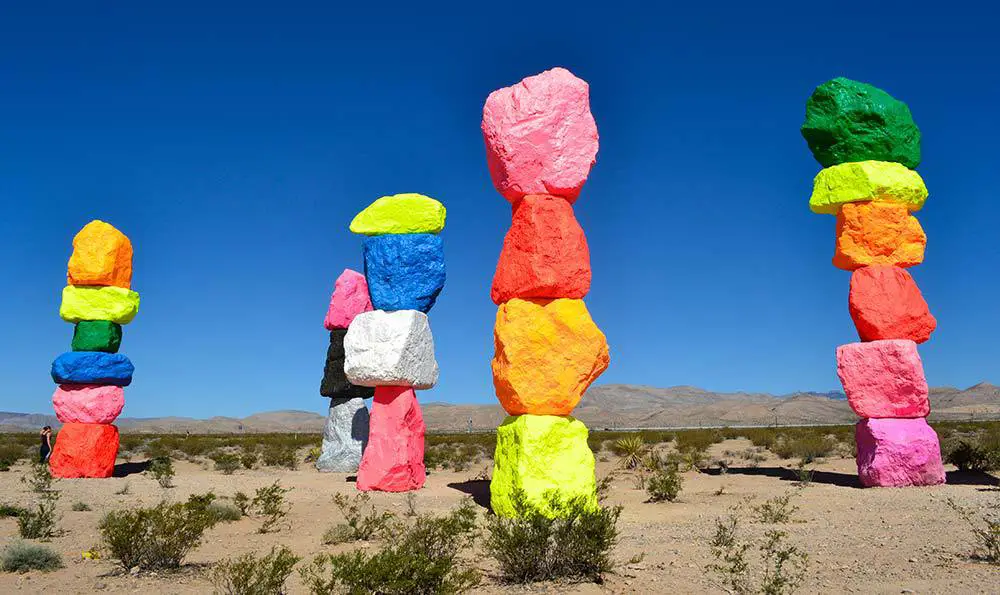 (This article may contain affiliate links, which means we might earn a small commission if you click and make a purchase. Thank you!)
All of these activities are located away from the Las Vegas Strip. Some are very close to the Strip and others may require a short drive, while others still will take a couple of hours of driving to get there.
I've organized the list from closest to furthest away from the Strip to help you find the best things to do in the amount of time that you have available to do them.
Note: The distance to each activity is based on a starting point of the Bellagio Fountains (center-Strip).
➡ Download our free map of the Las Vegas Strip here to get your bearings.
1. Catch a Hockey Game at T-Mobile Arena (Off The Strip Las Vegas)
Distance Off the Strip: 1 mile (google maps)
If there were any concerns that a city with as many distractions as Las Vegas could support a professional sports team, the Golden Knights have shattered those doubts. The Las Vegas Golden Knights are without a doubt one of the best new hockey teams in the NHL.
Catch a game at T-Mobile Arena just off the Strip in Vegas if you can! Find home game dates and tickets at NHL.com.
2. Watch the Raiders Play Football at Allegiant Stadium
Distance From the Strip: 2.1 miles (google maps)
The NFL arrived in Las Vegas in the fall of 2020. The Las Vegas Raiders, formerly known as the Oakland Raiders, have moved into Allegiant Stadium, and games are played there throughout the NFL season. Allegiant Stadium is big, it's beautiful and it is one of the most modern and high-tech stadiums you'll ever see.
Join thousands of fans in cheering on the Las Vegas Raiders!
3. Visit the Atomic Testing Museum
Distance From Center Strip: 2.1 miles (google maps)
For a bit of history, spend an afternoon at the National Atomic Testing Museum. Find out all about the mysterious Nevada Test Site as well as the behind the scene stories of America's above and below-ground nuclear testing done here from the 50's all the way up until the early 1990s.
4. Get a Little Naughty at the Erotic Heritage Museum
5. Be a Pinball Wizard at the Pinball Hall of Fame
Distance From Center Strip: 3 miles (google maps)
If you're a fan of pinball, you won't want to miss the Pinball Hall of Fame. It's 10,000 square feet filled with over 200 playable pinball machines. These aren't just any pinball machines, these are rare and classic pinball machines from the 1950s through the 1990s.
Admission is free, however, you'll just need quarters to play the machines. Take a look at this 360-degree view picture of the museum.
➡ 35+ Super Fun Things to Do in Las Vegas for a Weekend – Check them out here.
6. Hit The Links at the Las Vegas National Golf Club
Distance From Center Strip: 4.5 miles (google maps)
How does hitting the greens sound? Located just 10 minutes off the Strip is the Las Vegas National Golf Club. Here you'll find a championship 18-hole golf course right in the middle of the city!
This traditional course is a par 71 and will provide a fun and challenging course for players of all skill levels. Open to the public, just call 702-889-1000 to book a tee time.
Oh, and who needs a golf cart?…check out the golfboards available at this club in the video above.
7. Have Wild Time Off Strip at the Fremont Street Experience
Distance From Center Strip: 5.5 miles (google maps)
If there ever was an attraction that proves there's more to Las Vegas than just the Strip, it would be Fremont Street. It has lights, gambling, entertainment, dining, thrills, and partying, but it is not a Vegas Strip wannabe. It is its own entity, with a distinct personality and unique appeal.
Located just a few miles from the Strip in the downtown area, the Fremont Street Experience is a canopy-covered block party on steroids, with a dizzying array of activities – most of them family-friendly. Here are a few of the more popular activities:
Music venues – Viva Vision light shows; free concerts; tasting festivals; holiday events
SlotZilla – A 11-story zipline. Riders can fly seated for two blocks, starting on the equivalent of a seven-story building; or they can fly like Superman on the Zoomline, 11 stories above the ground. The Zoomline covers a distance of five city blocks.
Casinos – The D Casino & Hotel; Golden Gate Hotel & Casino; California Hotel & Casino; Four Queens Hotel & Casino; Binion's Gambling Hall; Fremont Hotel & Casino; Golden Nugget Las Vegas; and Main Street Station Casino, Brewery & Hotel. There is no shortage of off-Strip casinos here!
Dining – Hugo's Cellar; Redwood Steakhouse; Vic & Anthony's Steakhouse; Second Street Grill; Andiamo Italian Steakhouse; Top of Binion's Steakhouse; plus numerous casual eateries.
Find out why it's worth heading to downtown Las Vegas in our article here.
8. Explore Las Vegas' Criminal Past at The Mob Museum
Distance From Center Strip: 7 miles (google maps)
Take an interactive journey through the seedy world of mobsters and G-Men at the Mob Museum in downtown Las Vegas. This world-class museum will give you the low down on all the true gangster stories of greed, corruption, and murder in American history. From famous crime family bosses to the District Attorney who put them behind bars.
You probably didn't come to Las Vegas to visit museums, but you'll want to make an exception for this one! The museum occupies three floors of a former (1933) courthouse in downtown Las Vegas, with themed areas ranging from the days of the speakeasies, the Kefauver hearings, the St. Valentine's Day Massacre, and organized crime in the 21st century.
9. Experience the Silverton Casino & Bass Pro Shops
Distance From Center Strip: 7 miles (google maps)
One of my personal favorite off-Strip casinos in town is the Silverton Casino & Hotel. It has a different vibe from the casinos on the Strip and is decorated in a more outdoorsy, rustic style.
One of its main attractions is the 117,000-gallon tropical aquarium that sits just inside the entrance. In addition to the beautiful fish, there are daily "Mermaid Swim" shows (see our article here for showtimes). These free shows are a lot of fun for all ages.
But wait, there's more! Connected to the Silverton Casino is one of Bass Pro Shops' mega stores. It's a 145,000-square-foot outdoor superstore! Not only is this the biggest Bass Pro Shops I've ever seen but the store is filled with huge exhibits of the outdoors.
They have giant indoor waterfalls, freshwater aquariums, huge taxidermied animals, and much more! If you're into the great outdoors this is certainly worth your time.
10. See Vintage Vegas at the Neon Museum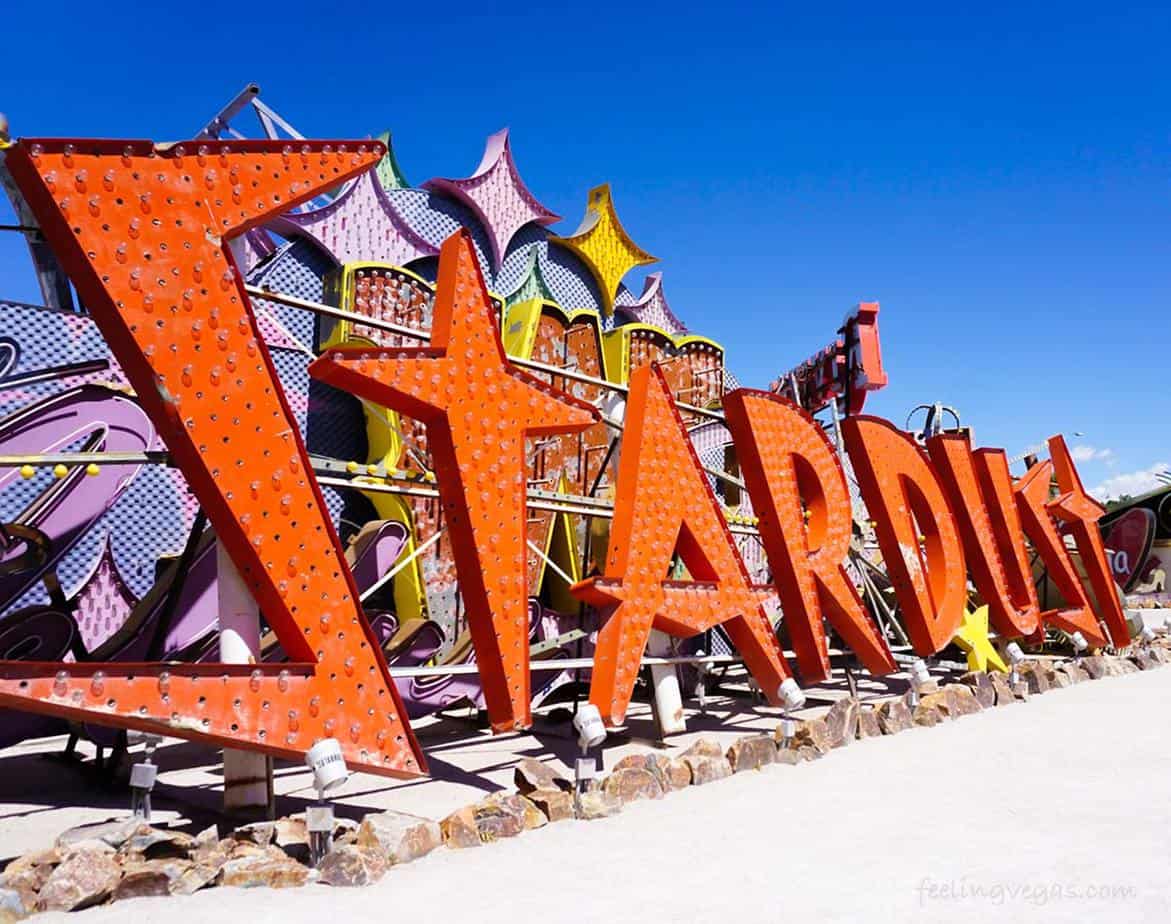 Distance From Center Strip: 7 miles (google maps)
Visit the Neon Museum Boneyard and take a trip back in time to see some famous relics from the early days of Vegas. The boneyard is full of vintage signs from some of Las Vegas's most famous casinos and businesses from the past.
While the Neon Museum is still technically on Las Vegas Boulevard, its far north location makes it outside the area most people think of when talking about the Strip, and its a great spot to visit if you just want to get away from the hustle and bustle further down the boulevard for awhile.
➡ Find out everything you'll need to know about visiting the Neon Museum in our article here.
11. Take a Trip to the Springs Preserve & Botanical Gardens
Distance From Center Strip: 8 miles (google maps)
It's a refreshing oasis in the middle of the desert, and a welcome respite from the chaos of Vegas.
The Springs Preserve & Botanical Gardens is a patchwork quilt of a number of exhibits that includes museums, a butterfly habitat, a replica of the humble beginnings of Las Vegas circa 1905, a hands-on hydrology exhibit, walking trails, train rides, environmental education, a solar-powered home, a nature encounter, and a wildlife exhibit.
Springs Preserve is open daily from 9 a.m. to 5 p.m.
12. Spend a Day at the Costa del Sur Spa & Salon
Distance From Center Strip: 8 miles (google maps)
How does spending your day rejuvenating your body, mind, and spirit sound? If you're nodding your head YES!, then head over to the Costa del Sur Spa at the South Point Hotel & Casino.
With over 40,000 square feet of relaxation, the spa offers treatments for women, men, couples, and teens. In between treatments you can visit their sauna and steam rooms or take advantage of the full-service salon.
13. Explore the Las Vegas Wetlands
Distance From Center Strip: 9 miles (google maps)
Wetlands in Las Vegas?!!! It's true. The Clark County Wetlands Park is the biggest park in the Clark County park system. It's located on the east side of town and originates from the Las Vegas wash.
The 2,900 acre park is a great opportunity to get off the Strip and experience a bit of Las Vegas nature. There are trails, ponds, desert animals, and plenty of quiet areas to be found. There is also a large visitor center with a bunch of exhibits. The park is free to enjoy!
14. Check Out The Ethel M Chocolate Factory and Cactus Garden
Distance From Center Strip: 9 miles (google maps)
For a more delicious outing, you'll want to be sure and visit the Ethel M Chocolate Factory in nearby Henderson. Go on a factory tour to learn how Ethel M makes their gourmet chocolates and confections.
After sampling and enjoying the chocolates, be sure to stroll through their outdoor cactus garden. With over 300 species of cactus, the garden is one of the largest specialty gardens of its kind in the world.
15. Take a Las Vegas Night Flight Helicopter Tour
Distance From Center Strip: 10 miles (google maps)
You may want to get off the Strip for a while but how would you feel about flying over it? Taking a helicopter flight over the Strip at night is not something you will soon forget.
Viewing the city lights from above is even more spectacular than from the ground. Find out more and book your flight here.
➡ Before booking any helicopter flight in Las Vegas, you'll want to check out our article here to find out how to choose a safe helicopter tour company.
16. Become a Race Car Driver at Exotics Racing
Distance From Center Strip: 17 miles (google maps)
If you've ever dreamt of driving a high-performance sports car, or it's been several years since you sold your Lamborghini and have the need for speed, you might want to check out Exotics Racing. At Exotics Racing, you can take a super-charged, expensive sports car for a ride around the track where there's no speed limit.
You can book a five-lap (or more) thrill ride in a Lamborghini, Porsche, McLaren, Ferrari, Aston Martin, or a host of "tamer" sports cars. For a more enhanced experience, you can even book a High-Performance Driving Experience, where you learn how to handle the horsepower and amp up the adrenaline.
Or just go full-bore speed freak and sign up for racing school and qualify to participate in a real race against other students.
They also manage the adjacent Vegas Superkarts, a go-kart track like none you've ever seen before. These are not the oily sputter buggies you'll find at your local family fun park, but gleaming, souped-up, high-performance racing karts that are sure to be faster than any go-kart you've ever driven before. Find out more right here
17. Experience Las Vegas Nature at Red Rock Canyon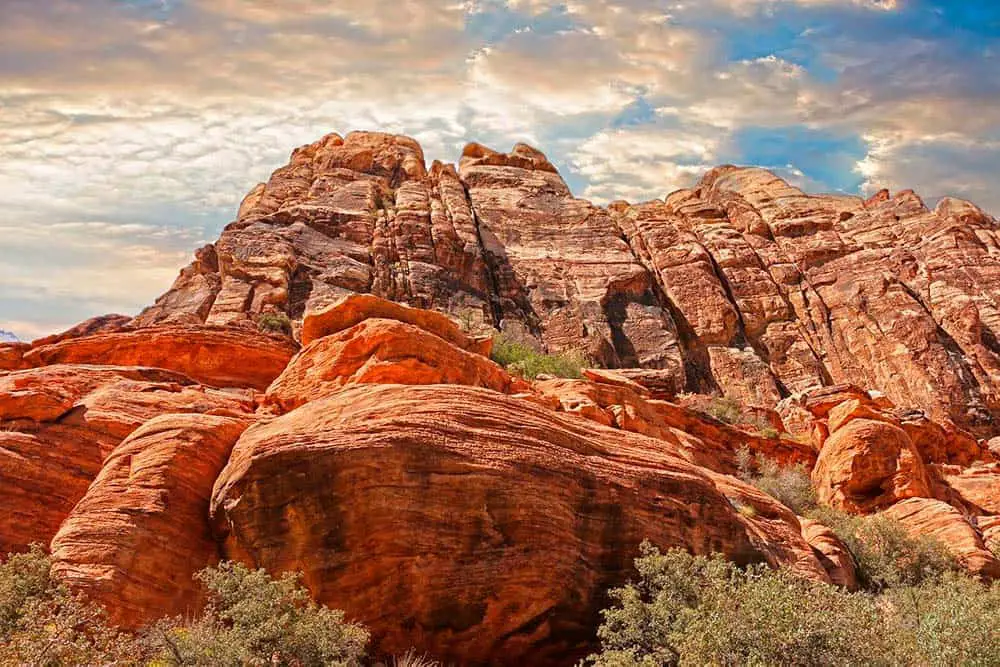 Distance From Center Strip: 18 miles (google maps)
Red Rock Canyon is the wide-open spaces answer to the gridlock of the big city. Located just a few miles west of Las Vegas, it encompasses nearly 200,000 acres of Mojave Desert wilderness. Dramatic scenery, geological marvels, and a few critters are the main attractions here.
There are 26 round-trip hiking trails of various distances throughout the park, each with its own set of attractions. Some of the more popular trails include:
Calico Tanks – 2.2 miles, but somewhat strenuous. Includes gorgeous sandstone formations.
Turtlehead Peak – 4.6 miles, strenuous. Sweeping view of the canyon from the top of the peak. An early start is highly recommended.
Grand Circle Loop – 11.7 miles, moderate with some strenuous sections. Beautiful scenery all day long.
White Rock Mountain Loop – 6.1 miles, strenuous. The chance for wildlife viewing, with a mountain spring and small waterfall along the way.
Petroglyph Wall – 0.2 miles, easy. The shortest and easiest of the trails, this one brings you to a rock adorned with 800-year-old native American artwork.
Lost Creek Children's Discovery – 0.6 miles, easy. Takes hikers through many features of the Mojave Desert in a short span. Hikers may be rewarded with a hidden waterfall at certain times of the year.
Knoll – 3.6 miles, moderate. Deer, bighorn sheep, birds, and occasional reptiles will be encountered on this trail.
➡ Find out how to get to Red Rock Canyon and the best things to see along the way in our in-depth article here.
18. Visit The Seven Magic Mountains (Off The Strip Las Vegas)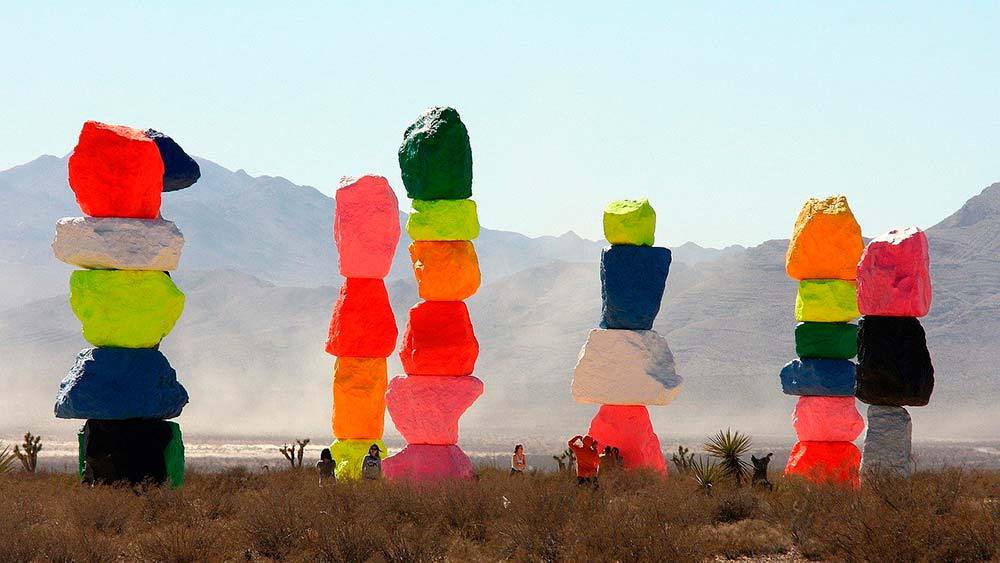 Distance From Center Strip: 22 miles (google maps)
I don't know about you but I always see the weirdest things while driving through the desert. One of those weird, wonderful, and amazing things can be found just outside of Las Vegas and it's called the Seven Magic Mountains.
This desert art installation by Ugo Rondinone is a series of seven totems of brightly painted boulders stacked on top of each other. The rock stacks reach heights of 35 feet and are just about the strangest and most color things you can ever expect to see in the Mohave Desert.
The Seven Magic Mountains are free to visit and are high on the list of most instagramable spots in or around Vegas!
Find out everything you'll want to know about visiting the Seven Magic Mountains in our complete article here.
19. Discover Lake Las Vegas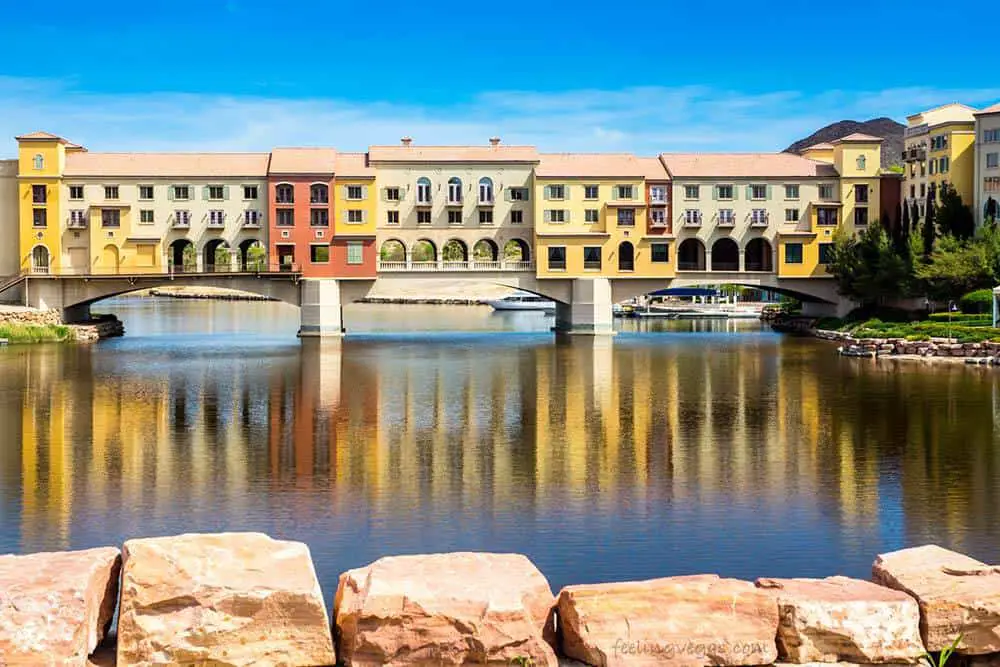 Distance From Center Strip: 25 miles (google maps)
If you want to get away from the shenanigans on the Strip for a while, you might consider heading out to The Village at Lake Las Vegas. The Village is a quaint area of shops and restaurants found right on the Lake.
This is kind of one of those areas you don't expect to find in Las Vegas. The whole area is an upscale community surrounding the man-made lake.
Have a drink or a meal on the patio of one of the restaurants or take a stroll through the shops. During the weekend you might find a small festival such as a beer or wine tasting event.
20. Go to Historic Boulder City
Distance From Center Strip: 25 miles (google maps)
On the way to Hoover Dam, you'll find Boulder City. This city was created to house the workers while they were building the dam and as such it's one of only two cities in Nevada that prohibits gambling. In addition to Hoover Dam, the city is also the gateway to Lake Mead.
The cute little downtown area is an ideal place to stop for lunch and do some shopping on the way to or from either of these attractions. Check here to see all the things to do in and around Boulder City.
21. Soak Up The Sun at Boulder Beach on Lake Mead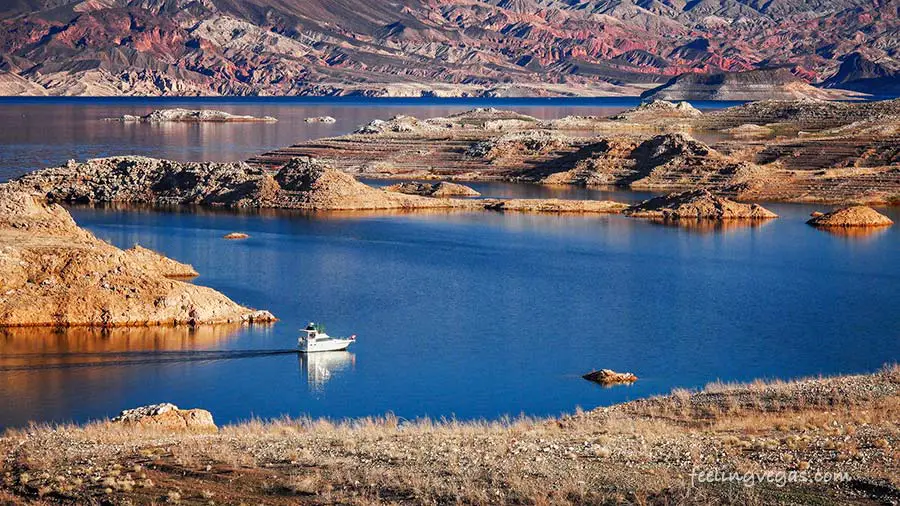 Distance From Center Strip: 34 miles (google maps)
If you're looking to sit on a beach and soak up the desert sun then you'll want to head to Boulder Beach. It's a mile-long stretch of shoreline along Lake Mead that is easily accessible for swimming and sunbathing and is a perfect place to spend the day.
Being a lake, don't expect sandy beaches, it's more gravel and small rocks so bring a comfortable chair.
22. Do Not Miss Hoover Dam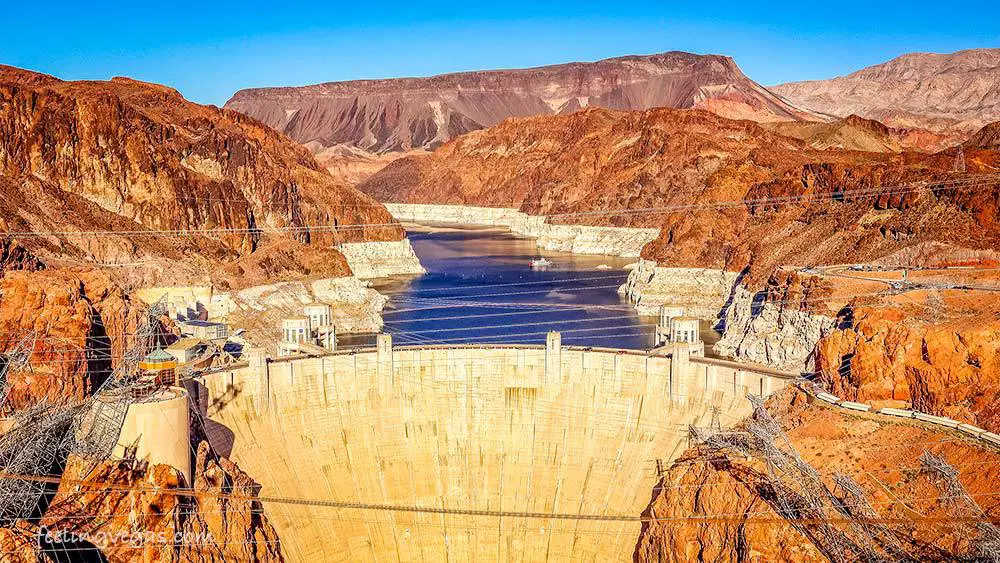 Distance From Center Strip: 36 miles (google maps)
OK, you knew about this one, but since it's a must-see destination I had to include it.
Hoover Dam, located about 45 minutes from the Strip in Las Vegas, is the largest dam in the U.S. in terms of sheer water volume.  It's neither the tallest nor the longest, but for the amount of lake water it holds back, it's No. 1.
Visiting the dam is easy and free if you're driving yourself or you can take one of the many tours from Las Vegas.
➡ Find out everything about visiting Hoover Dam in our article here.
23. Visit The Nearby Town of Primm – A Mini Vegas
Distance From Center Strip: 38 miles (google maps)
If you're driving to Vegas from southern California, Primm is the first thing you'll see in Nevada after crossing over the state line. Primm also makes for a great day trip if you came into Las Vegas from a different direction or by different means.
Primm is a small unincorporated town that sits on either side of Interstate 15 heading south out of Las Vegas.
Its primary attractions are three casinos and an outlet shopping mall (Find out all about outlet shopping in Las Vegas in our article here), and makes for a great stop when heading into Vegas from Cali or a great last chance to hit it big if you're heading home.
While nowhere near as big and flashy as Vegas it still makes for a fun outing if you're looking for something different to do away from the main drag in Las Vegas and don't mind a bit of a drive.
24. Explore Eldorado Canyon & Nelson Ghost Town
Distance From Center Strip: 44 miles (google maps)
Nelson (Located in Eldorado Canyon) is a ghost town about 45 miles from Las Vegas that gives visitors an eerily realistic look at what life was like in the mining boomtowns of the wild west.
The most iconic feature is the Techatticup Mine, where rustic buildings and rusted automobiles underscore the demise of the gold mine that once attracted thousands of hopeful prospectors to the area.
Visitors can explore an old general store, a stamp mill, a bunkhouse, miner cabins, and the old mine itself. There isn't a whole lot in terms of guided tours, except for a mine tour, but that's part of the appeal of this area. Visitors can go at their own pace and make their own discoveries.
Eldorado Canyon has a rich history among both native cultures and European American cultures. Known as the "Canyon of Gold," Eldorado Canyon saw its share of old west drama, involving renegade chiefs, Civil War deserters, gold prospectors, corrupt lawmen, gunslingers for hire, and horse thieves.
25. Feast Your Eyes on All of The Red Rock at Valley of Fire State Park
Distance From Center Strip: 53 miles (google maps)
Some of the world's most amazing sandstone formations can be found at the Valley of Fire State Park. Park information calls it "40,000 acres of bright red Aztec sandstone," and it is a sight to behold.
This is also the place to see petrified trees and Native American petroglyphs dating back more than 2000 years. Most of the sites are self-guided with a number of hiking trails of various lengths and levels of difficulty. The park is open year-round, and camping spots are available.
26. Take a Day Trip to Death Valley National Park
Distance From Center Strip: 106 miles (google maps)
Two and a half hours from Las Vegas is the famous desert area known as Death Valley. It's hot and dry, but it's hardly desolate.
The best option for people on a schedule is to book a Death Valley Adventure Tour. For your $250+ fare, you will see the Ubehebe Crater, Dantes View, Devil's Golf Course, Badwater Basin, the Rhyolite Ghost Town, and more.
The tour is usually available between September and June. It's just too hot in July and August!
➡ Find out about the Best State and National Parks Near Las Vegas in our article here.
27. Visit Grand Canyon West
Distance From Center Strip: 125 miles (google maps)
When people think of the Grand Canyon, most think of the South Rim, but the Grand Canyon, as a geological feature, has three rims with relatively easy access to the canyon. They are the North Rim, South Rim, and West Rim. It's the West Rim, however, that is the most easily accessible from Las Vegas.
Again, the best way to get there is by booking a day tour to the Grand Canyon from Las Vegas. You'll visit the Joshua Tree Forest, get an opportunity to walk out on the sky bridge over the canyon, and, of course, see the spectacular sights from the West Rim of the Grand Canyon.
If you're short on time, you can even visit the Grand Canyon by air by booking a helicopter tour from Las Vegas.
➡ How Far is the Grand Canyon from Las Vegas? – Find out how to get to all three rims of the canyon from Vegas in our article here.
Final Thoughts
So there you have it! 27 ideas for fun things to do in Las Vegas off the Strip.
Know you know there's so much more to Las Vegas than just the Strip. If you're excited for a change of scenery during your Vegas vacation I hope you found this list of things to do off the Vegas Strip helpful in planning some adventures for you and your family or friends during your visit.
Whatever you choose to do I wish you a wonderful time visiting Las Vegas!