13 Best National & State Parks Near Las Vegas (AWESOME!)
(This article may contain affiliate links. If you click through and make a purchase, we will receive a small commission at no additional cost to you. )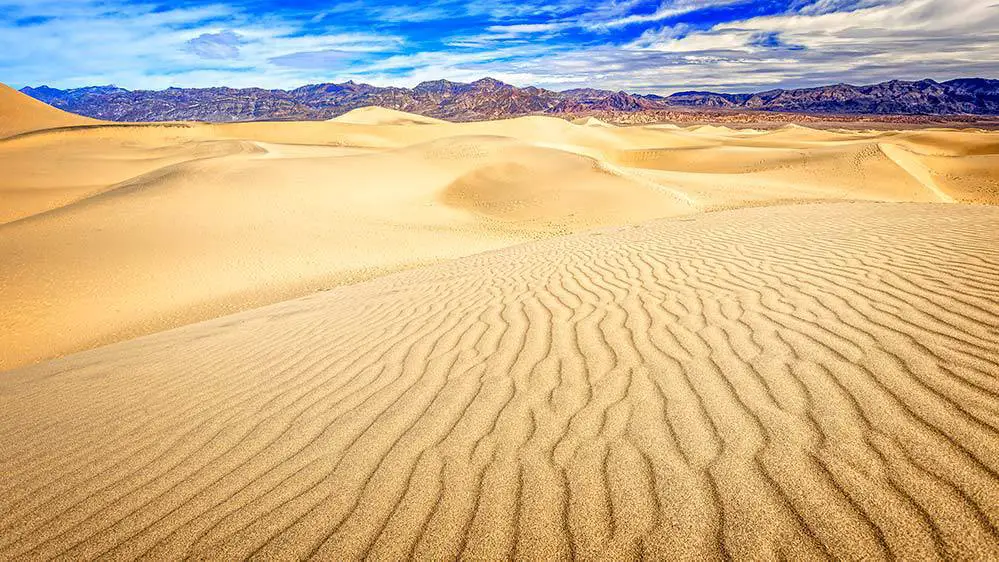 Visitors flock to Las Vegas for the casinos, shows, restaurants, and attractions but did you know that the city is surrounded by some of the best State and National Parks in the country?
Take a drive out of Las Vegas in literally any direction and you'll be headed toward some of the most beautiful scenic locations found anywhere in the American Southwest and it's all quite close to Las Vegas.
These are some of the best State and National Parks near Las Vegas:
Red Rock Canyon National Conservation Area
Spring Mountain Ranch State Park
Tule Springs Fossil Beds National Monument
Lake Mead National Recreation Area
Valley of Fire State Park
Death Valley National Park
Cathedral Gorge State Park
Zion National Park
Joshua Tree National Park
Bryce Canyon National Park
Grand Canyon National Park (South Rim)
Great Basin National Park
Mojave National Preserve
Keep reading and I'll tell you about the best parks for short day trips, longer full-day trips, and overnights near Las Vegas. I'm going to break down what you need to know about these scenic parks, how to get to them, and the best times of year to visit.
When spending time in Las Vegas, you should definitely consider taking advantage of these nearby state and national parks.
There are thirteen state and national parks I recommend going to near the Las Vegas area. There are actually quite a few more than that if you're willing to range further afield, but I wanted this article to focus on those that are closest to the city.
As such, the furthest parks from Las Vegas that I've recommended in this article are no more than 4.5 hours away by car.
Red = The best parks near Las Vegas featured in this article
Blue = More National Parks and recreation areas further away but still close enough to Las Vegas to visit.
Amazingly, there are some really cool National Recreation areas and State Parks found quite close to the Strip, making them easy short trips if you don't want to be away from the Las Vegas action for too long. Then there are some State and National Parks nearby that will either require a longer day trip or an overnighter. So let's get started!
Need a Vegas rental car? Find the best deals on car rentals in Las Vegas (Discover Cars)
Red Rock Canyon National Conservation Area
Red Rock Canyon is only located about 18 miles west of Las Vegas and is easily accessible by car. You can also take a guided tour from Las Vegas to get you there. The major draw of Red Rock Canyon is in the name.
The rocks here are rich in red hues, offering great photo opportunities against the backdrop of the desert and sky. The conservation area is part of the Mohave Desert and covers just under 200,000 acres of land.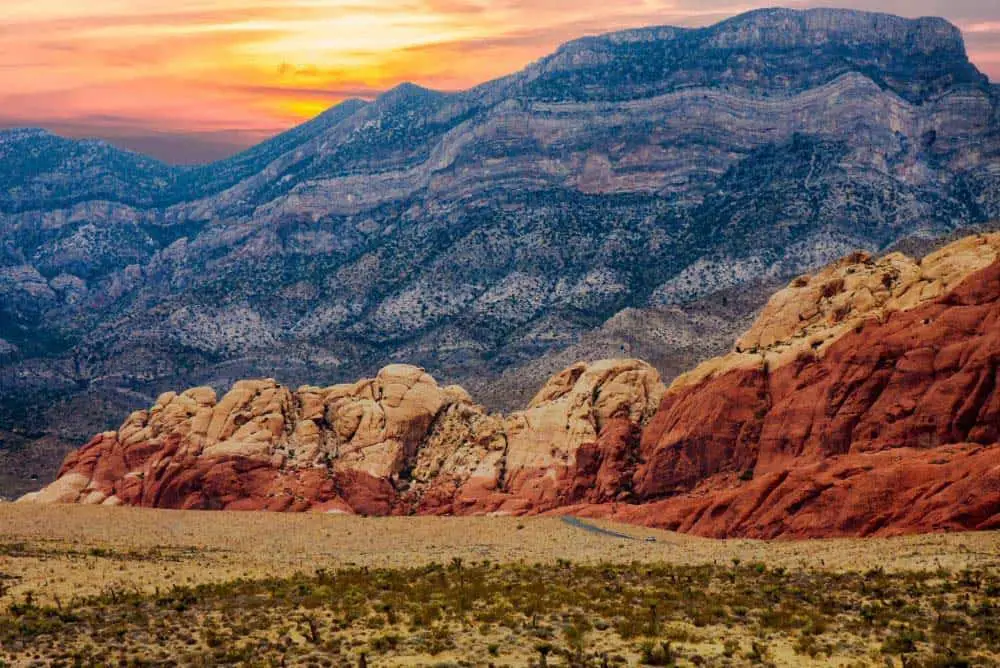 There are multiple things to do within the area:
Take a 13-mile scenic drive where you can pull off for photos, hiking, and biking.
The area offers 26 different trails for you to hike and some that are designated for biking.
You can also consider camping on the grounds or taking advantage of the rock climbing areas that are growing in popularity.
It's also the only park on this list that expressly allows drones to be flown within its boundaries.
See our full article about rules for flying drones in Las Vegas and where you can fly them here.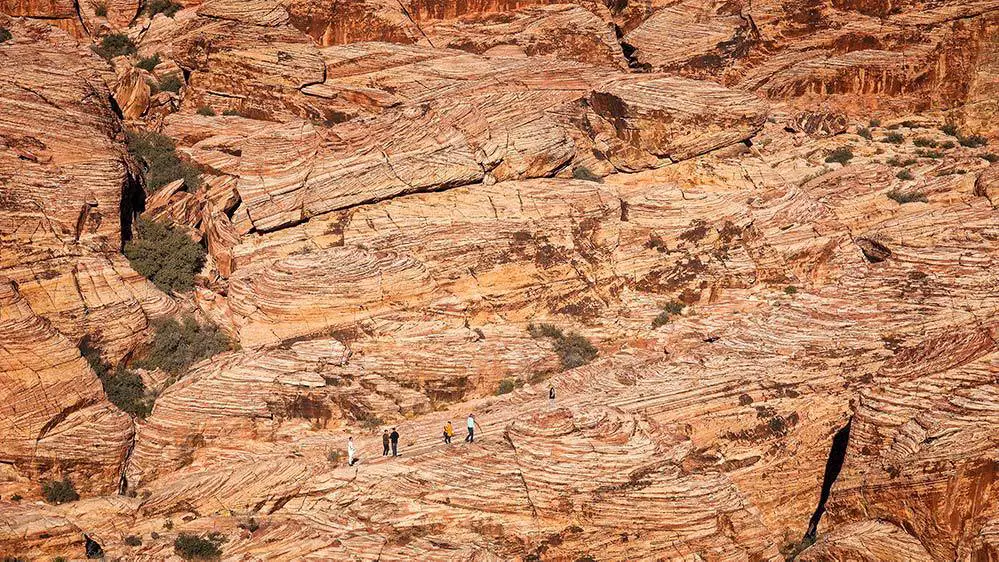 You'll see some beautiful Nevada desert views, and experience slightly cooler temperatures than you'll find on the Strip, it's a comfortable place to spend a day in a relaxed and natural setting. I still recommend bringing plenty of water and preparing accordingly, as you are in the desert.
With this 'attraction' so close to Vegas, it is definitely worth the short drive.
Be sure to check out our in-depth article about visiting Red Rock Canyon.
Entrance fees will vary by vehicle and number of people but run between $10-15 per vehicle. Staff in the conservation area also host events throughout the year, including guided hikes, tours on different topics, and artist demonstrations. Pets are also allowed in the park if they are kept on a leash.
Distance: 18 miles from the Strip (25 min)
Address: 1000 Scenic Loop Dr, Las Vegas, NV 89161 (google maps)
Best Time of Year to Visit: Year-round except for June, July & August (too hot)
Spring Mountain Ranch State Park
Located not far from Red Rock Canyon, you can also check out Spring Mountain Ranch State Park that once served as a working ranch and at one time was owned by eccentric millionaire Howard Hughes.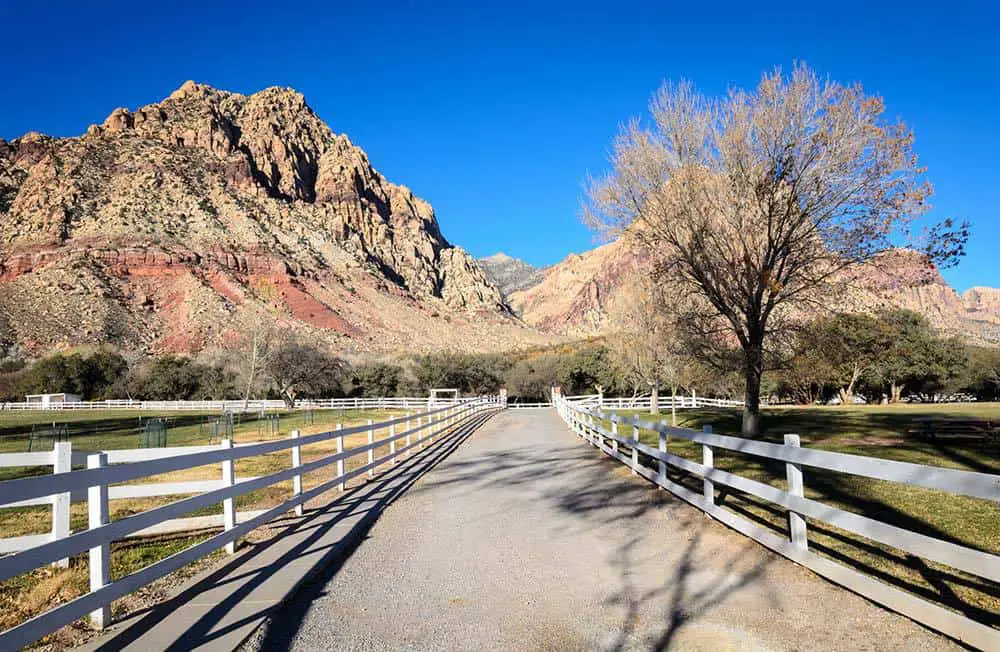 You can visit the buildings that were used on the ranch, including some of the oldest buildings still standing in Nevada. They offer guided tours to learn more about the history of the property, or you can explore it yourself.
The park features hiking trails throughout the property that will give you great views of different rock formations and wildlife found in the area. There are five trail loops to choose from, all varying in length and difficulty that take you through canyons, and groves, as well as to various lookout points.
This is more of a relaxed and manicured setting as the park also has grassy areas with picnic tables that are perfect for lunch. Its greenness creates an interesting contrast with the surrounding desert.
One of the coolest parts about this park is it hosts concerts and theater performances throughout the summer. These events will typically run from May through September.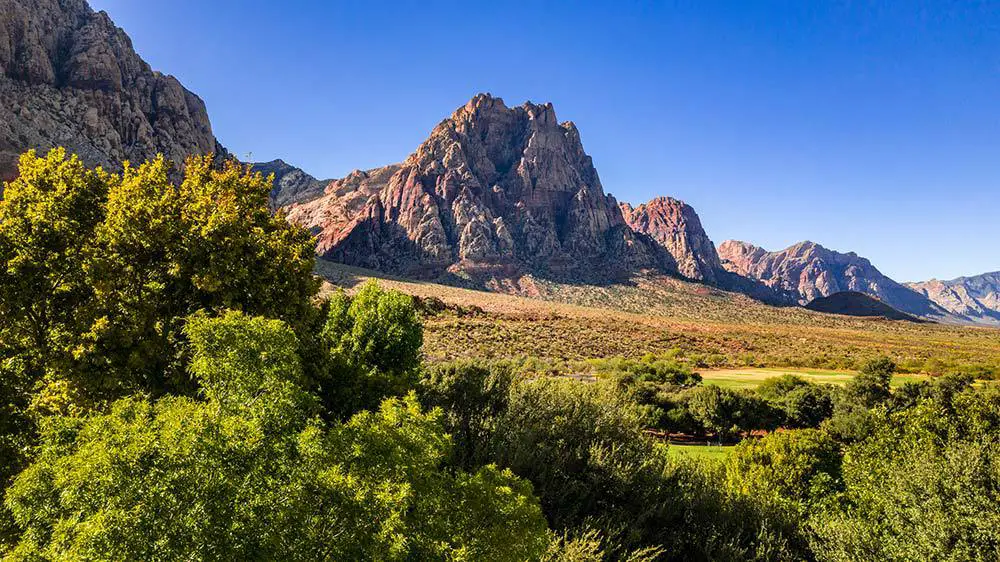 More information about directions and entrance to the park can be found on the Spring Mountain Ranch website. It costs $10 per vehicle to enter the park and pets are allowed as long as they are kept on a leash.
Distance: 24 miles from the Strip (40 min)
Address: 6375 NV-159, Blue Diamond, NV 89004 (google maps)
Best Time of Year to Visit: Year-round
Tule Springs Fossil Beds National Monument
Unlike many of the other locations in this article, where you can enjoy the massive rust-colored rocks and desert, the Tule Springs Fossil Beds takes you back to the Ice Age and reveals the remainders of a prehistoric past just thirty minutes from Las Vegas.
Home to plenty of fossils, excavations began in 1962 and have revealed prehistoric animals including mastodons, saber-tooth tigers, and even American lions that once roamed the area. You can now explore this prehistoric wonder yourself!
There is a hike that brings you close to the historic dig spots and trenches, where you might be able to find a few fossils yourself. You'll be able to enjoy the Nevada desert while searching for remnants of the past. The most popular activities in the park include hiking, horseback riding, and photography.
This national monument has only been open a short period of time, making it one of the newest parks to explore near Las Vegas. It still remains an area of scientific study, serving as a space for continued discovery and paleontological research, so you may even see a dig in progress. The park is open during daylight hours almost every day of the year.
It is currently free to visit the Tule Springs Fossil Beds National Monument, and leashed pets are allowed in the park.
Distance: 22 miles from the Strip (30 min)
Address: Las Vegas, NV 89124 (google maps)
Best Time of Year to Visit: Spring (March-May) and Fall (October-November)
Lake Mead National Recreation Area & Hoover Dam
Run by the National Park Service, Lake Mead National Recreation Area is a popular outdoor destination that lies just 29 miles from the Las Vegas Strip. The lake was created as a result of the Hoover Dam, which you can also visit nearby.
Find out what you need to know about visiting Hoover Dam in our article here.
There are plenty of activities you can partake in at Lake Mead, including: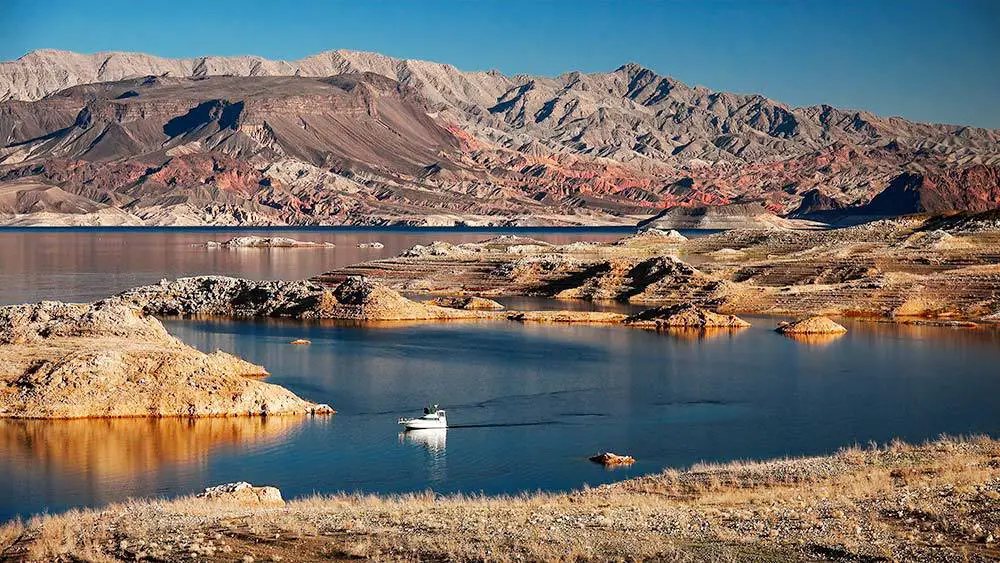 Boating: You can launch a boat from Lake Mead Marina to fish and explore the surrounding shoreline. You can even rent a houseboat and spend the night on the lake.
Kayaking: This can be a great workout and water activity to explore areas that are unreachable by foot, car, or even larger boats.
Fishing: Fishing is a popular activity from both boats and miles of shoreline throughout the park.
Swimming: You can access the lake for a swim from different beach areas or from the miles of hiking trails surrounding the lake.
Hiking: Hiking is one of the largest draws to the lake, there are nine different designated wilderness areas you can explore on foot.
Camping: Offering opportunities for both backcountry camping as well as at several official campgrounds, you can spend the night at the lake.
Driving: There is still plenty to see if you prefer to just drive through the Lake Mead area, including scenic routes, bridges, and lookout points.
Another option available is to take a Lake Mead cruise on an authentic Mississippi paddle wheeler. This cruise will provide wonderful views of Lake Mead with options of dinner or even a champagne brunch.
Of all the parks on our list, Lake Mead offers one of the largest ranges of activities you can participate in. I recommend taking advantage of the park as a day trip from Las Vegas at the very least, or you can choose to stay at one of the many campgrounds.
Lake Mead can be an enjoyable destination throughout the year (however, it does get very hot in the summertime, so plan accordingly).
You can learn more about various entrance fees, directions, and logistics of visiting Lake Mead here. The lake is open almost every day of the year, including most major holidays.
Pets are allowed in the developed areas of the park, including trails and campgrounds, as long as they are kept on a leash and not left alone.
Distance: 29 miles from the Strip
Address: 10 Lakeshore Rd, Boulder City, NV 89005 (google maps)
Best Time of Year to Visit: Spring (March-May) and Fall (October-November)
Valley of Fire State Park
Valley of Fire State Park is located about 50 miles northeast of Las Vegas. It gets its name from the red sandstone rock formations and canyons that form the park.
The park features 11 distinct hiking trails of varying lengths and grades, including caves and overhangs on the Rainbow Vista Trail and canyon corridors on the Prospect Trail.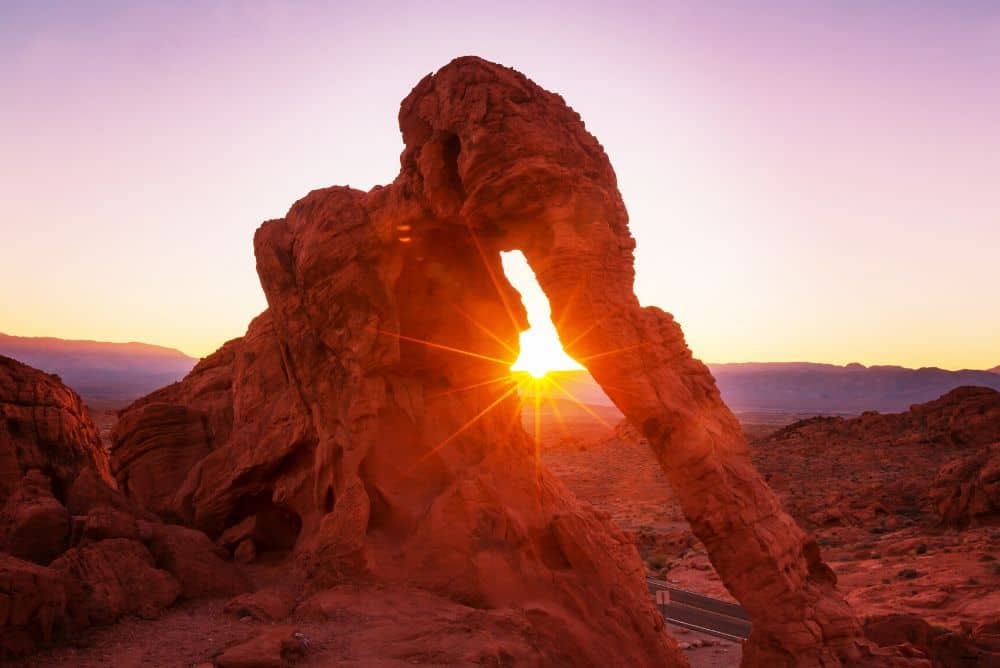 These are some of the activities you can enjoy at the Valley of Fire State Park:
Camping: This includes two campsites for traditional camping as well as RV sites.  You will need to purchase passes that are first-come, first-serve, and there are 72 spots available. 
Hiking: Check out one of many trails (downloadable .pdf) in the park. You can even take your dogs as long as they're leashed. There are also separate trails permitted for biking. 
Picnics: There are picnic tables located on multiple trails so you can bring a lunch and relax. Make sure to carry your trash out and leave the area as you found it.
The park charges a $10 entrance fee per vehicle and is open from sunrise to sunset almost every day of the year.
A unique event they hold annually is the World Atlatl Association Competition, where people compete by throwing an ancient spear called an Atlatl. This event is typically held at the end of March each year.
Consider stopping by the visitor center to learn more about these events and the history of the park.
Full-day guided tours are also available to Valley of Fire from Las Vegas. You'll see all the important sights without having to lift a finger.
Distance: 52 miles from the Strip (1 hour)
Address: 29450 Valley of Fire Hwy, Overton, NV 89040 (google maps)
Best Time of Year to Visit: October – April
Death Valley National Park
I've included some parks a little further out from Las Vegas because if you are visiting, this may be the best opportunity you have to visit these world-renowned national parks.
Death Valley National Park is located a little under two hours west of Las Vegas, close to the California-Nevada border. It is known for having the lowest point (below sea level) in North America.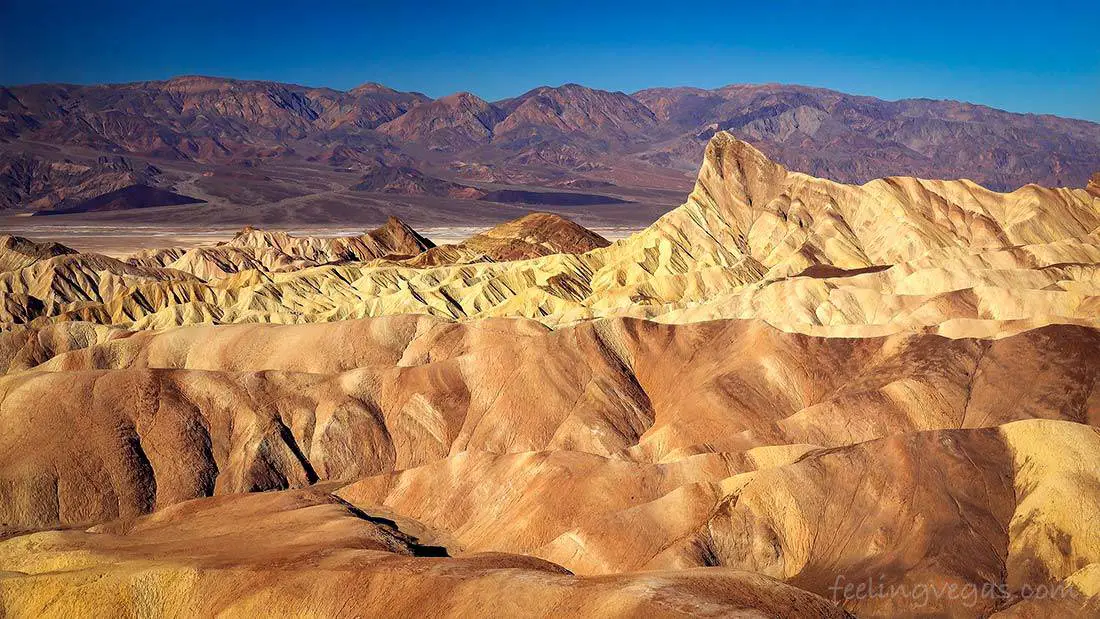 There is plenty to do in Death Valley, including numerous hiking trails, salt flats, ghost towns, sand dunes, camping, mountain biking, off-roading, scenic drives, and various lookout points for great photo opportunities. Death Valley covers 3.4 million acres of space, giving you more than enough room to explore.
These are the top things you should check out in Death Valley when you visit:
Badwater Basin: Here, you'll find the lowest point in the United States at 282 feet below sea level.
Mesquite Flat Sand Dunes: Miles and miles of sand dunes are surrounded by mountain ranges, making this a unique geological landscape. Hiking along the tops of the dunes is a really cool activity.
Zabriskie Point: This is a popular hiking area in Death Valley as it offers amazing views and plenty of trails to hike along.
Rhyolite Ghost Town: There are a couple of ghost towns near Death Valley, but this one is the closest and most popular. When we say popular, you still won't find crowds of people there. There are also some cool art installations nearby.
Artist's Drive: Accessible by car (or hiking if you want to venture into the hills), you can see a variety of mountain and canyon colors. This has given the area its name with the natural rock varieties appearing almost rainbow-like.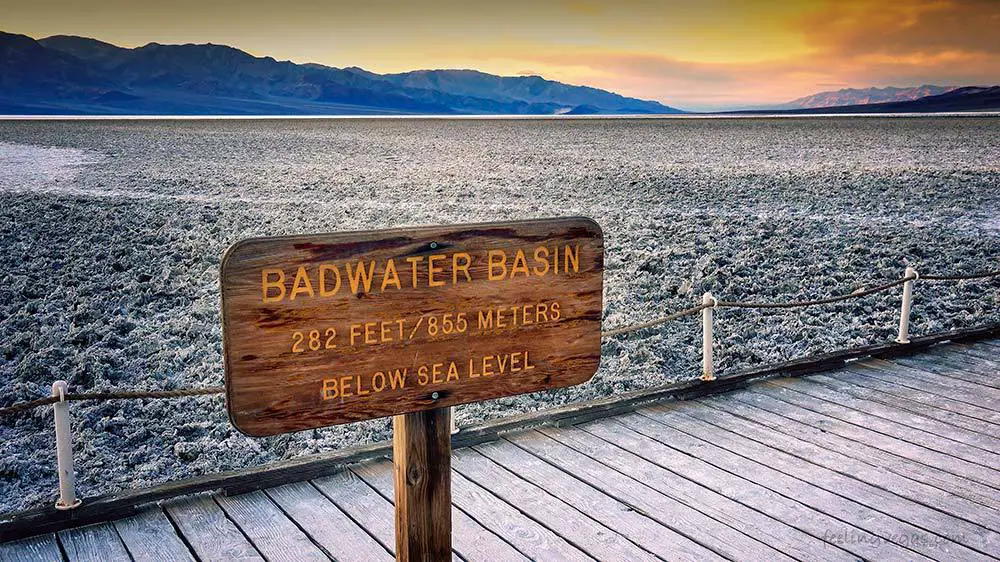 Because its name points to the hot, dry, and barren nature of the park, I highly recommend visiting in the spring and wintertime when the weather is more manageable. Even at these times of the year, temperatures can still be quite warm. 
You can check out the various entrance fee levels here. Leashed pets are welcome on roads, campgrounds, and picnic areas but are not permitted on trails or in the wilderness area. We don't recommend bringing your pets if you plan to do a lot of hiking and exploring, as they will not be allowed to join and shouldn't be left alone. These rules are put in place to protect your animals and the park's wildlife.
A guided tour from Las Vegas is also a great way to see Death Valley. On a tour, you won't miss any of the most important spots and you can enjoy the views instead of watching the road.
Distance: 106 miles from Strip (2 hours)
Address: (google maps)
Best Time of Year to Visit: Mid-October – Mid-May
Cathedral Gorge State Park
Found a little over 2 hours north of Las Vegas, Cathedral Gorge is one of the coolest state parks in Nevada. The park is known for its unique rock formations that have been created from the erosion of the clay material it's comprised of.
The park is named for the natural spires that look similar to those found on church cathedrals.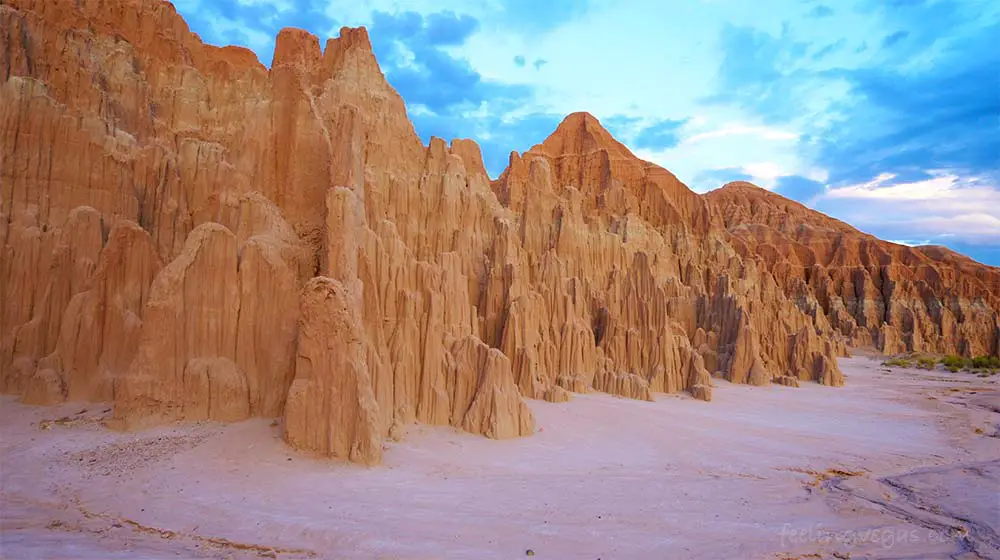 These impressive formations have attracted visitors to Cathedral Gorge campsites and hiking trails for decades. You can take a longer trail to explore narrow passageways or take a shorter trek to a lookout point.
There are five total trails to check out, all varying in distance and grade. You can also bring a lunch as there are picnic tables located throughout the park.
The state park is open every day of the year, and dogs are allowed with the usual caveat of being on a leash. The entrance fee is $5 per vehicle.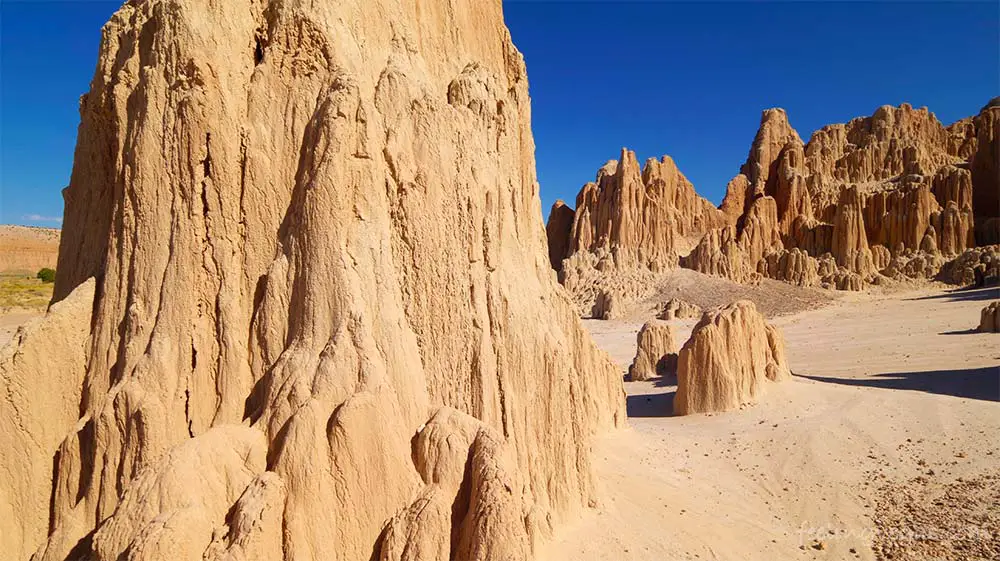 I recommend this park because it is definitely one of the most unique you will find in Nevada, with interesting clay formations. They date back millions of years ago, and it is impressive to see them still intact today.
Distance: 170 miles from the Strip (2.5 hours)
Address: 111 Cathedral Gorge State Park Road, Panaca, NV 89042 (google maps)
Best Time of Year to Visit: Spring & Fall
Zion National Park
If you want to get out of the desert for a bit, head to Zion National Park. You'll find Zion about 3 hours north of Las Vegas. It's one of the most impressive national parks in the United States.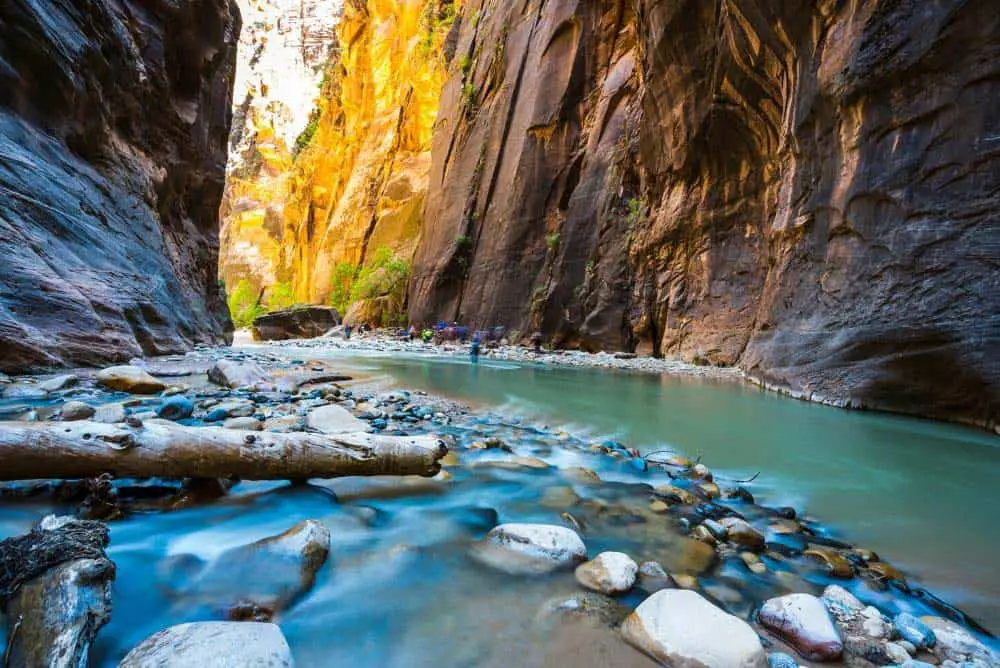 Zion offers amazing mountain views, as well as some of the most beautiful sunrises and sunsets anywhere. It's a photographer's paradise! Zion combines mountains, cliffs, forests, and scenic water features to create a stunning landscape you won't soon forget.
There are a lot of things you can do while visiting Zion National Park:
Backpacking: While this will require a permit, you can camp throughout the backcountry of the park for a cool overnight adventure. Because there are limited spots available on a daily basis, you should try and reserve your permit in advance.
Biking: A few trails in the park are accessible by bike, including the Pa'rus and Zion Canyon Scenic Drive.
Camping: You can spend the night at Zion in a campground. There are three campgrounds inside the park with different levels of amenities.
Climbing: With a proper permit, you can climb a bunch of the park's massive rock formations.
Hiking: One of the most popular activities at Zion, there are hikes for every level of difficulty. You can hike through Zion Canyon, Kolob Canyon, or take longer treks through the Zion wilderness.
Horseback Riding: The park offers guided horseback trips that'll take you to scenic areas you wouldn't normally see.
Birdwatching: There is an incredibly high number of bird species, as well as other wildlife within the park, making it a great place to see animals.
Each private vehicle that enters the park is charged $35 for a pass that's good for seven days. You can see a list of all the current fees here, depending on the size of your group and vehicle. Pets are allowed on some specific trails and not others, so you should check with a ranger for trail information.
Because the park is a bit further from Las Vegas and there is so much to do and see, I strongly recommend spending at the very least one night. It will give you the time you need to check out more of the park's offerings.
Another option would be to take a tour to Zion National Park from Las Vegas. It'll be a long day trip but you'll see everything and won't have to do any of the driving.
Distance: 164 miles from the Strip (2.6 hours)
Address: Zion national park, 1101 Zion – Mount Carmel Hwy, Hurricane, UT 84737 (google maps)
Best Time of Year to Visit: May – November
Joshua Tree National Park
One of the country's newer national parks is Joshua Tree National Park. Located southwest of Las Vegas in southern California, the park is about a 3 and a half-hour drive from the Strip.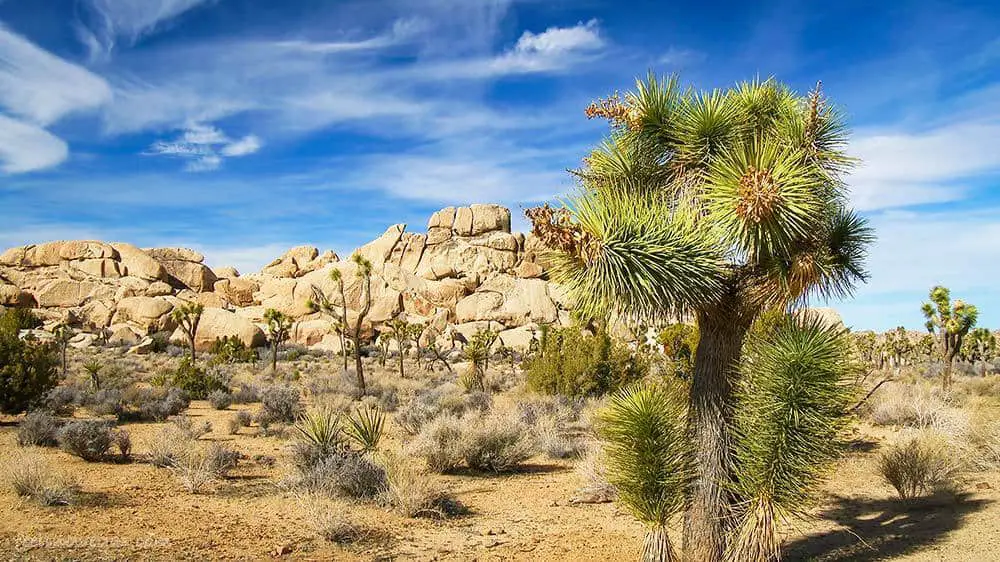 Joshua Tree has an amazing variety of plants and animals that make their homes here. The reason for this is that Joshua Tree NP is made up of two different desert ecosystems, the Colorado Desert and the Mohave Desert. These two deserts intersect in the park creating a large convergence of plant and animal species.
Here are some of the best things to do in Joshua Tree National Park:
Birding: A large number of bird species can be found in the park including roadrunner, quail, cedar waxwing, hermit thrush, kestrel, hawks, warblers, osprey, turkey vultures, and many more.
Hiking: With over 300 miles of trails you'll never be far from a good hike. From short walks to multi-day hikes, there is a trail for every visitor.
Camping: The park hosts nine developed campgrounds with a total of 500 campsites. It's a good idea to make campground reservations ahead of time between September and May.
Photography: Between the photogenic Joshua Trees and the stunning rock formations, the park is high on the list of locations for photographers.
Rock Climbing: With nearly 8,000 established climbing routes, Joshua Tree National Park is a premier climbing destination.
Stargazing: Due to its remote location, the park is very dark at night and is an excellent spot for stargazing.
Interested in stargazing closer to Las Vegas? Check out our article Best Places for Stargazing Near Las Vegas for some great locations very close to Vegas.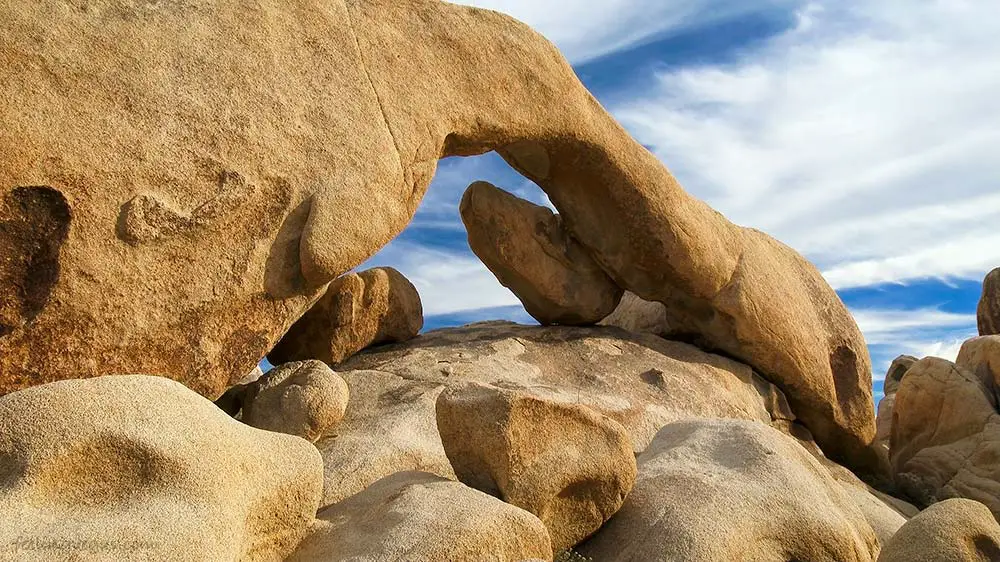 Entrance fees for the park run $30 per vehicle for a week-long pass. You can find more information about fees and passes here. Pets are not allowed on trails or the park buildings but are allowed on unpaved roads (of which there are many) as long as they're leased.
Joshua Tree National Park provides a beautiful desert landscape not too far from Las Vegas and I highly recommend a visit if you have the opportunity. It's a bit far for a day trip but you'll want to spend at least one night anyway to see the stars at night. Wow!
Distance: 194 miles from the Strip (3.25 hours)
Address: 6554 Park Blvd, Joshua Tree, CA 92252 (google maps)
Best Time of Year to Visit: March – May & October – November
Bryce Canyon National Park
The surreal landscape of Bryce Canyon National Park is its main attraction. A four and a half-hour drive north from Las Vegas, the park is a study of the effects of erosion. Over time, water and ice have eroded away much of the topsoil leaving a canyon full of towering hoodoos and spires.
In fact, it's the largest concentration of hoodoos found anywhere in the world!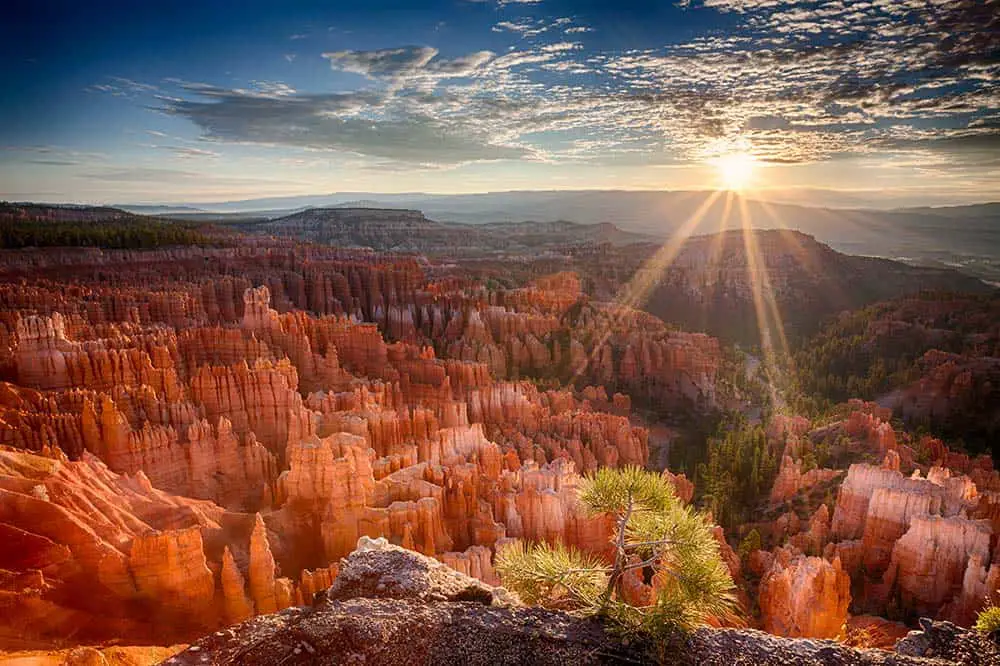 The park ranges in elevation from 6,620 feet to over 9,100 feet above sea level. As such, it's a good place to visit during the warmer months of the year. I was here once in November and I've never felt a cutting wind so cold in my life 🥶
Hiking down into the main canyon (Bryce Amphitheater) and walking among the base of the hoodoos is something everyone should experience at least once.
These are the things that should not be missed in Bryce Canyon:
Viewpoints: The park has four main viewing areas where you can get an excellent view of the canyon from different angles. These viewpoints are Inspiration Point, Bryce Point, Sunrise Point, and Sunset Point.
Hiking: You'll want to take an easy walk along the rim trail for an amazing view for sure but the park has miles of hiking trails of different levels to enjoy. Check out the Navajo Trail!
Visitor Center: Stop by the visitor center and park museum for exhibits, information, and maps.
Driving: Take the 18-mile drive (one way) on the main park road where you can stop at several viewpoints overlooking other areas of the park along the way.
Horseback: An optional but fun way to spend a day is to take a horseback ride into the park to see the sights from an entirely different perspective.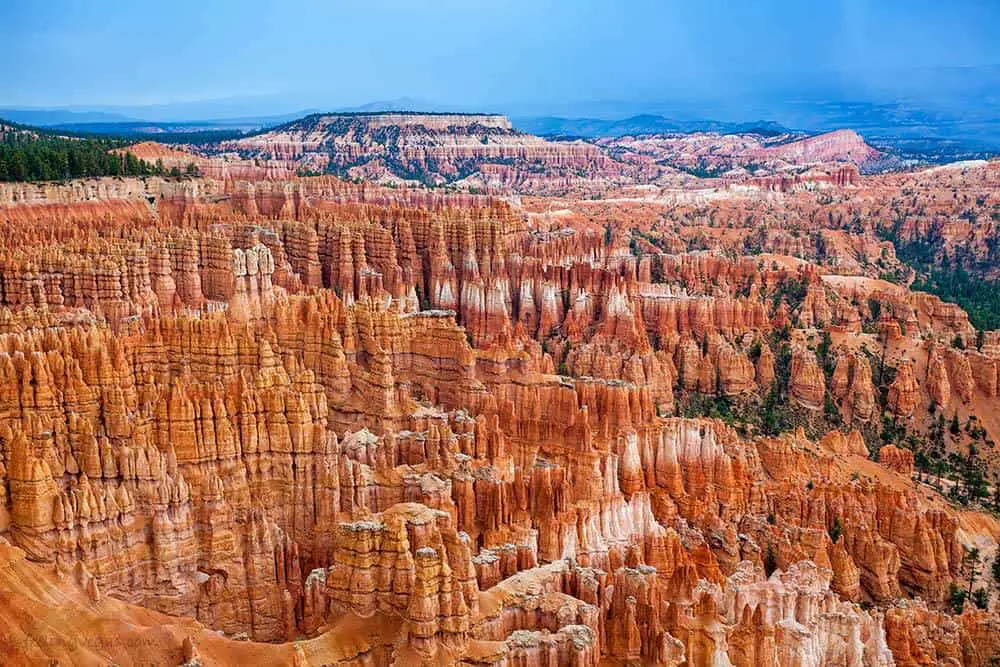 Entrance fees are $35 per private vehicle and all occupants for up to seven days. Additional pass and fee information is located here. Like most national parks pets are allowed on leash in the park and are permitted in campgrounds and other paved areas but cannot be taken on trails.
While Bryce Canyon is a bit of a distance from Las Vegas it's actually quite close to Zion National Park, so combining the two parks into one trip would be an excellent idea!
If you're short on time but really want to see both Zion and Bryce Canyon, here is a tour from Las Vegas that will get you to both parks and back home to Vegas in a single day!
Distance: 264 miles from the Strip (4.5 hours)
Address: Utah (google maps)
Best Time of Year to Visit: May – September
Grand Canyon National Park (South Rim)
When it comes to visiting national parks near Las Vegas, the Grand Canyon is the undisputed king! Nearly a million Las Vegas visitors each year find time to take a side trip to the Grand Canyon.
The truth, however, is that the majority of these tourists visit Grand Canyon West.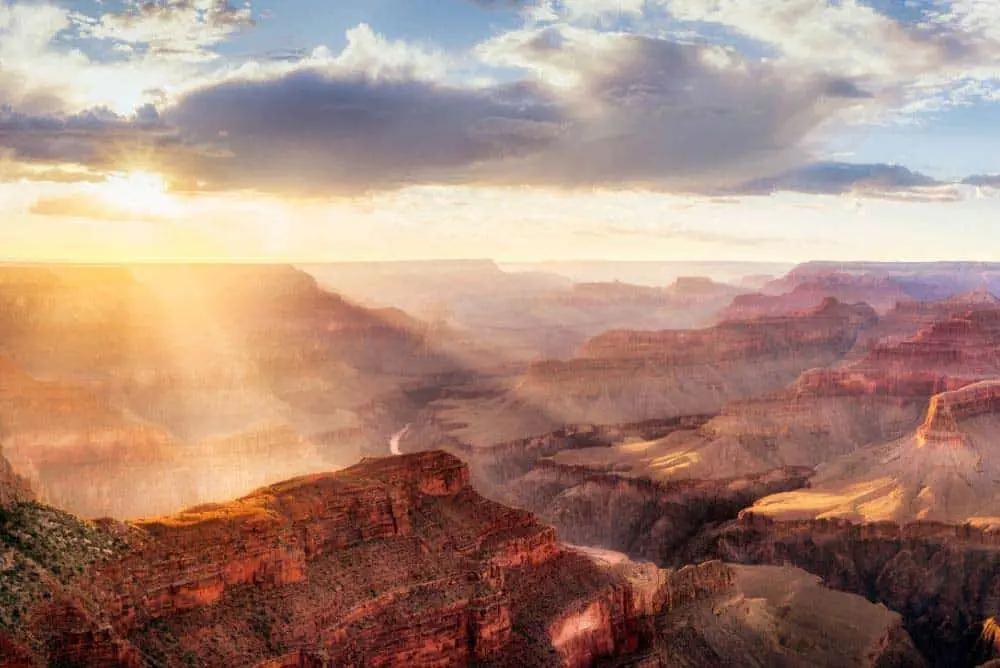 Grand Canyon West (owned by the Hualapai Tribe) may be the closest section of the Grand Canyon to Las Vegas, but it's not actually part of the national park system.
To visit Grand Canyon National Park you'll want to visit either the north or south rim. I'm going to talk about the South Rim of Grand Canyon National park here as it's the place most people picture when talking about the Grand Canyon.
To find out about visiting any one of the three rims of the Grand Canyon from Las Vegas, check out our in-depth article here where we give distances, directions, and let you know about points of interest along the way.
The view from the South Rim of Grand Canyon National Park is the stuff of legends. You can read about it or look at pictures but it isn't until your standing at a viewpoint overlooking the canyon that you can truly understand the magnificence of the Grand Canyon!
Things to check out at Grand Canyon National Park (South Rim):
West Rim Drive: This is where you'll find all of the viewpoints that overlook the canyon. From March 1 until November 30 this road is closed to private vehicles. There is a free, hop-on-hop-off shuttle service, however, that will conveniently take you to all of the viewpoints.
Visitor Center: Part visitor center, part museum you can find out everything you ever wanted to know about the Grand Canyon here.
Walking or Hiking: You can easily take a walk on the Rim Trail that connects the viewpoints for many spectacular views. There are also many other opportunities to hike around or even into the canyon.
Desert View Drive: A 25 mile road that takes you out to Desert View. There are six more canyon viewpoints along the way you can stop at. From Desert View you can get a great view of the Colorado River cutting its way through the canyon floor and get a panoramic view from the top of the Watchtower (a stone tower that replicates the prehistoric towers that have been found in the area).
Mule Trip: Ride a sure-footed donkey down a twisting trail to the canyon floor.
Rafting Trips: Take a whitewater rafting trip through the canyon on the Colorado River.
A $35 entrance fee per vehicle will cover up to seven days of park access. For more information about fees head here. On the South Rim, leashed pets are allowed on trails that are above the rim of the canyon.
Visiting the South Rim of the Grand Canyon is an experience that you'll remember for a lifetime. This is not a trip that you'll want to rush, so plan on spending a night or two either camping or at the lodge. If you're driving your own vehicle, this is a great trip to take on your way to or from Las Vegas.
If you're visiting Las Vegas without a car, you can also take a tour to the South Rim from the Strip.
Distance: 278 miles from the Strip (4.5 hours)
Address: Grand Canyon Village, Arizona 86023 (google maps)
Best Time of Year to Visit: March – May & September – November
Traveling to or from the South Rim of the Grand Canyon from Las Vegas? You'll want to be sure to drive along this section of historic Route 66.
Great Basin National Park
The only national park found in Nevada is Great Basin National Park. Located about a four-and-a-half-hour drive north of the Strip, Great Basin is located at the base of Wheeler Peak (13,063 ft.).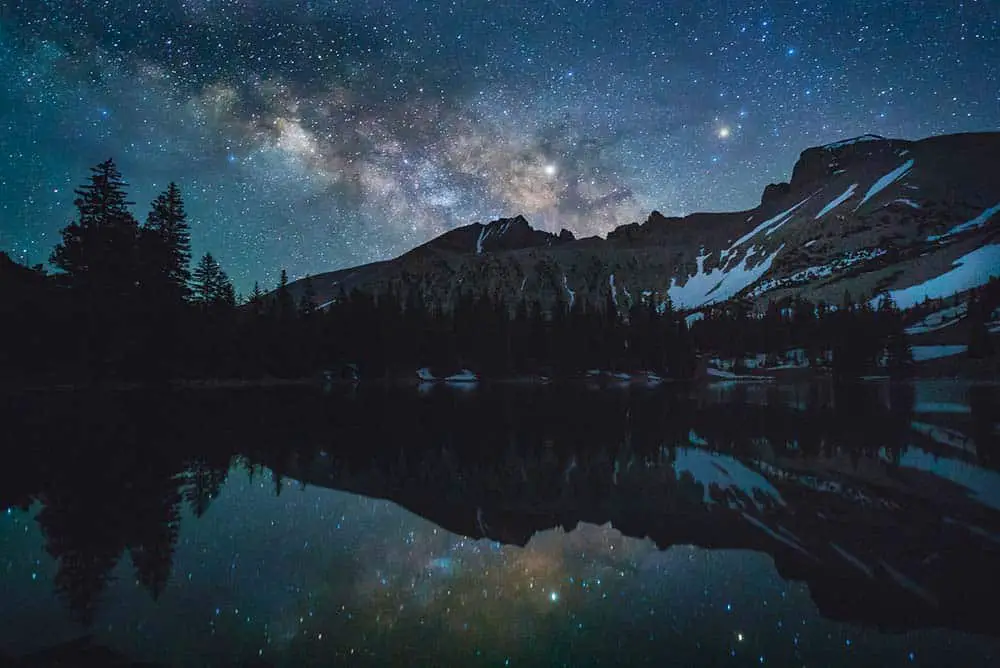 While part of the park is desert, a big part of the park includes the mountainous foothills surrounding Wheeler Peak. Take a walk through ancient bristlecone pines and quaking aspens to get a sense of this remote wilderness.
Things to do in Great Basin National Park:
Cave Tour: Join a ranger-led tour through Lehman Caves. This is an actively growing cave full of stalactites and stalagmites! The cave tour lasts about 60 minutes, is easy to navigate and is perfect for families with children.
Scenic Drive: Take the 12 mile Wheeler Peak scenic drive for excellent views of the mountains and valleys that comprise the park.
Island Forest Trail: A short (1/4 mile) walk through the Great Basin mountains.
Mountain View Nature Trail: A self-guided tour through a forest of pinyon and juniper.
Picnic: Have a picnic at the Pole Canyon Picnic Area
Bristlecone Pine Trail: Head up this trail to get a close-up view of some of the oldest living organisms in the world. Keep heading up the trail to see the remnants of the only glacier in Nevada near the base of Wheeler Peak.
Stargazing: This is another park that gets very dark at night. You'll see more stars than you'll ever imagine.
Fishing: Spend an afternoon fishing for trout on Baker, Lehman or Snake creek.
Great Basin National Park is a refreshing combination of high desert and mountain terrain. It's a great place to beat the summer heat found in Las Vegas.
Again, I'd recommend spending at least a night or two or more to fully get a chance to appreciate this scenic gem.
Distance: 300 miles from the Strip (4.5 hours)
Address: Nevada (google maps)
Best Time of Year to Visit: Summer months & September – October
Mojave National Preserve
Even though the Mojave Desert is the smallest of the four deserts found in the United States, the Mojave National Preserve contains an expansive 1.6 million acres of unspoiled desert views.
The park, although found in southern California, is located just 63 miles from Las Vegas.
The park features several different landscapes including giant sand dunes, a Joshua Tree forest, mountains, canyons, abandoned mines, and historic homesteads.
Hiking, off-roading, and camping are the biggest activities found in the park, along with extensive wildflower blooms in the spring if weather conditions are right.
To say that Mojave National Preserve is near civilization but out in the middle of nowhere at the same time wouldn't be an understatement. It's located just off Interstate 15 between Las Vegas and Los Angeles.
Distance: 63 miles from the Strip (1 hour)
Address: California (google maps)
Best Time of Year to Visit: February – April & October – November
Bonus Destinations: Antelope Canyon & Horseshoe Bend
I also wanted to add a couple of spectacular bonus destinations. Neither one of these spots is actually in a state or national park system, but are truly worthwhile nature and scenic travel destinations.
Antelope Canyon
Antelope Canyon is a remarkable slot canyon and is a southwestern icon. Even if you've never heard of it before, I'm sure you've seen pictures. The slot canyons are located on Navajo Nation land near Page Arizona.
The slot canyons are divided into Upper Antelope Canyon and Lower Antelope Canyon and the only way to explore these beautiful slot canyons is to be part of a Navajo Nation guided tour. It's well worth it, however.
Distance: 283 miles from the Strip (4.5 hours)
Address: Arizona (google maps)
Best Time of Year to Visit: Mid-March to Mid-October (when the sun is overhead, producing the beams of light)
Horseshoe Bend
Not too far from Antelope Canyon is where you'll find Horseshoe Bend. Sometimes referred to as Grand Canyon east, Horseshoe Bend is where you'll see the Colorado River make a huge horseshoe-shaped turn in the river.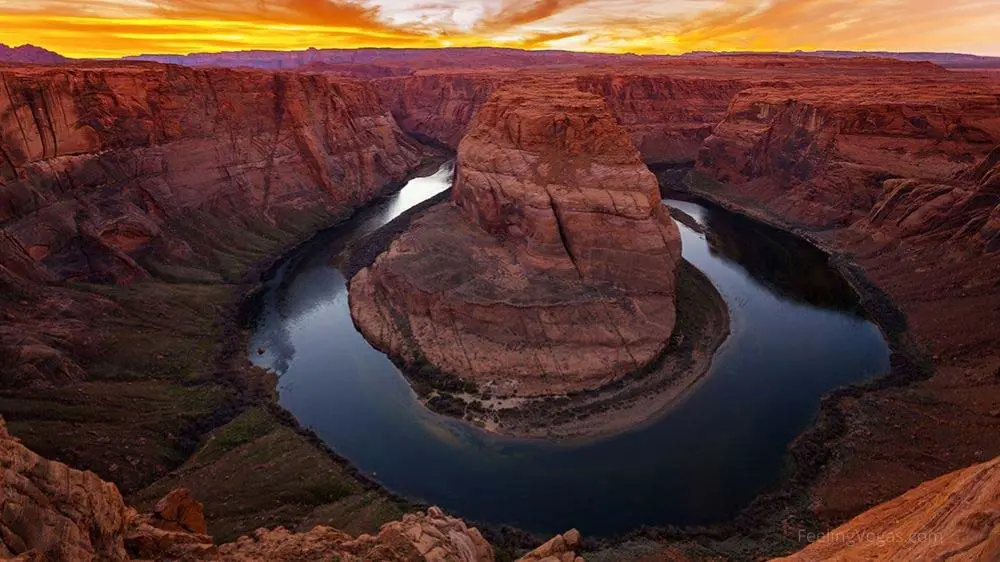 You'll be able to drink in the amazing scenic landscape from a cliffside viewpoint far above the river. Sunset here is not to be missed!
Distance: 279 miles from the Strip (4.5 hours)
Address: Arizona (google maps)
Best Time of Year to Visit: February – April & October – November (for the cooler weather)
You'll also want to be sure to check out our favorite day trips from Las Vegas.
More National Parks & Natural Areas Near Las Vegas
Las Vegas is a great jumping-off point for even more National Parks and recreation areas nearby. These National Parks are a little further afield and so may require an overnight or several overnights to fully explore.
If you have the time, you won't want to miss these areas.
Utah National Parks
Arizona National Parks
California National Parks
Click here to find the Best Car Rental Deals for Your Las Vegas Adventure!
Which State and National Parks Near Las Vegas Should You Visit?
I've shown you a wide range of state and national park offerings that you can check out close to Las Vegas. Some are quite close and are just a short trip away from the Strip, while others really require an overnight or two in order to fully experience what they have to offer.
If you're looking for a quick day trip near Las Vegas, I'd recommend heading to Red Rock Canyon National Conservation Area.
It's a beautiful representation of Nevada and offers great hiking trails with impressive photo opportunities. For a trip a little further out (and my personal favorite national park in the area) Death Valley National Park is just a couple of hours away with sights that you won't see anywhere else.
All the state and national parks I've talked about in this article showcase the natural beauty that surrounds Las Vegas. My top recommendation is that when you come to Las Vegas, set some time aside on your trip to check out at least one of these areas.