16 Best Day Trips from Las Vegas (Ultimate Guide & Map)
(This article may contain affiliate links. If you click through and make a purchase, we will receive a small commission at no additional cost to you. )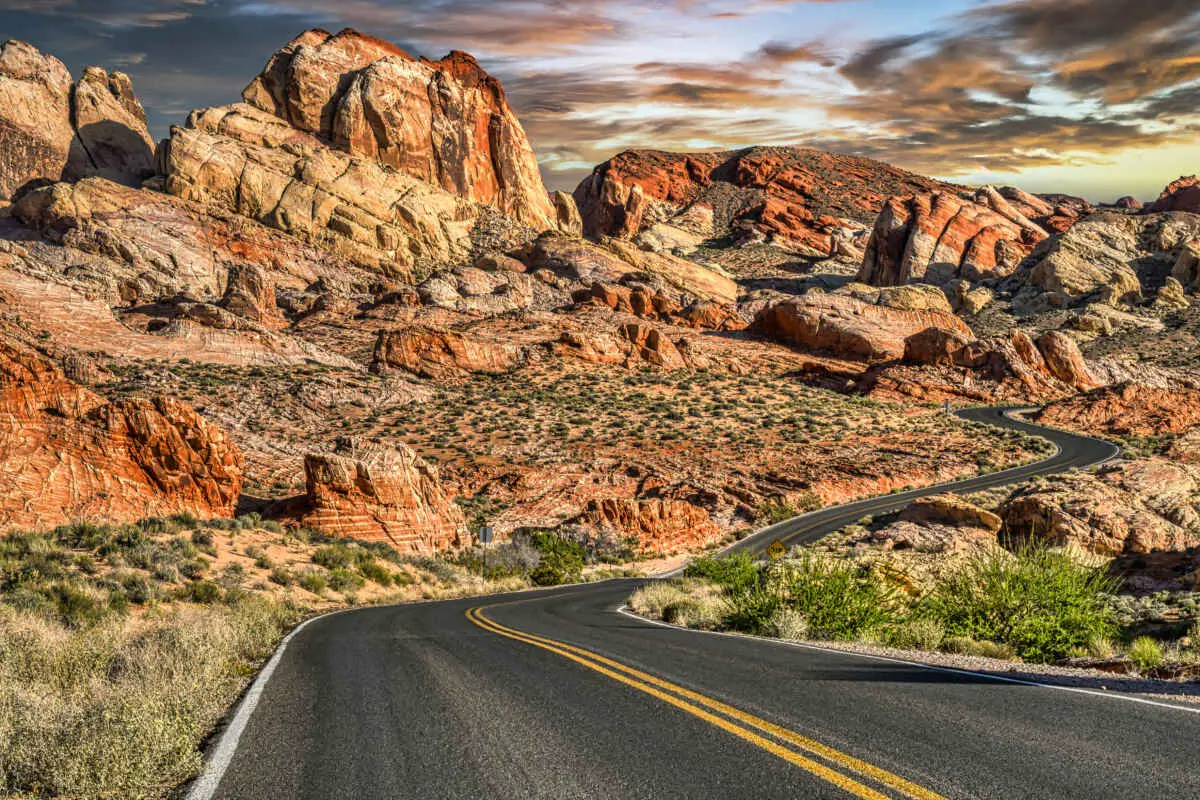 While Las Vegas is where the party's at, you may find yourself wanting to get away from the glitz and crowds of Vegas for a day, or even just part of a day. Well then, we've got some excellent Vegas day trips to recommend!
These locations can all be experienced from Las Vegas in a single day. Some of the road trips will take just a couple of hours, while others will be longer, full-day excursions. These trips will require access to a car, either your own or a rental (I've also indicated if the destination has any guided tours available where you won't need a car).
Keep reading and make sure to bookmark this page so you can quickly refer to it when looking for new Las Vegas day trip ideas, as this guide will be continuously updated and added to. So, let's get started with the best day trips from Las Vegas!
Need a Vegas rental car? Find the best deals on car rentals in Las Vegas (Discover Cars)
Top Day Trips From Las Vegas, Nevada
To make things easier, I've marked them as either half-day or full-day trips, given approximate one-way mileage, and noted if the destinations require any off-road driving.
Most popular day trips from Las Vegas are marked with an *
That's a lot of day trips from Las Vegas! The linked locations are the ones where we've written a detailed visitor guide about the destination. So click through and find out everything you need to know about visiting each one of these areas.
We've also included both the popular, as well as some more "off-the-beaten-path" recommendations. I've marked the most popular day trips with an asterisk. These are the ones to hit first!
Las Vegas Day Trips Map (Popular Destinations)
The map below shows where all the day trips are located relative to Las Vegas. Once you find a destination you want to visit, be sure to take a look at the map to see if there are any other day trip suggestions nearby or on the way. You can often combine multiple Las Vegas day trip destinations!
Blue = Destinations of Interest Red = National Parks
Vegas Day Trip Descriptions (Alphabetical Order)
Below you'll find a brief description of each of the Las Vegas day trip destinations, including what you'll get to see and do while you're there, plus directions to the location.
Area 51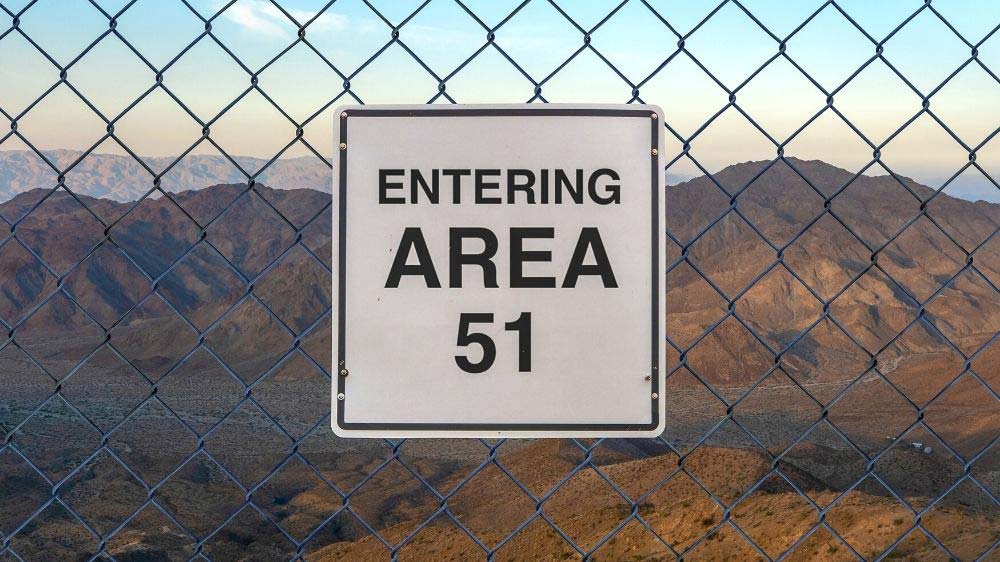 Area 51 is well-known as the site of a top-secret United States Air Force base that is found at the center of many UFO and alien-related conspiracy theories. While you can't access the base (for obvious reasons), you can drive down the Extraterrestrial Highway (Hwy 375) to Rachel, Nevada. Rachel is the closest town to the military base and the site of many UFO sightings. See our complete Area 51 Travel Guide here.
Death Valley National Park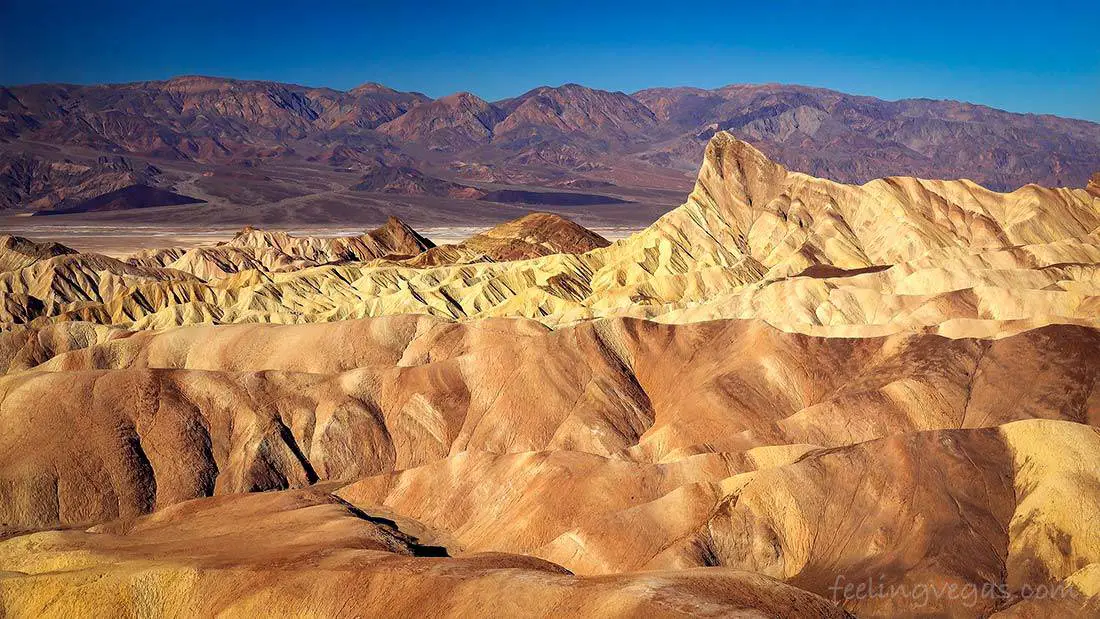 If its surreal landscapes you're looking for, head out to Death Valley National Park. Death Valley is one of the hottest and driest places on earth. There's so much to see here, from the hills and peaks of Zabriskie Point (pictured above), to the below-sea-level salt flats of Badwater Basin. Other areas of interest include Furnace Creek, the Mesquite Flat Sand Dunes, Artist's Palette, and Stovepipe Wells. A Death Valley day trip will take a full day, but it's one you will really enjoy if you have the time.
Warning: This is not a trip to take in the middle of summer as the daytime temperatures can regularly reach up to 120 degrees °F and beyond!
Grand Canyon West (Not Grand Canyon National Park)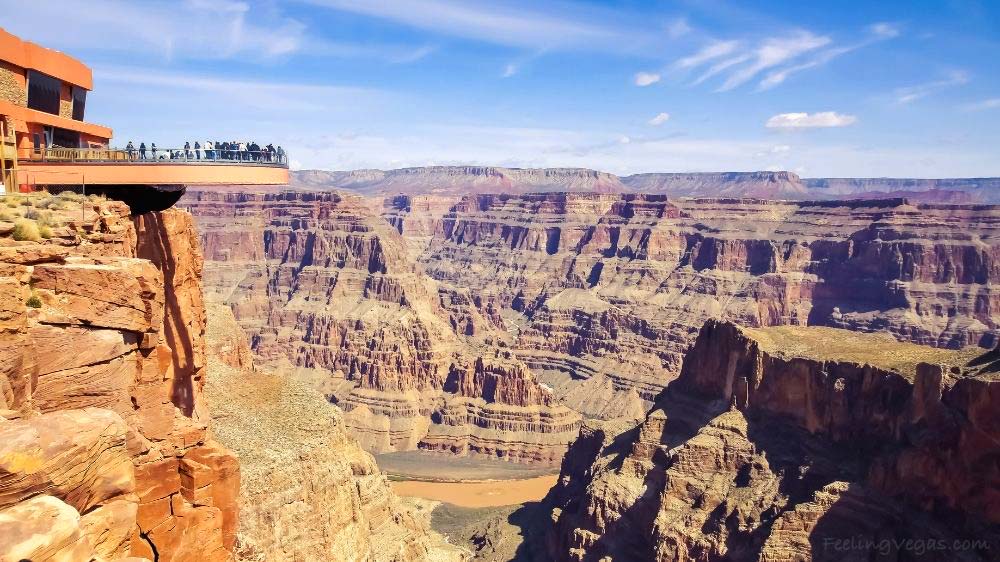 Just a 2.5 hour drive from the Las Vegas Strip and you'll be at Grand Canyon West. This is one of the best day trips you can take from Vegas!
The west rim of the Grand Canyon is where you will find the infamous Skywalk. It's a horseshoe-shaped bridge that juts out over the edge of the Grand Canyon and has a clear glass bottom walkway so you can look straight down to the canyon floor. Yikes!
In Grand Canyon West, you'll also find several lookout points offering spectacular views of the Grand Canyon, a Native American village featuring arts, crafts, and performances, plus an old western-styled ranch full of authentic cowboy entertainment.
Note: Grand Canyon West is part of the Grand Canyon, but it is on native American land and isn't officially part of Grand Canyon National Park.
Hoover Dam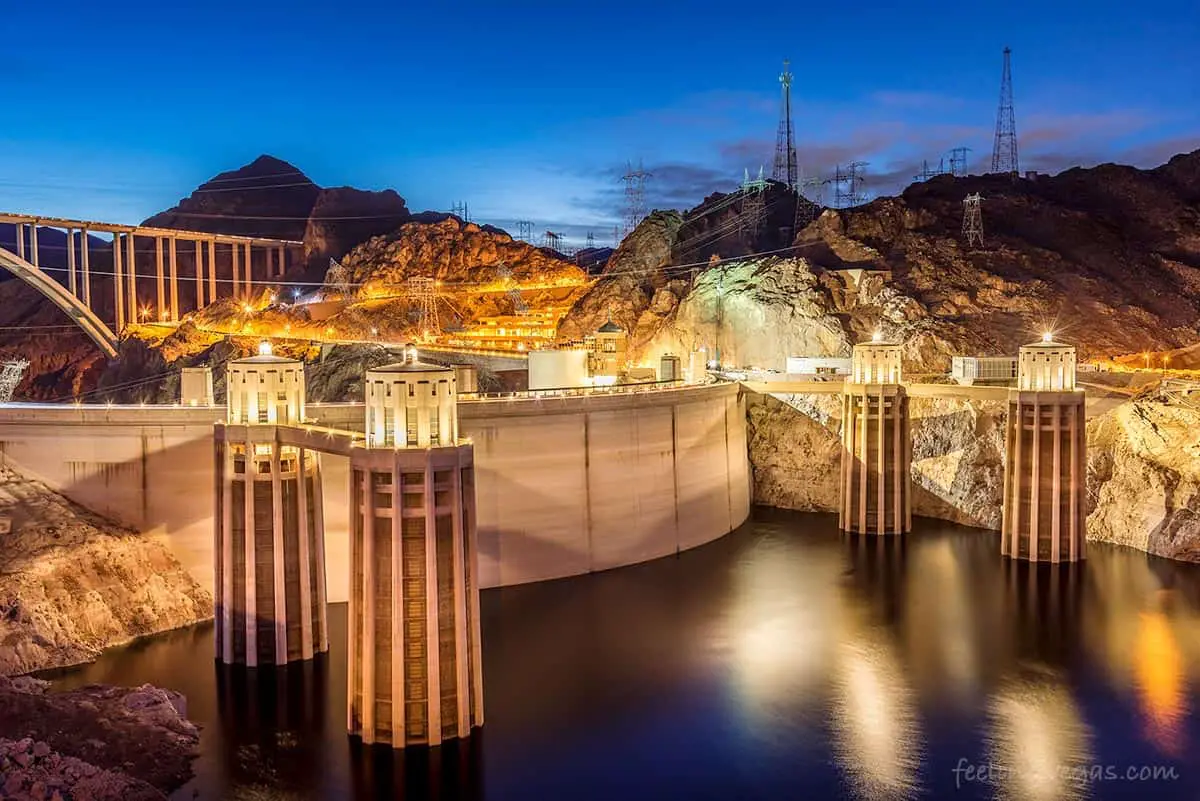 A trip to Las Vegas would hardly be complete without taking a short side trip out to see Hoover Dam. An easy 45-minute drive from Vegas, Hoover Dam is one of the man-made wonders of the world! This feat of engineering was built in 1931 and is one of the big reasons Las Vegas exists today. While you're here, you'll want to walk across the dam, check out the visitor center, and possibly take the official Hoover Dam tour to see the dam's inner workings.
Just before your reach Hoover Dam, stop off at the Mike O'Callaghan – Pat Tillman Memorial Bridge. The concrete bridge spanning Black Canyon and the Colorado River below is another miracle of modern engineering. You can walk out on the bridge and get the most amazing aerial view of the Hoover Dam you could ever imagine!
Check out our complete guide to visiting Hoover Dam here.
Jean/Roach Dry Lake Beds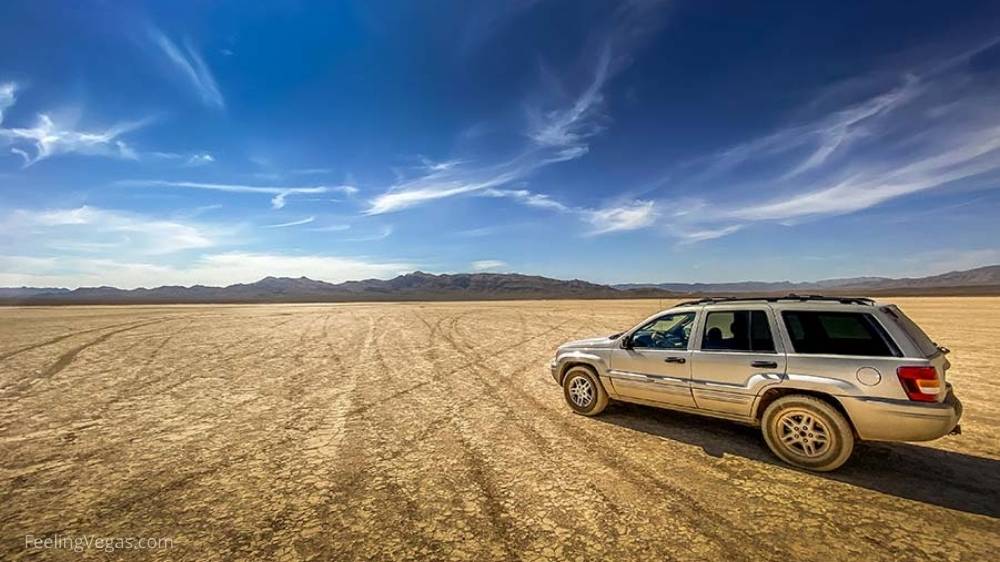 If driving around a huge, dry lake bed in the Mojave Desert sounds like your kind of fun then you'll want to visit Jean/Roach Dry Lake Beds. You'll find Jean Dry Lake Bed just a short way out of town, and not far off of Interstate 15 heading south. This is a popular spot for riding ATV's and driving off-road vehicles, and it's recommended to have a 4×4 in order to get out to the lake bed.
Jean Dry Lake is home to the annual Rise Festival, and is regularly used in movies and television commercials, but on any average day you're likely to have the place all to yourself. See our full travel guide to visiting Jean Dry Lake Bed here.
Kolob Canyons (Zion National Park)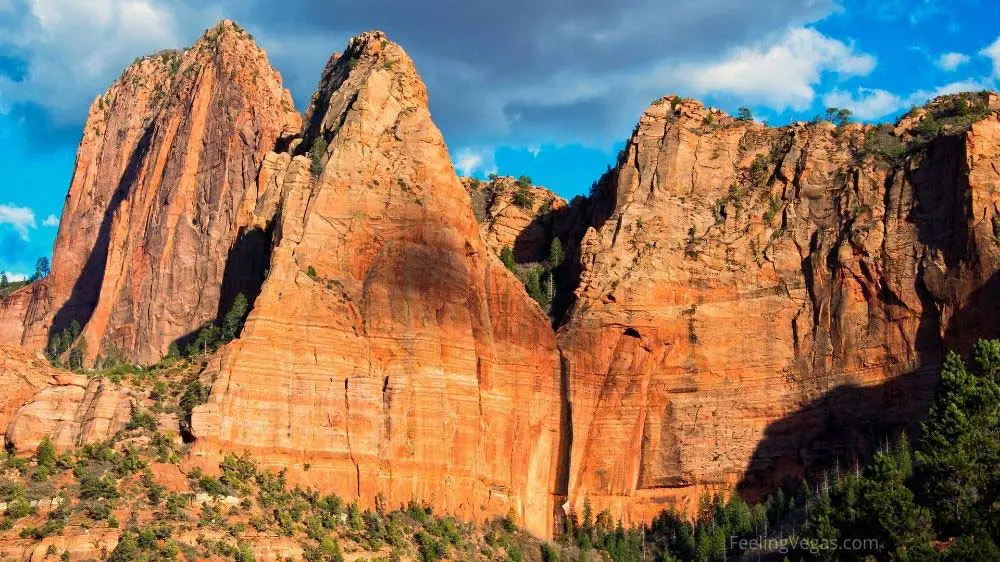 Kolob Canyons is a spectacularly scenic area in nearby Utah that is suitable for a long but great day trip from Las Vegas. Technically part of Zion National Park, Kolob Canyons is a separate area from the main part of Zion NP, and has its own entrance because it doesn't connect to the rest of the park by road.
The area consists of a 5 mile scenic drive through some narrow box canyons surrounded by 2,000 foot tall cliffs made of red Navajo sandstone. While there are plenty of hikes and back country areas to explore, the scenic drive and viewpoints will allow you to see the best of the canyons from the comfort of your car.
Note: The scenic drive may be closed in the winter due to snow and ice. You'll need to check before you go.
Lake Mead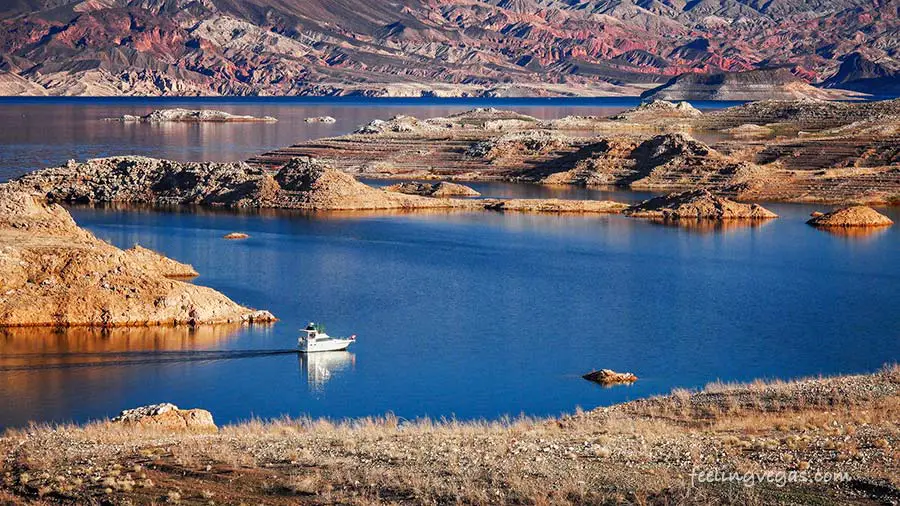 A visit to Lake Mead is another day trip option located just a short way from the Las Vegas Strip. The Lake Mead National Recreation Area was created when the area was flooded after the Hoover Dam was built. Full of beautiful landscapes, you can explore the lake by car, or by renting a boat or a kayak. You can even take a dinner cruise on an authentic Mississippi paddle-wheeler.
Mount Charleston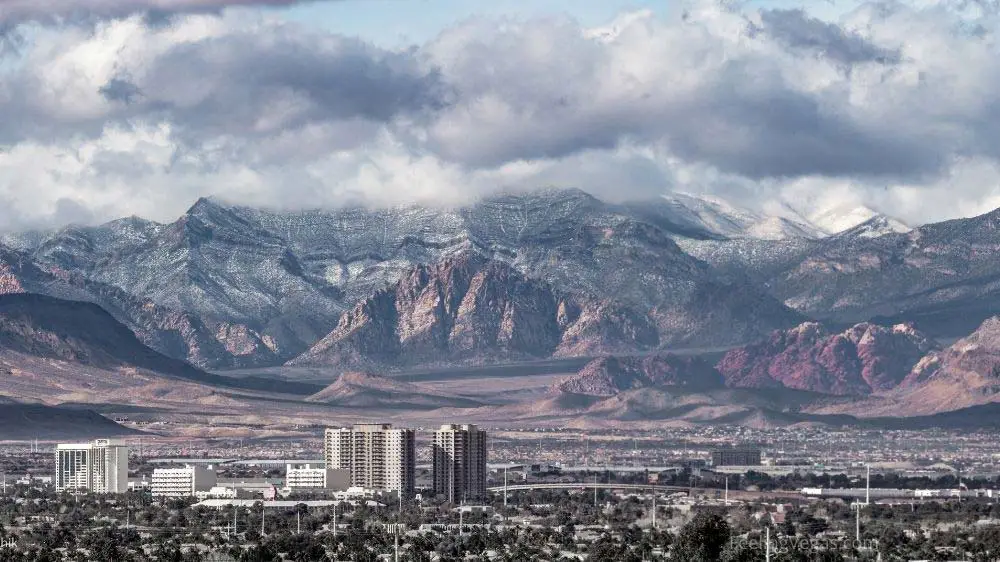 While standing in the arid desert of Las Vegas, it might be hard to believe that Mount Charleston's aspens and pine trees are just a short drive away. This mountain town is found at 7,510 feet above sea level, and offers a host of year-round activities.
Due to the elevation, this quaint community is about 20 degrees cooler in the summer than down on the valley floor, making it a great escape from the heat. Activities in the warmer months include hiking, camping, golf, and horseback riding. While the winter months bring snow, skiing, and hot chocolate by the fire in the Mt. Charleston Lodge.
Nelson Ghost Town & Techatticup Mine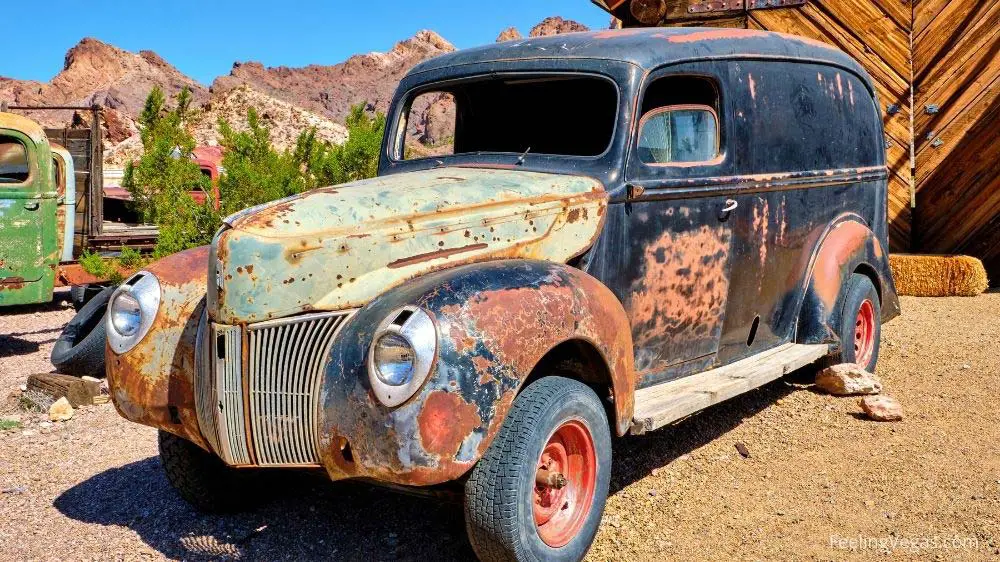 Nevada is home to more ghost towns than any other state in the country, and one of them can be found just a few miles outside of Las Vegas. Nelson Ghost Town in Eldorado Canyon was home to the largest gold strike in the state back in 1858. The town and the mines were also legendary for the lawlessness and land disputes that led to its reputation as one of the most violent towns in the west.
Today, Nelson Ghost Town is a popular and relatively short trip from Las Vegas. The town consists of many old buildings, rusting antique cars, and a whole collection of historic memorabilia. History buffs and photographers will be in heaven here and can easily spend hours exploring the remains. There is also a store full of interesting sights and souvenirs.
Also available is a mine tour of the Techatticup Mine, which was mined from 1858 until 1945. It's a fascinating look into the lives and working conditions of the miners.
You can see our full guide to visiting Nelson Ghost Town here.
Nelson's Landing (Beach & Cliff Jumping)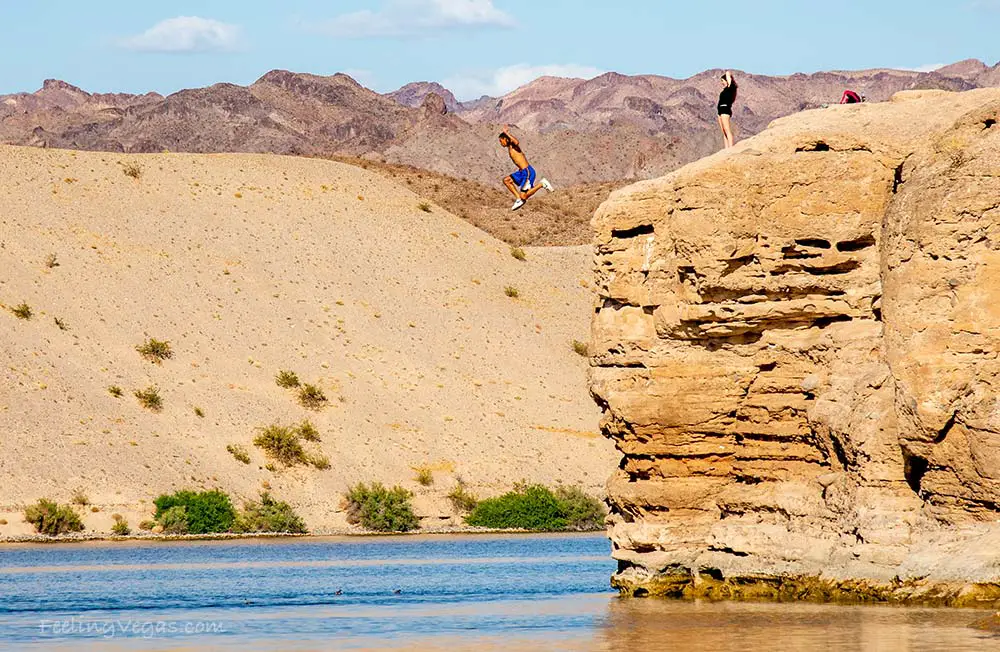 Ready for some excitement and a day at the beach? About 45 minutes from Vegas, you'll find Nelson's Landing. It's a pretty little cove and beach along the shore of the Colorado River. You can back your car right up to the water's edge and set up a picnic, or bring a cooler full of drinks and relax as you gaze across the river into nearby Arizona.
The highlight of the trip for many is the cliff jumping at Nelson's Landing. For thrill-seekers, there is a cliff where you can jump off into the deep waters of the river! Even if you're not daring enough to jump, you can yell and encourage those who are jumping along with the rest of the spectators on the beach.
If swimming is more of your thing, you can let the sparkling clear water of the Colorado cool you off. Check out our complete guide to visiting Nelson's Landing here.
Red Rock Canyon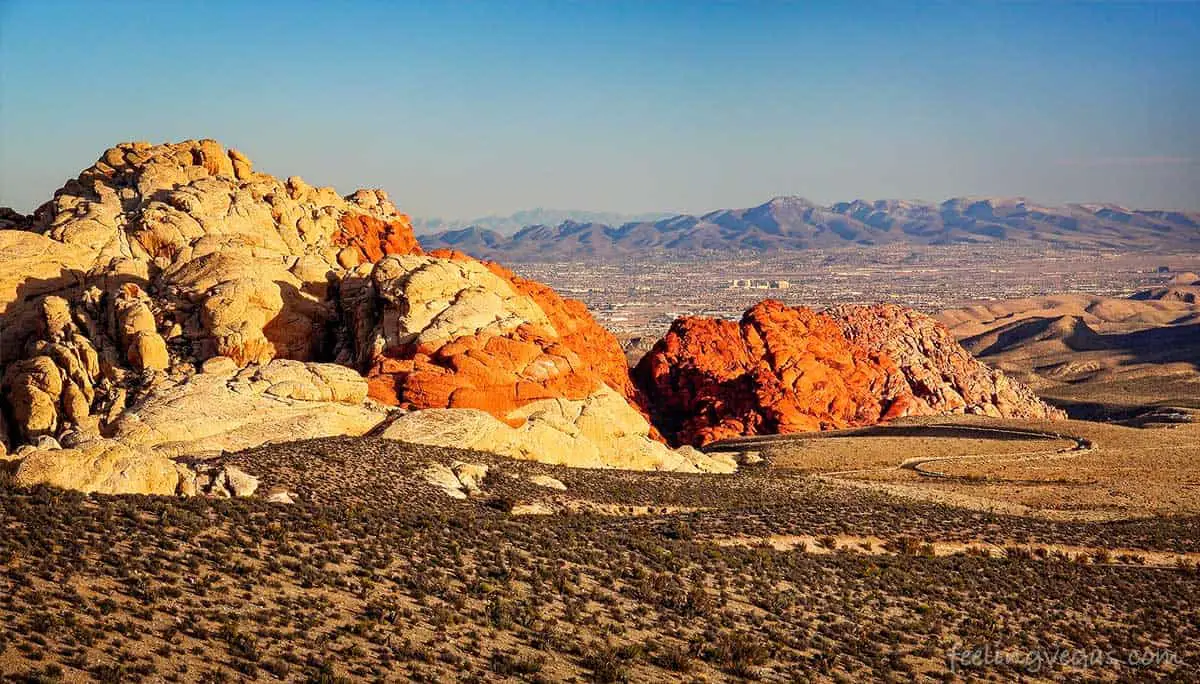 Without a doubt, Red Rock Canyon National Conservation Area is the most popular day trip outside of Las Vegas! The amazing red rock landscapes and proximity to Vegas make Red Rock Canyon a must-see when visiting southern Nevada. The first stop you'll want to make is at the impressive visitor's center. The exhibits will tell you all about the history and geography of the area.
Next, you'll want to drive the 13-mile scenic road that loops through the park showing you all the scenery and giving you some amazing views of the red rock. There are pull-outs and parking areas along the way where you can stretch your legs with a short walk or find a trailhead for a longer hike. Take a look at our Red Rock Canyon visitor's guide for all the details of visiting this beautiful area.
Red Spring Picnic Area & Boardwalk
Red Spring is a cool little spot just outside the fee-pay area of Red Rock Canyon. Red Spring is a natural spring that feeds a meadow of grasses and trees, which is unusual to find in the Mojave desert. It's a very scenic location with a picnic area that has several covered picnic tables, each with its own barbecue grill.
You'll also find a raised boardwalk (1/2 mile loop trail) that will take you up through the meadows and eventually to Red Spring itself, which honestly is just a little wet, muddy area on the ground. The scenery, however, is quite amazing as the spring is surrounded by cliffs of towering rocks. You can see our complete guide to visiting Red Spring here, plus more pictures.
Rhyolite Ghost Town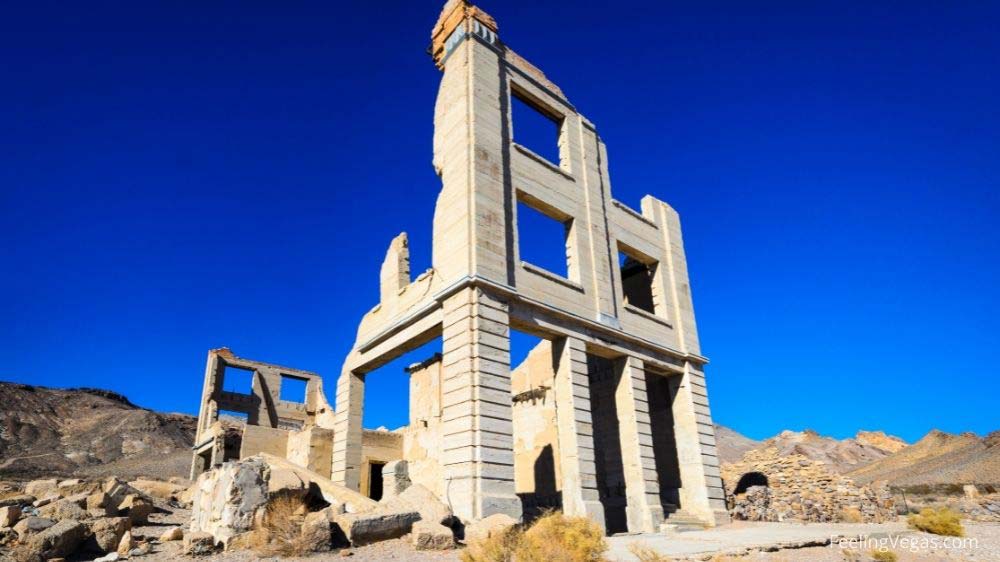 If you're looking for a truly authentic and uninhabited ghost town, then you'll want to consider taking a day to visit Rhyolite. Rhyolite Ghost Town is a mining town that failed in the early 1900s due to the financial crisis of 1907. One of the most unusual things about this ghost town is that several of the buildings were constructed from concrete, so their skeletons are still partially standing today.
Included in the remnants of the town is the famous Bottle House. It's a house constructed using over 50 thousand beer, whiskey, and medicine bottles. Also, next to the town, you can find the Goldwell Open Air Museum. The museum is an outdoor sculpture garden containing several fascinating, large-scale sculptures.
Rhyolite sits up in the mountains very near to one of the entrances to Death Valley National Park in the valley below and will make for a good full-day trip if you combine the two.
Seven Magic Mountains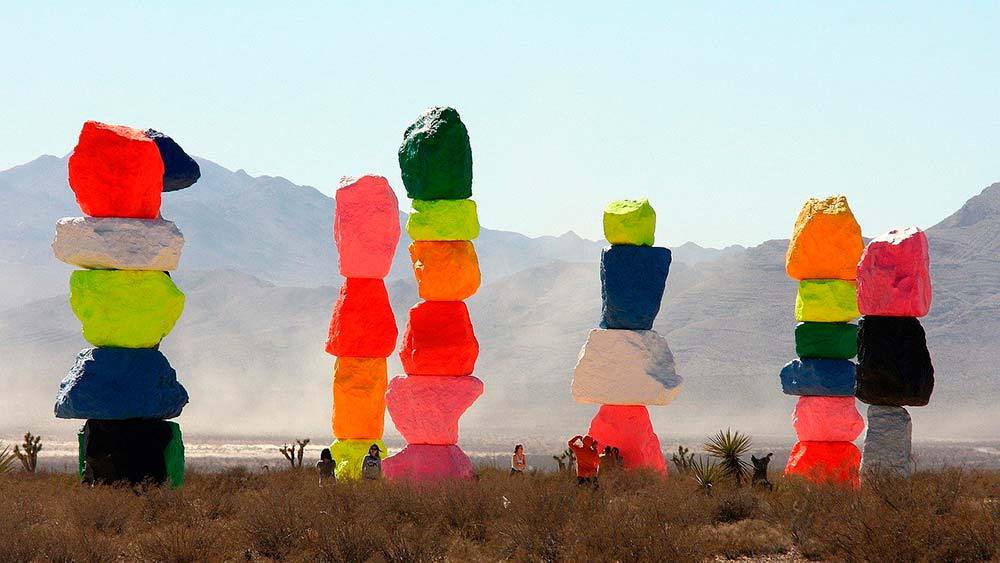 One of the more popular day trips from Vegas is to take a short drive out into the desert to see the Seven Magic Mountains. This colorful and surreal, free-standing sculpture is a temporary art installation by artist Ugo Rondinone.
The exhibit consists of seven towers of brightly colored boulders that reach over 30 feet into the air. It's one of the top selfie spots in Las Vegas!
The artwork is located on BLM (Bureau of Land Management) land and was only supposed to be here until 2018, but it proved so popular that the land permit was extended for a few more years. No one knows exactly when or if it will disappear, so don't wait too long to see it!
Find out everything you need to know about visiting Seven Magic Mountains in our guide here.
Valley of Fire State Park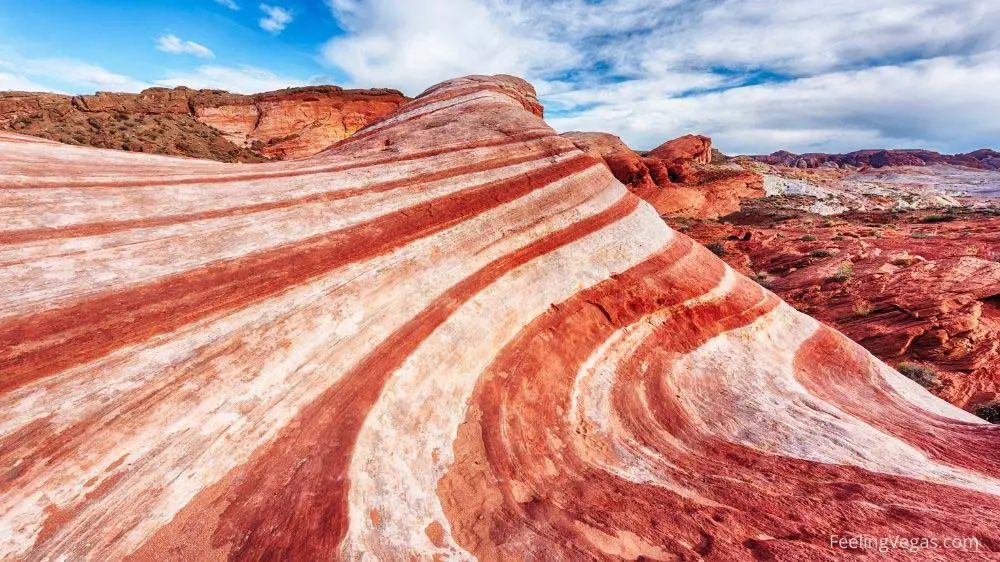 The American Southwest is known for its scenic landscapes filled with fantastic rock formations, and if you're hoping to see some of these landscapes on you next trip to Las Vegas you're in luck! About a hours drive from the Las Vegas Strip will get you to Valley of Fire State Park.
The Valley of Fire consists of over 40,000 acres of incredible vistas, and rock formations made up of red Aztec sandstone. Among the rock formations you'll want to look for are Elephant Rock, The Beehives, and the Fire Wave. Activities within the park include hiking, rock climbing, viewing Native American petroglyphs, and a scenic loop drive.
While the Valley of Fire makes for a perfect day trip, there is also camping available if you'd like to spend more time.
Zion National Park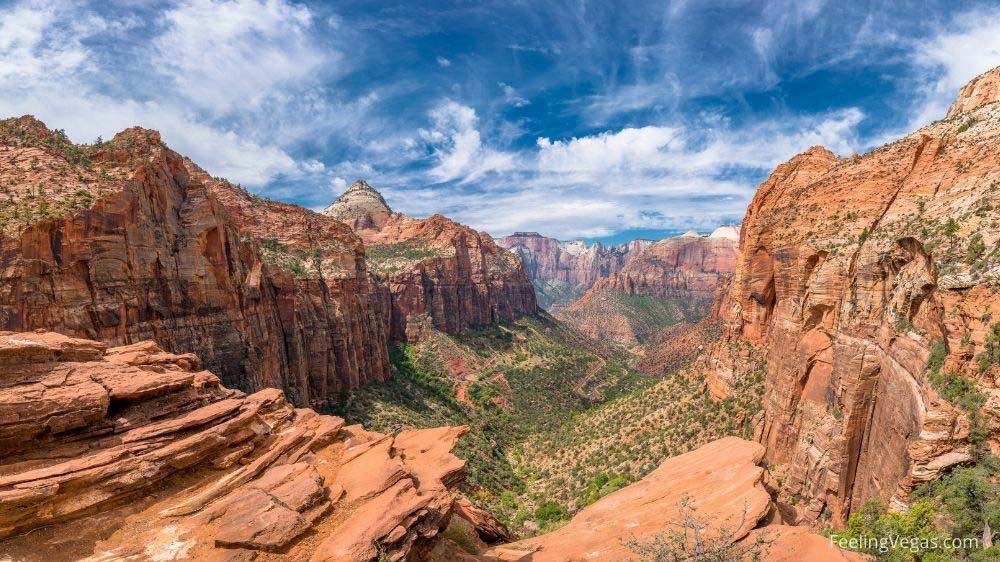 If visiting national parks is your passion, you should seriously consider making a visit to Zion National Park. I'm not going to kid you, a day trip from Las Vegas to Zion will make for a very long day, and you won't get to see and do everything in Zion, but if it's your only chance to see the park, then it will be well worth it!
The Virgin River began carving out Zion National Park millions of years ago, which has resulted in a deep canyon with huge majestic sandstone cliffs on either side. Zion is a truly grand display of Mother Nature's artistry. It's so magnificent it's hard to believe it's even real!
A day trip to Zion from Las Vegas will include a stop at the visitors center, followed by a drive down the Zion Canyon Scenic Drive (spring through fall, you will need to take the park's shuttle bus). You'll find plenty of stops along the way to marvel at the natural beauty surrounding you.
Things to Bring on a Day Trip From Las Vegas
The desert areas around and outside of Las Vegas can be some of the planet's driest, hottest, and harshest environments (especially during the summer months). In addition, some of the destinations are very remote, so you'll want to make sure to always have the following items on hand for your day's adventure:
Click here to find the Best Car Rental Deals for Your Las Vegas Adventure!
Final Thoughts
As you can see, there is a Las Vegas day trip that's sure to be of interest when you're ready to get out of town for a day, or even part of a day. A full-day trip will give you a great sense of the natural landscapes surrounding the city, while a shorter half-day trip will get you out and about for some fun, and still have you back on the Strip in time for dinner and an exciting night on the town!