Jean Dry Lake Bed (Directions, Camping, Hotels)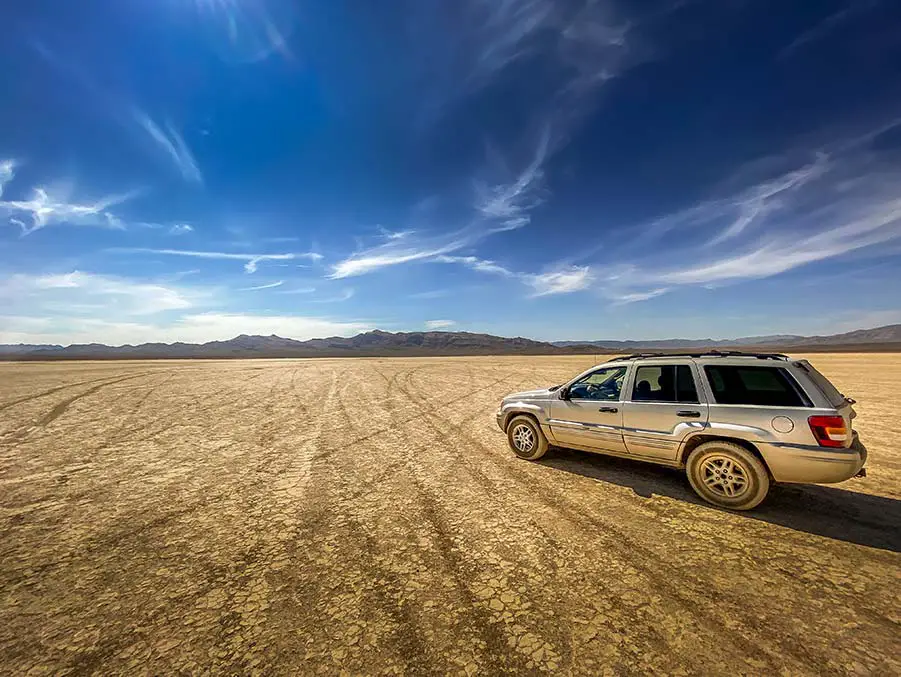 (This article may contain affiliate links, which means we might earn a small commission if you click and make a purchase. Thank you!)
Looking for a fun off-road day trip from Las Vegas, then look no further than Jean Dry Lake Bed about 30 minutes from Vegas. Get away from the Strip for a bit and have a blast out in the desert!
So, exactly what and where is Jean Dry Lake Bed?
Jean Dry Lake Bed is a small lake bed near Las Vegas, Nevada that is dry for most of the year. It is a popular spot to drive off-road vehicles and ATV's. Jean Lake Dry Bed is also the site of the annual Rise Festival and has been used as a filming location for several popular movies, including The Hangover.
A lot of fun can be had out in the deserts surrounding Las Vegas and Jean Dry Lake Bed is no exception. Keep reading to get a bit of history about this area as well as directions and information about camping and nearby hotels.
Click here to find the Best Car Rental Deals for Your Las Vegas Adventure!
Jean Dry Lake Bed (Some Background)
Jean Dry Lake Bed is the site of a mostly dry lake. I say mostly dry because Jean Lake is known as an endorheic lake meaning that when a rare rain happens, for a brief time the dry lake bed becomes a shallow lake until evaporation once again dries it out.
The lake bed itself is a little over 2 miles across at its widest point and is surrounded by the Mohave Desert.
During the 1960s, Jean Lake Bed was the site of some amazing sculptures created by artists Jean Tinguely and Michael Heizer. More recently the lake bed and surrounding desert playa has been used as filming locations for movies such as Fear & Loathing in Las Vegas, The Hangover, and Casino.
How to Get to Jean Dry Lake Bed
When you're looking for directions to Jean Dry Lake Bed you'll find the name Jean / Roach Dry Lake Beds comes up. That's because there is another dry lake called Roach Lake a mile or so further south.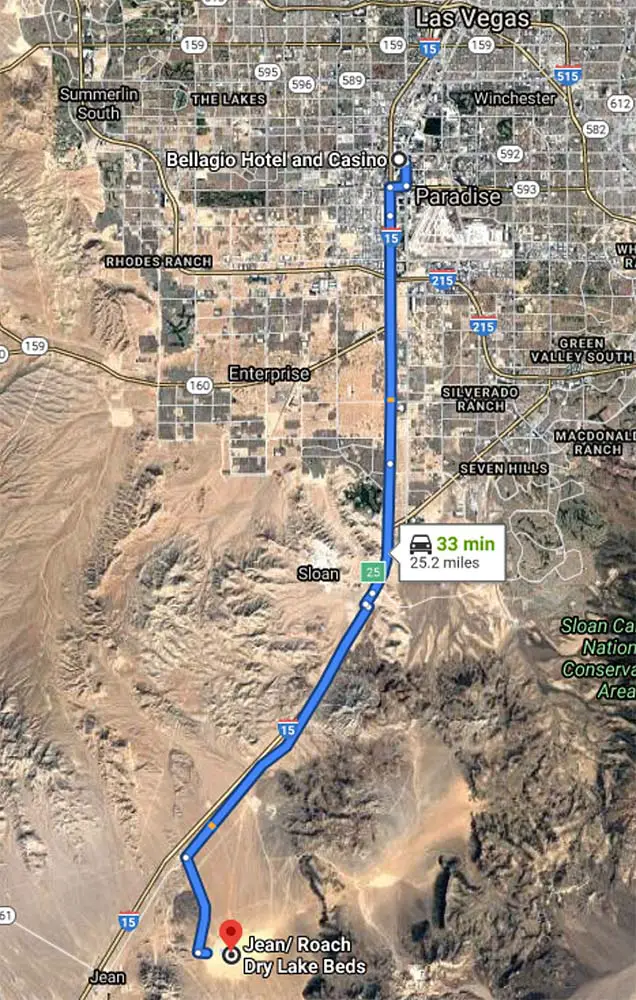 Jean Dry Lake Bed and Roach Dry Lake Bed can be accessed by the same series of off-road trails, hence the entrance sign to the area says "Jean/Roach Dry Lake Beds.
Jean Dry Lake Bed is located about 25 miles south from Las Vegas along Interstate 15. Drive on Interstate 15 south and take exit 25. From there you will turn left at Sloan Rd and go back under the freeway, then turn right on Las Vegas Blvd.
You'll reach your destination on the left (Southern Nevada Liteweight Road) in about 6.5 miles.
You can get turn by turn directions to Jean Dry Lake Bed here on google maps.
Once you reach the entrance sign, it's an 4-mile drive on a dirt road before you reach the dry lake bed itself. The road out to the lake bed is not especially rough but it does get sandy and rocky in spots.
A four-wheel drive vehicle with some additional clearance is recommended but it doesn't have to be a hard core off-road machine, a standard 4WD SUV will be sufficient to get you to the dry lake.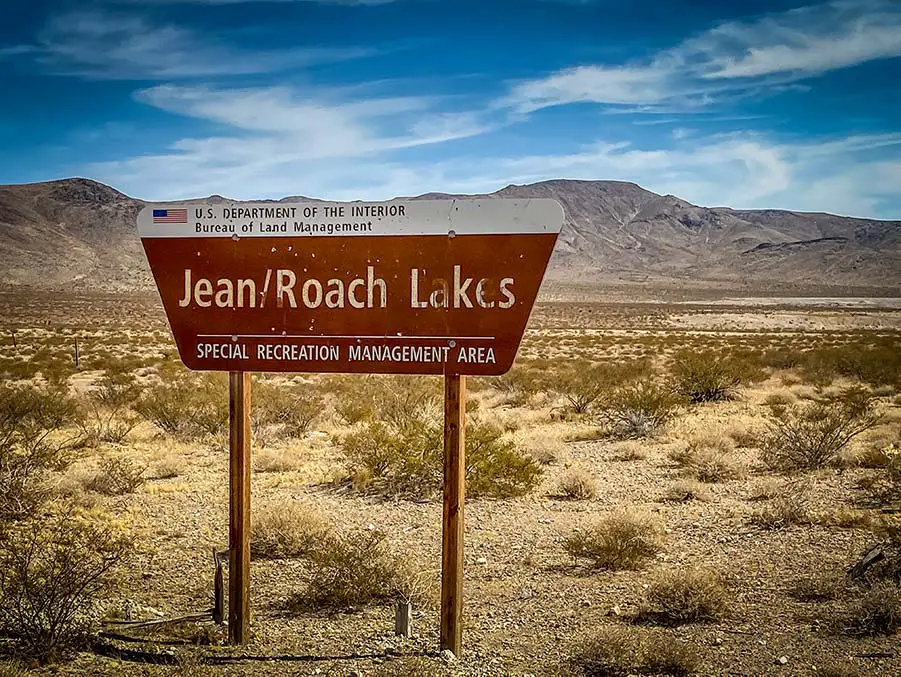 There is a second way to get to the lake bed and if you plan on camping with your RV, you should go to the second entrance further south which I'll tell you about down below in the camping section.
Off-Roading at Jean Lake
Driving or riding an ATV or other off-highway vehicle (OHV) is the primary activity at Jean Dry Lake Bed. Besides driving on the lake bed itself, the area is crisscrossed with hundreds of miles of trails that are good for both beginner and expert off-road enthusiasts.
You can drive anywhere you want on the lake bed itself but once you're off the lake bed, motorized traffic is limited to one of the abundant roads or trails heading in every direction. The trails on the northern and eastern side of the lake bed will take you up to and around parts of the Sloan Canyon National Conservation Area. No motorized traffic is allowed once you reach the borders of the conservation area.
Note: If you're driving or riding in anything other than a passenger vehicle (i.e. ATV, dune buggy, motorcycle, etc), you will need to by law have a spark arrestor installed in order to prevent accidental fires. You may be stopped by one of the rangers that patrol the area to be checked for the spark arrestor.
Recommended Reading: 10 Best ATV and Off-Road Tours in Vegas (Extreme Fun!)
Camping at Jean Dry Lake Bed
Free primative camping is available at Jean Dry Lake Bed. Since the entire area is BLM (Bureau of Land Management) land you are free to stay at any one of the abundant camping spots you will find.
If you're coming for camping, and driving a motorhome or pulling a trailer, you'll want to enter the area from a different entrance than I mentioned above. After the freeway when you first turn right on Las Vegas Blvd. you'll want to continue for about 9 miles until you get to Ranch Rd (google maps).
You'll find plenty of level camp spots here just off the paved road. If you're driving a bigger vehicle make sure you don't take one of the dirt roads towards the lake bed as you'll end up on a road not meant for RV's.
Here are a few more things to know about camping at Jean Dry Lake Bed near Las Vegas, Nevada:
Elevation: 2,788 feet
Primitive camping (no services, water or bathrooms)
Dirt and gravel pads
Tent camping is okay
Some cell service is available for Verizon and AT&T customers
The Annual Rise Festival at Jean Dry Lake Bed
For two days each year in October, Jean Dry Lake Bed hosts the RiSE Festival. The festival consists of events, activities, live music and fireworks which culminates in the main event. The release of thousands of glowing paper lanterns into the nighttime sky.
For more information and tickets check out the RiSE website.
Hotels Near Jean Dry Lake Bed
If you're not into camping but you'd like to stay in a nearby hotel you have several options. The top choice for a hotel nearby is in Las Vegas. You can check out our recommendations for the best hotels in Vegas for every budget here.
Option number two, just a few miles away in the town of Jean, Nevada, is a Ramada by Wyndham Hotel and Casino (google maps). Probably not the nicest place but it is close.
And finally, if you continue south down Interstate 15 about 20 miles you'll reach the town of Primm, Nevada at the Nevada/California state line. Here you'll find several hotel/casinos (google maps).
Jean Dry Lake Bed Weather
Jean Dry Lake Bed is a remote and wild destination that can experience extremes in weather. From average low temperatures in the winter months of low to mid 30's°F, to average highs in the summer months of 105°F. These extremes make the shoulder seasons of fall and early spring the most comfortable times to visit.
Also since the lake bed itself is white, we've found that the reflected sun and heat can be pretty intense even in some of the cooler months, so be sure to bring a hat, sunglasses and sunscreen anytime you visit regardless of the time of year.
You may find that it can get very windy and dusty at times, as well. While rain is rare, it's good to be prepared by keeping an eye on the current weather conditions as the area is prone to dangerous flash flooding and the dirt can turn to deep mud fast.
Check here to find the best prices on a Las Vegas rental car (Discover Cars)
Fun Things to Do Near Jean Lake
The towns of Jean (5 miles) and Primm (18 miles) are both located relatively close to Jean Dry Lake Bed. Jean, Nevada is pretty small but you'll find plenty to see and do in Primm with it's three large casinos.
You can also visit the famous Pioneer Saloon (the oldest bar in or around Las Vegas) which is about 15-minutes away by car.
But the attraction you don't want to miss is a visit to the Seven Magic Mountains which I've covered extensively in an article right here. Since the colorful artwork made of neon painted boulders is practically in the same spot, you'll want to make sure you check it out!
Find it on google maps:
Final Thoughts
An easy half day trip to the Jean Dry Lake Bed from Las Vegas will be a lot of fun, especially if you have a four-wheel drive vehicle. Even better than a short trip, is to plan to spend a couple of days camping in the area to relax and really get a sense of this wide open space.
Recommended Reading: Best Las Vegas Day Trips (Ultimate Guide & Map) – This is a complete guide and map showing all our favorite Las Vegas day trips.
More Day Trips From Las Vegas
References: