Nelson's Landing Cliff Jumping (Las Vegas Day Trip!)
(This article may contain affiliate links. If you click through and make a purchase, we will receive a small commission at no additional cost to you. )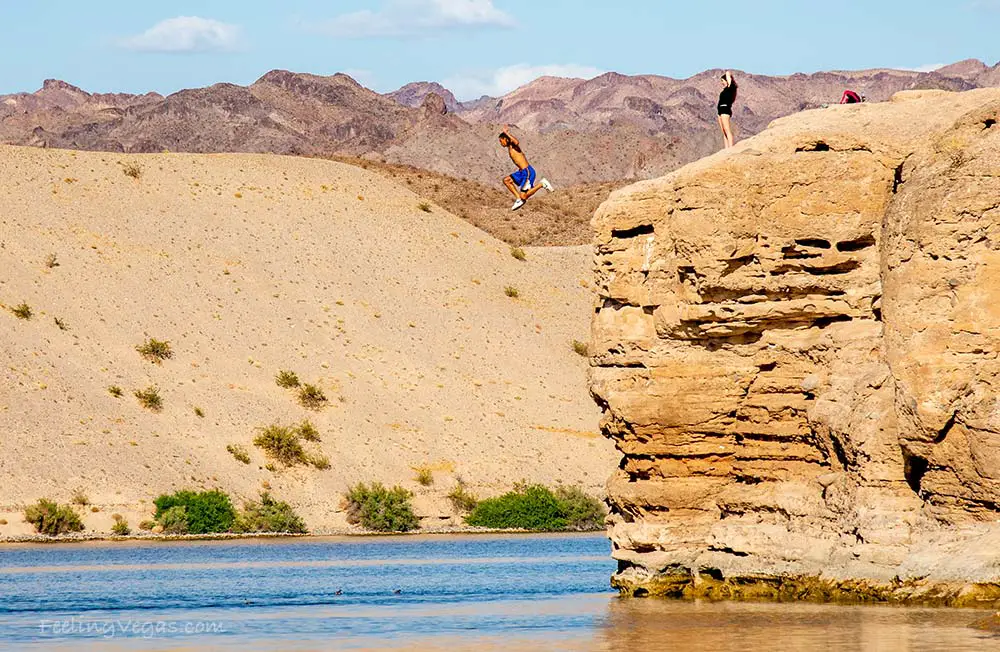 If you're looking for some excitement near Las Vegas, why not take a day trip to Nelson's Landing Cliff Jumping area? At Nelson's Landing, you can chill and relax on the beach with a brew or picnic while watching (or participating) as people jump off the cliff into the refreshing Colorado River below.
Explore Sin City with the Best Car Rentals in Las Vegas! (Discover Cars)
What is Nelson's Landing Near Las Vegas?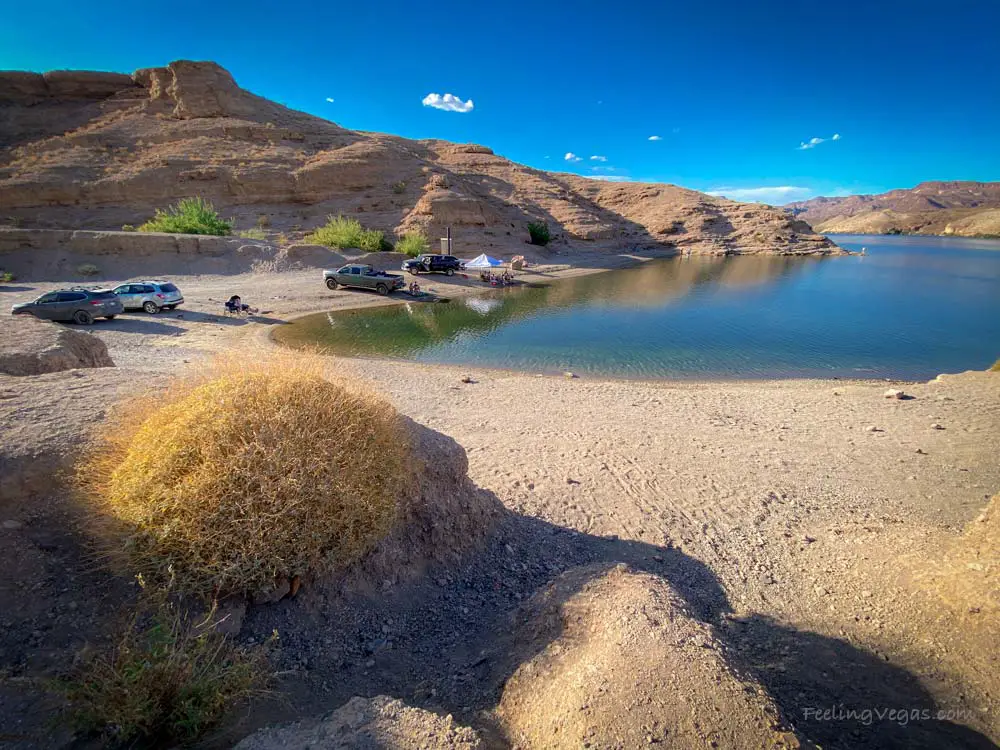 Nelson's Landing is a picturesque cove along a section of the Colorado River between Lake Mead and Lake Mohave. It's a popular spot to cool off in the river on a hot day.
You can back your car right up to the water and set out a blanket or chairs on the beach (the beach is made up of sand, rocks, and gravel, so chairs are more comfortable than the ground).
Some people will even set up an awning and make a day of it. Bring a picnic, or a cooler full of drinks as there are no services available. It's a great spot for families and a good place near Las Vegas to take your dog swimming.
Halfway across the Colorado River towards the other side is the state line, so when you're sitting on the beach looking across the river, you're looking into Arizona.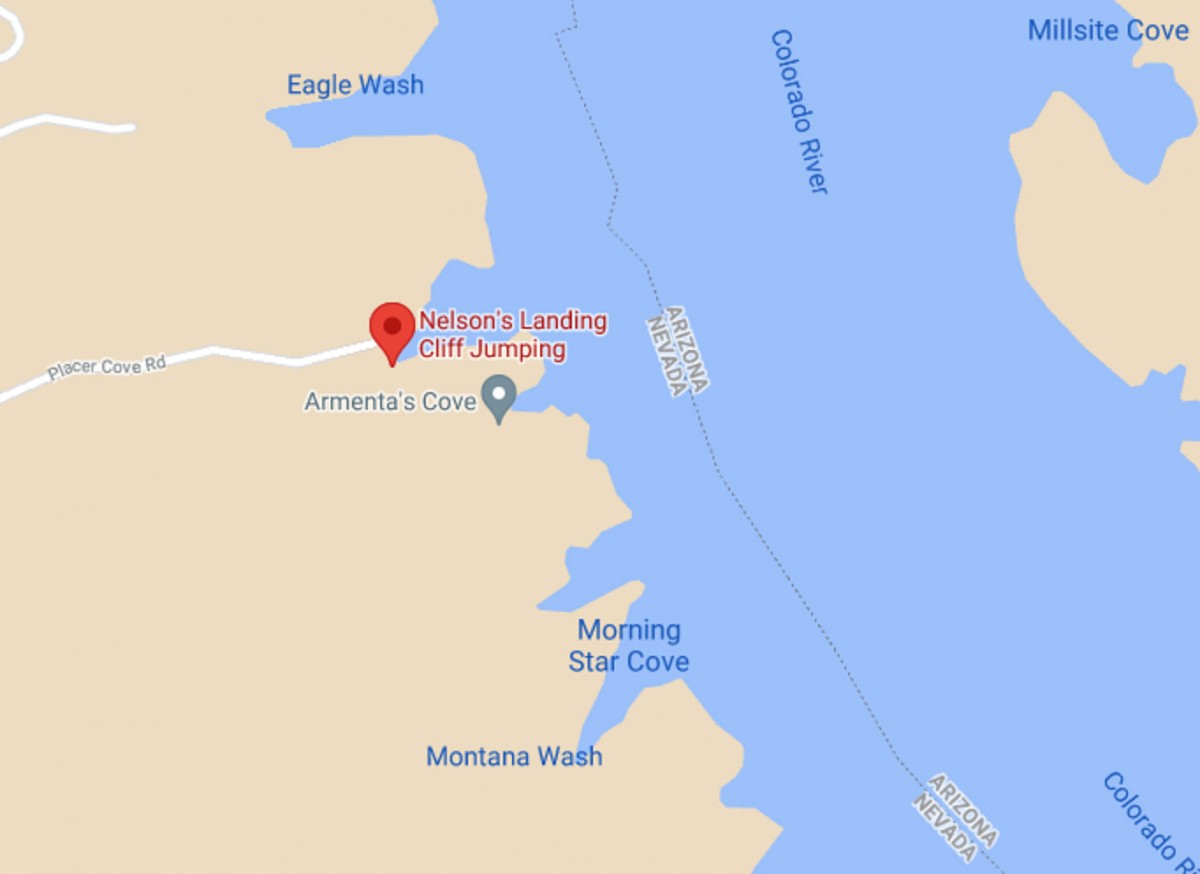 How High is Nelson's Landing Cliff Jump?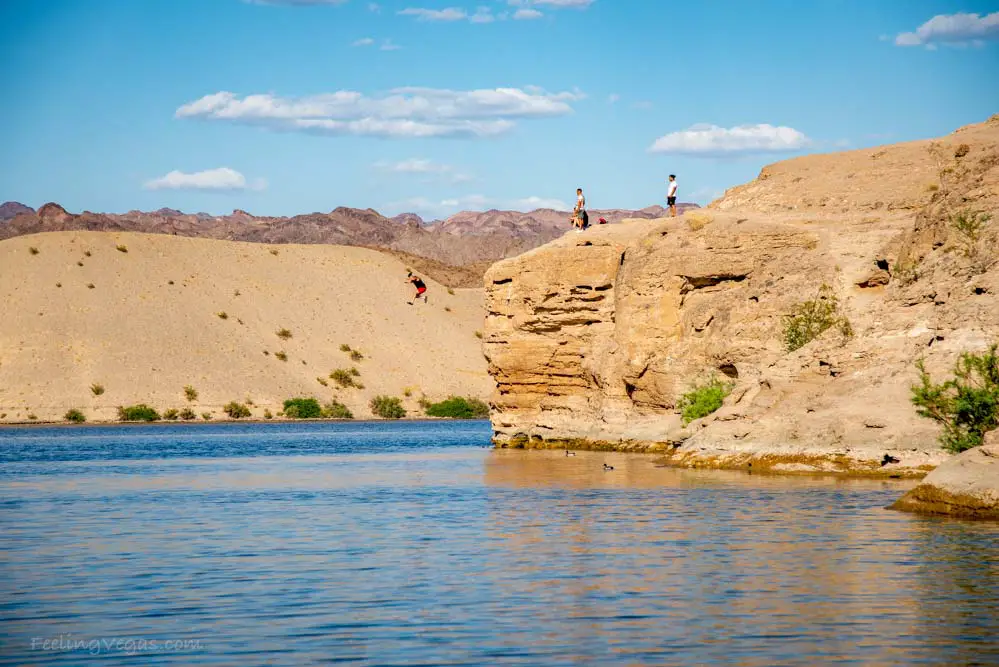 About 70 yards from the beach is the cliff that people like to jump off of. You can get there by following a short trail around the outside of the cove.
Nelson's Landing cliff jump is approximately 30 feet high, but due to the falling water level in the Colorado River, the jump is getting a little higher every year. There are also some trails leading to higher cliff jumps nearby, but they are more difficult to access, and much more dangerous.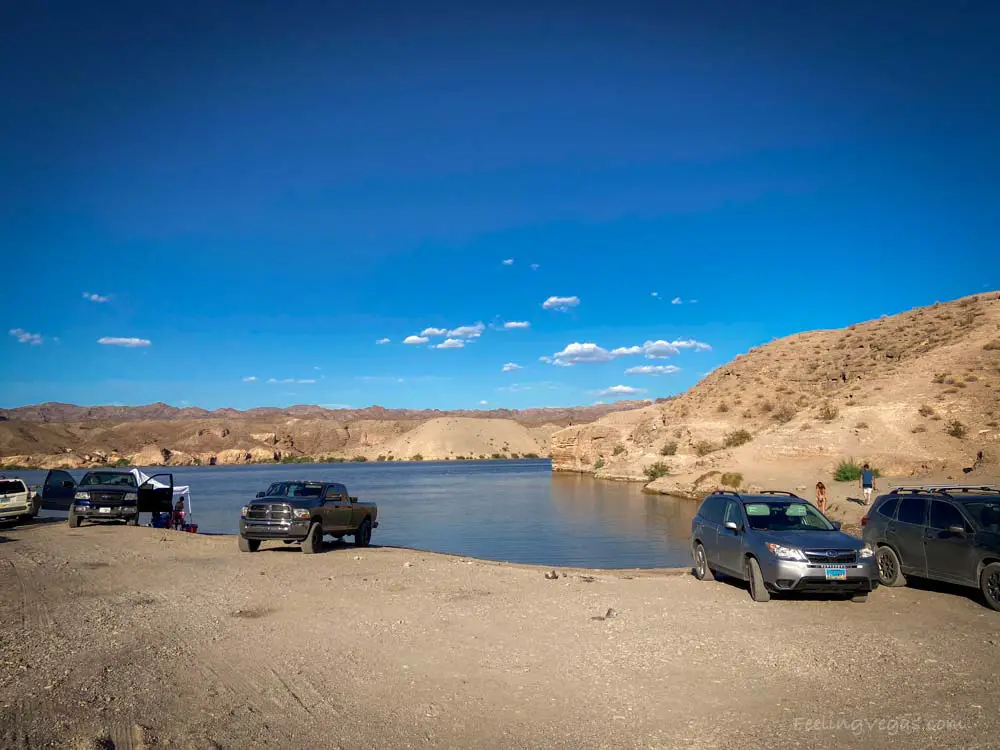 What's fun about Nelson's cliff jump is that it is a full participation event. Whether you're jumping or sitting on the beach, everybody is hooting and hollering, egging each other on.
Whenever someone jumps, the crowd on the shoreline gives a rousing amount of applause and appreciation! Once you've jumped, it's a very short swim to the shore.
Swimming At Nelson's Landing
Swimming is definitely a highlight of visiting Nelson's Landing! By the time the Colorado River has reached this area it has already traveled a long way, and been through Hoover Dam, so the majority of the sediment has been filtered out leaving nothing but crystal clear water. It's quite beautiful!
The bottom of the river around the beach is made up of small stones. They're not particularly slippery, but your feet will feel a whole lot better if you wear some swim shoes. Since the cove is somewhat protected from wind and major currents, the water is very calm, making it ideal for an afternoon dip.
This is also a great area to launch a kayak from!
Average Air & Water Temperatures at Nelson's Landing
The current weather will go a long way towards determining how much you'll enjoy your time at Nelson's Landing cliff jumping area. Here's a table to give you some idea of the average water and air temperatures you can expect depending on the time of year.
Season
Avg Air Temp
Avg Water Temp
Winter
(Dec – Feb)
47 °F
54 °F
Summer
(May – Sept)
96 °F
84 °F
Early Spring/
Late Fall
60 °F
63 °F
Remember these are average temperatures, so you can expect it to be well over 100 °F during the day in summer, so come prepared to get in the water.
Getting To Nelson's Landing Cliff Jump
Nelson's Landing is located about a one-hour drive southeast of the Las Vegas Strip, and makes for a great day trip that can be combined with a visit to nearby Nelson Ghost Town (you actually pass the ghost town 5 miles before you get to the landing).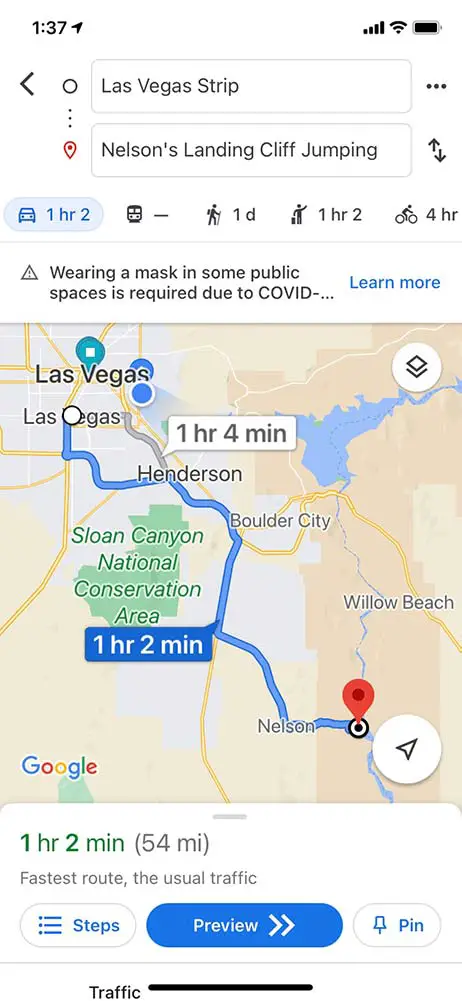 It's a fun drive through the desert that's literally out in the middle of nowhere. You can follow this google map for turn-by-turn directions from wherever your starting point is.
Note: The address shows as being in the town of Searchlight, but that's just it's postal address. Searchlight, Nevada is actually about 40 miles away.
The last 1.4 miles before you get to the Nelson's Landing cliff jump area is on a dirt road. The sign states that only 4×4 vehicles are recommended. While that's probably best, I think any higher clearance vehicle can make it okay.
We met someone out there recently with a 2-wheel drive rental SUV who didn't have any problems.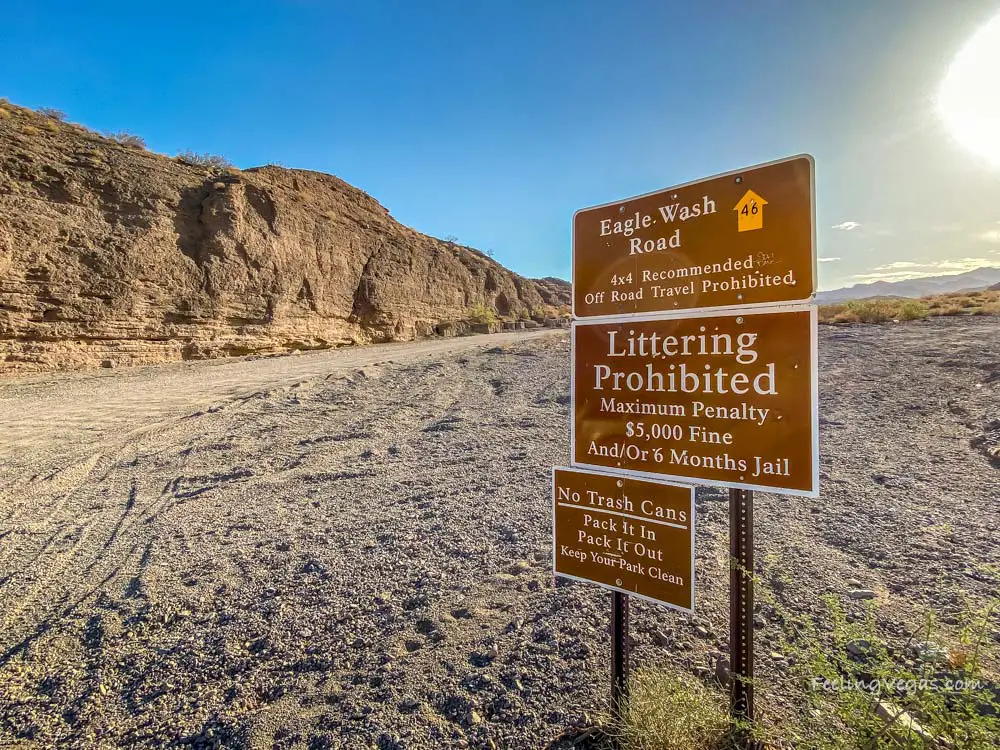 If you don't have a 4×4 or don't feel comfortable taking your car off-road, I'd recommend parking in the dirt parking lot right where the pavement ends.
From there you can walk to another very similar cove and beach area that's fun for swimming and hanging out, but you won't be able to see the cliff jumping from this spot.
Looking for a Reliable Car Rental in Las Vegas? Discover Cars Has Got You Covered!
Final Thoughts
If you're visiting Las Vegas, and want to get away from the Strip for part of a day, then head over to the Nelson's Landing Cliff Jumping area. Not only will you get to experience some of the open desert outside of Vegas, but you'll also get a chance to see or swim in the Colorado River and maybe if you're brave enough, even jump!
Recommended Reading: Best Las Vegas Day Trips (Ultimate Guide & Map) – This is a complete guide and map showing all our favorite Las Vegas day trips.
Sources:
https://www.houseboatreservations.com/lake_mead/watertemp.php