Nelson Ghost Town (Las Vegas Day Trip) With Photos
(This article may contain affiliate links. If you click through and make a purchase, we will receive a small commission at no additional cost to you. )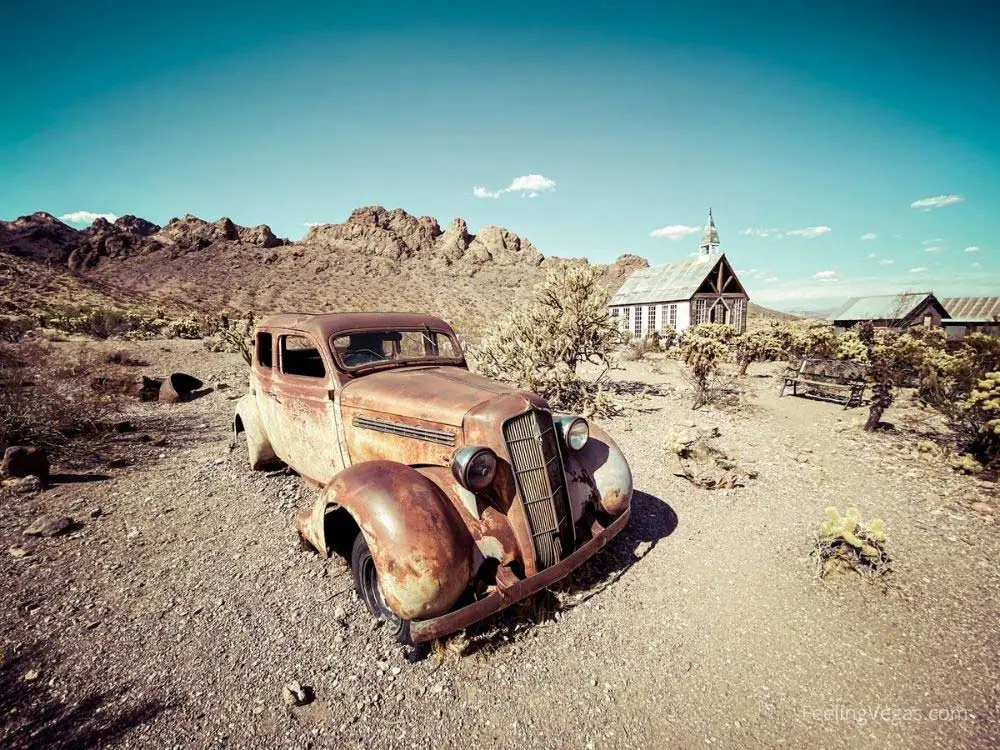 If you're visiting Las Vegas and interested in a true wild west adventure, then look no further than Nelson Ghost Town. The state of Nevada is home to over 600 ghost towns, and the ghost town of Nelson is one of the most popular. On top of that, Nelson is less than an hour's drive from the Strip, making it a perfect day trip from Las Vegas!
You may be wondering to yourself, "What is there to do in Nelson Ghost Town? Why is it popular?"
Nelson Ghost Town is famous for many reasons, including its mine tour, violent history, preserved buildings, and beautiful Mojave Desert views. The ghost town of Nelson will provide any visitor who is fascinated with the old west an afternoon they will not soon forget.
Keep reading to discover everything you'll need to know about planning your road trip to this western town. Plus, I've included numerous pictures from our recent trip to show you exactly what you can expect to see. So next time you're in Las Vegas, make sure to plan a visit. It's definitely worth the trip!
Click here to find the Best Car Rental Deals for Your Las Vegas Wild West Adventure!
History of Nelson Ghost Town
One of the things that makes Nelson so popular is the rich (and dark) history surrounding the old ghost town.
Nelson was first founded by Spaniards in 1775 when gold was found in the area. The town was consequently dubbed "Eldorado," which translates to "City of Gold."
Although gold was first discovered here in 1775, it took until 1859 for gold and silver to be consistently mined in the area. The mine in Nelson is named the Techatticup Mine, and it's the oldest and most productive gold mine in southern Nevada's history. Over the years, miners pulled millions of dollars in gold ore from this site. The early discoveries of gold and silver in Nelson led to a rush of opportunity seekers pouring into the boomtown.
The huge influx of people mixed with greed caused Nelson to become a nefarious town known for its high rate of violent crimes. The violence was brought on by ownership and land rights disputes common in gold rush towns of the era.
Nelson, however, was a special case in that the nearest sheriff was more than 150 miles away, so criminals were rarely apprehended or brought to justice. Nelson became known for murder and lawlessness and gained a reputation for being a mining town whose riches were earned through blood.
Despite these factors, prospectors continued to flock to Nelson in hopes of finding a treasure of their own.
The town also attracted many civil war deserters from both sides, hoping that the remote location would keep authorities from the Union and Confederate armies from finding them.
Eventually, the gold played out and the mine was closed in 1945, and the population began to drift away. Even so, Nelson probably would have continued in existence for a lot longer than it did, but a massive flash flood in 1974 wiped out everything and left the town abandoned.
At this time, the small remaining population of Nelson moved a couple of miles up the road to higher ground, and the original mine location is where you'll find Nelson's Ghost Town.
Things to Do When Visiting Nelson Ghost Town
Nelson Ghost Town is now widely visited as a tourist attraction due to its proximity to Las Vegas, and as such, there are a variety of activities and plenty of things to do and see.
Explore Nelson Ghost Town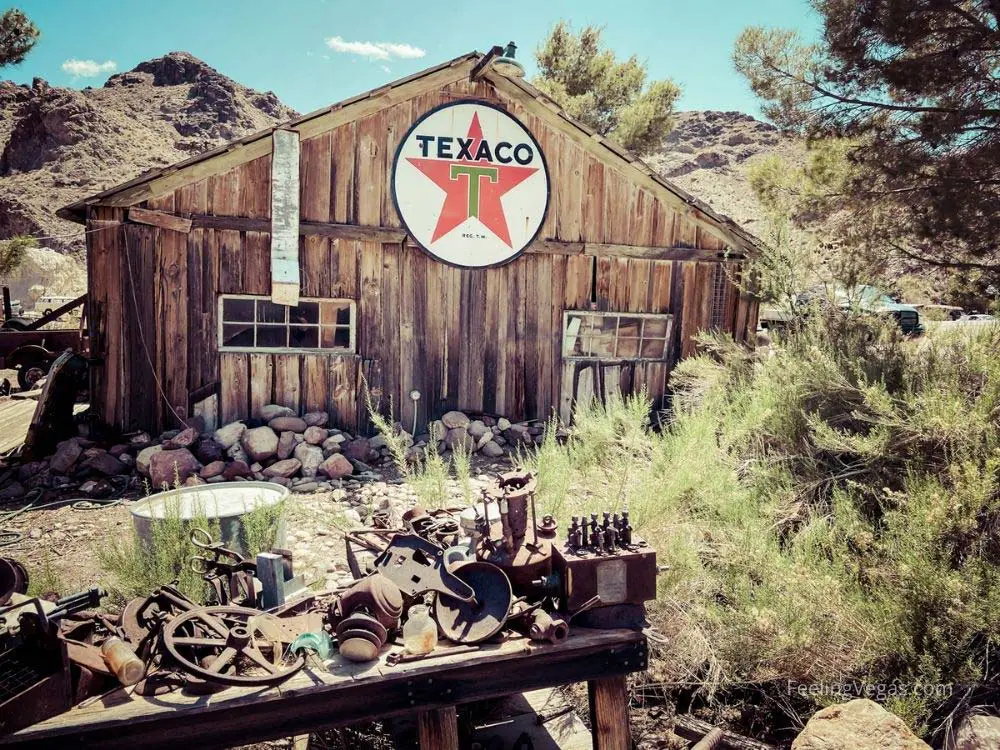 The main event at Nelson Ghost Town is the town itself. Feel free to wander around and explore the grounds. The townsite has a dozen or more vintage and restored buildings to check out, and the area is covered with collectibles, old cars, vintage signs, and historic gas pumps.
It'll take you around an hour to see everything in the town. Along the way, you'll find groupings of interesting collectibles—everything from old bicycles and school buses to rusted-out Studebaker's.
The owner's daughter jokingly told us that her parents (the current owners) were hoarders. That may be true, but these are some of the most interesting "piles of junk" I've ever seen!
Eldorado Canyon Mine Tours of the Techatticup Mine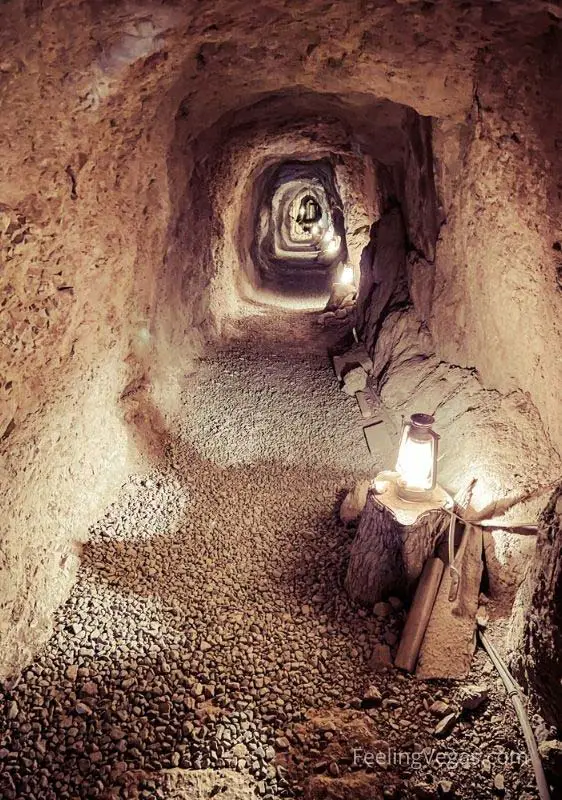 Gold found at the Techatticup Mine is what gave the town its start, so you'll want to be sure to take one of the three daily tours inside the mine itself. I've been on several mine tours at other locations, and this one is interesting because the mine shaft is chiseled directly out of hard rock.
Because of this, the mine doesn't have the wooden supports that normal mines dug out of the earth require. Not needing these supports enables the mine tunnel to be much smaller.
The walking tour takes about an hour, covers a 1/4 mile of the abandoned mine, and is flat (no steps). The temperature in the mine is about 65°F year-round, and it is a bit breezy in spots, so depending on the time of year, you may want to bring a jacket. If it's a hot day outside, the cool mine feels really great!
The mine tours are at 9 a.m., 12 p.m., and 2 p.m.
You'll want to call ahead to make reservations tel: 702-291-0026
Tours cost $15 for adults and $10 for children 5-12 (under 5 is free)
You can purchase a mine tour by reserving a spot through the general store or calling the number above. If you want to make sure that you can see the mine, it's best to call ahead and give them your name and the time you want to come. You can pay when you arrive.
Visit The Nelson General Store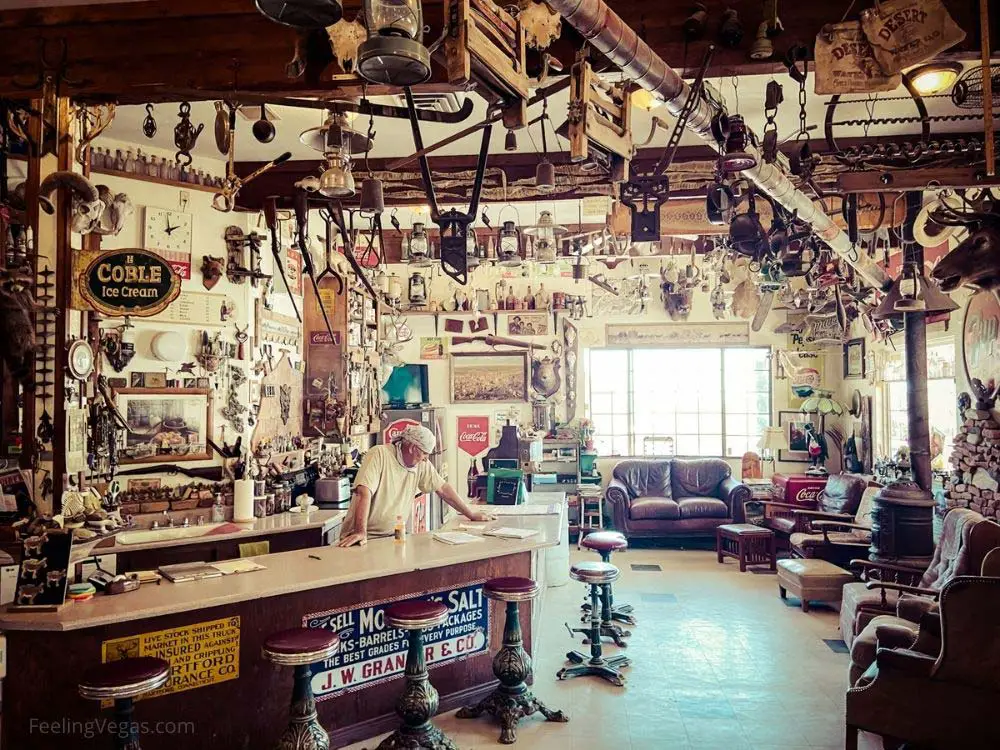 Also located within the town is the Nelson general store. The store contains an eclectic variety of collector items and old relics from the town. The walls are filled with historical knick-knacks and old photographs from the area. Most of these items are for display only, but there are some items for sale as well.
There is a lot to look at here, and it's the perfect place to hang out and explore, especially if it's hot outside. Inside the general store, you'll be able to grab a drink or a snack but don't expect to find any restaurants or gas stations nearby.
Nelson Ghost Town Photography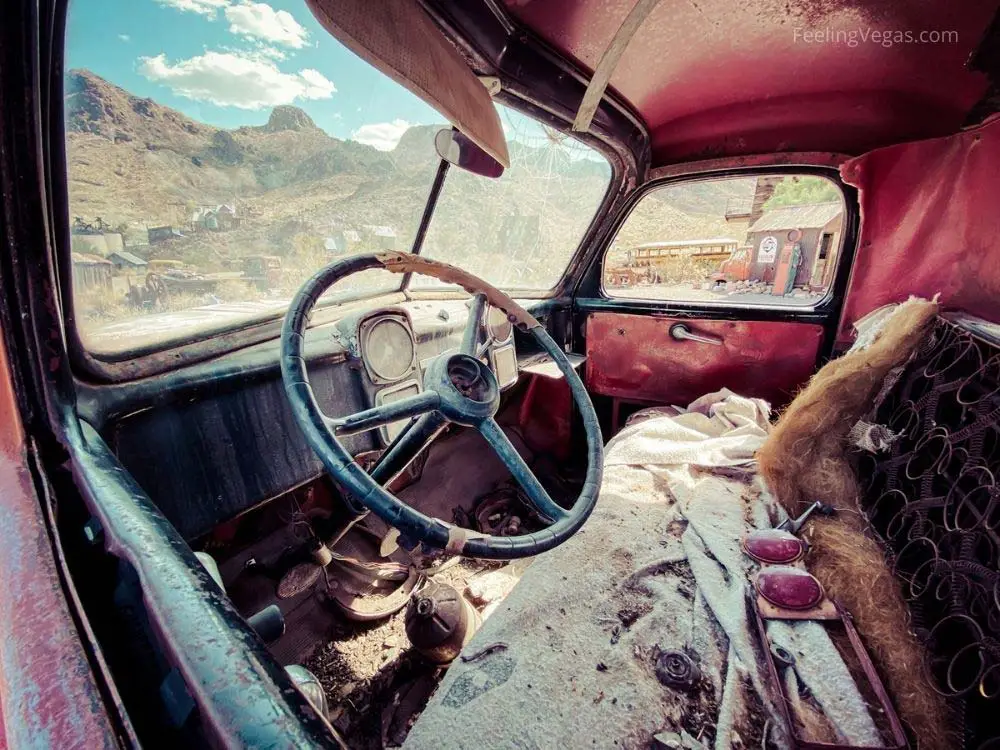 Nelson Ghost Town is a photographer's paradise, and a shutterbug could spend hours photographing the buildings, antiques, and scenic offerings of the town. People come here for casual photoshoots, wedding photos, and full-on commercial shoots.
The town encourages this, but you do have to pay a $10 fee to take photos. 
You won't need to pay if you're happy shooting a few photos or family snapshots with your phone, but you'll need to pay the fee if you're a serious photographer (professional or not) doing a full-on photo shoot.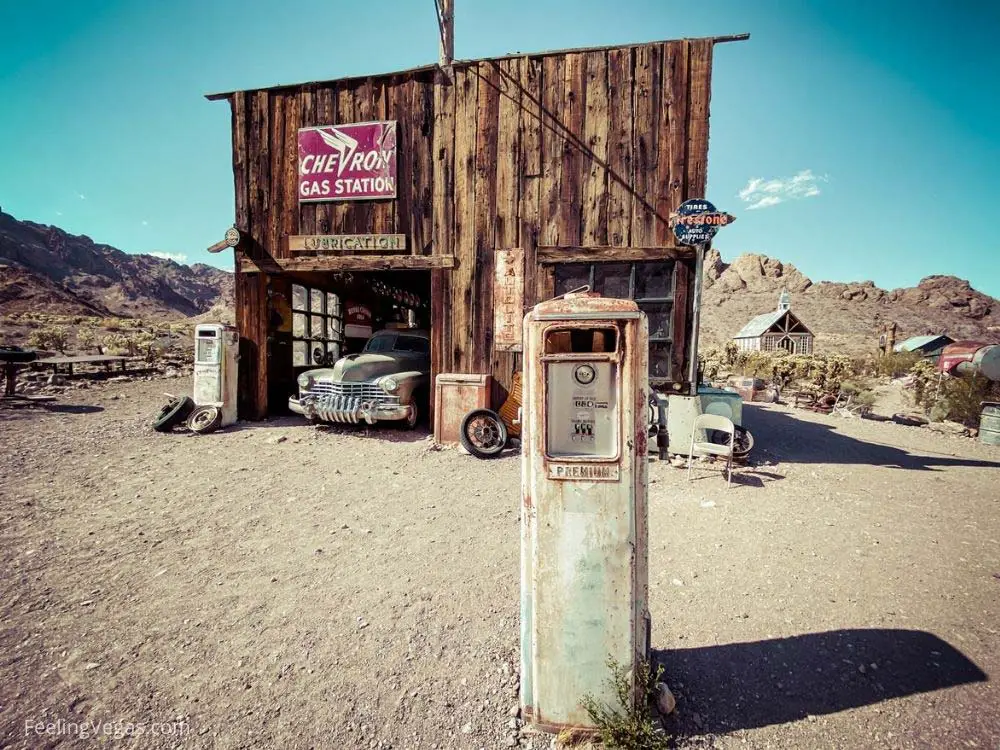 Wedding or commercial photoshoots will need to be scheduled ahead of time through the office. These fees help with the upkeep of the town, and as the town hasn't been turned into a major tourist trap, it's well worth the small fee.
The photography fee will also give you access to a historic barn filled with photogenic antiques, memorabilia, and scenic backgrounds for your photos. The barn is only accessible by paying the photo fee and is the only building on the property that you can enter besides the general store.
Weddings at Nelson Ghost Town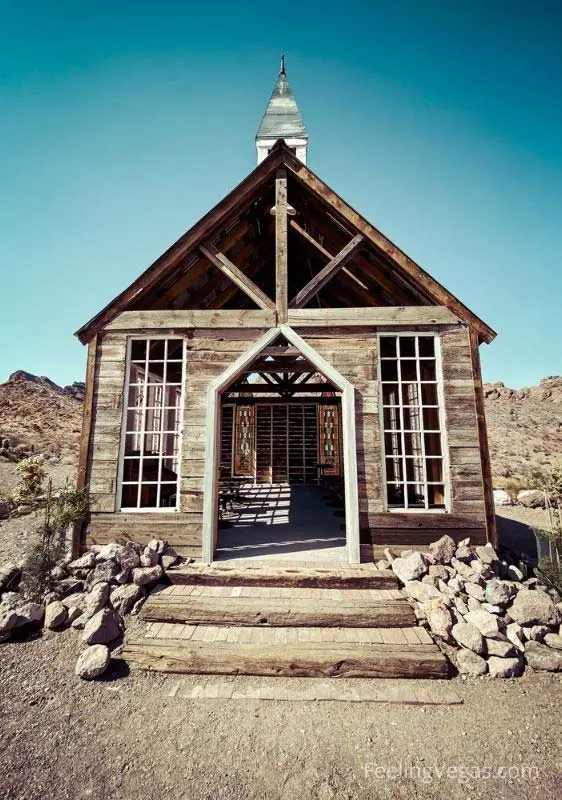 Believe it or not, Nelson Ghost Town is a popular wedding spot, especially for those who love a vintage vibe. It's a place couples can come for a truly unique Vegas wedding experience.
Nelson offers several different wedding venues that are available to rent. The most popular venues are the main historic barn and the cactus garden. There is also a little wedding chapel available complete with stained glass! I imagine a wedding here would be quite lovely.
If having your Las Vegas wedding in a ghost town sounds like a cool idea, you can find more information on a Nelson Ghost Town Wedding Ceremony here.
Scenic Eldorado Canyon
The rugged beauty of Eldorado Canyon surrounding the ghost town of Nelson deserves mention as well.
The mountainous region, Colorado river, and desert views create a picturesque landscape that is quite different from that of nearby Las Vegas. The spectacular scenery found in and around Eldorado Canyon will turn the drive to Nelson into a beautiful scenic tour worthy of the trip all by itself!
If you'd like to discover all of the natural beauty surrounding Las Vegas, be sure to visit our Best Las Vegas Day Trips page.
Nelson Ghost Town's Movie History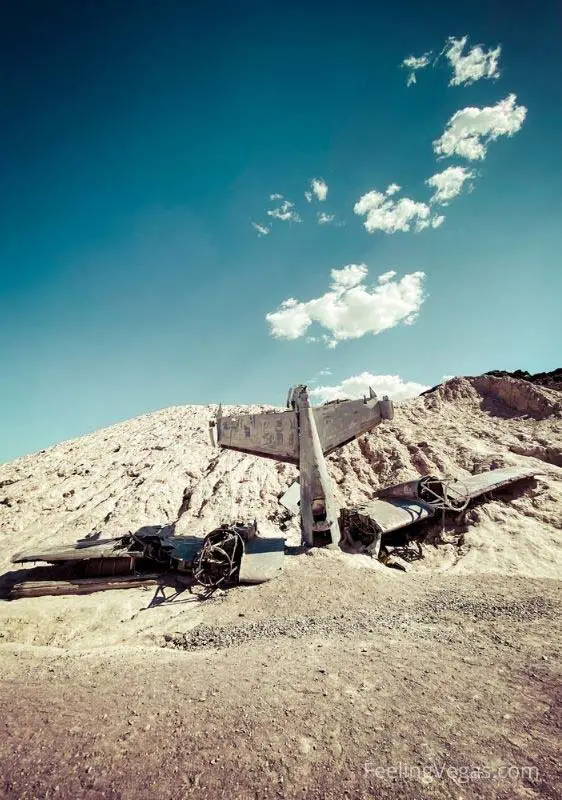 Nelson Ghost Town provides the perfect Old West setting that many movie producers have used to their advantage. As a result, Nelson has been the setting of a variety of films and movies over the years.
Movies Filmed in Nelson, Nevada
Nelson ghost town has provided the backdrop to dozens of television shows, commercials, and blockbuster movies.
If you are a movie lover, you might recognize Nelson as the setting of 3,000 Miles to Graceland, Brain Games, Eye of the Beholder, and Breakdown. All of these movies were filmed in the historic ghost town or the surrounding property. Props and parts of the sets can still be visited on the property. 
Plane Wreckage at Nelson
There are two wrecked airplanes on the property in Nelson, and many tourists wonder whether these planes crashed here? Blown up is more like it! These planes are actually movie props that were used during filming. The main plane was featured in the movie 3,000 Miles to Graceland.
(When you're in the general store, you can see the scene from the movie where this plane explodes playing on a tv behind the counter).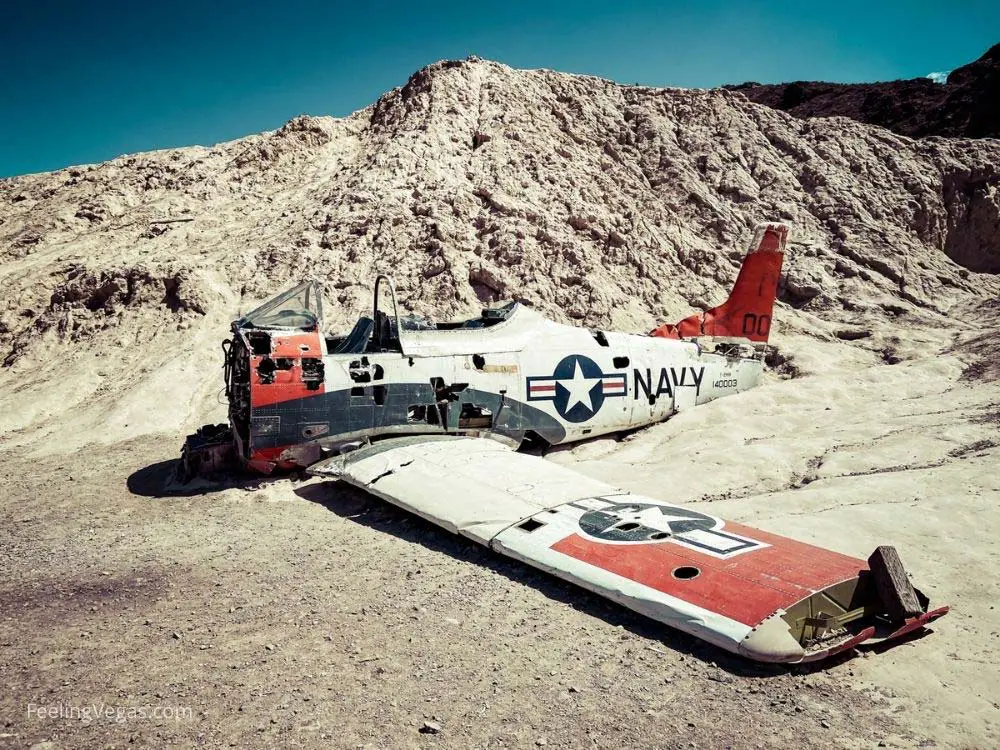 If you've seen pictures of Nelson Ghost Town, these airplanes are probably the most immediately recognizable to you. Adults and children alike love seeing, posing, and taking photos with these movie set planes when visiting the property. Movie fans especially love seeing the place where the behind-the-scenes magic took place.
Is Nelson Ghost Town Free?
There is no cost to visit Nelson Ghost Town and explore the property or general store. However, if you wish to take the Eldorado Mine tour, the cost is $15 for adults and $10 for children. Also, serious photographers may want to pay $10 to take photos in the town and access the photogenic barns.
Parking at Nelson ghost town is free.
How Far is Nelson Ghost Town from Las Vegas?
Nelson Ghost Town is located 46 miles southeast of the Las Vegas Strip. The drive will take you about 45 minutes. However, bear in mind that you are heading to a remote desert location, and there are no services, food, or gas stations to be found along much of the route to the town.
The best way to get to Nelson Ghost Town is to drive yourself there via your own vehicle or a rental car. If you are planning on renting a car, you should rent it in advance because Las Vegas car rentals can quickly get booked up.
Take a Tour to Nelson Ghost Town
If you're without a car or just want to leave the driving to someone else, another way to get to Nelson is to take a guided Nelson Ghost Town Tour from Las Vegas. You'll be picked up from your hotel and taken to Nelson, where you'll visit the town and take the mine tour.
On the way back, the tour will take you by the Colorado River, where you'll get a great view of nearby Lake Mead and Black Canyon.
Nelson Ghost Town Directions
Nelson Ghost Town is located southeast of the Las Vegas Strip and is an easy but remote drive. Click this google maps link from your phone to get turn-by-turn directions to the ghost town from your current location.
Note: When looking at directions to Nelson, you may see reference to it being in the town of Searchlight, NV. The town of Searchlight is actually about 30 miles away. Nelson doesn't have a post office, so its mailing address is in Searchlight.
You'll find the ghost town two miles past the main town of Nelson (blink, and you'll miss it!) at mile marker 13 on Highway 165.
Nelson Ghost Town Hours
Nelson Ghost Town is open every day of the week and almost every day of the year. Their hours are:
Hours: 8 a.m. to 6 p.m (7 days a week)
Days: Open 362 days a year (Closed on Thanksgiving, Christmas, and Easter)
They close promptly at 6 p.m., so if you want to visit this historical site, make sure you schedule your visit early enough to have plenty of time to see everything.
Although Nelson is a ghost town, it's not entirely abandoned as the family that owns it lives there. So you'll need to stick to their scheduled hours when you visit.
Weather at Nelson Ghost Town
Nevada is known for its sweltering summer heat, so when planning a trip to Nelson, it is essential to take the weather into account. Weather is the hottest in Nevada from June through September, with temperatures frequently staying well above 100 degrees Fahrenheit.
If you are planning on going during these months, it is best to avoid going during mid-day. Instead, go early in the morning or closer to the evening if you can. Don't forget sunscreen and a hat either way.
If you want to avoid the sweltering heat while still seeing all the areas of interest, the best time to visit is between October and May.
A Couple of Other Points To Remember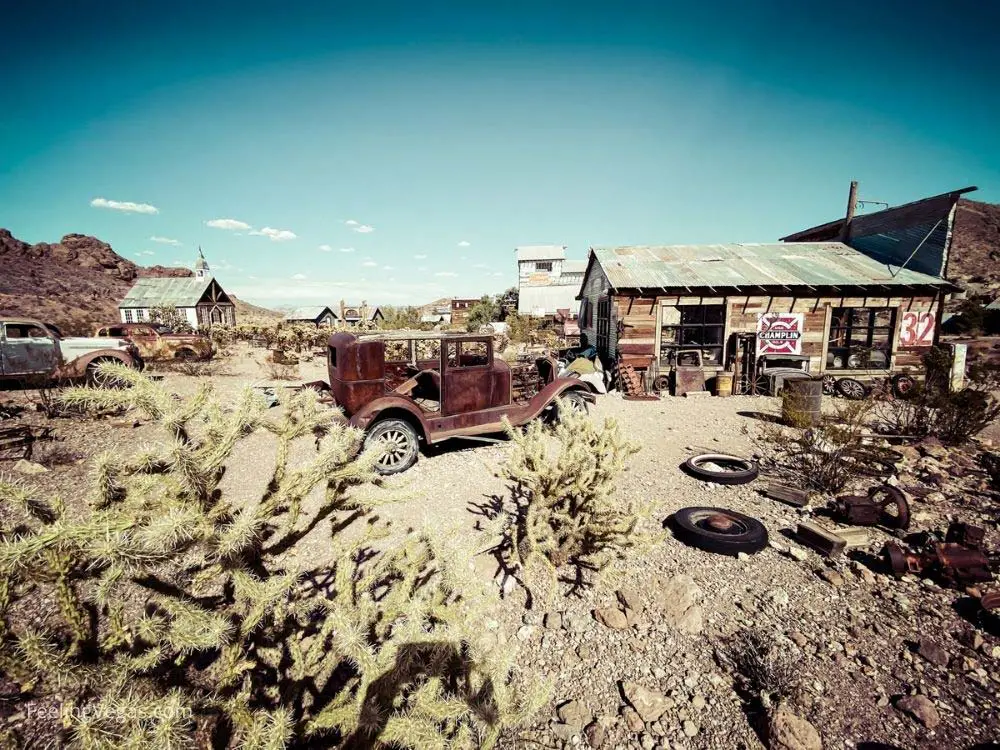 Crowds
When planning your trip, keep in mind that the ghost town of Nelson is a popular spot. You may encounter a lot of other visitors. Nelson is the busiest from noon to 2 p.m., especially on weekends.
I'd recommend getting out there before noon on a weekday if you can.
Snakes and Cacti
While it might look like you're on the set of a movie, you should take extra care when walking around the ghost town. There is a lot of cholla cactus (the kind that falls off and is all over the ground). Wear close-toed, good walking shoes and watch your step, lest you get too close to any cholla cacti.
You'll also want to keep your eyes peeled for rattlesnakes. It is very much rattlesnake territory, and I was told that they find and capture about twenty rattlesnakes a year on the property.
It's not a major concern as, the snakes don't present a significant problem for visitors. It's just something to be aware of.
Who Owns Nelson Ghost Town?
Tony and Bobbie Werly own the ghost town of Nelson, Nevada. They purchased the town in 1994 after it sat abandoned for years. The family restored several of the old buildings and reopened part of the Techatticup Mine for tours.
The town is now a thriving tourist destination near Las Vegas.
Things to Do Near Nelson Ghost Town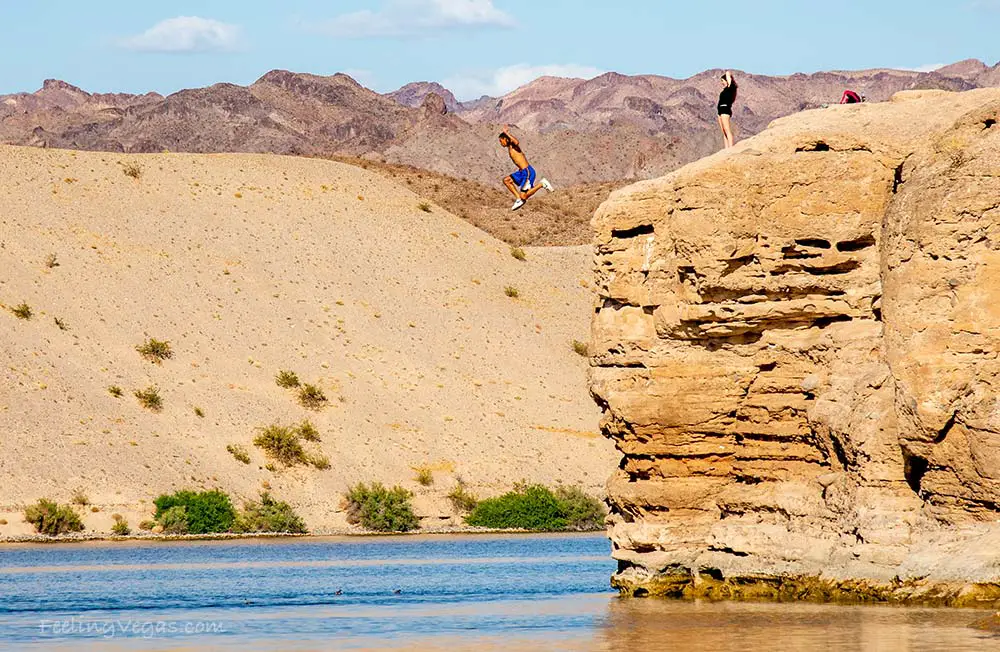 Colorado River and Nelson's Landing
About five miles down the road from the ghost town is Nelson's Landing. It's a section of the Colorado River that's located between Lake Mead and Lake Mohave. You can get right down to the river and enjoy the scenic views of the Arizona desert on the other side of the river.
Many people pack a picnic lunch and take a swim. It's a great way to cool off on a warm day. Nelson's Landing is also where you'll find Nelson's Landing Cliff Jumping (the link takes you to our complete article about visiting Nelsons Landing). Here you can jump off a cliff right into the Colorado River (you can also choose to just watch if that's more your style)
Eldorado Canyon ATV Tours:
If you are looking for a unique way to explore the Eldorado Canyon and mine, you might want to look into the Eldorado Canyon ATV and Gold Mine Tour. These tours start by picking you up from your Las Vegas hotel. Once you get to Eldorado Canyon and jump on an ATV, you'll explore the back canyons, forgotten areas, and remote regions of Eldorado Canyon.
Exploring the canyon by ATV offers access to remote areas that the average visitor doesn't get to see. This trip also includes a tour of the Techatticup gold mine.
The entire ATV tour takes around six and a half hours and includes a picnic lunch under a covered pavilion, and pick up and drop off from most Las Vegas Hotels. When you sign up for this tour, your package includes an ATV or UTV vehicle, gloves and goggles, lunch, and a water bottle.
Need a Vegas rental car? Find the best deals on car rentals in Las Vegas (Discover Cars)
Final Thoughts on Visiting Nelson Ghost Town
So many people visit Las Vegas and never make it off of the Strip. A short day trip to Nelson Ghost Town is an excellent way to get out of town for a bit and see some beautiful desert scenery while experiencing a proper wild west ghost town.
You can expect the trip to Nelson Ghost Town to take up half a day, or you can make a full day of it by adding a picnic lunch and a swim down at the water's edge of the Colorado River at Nelson's Landing.
Either way, you're sure to have a great day, and you'll be back in Vegas in time for dinner and a fun night out on the town!