Can You Pay Cash for a Hotel Room in Las Vegas? (Explained)
There is nothing wrong with being a cash and carry king or queen and living your life without credit cards. Millions of people sail through life living within the means of their cash flow without issues. However, when vacation time rolls around and Las Vegas is the chosen destination, these cash-only consumers may want to think again.
Can you pay cash for a hotel room in Las Vegas? 
Yes, you can pay cash for a hotel room in Las Vegas. However, you will need to be prepared for some unique challenges, including a more limited selection of hotel properties and increased room rates, if you are not using a credit card to book and pay for your Vegas hotel.
If you intend to stay and play on the famous Las Vegas Strip (or anywhere else in town) there are a few things you need to know in advance if you want to go the cash-only route for your hotel stay.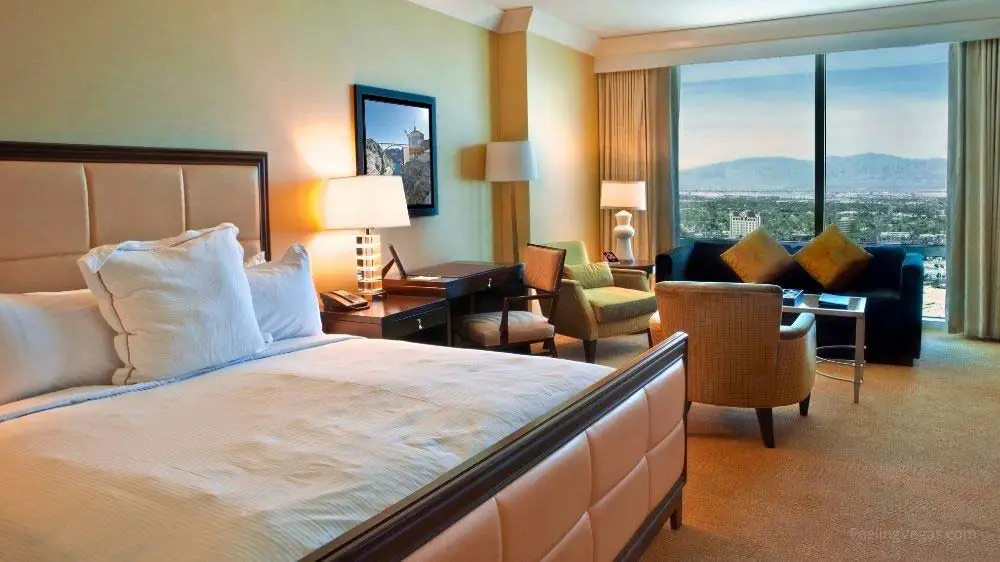 (This article may contain affiliate links, which means we might earn a small commission if you click and make a purchase. Thank you!)
The Challenge of Paying in Cash at Las Vegas Hotels
One of the most important things is that paying cash means you are subject to fluctuating market pricing and will probably end up paying top dollar for your hotel room.
Choosing the cash option may drive up the cost by anywhere from fifteen to twenty-five percent as opposed to booking early with a credit card at an online discount travel broker.  
When it comes to trip budgeting, you need to plan for this contingency. While some hotels on the Strip will accept cash for a room, the stipulations attached are strict and, for most, make paying for the room much more difficult.
What's more is that with a cash booking or when paying for the room with cash, charging something to the room such as a late-night snack after an all-day session at the roulette wheel is not going to happen.  
Some hotels and motels that allow a cash booking typically require you to pay for the entire length of your stay at the time of check-in, plus hotel tax, resort fee, and an additional one hundred dollar deposit (or more) to cover miscellaneous items during your visit.
Hotel's such as the Wynn Las Vegas and Encore will agree to a twenty-four-hour hold on the room but require a booking of two weeks or more in advance. Even more challenging is that you have to book in person at the front desk, defeating the purpose entirely if you don't already live in town.
Recommended Reading: How To Choose a Hotel in Las Vegas (The Ultimate Guide)
Booking a Las Vegas Hotel Room With Cash
Don't give up yet; there is always a chance. It is Las Vegas remember? The Palazzo Hotel and Venetian both not only accept a cash booking but even personal checks or cashier's checks as payment. There is one minor caveat, though. You need to book at least twenty-one days in advance.  
While this might prove inconvenient to the more spontaneous adventurer, both the Venetian and Palazzo offer a gracious seventy-two-hour grace period from the time of booking to the time they receive payment.
Two more hotels, The Orleans and Sam's Town, will accept cash instead of credit, but both hotels require you to pay the entire cost of your stay in advance on top of a one hundred dollar security deposit.
If you originally intended to stay only as long as your luck held out, this large upfront payment could put a damper on your plans.
You Have to Pay to Play (Paying For Vegas Hotel Rooms Up Front)
Most of us understand the basic rule that you have to pay to play, but booking or paying for a room in Las Vegas in cash is always upfront and, in most cases, a significant expense at the very beginning of your stay.
Paying cash for your hotel room requires a full, upfront payment of all the nightly room charges, resort fees, and taxes for your entire stay. On top of that, you will also need to put down $100 or more for as a security deposit.
Keep in mind that hotels and motels in Las Vegas stay in business by offering the consumer the best hospitality and prices, but the cash flow needs to be steady to compete. When paying for a room in cash, expect the hotel to want to get their payment upfront.
A Way to Pay Cash For a Hotel in Las Vegas (Step-by-Step)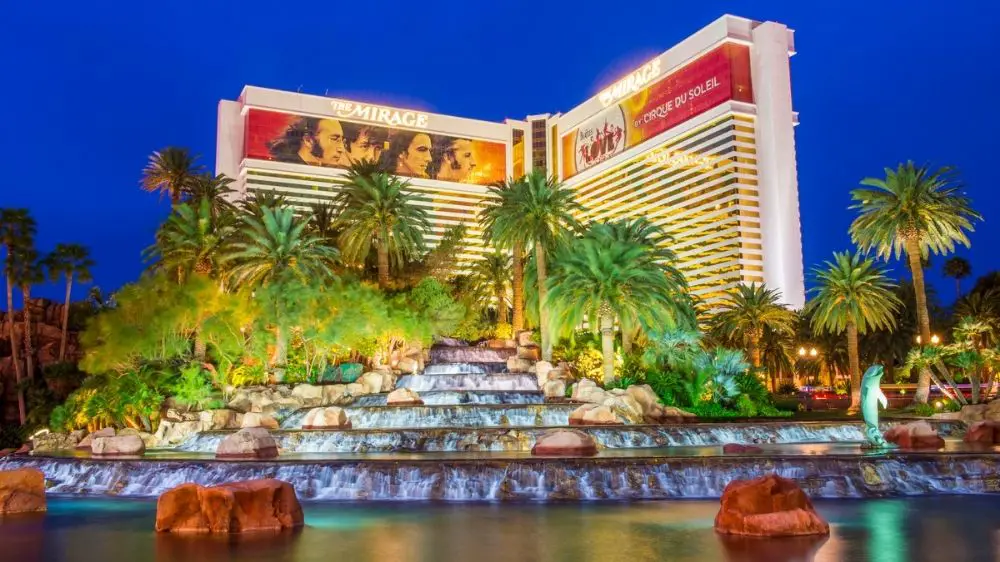 If you prefer to pay for your Las Vegas hotel in cash AND you have a credit card, AND you're just walking in (no advanced booking), there is a way to pay cash that is both simple and works within the confines of most hotel's policies.
Note: This will only work if you are just a walk-in and haven't previously made a room reservation.
Walk into your Las Vegas hotel of choice and ask for a room (hopefully, they will have one available).
Let the clerk put your credit card on file for the security deposit. Make sure to tell them upfront that you intend to pay for the room in cash. Depending on the hotel, they will either want full upfront payment, or you can pay at check-out (As long as your credit card is in the system, they aren't worried about you skipping out on the bill).
This way, you also have the possibility of paying day-by-day, which works great if you haven't decided how long you're staying.
When you're ready to check out, close out your bill by paying for any incidentals (parking, mini bar, etc.). In this way, your credit card on file should not be billed, and any temporary security deposit charge will be returned in full.
While this probably isn't the best way to get and pay for a hotel room in the touristy parts of Las Vegas, it will get the job done.
(Trying to decide between hotels in Las Vegas? Check out our Las Vegas Hotel Comparison Guide)
Credit Cards vs. Debit Cards For a Hotel Room in Las Vegas
So what about using a debit card to pay for a hotel room in Vegas?
Las Vegas hotels do accept debit cards to pay for a hotel room, but unlike a credit card, the full amount of the security deposit plus the entire cost of the room is pulled directly from your bank. Furthermore, it can take several days after check out before the deposit is returned to your account.
Credit cards are universally accepted at all Las Vegas hotels, and there are some obvious reasons for this. First, it is convenient to a customer who wishes to charge incidentals to the room. More importantly, it provides the hotel or resort with a much more efficient and secure way of receiving payment.
If you are thinking about using a debit card to book and pay for a room, be advised, the hotel will still charge a security deposit amount against the card and any miscellaneous taxes or room charges you may incur.
While the security deposit charged on a credit card is a temporary "soft charge" on the card, the security deposit charged on a debit card is actually taking the money from your bank account immediately.
Any remaining deposit will be returned after you check out, but you will need to live without that money in your bank account for the duration of your stay.
Take time to review your budget plans and make sure you have enough in the account to cover all the incidentals and the room's entire booking with applicable taxes. Whatever funds the hotel or motel holds on your debit card may remain for days after your departure.
Final Thoughts
While "cash is king" may be a popular saying that holds true in many instances, it's not the easiest way to pay for a hotel room in Las Vegas.
By requiring that a credit card is kept on file, Las Vegas resorts can ensure that each hotel guest will pay their bill in full.
Besides that way, you can save your cash for the casino!
References:
https://wallethub.com/edu/cc/book-hotel-without-credit-card/25850