Aria vs. Bellagio: Which Las Vegas Hotel is Better?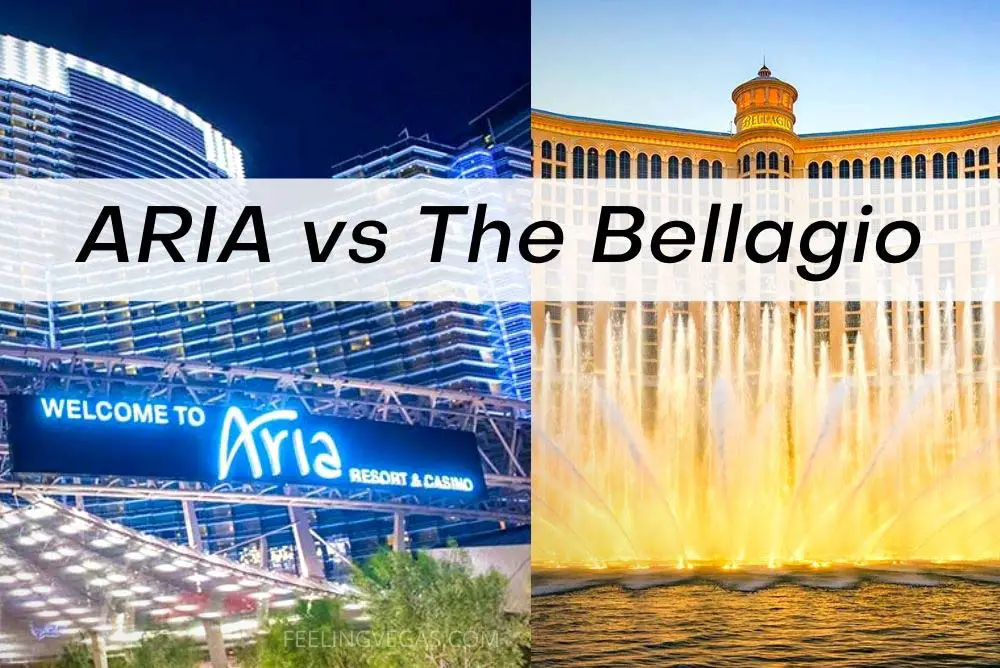 (This article may contain affiliate links, which means we might earn a small commission if you click and make a purchase. Thank you!)
The Las Vegas Strip has no shortage of grandiose hotels, and ARIA and Bellagio are two of the best. If you're trying to choose between these two hotels, you'll want to compare their similarities and differences in order to choose the right resort. So, which is the best hotel for your Las Vegas getaway, Aria or Bellagio?
The Bellagio is the top choice if you would like to experience luxurious accommodations with a European-inspired theme and sophisticated, upscale attractions and entertainment. ARIA is the better choice for those that want modern luxury with a more youthful vibe and a lively nightclub scene.
Trying to decide between two of the best hotels in Las Vegas can be tough. Read on to discover more about ARIA and The Bellagio, so you'll know which property to choose on your next trip to Vegas.
You can compare ARIA and the Bellagio at a glance in the table below.
Category
ARIA
The Bellagio
Room Price
From $103 per night
From $159 per night
Resort Fees
$45 per day
before taxes
$45 per day
before taxes
Parking Fees
Self-Parking: $18 daily
Valet: $30 – $35 daily
Self-Parking: $18 daily
Valet: $30 – $35 daily
Location
Busy mid-Strip area
Prime mid-Strip location
Shows
None
– O by Cirque du Soleil
Pools
– 3 full-size pools + 21 and up pool club at Liquid within the property
– 5 full-size pools
– 4 jacuzzis
Nearby Attractions
– ARIA Fine Art Collection
– Crystals at ARIA campus
– Fountains of Bellagio
– Conservatory & Botanical Gardens
– Close to many other big name casinos
Name: ARIA Resort & Casino
Address: 3730 S Las Vegas Blvd
Casino Floor: 150,000 sq ft.
Year Built: 2009
Number of Rooms: 4,004
Name: Bellagio Hotel & Casino
Address: 3600 S Las Vegas Blvd
Casino Floor: 156,000 sq ft.
Year Built: 1998
Number of Rooms: 3,950
Without a doubt, either of these amazing luxury hotels will fulfill your expectations of an elegant Las Vegas vacation! While there are some similarities, it's the differences between these two hotels that will make one a better choice for you than the other. This article will help make your choice easier by highlighting the differences between two of the best hotels on the Las Vegas Strip!
Background of the Aria and Bellagio 
Both hotels are located near each other on the same side of Las Vegas Boulevard and are owned by MGM Resorts International. Let's take a brief look at the background of each resort.
The Aria Resort and Casino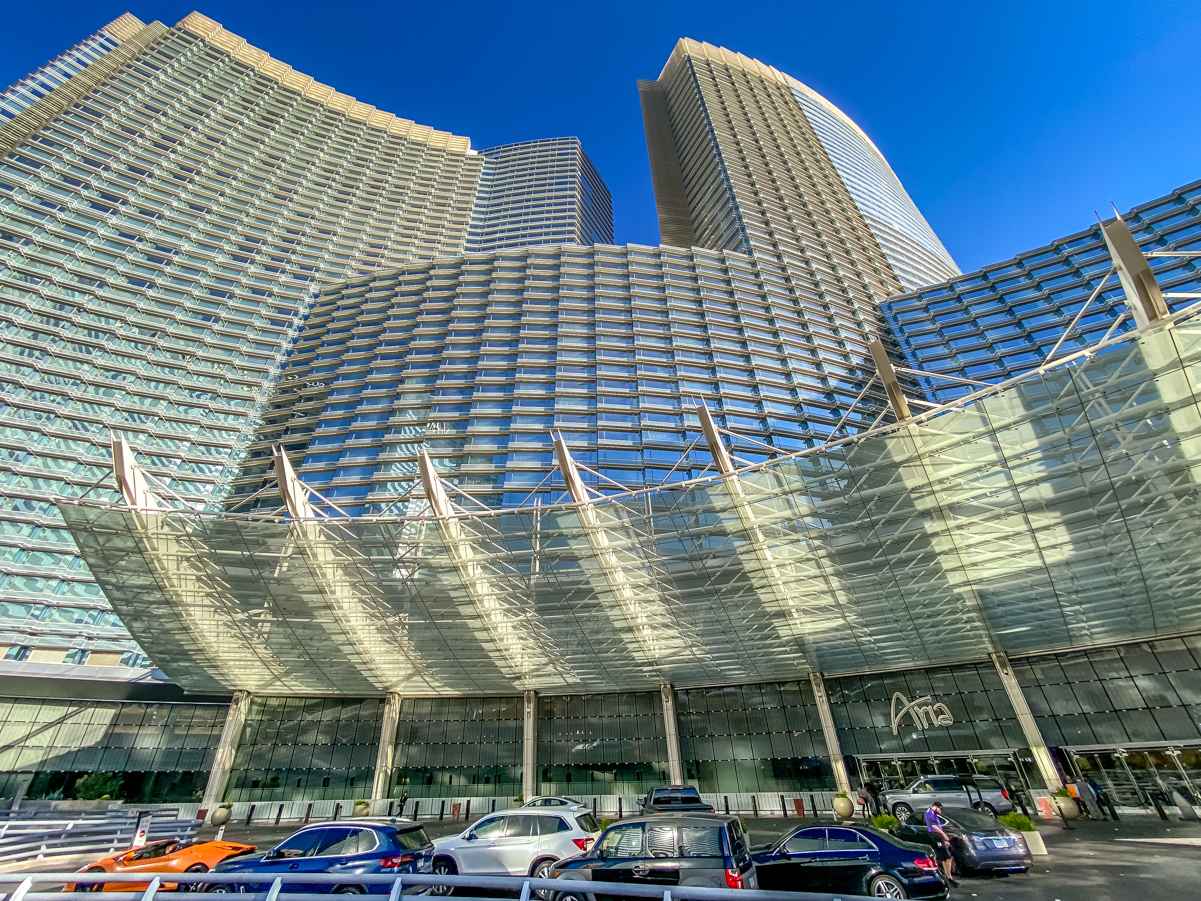 The ARIA opened in December 2009 and is one of the most modern hotel/casinos on the Strip. Standing tall at 600 feet and comprising 4 million square feet of space, the ARIA is the tallest building in the CityCenter complex.
The resort is famous for its two curved high-rise towers of stunning glass joined at the center. One tower is 61 stories, while the other is 51, with a total of 4,004 rooms and suites between them.
Despite its grandiose size, ARIA was designed to be remarkably energy-efficient and has won the Gold certification from Leadership in Energy and Environmental Design (LEED).
The resort is very technologically advanced, with smart rooms that adjust curtains, temperature, and lights to save energy.
The Bellagio Hotel & Casino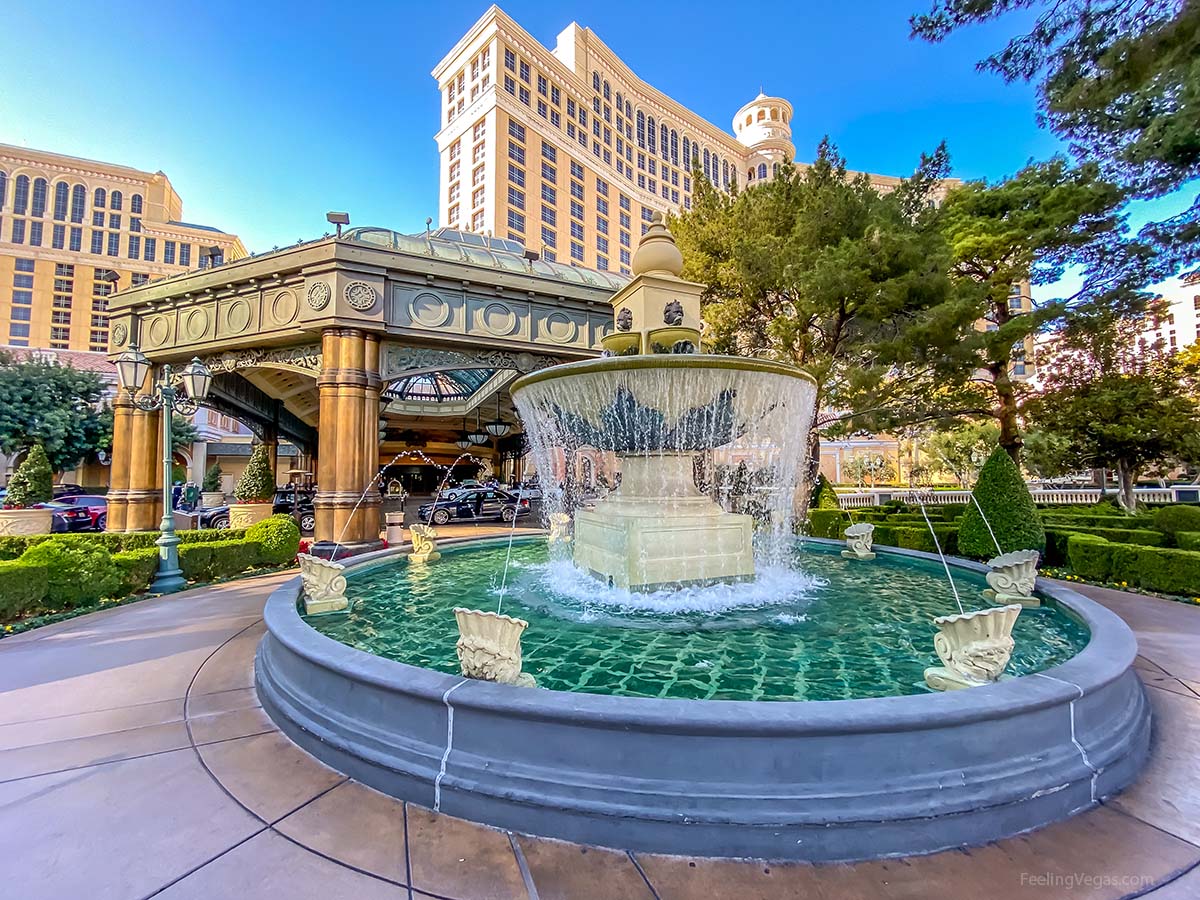 The Bellagio opened its doors to the public in October 1998 and has since become one of the most iconic casino resorts on the Las Vegas Strip.
An instant classic, the Bellagio was designed to mimic the Italian villas of Lombardy and has 3,950 guestrooms between the main tower and the Spa Tower. The overriding theme at Bellagio is one of luxury and elegance. From the hotel lobby to your room, you will find nothing but the finest in upscale amenities.
Location, Location, Location (Aria or Bellagio)
About a half-mile apart, the Bellagio and the Aria are both conveniently located in the popular mid-Strip area and are within a 15-minute walking distance of each other.
The prime location of both of these hotels will give you access to many of the most in-demand casinos and attractions located in the mid-Strip section of Las Vegas Blvd. This area is probably the most walkable section along the Strip, with big sidewalks and pedestrian bridges giving you full access to both sides of the boulevard.
Nearby casinos/hotels include Paris Las Vegas, Planet Hollywood, The Cosmopolitan, and New York-New York. All of these and more are within easy walking distance of either property.
(Download our free Map of the Strip here to see everything located nearby)
The abundance of exciting activities in and around Aria and Bellagio will make for an unforgettable Las Vegas experience! So when it comes to the perfect location, these two resorts can't be beaten.
ARIA vs. Bellagio Comparing Rooms
While both hotels are luxurious, the Bellagio is famous for its more traditional and refined characteristics, while the ARIA is more modern and lively, which is often preferred by a younger crowd.
Whichever hotel you choose, you can expect your room to be among the best in Las Vegas. Both hotels offer rooms from the affordable all the way up to some of the priciest rooms in Vegas. Let's compare the amenities of the standard room in each hotel.
ARIA
Bellagio
Deluxe King:
– 520ft² (48.3 m²)
– King bed
– 42″ (106cm) LCD HD TV
– In-room wifi
– Dual Closets
– Seating area with two chairs
– Desk
– Dual vanity bathroom sink
– Soaking tub
– One-touch technology controls
– Safe
lighting, curtains, music,
wake-up
– Max guests, 3
Resort King:
– 510ft² (47.4 m²)
– King bed
– Hypo-allergenic bedding
– 40″ (102cm) Flat-screen TV
– In-room wifi
– Seating area with two chairs
– Media plug-ins & iHome docking station
– Marble vanity in bathroom with
separate shower & soaking tub
– Floor-to-ceiling windows
– Mini-bar
– Safe
– Various views of the Strip or
Valley depending on the room
– Max guests, 3
Comparing standard rooms between ARIA and the Bellagio
Rooms at the Aria
You can find a standard room at Aria starting from $103 per night plus the resort fee. Even the entry-level standard room is appropriated with many amenities that you won't find at lower-cost hotels in Las Vegas, such as dual closets, a nice seating area, dual bathroom vanities, and a separate soaking tub.
Other room options at the Aria include The Deluxe Two Queen Strip room starting at $145, the Stay Well Deluxe rooms, with either King or Two Queen options ($155), and, finally, the suites, which include Corner Suite Strip View Room ranging upwards from $400. (You can see all of the room options and features here).
Should you choose a suite, you'll receive a living room with a separate bedroom. An additional benefit is that of the airport transfer facility, which comes as a complementary service for an upgraded suite.
The ARIA also has a fully-equipped fitness center as well as a spa and changing rooms. They also have fitness classes for those looking to maintain their physique while in Vegas.
Rooms at the Bellagio
In comparison, the Bellagio standard Resort King room starts at $159 per night plus resort fee. As with the ARIA, you will find several luxury amenities, such as high thread count hypo-allergenic bedding, floor-to-ceiling windows, and marble bathroom vanities.
Other options include the Resort Two Queen for $139, the Stay Well Resort King for $169 up to the Fountain View Two Queen going for $204. 
The Stay Well Resort Two Queen room includes a high-end air purification system, sound machine, and interior lighting that regulate your sleeping rhythms.
The Bellagio also has smoking rooms available, unlike the ARIA. You can see all of the room options and features at the Bellagio here).
Check-in time at both hotels is 3 p.m., with a check-out time of 11 a.m.
Comparing ARIA and Bellagio Amenities & Entertainment
The abundant Las Vegas nightlife, bright lights, fine dining, and entertainment provide an adventure for those looking for an escape from their troubles, and the Bellagio and the ARIA are right in the thick of it.
Nightclubs at ARIA & Bellagio
The Jewel Nightclub at the ARIA is a feast for the senses, including more than 24,000 square feet of dance floors, VIP suites, lights, world-renowned DJs, and guest artists playing vibrant sounds all night long.
Jewel provides just the sort of fast-paced entertainment for those that want to experience the true Vegas-style brand of fun.
The Bellagio offers the Lily Bar & Lounge, favoring a more sophisticated and luxurious atmosphere for those more inclined to relax and socialize in a quieter location.
Bellagio vs ARIA Casinos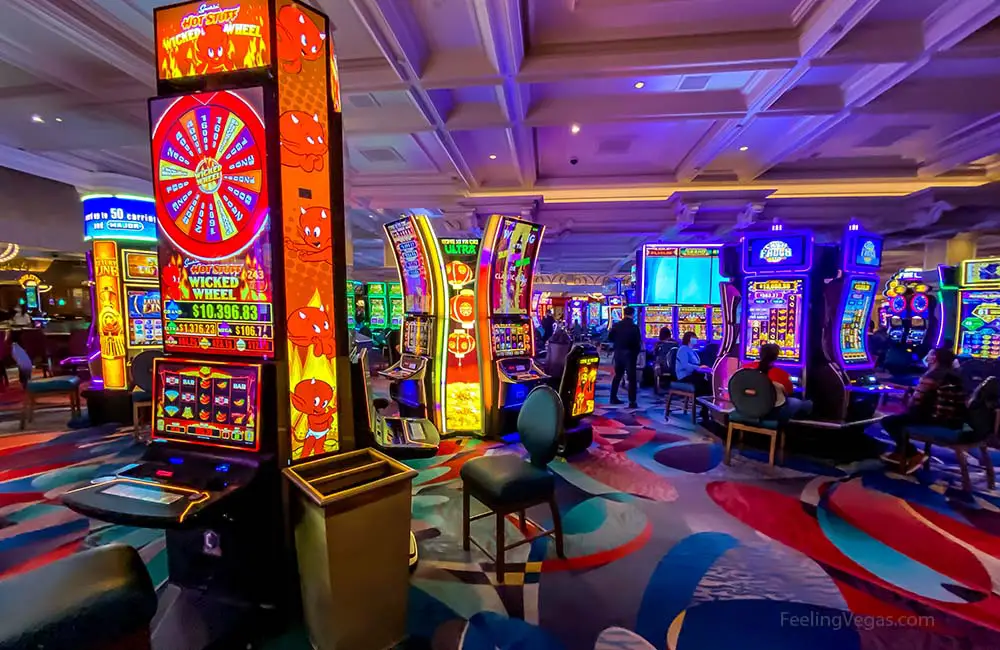 The ARIA casino floor features 150,000 sq ft. of slots and table games, as well as a world-class sportsbook. The sportsbook includes 90 large HD screens showing football, basketball, baseball, and even horse and dog racing.
AIRA is also known for having one of the biggest and best slot machine gaming areas in Las Vegas and is home to one of the most exclusive high-roller slot rooms anywhere in the world (You can bet up to $5,000 or more on a single pull!). Whatever gaming action you're looking for, you'll find it in the ARIA casino.
The Bellagio, by comparison, has over 156,000 sq ft. of gaming space and, like the ARIA, has every game imaginable, but it's most well-known for its famous poker room.
With over 40 poker tables available for both amateurs and pros, this is the best poker room in town. The Bellagio poker room is also host to the World Series of Poker, which is a big deal in the poker-playing world!
The bottom line here is that if you're into gaming, both ARIA and Bellagio will delight you with everything you want and more.
High Culture at ARIA and Bellagio
If you're looking for more of a refined cultural experience, both the ARIA and the Bellagio deliver here as well.
At ARIA, you can enjoy the ARIA Fine Art Collection. The collection is home to sculptures, paintings, and installation pieces by well-known and revered artists from around the world.
Unlike most gallery-based art collections, these works of art are spread throughout the entire ARIA property, which also includes the Vdara Hotel, Veer Towers, and The Shops at Crystals. All can be accessed on a walking tour of the property.
The Bellagio, on the other hand, has its own assortment of cultural activities for more subdued tastes.
Exclusive to the Bellagio is their Gallery of Fine Art, which features the work of famous artists and spans a range of artistic styles. Bellagio also boasts a terrific conservatory and botanical garden that can give you an escape from all the hullabaloo inside the gaming rooms and bars.
The Bellagio Conservatory & Botanical Gardens offers a serene and picturesque feel, perfect for relaxation. Every season the display in the atrium completely changes, so there's always something new.
So both resorts offer culture, but if I had to choose between ARIA and Bellagio for a more cultured experience, I would say the Bellagio is the winner here.
The Bellagio Fountains (Bellagio)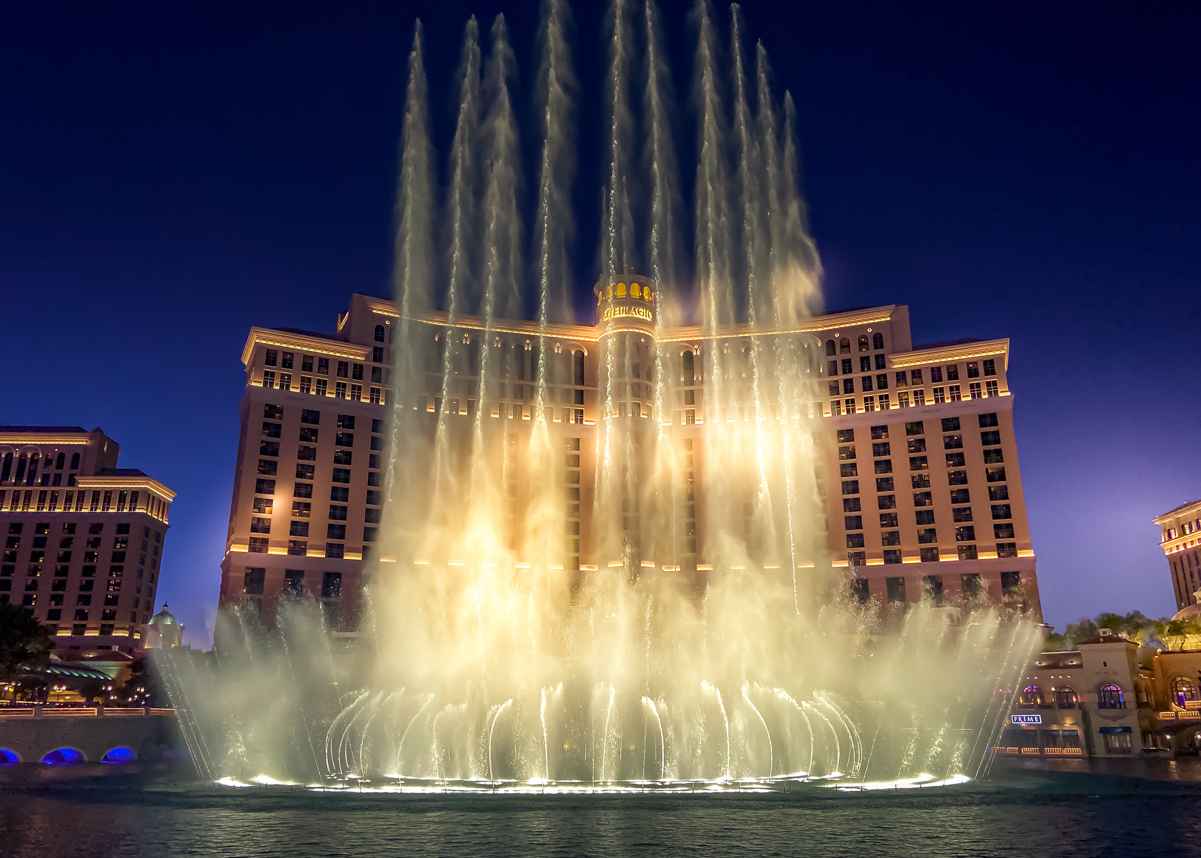 One of the major attractions in all of Las Vegas is the magnificent Bellagio Fountain, and it's found right out in front of the Bellagio Hotel! The fountain features a combination of water and lights mixed with popular and classic musical songs.
The songs change with each show, and the fountains are truly a must-see sight in Las Vegas. I would recommend catching a show both during the day and again at night. For a complete list of scheduled showtimes and songs, visit our article here.
Cirque du Soleil (Bellagio)
This is one area where the Bellagio and the ARIA really differ. The ARIA does not have any major shows on the property, while the Bellagio is home to one of the best and biggest shows in Vegas.
Cirque du Soleil performs their famous water-themed show, 'O', at the Bellagio. Their elite acrobats and synchronized swimmers perform the show both in and above the water for a captivating spectacle.
ARIA or Bellagio: Best Shopping?
The shopping on the mid-Strip is the most exclusive in all of Las Vegas. In addition to their own shopping areas within the resorts themselves, Bellagio and ARIA are absolutely surrounded by high-end shopping.
Just outside ARIA, in the CityCenter complex, you'll find The Shops at Crystals which features upscale retailers, iconic fashion brands, and gourmet dining.
The extensive shopping inside the Bellagio itself reads like a who's who guide of upscale retailers and brands, including Louis Vuitton, Chanel, Dior, Gucci, and many more.
Just across Las Vegas Boulevard from the Bellagio, you'll also find the Grand Bazaar Shops, an outdoor shopping mall consisting of a mix of retailers, including shops, restaurants, and brewpubs.
ARIA vs. Bellagio: Wining and Dining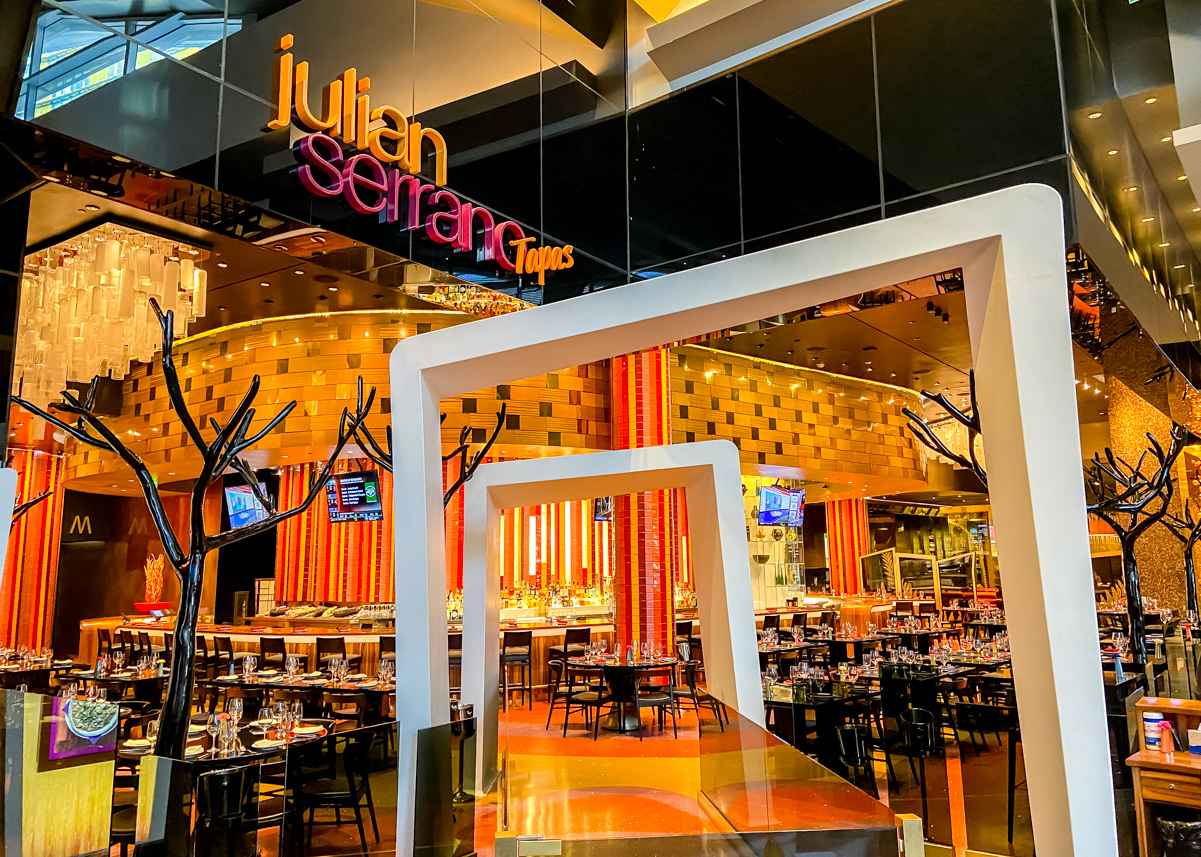 What would a trip to Las Vegas be without experiencing some of the fine dining available on the Strip?
ARIA has plenty of in-house restaurants to choose from, and they even have an upscale steakhouse for meat lovers. Here are just a few of the top restaurants you'll find at ARIA:
Jean Georges Steakhouse
Carbone
Catch
Javier's
Julian Serrano Tapas
While ARIA has an impressive array of dining choices, it quite frankly doesn't come close to the dining available at the Bellagio. Here are just some of the restaurants on offer: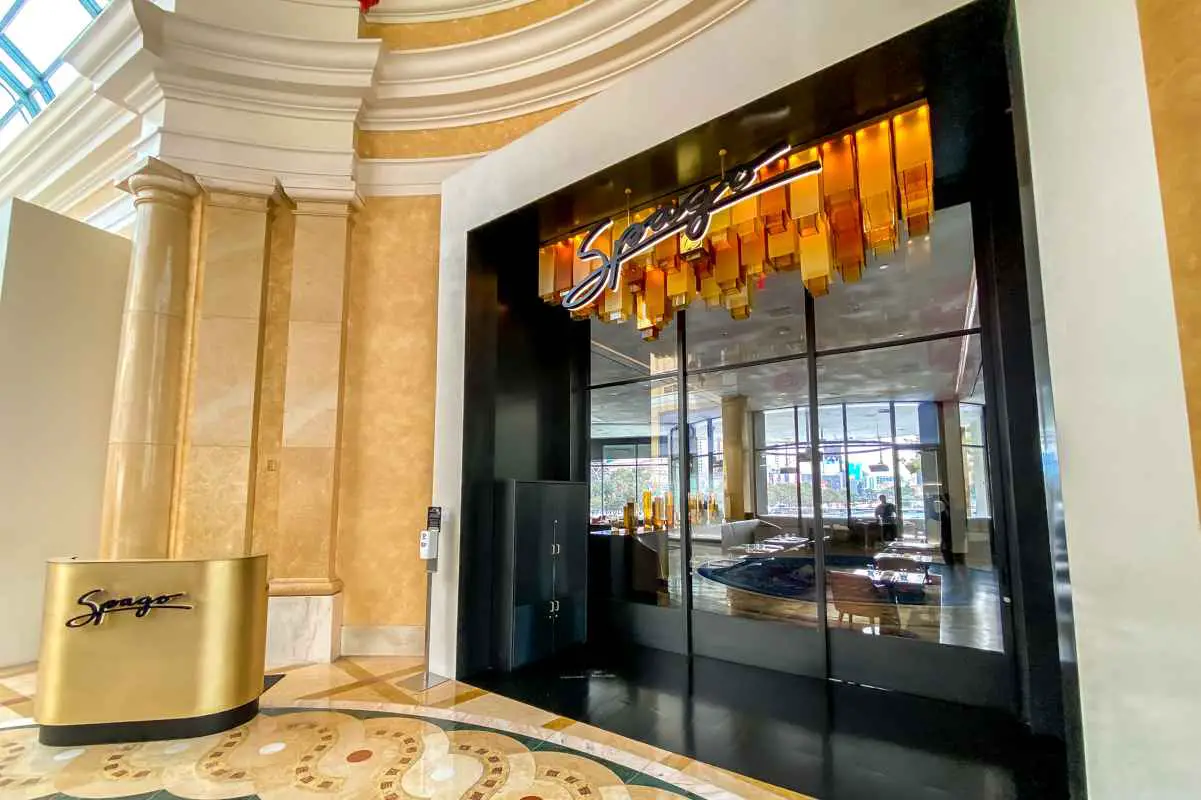 LAGO by Julian Serrano
The Mayfair Supper Club
Spago
PRIME Steakhouse
Yellowtail Japanese
Picasso
In addition to these restaurants, as well as many more, the Bellagio offers several restaurants with prime views of the Bellagio Fountains. Dining with a view of the fountains is everything you can imagine it would be.
To find restaurants, both inside and outside the Bellagio, with the best views of the fountains, you'll want to see our article here.
Comparing The Pools at ARIA and Bellagio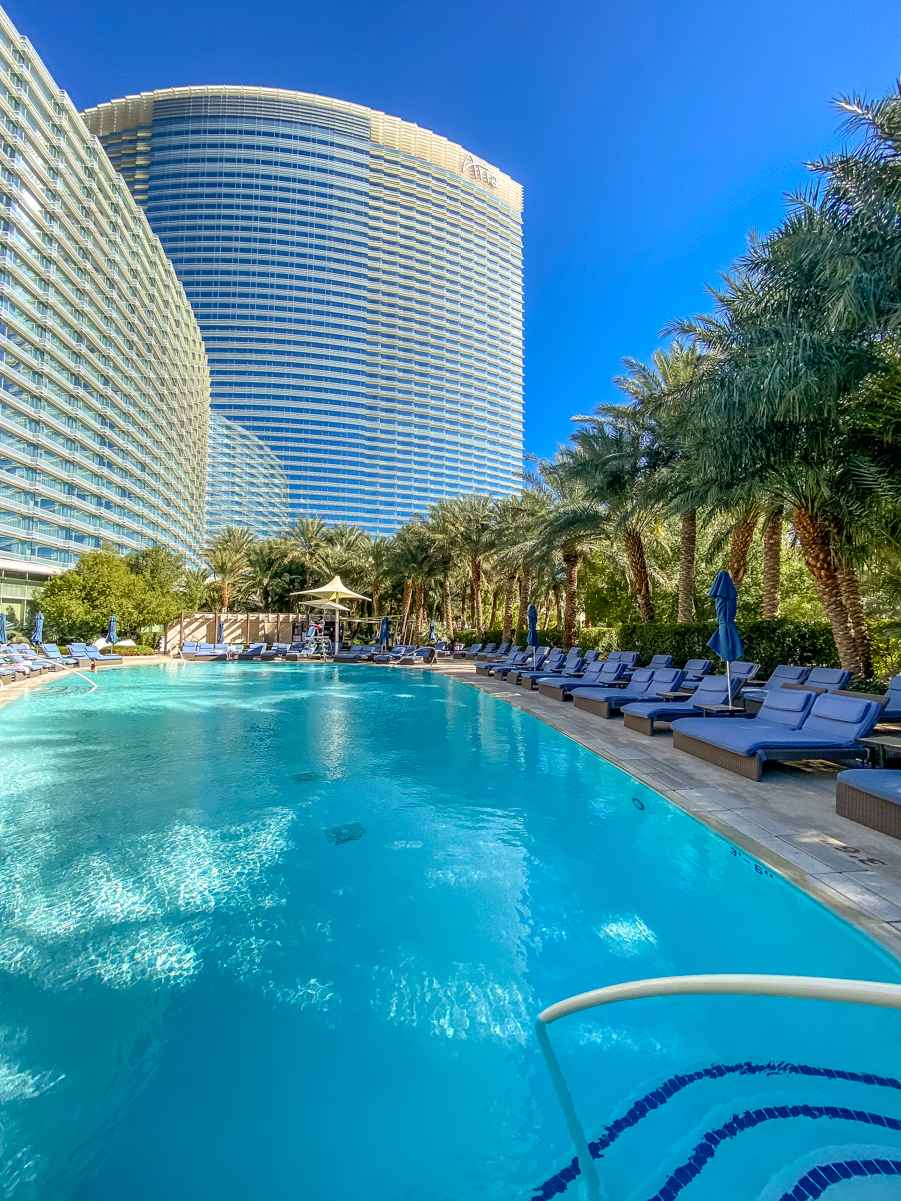 If lounging by the pool in the warm desert sun sounds like your idea of a perfect Las Vegas vacation, the pool areas at ARIA and the Bellagio won't disappoint. The pool areas at these two resorts offer a refined lounging experience with multiple pools, cabanas, and bars.
ARIA has three pools in all. Two of them are designed for pampering and relaxation, while the third pool is the LIQUID Pool Lounge. This pool hosts Las Vegas's version of an upscale, 21 and up day-club. A premier pool party experience!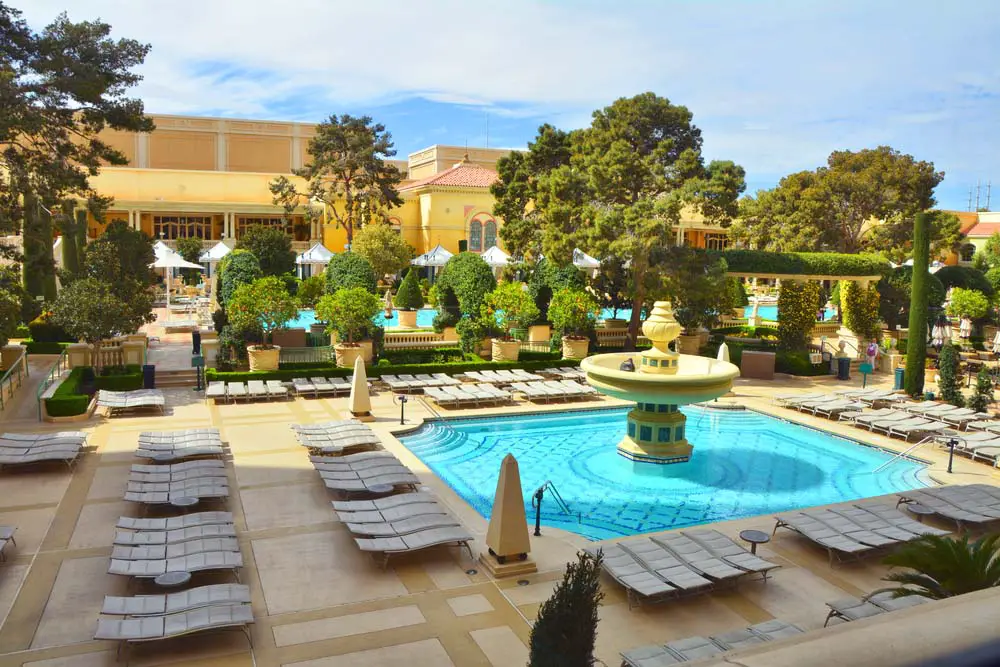 The Bellagio has five beautiful Mediterranean-style pools to choose from. These pools are set in a large courtyard in a manicured garden setting. Lounging at one of these pools feels like taking a relaxing European vacation.
ARIA or Bellagio – Final Thoughts
There you have it! The truth is that you can't really make a bad choice. Both ARIA and the Bellagio hotels are high-end properties that cater to guests with refined tastes.
Choose the Bellagio if you're looking for an upscale, luxury hotel in the center of the action on the Las Vegas Strip.
If you want all of this with more of a younger vibe and party atmosphere, then ARIA will be your best bet.
Whether the impressive architecture of the ARIA or the beautiful water fountain of the Bellagio draws you in, you're certain to have a blast at either of these Las Vegas resorts.
Other Las Vegas Hotel Comparisons
Check out these other Las Vegas hotel comparisons.
Bellagio vs. Venetian (Which Las Vegas Hotel to Choose?) – HERE
Wynn vs. Bellagio: Which is Better? – Find out here
Wynn vs ARIA: Luxury in Las Vegas – How to decide
ARIA vs Vdara: Choosing the best – Read here
MGM Grand vs. ARIA: Who's Tops? – Article here
Mandalay Bay vs. Bellagio: The top hotel is…See article here
Mirage vs. Bellagio: Who's the best? – See here!
Sources: