Mandalay Bay vs. Bellagio: Which Is Better? (Las Vegas)
(This article may contain affiliate links. If you click through and make a purchase, we will receive a small commission at no additional cost to you. )
The Bellagio and Mandalay Bay couldn't be more different, yet each of these resorts offers a world-class Las Vegas experience for any guest. So which is a better choice for your Las Vegas vacation, Bellagio or Mandalay Bay?
The Bellagio offers guests a European-inspired elegance, while Mandalay Bay features a luxurious experience with an aquatic beach theme. Mandalay Bay is the less expensive choice, while Bellagio provides a better location on the Las Vegas Strip for enjoying the many nearby properties and attractions.
Below is a table that will help you quickly compare the attributes of both Mandalay Bay and Bellagio resorts:
Category
Mandalay Bay
Bellagio
Room Price
From $65 per night
From $159 per night
Resort Fees
$44.22 per day
tax-included
$51.02 per day
tax-included
Parking Fees
Self-Parking: $15 daily
Valet: $26 – $30 daily
Self-Parking: $18 daily
Valet: $30 – $35 daily
Location
Southern end of the Strip
Prime mid-Strip location
Major Shows
– Michael Jackson ONE by Cirque du Soleil
– The House of Blues
– O by Cirque du Soleil
Pools
– 3 full-size pools
– adults-only pool
– 1.6 million-gallon wave pool
– Sandy beach and lazy river
– 5 full-size pools
– 4 jacuzzis
Nearby Attractions
– Shark Reef Aquarium
– Concerts on the Beach
– Mandalay Bay Events Center
– Fountains of Bellagio
– Conservatory and Botanical Gardens
– Close to many other big name casinos
Mandalay Bay and Bellagio: Comparing the basics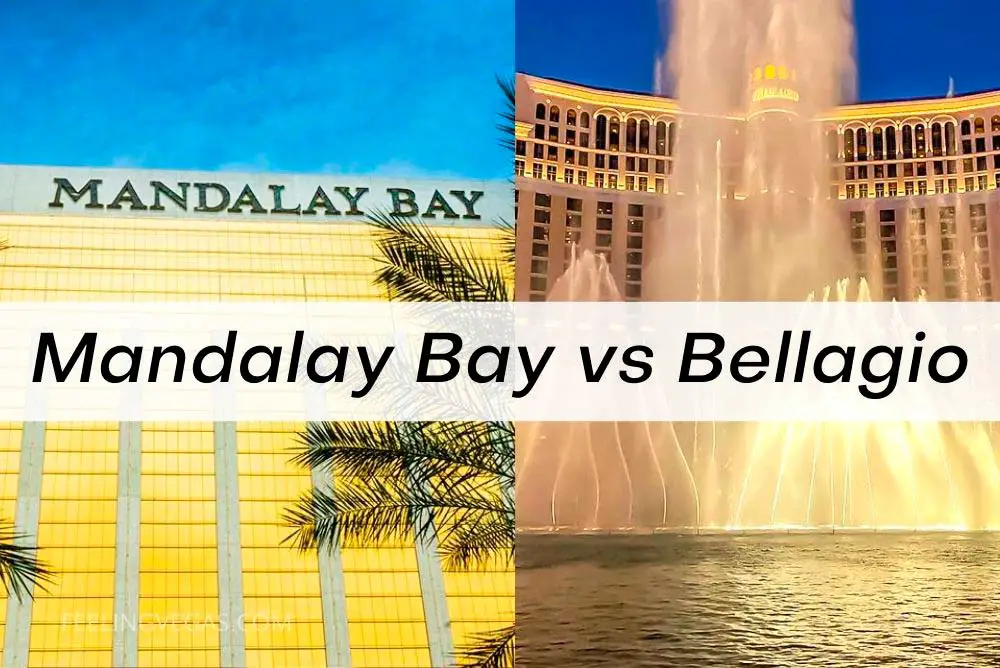 Name: Mandalay Bay
Address: 3950 S Las Vegas Blvd
Casino Floor: 135,000 sq ft.
Year Built: 1999
Number of Rooms: 3,209
Name: Bellagio Hotel & Casino
Address: 3600 S Las Vegas Blvd
Casino Floor: 156,000 sq ft.
Year Built: 1998
Number of Rooms: 3,950
As you can see, there are some major differences between the two resorts. Bellagio has a bit more in the way of on-site and nearby resort attractions, yet Mandalay Bay provides more entertainment in terms of music and sporting events.
Choosing between Mandalay Bay and the Bellagio can be tough. This guide will break down all of the main highlights of each resort to help you make the right choice for your Las Vegas vacation. 
Mandalay Bay vs. Bellagio: Comparing Rooms & Rates
Mandalay Bay has one of the more interesting designs of all the resorts on the Las Vegas Strip. What looks sleek, modern, and even futuristic is actually quite affordable when comparing the standard rooms between the two hotels.
Bellagio was designed with romance and upscale elegance firmly in mind. Because of this, Bellagio has significantly higher room rates based on the luxury theme of the resort. 
A standard room at Mandalay Bay starts at about $65 per night, with rooms ranging upwards of $200 per night. Mandalay Bay, in addition to its heavy emphasis on its beach theme, is a major spot for partying on the Las Vegas Strip.
The resort likes to keep its guests on the property during their stay, therefore, affordable rates are a mainstay at this location. Even the higher-end rooms at this hotel are reasonably priced. 
Mandalay Bay
Bellagio
Resort King:
– 550ft² (51 m²)
– King bed
– Pillow-top mattress
– Flat-screen TV
– In-room wifi
– Floor-to-ceiling windows
– Seating area with two chairs
– Minibar
– Safe
– Various views of the Strip or mountains depending on room
Bellagio Resort King:
– 510ft² (47.4 m²)
– King bed
– Hypo-allergenic bedding
– 40″ (102cm) Flat-screen TV
– In-room wifi
– Media plug-ins & iHome docking station
– Marble vanity in bathroom with separate shower & soaking tub
– Floor-to-ceiling windows
– Seating area with two chairs
– Mini-bar
– Safe
– Various views of the Strip or Valley depending on room
Comparing standard rooms between Mandalay Bay and the Bellagio
Bellagio prioritizes a luxurious atmosphere and tranquil settings over partying, which is why the room rates at this resort are substantial. A standard room at Bellagio usually starts at $159 per night, with rates going upwards into the thousands.
Even the standard rooms at this resort are beautiful works of architecture that are perfect for romantic getaways. You will never have to worry about any possible dissatisfaction with a room at Bellagio. 
Both resorts are great in their own distinctive ways, but Mandalay Bay is certainly a better choice if you are looking to spend your vacation money on entertainment and attractions instead of high room rates.
Bellagio is a great choice as well, although a longer stay may be better suited to Mandalay Bay due to overall room costs.   
Resort Fees: Mandalay Bay vs. Bellagio
The daily resort fees at Mandalay Bay ($44.22) and Bellagio ($51.02) include high-speed internet access, phone calls, and the use of the fitness center. At Mandalay Bay, this also includes free instruction from a fitness trainer if you decide to visit the resort's fitness center. Bellagio's fee is likely higher due to the resort's location near the middle of the Strip. 
Parking Fees at Mandalay Bay & Bellagio
If you want to utilize valet parking at Bellagio, the fee is $35 per day compared to Mandalay Bay's fee of $30. Self-parking rates are $18 for Bellagio and $15 for Mandalay Bay.
This makes Mandalay Bay a better deal if you're visiting town with your own car or have a rental, as you will do more driving if you plan on spending a great deal of time near the main action on the Strip.
Find out more about car rentals in Vegas by reading our article Should You Rent a Car in Las Vegas? 3 Things to Consider
Location: Mandalay Bay vs. Bellagio
Bellagio is located right in the center of the main action on the Strip, which is a desirable location for many guests. Mandalay Bay is quite the opposite; this resort is nearly two miles from the center of the Strip, which would make for a pretty strenuous walk to get to this area.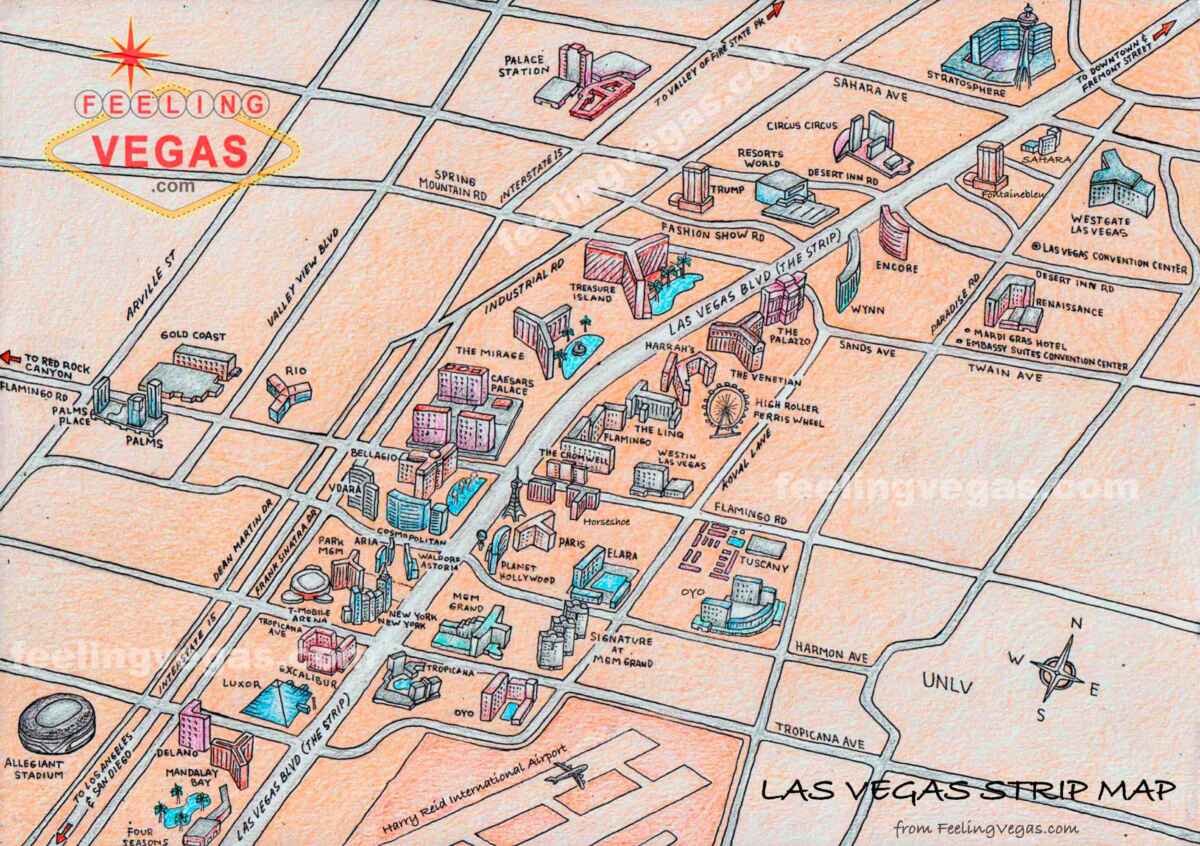 Even though Mandalay Bay is further down the Strip, the peace and tranquility of being away from large crowds is a plus if you're looking for a more laid-back experience.
Shows & Entertainment at Mandalay Bay and Bellagio
The biggest show at Mandalay Bay is arguably Michael Jackson ONE by Cirque du Soleil. All of the attributes that Cirque du Soleil is known for collide with an amazing soundtrack from the late King of Pop. For a more intimate show, be sure to catch a nightly performance in the House of Blues, which showcases local as well as major musical performers in a more laid-back atmosphere.  
Shows are somewhat lacking when it comes to Bellagio, yet the romantic vibe of the resort is not always suited to lively and active musical performances. You can currently attend O by Cirque du Soleil (one of the most famous shows on the Strip), which prioritizes a beautiful and serene performance over some of the more energetic shows in Las Vegas. 
You will find that there is a larger overall selection of shows, performances, and sporting events to choose from at Mandalay Bay, which is certainly the better option if you are looking for entertainment.
Restaurants, Bars & Lounges at Mandalay Bay and Bellagio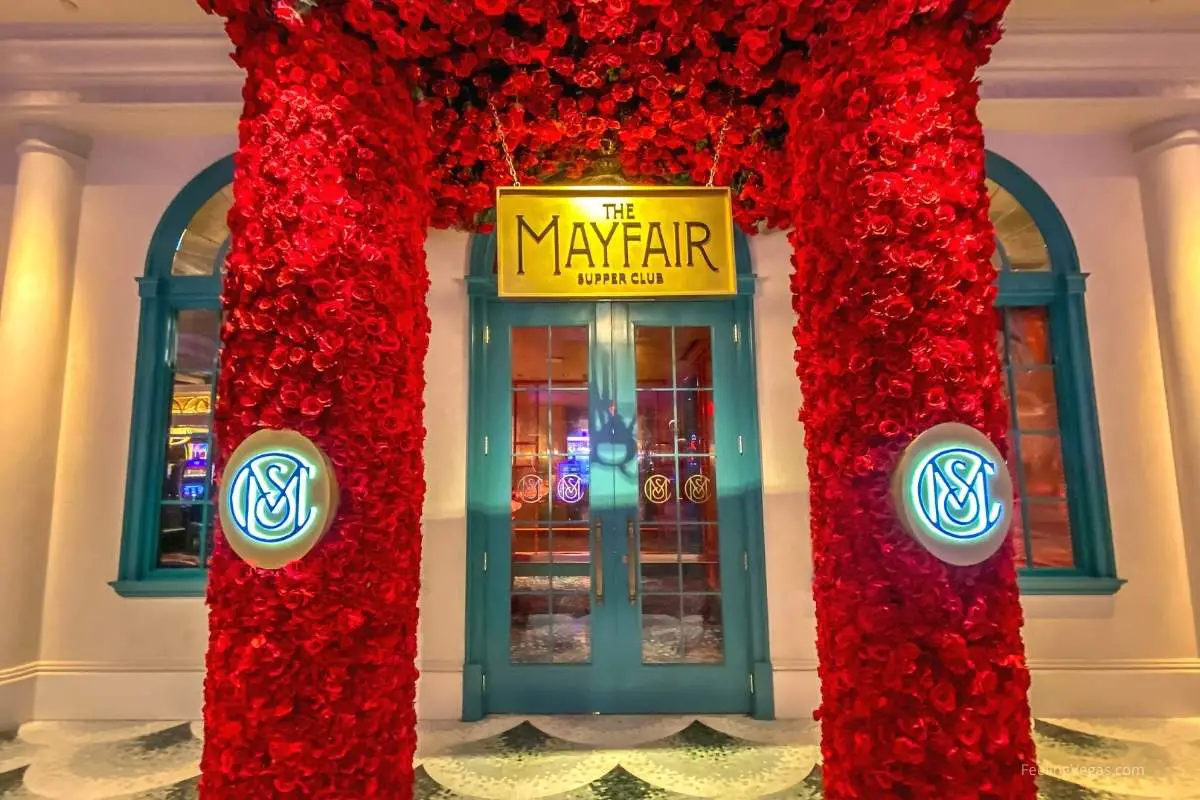 If you're wondering about restaurants and available food options, both resorts provide you with plenty of selection to satisfy every palate.
Mandalay Bay has several fine dining choices and features more than eight celebrity chefs! The upscale restaurants include Stripsteak by Michael Mina, Libertine Social by Shawn McClain, and Aureole by Charlie Palmer.
In total, Mandalay Bay has over 30 restaurants to choose from. There are many mid-range as well as casual eating establishments too, such as Border Grill, Rivea, Della's Kitchen, and Lupo by Wolfgang Puck.
The Bellagio has some of the finest dining available on the Las Vegas Strip, including LAGO, PRIME Steakhouse, Le Cirque, and Picasso. Bellagio also features several restaurants overlooking the famous Bellagio Fountains.
The casual dining options at Bellagio include Harvest, Jasmine, and Fix. Upscale or casual, the Bellagio does not disappoint!
It almost goes without saying that both resorts offer a large assortment of lounges and bars found throughout the properties. Each lounge or bar has its own theme, and it will take you days at each resort to visit them all.
Pools: Bellagio or Mandalay Bay
Mandalay Bay clearly excels when it comes to designing amazing swimming options, which is evidenced by Mandalay Bay Beach–which is a tourist attraction in and of itself. This 11-acre compound is a literal beach in the middle of the desert, complete with mechanical waves and real sand to mimic the Pacific Coast. For a more intimate affair, an adults-only pool is also available. 
Bellagio has an amazing pool complex as well, yet the emphasis is more suited toward romantic tranquility and ambiance than all-around fun. Mandalay Bay is the resort to visit if you are looking for a unique swimming experience. 
Attractions: Mandalay Bay & Bellagio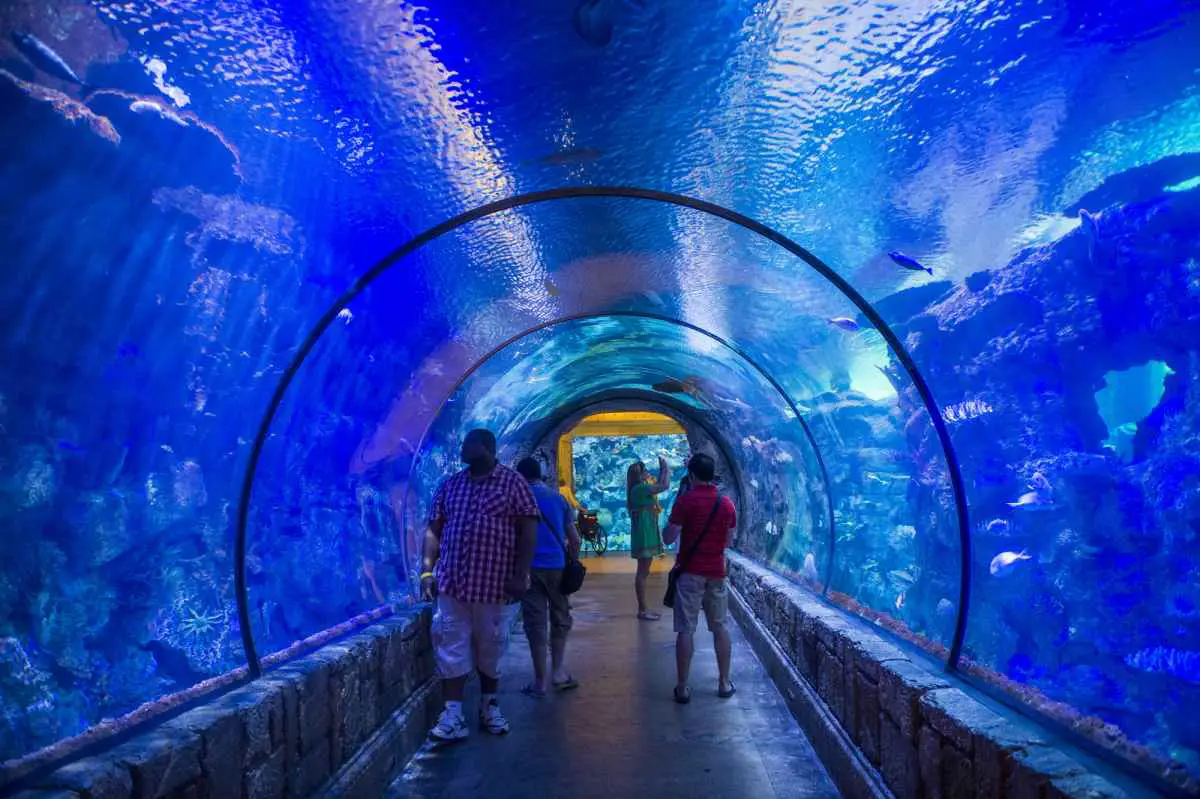 The Shark Reef Aquarium at Mandalay Bay is also a major attraction that features huge sharks in a lavish aquarium, and yes, there are real piranhas housed at the aquarium as well! During the summer, Concerts on the Beach is also a popular attraction at Mandalay Bay. Headlining guest artists perform outside on the sandy Mandalay Bay Beach.
Bellagio takes things down a notch and focuses more on a serene and culturally-immersive experience with their attractions. The Bellagio Gallery of Fine Art is a must-see attraction for art enthusiasts, with replicas and original paintings from a wide variety of eras and styles. 
The attraction choices between the two are quite different but equally rewarding experiences. If you have kids, the Shark Reef Aquarium is the obvious choice for overall entertainment, but The Bellagio Fine Art Gallery is the perfect attraction for a romantic getaway. 
Conclusion
This decision is not an easy one since each of these resorts offers so much; Bellagio is a perfect choice for couples or anyone wanting an elegant resort experience, while Mandalay Bay is the ideal resort for overall fun.
If you're looking for an adventure, Mandalay Bay is definitely the best choice due to the attractions, shows, and Mandalay Bay Beach. But if you want to experience fine art, elegant architecture, and lavish surroundings, Bellagio is a clear winner. 
If I had to choose just one, I'd give Bellagio the nod due to its iconic status and excellent location on the Strip. That being said, you will not go wrong by choosing either one of these premier Las Vegas resorts.
Other Las Vegas Hotel Comparisons
Check out these other comparisons of Las Vegas Hotels.
Aria vs. Bellagio: Which Las Vegas Hotel is Better? – Find out here
Mirage vs. Bellagio: Who's the best? – See here!
Bellagio vs. Venetian (Which Las Vegas Hotel to Choose?) – HERE
Wynn vs. Bellagio: Which is Better? – Find out here
MGM Grand vs. Mandalay Bay: Which Is Better? – Read it here
Mandalay Bay vs. Delano: Which Is Better? – Read more
Mandalay Bay vs Bellagio: How to choose? – Article here
Mandalay Bay vs. Mirage: Who does it better? – Find out here
Sources: