Bellagio Shops: Shopping at Via Bellagio (Las Vegas)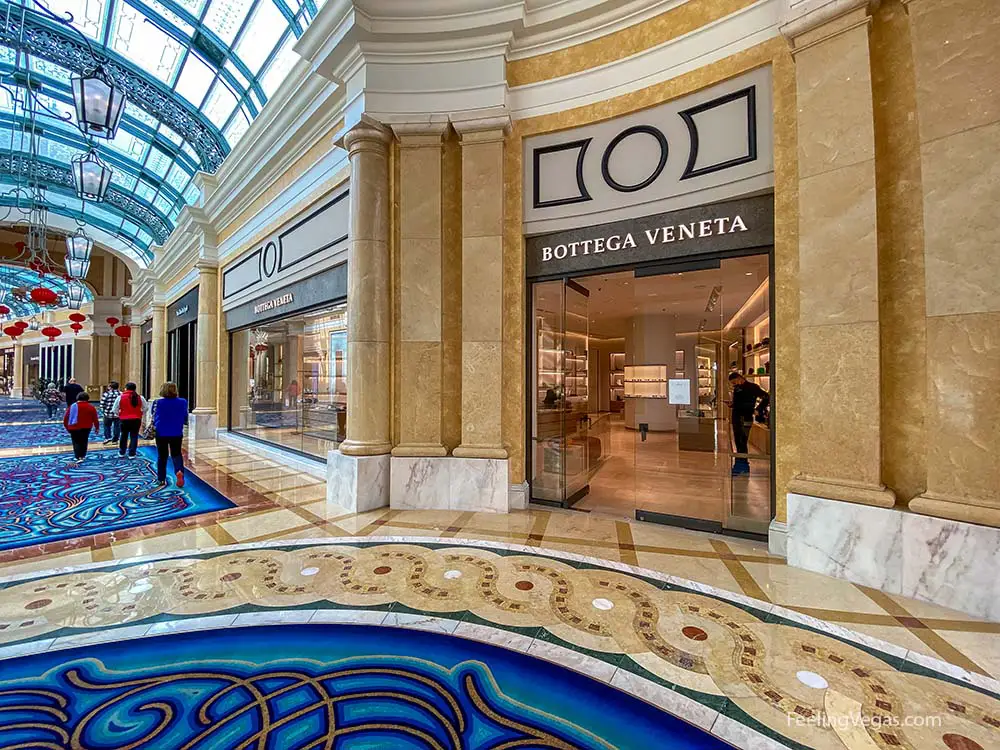 (This article may contain affiliate links, which means we might earn a small commission if you click and make a purchase. Thank you!)
The Bellagio in Las Vegas is the place for some luxurious retail therapy. The Bellagio shopping area, called Via Bellagio, boasts a range of exclusive luxury stores and some of the world's most desired fashion and jewelry brands. 
The Bellagio Las Vegas is well-known for its opulent decor and luxurious settings. Still, for those looking to do some shopping at Bellagio, they'll find themselves spoiled as the hotel and casino is home to a range of over two dozen of the most exclusive stores, luxury brands, and designer labels found anywhere. 
The Via Bellagio is where the action is when it comes to luxury shopping. So get your credit cards ready, we're going shopping at the Bellagio! 
Compare and save! Check current Bellagio room rates at TripAdvisor!
Via Bellagio – Luxury shopping at its finest
With spectacular views of the famous Fountains of Bellagio, glass ceilings, ornate chandeliers, and polished marble floors, Via Bellagio offers the ultimate luxury shopping experience right on the Las Vegas Strip. 
From world-class designer boutiques to Bellagio signature shops, there are 27 stores offering everything from luxury watches, apparel, and beauty products to luxury eyewear. 
RECOMMENDED: 11 Best Places to Buy a Rolex in Las Vegas
Via Bellagio Las Vegas Shops
As you can expect from a AAA Five Diamond Resort & Casino and undoubtedly one of the Strip's most premier luxury hotels, shopping is also a lavish affair. Via Bellagio offers many of the finest luxury stores and designer label brands, all under the one arcade area on the main floor of the resort complex. 
Alexander McQueen – British couture womenswear.
BVLGARI – Italian Jewelry.
Bottega Veneta – Men and women's clothing, shoes, handbags, and accessories.
Breguet – Exquisite timepieces.
Chanel – House of French luxury, clothing, and accessories for women.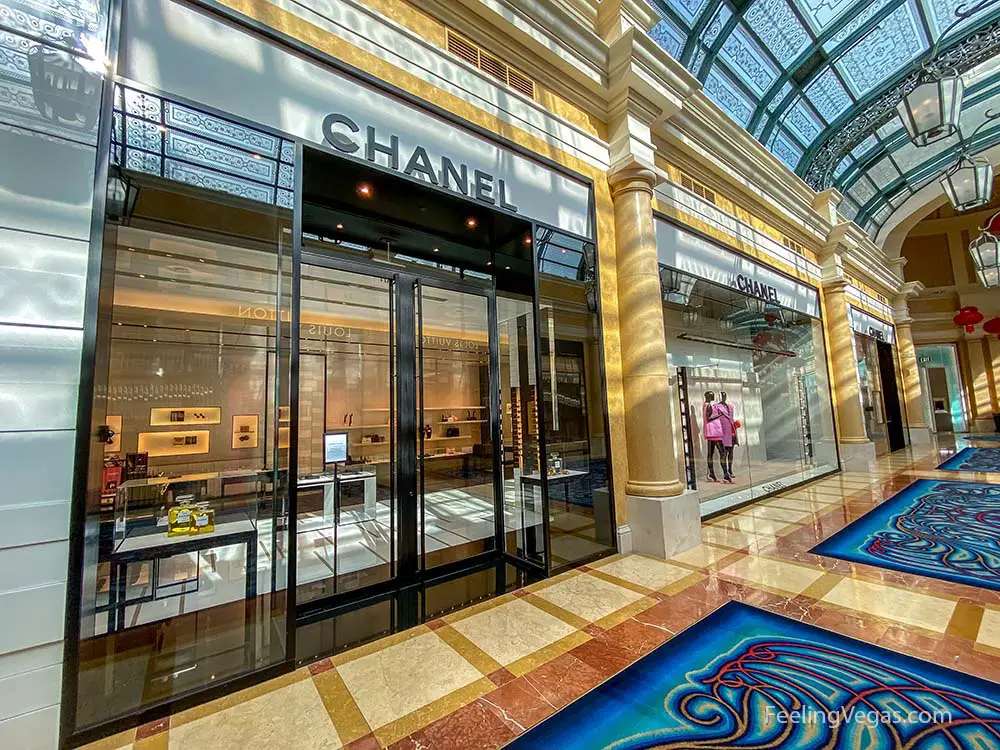 Capri – Designer swimwear and fashion collections, bag, and jewelry.
Dior – Parisian brand focusing on clothing, bags, shoes, and jewelry.
Essentials – Bellagio brand store for logo gifts, souvenirs, apparel, snacks, and spirits.
Fendi – Handbags, fur, and footwear from Rome.
Giardini Garden Store – Upscale decorative items for home & garden.
Gucci – Contemporary and eclectic luxury fashion goods.
Guerlain – Skincare, fragrances, and make-up.
Harry Winston – Luxury jewelry and watches.
Hermes – Iconic Parisian goods, including handbags, ties, and suites.
Louis Vuitton – Leather goods for luxury travel and style.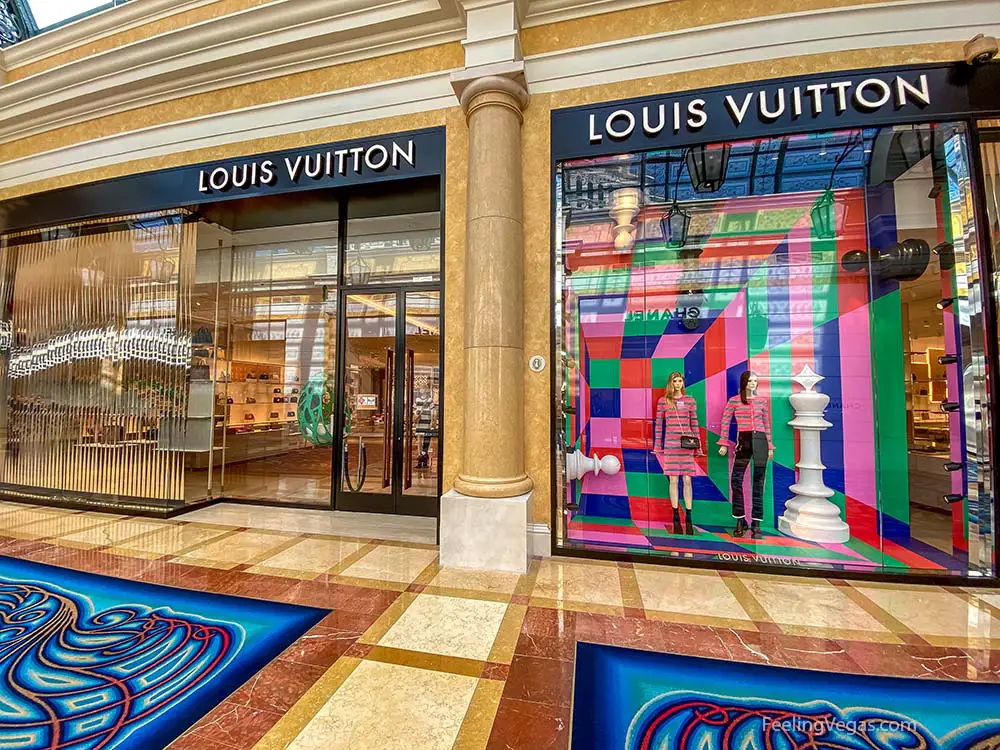 Newsstand – Get the news of the day at Bellagio's own newsstand.
Omega – High-end watches from Switzerland.
Optica – Style-focused sunglasses and eyewear.
Platino – Elegant men's fashion.
Prada – Women's and men's fashion and footwear.
Richard MacDonald – Art gallery featuring sculptures in bronze and art prints.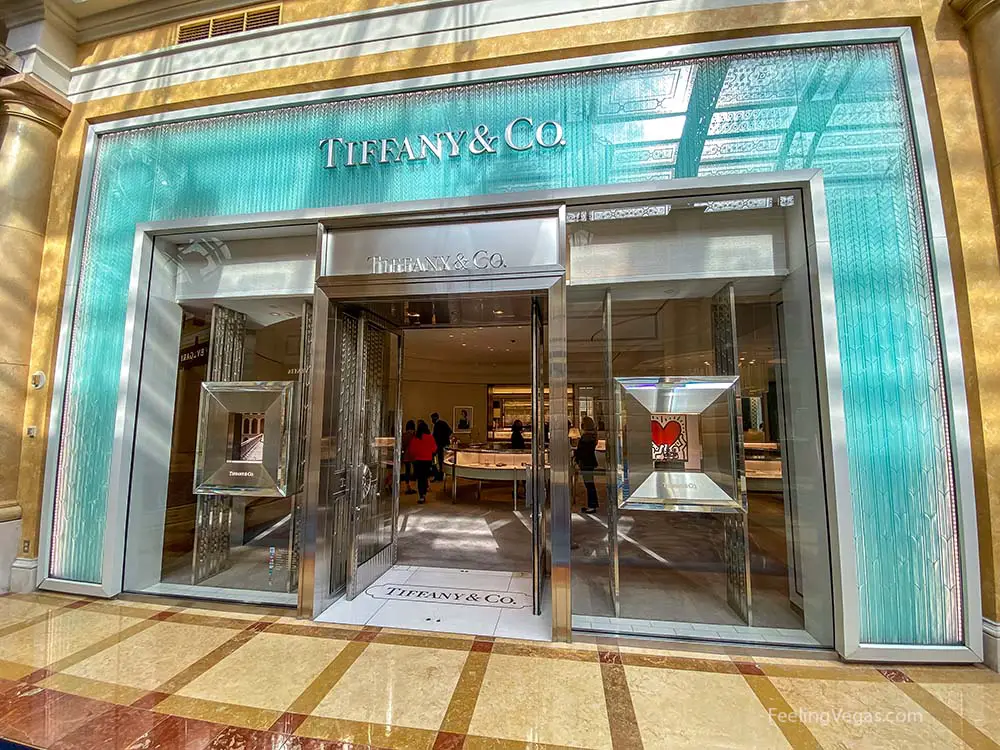 SJP By Sarah Jessica Parker – Chic boutique featuring bags, shoes, and accessories.
Tesorini – Fine jewelry and timepieces from well-known luxury brands.
Tiffany & Co. – World-renowned, fine jewelry collection.
Tutto – Luxury and essential items for life.
Valentino – Italian couture featuring shoes, handbags, and women's clothing.
Van Cleef & Arpels – Artistic jewelry creations from Paris.
Via Bellagio Shops Map
In the map of the Via Bellagio shopping area below, you can see the layout of the shopping center and where each of the stores at Bellagio is located.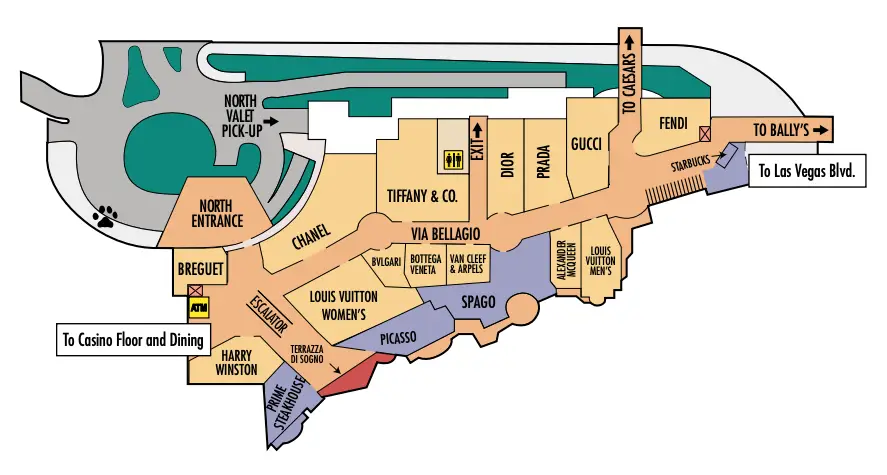 Via Bellagio – Opening Hours
While staying in the city that never sleeps offers plenty of opportunity for experiences 24 hours a day, when it comes to shopping at the Bellagio, customers should note that many stores have set hours. 
Most of the Bellagio stores are open between 10 a.m. and 10 p.m. giving ample time to stock up on the finest luxury items before the sun goes down.
Via Bellagio itself is open 24 hours a day, allowing guests to window shop and use the pedestrian walkway from the Bellagio over to Caesars Palace. 
RECOMMENDED: 12 [AMAZING] Shopping Malls on the Las Vegas Strip!
Via Bellagio – Location and Address 
Via Bellagio is easy to find and can be accessed from within the Bellagio main foyer area or from the north by crossing over the pedestrian overpass that spans West Flamingo Road. 
The official address for the Bellagio Hotel, Resort, and Casino is 3600 S Las Vegas Blvd, Las Vegas, NV 89109 (google maps).
Of course, the Bellagio is one of the most well-known resorts along the Strip, so any local can point the way, or a taxi driver can take you there in a matter of minutes! 
Find the best deals on Bellagio rooms and save big with TripAdvisor!
Summary
Whether you're looking for a slick new outfit to hit the city in style or want to treat yourself after a win at the Bellagio casino, Via Bellagio has plenty of luxury designer boutiques alongside a number of signature shops, offering a most distinctive range of luxury watches, apparel, beauty products, and luxury eyewear. 
RECOMMENDED: The Best Outlet Malls and Stores In Las Vegas
References:
https://en.wikipedia.org/wiki/Bellagio_(resort)