Las Vegas Taxi Fare Guide for 2023
(This article may contain affiliate links. If you click through and make a purchase, we will receive a small commission at no additional cost to you. )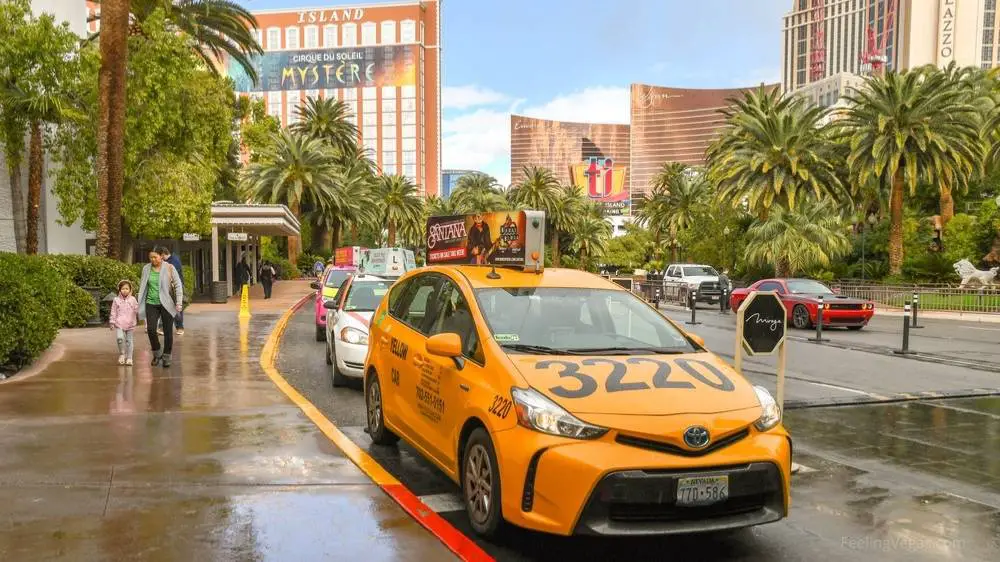 If you're heading to Vegas and planning to use a taxi to get around town, you may be wondering how much taxi fare is in Las Vegas. Las Vegas has a lot to offer tourists, and you can easily use a taxi to get to every casino, attraction, and restaurant you'll want to visit. So, knowing Las Vegas taxi fares is important.
All taxis that operate within Las Vegas abide by the same taxi fares, making it simple to approximate the cost of a ride. For instance, an average 3-mile taxi ride in Las Vegas will cost you approximately $12.13. While a trip to or from the airport to a hotel on the Strip will run between $19 & $27.
There is no need to be unsure of the cost when taking a taxi in and around Las Vegas. This article will break down all the charges and fees associated with a taxi ride in Las Vegas.
I will also explain the special pricing for rides starting at the Las Vegas airport, plus I'll include some general information about using a taxi while visiting Las Vegas that you'll want to know.
What Is the Taxi Fare in Las Vegas?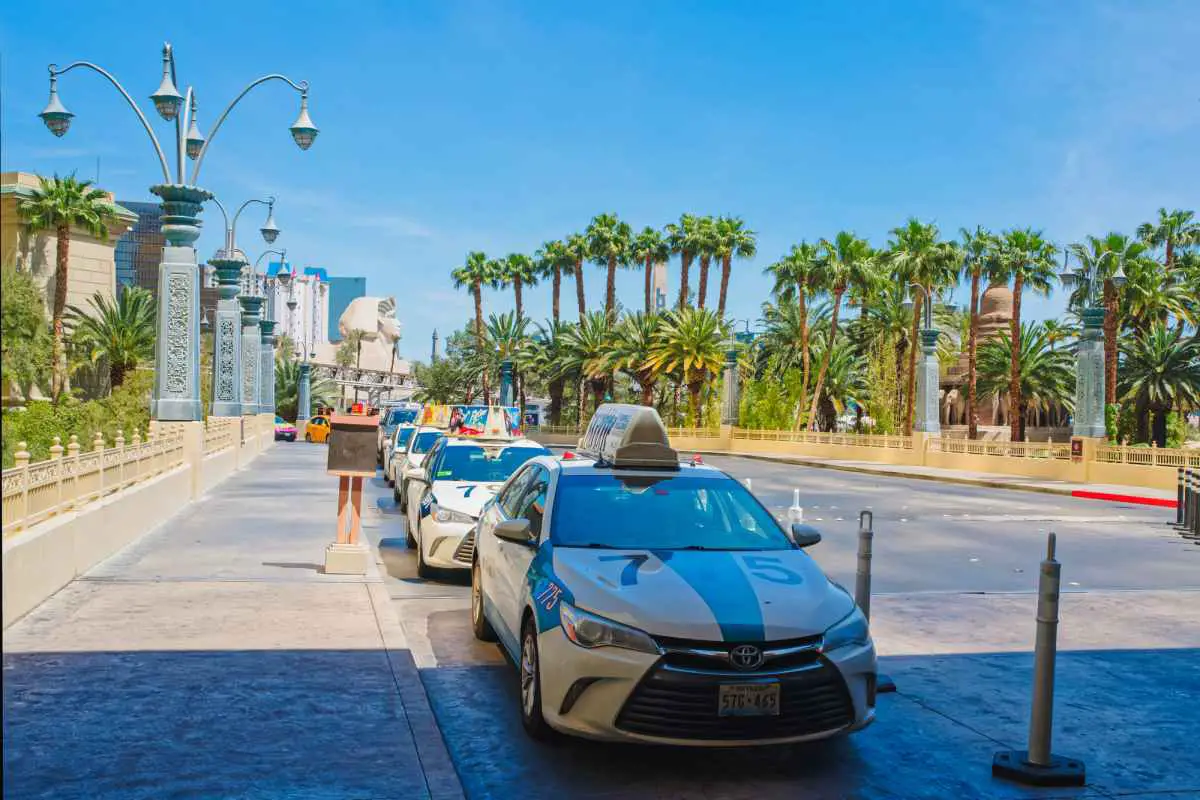 Taxi Fare in Las Vegas
Charge
Getting in a taxi and starting the meter
(including first 1/8th mile)
$3.50
Every 1/12 mile ($2.76 per mile)
$0.23
Waiting time (Billed every 25 seconds)
– Charged when stopped or traveling under 8 mph
$0.23 or
$32.40 per hour
Each Las Vegas taxi is equipped with a taximeter. The taximeter is a device installed in taxis that records the distance traveled and the time elapsed for the ride. The taxi driver stops the meter once the ride is over. At that point, the taximeter calculates the fare.
In Las Vegas, there is a set fee when the driver simply activates the taximeter. This fee is $3.50. You can consider this a fee for merely choosing a taxi service as your mode of transportation.
Based on the type of ride you need, you may be assessed one fee or a combination of two. There is a fee of $2.76 per mile, which is broken down into $0.23 for every 1/12 of a mile. If you have multiple stops or, for any reason, need the taxi to wait on you, there is a waiting time charge of $32.40 per hour.
Anytime that the taximeter senses the cab is traveling at less than 8 to 12 miles per hour, you will accrue a charge of $0.23 every 25 seconds, which equals $32.40 per hour.
Related Article: How Much Does Uber and Lyft Cost In Las Vegas? (Explained)
Additional Taxi Fees in Las Vegas
Taxi Fees in Las Vegas
Fee
Harry Reid International Airport pick-up
(not charged if being dropped off at the airport)
$2.00
Use of a Credit or Debit Card
$3.00
Excise Tax (Taxed on total fare)
3%
You should also be aware that Las Vegas taxis have some additional fees and charges on top of the ride fare. When you are familiar with these extras, you will be better prepared for your ride and the expected cost of your trip.
All over the U.S., airports add a surcharge for all trips originating from their property. Las Vegas' Harry Reid Airport is no exception. There is an additional $2.40 fee for all trips that begin from the airport property.
These charges also apply to transportation network companies like Lyft and Uber. At other airports, the surcharge is as much as $5.00.
There are a couple of other fees you should anticipate. Taxis in Las Vegas charge a fee when you pay with a debit card or credit card. This is a flat fee of $3.00.
Another added expense should be no surprise; it is an excise tax. It is added to all rates and fees and is 3%. The taxi driver is not allowed to charge for fuel; fuel is built into the per-mile rate.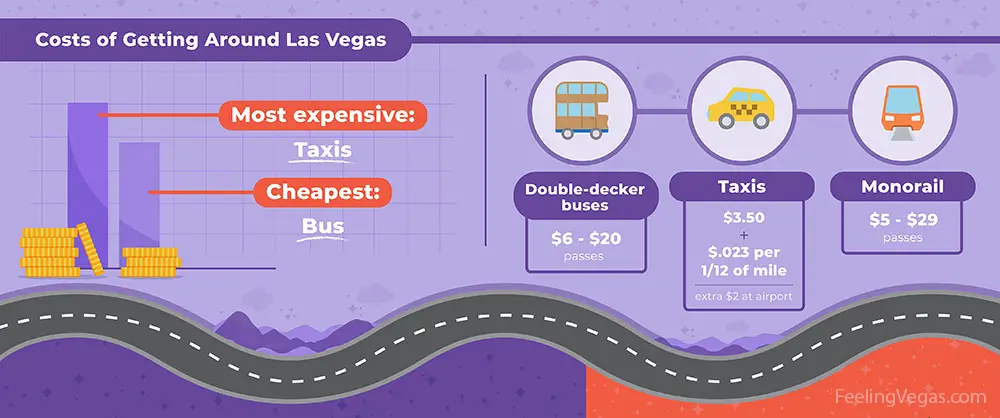 Taxi Fare from Harry Reid Airport to Strip (Zone Pricing)
For a time, Las Vegas had an ongoing problem where a taxi driver would "long haul" passengers from Harry Reid Airport to their hotel. In other words, they would take a long, out-of-the-way route in order to drive up the fare.
In order to avoid this problem, as of December 20, 2019, every Las Vegas airport taxi began following standardized zone pricing for Harry Reid airport trips.
The airport trip zone pricing provides riders a flat fee for trips between Harry Reid Airport and the Las Vegas Strip. The flat-rate charges apply to trips from the airport to the Strip and from the Strip to the airport.
The airport zone pricing was established and implemented to provide riders with a known, set price to take a taxi from the airport to their hotel before arriving in Las Vegas. It was implemented to provide transparency for passengers in hopes that it would increase the number of riders for taxi drivers.
There are three zones included. The breakdown is as follows:
Zone 1: Taxi Fare from Harry Reid International Airport to South Strip Hotels (Sunset North to Tropicana)
A taxi passenger (or passengers) will pay $19 from Harry Reid Airport to the following hotels and destinations:
| | |
| --- | --- |
| Alexis Park Resort | Mandalay Bay Resort |
| Delano Las Vegas | MGM Grand |
| * Desert Rose Resort | Motel 6 Las Vegas Tropicana |
| Excalibur Hotel & Casino | OYO Hotel & Casino |
| Four Seasons Hotel Las Vegas | Thomas & Mack Center |
| Howard Johnson by Wyndham | Tropicana Las Vegas |
| Luxor Hotel & Casino | * Virgin Hotels Las Vegas |
* Hotels that don't charge resort fees.
Zone 2: Taxi Fare from Harry Reid International Airport to Center Strip Hotels (Tropicana to Flamingo)
Taxi passengers will pay $23 from the airport to the following hotels on or near the Las Vegas Strip:
| | |
| --- | --- |
| ARIA Resort & Casino | Planet Hollywood |
| Bellagio Hotel & Casino | Polo Towers by Diamond Resorts |
| Elara by Hilton Grand Vacations | The Cosmopolitan of Las Vegas |
| Horseshoe Las Vegas (Bally's) | The Orleans Hotel & Casino |
| Jet Luxury @ The Signature | The Signature at MGM Grand |
| Marriott's Grand Chateau | * Travelodge by Wyndham Las Vegas Center Strip |
| New York-New York Hotel & Casino | Vdara Hotel & Spa |
| Paris Las Vegas | Waldorf Astoria Las Vegas |
| Park MGM Las Vegas | |
* No resort fee hotel.
Zone 3: Taxi Fare from Harry Reid International Airport to North Strip (Flamingo to The STRAT)
A taxi ride to hotels in Zone 3 will cost $27 from the airport. Zone 3 includes the following hotels:
| | |
| --- | --- |
| Artisan Hotel Boutique | Rio All-Suite Hotel & Casino |
| Caesars Palace | Resorts World Las Vegas |
| Circus Circus | SAHARA Las Vegas |
| Encore at Wynn Las Vegas | SpringHill Suites by Marriott Conv. Ctr. |
| Flamingo Las Vegas Hotel & Casino | The LINQ Hotel + Experience |
| Gold Coast Hotel and Casino | The Mirage |
| Harrah's Las Vegas | The Palazzo at The Venetian Resort |
| Hilton Grand Vacations Club Flamingo | The Palms Casino Resort |
| Hilton Grand Vacations Club Paradise | The STRAT Hotel, Casino & SkyPod |
| Hilton Grand Vacations Club on the Las Vegas Strip | The Venetian Resort Las Vegas |
| Las Vegas Convention Center | Treasure Island (TI) |
| Las Vegas Marriott | Westin Las Vegas Hotel & Spa |
| Palace Station Hotel and Casino | Westgate Las Vegas Resort |
| * Residence Inn by Marriott Convention Center | Wynn Las Vegas |
* No resort fee hotel.
There are a few rules around this special zone pricing.
First, no additional stops are allowed; zone pricing is only for direct trips. If you choose to make stops outside the zones, you will be charged according to prevailing meter rates.
Second, trips within a zone are allowed, but the second leg of the trip will be charged according to the calculated meter rates.
If your hotel is located in downtown Las Vegas or anywhere outside of one of these zones (i.e. Fremont Street, North Las Vegas, etc.), normal taximeter fares will apply.
It is also helpful to know that taxi drivers are not required to take any particular route to the established zone. The driver will take the most direct route, including freeways or streets, based on road and traffic conditions.
Airport zone pricing makes it incredibly easy to determine how much the fare will be from the airport to your hotel.
RELATED: How to Get Around Las Vegas Without a Car [Ultimate Guide]
What Else Should I Know About Las Vegas Taxis?
Las Vegas is a bustling tourist city; thus, additional rules apply to keep the flow of traffic as smooth as possible.
For safety reasons, taxis are not allowed to stop and pick up directly on the Strip (Las Vegas Boulevard). You have two options for traveling via taxi in the city:
Call for a pickup at a specific location, not directly on the Strip.
Use one of the many designated taxi stands found near the entrances to most resorts, shopping centers, and attractions.
Are Las Vegas Taxis Regulated?
The Nevada Taxicab Authority regulates Las Vegas Taxis. Las Vegas is home to 16 taxicab companies, and this state agency ensures that all taxis follow the set fares.
The Nevada Taxicab Authority issues specialized plates for taxicabs and handles complaints made by riders.
Las Vegas Taxi Fares 2023 – Conclusion
Las Vegas taxi fare is set and commissioned by the Nevada Taxicab Authority. Because of this governing body, you can easily anticipate the cost of your taxi ride when traveling in Las Vegas in 2023. With this knowledge in hand, you won't need to worry about an unexpected fare on the meter.
UP NEXT: Getting to the Strip From the Las Vegas Airport (7 Ways)