Las Vegas Airport to The Strip in a Limo (How Much?)
(This article may contain affiliate links. If you click through and make a purchase, we will receive a small commission at no additional cost to you. )
If you're making the trip from the Las Vegas airport to the Strip, you're going to want to do it in style, and that means a limousine. In fact, it may be wiser financially to get a limo instead of using multiple Ubers if you're transporting a group of people. So, how much is a limo from the Vegas airport to the Strip?
The average cost of a walk-up limo from the Las Vegas airport to the Strip is between $50-95 dollars plus tip depending on the size of the limousine. This is an hourly rate and can include things like complimentary champagne and stops along the way if there is time.
In the rest of this article I will discuss:
The Las Vegas airport limo services available and their cost.
Booking in advance versus waiting until you arrive.
Negotiating the price of an airport limousine.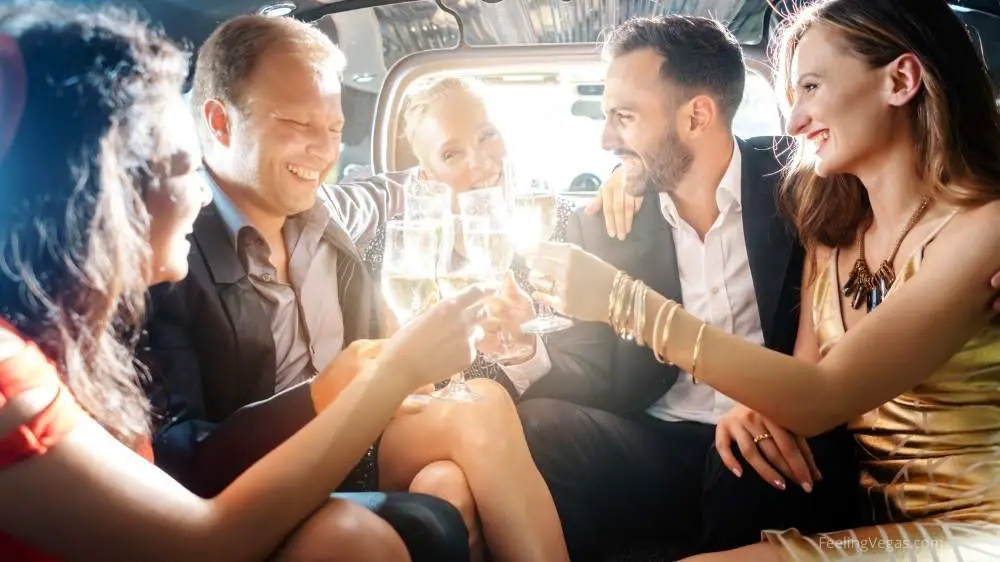 Las Vegas Airport Limo Services and Cost
There are two ways to get limo service from Harry Reid International Airport (formerly McCarran Airport) (LAS) to your hotel on the Las Vegas Strip (Las Vegas Boulevard), or hotel anywhere in Vegas for that matter.
You can either book a limousine in advance to pick you up at the airport at the time of your scheduled arrival or you can use the walk-up limo service at the airport once you've gotten off the plane and collected your luggage at baggage claim.
Booking an Airport Limo in Advance
Booking an airport limo in advance gives you the peace of mind that you've secured your ride and it will be waiting for you when you arrive at the airport. There are several limousine companies that service the Las Vegas airport and you can easily book your limo ride online.
Here are a few of the top limo companies to consider:
Each of these limousine services offers everything from a private town car or stretch limo to a luxury shuttle bus for large groups.
Using one of these limo companies, a six-passenger limo to your hotel on the Strip will run in the neighborhood of $100-150 per hour.
Your other option is to use the walk-up limo service at the airport.
Using The Walk-Up Limo Service at The Las Vegas Airport
The second option is to use the walk-up limo service at the airport. In this case, no advanced reservations are required. You can simply grab your bags and head to the designated transportation areas outside of both Terminal 1 and Terminal 3 (just follow the signs to Ground Transportation).
From here you can choose the limo that suits your number of passengers and your budget:
| Limo Type | Hourly Rate |
| --- | --- |
| Six-Passenger Limousine | $55 per hour |
| Ultra Stretch Limousine (up to 12 passengers) | $75 per hour |
| Stretch SUV Limousine (up to 10 passengers) | $95 per hour |
Additionally, you can also rent a luxury Sedan or SUV with a chauffeur for $40 or $45 per hour respectively.
As you can see, the walk-up limousine service at Harry Reid Airport will save you some significant money compared to booking in advance.
However, the walk-up airport transfer limo service is on a first-come-first-served basis. If you arrive in Las Vegas on a busy day or time, there may be very few limos, if any, available.
Also, keep in mind that the hourly rates quoted above for both types of limo services are for the first hour. An hour should generally be plenty of time to get you to your hotel on the Strip and even make a quick stop (try the Las Vegas Sign).
If, however, the quick stop becomes a long stop or the traffic is really bad you could go over your hour. So, make sure when you're discussing price with the limo providers that it's clear what the rates will be if you go over your first hour.
Also, when factoring in the cost of taking a limo from the airport to your Las Vegas hotel make sure that you include a tip for the limo driver.
Is It Best to Reserve Your Vegas Airport Limo Ahead of Time?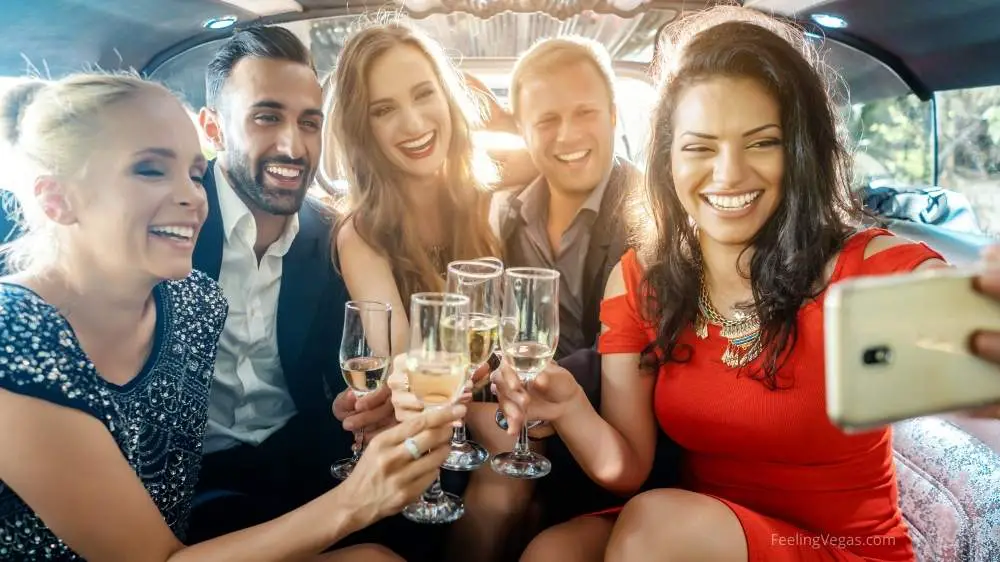 It is best to reserve a Las Vegas airport limo ahead of time if you want a guarantee that your limousine will be waiting when you get off the plane. If saving money is more important, do not reserve a limo ahead of time and instead use the walk-up limo service at the airport.
This is one of those unique situations where booking in advance won't save you money. Booking in advance, however, will save you the risk of having to wait for an available limousine or not getting a limo at all.
For many, booking an airport limo in advance is worth the extra money.
If convenience is more important to you than price, it is worth it to book ahead of time.
Yes, you'll pay more, but your limo driver will be there as soon as you walk out. They'll know where you're going, so no pointing on Google Maps will be done, and because the limo has a name to uphold, you'll likely have a smoother, more luxurious experience overall.
Can You Negotiate the Price of An Airport Limo?
Another potential benefit of waiting until you arrive at the airport to get a limousine is that you may have the opportunity to negotiate with a walk-up limo driver. If you show up at a slow time, you can try to negotiate a better price or a limo upgrade.
Depending on the day and time you arrive a limo driver may be willing to offer you a special deal. This is especially true if you arrive during the week and earlier in the day when the airport is typically slower.
If you're arriving on a Friday afternoon or during Super Bowl weekend you'll likely have no chance to negotiate. If there are limos available during these busy times in Las Vegas, just pay the price and be grateful you got a limo at all.
What If There Are No Airport Limos Available?
It's a rare event that there wouldn't be enough limos at the airport available to get you to your Strip or downtown Las Vegas hotel. If, however, it gets so busy that a wait for an airport limo is going to be too long, don't worry as there are several other ways to get from the airport to where your need to go.
Take a look at one of the other options for Las Vegas airport transportation here:
Las Vegas was built for tourism and knows how to handle massive amounts of visitors showing up all at once!
Conclusion
A limousine ride from the Las Vegas airport to the Strip doesn't have to be expensive.
This is especially true if you're traveling with a group of people. In this case, taking a limousine from the Las Vegas airport to your hotel could actually be significantly less expensive than hiring multiple taxis or Ubers.
It will also be a whole lot more fun!