Stratosphere Parking Fee (2023 Parking Fees at The STRAT)
(This article may contain affiliate links. If you click through and make a purchase, we will receive a small commission at no additional cost to you. )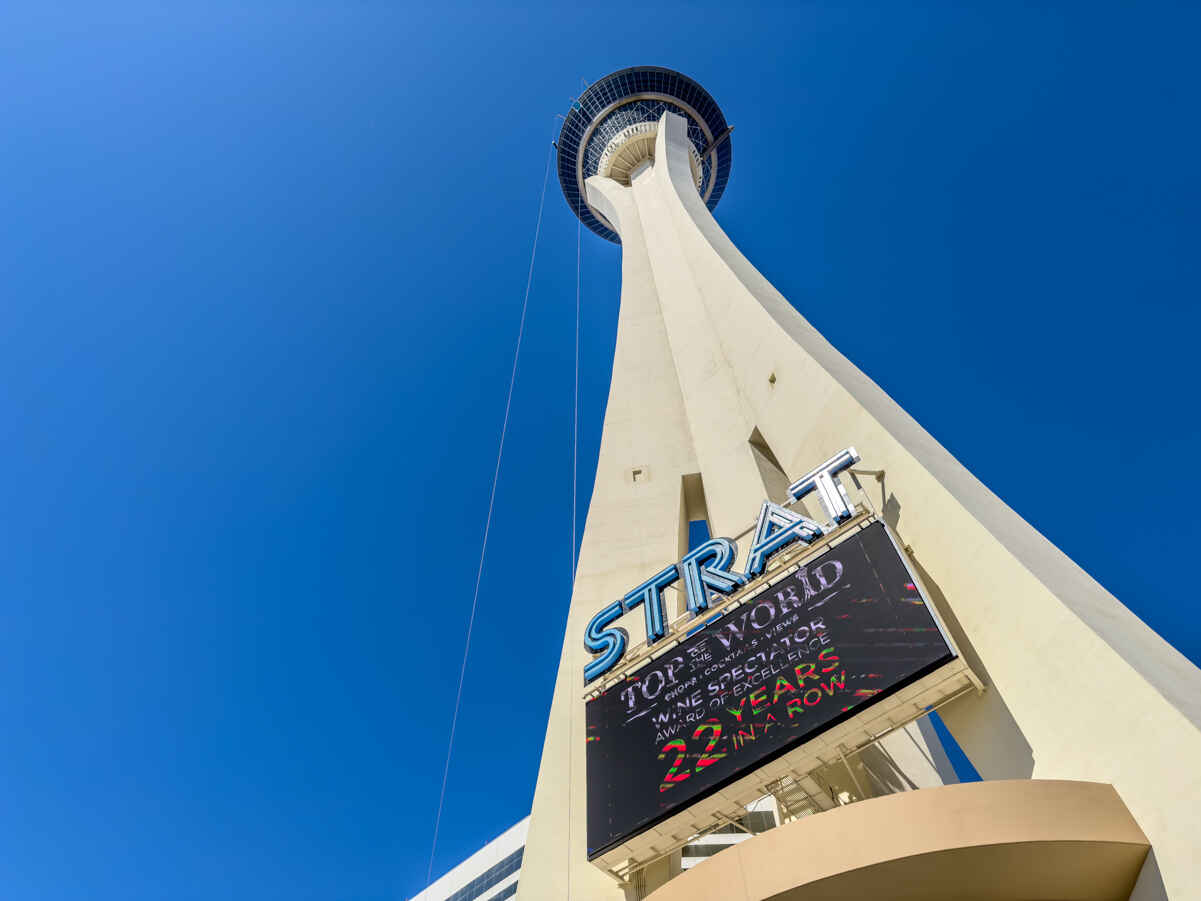 Las Vegas is known for its dazzling casinos, luxurious hotels, and incredible entertainment options. Among the popular destinations in the city is The STRAT Hotel, Casino & Skypod. As a popular spot for tourists and locals alike, parking is an important consideration for visitors. Notably, The STRAT has recently implemented a parking fee system that guests should be aware of before arriving at the property.
While the hotel used to famously offer free parking, they now charge a fee for all guests using their self-parking and valet facilities. The introduction of parking fees at The STRAT is disappointing but is par for the course when it comes to resorts in Las Vegas these days.
The Strat
Self-Parking
Mon-Thurs
Fri-Sun
0-4 Hours
$6
$8
4-24 Hours
$12
$15
Daily Max
$12
$15
The current fees for self-parking at The STRAT are $6 for the first four hours and $12 for four to twenty-four hours (Mon-Thurs), with each day after the first twenty-four hours costing an additional $12. On weekends (Fri-Sun), Stratosphere parking fees go up to $8 for the first four hours and $15 for the day.
This fee structure applies to self-parking in the onsite multi-level parking garage. It's essential for guests to plan accordingly and factor in these fees when visiting The STRAT, ensuring an enjoyable experience at this iconic Las Vegas destination.
Compare and save! Check current STRAT room rates at TripAdvisor.
The Strat Hotel Self-Parking Fee Overview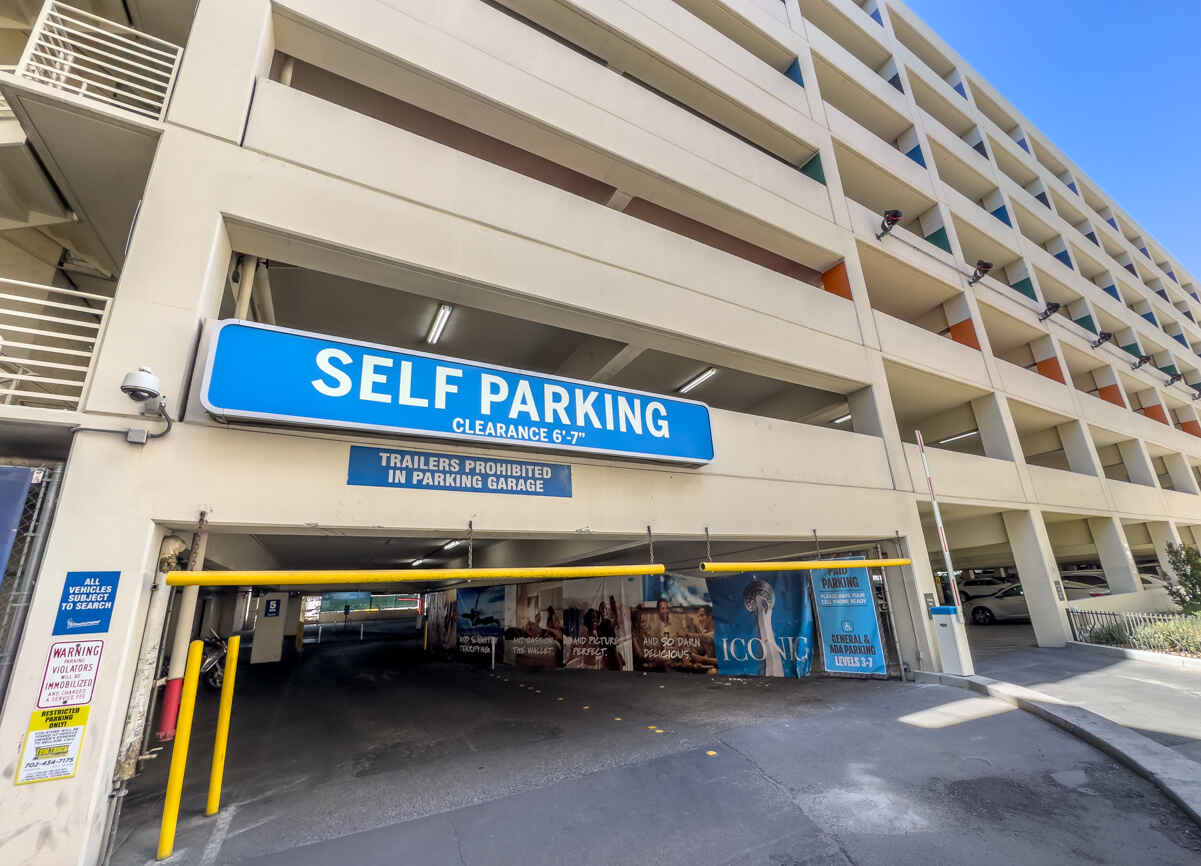 The Strat Hotel, Casino & SkyPod in Las Vegas recently introduced a paid parking program altering its previous free parking arrangements for guests and visitors. The new pricing structure is now in place with different rates depending on the length of parking time.
In addition to the regular parking fees, The Strat may apply a separate fee for event parking depending on the specific event schedules and requirements. For the most accurate and up-to-date information, it is recommended to visit The Strat's website or contact the hotel directly at 1-800-998-6937.
Do Hotel Guests Staying at The STRAT Have to Pay For Parking?
Yes. Hotel guests staying at The STRAT are required to pay for parking at the same rates as those just visiting. The one benefit you do receive as a hotel guest is in and out privileges. This means you can leave and reenter the parking structure as often as you'd like without paying a new fee each time.
Free Parking at The STRAT (True Rewards)
It is worth noting that the hotel still offers free parking spaces and valet services for its guests who are STRAT True Rewards members at the "Solid" level and above. So if you're playing in the casino or staying at the hotel, it's worth stopping by the rewards desk and picking up a free membership card to start building points toward the various levels.
Stratosphere Valet Parking Fee (Las Vegas Strip)
The Stratosphere Hotel in Las Vegas also offers valet parking services for its guests. The valet parking area is located at the main entrance of the hotel and is available 24/7.
The Strat
Valet Parking Fee
Mon-Thurs
Fri-Sun
Daily (up to 24 hrs)
$15
$18
The current valet parking fee is $15 for up to 24 hours, Monday thru Thursday, and $18 per day, Friday thru Sunday. The valet parking fee is applicable each time you leave and re-enter the parking garage.
STRAT Parking Rules and Regulations
While self-parking and valet options are conveniently provided at The STRAT, following the casino's parking rules is essential to avoid any inconvenience or penalties. Some of the basic parking rules at The Strat include:
Parking in designated spaces only
Adhering to the posted time limits for premium parking spots
Not parking in restricted areas, such as handicapped spaces without proper permits
Maintaining a valid driver's license and vehicle registration
Regarding off-street and on-street parking in the surrounding area, fees and availability may vary, and you should not expect to find much in the way of public street parking in the area. 
Visiting The Strat: Parking Info and Tips
RECOMMENDED: How Much Does It Cost To Go on Top of The Stratosphere? (Strat Tower Prices)
Here are a few more things to keep in mind about parking at The Stratosphere and using alternative transportation to avoid parking fees:
Stratosphere Parking Structure
The parking garage at The STRAT is conveniently located near the main entrance of the hotel, making it easy for guests to access the hotel and casino. The garage is also well-lit and secure, with surveillance cameras and security personnel on duty 24/7.
Overall, the parking garage at The STRAT is a convenient and secure option for guests who are driving to the hotel and casino. With more than 2,000 parking spots available, finding a parking place should not be a problem for most visitors.
Oversized Parking at The STRAT
Large vehicles have always benefited from free parking in a lot across the Strip, east of the casino. However, it's unclear at this time whether parking in the oversized lot will continue to be free or even accessible.
It is expected that the regular self-parking rates will now apply to STRAT's oversized parking lot, as well.
If you're planning to arrive in an RV or other oversized vehicle, I recommend contacting the hotel directly at 1-800-998-6937 to verify the current availability of the oversized lot.
RELATED: Where to Park an RV in Las Vegas (Sin City RV Parking)
Also, during special events, be cautious, as visitors to this lot might be charged more for parking.
Don't wait! Check current STRAT room rates (TripAdvisor) and book your stay today!
Use Alternate Transportation to The STRAT
If you are looking for additional savings, you can avoid paying for parking at The Stratosphere altogether by using an alternative method of transportation. These methods include:
Public Transportation: The RTC (Regional Transportation Commission) operates a bus system in Las Vegas. The Deuce bus runs up and down the Las Vegas Strip 24/7 and stops at The Stratosphere. Guests can purchase a 24-hour pass for $8 or a 3-day pass for $20. This is a cost-effective way to get around the city.
Ride-Sharing Services: Uber and Lyft are both available in Las Vegas. Guests can use these services to get to and from The Stratosphere without having to worry about parking fees. The cost of a ride will depend on the distance traveled and the time of day.
Taxis: Taxis are readily available in Las Vegas and can be used to get to and from The Stratosphere. However, they can be more expensive than other transportation options.
Overall, guests can use many alternative transportation methods to get to and from The Stratosphere without having to pay for parking. You can learn more about getting around in Las Vegas in our article: How to Get Around Las Vegas Without a Car [Ultimate Guide].
Stratosphere Hotel: Peak Hours and Busy Seasons
Finally, to have the most enjoyable experience at The Strat and avoid crowded parking, it helps to be aware of the busiest times. Peak hours at The STRAT Las Vegas often include weekends, holidays, and special event days. Planning a visit during weekdays or off-peak seasons might result in a smoother parking experience.