How to Get Around Las Vegas Without a Car [Ultimate Guide]
(This article may contain affiliate links. If you click through and make a purchase, we will receive a small commission at no additional cost to you. )
If you're visiting Las Vegas without a car, you may be wondering how to get around town and still see and do everything you want. As a Las Vegas resident, I can assure you that visiting Las Vegas without a car is entirely doable. Let me tell you about all the ways to get around Vegas without a car.
Can you get around Vegas without a car?
The short answer is yes. You don't need a car to get around Las Vegas. There are a multitude of transportation options available to you, including taxis, shuttles, the monorail, Lyft/Uber, buses, free trams, and more. You can get anywhere you need to go in Las Vegas without a car.
For being a big city, Las Vegas is actually pretty small. For visitors to the Las Vegas area, most of what you'll want to do and see is either on the Strip or in downtown Las Vegas, and these two areas are only about 8 miles from the end of one to the end of the other.
In this article, I'm going to share with you the many options you have for transportation in Las Vegas and let you know the pros and cons (if any) for each.
Ok, let's get started!

Walking the Las Vegas Strip
Can you walk the Las Vegas Strip? This is a question that first-time visitors to Las Vegas always ask. The simple answer is yes, the Strip is very pedestrian-friendly as long as you are in the main areas containing multiple casinos, hotels, shops, restaurants, and attractions.
The two most densely packed areas of entertainment can be found along Las Vegas Boulevard (the Strip) at the crossroads of Flamingo and again at Tropicana (see map below)
In these two areas, you can safely walk, and you'll find many crosswalks and pedestrian bridges to get you back and forth across the street to see all the main attractions.
What a new visitor to Las Vegas needs to know is that the Strip itself is a 4.2-mile long road, and while there are several clusters of hotels and entertainment, there are also stretches of Las Vegas Boulevard where there is not a lot to do or see.
In some of these stretches, there are no crosswalks or walking bridges to get you across the street. Looking at a map can be very deceiving. The distances are much greater than they look, especially if it's hot outside!
Don't get me wrong, there are amazing hotels and casinos all along the Strip, and you should definitely walk and check out as many as possible, but you're probably going to be happiest finding transportation to some of the farther-out locations.
The following are the best transportation choices for getting around Las Vegas.
Las Vegas Taxi Cab
For years this was pretty much the only way to get around Las Vegas without having your own car. If you're in a hurry, not good with technology, or just don't want to have to figure anything out, you can head to the nearest taxi stand.
The benefit here is that you can be in a car and on your way to your destination in seconds.
You can find taxis all up and down the Vegas Strip. It should be noted, however, that taxis in Las Vegas are not allowed to stop on the street. So you can't just wave one down on the Strip. Instead, go to any hotel, casino, or attraction to find a line of taxis waiting to whisk you away.
The downside is that a taxi is just about the most expensive option, short of renting a limo and a private driver for the day.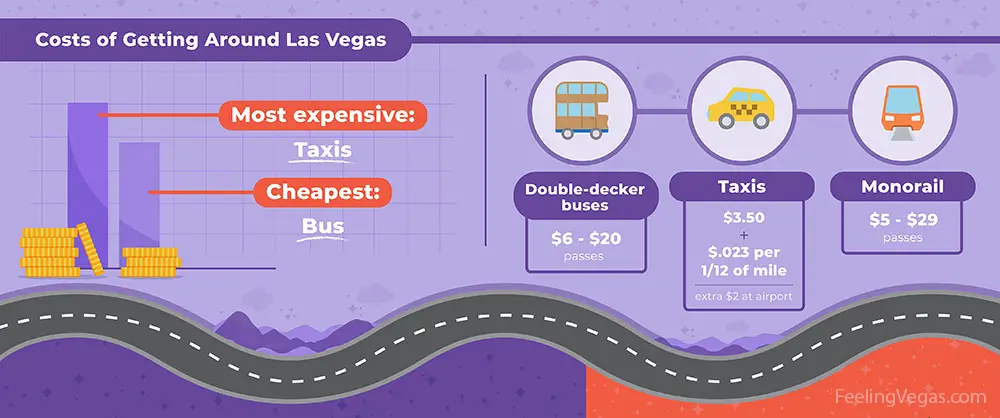 Las Vegas Taxi Rates
There are several taxi cab companies in Las Vegas, and their fares may all be slightly different, but this will get you in the ballpark.
Individual Taxi Rates, Fees & Taxes

Prices

Turning on the taxi meter
$3.50
Every 1/12th of a mile (works out to be $2.76 per mile)
$0.23
Waiting fee if waiting or in slow traffic ($0.23 every 25 sec)
$32.40 hr
Credit or Debit card fee
$3.00
Excise tax added to total bill
3%
Harry Reid Airport fee if ride starts at airport
(formerly McCarran Airport)
$2.40
As you can imagine, these fees start to add up fast. I really hate sitting in the back of a taxi and watching the meter turn over, but if you're in a hurry, it's often the fastest way to get where you're going.
So I would generally recommend avoiding taxis. However, there is one exception to this. Taking a taxi to and from Harry Reid Airport is worth it, in my opinion.
Especially when returning to the airport. In this case, you are on a time schedule, and it's not worth missing your flight trying to save a few bucks by taking an alternate transportation method.
How much is a taxi from the airport to the Strip in Las Vegas?
When it comes to catching a taxi to and from the Las Vegas airport, the normal fares don't apply. Las Vegas has instituted a zone system to determine taxi rates to and from hotels along the Strip in Las Vegas.
Taxi fare from the Las Vegas airport to a Strip hotel will run between $19 and $27, depending on what zone your hotel falls into.
Las Vegas Taxi Pros and Cons
Pros

Cons

– Fast and convenient
– No waiting for your ride
– No ridesharing or other people involved
– Expensive
RELATED: Complete Guide to Taxis and Taxi Fares in Las Vegas
Uber and Lyft in Las Vegas

After years of the taxi unions trying to keep them out, both Uber and Lyft have made it to the Las Vegas Valley. These two ridesharing companies, in my opinion, provide one of the best values when traveling around Las Vegas.
Using Uber or Lyft make it extremely convenient to get anywhere in Las Vegas you want to go.
Uber and Lyft charge comparable rates in general and are quick to pick you up in most locations throughout the Las Vegas Valley. You can schedule a pick-up at any casino, hotel, or mall, as well as many attractions. Just look for the designated rideshare pickup area.
Of course, you have to use a smartphone app to order the ride, and there is some pre-planning and wait time involved with that.
I've had a good experience with every Lyft or Uber ride I've taken in Las Vegas. The cars are clean, and I've always felt safe and secure.
Uber and Lyft Rates in Las Vegas
| | | |
| --- | --- | --- |
| Base Fares Las Vegas | Uber x | Lyft |
| Minimum Fare | $8.77 | $5.30 |
| Base Rate | $1.56 | $1.56 |
| Per Mile | .83 | $.83 |
| Per Minute | $0.22 | $0.22 |
| Cancellation Fee | $5.25 | $5 |
| Nevada Cost Recovery Fee | 3% | 3% |
The above fares are for the standard car service. Both companies have luxury upgrades and upgrades for vehicles that will hold more than four people for higher base rates.
Although the fares are comparable, the thing to know here is that when it gets especially busy in Las Vegas (weekends, large conventions, or events), both companies have what they call "prime time" (Lyft) or "surge pricing"(Uber) that increases the stated rates by various multipliers.
At these times, one or the other can be much more expensive than the other one.
It all gets very confusing, but there is a silver lining in that you can compare rates using the phone apps before booking your ride. During these busy times, it's always a good idea to set up your ride on both apps to compare the price and then order the ride from the cheapest one.
I should note that there are a lot more Uber drivers in Las Vegas than Lyft drivers, although many people drive for both, and you generally won't have trouble catching a ride.
Lyft and Uber Example Fare
This is a sample fare I computed using the fare estimators on the companies' websites (Uber website & Lyft website) for a ride from the Bellagio Hotel and Casino on the Strip to the Fremont Street Experience in downtown Las Vegas (approx. 5.6 miles).
| | |
| --- | --- |
| Uber X | Lyft |
| $14.88 | $12 – $15 |
Las Vegas Uber & Lyft Pros and Cons
Pros

Cons

– Quick and convenient
– Very short wait for your ride
– Can compare prices before ordering a ride
– Surge Pricing
RELATED: How Much Does Uber and Lyft Cost In Las Vegas? (Explained)
Shuttle Buses in Las Vegas
There are two basic types of shuttle bus services in Las Vegas. One is a paid airport shuttle, and the second is a hotel shuttle bus.
Las Vegas Airport Shuttle

Many hotels in other cities have their own shuttles that run their guests back and forth to the local airport either for free or for a small fee. It doesn't work that way if you're staying at a hotel on the Las Vegas Strip. Hotels on the Strip aren't allowed to have their own airport shuttles.
Las Vegas has paid airport shuttle services that will pick you up from the airport and take you to your hotel either on the Strip or in downtown Las Vegas. Here are some sample fare prices for three of the bigger ones.
Shuttle Service


phone #

To Strip Hotels


One-Way / Round Trip

To Downtown Hotels


One-Way / Round Trip
Bell Trans
(800) 274-7433
$15 / $30
$15 / $30
SuperShuttle
(800) 258-3826
$18.25/$36.50
$18.25/$36.50
The way these shuttles work is they will try to put together groups of people going to the same basic area on the Strip or downtown. You'll have to wait until everyone on your scheduled shuttle bus has arrived, and then you will have to make stops at different hotels to drop everyone off.
Keep in mind you may very well be the last one to get dropped off. Also, on the return trip, the shuttle company will want to pick you up several hours before your return flight. Yikes! I'd rather be sleeping in or spending a couple more hours enjoying Las Vegas than sitting at the airport several hours before my flight leaves.
If you're traveling alone and you have a lot of extra time, and you want to save a couple of dollars, then take an airport shuttle. Otherwise, I recommend just grabbing a taxi or Uber and saving yourself hours of wasted time.
Las Vegas Airport Shuttle Bus Pros and Cons
| | |
| --- | --- |
| Pros | Cons |
| – Cheapest option for 1 traveler | – Lots of wasted time |
Off-Strip Hotels With Free Airport Shuttles
All that being said, there are quite a few off-Strip hotels that do offer an airport shuttle for their guests.
Here are a few highly-rated hotels with free airport shuttles.
Palace Station Hotel and Casino
Staybridge Suites Las Vegas
Mardi Gras Hotel and Casino
Hyatt Place Las Vegas
Four Seasons Hotel Las Vegas
La Quinta Inn & Suites Airport South Las Vegas
Hilton Garden Inn
Homewood Suites by Hilton City Center
These are highly convenient if you don't mind staying at an off-Strip hotel. Some of these hotels are not very far from the Strip and represent a good value if you're on a budget. You can read my article about off-Strip hotels that don't charge resort fees here to learn more.
Las Vegas Free Hotel Shuttles
Several of the bigger off-Strip hotels in town offer free shuttle services over to the Strip. The reason for this is that these shuttles are set up to run from one resort to another hotel-casino owned by the same company.
Still, if you're staying at one of these hotels, you'll probably want to visit these casinos on the Strip anyway, and from there, you'll be able to check out and enjoy all the nearby properties and attractions.
Here are the hotels with free Strip shuttles. Note: These shuttles are generally just for hotel guests, and no luggage is allowed on board.
Sam's Town Hotel & Gambling Hall
Gold Coast
The Orleans
M Resort
Green Valley Ranch
South Point Hotel
Red Rock Casino
Silverton Casino
Hilton Lake Las Vegas Resort & Spa
Palace Station
Hard Rock Hotel and Casino
JW Marriott Las Vegas
Hotel Shuttles to the Strip – Pros and Cons
Pros

Cons

– Free
– Convenient

– Only for Hotel Guests
– Not on your timetable
– Small shuttles (first come, first served)
RELATED: Getting to the Strip From the Las Vegas Airport (7 Ways)
Downtown Las Vegas Shuttle Loop
There is one more shuttle in town I want to tell you about, and it is called the Downtown Loop. This is a free shuttle bus that drives a loop route in downtown Las Vegas and has stops at all the exciting spots in the downtown area.
Downtown Loop Route
Bonneville Transit Center (main city bus station in Las Vegas)
The Arts District (art galleries, performance spaces, bars, restaurants)
Arts District South
Pawn Plaza Shopping Mall
Fremont East Entertainment District (shops, restaurants, live music)
Fremont Street Experience
Las Vegas Premium Outlets
Downtown Loop Hours
Sunday to Thursday 11am – 6pm
Friday to Saturday 3pm – 10pm
The Loop arrives at each stop every 20 – 30 minutes.
Downtown Loop Pros & Cons
Pros

Cons

– Free
– Saves some walking

– None
Las Vegas Big Bus Tour (A Fun Way to Explore The Strip & Downtown)
What is the big bus tour? The Big Bus Tour is an open-topped double-decker bus that cruises the Strip and downtown Las Vegas areas. The bus stops in 15 different iconic locations. You can choose to stay on the bus or hop off and explore that area. When you're ready, you can hop on the next bus and continue your tour.
The buses are open on the top level for the best views or enclosed and air-conditioned on the lower level for comfort. Each bus comes with a live tour guide to tell you all about what you're seeing. The Big Bus tour buses also have free wifi, so you can stay connected while out and about.
The hop-on-hop-off bus covers two different Las Vegas routes. You can travel on both routes with a single ticket. These two routes stop at the following locations:
Las Vegas Big Bus Route and Stops
Circus Circus
Fashion Show
Mall
Treasure Island
Caesars
Palace
Park MGM
Excalibur
Las Vegas Sign
MGM Grand
LINQ
Promenade
Sahara
Arts District
Premium
Outlets
Golden Nugget
Mob Museum
Pawn Stars
Stratosphere
Of course, at each one of these stops, there are a ton of other things to do and see nearby. Buses arrive at each stop approximately every 30 minutes.
The Big Bus Tours also offers a third route. It's the Las Vegas Strip Night Tour. Tour the Strip at night in all its neon beauty! You'll want to arrive a bit early for this one as the seats fill up, and you will definitely want to be on the top level.
This tour also comes with a live tour guide and free wifi, but it is not a hop-on hop-off bus. There are no stops on the night tour.
Big Bus Discount Tickets
Prices start at $50 for a single-day hop-on hop-off tour. You can get a 10% discount by purchasing your tickets online at the Big Bus Tour website.
Sometimes (although not always available), you can get an even better discount by purchasing your tickets here (Groupon).
Big Bus Hours
The hop on hop off tours start running daily at 10am and run until 6pm. You can jump on and off the bus all day long. The night tour begins at 7pm.
Big Bus Tours Pros & Cons
Pros

Cons

– Great views
– Tour narrated by live tour guide
– Saves a ton of walking
– Free wifi


– Hit and miss
with the quality of
the tour guides
Las Vegas Monorail
Of all the ways to get around on the Las Vegas Strip, the monorail is definitely the most futuristic and interesting of the bunch. The Las Vegas Monorail system is a driverless, elevated train that runs along a 3.9 mile route. It's fast, clean, efficient, safe and environmentally friendly as well as air-conditioned (really important in the summer months).
It also skips the traffic, which can get pretty bad on Las Vegas Boulevard at times.
The monorail has seven stops on its route, and trains arrive at each station approximately every 4 to 8 minutes, so you won't need to wait long. You can jump on and off the monorail at any of the stops.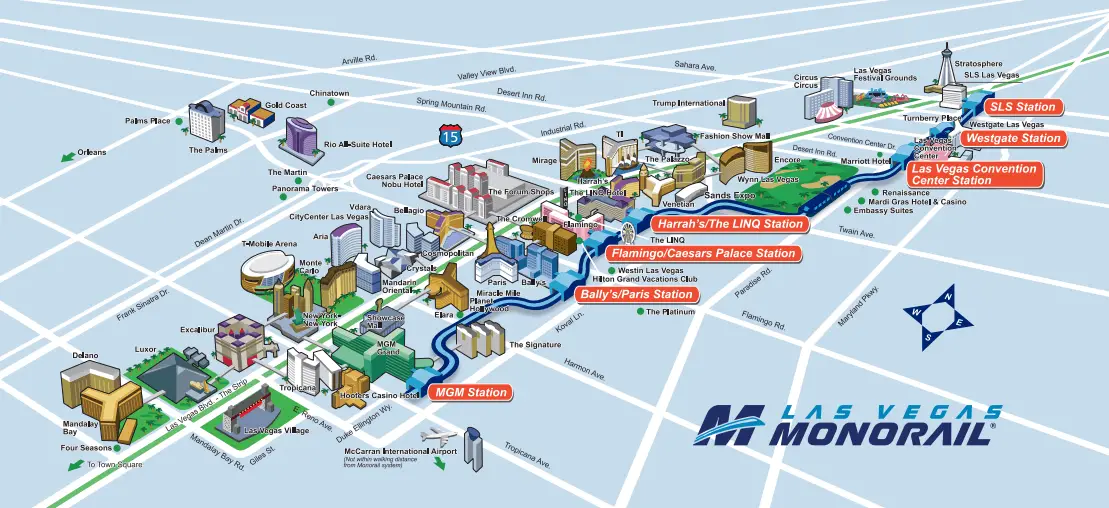 You can download the monorail map above as a .pdf from the monorail website here (Las Vegas Monorail).
Las Vegas Monorail Stations
SLS Station
Westgate Station
Las Vegas Convention Center Station
Harrah's/The LINQ Station
Flamingo/Caesars Palace Station
Bally's/Paris Station
MGM Grand
As you can see, the monorail covers most of the Strip. There is a plan in the works to extend the monorail down to Mandalay Bay which will ultimately be a huge benefit for people trying to get to the new Raiders stadium, but that won't be completed for a while.
You'll also notice on the map that the Las Vegas Monorail runs behind the casinos on the east side of the Strip. From the stations, you'll have easy access to enter the casinos, but you'll have to walk through those casinos and cross Las Vegas Boulevard (The Strip) to get to the casinos and hotels on the other side.
The Las Vegas monorail is especially convenient if you're attending a convention at the Las Vegas Convention Center and staying at one of the hotels nearby.
When the convention is done for the day you'll be able to easily and quickly access the rest of the Strip via the monorail.
Las Vegas Monorail Prices
These are the current monorail ticket prices.
| | |
| --- | --- |
| One Ride | $5 |
| 1 Day Unlimited Pass | $13 |
| 2 Day Unlimited Pass | $23 |
| 3 Day Unlimited Pass | $29 |
| 4 Day Unlimited Pass | $36 |
| 5 Day Unlimited Pass | $43 |
| 7 Day Unlimited Pass | $56 |
Monorail tickets can be purchased online here (vegas.com). You won't need a paper ticket you can just scan the ticket on your phone for entrance. Also, you can purchase your monorail pass ahead of time as the time period for use doesn't begin until the first time you use it.
Las Vegas Monorail Discount Tickets
Discount Las Vegas monorail tickets can be found here (Groupon). These deals come and go, so if there is one available, be sure to grab it.
There is also a discount for Nevada residents with a valid Nevada driver's license. The fare is $1 per ride with a maximum purchase of two single-ride passes daily per person. These discount tickets must be purchased at the customer service office found at each station (there is no office at the Convention Center station).
Las Vegas Monorail Hours
Monday: 7am – Midnight
Tuesday to Thursday: 7am – 2am
Friday to Sunday: 7am – 3am
Las Vegas Monorail Pros & Cons
Pros

Cons

– Fast
– Inexpensive
– Convenient

– Only directly serves the east
side of the Strip
RELATED: How Much is it to Ride the Monorail in Las Vegas? (Discounts!)
Free Tram Service in Las Vegas
While the east side of the Strip is serviced by the monorail, the casinos on the west side of the Strip are unofficially connected by a series of 3 free trams that will move you from one casino/hotel to another casino/hotel, usually owned by the same company.
The 3 free trams on the Las Vegas Strip are:
Mandalay Bay, Luxor, Excalibur Tram
Mirage to Treasure Island Tram
Bellagio, Aria, Park MGM Tram
While all three of these trams are independent of each other they are very convenient and can be used in combination to get you up and down the west side of the Strip.
Mandalay Bay, Luxor, Excalibur Tram
This free tram runs every 5 minutes or so and connects Mandalay Bay, the Luxor, and the Excalibur hotels/casinos.
When heading north, the tram leaves from Mandalay Bay, makes a stop at the Luxor, then completes its run at the Excalibur. When headed south from the Excalibur the tram bypasses the Luxor and runs directly to Mandalay Bay.
Mandalay Bay, Luxor, Excalibur Tram Hours
Sunday – Wednesday: 9am to 12:30am
Thursday – Saturday: 9am to 2:30am
Mirage, Treasure Island Tram
The free tram running between the Mirage and Treasure Island takes about one and a half minutes to get you from point A to point B. It's a short little jaunt but will save your feet and keep you out of the heat. This light railway tram runs approximately every 5 minutes.
Mirage, Treasure Island Tram Hours
Sunday – Thursday: 9am to 1am
Friday & Saturday: 9am to 3am
The Aria Express Tram
The Aria Express tram connects the Aria, Bellagio, Vdara, Park MGM, and the Shops at Crystals. While this free elevated tram is a great way to get to these particular hotels, the stop at CityCenter (Shops at Crystals) will also put you within easy walking distance of the Cosmopolitan and the Waldorf Astoria hotels.
Aria Express Hours
Las Vegas Strip Free Trams Pros & Cons
Pros

Cons

– Free
– Convenient
– Clean

– None
RELATED: 3 Free Trams Plus a Monorail on The Las Vegas Strip (Routes & Stops)
Getting Around Las Vegas on the Deuce Bus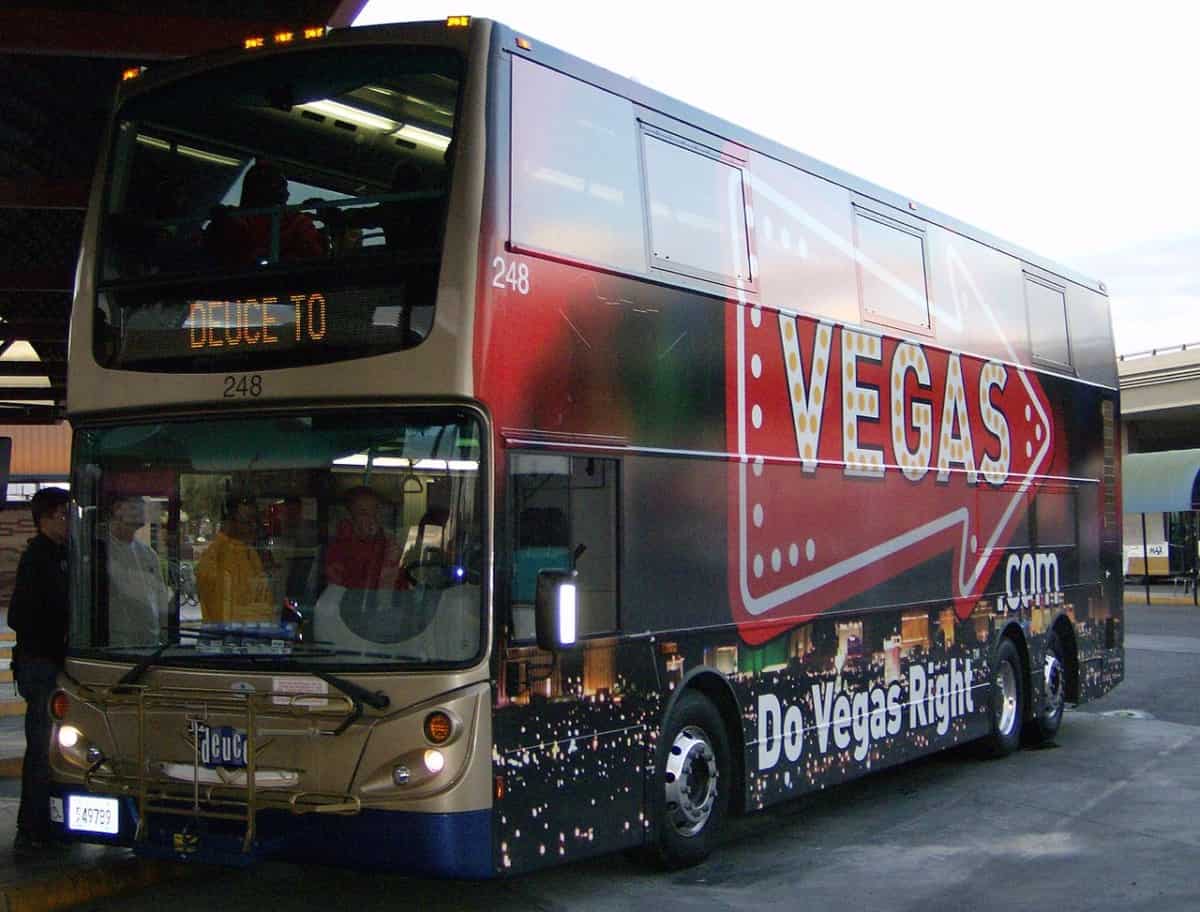 One of Las Vegas's cheapest transportation options is called the Deuce. The Deuce is a double-decker bus line run by the Las Vegas Regional Transport System.
In other words, this is the city bus line. While many city buses are dirty and overcrowded, the Deuce provides trips up and down the Strip in clean, air-conditioned comfort.
The Deuce bus is by far the most economical and cost efficient way to get around town.
I had said that the Deuce is better than a tourist bus because the tourist buses I've been on are far more expensive than even a multi-day pass on the Las Vegas city bus.
The Deuce Strip and Downtown Route
On the Strip, the Deuce runs from Mandalay Bay all the way to the Fremont Street Experience in downtown Las Vegas. That covers every major hotel, casino, and attraction in the main tourist areas of Las Vegas.
In addition, the Strip bus passes include every route in the Las Vegas metropolitan area. So you can get anywhere in Las Vegas you want to go using your pass. The bus is especially convenient if you're staying at an off-Strip hotel and just want to get over to the Strip to play.
Please note that if you are traveling a far distance (several miles), riding the bus can take quite a bit of time due to all the stops, but for short distances on the Strip, it's quite fast.
Cost to Ride the Deuce in Las Vegas
| | | |
| --- | --- | --- |
| 2 Hour Strip Pass | 24 Hour Strip Pass | 3 Day Strip Pass |
| $6 | $8 | $20 |
There are even 50% reduced fares available for veterans, students, senior citizens, and people with disabilities. You can purchase tickets either on the bus itself (exact change only), use the "rideRTC" mobile app, or visit one of the RTC ticket vending machines found along the Strip.
The Deuce Bus Hours of Operation
On the Strip, buses run every 15-20 minutes, 24 hours a day, seven days a week.
You can learn everything you need to know about how to ride the Deuce at RTC's website here.
The Deuce Bus Line Pros and Cons
Pros

Cons

– Inexpensive
– Convenient
– Clean
– Comfortable
-Safe

– Can be slow due to stops
if traveling several miles
RELATED: Ride The Deuce to Explore the Strip & Downtown (Cost & Route)
How to Get Around Las Vegas: Cheap vs. Fast
There's one more thing I'd like you to keep in mind.
As with many things in life, there are trade-offs, and choosing the best methods for getting around Vegas is no different. Many times there will be several different ways to get you to your destination, but you'll find yourself needing to decide between the cheapest and the fastest option.
If you have more time and are on a budget, choosing the cheapest way to get from point A to point B might be the best way to save some money but be aware that these methods of transportation are generally slower.
Many people, however, have a very limited time in the city. Therefore their Vegas time is precious, and spending a few bucks more to get where they're going quicker is totally worth it to maximize their time in Las Vegas.
It's my hope that this article has given you all the information you need to make the best transportation decisions while visiting Las Vegas.
Know you know how to get around Las Vegas without a car.
(If you're wondering if you should rent a car while you're in Las Vegas, be sure to check out our article here.)