Where to Park an RV in Las Vegas (Sin City RV Parking)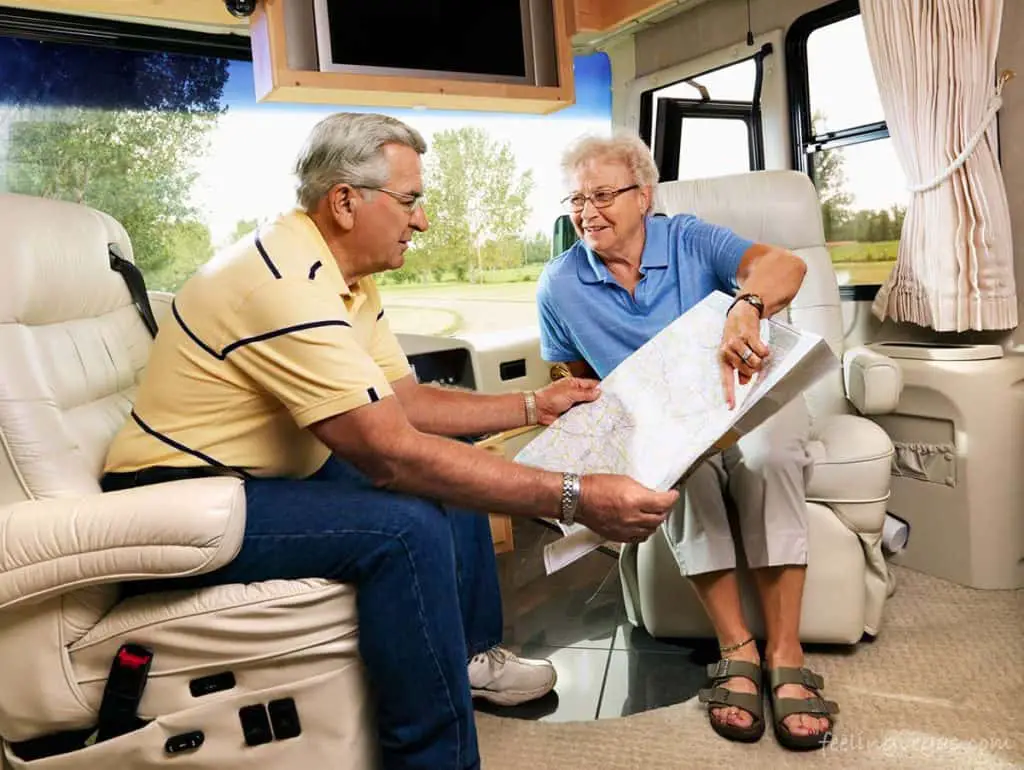 (This article may contain affiliate links, which means we might earn a small commission if you click and make a purchase. Thank you!)
Traveling in your RV can be a thrilling adventure. What's not so thrilling? Finding a place to park your home on wheels – in Las Vegas. When you are out in the countryside, pulling over or making a U-turn is not really a big deal. But, when you are looking for a place to park your RV in Las Vegas, it's wise to be as prepared as possible.
Where to park your RV in Las Vegas? The best places to park your RV in Las Vegas are:
If you drive a recreational vehicle, then you know how frustrating it is to navigate a large vehicle in the city. If you are planning a trip to Las Vegas in your motorhome, fifth wheel, or trailer, you've got options, from the big box stores and convention centers to casinos and RV parks. We've got the parking situation covered in this thorough list of options. Hop on in, and we'll show you where to park it in Las Vegas.
Las Vegas RV Parking Map
The handy RV parking map below will help you to quickly scope out the available RV parking in Las Vegas.
Note that the oversized parking spots marked in red with a "P" are for parking, and the spots marked in yellow with a trailer symbol are official RV camping spots.
While you may be able to spend the night in some of the "Parking" spots if you're stealthy, they are not really meant for overnighting. They're meant for parking while you enjoy the nearby casinos and attractions. These may be perfect for a part of a day or night as you're passing through town.
If you want to park your rig, plug-in power and water, and set up your camping chairs, you'll ideally want to choose one of the spots in yellow.
Keep reading as I cover each of these Las Vegas RV parking spots in detail below.
Where to Park Your RV in Las Vegas
The following list of locations offers suggestions for both paid and free RV parking in Las Vegas. Some are overnight spots, while others provide a great place to park for a day or even just a few hours while you're enjoying Las Vegas. I'll even highlight a few Las Vegas hotels with RV parking on or near the Strip.
RV Parking at Wal-Mart in Vegas
Oh, the glamorous 5-star Wal-Mart parking lot. Most of the RV community has parked in one at some point or another. Thank goodness for these perfectly paved pit-stops dotted across the country. Especially handy when you have a shopping list that can be filled while you are parked. And giving them a bit of your patronage shows that you appreciate the safe spot to park for the night or even just for a couple of hours.
Even though Wal-Mart is known for its generosity in allowing motorhomes to park on their property overnight, not all locations allow it. In Las Vegas, most Walmarts don't allow overnight parking. There is one that does, however, and it has a bit of a soft spot in my heart.
Wendy, my son Caleb, myself, and our two dogs spent several nights in our RV at this Walmart while we were looking at houses in town several years back. It's actually the Walmart we visit most frequently these days as regular shoppers and I always fondly remember being here in our RV.
You can find this particular Walmart on Boulder Highway about 6 miles from the Strip (google maps). Nearby are several Las Vegas RV rental places and the parking lot at this Walmart always has RVs parked in it because after renting an RV, everyone's first stop is the nearby Walmart to load up on supplies before heading out of town.
Another Walmart Related Idea
Even if most Walmarts in town won't allow overnight parking, here's an idea for day parking. If you are on a budget and want to skip the fee to park for the day at some of the other lots mentioned below, this could be a great option.
Pull in, eat breakfast, pack a bag for the day, and hail a cab or call an Uber or Lyft. You will be on the Strip in the middle of the action before you know it and your RV should be safe and sound in a Walmart parking lot for the day. Of course, there's some risk in this so it will be up to you to decide if you feel comfortable with this idea.
Finally, if a Walmart parking lot isn't your idea of a Las Vegas vacation, keep reading for a lot more places to park your RV in Las Vegas.
Mandalay Bay RV Parking
When in Las Vegas with your RV you can take advantage of the few casino parking lots that are secure, affordable, and allow RV or oversized parking! I say "few", because most casinos on the Strip have parking garages with low clearances, rather than an open-aired lot and cannot accommodate an oversized recreational vehicle.
Mandalay Bay is known in RV circles for having a special oversized lot, with an easy in and out. Officially, this is a parking lot, not an overnight camping spot but as the casino is open 24/7 it may be possible to sleep in your rig without it being obvious. Just use some common sense and be low-key about it.
The space in this lot is limited and it's always good to check ahead of time, but plenty of rv'ers have had success parking here.
The lot is located behind the Mandalay Bay Convention Center. The last time Wendy and I were there, however, they had just finished having an event and there was a big chainlink fence around the lot and it was not accessible for parking. Since parking availability is event dependent you may want to check beforehand.
You can contact the security team at Mandalay Bay (702-632-7989) to inquire about parking in the oversized lot.
Oversized Parking Las Vegas Strip (Excalibur & The Mirage)
MGM Resorts owns and operates many of the casinos on the Las Vegas Strip, however, they only officially offer oversized parking at The Excalibur and The Mirage. These oversized lots are designed for RVers who want to get out of their RV for a night or two and stay at one of the MGM properties.
These oversized spots are dependent upon availability and will be subject to the ever-changing MGM parking fees. MGM requests that guests contact the desk at the hotel they want to stay at for more oversized parking information.
RV Parking Behind The LINQ Promenade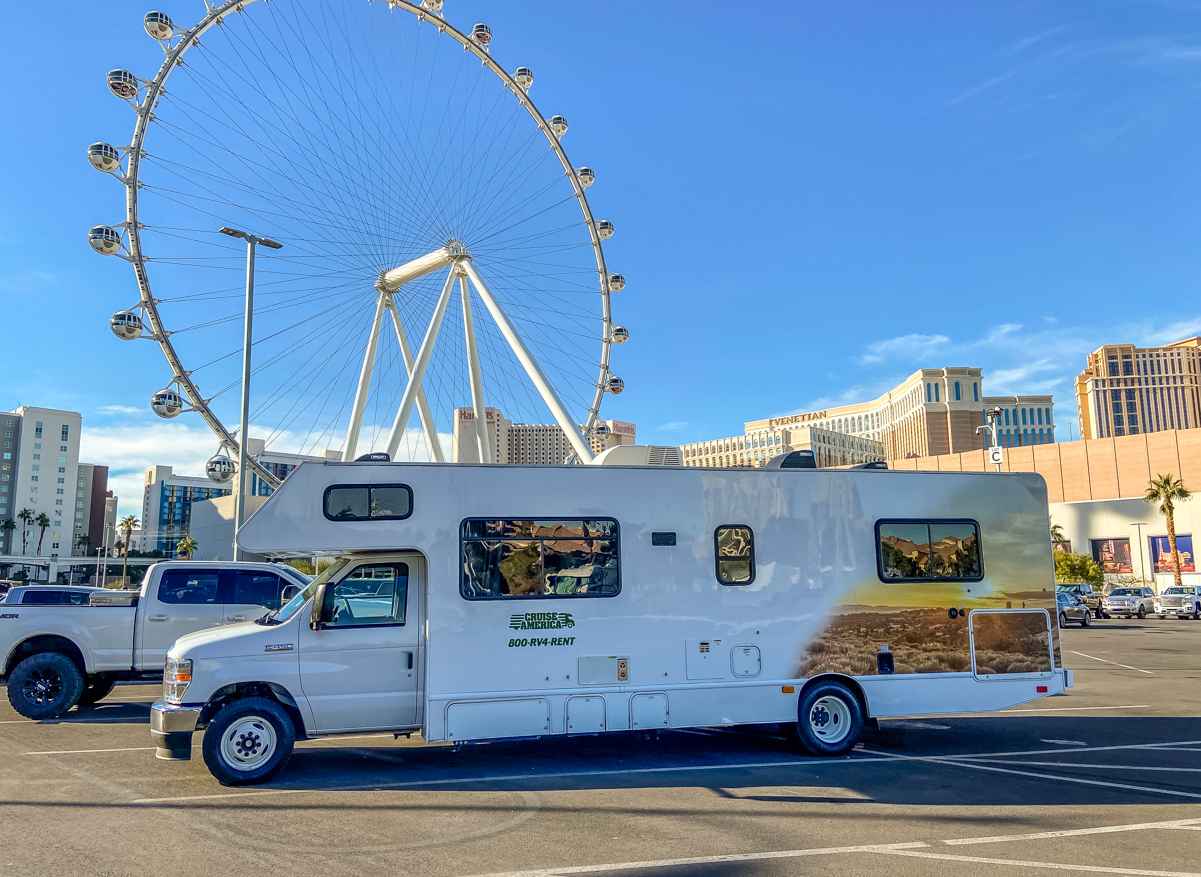 The LINQ Promenade is located right in the heart of the Strip and is a great place to start your Las Vegas Strip adventures.
RV parking can be found at an outside LINQ parking lot. The lot can be found just behind the LINQ Promenade, east of the Strip at Koval Rd. and Winnick (google map). The lot is right next to the High Roller Wheel.
This is a nice flat parking area, but there are no RV hookups or services available. If you have any questions or need help, you can reach the self-parking call center for this lot at 702-794-3356.
This is the best location on the Strip for RV parking. If you're looking for a self-parking lot that can accommodate oversized vehicles – and has a stellar location for hitting Las Vegas' hottest spots, then you've found your spot.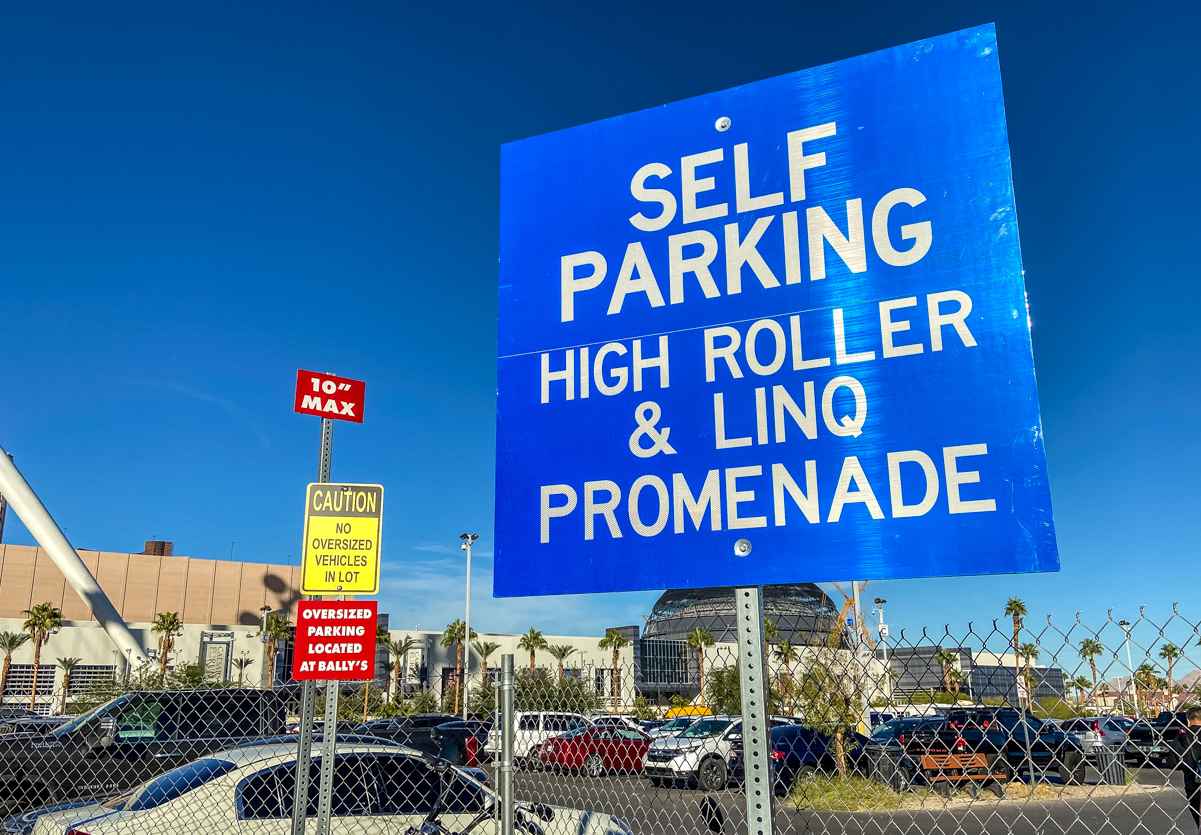 Circus Circus RV Park on the Las Vegas Strip
The most RV-friendly parking available on the Strip itself is at Circus Circus. Regular RV self-parking is actually free (no hookups), which is the best price ever! My advice is to graciously accept anything that is free because the rest of your Las Vegas adventure could cost you a good bit of pocket change.
What makes Circus Circus the most RV-friendly is that they offer the only official camp spots with RV hookups on the Strip. Should you decide that you would like to step it up from simply parking in a lot and actually want to hook up to electricity, water, and cable. Well, Circus Circus has a no-frills RV Park! (google map) (website)
Don't expect the Ritz or a resort-style setting because it is as advertised-no frills but if it's even slightly warm outside, you will appreciate absolutely need to be plugged in for your air-conditioning.
With your rig all hooked up, you may feel more comfortable and at home. Full-time RVers know how wonderful it is to have everything you need with you at all times. Never having to pack a suitcase and forgetting an item at home or regretting packing the wrong items altogether is a blessing all on its own.
From here, you just need to get dressed and get out on the Strip!
Make sure to download our Free Las Vegas Strip Map!
The Stratosphere – Free RV Parking at The STRAT in Las Vegas
Update April 20, 2023: The STRAT has recently begun charging for parking in the parking structure, and it is unclear at this time if the RV and oversized parking lot across the street is still available and free. I'm checking on this now and will provide an update here as soon as I learn more.
An iconic Las Vegas landmark and thrill-seeking tourist attraction is The Stratosphere. Located on the far north end of Las Vegas Blvd, this hotel is always a fun place to hang out. Plus, free RV parking!
The Stratosphere maintains an oversized parking lot directly across Las Vegas Boulevard from the property (google maps). Look for signs that say Strat Oversized Parking. There's quite a bit of room here as it's further away from the majority of other hotels on the Strip.
As if parking your RV for free in Vegas wasn't enough, the Stratosphere gains even more cool points by having several thrill rides on top of the 107-story building. Yes, that's right. You can jump on some thrilling rides that will dangle you out over the edge of the tower, allowing you to see the entire Strip below — the world's highest thrill rides. Or, simply enjoy the 360 views from the safety of the lookout deck.
When you have had enough of the heights, take a ride back down to the casino and restaurants on the lower levels, where you can have some fun on solid ground. And it's good to know your RV is parked just steps away!
Las Vegas Convention Center RV Parking
When you are traveling in such a large vehicle, you tend to think on a large scale. Where is a place within a city that probably has a large parking area? A convention center, right? Because they accommodate such a large number of guests, they must have sufficient parking space for everyone.
Well, lucky for you, the Las Vegas convention center is merely a block away from the Strip and has a flat lot where you won't have to worry about pesky low clearance parking garages.
According to the Convention Centers building manual (pdf), RVs are allowed to park in the Bronze and Platinum lots if available (google maps). Availability will be highly dependent on whether or not a large convention is currently underway or not.
Expect to pay more than the $10 fee charged for passenger vehicles simply because you are "oversized," no offense, of course. Although this parking lot makes for a great spot to park for the day, Overnight Parking is Not Permitted Here.
RV Park at Main Street Station (Downtown)
Another RV parking option near some top notch Vegas action is at the Main Street Station Casino in downtown. Main Street Station has its own RV park and is within easy walking distance of the popular Fremont Street Experience.
The Main Street Station RV Park is 5 acres in size and has approximately 72 sites with full hookups (both 30 & 50 amp are available). The park has easy access to the freeway and a 50-foot maximum length rv spots.
Love's Truck Stop RV Parking
Many motorhome owners are familiar with Love's Truck Stops. There are almost 500 locations across the country with big bright yellow, red and black signs. You may have stopped for gas, snacks, or pit stop parking. And Love's offers free parking for your RV.
If you are comfortable with leaving your rig at a truck stop for the majority of the day, pull in and pack up. Before you pull out of there, be sure to fill up on gas and snacks for the road! After all, you just parked for free all day. The least we can do is spend a few bucks there.
While you're at it, you might as well take the opportunity to check the tire pressure and fluids under the hood. Love's conveniently sells oil, brake fluid, coolant, and other car care needs.
Spending the night at a Love's is possible as well but speaking from experience, it's noisy with trucks coming and going all night. It makes for a rough night of sleep.
You can find a Love's Travel Stop in Las Vegas on the I-15 heading north after leaving town (google maps). It's not the most convenient place to park your rig to explore Las Vegas unless you're towing a car, but it can be a good stop on your way in or out of town if you're heading in that direction.
Miracle Mile Shops has Oversized RV Parking
Love to shop? Or browse? Searching for something to do on a blistering hot day with the family? Consider parking your trailer at The Miracle Mile Shops and walking around this huge 1.2 miles long enclosed shopping mall.
There is something for everyone, with over 170 stores in a row. After all of that shopping, you are bound to get hungry. Believe it or not, there are over 15 restaurants to choose from and live entertainment venues all throughout to keep the crew entertained.
Truly a unique shopping mall, but much more than that is its grand location. Perfectly situated on the Las Vegas Strip, you can walk right out the doors and into a sparkly dreamworld. The bright lights, big signs, and colorful characters are everywhere, and we absolutely love it!
The RV parking lot is located back behind the shops. You'll find it here on (google maps).
The Hilton Grand Vacations Club Paradise Offers RV Parking for Hotel Guests
Just a few minutes away from the Strip is The Hilton Hotel (google maps). If you want to get out of your motorhome for the night and enjoy a stay in a hotel room with normal toilet paper, unlimited water and electricity supply, and a maid to make the bed…well, no one is going to blame you or shame you.
There's nothing wrong with taking a break from RV life once in a while, especially when you are on vacation in Las Vegas. How often does this happen? Live it up!
This gorgeous hotel offers free parking to all of its guests, including RVers. So, if splurging on a hotel room is stressing you out, think of it as paying for a deluxe parking spot for a day. Parking in almost any other major city costs way more than it does in Vegas. So, you are winning already!
While there may not be any casinos on-site, there are plenty of other wonderful amenities to keep you and the family busy and happy, and you're just a short Uber ride to the Strip. Check the current room rates (vegas.com).
Route 66: Seligman to Kingman to Las Vegas: What a great RV trip!
The Benefits of Staying At a Las Vegas RV Park
While you may be thinking that finding a parking lot or parking spot is going to be the only way to go, well, we may have a better solution! Though you may be able to find some places that offer free parking for cars, most places do charge an oversized vehicle fee, sometimes as much as $25 or more for just part of a day.
We have found that the daily rates of RV Parks in Las Vegas are surprisingly comparable to those rates you will find in the oversized parking lots. Plus, even if it is a no-frills type of RV Park, you still have the general amenities typically offered at any Park. On top of that, you're saving a ton of money compared to staying at any of the casino hotels in town.
Many people feel more comfortable parking in an RV Park versus trying to stealth camp (I know I always sleep better). That's what makes this city so great. Several of the RV Parks can get you close to the action without the sky-high prices you would expect to find in a city like this. Jackpot!
So, you can take advantage of this and hook up while you are in town while surrounding yourself with other RVers who may be able to give you good advice on how to make the most of the area. Some of the RV parks even have their own happy hours!
I've already mentioned Circus Circus, which is a no-frills RV Park located directly on the Strip. Definitely worth checking out. However, if you'd like a little nicer RV park, the following Las Vegas RV campgrounds will keep you close to the action while having some of their own amenities like pools, clubhouses, etc.
Best RV Parks in Las Vegas (Recommended RV Camping)
While the Circus Circus RV park is the only RV park right on Las Vegas Boulevard, Vegas is home to several RV parks with convenient access to the Strip you should consider.
Here are the best RV parks in Las Vegas:
Oasis Las Vegas RV Resort
If you base your decisions on positive online reviews, you will love Oasis Las Vegas RV Resort! Great reviews for cleanliness and friendliness of the staff members that work the office, store, and grounds.
There is a beautiful family pool, plus waterfalls and palm trees. Truly giving you an oasis experience, just a hop, skip, and a jump away from The Strip! (google maps) Want to relax by yourself? Walk over to the adult pool and spa area to melt the tension away and rejuvenate yourself for an exciting night in Las Vegas!
Golf enthusiasts can play a round on the natural green 18-hole putting golf course on-premises. Get your morning workout while you are on vacation in the on-site fitness center, or throw a couple of rounds of horseshoes with the family for fun.
Advertised as affordable elegance, and what's not to love about that? Oasis RV Resort for the win! (website)
Las Vegas Motorcoach Resort
This one is truly a beauty! It's the only "luxury" RV resort park in Las Vegas. Unfortunately, it's exclusively for Class A RVs only. Can I just say WOW? If you're visiting Las Vegas in a Class A motorhome, lucky you! From the wrought-iron gates to the gorgeous clubhouse and stellar list of on-site amenities. Bravo!
Truly a luxurious resort, they assure that you will feel like royalty while staying with them. Whirlpools and tanning pools, hundreds of palm trees, saunas, and marble showers fit for royalty.
Once you've taken in all the royal relaxation that you can handle, perhaps you'd be keen on a game of pickleball or a friendly tennis match? Or would you prefer to play a round of golf? Whatever your pleasure, you will be sure to find it in Las Vegas.
No worries when it comes to hookups, either. Every well-manicured site has state-of-the-art sewer, electricity, and cable hookups. Enjoy your stay! (google maps) (website)
Riviera RV Park Las Vegas
Looking for a 55+ RV Park? Here it is!
Riviera RV Park Las Vegas is a 55+ RV park, two miles from the Strip. A perfect distance so that it's close enough to get to easily but far enough away to separate yourself from it for a while. Las Vegas is amazing. Since there is so much to do and see, for some, it can be overwhelming after a while.
Affordable and safe, you'll enjoy Riviera. You will be located close to a small shopping center and other convenience stores, just in case you need to grab a few things (google maps).
This quaint RV Park has owners who are striving to consistently improve and update its facility. And, they hope you enjoy your time in Las Vegas! (website)
Las Vegas RV Resort
This park welcomes all RV rigs and trailers from the smallest to the largest (up to 100' long), and from every class. But there is one catch: this resort is for adults only. So, if you are only traveling with big kids (21+), then read on. If you are traveling with young members, then skip ahead to the next RV Park!
For some, the idea of a strictly 21+ crowd really appeals to them. So, this works. They do, however, allow furry children for whom there is a pet park, where they can go about their business or maybe meet a new friend.
You really can't beat the deal that you get at this resort. Affordable prices, with a great location (google maps) and breathtaking views of the surrounding mountains. The best of everything, really. RV life is the way to go, and this park proves it! Take a dip in the hot tub and forget about your troubles for a bit. (website)
Las Vegas KOA at Sam's Town Casino
Las Vegas KOA at Sam's Town is an RV park I think you'll really enjoy. It's a full-featured KOA campground that is right next to Sam's Town Gambling Hall and Hotel, the biggest casino resort on the Boulder Strip.
This park can accommodate rigs up to 70' long and is pet-friendly. Even though you will be a few miles from the Strip (google maps), Sam's Town operates a free shuttle that picks you up in the RV park and runs to the Strip and famous Fremont Street in downtown Las Vegas. So once you get your rig parked, you won't have to do any more driving for a while.
Sam's Town Hotel and Gambling Hall, the casino the RV park is connected with, has a 133,000 sq. ft. casino property that includes restaurants, a bowling alley, live entertainment, a movie theater, and a large casino There's no way to get bored here!
The Las Vegas KOA at Sam's Town has a pool (open year-round), dog park, hot tub/sauna, free wifi, and cable tv.
If you haven't already, sign up for a KOA membership to enjoy all the perks they have to offer (website).
How Far is the Grand Canyon From Las Vegas? Find out in our article here.
Arizona Charlie's Boulder RV Park
Arizona Charlie's is another off-Strip casino with its own RV park. Nicely landscaped with new renovations, Arizona Charlie's RV resort can handle trailers and motorhomes up to 70′ with both back-in and pull-through spots available.
There are plenty of amenities to keep everyone happy, including full hook-ups, a private clubhouse, free wifi, a big screen tv, a pool table, a dog run, a hot tub, and a heated pool.
The Arizona Charlies Boulder Hotel and Casino itself has received Best of Las Vegas awards from the Las Vegas Review-Journal for the last two years in a row. It's everything you'd expect from a casino, with excellent gaming, restaurants, and live entertainment happening nightly.
Located on the Boulder Strip (google maps), the RV park and casino are just a few miles east of the Strip. An easy trip in your TOAD or Uber.
Both very comfortable and very affordable, the Arizona Charlie's Boulder RV Park also gets high marks on the Good Sam rating scale.
Recommended Reading: 9 Best RV Parks & Campgrounds Near Las Vegas (Revealed!)
Can You Park an RV on the Street in Las Vegas?
Parking an RV on the street is legal in Las Vegas for up to 72 hours (Clark County), but according to the City of Las Vegas Code Enforcement regulations (.pdf), no trailers or motorhomes may be lived in unless they are parked at an official RV Park.
So while it is legal to park a motor home on any Las Vegas street, you officially cannot overnight in it. Having said that, I see people doing it all the time, and we've done it ourselves on a couple of occasions while our house was in escrow.
While I believe the rules are mainly to discourage locals from living on the streets in their RVs full time, know that you could get into a spot of trouble if you attempt this yourself.
With so many reasonably priced RV parking areas in Las Vegas to choose from, you're going to enjoy your trip much more by finding a legitimate RV parking spot.
Where to Park an RV in Las Vegas – Conclusion
Sin City is a pretty RV-friendly town, but parking a big motorhome or travel trailer can be tricky if you don't know where to go. In this article, I've highlighted everything from free RV parking in Las Vegas to oversized parking on the Las Vegas Strip. I even included a round-up of the best RV parks in Las Vegas.
So, if you're nearby in your recreational vehicle, there is absolutely no reason not to stop in Vegas and enjoy this amazing city.
RELATED: If you're planning on visiting the Grand Canyon from Las Vegas in your RV then you'll want to read about the 10 Best RV Parks between Las Vegas and the Grand Canyon.