Camping at Red Rock Canyon Campground Las Vegas (with Pictures)
Red Rock Canyon Campground is a quiet oasis just west of Las Vegas, Nevada, offering a unique Mojave Desert experience. 
This is an older Bureau of Land Management campground. Still, it is well maintained, with a decent staff who are active in checking on things and keeping facilities clean and well maintained. There is a camp host on-site, and the campground itself is easy to find and access.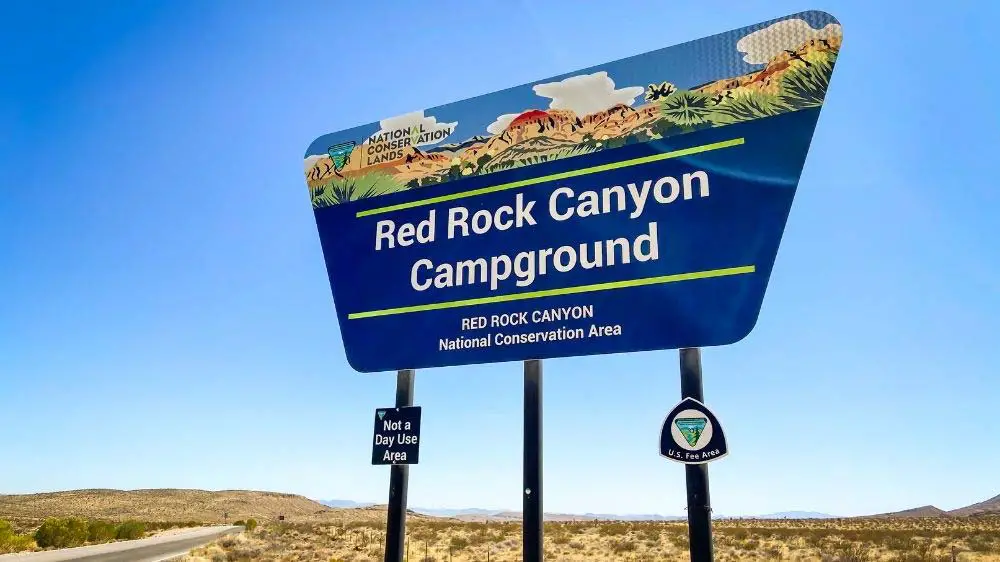 (This article may contain affiliate links, which means we might earn a small commission if you click and make a purchase. Thank you!)
Red Rock Canyon in Las Vegas
Red Rock Canyon Campground's main attraction is proximity to hiking and sightseeing opportunities in Red Rock Canyon National Conservation Area (operated by the national park system), and it provides easy access to the Las Vegas Strip (just 30 minutes away).  
While there, you'll be able to experience all the beauty that is Red Rock Canyon. The surrounding areas are gorgeous, and you'll be able to enjoy fantastic hiking opportunities and a scenic drive with many great lookouts.
The Red Rock Canyon Visitors Center is minutes away from the campground by car. Guided hikes, bike rides, and educational programs are available, as well. Note that the visitor center, and the 13-mile scenic loop road, are a state park fee area. The campground itself is located just outside the fee area.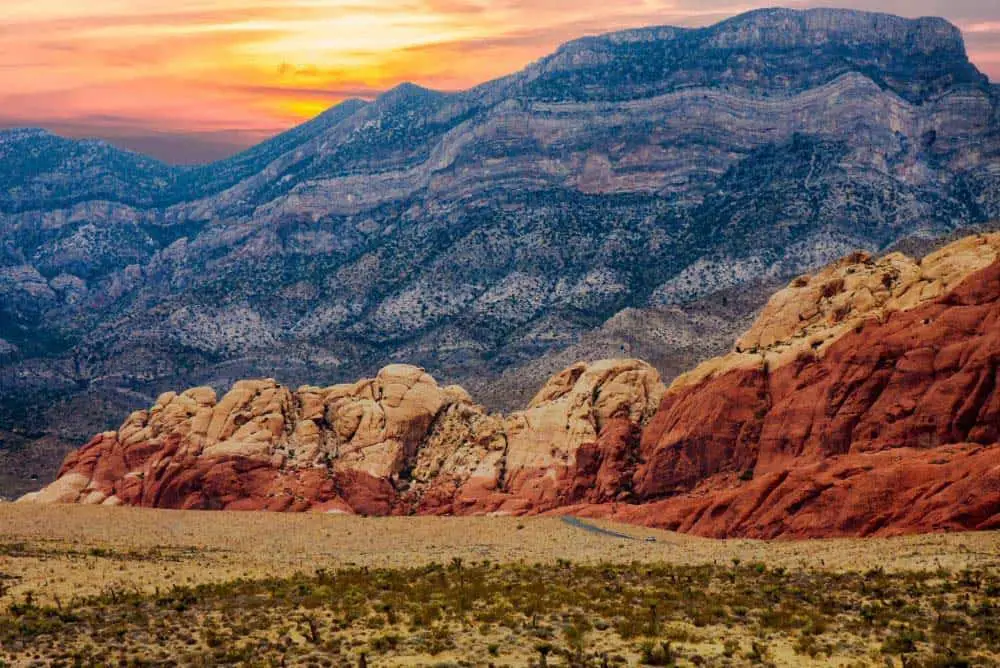 The Red Spring picnic area, with its beautiful views of the Calico Basin and colorful rock formations of the Calico hills, does not require any additional fees to visit. This spot can be found across from the campground on the other side of Red Rock Canyon Rd. (google maps). There's also a few great horseback riding tours that operate in this area.
Nature lovers will find a lot to enjoy in the Red Rock Canyon area as it's home to many animals: wild donkeys, hummingbirds, rabbits, red-tailed hawks, and mountain lions (don't worry, they don't come near the campground), and plenty of lizards. 
If you run low on supplies, civilization is a short drive away. Within five miles, you'll find shopping centers, a Costco, and Red Rock Casino.
Camping at Red Rock Canyon Campground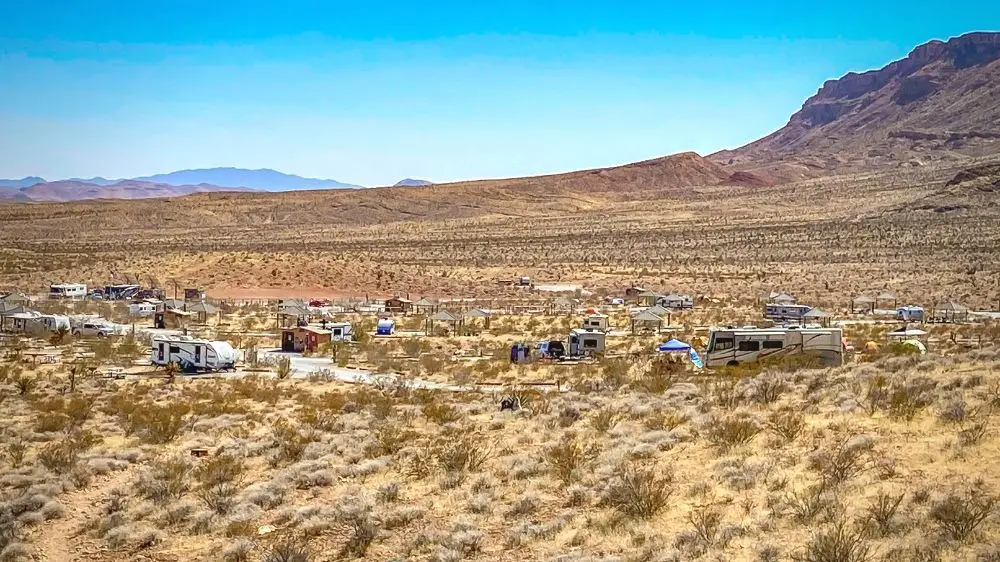 Many serious climbers use the Red Rock Canyon Campground as a base to climb nearby Red Rock. It's often busy with climbers and hikers. But even when fully booked, it is still a reasonably quiet campground.
There is, however, a shooting-range and a small private airport within a few miles of the campground that can get a little noisy, but not overly so. 
This is a dry campground, so there will be the additional challenge of a lack of drinkable water, electricity, and dump stations. The campsite does not offer these facilities, so campers will need to bring everything they need. 
During the spring and fall season, you can expect temperatures to drop from the 90s (Fahrenheit) during the day to the low 50s at night. As the season gets toward summer, however, expect daytime temperatures well over 100 degrees, cooling only slightly at night.
Because of the extreme summer heat, and no electric hook-ups, the campground itself is only open from September 1st – June 1st each year. Summer is just too hot for camping out here.
Winters (December thru February) can get cold, with temperatures ranging from an average of 47 degrees during the day and getting down to 27 degrees overnight.
Make sure you check out the Red Rock Canyon website or the Bureau of Land Management National Conservation website for the latest info, hours, closures, events, and other news.
Red Rock Campground Facilities and Amenities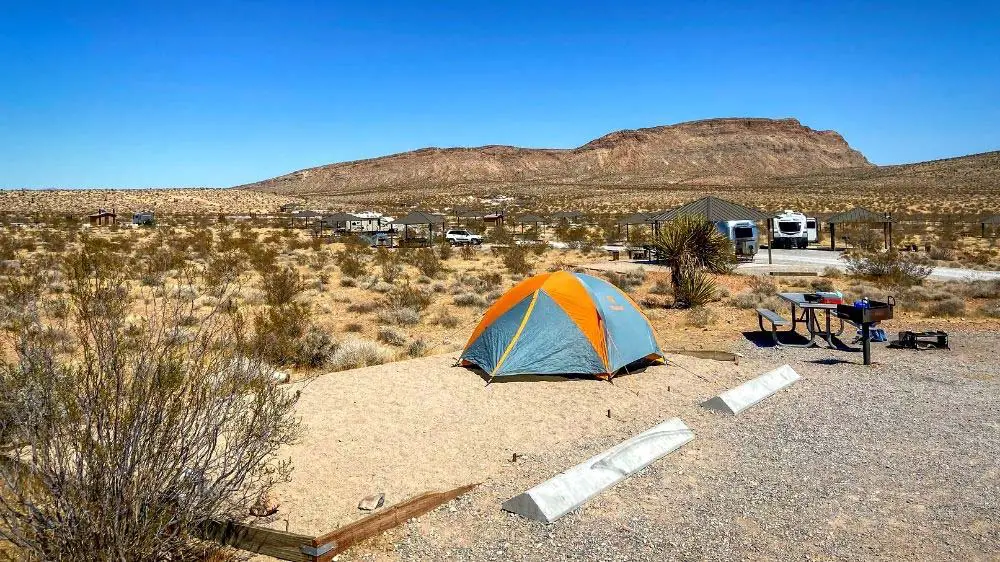 The campground offers spacious, well-maintained, dirt, and gravel campsites. It's not a large campground so you'll want to plan accordingly, as the campsites tend to fill up quickly when the weather is nice.
It's a good idea to either make a reservation (an online reservation is required for most camping spots) or show up late morning to grab a walk-in tent spot when someone's leaving.
There are three options for campsites:
53 individual standard campsites are available. 10 people and up to 2 vehicles are allowed per site. 
6 RV only sites with room for an additional vehicle.
14 walk-in tent only sites.
7 large group sites which accommodate no more than 20 people plus 8 vehicles.  
The dedicated RV camping area (the 6 RV spots) is really just a large, flat gravel cul de sac. This area is for RV's only as it's easy to get in and out of and turn around. If you have an RV or are pulling a trailer, you can still use any of the standard campsites as well. We've seen everything from truck campers to trailers to full-size class A's in some of these camp spots.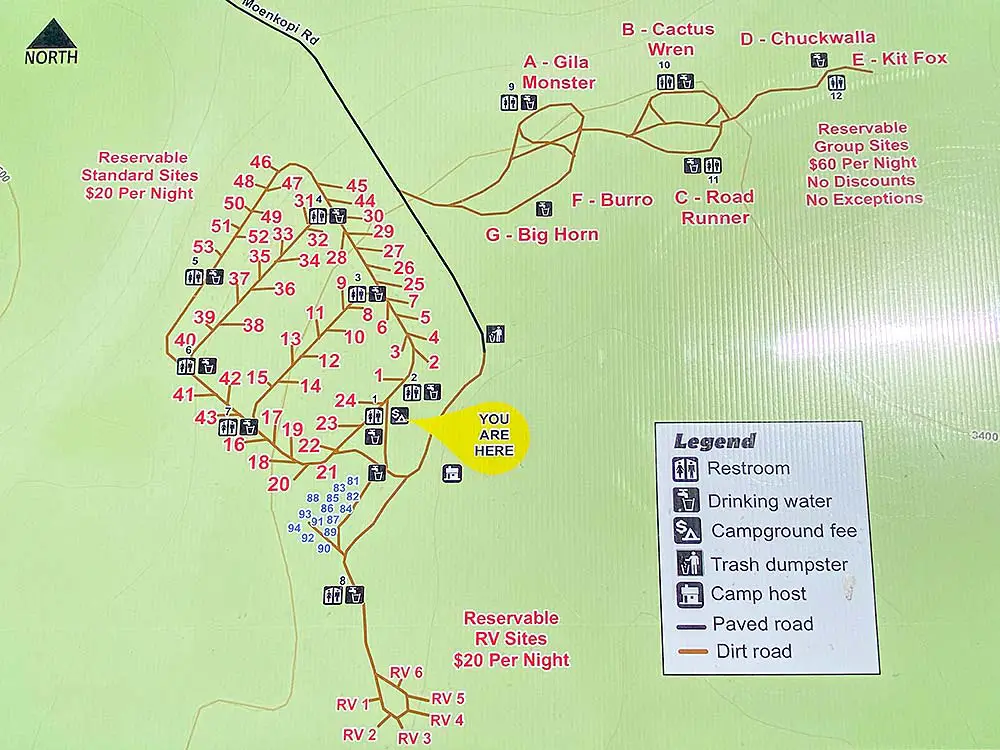 The walk-to tent campsites are available first-come, first-serve only. The rest of the camping spots require an online reservation (you can make reservations at Recreation.gov). It's better to make reservations ahead of time as cell service is spotty at best once you get to the campground.
Although the campground has limited amenities and cell phone service, this is the ideal place to unplug for a while. You'll be amazed that such a quiet, beautiful natural area exits so close to the Las Vegas Strip.
There are plenty of restrooms throughout the campsite, but they are in the form of pit toilets. Don't let that be a turn-off; they are well maintained, do not smell, and are frequently cleaned and checked on by staff.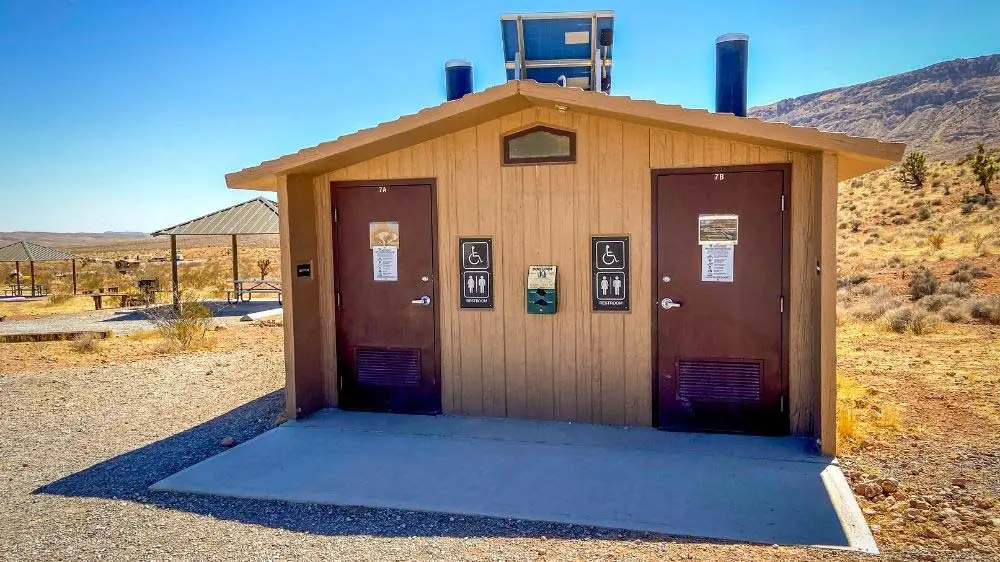 There is fresh water in the form of several well-water fixtures, but these are untreated, low pressure, and not for filling up your RV's. 
Since the water is untreated, purifying your water through something like a Travel Berkey or other water filtration system (like these from Amazon) is recommended. Otherwise, you'll need to load up on drinking water prior to arriving.
Well-spaced sites mean you will not be on top of your neighbors, but most campers report that guests are friendly, respectful, and quiet. However, the rock climbing/hiking crowd tends to be younger, and can get a little rowdy from time-to-time, but the camp host will keep it in check if necessary. 
There is little to no cell coverage. Several users (us included) reported no Verizon cell coverage during the day but could get a few bars in the evening. A cell phone signal booster (Amazon) wouldn't be a bad idea if your camping here and expecting to stay connected.
There is no cell service for AT&T and no WiFi in the campground or nearby.
The campsites are dog-friendly (Las Vegas is a very dog friendly place), so don't hesitate to bring your pooch along. 
There is a large dumpster on site but no recycling bins. 
Each campsite comes with the following features:
Tent pad
Picnic table
Fire pit (including grill)
Benches around the fire pit
Lots of Over-The-Air TV channels
Some sites have covered awnings/gazebo's
Cost To Camp at Red Rock Canyon Campground
$10-$60 for the site (most sites are $10-$20, the group campsites are $60)
Additional $10 booking fee for reservations made through the call center (tel: 702-515-5387).
Additional $9 fee if you make a reservation through recreation.gov. 
$10 fee if you cancel a reservation later than the day before arrival. 
Tent Camping at Red Rock Canyon
Most of the campsites are available for tent camping, but there is an RV-only section where tent camping is not allowed. 
There is plenty of room on each site. Two tents and two trucks won't have any trouble setting up with room to spare. 
Group camping, up to 20 people is also available, and the group area offers a good sized overflow parking lot. 
RV Camping at Red Rock Canyon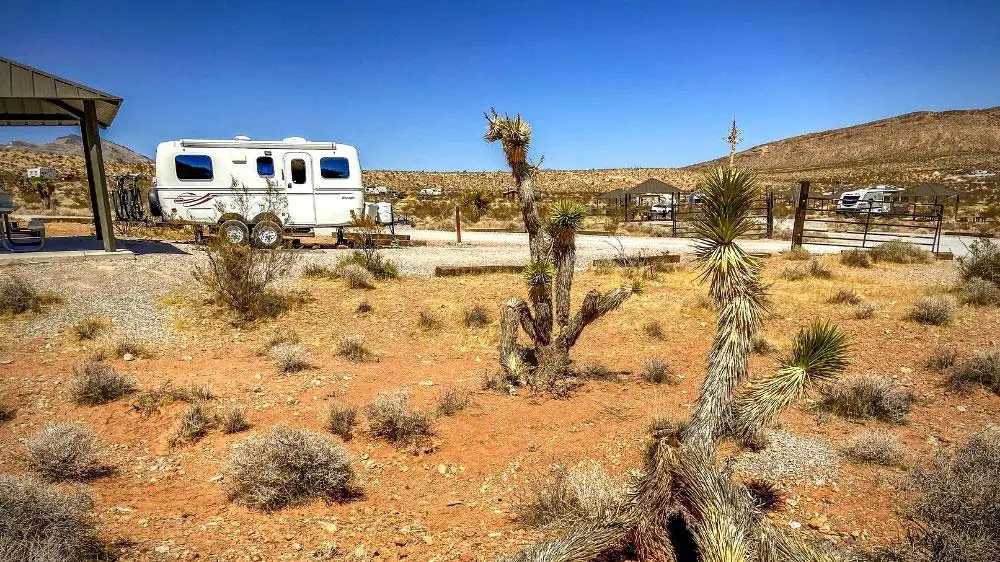 There is a small recreational vehicle only camp area for extra-large motorhomes and trailers, but spots are limited. There are only a few big-rig-friendly spots since most guests are van and tent campers looking to hike and rock climb at Red Rock Canyon.
Most of the rest of the sites will accommodate a small to large trailer or RV just fine. The sites themselves are not the most spacious, however. A 35-foot motorhome will just fit with a little room for your car. Really any rig over 27 feet will require one of the larger back-in sites. Even then, you'll be squeezing in, even though the campground lists a maximum length of 45-feet.
This is a desert campground, so there are no big trees. Still, there is plenty of spacing between sites offering a decent amount of privacy.
As you might expect, the gravel sites are off-level (not overly so, however), but be prepared to use a leveling pad or leveling blocks. 
Camping Hookups at The Campground
There is fresh water for cleaning, but it's well-water and may not be potable for drinking. There are no RV water hookups, and no 30 or 50 amp power hookups.
While not the most convenient, you'll find an RV dump station nearly 23 miles away at Kings Row RV Park (google maps) on the Boulder Strip.
Conclusion
Whether you're a couple on a weekend getaway, a solo camper looking for a rock climbing adventure, or a nature lover looking for scenic desert vistas and an excellent place to spot some wildlife, Red Rock Canyon Campground is a great choice!
With access to all the activities available at Red Rock Canyon National Conservation Area, this no-frills BLM campsite is perfect for both stop-overs and family-friendly adventures alike.