Horseback Riding in Las Vegas (7 Best Tours)
When thinking of visiting Las Vegas, horseback riding is probably not the first thing that springs to mind. However, if you're planning to visit Sin City, you should definitely take some time out to explore a bit of the beautiful desert scenery that surrounds the Strip.
What better way to do that than by horseback?
There are plenty of horseback tours you can take and it doesn't matter whether you're a novice or a pro. Let's explore the options for horseback riding in Las Vegas by taking a look at some of the best tours available.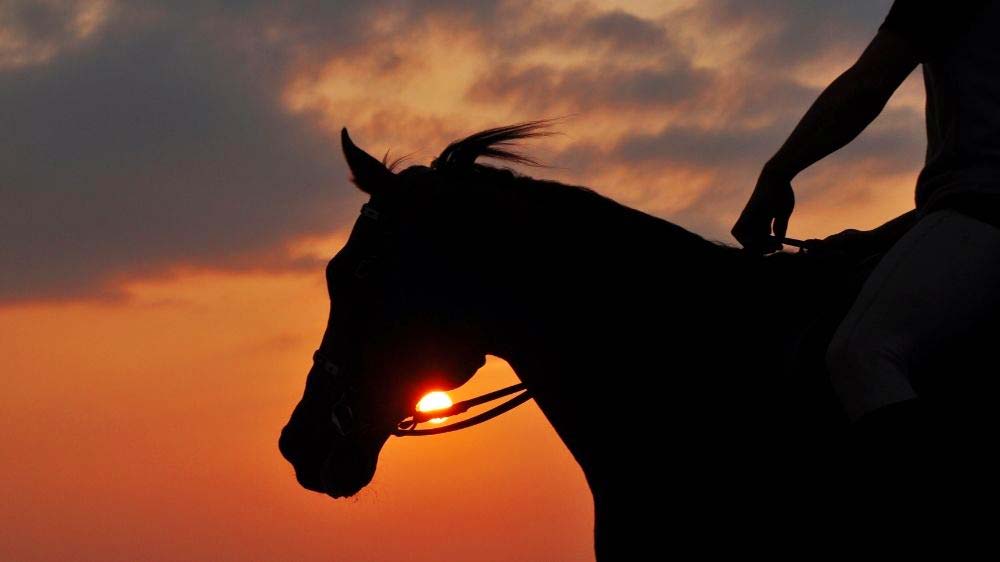 (This article may contain affiliate links, which means we might earn a small commission if you click and make a purchase. Thank you!)
1. Red Rock Canyon Sunset Horseback Ride and Barbeque
This popular sunset horseback ride is sure to take your breath away. You will be riding through Red Rock Canyon, which is famous for its scenery and is a treasure in the Nevada Desert. From mountainous trails to desert shrubs to views over the Las Vegas Valley, you will get a great all-around appreciation for the landscape out there.
When you get back to the stables you will continue your adventure under the desert stars and moon. You will enjoy a western-style barbeque dinner around a cozy campfire, and don't worry, there are plenty of food options to choose from, including something for vegetarians. 
If you've never ridden a horse before it doesn't matter either, there will be experienced cowboys and cowgirls to help you along the way. Customers love how friendly the guides are, the phenomenal views, and the great food at the end of the day.
2. Red Rock Canyon 2-Hour Horseback Ride
This 2-hour horseback ride is perfect if you're short on time because it doesn't include a meal. You will get picked up from your Las Vegas hotel (select hotels) and then have a 45-minute journey to the Red Rock Stables where your horse ride will begin. Before you saddle up, their experienced wranglers will lay down the law of the land and explain basic riding principles and techniques. 
Then you and your horse will set off on a remarkable trail that takes you through Red Rock Canyon. The guides are there with you every step of the way so you can relax and enjoy the experience and the incredible views. There will be plenty of photo opportunities along the way and you will feel a million miles away from the hustle and bustle of the Las Vegas Strip. 
This is an early morning ride and departure times are between 6:45 am and 8:15 am.
3. WOW Ride: Includes 5-Hour Horseback Ride
Get your cowboy boots ready for this 5-hour horseback ride which gets rave reviews. As the name suggests, the journey will "wow" you. This mini-adventure is a premier back-country horse ride. 
The long ride time will give you a more thorough experience and allow your group to go further into the desert exploring the rugged scenery, and increasing your chances of encountering wildlife. The expert guides will provide plenty of interesting information about the area along the way.
Lunch and drinks are included, and the excursion is open to those aged 7 and up. It's a more challenging ride due to the length of time spent on a horse, but customers love how magnificent the views are and if you're up for a truly natural experience, this is for you.
4. Wild West Sunset Horseback Ride with Dinner
This wild west sunset ride is easily one of the most popular horseback tours in Las Vegas and one of the latest to start in the day, leaving plenty of your day free to focus on other adventures. It departs between 4 pm and 5 pm in summer and 2 pm and 3 pm in winter. 
This is an opportunity to experience the backcountry as it has been for millennia. You won't find any casinos or even street lights out there. However, you may run into some road runners, bighorn sheep, wild burros, or maybe even a real cowboy! Just like being in the old west! You will saddle up in the afternoon and ride into the sunset and be mesmerized by how the scenery changes with the light and all of nature's beauty in the desert.
After your horse ride, you'll enjoy a campsite barbeque dinner. All throughout your journey, professional wranglers will accompany your group and be there to keep you safe and regale you with stories and insight about the area.
5. Canyon Rim Ride
This Canyon Rim Ride will give you a great taste of what Red Rock Canyon has to offer. The experienced wranglers will pair you up with a horse and then you'll set off along a canyon rim on Fossil Ridge. 
On your horseback ride, you are going to see a variety of historic and natural wonders. Some of these include ancient caves, Red Rock Escarpment, fascinating geologic formations, Spring Mountains, and desert wildlife. 
This ride leaves the camp at 7 am or 8 am in the summer and 9 am in the cooler months. Riding first thing in the morning will give you spectacular views, and you'll get to witness the beautiful shifts in the lighting over the desert landscape. 
6. Coyote Canyon Ride
This Coyote Canyon Ride is perfect if you're desperate for a horseback trail ride in the desert but short on time. Don't worry, less time doesn't mean you miss out. The guides have crafted this trail so you get exposure to the vast and changing scenery.
When you leave the camp you will head straight out through the desert and weave through a landscape of cactus and Joshua trees, just like you've seen in the movies! There will also be opportunities for wildlife spotting; on this trail, you'll most commonly find cottontails, quail, and ground squirrels. A perfect trip for every rider.
This tour does not come with an option for transport so you will need to make your own way to the camp. The start time is 2:30 pm.
7. Maverick Breakfast Ride
This early morning horseback ride is the best way to start your day. You will be picked up from your hotel between 7 am and 8 am and taken to a proper ranch where you'll be greeted by the friendly wranglers. 
They'll select the best horse for you and once you've become acquainted, and had a short riding lesson, you will saddle up and head for the hills. If you're looking for a peaceful trail and breathtaking views, the scenery of the nearby mountains will delight you.
When you return to the ranch you'll be treated to a traditional western-style breakfast where you can look back over your photos and swap stories with your companions. 
This tour is recommended for everyone, including families and inexperienced riders. The knowledgeable wranglers make it an interesting experience too and you will feel like a true cowboy, even if it's just for one day. 
Discounts on Las Vegas Horseback Riding Tours
Is there any way to make exploring the Mojave Desert scenery around Las Vegas by horseback even better? Yes, there actually is! By finding a money-saving discount for your riding tour you can have a great adventure without breaking the bank.
You'll want to check here if you're looking for a discount on your Las Vegas horseback riding adventure (groupon).
You can usually find several different horseback riding tour discounts here, including for one or more of the tours we listed above.
Horseback Riding Las Vegas
Whether it's your first time on a horse or you're an experienced rider, there are plenty of horseback trail rides to be found in and around Las Vegas.
Taking a western journey via horseback through some rugged, but beautiful, southwestern desert terrain is the perfect thing to do during the day while you're waiting for the lights to come up for another great night on the Las Vegas Strip!
Other Awesome Vegas Tours