Las Vegas RZR Tours: Top 3 Tours to Unleash Your Adventure
(This article may contain affiliate links. If you click through and make a purchase, we will receive a small commission at no additional cost to you. )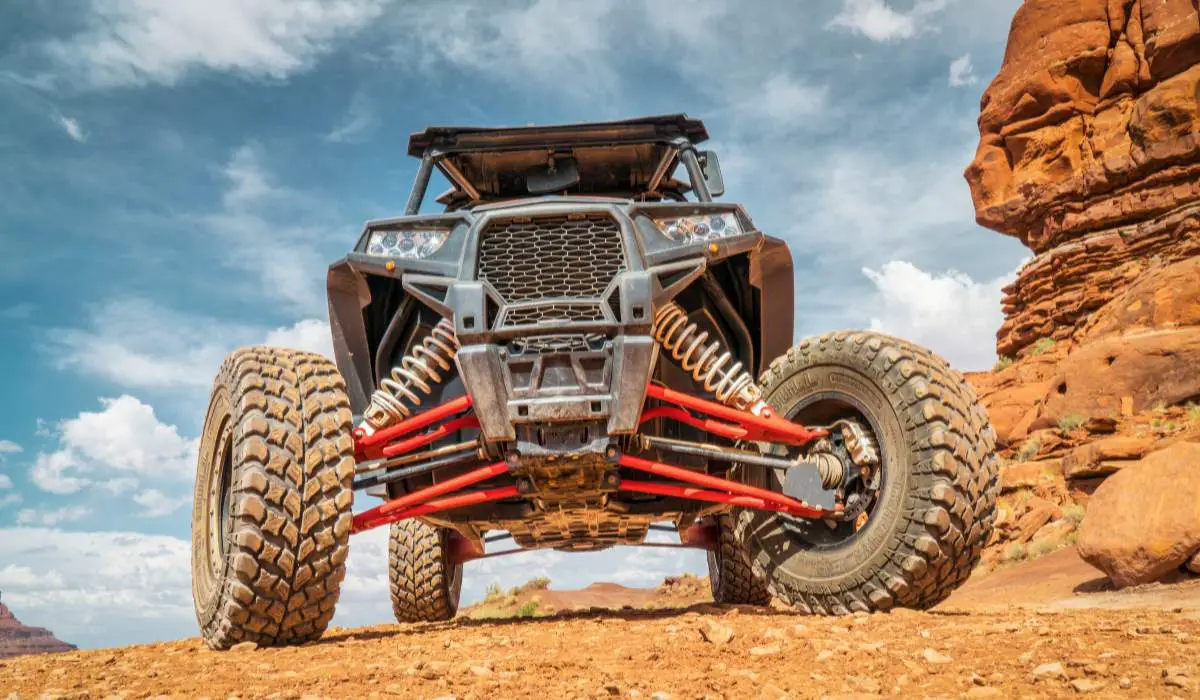 There's no better way to explore the natural beauty surrounding Las Vegas than by embarking on a thrilling RZR tour. RZR UTV tours offer an adrenaline-packed experience as you traverse the rugged desert landscape in state-of-the-art off-road vehicles.
With a variety of tour options available, you're sure to find the perfect adventure suited to your skills and preferences.
As you venture out on your RZR tour, you'll be awestruck by the majestic deserts, canyons, and valleys surrounding Las Vegas. Whether it's the breathtaking scenery near Valley of Fire State Park or the challenging Hidden Valley trails, every tour offers a unique experience that will leave you with unforgettable memories.
So, gear up, hop into your RZR, and prepare for an exhilarating journey!
My Top 3 RZR Tours in Las Vegas
While there are quite a few off-road RZR tours in Las Vegas, without a doubt, the following three are the best tours of the bunch. As an off-road enthusiast, I've ridden in all three of these areas many times and guarantee you won't be disappointed. Here are my top tour picks:
The deserts surrounding Las Vegas are full of abandoned mines, ghost towns, and ruggedly beautiful landscapes that can best be reached via a side-by-side (SXS) or off-highway vehicle like the Polaris RZR. These tours from Las Vegas will take you to some truly wide open spaces that surprisingly aren't that far from the Strip.
Let's take a look at each of these three tours in a bit more detail.
1. Extreme RZR Tour of Hidden Valley and Primm
Experience the thrills and excitement of off-road driving on this fantastic RZR tour departing from Las Vegas. Your experienced guide will lead you through mountain and desert terrain as you drive your new model RZR 1000 (less than a year old), with all safety equipment provided.
This tour will give you the most time behind the wheel of a RZR, and includes round-trip transportation from your hotel, ensuring a safe and hassle-free adventure.
2. Half or Full Day ATV or RZR Eldorado Canyon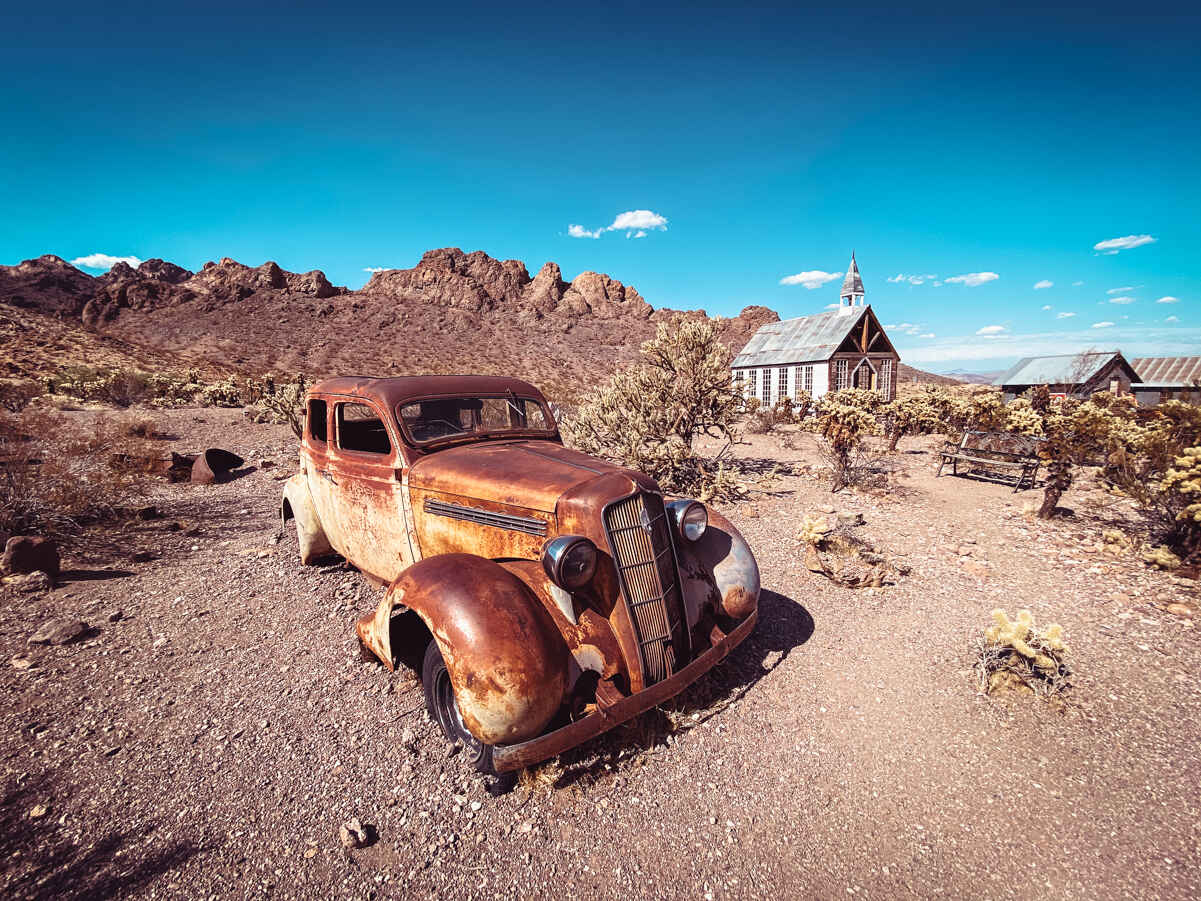 Above photo: You'll get to explore Nelson ghost town and mine on this RZR off-road experience. Nelson is one of the best ghost towns you can visit near Las Vegas.
Take an unforgettable half-day or full-day tour to Eldorado Canyon and the famous Techatticup Gold Mine and Nelson ghost town (circa 1861), just 45 minutes from Las Vegas. With expert tour guides, lunch, and riding gear all included, this tour is perfect for those looking for a unique and memorable experience.
On this tour, you can ride either a fully automatic ATV or a Polaris RZR. No experience is necessary to have the time of your life on this tour.
3. Off-Road Mojave Desert Tour
Unleash your inner adventurer with this exhilarating RZR tour through the Mojave Desert. Put on your safety gear and radio-equipped helmet, then rev up the engine as you explore desert trails and dry river beds. With pickup and drop-off from select hotels in Las Vegas, this tour will get you out of the city and into the beautiful and scenic wilderness.
So, gear up, venture off the beaten path, and make your next Vegas trip an unforgettable one with a RZR off-road tour!
These three tours are the most popular RZR tours in Las Vegas. Personally, if it was me I'd choose either tour #1 or #2 (with the full day option) to get the most driving time in the RZR. Having said that, there are some other tours offered that might suit you better, including a self-guided tour.
You can see all the RZR off-road tours offered in Vegas here at Viator.
Tour Experience
Guided Tours
Embarking on a Las Vegas RZR tour, you'll get to experience an exhilarating off-road adventure suitable for friends, families, and couples alike. Friendly and experienced tour guides are there to ensure your safety and help you make the most of this thrilling escapade.
Tours are designed to accommodate various skill levels, ranging from beginner to pro, so everyone can fully enjoy the ride. Trust your guide to show you some of the most breathtaking trails and landscapes in the world.
Rest and Lunch Stops
Exploring the majestic terrain for hours can be tiring, which is why your RZR tour will ensure you have enough rest stops to catch your breath and rejuvenate. If you're partaking in a full-day tour, you'll generally be treated to a delicious lunch, either at a great scenic spot or at a local restaurant.
Take this opportunity to bond with your group and share your exciting experiences on the trail so far. Running out of snacks or water during the tour is not a concern, as rest stops are strategically placed to keep you refreshed.
Capturing Memories
Throughout your RZR adventure, you'll come across some awe-inspiring landscapes and stunning vistas. Make sure to bring along your camera or smartphone, as your tour guides will know the perfect spots to capture unforgettable memories.
Don't hesitate to ask your guide to take a group photo – they'll be more than happy to help. With plenty of picture-worthy moments along the way, you can relive the excitement of your Vegas RZR tour and share your adventures with friends and family back home.
Polaris RZR Features
When embarking on one of these exciting RZR tours, it's essential to know about the impressive vehicles you'll be using during your off-road adventures. In this section, we'll explore a few of the Polaris RZR features that await you.
Polaris RZRs are powerful UTVs (Utility Terrain Vehicles) equipped with long travel suspension and designed to tackle the challenging terrain of the Nevada desert. These rugged vehicles are available with 2 or 4 seats, allowing you to share this thrilling experience with friends or family.
Some of the key features of Polaris RZRs include:
High-performance engines (1000cc)
Comfortable seating and easy-to-use controls
Advanced safety features such as roll cages and seat belts
If you're worried that diving an off-road vehicle like this might be too difficult, I can assure you it's not. If you can drive a car, you can drive a RZR!
Moreover, when you choose one of these guided tours, the professional tour guides will share their knowledge and expertise to ensure you have an unforgettable off-road experience.
ALSO SEE: 10 Best ATV and Off-Road Tours in Vegas (Extreme Fun!)
Preparing for Your Tour
Safety Measures
Before embarking on your desert driving tour, it's important to prioritize safety. As a driver or passenger, you should attend the pre-ride safety briefing to ensure you understand all necessary precautions.
Before the tour begins, you will be provided with a helmet and goggles. In addition, your vehicle will have a roll cage for added protection.
Taking these precautions seriously will help minimize risks and create a fun experience on the trails.
Clothing
When you head out on your RZR tour, wearing the right clothing can greatly enhance your comfort and enjoyment. Opt for clothing that can withstand the heat and dirt from Las Vegas (believe me, you will be covered in dirt by the end of your ride).
Light, breathable fabrics are ideal for keeping cool in high temperatures. Ensure that your socks and shoes are suitable for an off-road experience – closed-toe shoes with good traction are highly recommended.
Sun Protection
Sun protection is a must when heading out for a desert ride (both winter and summer). Always bring a generous supply of sunscreen with high SPF, and remember to reapply throughout the day, especially after sweating or wiping your face.
Wearing sunglasses can also protect your eyes from both the sun and wind, while a lightweight, wide-brimmed hat or bandana can shield your head and neck from direct sunlight.
Finally, don't forget your trusty camera to capture the breathtaking scenery and unforgettable memories during your adventure.
RECOMMENDED: Big Apple Roller Coaster: An Unforgettable Las Vegas Experience!
Frequently Asked Questions
What are the top RZR tour companies in Las Vegas?
How long are typical RZR tours in Las Vegas?
The duration of RZR tours in Las Vegas varies depending on the company and the specific tour you choose. Most tours last between 2-6 hours, often including transportation time from your hotel to the off-road area.
What is the cost of a Las Vegas RZR tour?
Prices for a RZR tour in Vegas will vary depending on the specific tour and the number of participants. You can expect to pay between $100 to $500+ per person for most tours. Keep in mind that some companies offer discounts for groups or seasonal promotions.
What should I bring on a Las Vegas RZR tour?
When going on a Las Vegas RZR tour, ensure you wear comfortable, weather-appropriate clothing and closed-toe shoes. You should also bring sunscreen, sunglasses, a hat, and plenty of water. Many tours provide helmets, goggles, and bandanas, while others require you to bring your own or rent them.
Are there private RZR tour options in Las Vegas?
Yes, many companies offer private RZR tours in Las Vegas. These customized experiences allow you to create a more personalized adventure, often accommodating parties of various sizes. To book a private tour, you usually need to contact the tour company directly and may be charged additional fees for the personalized experience.
Is there an age requirement for Vegas RZR tours?
There are age requirements for RZR tours in Vegas, which vary depending on the tour and company policy. In general, drivers must be a minimum of 16-18 years old (depending on the company) and passengers must be a minimum of 12 years of age. Make sure to check with your chosen tour company for specific age requirements and restrictions.
RECOMMENDED: Can You Drive a Tank in Vegas? (Crush a Car With a Tank in Vegas!)
Top Takeaways
Las Vegas is a city that offers an extraordinary range of experiences for tourists, and RZR tours are definitely one of the most thrilling ways to explore the surrounding natural areas.
The top three RZR tours discussed in this article are all unique and offer different levels of adventure, from peaceful desert rock formations to challenging off-road trails.
Regardless of which RZR tour you choose, it's sure to be an unforgettable experience that will leave you with lasting memories of your visit to Las Vegas.