Can You Drive a Tank in Vegas? (Crush a Car With a Tank in Vegas!)
(This article may contain affiliate links. If you click through and make a purchase, we will receive a small commission at no additional cost to you. )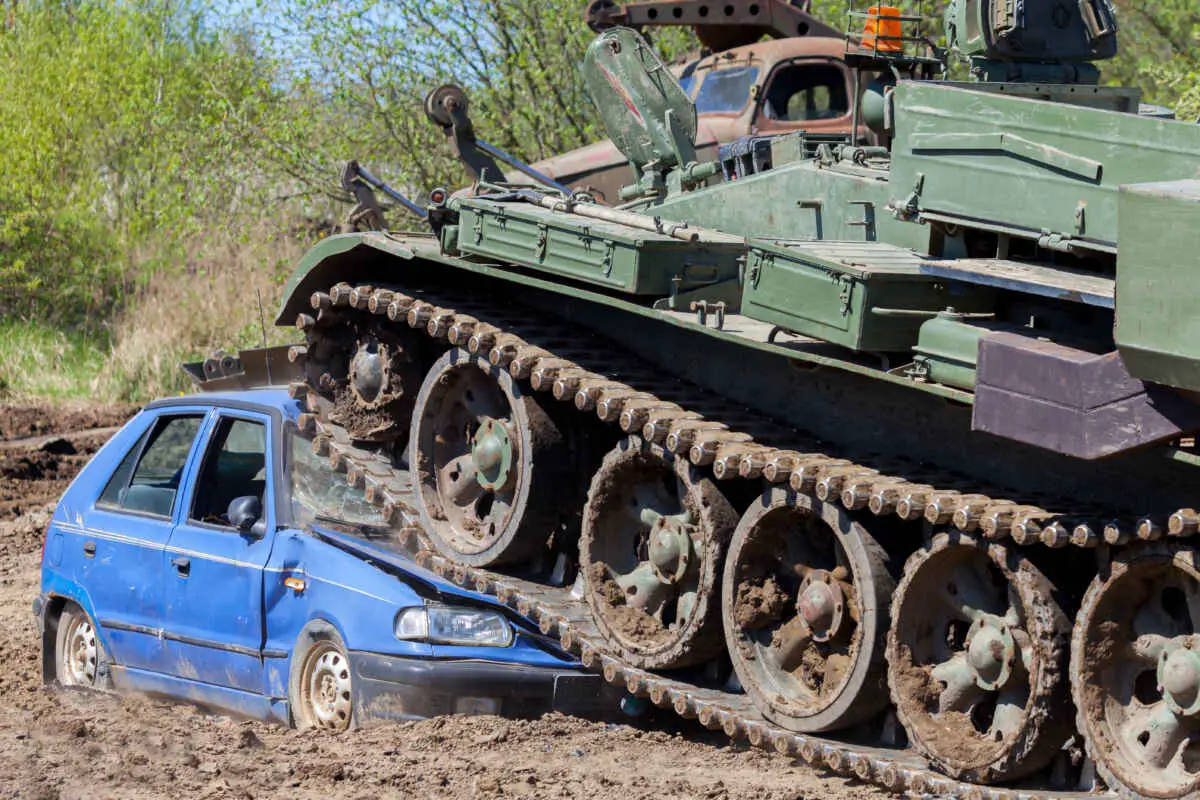 Las Vegas is one of the craziest cities in the world, and there's no shortage of wild things to do. But can you really drive a tank in Sin City? 
You can drive a real tank in Las Vegas at Battlefield Vegas. The Car Tank Crush package allows you to drive a tank that was once used in the British army and crush a car. You must give Battlefield Vegas at least 24 hours' notice for this experience.  
If you've always dreamed of getting in the driver's seat of a battle tank, Vegas is your opportunity to do so! I'll explain everything you need to know in this article. 
Check out the available experiences at Battlefield Vegas! (Viator)
Battlefield Vegas: Location, Rules, and Open Hours 
Some people believe Las Vegas is just about gambling, but they couldn't be more mistaken. You can have many incredible, once-in-a-lifetime experiences in Vegas, including driving a tank at Battlefield Vegas. 
Battlefield Vegas is the ultimate shooting range in Las Vegas, with over 1,000 weapons systems and various shooting and activity packages for every kind of customer. One of the available activities gives you the opportunity to drive a tank and crush cars with it. 
The tank was once an active tank in the British Army, but it looked slightly different then. The machine made its way to the United States via Hollywood, where it was made to look like the M1A1 Abrams tanks that the United States military uses. 
Driving the tank won't be cheap–this activity costs $2,500. Here are some other things and rules you should know about: 
You'll get a briefing before you drive the tank. Don't worry, Battlefield Vegas won't just put you in a tank and expect you to know how to drive it. Before you're off to destroy the car, you'll go through a briefing so you'll know what to do. 
You need to give 24 hours' notice. Most of the activities at Battlefield Vegas don't require as much notice, but with driving the tank, the staff needs enough time to select a car for you to destroy. Therefore, you won't be able to book this experience at the last minute. 
You'll get picked up in a military High Mobility Multipurpose Wheeled Vehicle. Part of the experience is the pickup from any of the Strip hotels or casinos in an HMMWV (more commonly known as a Humvee). You'll also get dropped off back at your hotel after the activity. 
You must wear closed-toe shoes. All of the activities at Battlefield Vegas require you to wear closed-toe shoes for your safety.  
You have to bring a valid form of photo identification. For safety and legal reasons, you'll need to bring a valid form of photo ID to participate in tank driving. This can be a driver's license, passport, or military ID. 
You and your party cannot be under the influence. Anyone under the influence is not allowed on the Battlefield Vegas range, so you and anyone you're with absolutely cannot be under the influence of any substances, legal or not. If you are, you'll be escorted off the premises. 
You cannot be pregnant or nursing. For safety reasons, people who are pregnant or nursing a baby cannot participate in any Battlefield Vegas activities. 
You Can Drive a Tank or an Armored Personnel Carrier
Driving a tank is relatively straightforward once you understand the basics, so don't worry about not being able to figure it out. Another piece of advice is to wear padded clothing. Tanks have little padding, so it may be beneficial for you to wear lots of layers or more padded clothing to prevent you from getting bruises or bumps from hitting the side of the tank.  
Another option you have at Battlefield Vegas, if you don't want to destroy a car, is to choose the "Recruit" package. With this package, you'll be able to drive an armored personnel carrier for thirty minutes, learn how to operate the controls, and then shoot some of the most iconic guns used in the United States. Finally, you get to use an M9 flamethrower. 
Battlefield Vegas is open from 9:30 a.m. to 6:00 p.m. Sunday through Thursday and 9:30 a.m. to 7:00 p.m. Friday and Saturday, and they are located at 2771 Sammy Davis Jr. Drive. 
Las Vegas is one of just a handful of cities throughout the United States where you can drive a tank.
Looking for more adventure outside Las Vegas? Zion National Park is a common stop for people traveling to and from Vegas, even for a day visit. For more information, check out my guide on what you can do in one day in Zion National Park.
What Else Can I Do at Battlefield Vegas? 
Driving a tank and smashing a car isn't the only exciting thing you can do at Battlefield Vegas. Here are some of their most popular experiences: 
Black Ops Gamer Experience. If you're a fan of the Black Ops video game, you're in luck! Battlefield Vegas has an experience that makes you feel like you're actually in the game. During this activity, you'll be able to shoot an MP5K, Uzi, Colt M4, and an AK-47.
SWAT Experience. With this package, you get to use the same weapons as SWAT teams all over the United States use, including a Glock pistol, an MP5, and a Remington. 
Seal Team Six Experience. Seal Team Six is one of the most popular secretive counter-terrorism and Special Mission Units in the United States. Members of this team work with the CIA and Joint Special Operation Commands to go on high-priority missions. With this experience, you get to use the same weapons that Seal Team Six used when they raided the AlQaeda Compound and found Osama Bin Laden. 
Four Star General Package. This package is more for experienced shooters who want to use some of the best guns in the world, including a 1919A4, an M60 machine gun, an M249, and an M240. 
Mini-Gun Experience. The Mini-Gun, also called an M-134, fires over 4,000 rounds a minute, and the only place you can shoot one in Las Vegas is at Battlefield Vegas. 
D-Day 1944 Experience. The Normandy landing is one of the most well-known historical events during World War II, partly because of the scale of the mission: D-Day used over 5,000 ships and more than 24,000 troops. With this package, you get to use the same weapons that were used by the Allies on the day, including a Colt 1911, M1 Garand, and a Thompson. 
Time Soldier Package. This package takes you on a journey throughout history as you experience the same weapons systems soldiers have been using for the last century, including a Glock 17, M-1 Garand, AK-47, and Steyr AUG. If you're interested in seeing how weaponry has evolved over time, this is the package for you. 
Even if you can't afford to drive the tank, you should still pay Battlefield Vegas a visit for one of the above experiences. While you're there, you can even check out their collection of tanks, and you might even be able to witness a car crush. No matter what you choose to do at Battlefield Vegas, you're in for a once-in-a-lifetime experience. 
If you are visiting Las Vegas for a special occasion, such as a birthday, bachelor or bachelorette party, or wedding, Battlefield Vegas also hosts parties! They can provide banquet seating, a DJ, catering, and a full bar, and they'll even provide transportation from the Vegas Strip to Battlefield Vegas. 
Book an experience at Battlefield Vegas today! (Viator)
Other Activities in Vegas for Adrenaline Junkies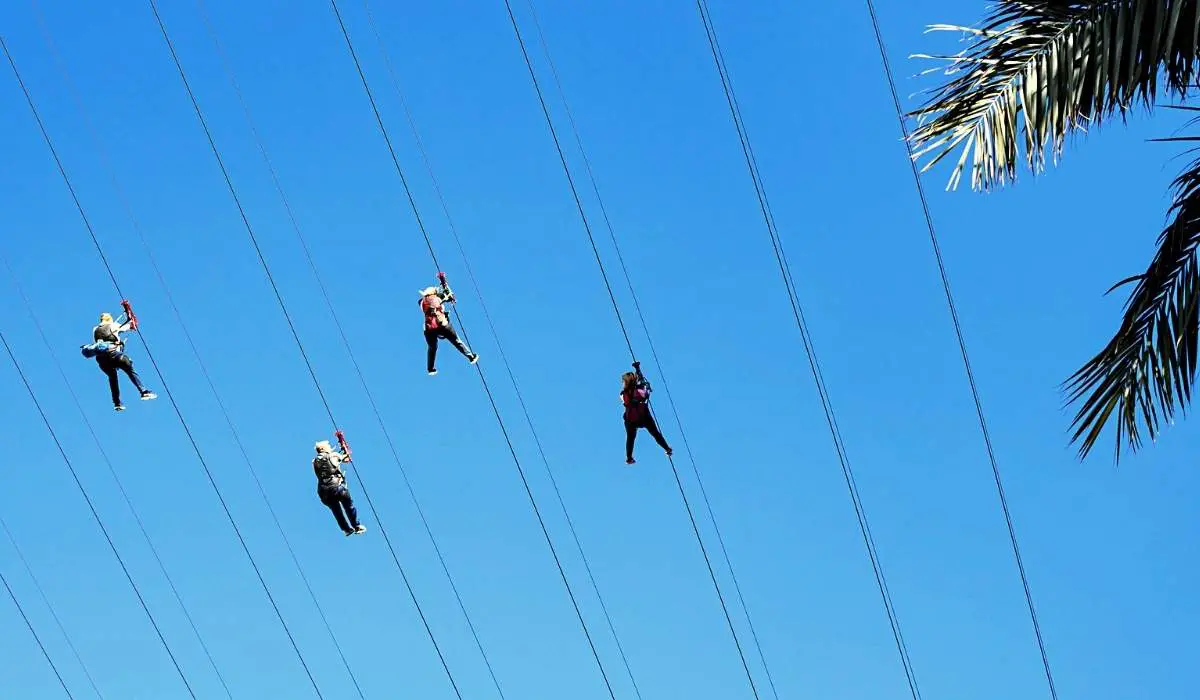 If driving the tank is a little out of your price range, but you still want to do something out-of-the-box and exciting, you have plenty of options in Sin City to get your heart rate up and have a great time. Here are some of my top suggestions for exciting things to do in Vegas:
Ride a roller coaster. Vegas has a few roller coasters you can choose from, but my favorite is the Big Apple Roller Coaster of the NYNY Hotel and Casino. This coaster goes up to 67 mph (108 kph) and has stomach-dropping vertical drops and twists, and you'll have so much fun that the 2-minute and 45-second run time won't seem enough! Check out my guide to the Big Apple Roller Coaster for more information. 
Enjoy Vegas from a hot air balloon. For a bird's-eye view of Pahrump valley, go up 10,000 feet (3,048 m) in a hot air balloon for incredible views and an unbeatable adrenaline rush. With this Las Vegas Hot Air Balloon Ride from Viator, you'll even get a champagne toast at the end of the flight to commemorate the occasion. You'll also get a commemorative flight certificate. 
If you still need more ideas for what to do in Vegas besides gambling, check out my article on no gamble Vegas fun.  
You don't have to stay on the Strip to have fun. North Las Vegas has a lot of fun activities for everyone, even though it's a smaller city compared to the Strip. For inspiration, check out my post with a list of fun things to explore in North Las Vegas.
Conclusion 
Even though it seems outrageous, you can drive a tank in Las Vegas as long as you're willing to drop some serious cash and plan ahead so you can book with 24 hours' notice. Battlefield Vegas is a shooting range and adult playground that offers this tank driving experience and many more.
If driving a tank isn't your thing, or if it's out of your price range, there are plenty of activities for adrenaline junkies in Vegas, including ziplining, roller coasters, hot air balloon rides, and more.