What Time is Sunset in Las Vegas Today? – Best Places to Watch It! (Current Sunset Times)
(This article may contain affiliate links. If you click through and make a purchase, we will receive a small commission at no additional cost to you. )
Just as it does with any other city, the sun sets at a slightly different time every day in Las Vegas, Nevada. Sunset in Las Vegas, with its fiery oranges, reds, and yellows, can happen anywhere from 4:30 am until 8 pm, depending on the time of year. Vegas sunset times will quickly change as the day length changes.
Knowing when the sun sets in July 2022, for example, won't be an accurate forecast for when the sun will set next week. For your convenience, here is when the sun will set in Las Vegas today.
Sunset Time in Las Vegas Today
The widget below shows you the sunset time in Las Vegas today. In addition to the sunset time, you can also find information on sunrise time, current temperature, time of day, and expected wind conditions. Get all the details you need to witness the perfect Las Vegas sunset.
Las Vegas, US
9:10 pm, September 26, 2023
81°F
Wind: 9 mph
Pressure: 1013 mb
Visibility: 10 km
Sunrise: 6:31 am
Sunset: 6:32 pm
If you're planning to catch the sunset in Las Vegas today, be sure to check the local weather forecast and arrive at your chosen viewing spot early to secure a good vantage point.
If you'd like to plan ahead, the best way to find out sunset times in the future is to use an online graphic chart like this one to depict it for you.
Best Places to Watch Sunset in Las Vegas, Nevada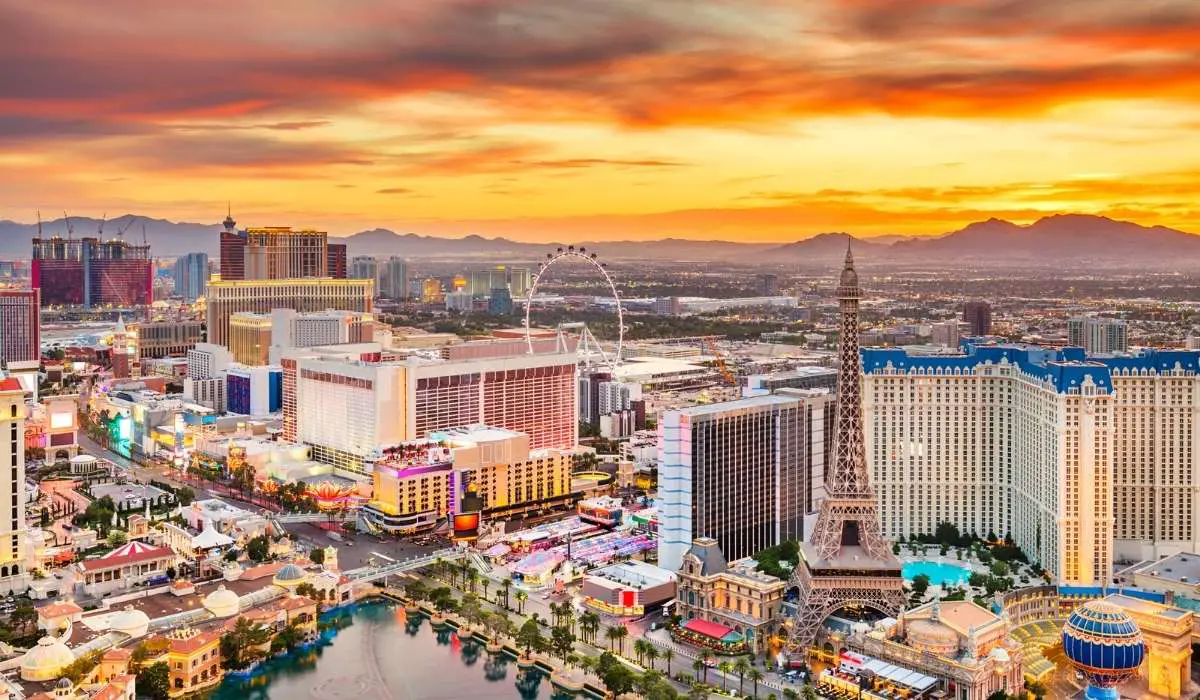 Photo:- Flickr Image
We will look deeper into sunrise and sunset times further on, but first, let's explore some of the best places to see a Las Vegas sunset.
Paris Las Vegas Observation Deck
One of the most popular places to watch an amazing sunset in Las Vegas is the Eiffel Tower Viewing Deck. It is located at the Paris Las Vegas (which you can't miss due to its scaled-down replica of the Eiffel Tower on the Vegas Strip).
It is open on Monday, Thursday, Friday, Saturday, and Sunday from 5pm until 12am. Views are spectacular from their glass elevators and can also be enjoyed from the Eiffel Restaurant over fine dining and wine; just be sure to ask for a window seat!
Sunset at Lake Mead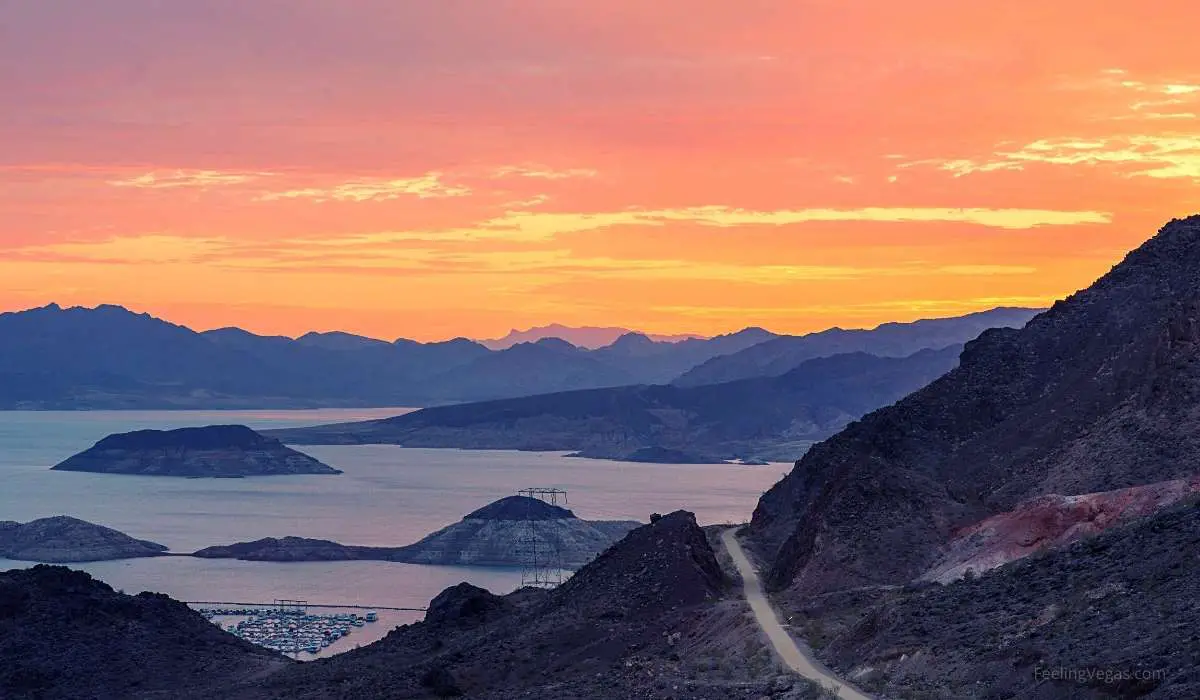 While Lake Mead National Recreation Area is several miles away from Vegas, the breathtaking views of the sunset amidst bronze canyons, jagged mountains, and copper landscapes reflecting off of the sparkling lake is worth taking the short drive.
Of course, there is a lot more recreation available at this historical location, whether you prefer a private luxury visit or a nature and wildlife sightseeing tour, there is something for everyone. If you plan on taking a tour to Lake Mead, be sure to make reservations ahead of time since many of these tours seem to be selling out quickly.
Sunset Helicopter Tour of The Las Vegas Strip
Another popular way to see the setting sun in Vegas is to take a Vegas Nights Helicopter Tour over the Las Vegas Strip. You'll have approximately 15 minutes of flight time over the famous Strip as the sun goes down and the lights come up.
A helicopter flight when the sun is setting will afford you spectacular views of the entire Las Vegas Valley, including the Strip and downtown. Make sure to book your flight early so that you can choose the right time for a perfect Vegas sunset.
STRAT Hotel and 107 SkyLounge
For those who are looking for a swankier, more posh atmosphere, you might want to make reservations at the STRAT Hotel, Casino, and Skypod. It features the tallest observation tower in America, as well as terrifying thrill rides atop that tower.
With bars, restaurants, shops, a European-style pool and wet bar, hot tubs, and reasonably-priced rooms, you may never leave the hotel! Room service, free internet, convention rooms, and even a chapel are all a part of your stay.
If you time your reservation just right, the bar on the 107th floor known as the 107 SkyLounge will give you a 360-degree view of a glorious Vegas sunset. You can enjoy the breathtaking sights while sipping cocktails and eating gourmet foods.
Valley of Fire State Park Sunset
If the posh, busy city lifestyle at luxury hotels isn't really your thing, you might enjoy the chance to see both sunrise and sunset at the beautiful Valley of Fire State Park, just a few miles from Vegas. People come from all over the world to see the 40,000 acres of natural beauty that can be found here.
Red Aztec sandstone, tans, browns, gold, and gray sandstone, petrified ancient trees, and petroglyphs that are over 2000 years old can all be found in this park. There are archeological sites, historic sites, biking and nature trails, rock climbing sites, and more.
While the actual park is only open from sun up to sunset, the nearby Atlatl Campground has 44 sites available near the Valley of Fire Guest Center for those who wish to stay overnight. Another nearby campsite brings the total number of sites up to 72.
Note: Spending the night is the only way to enjoy a Valley of Fire sunset. Daytime visitors will need to be out of the park just prior to sunset.
Water, fire pits, restrooms, showers, dump stations, electricity, and shaded picnic tables are all available for campers. Both RV and Tent camping is allowed with a 14-day limit strictly enforced. Group-use campsites and shaded, day-use picnic areas with restrooms are also available.
Until 2023, these campsites are on a first come, first serve basis, so be sure to get there early. In 2023, they will be implementing a reservation platform. Also, be aware that some trails are closed during the summer months due to fire hazards, so call ahead before you plan.
Pets are welcome on the campsites. Fires are limited, so be sure to read the brochures and follow the guidelines and rules about where you can place a campfire to avoid wildfires. BBQ grills are also available. Cell phone service isn't great here, however, so keep that in mind.
Camping in Valley of Fire will almost guarantee you an amazing sunset view each evening.
Boat Rides, Balloon Rides, and Horses, Oh My!
There are so many things to do around Vegas, and if you time your activities during just the right hours, you can enjoy a beautiful sunset while engaging in the fun.
For example, a Las Vegas Hot Air Balloon Ride will include unimaginable views, no matter what time of the day you go, but what better place to watch the horizon spill into orange, pink, and yellow brilliance?!
If you prefer time on the water, just imagine how gorgeous those sunset colors would look reflected off of the canal while you enjoy an outdoor gondola ride at The Venetian or maybe a Kayaking Tour at Emerald Cove.
For those who prefer to stay on the ground, or enjoy a western flare, perhaps you'd rather spend your time on a Sunset Horseback Ride and Barbecue at Red Rock Canyon. It's a 90-minute ride, though, so be sure that you can handle being on horseback through rough terrain for a bit!
If horses aren't your thing, but the rest of this sounds awesome, maybe you'd love a Las Vegas ATV Off-Road Tour? Yep, that's right, you can go four-wheeling in the nearby Las Vegas Dunes. Just make sure to check sunset times and schedule your adventure accordingly!
Best Months to Visit Vegas for a Sunset View
Photo:- Flickr Image
Learning which would be your peak times for viewing the sunset in Nevada is as simple as making a few clicks to see an online chart, but what about peak months?
Which seasons or months are the best to catch the most glorious sunset views during the hours that work best for you? Let's look at the best times for sunrise and sunset in Las Vegas, Nevada.
Early Winter Sunsets in Las Vegas
Well, if you are a morning person and like getting into bed a bit earlier than most, you might decide to choose the wintertime for your sunset visit, perhaps from early December until late February.
That's because the sun sets earlier in the winter months, from November to January, due to the clocks falling back. During this time, sunset comes at around 4:30 pm to 5 pm.
Late Summer Sunsets for Vegas Night Owls
For those who would rather enjoy a later sunset view, the spring and early summer months may be more your speed. The clocks move forward, making sunset come a bit later from late February until June or July.
During these months, sunset tends to slowly move from 5:30 pm in February to 8 pm in late June. For you, the best times to see a later sunset would be between late March and late June.
Nautical, Astronomical, and Civil Twilight in Las Vegas
Many Las Vegas visitors want to see the gorgeous Vegas sunset during twilight and would love to know what times this will occur. The answer depends on whether you want your view to be during nautical, astronomical, or civil twilight.
Civil Twilight
Twilight has three phases which are determined by the sun's angle below the horizon. Civil twilight is that time during the morning sunrise or evening sunset when the light is still bright enough outside not to need artificial light. So you may have morning civil sunlight or evening civil twilight.
Morning civil twilight begins when the sun's center has reached 6 degrees below the line of the horizon and continues until the sun has risen. Evening civil twilight begins when the sun's center has set 6 degrees below the horizon line and continues until Nautical Twilight.
These times are probably best for seeing a Las Vegas sunset since the brilliance of the reflected sunlight is still bright enough to illuminate the landscape while lighting up the sky with orange, pink, and purple hues.
Nautical Twilight
Nautical twilight refers to the time from when the sun's center has set 12 degrees below the line of the horizon in the morning (morning nautical twilight) and ends when the sun's center falls 12 degrees under the horizon in the evening (evening nautical twilight.) 
During the periods of evening nautical twilight (aka nautical dusk) and morning nautical twilight (aka nautical dawn), it is dark enough to make it difficult to see outside without an artificial light source.  You would be able to see outlines but not make out enough to safely maneuver. This is a time when sailors can make out shapes on the horizon but cannot see clearly enough to discern exactly what those shapes are.
Astronomical Twilight
Morning and evening astronomical twilight (astronomical dawn and dusk) refers to the times when the sun's center is 18 degrees below the horizon. During this phase of twilight, it is completely dark outside, and the sky has no illumination from the sun. This is the time for nightlife in Vegas!
Las Vegas Sunrise and Sunset Times Throughout the Year
Photo:- Flickr Image
As you can see, the times for sunrise and sunset in Las Vegas can change dramatically throughout the year. Which season is best for viewing the sunset in Vegas depends on your personal preference, as the times are different for each one. 
Autumn Sunrise and Sunset in Vegas
The Fall season is a beautiful time to see either, as the sunrise can come anytime between around 6:10 am in September, and 6:30 am in December. The sunset can peak anytime between 7:10 pm and 4:30 pm from September to December. 
Winter Sunrise and Sunset in Vegas
Winter is also a great time to view the sunset in Vegas, and you don't have to worry about catching a chill because the temperature doesn't get too cold in Vegas. Sunrise may peak anytime between 6:10 and 6:30 am in December. Sunset times during the winter change a great deal as well. Sunset in December peaks at 4:30 pm but won't peak in March until about 6:30 pm. 
Spring and Summer Sunset and Sunrise in Vegas
Spring and Summer seasons in the United States can be quite warm in Vegas. Spring includes the months of March, April, May, and June. During those months, the sunrise in Vegas can vary from 6:10 am in March to 5:26 am in June, and the sunset can vary between 5:35 pm in March to 8 pm in June.
Summer in Las Vegas includes the months of June – September, and these are the hottest months, especially in the Nevada desert. Sunrise times during these months can vary from 5:26 am to 6:35 am, and sunset times can range from 7:52 pm in June to 6:25 pm in September.
Check Your Time Zone!
Of course, for all of these times, you will need to make sure that you are looking at the local time for Las Vegas, which is in the Pacific Time zone. You can see a complete list of the time and dates for Las Vegas sunrise and sunset here.
Sunset in Las Vegas Today – Conclusion
I hope this article has helped to inform you what time the sun sets in Las Vegas, which months would be best for a visit, and where the best spots are to watch this event.
Keep in mind that Vegas is a destination place for hundreds of business conventions. It is a good idea to check ahead of time for these conventions if you wish to avoid such crowds.
Knowing which hotels are hosting events and when these events are being held can also help you to get a bargain on room prices. Or maybe there is a convention that you were looking to attend?
Please feel free to explore our site for more informative articles about things to do in Vegas, as well as tips and advice for your stay.